Situated on the New Mexico, Oklahoma, and Kansas borders, Baca is the southeasternmost county in Colorado. The county was incorporated in 1889.
As of 2015, the population was 4,517, with approximately two people per square mile. Springfield is the county seat. Back in the 1930s, it was damaged heavily during the Dust Bowl storms. It houses part of the Comanche National Grassland.
Visit the Baca County Government website.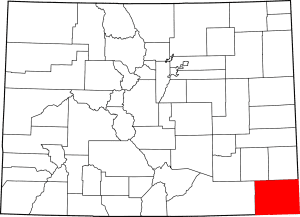 County Towns
Adjacent Counties