At the time of the 2010 census, Cheyenne County was the sixth-least densely populated Colorado county, with a population of 1,836. This is only one person per square mile.
The county is named after the Cheyenne Indians who occupied eastern Colorado, and the county seat is Cheyenne Wells. Now a historical museum, the Old Cheyenne County Jail in Cheyenne Wells is listed on the National Register of Historic Places. Built in 1894 and used as a jail until 1961, the structure was designed by Colorado architect Robert Roeschlaub.
Visit the Cheyenne County Government website.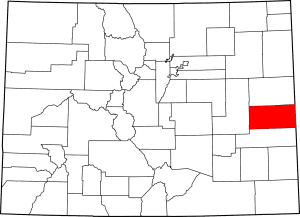 County Communities
Adjacent Counties