The City and County of Broomfield is a consolidated city and county operating under Article XX, Sections 10-13 of the Constitution of the State of Colorado. Around 56,000 people live there, as of 2010.
The municipality of Broomfield was incorporated in 1961, taking its name from the broomcorn grown in the region. As the population grew, 30 years of annexations followed, crossing into nearby counties.
Desiring to create a new county for the sake of consolidation and autonomy, Broomfield sought an amendment to the Colorado State Constitution. The amendment passed in 1998, and on November 15, 2001, Broomfield County became the 64th, newest and smallest county of Colorado.
Level 3 Communications, WhiteWave Foods, and Mrs. Fields are headquartered in Broomfield. Oracle is the second largest employer.
Visit the City and County of Broomfield website.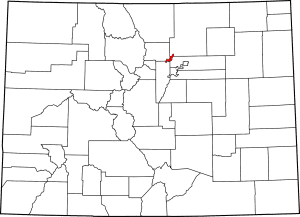 County Towns
Adjacent Counties