Gunnison National Forest covers a whopping 1,672,136 acres in Central Colorado. Its consists of a variety of wilderness terrain, covering vast distances in some secluded places like Crested Butte and Gunnison.
Main Attractions
There's a lot of federal lands to take advantage of within the Gunnison National Forest. Soak in the fall colors while driving on Kebler Pass in Crested Butte. Access a myriad of magnificent trails in the mountains around Gunnison County.
Activities: Biking, Boating, Camping, Fishing, Hiking, Hunting, Picnicking, OHV, Scenic Drives, Cross Country Skiing, Snowmobiling, Snowshoeing
Camping: Countless Forest Service-managed campgrounds and free dispersed camping options exist.
Hiking: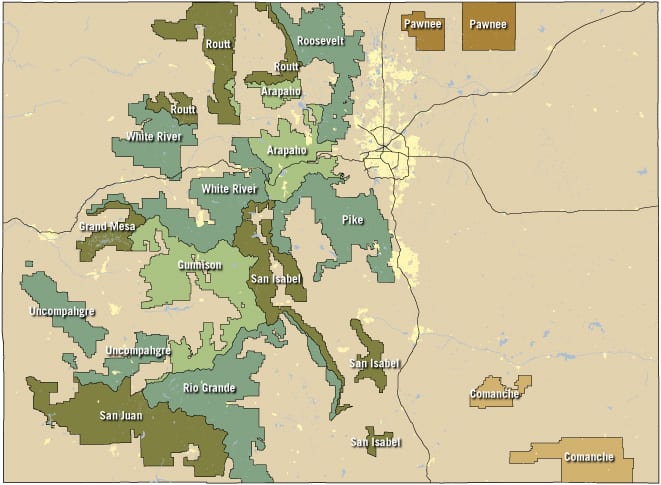 Scenic Drives: There is a slew of scenic drives within the Gunnison National Forest. Cottonwood Pass pass begins just east of Almont, which is north of Gunnison. It winds its way over to the San Isabel NF and Buena Vista. Camping is easy to spot on the drive. From there you can continue north onto Kebler Pass, a stunning seasonal 2WD cruise from Crested Butte to Paonia.
If you want to see somewhere else, head south to Gunnison to drive the Silver Thread Scenic Byway. This stunning highway connects US 50 at Blue Mesa Reservoir with US 160 and South Fork to the south. It passes by Lake City, Creede, and 3 national forests.
Those with a high clearance four-wheel-drive should consider the notorious Tincup Pass. It's a gnarly 4×4 pass over the Continental Divide near Pitkin that connects with Saint Elmo ghost town near Buena Vista, on the other side. There are lots of camping sites around Pitkin. Additionally, an easier 4WD road is Waunita Pass.
It's a shorter pass connecting Pitkin with Waunita Hot Springs and dispersed camping can be found on most of the drive. Other recreation includes biking, hiking, and 4×4/ATV roads. To access, take County Road 887 from Doyleville or go right over the pass from Pitkin. If you're interested in stopping off somewhere for an adventure, Bowerman is a one shack ghost town on the drive.
Wilderness Areas: The Maroon Bells-Snowmass Wilderness is one of Colorado's original national wilderness areas designated in 1964. It contains six of the toughest 14'ers in Colorado to the summit. Part of it's located in the White River National Forest.
Details
Nearby Towns:
Map:
Gunnison Campgrounds: Reservations
Website: fs.usda.gov/gmug