Paonia is tucked away about a mile off the main road, Highway 133. The beautiful downtown area consists of a few blocks of business, shopping and dining. It's located north of Crawford.
Tucked away in the North Fork Valley, Paonia is located among one of the most regions of Colorado. It offers seasonal access to Crested Butte via Kebler Pass, Carbondale and the Roaring Fork Valley of Aspen to the north, and the Western Slope and Delta to the west.
Main Attractions
Paonia State Park – Located in a narrow canyon, this remote park is located in the heart of the Rockies. Camping, fishing and boating are the main draws.
Wineries – The are several wineries and vineyards in the region. Take a tour of a Paonia winery and taste some of the best vino in Colorado.
Recreation
Camping:
Paonia State Park has thirteen basic campsites in two campgrounds.
Fishing:
Muddy Creek north of town has great fishing.
Accommodations
Special Events
Jun-Jul – Paonia Cherry Days – July 4th week festivities showcasing the town's ripe cherries. For over 70 years they celebrate with food, concerts, rodeo, parade and talent show.
Things To Do near Paonia, CO
Federal Lands:
Hot Springs:
State Parks:
Towns:
Wine Tastings:
Popular posts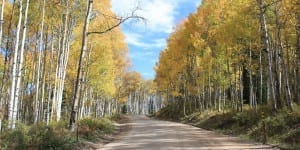 Falls Colors On Kebler Pass – This seasonal mountain highway connects Crested Butte with Paonia. The drive over Kebler Pass takes nearly two hours. It's a fairly high pass at 10,007 feet that leads through spectacular alpine terrain. Peaks tower in the distance…