If you are looking for the best Pinot Noir in Colorado, visit Alfred Eames Cellars. Established in 2000, Alfred Eames Cellars is one of the latest wineries to hit the scene amongst the West Elk AVA in the North Fork Valley of Colorado. Located in Paonia, the winery sits on the Puesta Del Sol Vineyards and is owned and operated by a father and son team. They grow Pinot Noir exclusively at their vineyard and make a variety of other wines using other Colorado grapes.
Apart from their wine, perhaps some of the winery's most unique draws are its wine cave, its artful labels, and the onsite kitchen of Pam's Jammin.
The underground wine cave is particularly charming and intimate. A concrete marvel, the small cellar was constructed by an artist based out of San Miguel de Allende, Mexico, and is the perfect setting to enjoy your glass of Pinot Noir during your visit.
Instantly recognize a bottle of wine of Alfred Eames Cellars from their colorful labels. Their label artist creates brilliant hued designs that are unlike any other you have seen on the side of a wine bottle.While visiting, be sure to stop in at Pam's Jammin' (run by the winery's owner's wife, Pam) where you can buy locally made jams, jellies, sauces, dried fruit, and more.
Wines
The winery creates six varietal wines using exclusively Pinot Noir grapes from their vineyard, and four blends using other Colorado grapes. Wines offered include a Pinot Noir, Syrah, Pinot Gris, and a Cherry wine that isn't too sweet but accented with a powerful cherry flavor. They also make special blends including their "Sangre del Sol," a blend of Syrah, Cab Sav, and merlot.
Their wine is available at several different retailers throughout the state. Order for direct shipment anywhere in Colorado by contacting the owners by phone or email. If shipping outside of Colorado, people can place an order online at VinoShipper.com.
Wine is only sold by the case and not by the bottle. Their wine is available for tasting at neighboring Delicious Orchards in Paonia.
Events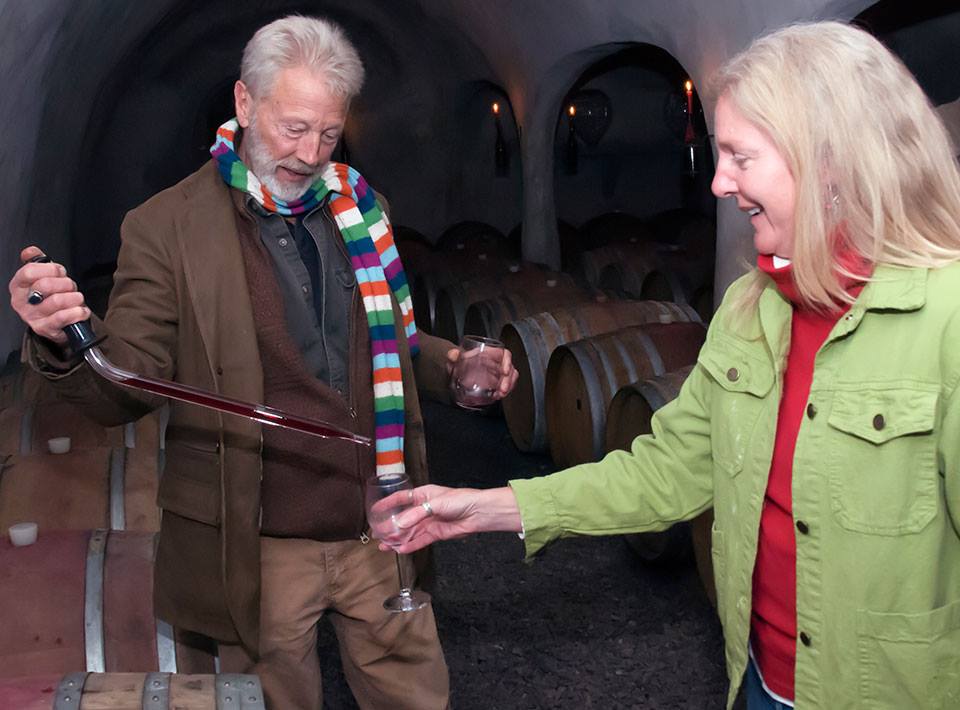 Every year Alfred Eames Cellars partners with Pam's Jammin' for their annual Barrel Tasting. Enjoy appetizers, live music, and wine tastings out of the first-year barrel, second-year barrel, and out of the bottle. The event is held in early December.
Tours and wine tastings
While there is no official tasting room, guests can sample the wine in the owner's work area for an intimate taste of this winery. This small boutique winery is open for tours and tastings by appointment only. Guests are shown the wine cave, the garden, and vineyards during their visit.
Details
Address: 11931 4050 Rd, Paonia, CO 81428
Phone: 970 – 527 – 3269
Website: alfredeamescellars.com