Penny Hot Springs is naturally fed with hot mineral water and is free to use. It's located on the Crystal River just past Carbondale, about forty-five minutes from Aspen.
The springs are surrounded by rugged snow capped peaks and breathtaking canyons. It makes for a rejuvenating experience after a long day enjoying the area's recreation, like fishing, climbing, hiking, skiing or whatever you're into.
The hot springs are named for Dan Penny who ran a small hotel and bathhouse on the railroad line upstream of Avalanche Creek. Visitors would stay at the hotel and have access to the hot springs bathhouse. Originally guests donned swimsuits, but in the 1960's people starting soaking au natural.
Nearby residents were offended by the nudity and obscene acts, so they bulldozed the bathhouse, attempting to destroy the springs. Early in the 1990's, Pitkin County acquired the property, restored the springs and opened them to the public.
Undeveloped Primitive Pools
Penny is a primitive hot springs pool located on Highway 133. The pool is sectioned off with large rocks to keep the cold water from coming in.
natural hot mineral water
feeds the pool, which is about 20 feet across and 2 feet deep. It holds maybe ten people comfortably. Temperatures vary, and can be adjusted by adjusting the rock wall.
The hot springs can get flooded out during spring snow melt. The best time to go is usually summer through fall, even winter. The road by the springs is well maintained during the year.
Atmosphere
Primitive, riverside hot springs; Clothing officially required; Can get crowded during weekend nights
Getting There
From Glenwood Springs: Take CO-82 E towards Aspen. After 10.2 miles take a right onto CO-133 S (Carbondale). Proceed for 14.1 miles. Penny Hot Springs is located on the east side of Highway 133, a few hundred feet north of mile marker 55.
It's easy to spot as there is large parking lot on the left side of Highway 133. On both sides of the river are large granite cliffs known as "Hell's Gate". Hike down to the river to find the Penny Hot Springs. Then relax.
Please respect these public hot springs. Pack out all garbage and leave the place cleaner than when you came. Thank you!
Details
Address: CO 133, Redstone, CO (near Carbondale)
Season: Summer, Fall, Winter
Type: Primitive, free, very short hike
Latest in Penny Hot Springs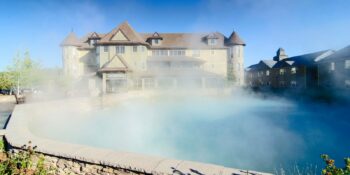 Sourced from deep under the Rocky Mountains, there are dozens of hot springs that exist around…