Tincup, also spelled with a space Tin Cup, is a semi-ghost and unincorporated community in Gunnison County. There are only a handful of year round locals, along with some summer only residents.
The only business in town is a seasonal general store, the Tin Cup Store. It caters to the summer recreational crowd, with basic supplies for camping, fishing, food and drinks. There are many historic buildings in town, all privately owned, some still in use. The town lies at 10,157 feet.
History
The former mining town was originally named Virginia City. It was a fairly prominent community in its heyday, officially founded in 1879 after lode deposits were discovered. It was incorporated in 1880 as Virginia City, however, there was already two towns by that name, one in Montana, the other in Nevada. To avoid confusion it was reincorporated as Tin Cup in 1882.
The Tin Cup name came from the local valley "Tin Cup Gulch", which was called that by Jim Taylor. He was a prospector who found gold nearby in 1859 and carried it back in a tin cup. However, no year round homes were set up until around twenty years later.
The town was a rough place in its early years. The town marshal died in a gun fight in 1882, and another marshal was killed by gunshot a year later. Once the area's mining declined, so did the town. The Post Office closed and last official election were in 1918.
Main Attractions
Tincup Pass – This real deal 4×4 road connects Almont on the west of the Continental Divide with Nathrop on the east side. You'll need high clearance to consider this rugged road. It's a stunning seasonal drive that's worth renting a Jeep for.
Accommodations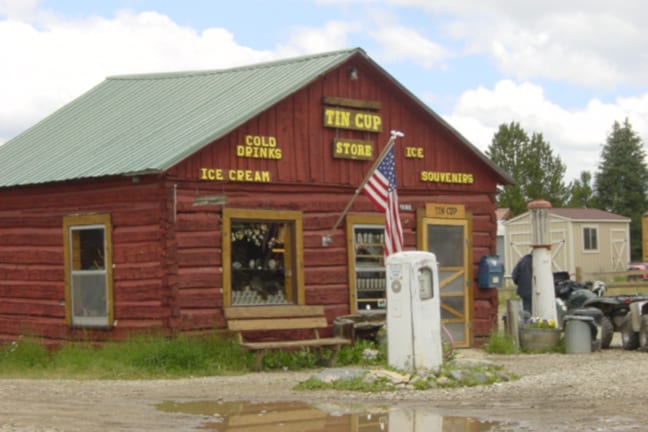 Activities near Tincup
Federal Lands
Ghost Towns:
Scenic Drives:
Towns: