[Almont business section. Photo: Jeffrey Beall] Almont lies at at the confluence of the East and Taylor rivers, where they form the Gunnison River going southwest. There's a short business section, with a couple restaurants, four-season resorts and a general store.
The town lies at an elevation of 8,022 feet, at the junction of Highway 135 and County Road 742. Heading east you can cross the Continental Divide over Cottonwood or Tincup passes.
History
Originally called "Fishers" after the first settler, the name was changed to Almont in 1881, after the leading racehorse of the era.
Recreation
Fishing – The Gunnison River flows southwest from town, the East River north and the Taylor River northeast. You can also fish at the Taylor Reservoir 20 miles east of town.
Accommodations
Things To Do near Almont, CO
Ghost Towns:
Hot Springs:
Museums:
National Lands:
River Tubing & Kayaking:
Scenic Drives:
Ski Areas:
Towns:
Transportation:
Whitewater Rafting:
Zip Lines:
Popular Posts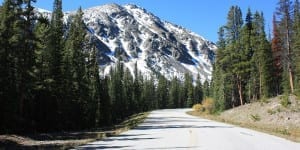 Autumn Drive Over Cottonwood Pass –
Cottonwood Pass is a high mountain route over the Continental Divide. It's an easy drive beginning in either Buena Vista or Almont. From Buena Vista the road quickly climbs to its summit of 12,126 feet. It then turns to dirt…