Curecanti Recreation Area lies west of Gunnison and features dramatic canyons and the largest lake in Colorado, Blue Mesa Reservoir. The reservoir follows Highway 50 for twenty miles at its fullest.
Numerous recreation sites exist across this vast park, which continues north on Highway 92 just after the lake by Sapinero. From here it traces the North Rim of the Black Canyon and heads toward the mountain town of Crawford.
3 Reservoirs: Blue Mesa, Crystal, and Morrow Point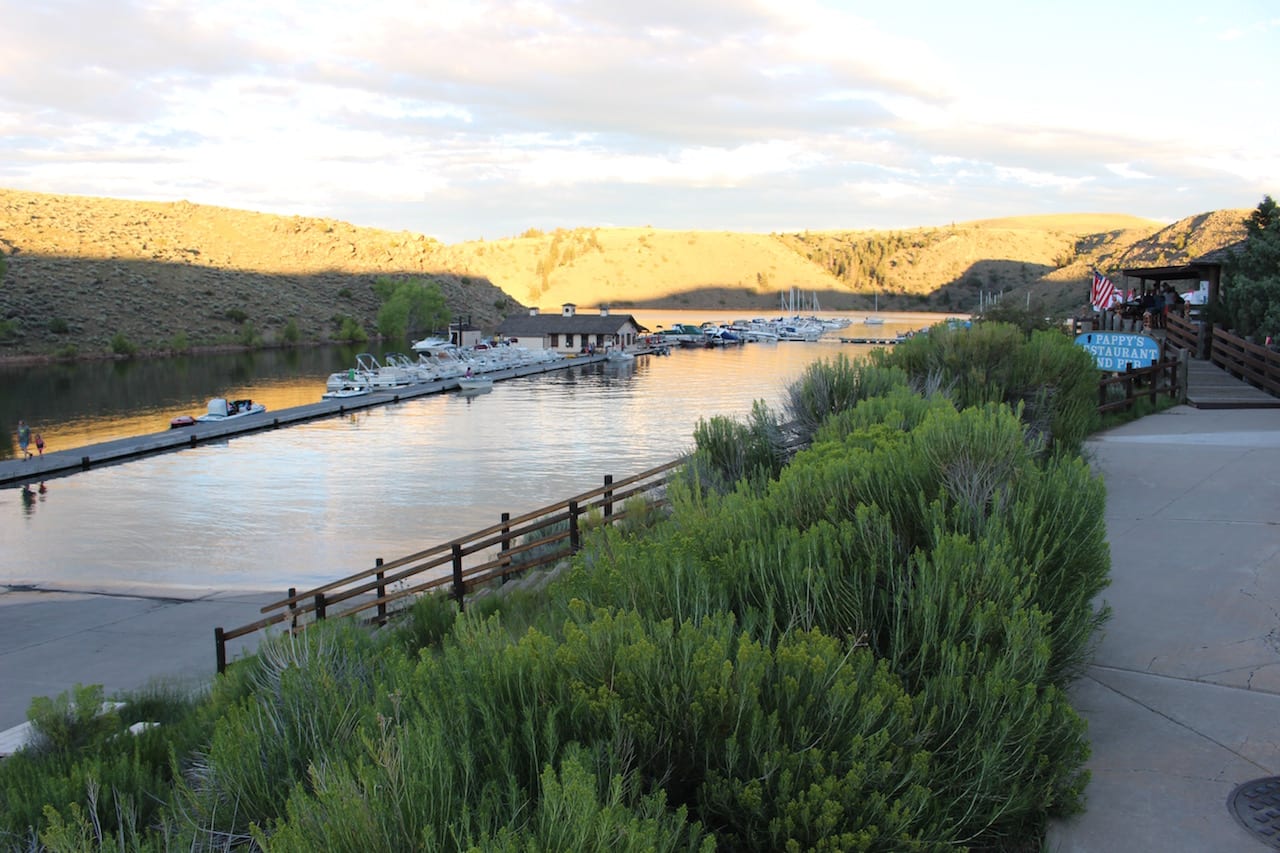 Nestled in the central Rockies west of Gunnison, Blue Mesa Reservoir is one of the best places to take to the water. It's actually the largest lake in Colorado that's entirely located within the state (Navajo Lake is bigger, but the majority of it is in New Mexico). Blue Mesa is one of three reservoirs built on the Gunnison River, which are all part of the Curecanti National Recreation Area.
The other two reservoirs are Crystal and Morrow Point. The park begins just west of Gunnison and follows the three reservoirs to Cimarron, CO, passing the little lakeside community of Sapinero on the way.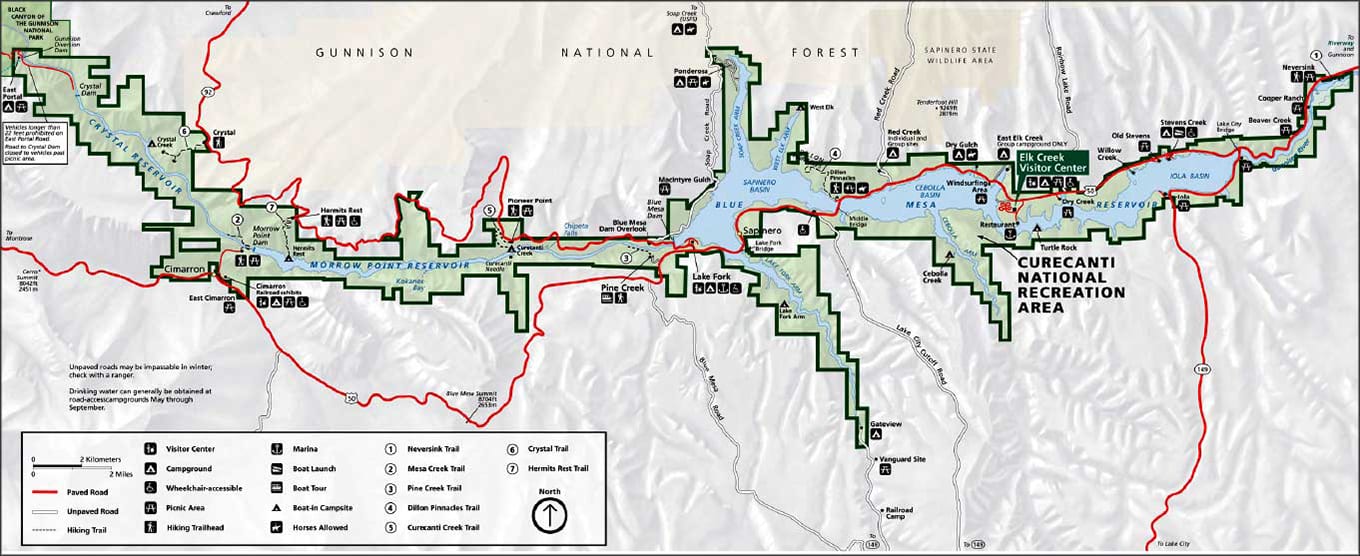 You can camp, fish, hike, and boat at a number of locations along the twenty-mile reservoir. Kokanee salmon and a variety of trout, which grow to trophy size, are the main fish species. We recently spent the weekend enjoying the Elk Creek section, sixteen miles west of Gunnison.
Elk Creek features a lakeside campground, marina, and restaurant. The Elk Creek Marina offers full, half, and hourly boat rentals, including pontoons, kayaks, standup paddleboards, and aluminum fishing boats. You can also rent boats on the west side of the res by the dam, at the Lake Fork Marina. Both marinas rent fishing gear and have tackle shops with supplies.
Open mid-May to mid-September, from Thursday to Sunday, Pappy's Restaurant overlooks the Elk Creek Marina, offering a picturesque patio to enjoy lunch, dinner, or drinks. The fare ranges from burgers and pizza, to craft beer and root beer floats.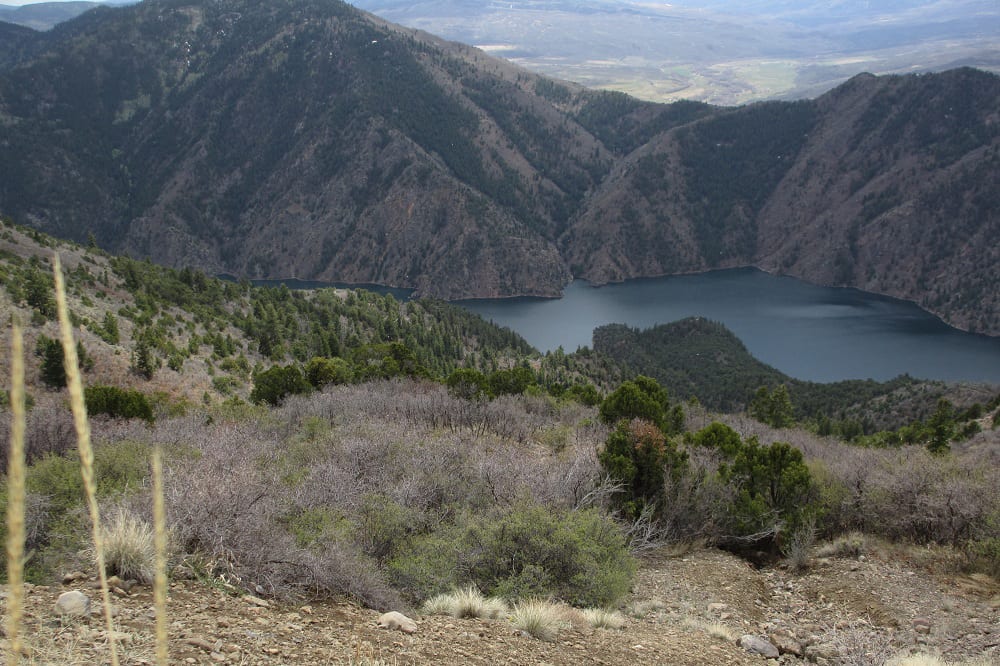 Another Curecanti area to explore is the Morrow Point Reservoir. Fishing and non-motorized boats are permitted, but the catch is that you have to carry your boat and supplies down 232 steep steps. This keeps most people away, so you'll be rewarded with a lake practically to yourself.
In addition to camping at Elk Creek, you can camp on the shore of Blue Mesa at Lake Fork and Stevens Creek. There are a total of ten NPS campgrounds in the Curecanti National Recreation Area, including two group campgrounds.
Activities at Curecanti NRA
Boating: Blue Mesa is open to powerboats. Crystal and Morrow Point Lakes are open to hand-carried craft.
Blue Mesa is 20 miles long with 96 miles of shoreline. There are several explorable arms of the lake that reach into secluded canyons; 2 marinas and numerous boat access points.
Morrow Point Lake can be reached by the Pine Creek Trail, which descends over 200 stair steps.
Morrow Point Boat Tour – 1.5-hour tour through the upper Black Canyon. Tours run from June through Labor Day, Wed-Mon, 10 am and 12:30 pm, by reservation only. Call or in-person at Elk Creek. Walk-ons are not permitted.
Crystal Lake access is at the Mesa Creek Trail, near Cimarron.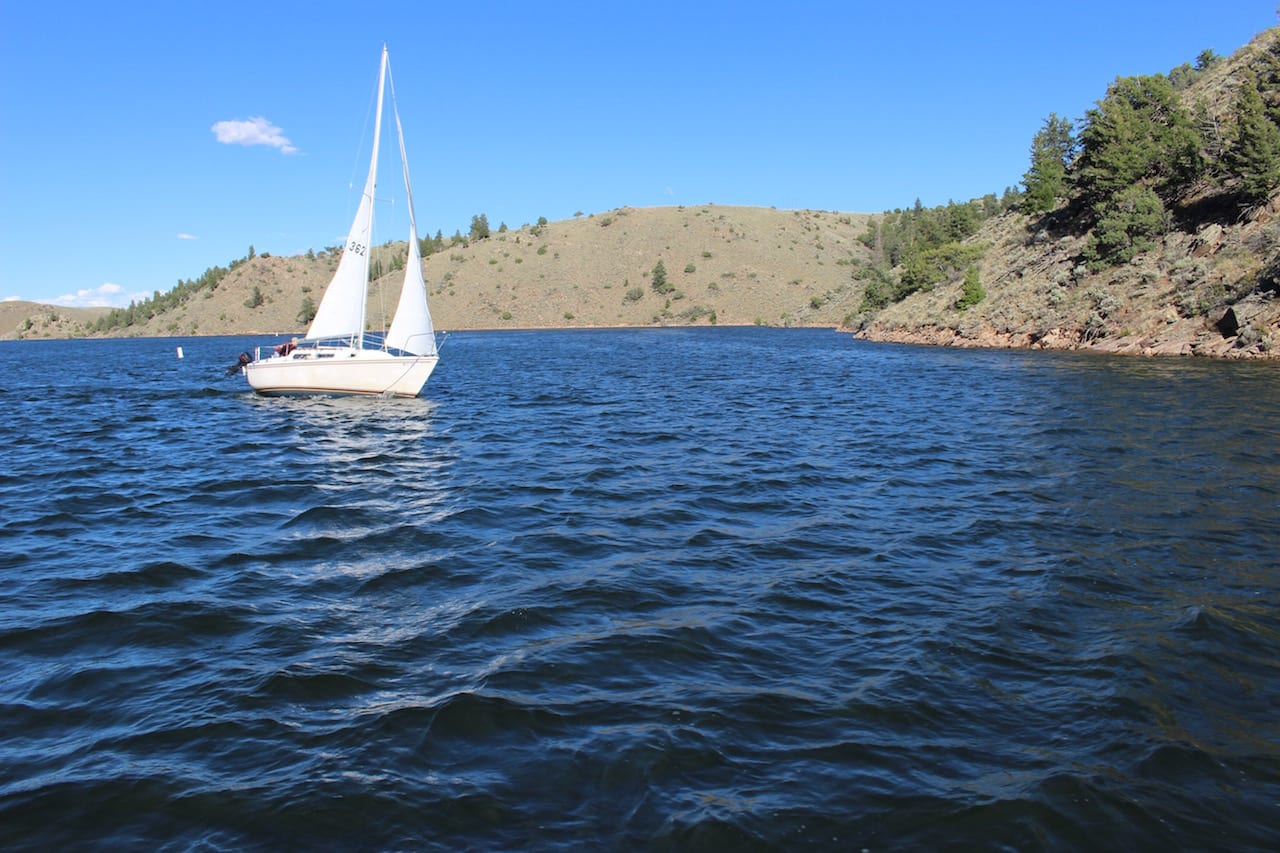 Camping: Yes, 10 campgrounds, 400 sites, some reservable, some first-come-first-serve.
Lake Fork, Stevens Creek, and Cimarron are open until snows/freezing.
Elk Creek is open year-round and has some electrical hookups.
Backcountry camping in some areas. Both primitive boat-in and hike-in sites exist.
Red Creek and East Elk are reservable group campgrounds.
Read about the camping near Gunnison and Blue Mesa Reservoir.
Fishing: Blue Mesa has year-round fishing. Flies and artificial lures are permitted at the East Portal of the Gunnison River.
Hiking: Pets are permitted on trails, but no bikes. 7 hiking trails vary from 1.5 to 6 miles round trip. Two lead to camping at Morrow Point Lake.
Crystal Creek – 5 mi roundtrip – nature trail to overlook.
Hermit's Rest – 6 mi " – leads to campsites at Morrow Point Lake.
Curecanti Creek – 4 mi " – steep trek to camping at Morrow Point.
Mesa Creek – 1.5 mi " – trail follows Crystal Reservoir.
Pine Creek – 2 mi " – stairs into Black Canyon that follows the creek.
Dillon Pinnacles – 4 mi " – views of geological formations.
Neversink – 1.5 mi " – an easy streamside trek.
Horseback Riding: Horses are allowed on the lower section of Dillon Pinnacles Trail, which accesses the West Elk Wilderness north of Curecanti. The Dry Gulch and Ponderosa campgrounds have horse corrals and trails that access additional state and national land.
Hunting: Permitted in certain areas during legal seasons.
Swimming: Although there aren't any official beaches, swimming is permitted in the cold Blue Mesa lake.
Winter Recreation:
Cross Country Skiing – Dillon Pinnacles, Red Creek, and East Elk Creek or the surface of Blue Mesa.
Ice Fishing – Try the Iola Basin of Blue Mesa.
Ice Skating – Good on Blue Mesa Res before a heavy snowfall.​
Details
Address: 102 Elk Creek, Gunnison, CO 81230
Phone: 970-641-2337
Season: Year-round
Fees: None
Pets: Yes, on leash
Maps: (PDF)
Website: nps.gov/cure
Latest in Curecanti National Recreation Area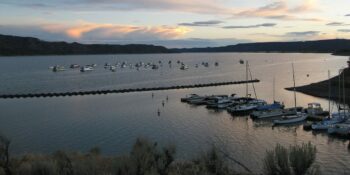 Colorado boasts some pretty big lakes and reservoirs within its state lines. From the eastern plains…