The 9,000-acre Blue Mesa Reservoir is the largest body of water entirely in Colorado and one of its best beach spots. It's in the Curecanti National Recreation Area, which has 96 miles of shoreline for sunbathing and other outdoor activities.
Blue Mesa Dam is an earthen fill dam on the Gunnison River. It is 390 feet tall and is what caused the lake to form. When the Blue Mesa Dam was built in 1965, it made the Blue Mesa Reservoir. The lake is the most well-known and impressive of the park's three main dams and reservoirs, although most tourists are unaware of the other two: Morrow Point and Crystal Point.
Aside from boasting one of Colorado's best beaches, there is a wealth of activities to do on the Blue Mesa. Horseback riding, numerous trails for hikers of all skill levels, bird watching, camping, scenic drives, and wildlife viewing are a few of the best ways to enjoy the area on a land.
In the latter half of summer, namely July and August, the water is just warm enough for water skiers to get some practice in. The Bay of Chickens and the Iola Basin next to the Lake City Bridge are two popular spots for windsurfers. Throughout most of the season, the water temperature is rather chilly. Wearing a wet suit is recommended for those who like windsurfing or waterskiing.
Swimming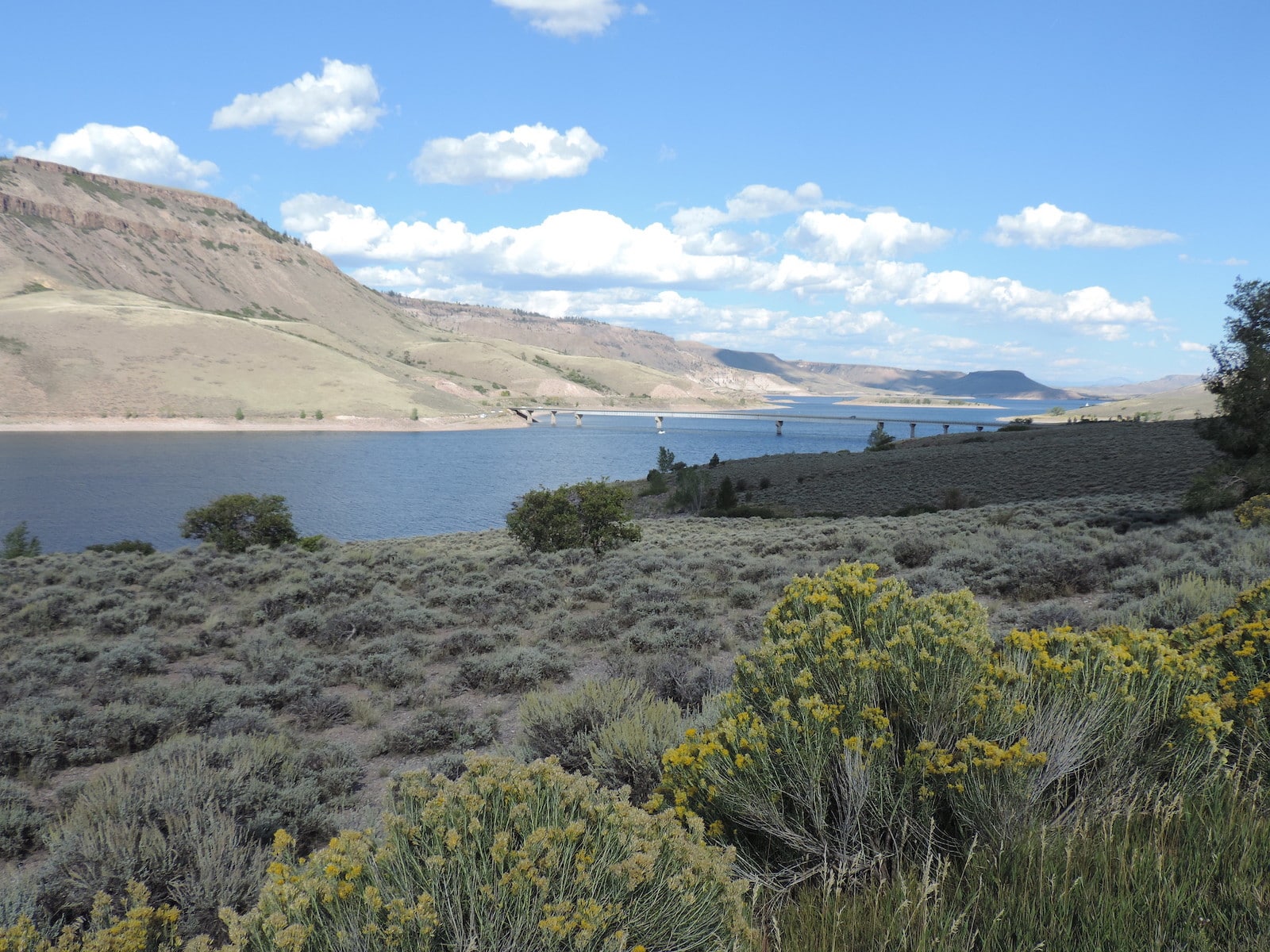 Swimming is allowed everywhere in the lake outside a 100-foot radius around marinas. In Curecanti, jumping from heights of 15 feet or more (including cliffs, structures, bridges, and ledges) into the sea is prohibited.
A relaxing and delightful experience can be had by taking a dip in the reservoir's cool water on a hot summer day, despite the lack of established swimming beaches. On the surface, the water temperature is around 65 ° F, and it gets cooler as it gets deeper, even in the middle of summer.
Finding a nice swimming site in the reservoir might be challenging due to its steep and rocky coastline. Dry Creek, Bay of Chickens, and the Old Highway 50 beach at the Elk Creek Campground are all great places to go since they have "no wake" zones. It's popular to rent a boat at one of the marinas a way to swim in parts of the lake.
Boating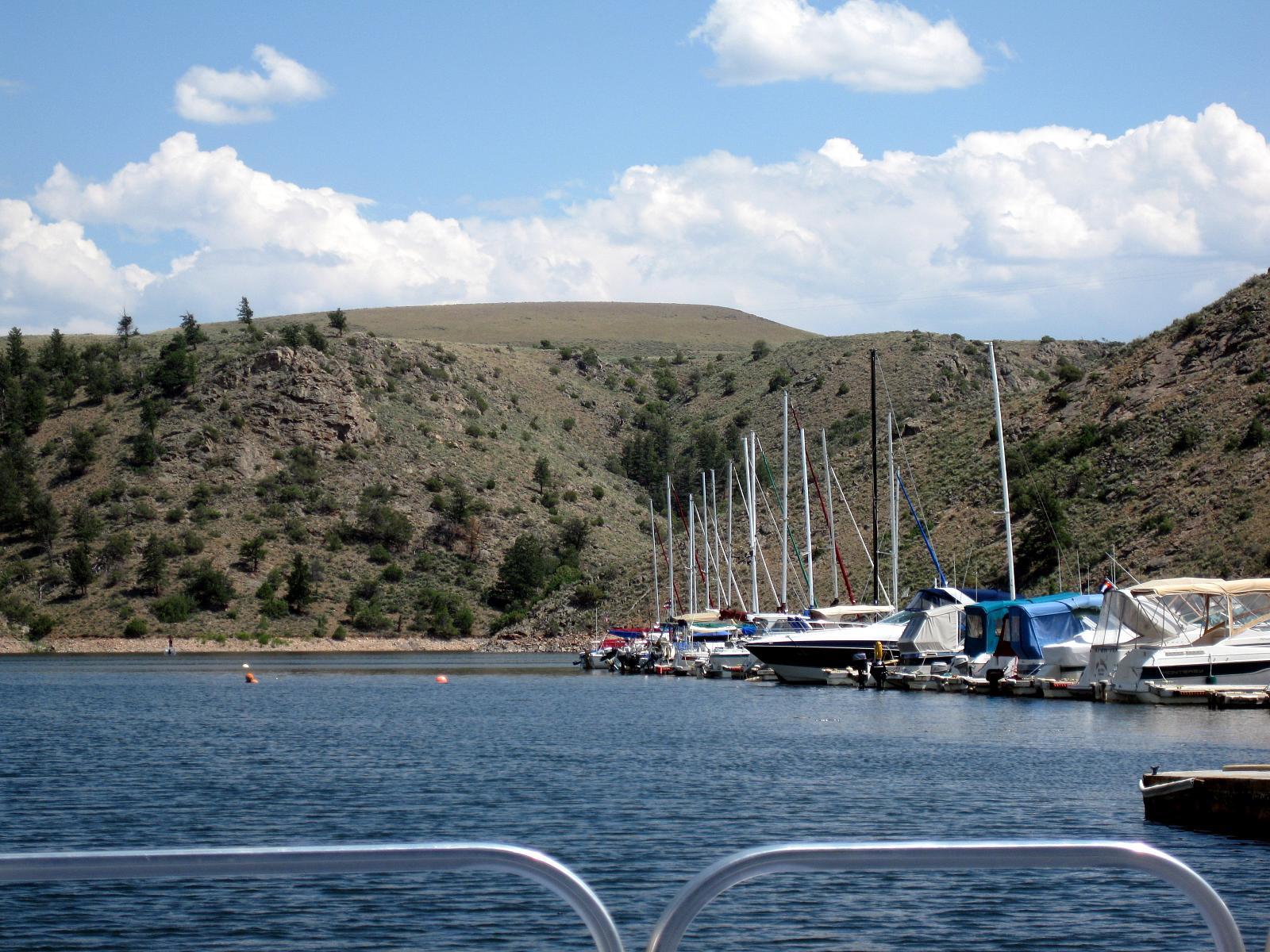 Launching ramps are available at Iola, Lake Fork, and Elk Creek. Boat permits will be needed for any watercraft operating on Blue Mesa Reservoir powered by motors and/or registered with the state.
There are a lot of places to go boating in the lake. Many of the reservoir's arms extend into remote valleys, providing boaters with a unique opportunity to see the area. When boating on Blue Mesa Reservoir, it's essential to remember that the midday winds may become relatively high, and storms often follow them.
Keep an eye out for ominous-looking clumps of clouds. If you see that the winds are picking up, you should go to shore immediately.
Marinas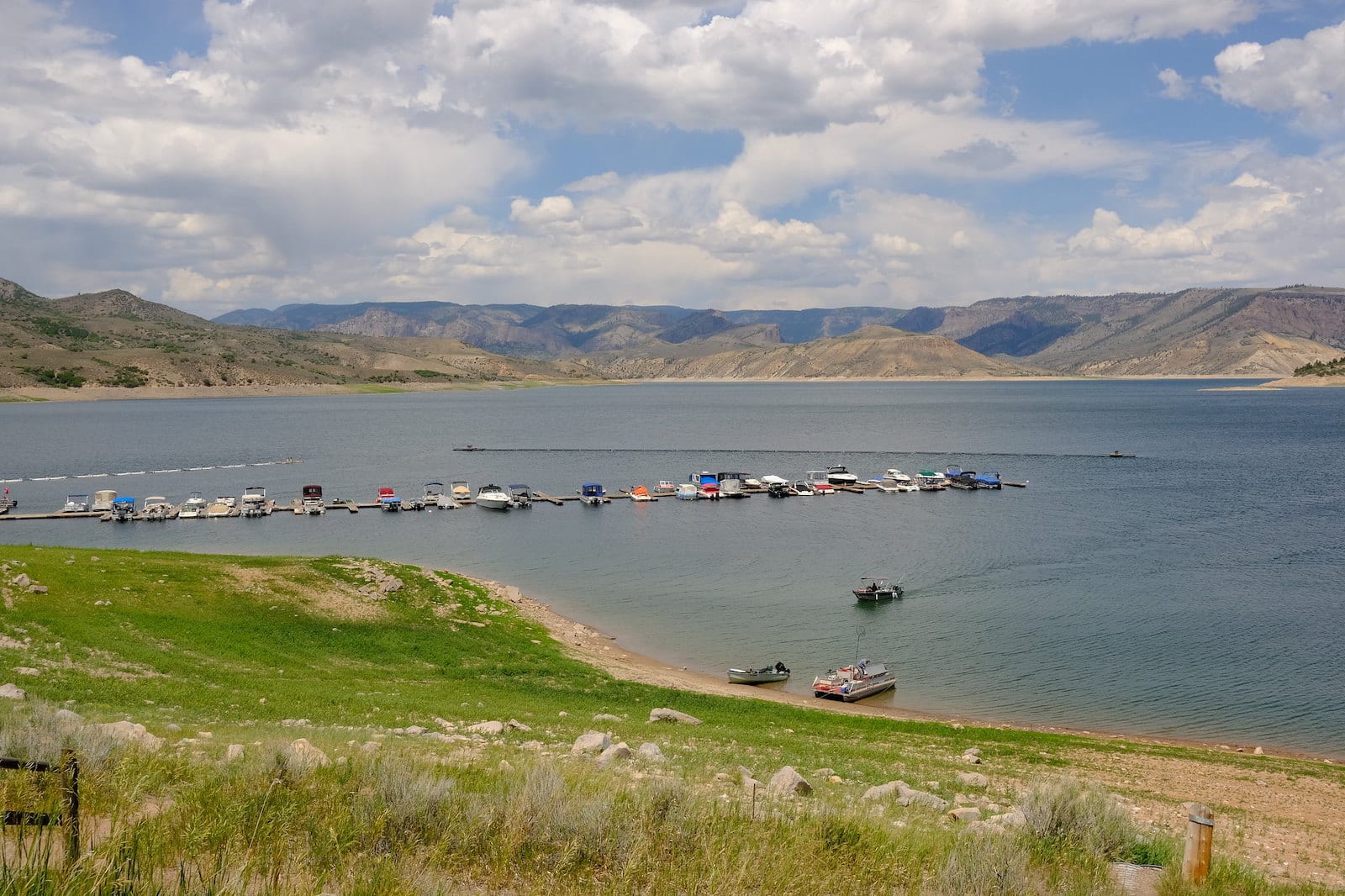 There are two marinas at Blue Mesa Reservoir.
Elk Creek Marina – This is the primary complex at the lake. There is a restaurant, a shop, gas, kayaks, fishing equipment, canoes, stand-up paddleboards, boat rentals, and a boat launch facility available at the marina.
Lake Fork Marina – At the western end of the lake, next to Blue Mesa Dam on Highway 92, you'll find Lake Fork Marina, open seasonally from May 15 to September 20. The marina has spaces for boats, gas pumps, a store, a tackle shop, and a place to launch boats going in and out.
Fishing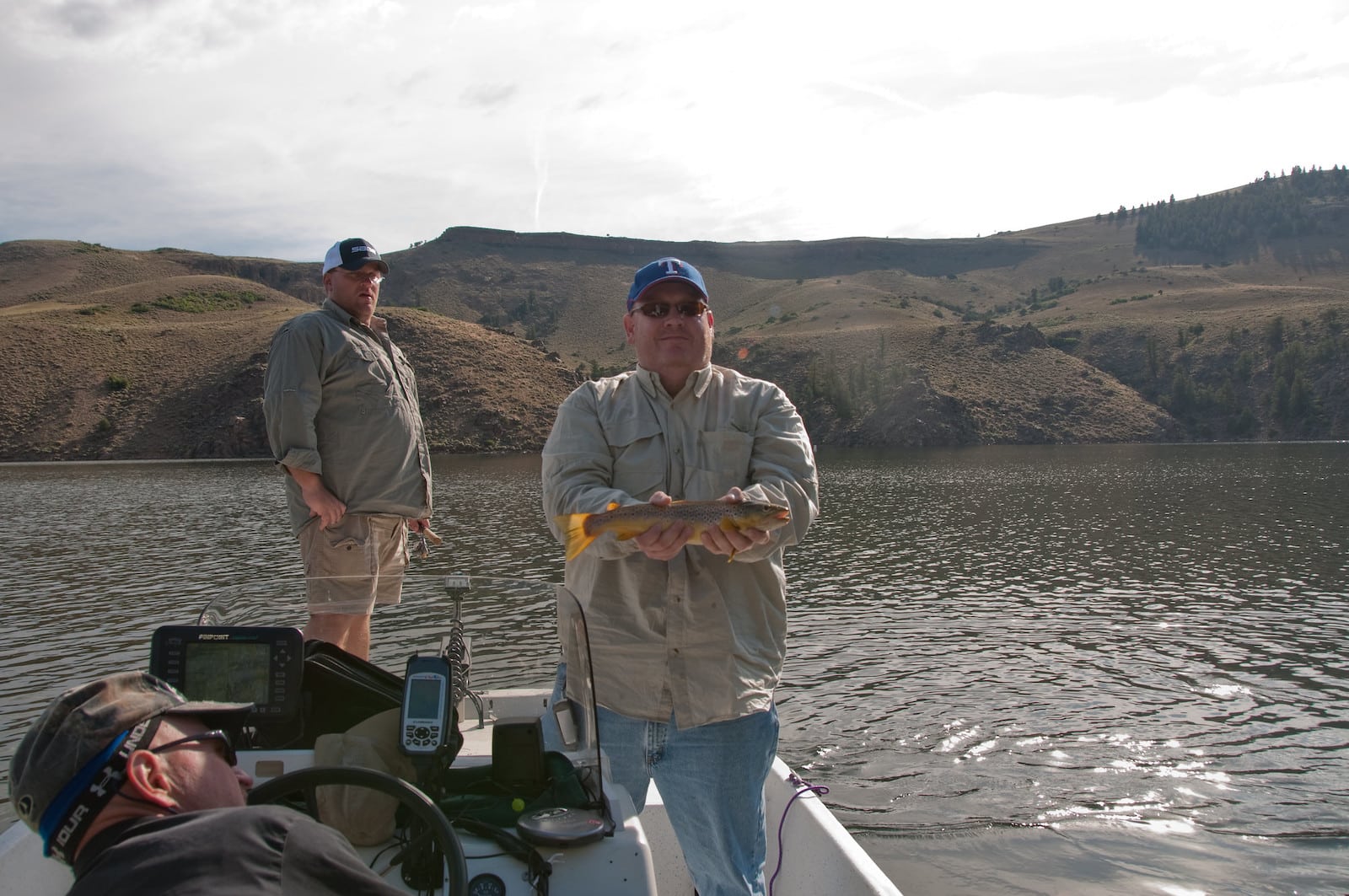 Some of the best fishing in Colorado is in Blue Mesa, and its streams and rivers are great places to fly fish. Though kokanee salmon is the most popular catch, anglers may also find rainbow trout, brown trout, yellow perch, and lake trout in the reservoir. When it comes to catching Kokanee Salmon, this lake is the best in the country.
The Orange Stimulator, Royal Wolfs, Pheasant Tails, and other Caddis are all effective all year round. Streamers are effective in most Curecanti waterways throughout the early spring and late autumn. Kokanee fishing with flies is most outstanding in the autumn, during the spawning season.
Camping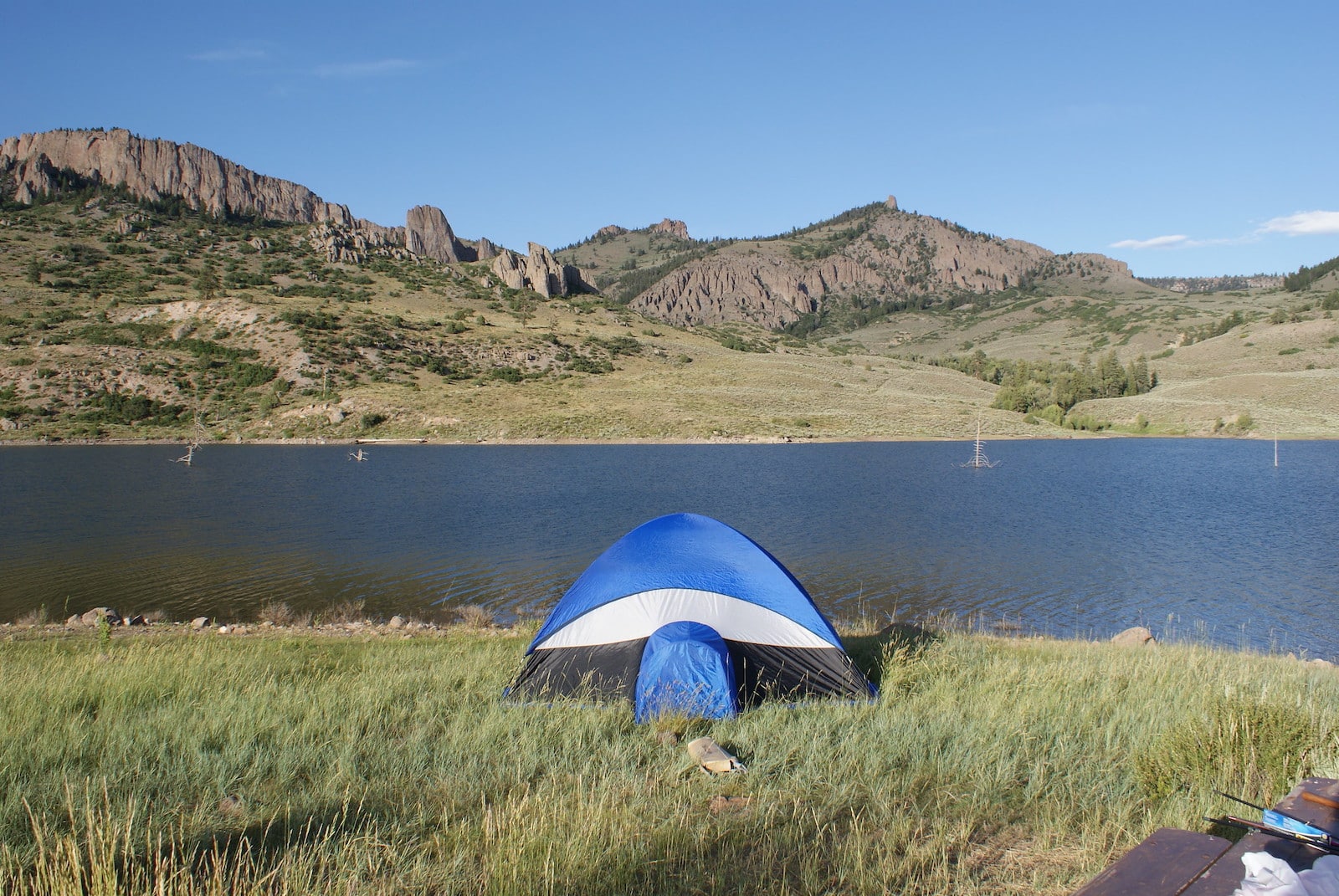 There are a lot of places to camp, from sites run by the National Park Service on the reservoir's shore to nearby RV campsites with a lot of helpful amenities. Due to the strong demand for camping in Blue Mesa Reservoir and the Curecanti National Recreation Area during the summer months, reservations should be made as far in advance as possible.
Developed Campgrounds
Blue Mesa Reservoir has ten campsites, but only Lake Fork, Stevens Creek, Elk Creek, and the two group campsites can be reserved ahead of time. First-come, first-served is the rule for all other camping spots, so arriving as early as possible is good.
Some lodging types in developed areas include RV spaces, adventure pods, cabins, a lodge, furnished trailers, and campgrounds with amenities like WiFi, a dog park, and a general store. The Blue Mesa Outpost, Sapinero Village Campground, and Oasis RV Resort & Cottages are a few of the most popular developed areas.
There are also a few USFS camping sites with no hookups or luxurious amenities, which are also on a first-come, first-serve policy.
Dispersed Camping
If you want to camp near Blue Mesa Reservoir, you could also try to find a free dispersed campground on nearby US Forest Service or BLM land. Great places to camp for free can be found all across this region of Colorado, thanks to the abundance of public lands. Soap Creek Road, Red Creek Road, and Hartman Rocks are just a few examples of great spots for dry camping.
No matter how you decide to enjoy your time by the water, spending a day or two on Colorado's most prominent beach is sure to entertain everyone in your group.
Read about the camping near Gunnison and Blue Mesa Reservoir.
Details
Address: 19 miles west of Gunnison, CO
Season: Year-round