An outdoor lover's paradise, Gunnison County offers amazing access to all sorts of recreation, including a few day trip-worthy hot springs. Together with the nearby favorite ski town of Crested Butte, Gunnison is within short driving distance (for Colorado) of several places to soak.
There are no hot springs directly in either town, Crested Butte or Gunnison, so everything requires a drive to reach. Some of the closest springs include a usually-private ranch for group events, a primitive pool that requires a long, grueling hike, and a municipal swimming pool filled with hot mineral water. For a fun summer route over a high alpine pass to more choices, head over Cottonwood to Buena Vista.
Here's a list of the hot springs near Gunnison and Crested Butte, listed in proximity (to Gunnison):
Waunita Hot Springs Ranch (26 mi) – usually private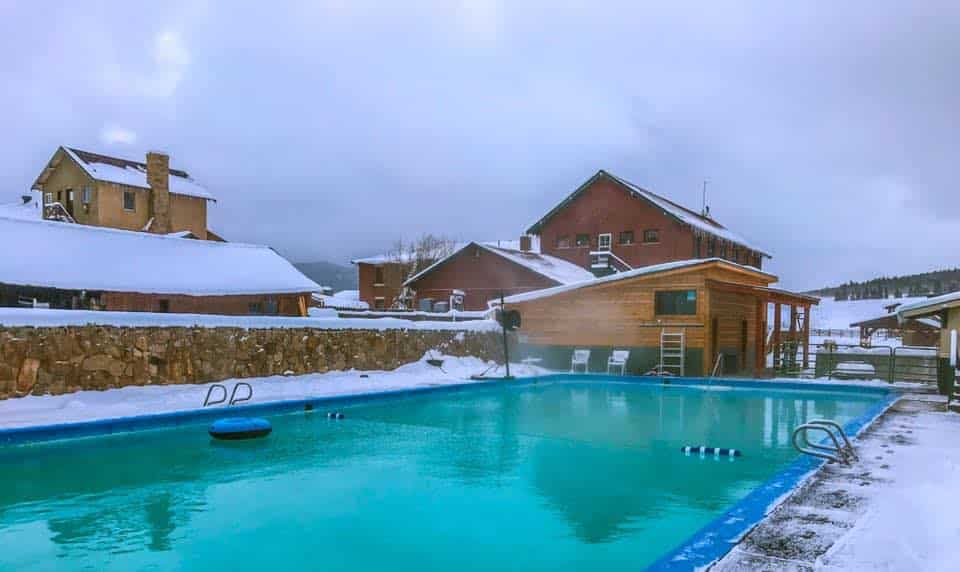 Surrounded by the beautiful Gunnison National Forest, Waunita Hot Springs Ranch is a full-service western resort just 10 miles from the Continental Divide. Waunita is generally reserved for private groups and events, but day and overnight stays are available when no private events are occurring.
Visitors should check availability for day-use and overnight stays online or by phone.
Waunita is home to one of the largest private swimming pools in Colorado. At 35 by 90 feet, it provides plenty of room to play and relax, and it's fed entirely by nearby natural hot springs. Temperatures in the pool hover around 95-102° F depending on the season, so it's comfortable year-round.
In addition to the pool, there's a bathhouse with a hot tub, and changing rooms and showers are also available.
If no private events are going on, visitors are welcome to take advantage of the top-tier facilities by staying overnight. Lodging includes unlimited use of the hot springs pool, but no meals are provided.
Rooms are available in the Ranch House, which is also the site of the dining hall, library, and billiards room, and some rooms are also located in the nearby Hillside Lodge.
Conundrum Hot Springs (39 mi + 8.5 mi hike)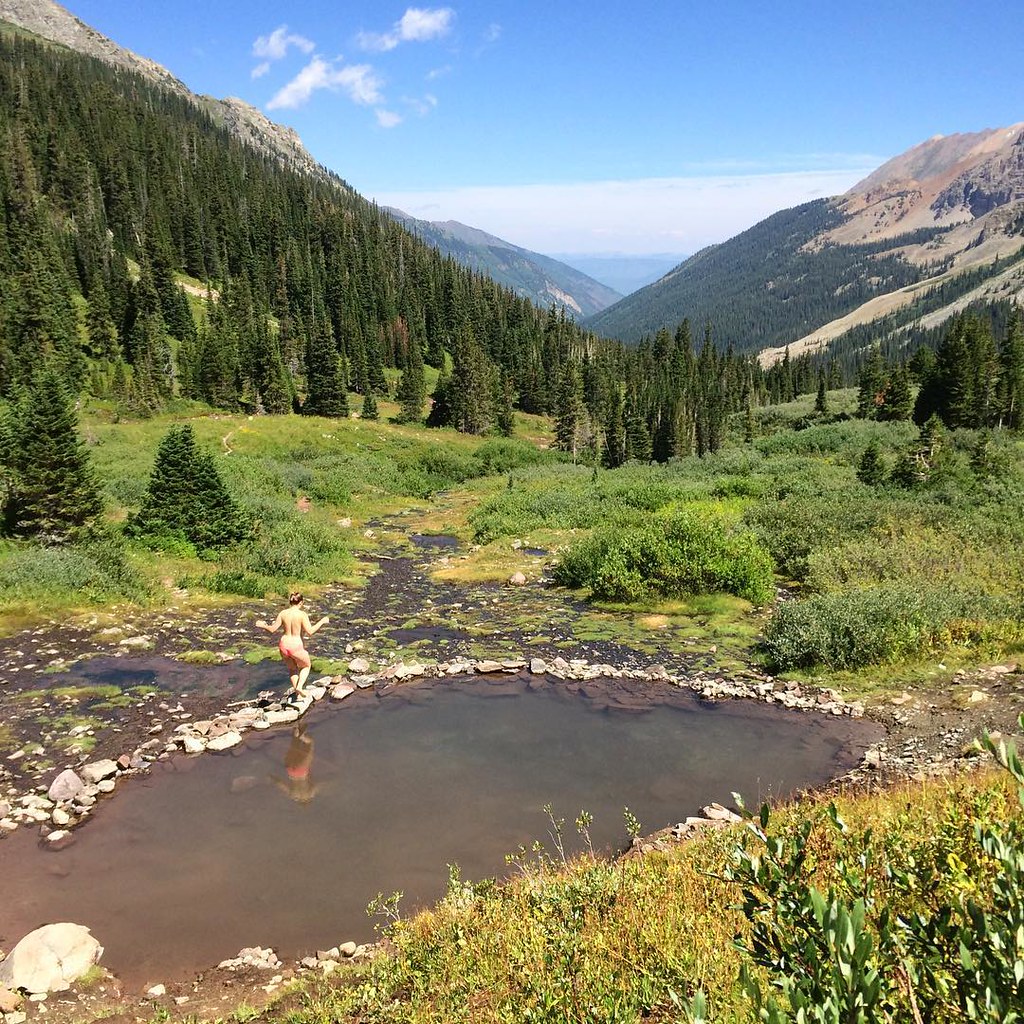 Some of the highest hot springs in the United States, the primitive Conundrum Hot Springs sit at 11,200 feet and offer fantastic views and seclusion to adventurous visitors. Accessible only by an 8.5-mile hike with 2,500 feet of elevation gain, this is a rugged but popular destination in the Maroon Bells-Snowmass Wilderness.
After a long hike, visitors can relax in several ponds of varying sizes. The largest natural pools can hold about a dozen people, and most of them hover around 100° F. The pools are often crowded, so start hiking early for the best chance at a solitary soak.
Due to its popularity, overnight stays near Conundrum Hot Springs now require a reservation made in advance. Permits are available at recreation.gov, and they become available at three separate times throughout the year.
Due to the high elevation, the campsites and trail are generally covered in snow from early October to late June, so visit between July and September for the best experience. Bear-resistant food canisters are required, and no dogs are permitted past the stream crossing at Silver Dollar Pond. Additionally, campfires are prohibited above 10,800 feet.
Salida Hot Springs Aquatic Center (63 miles)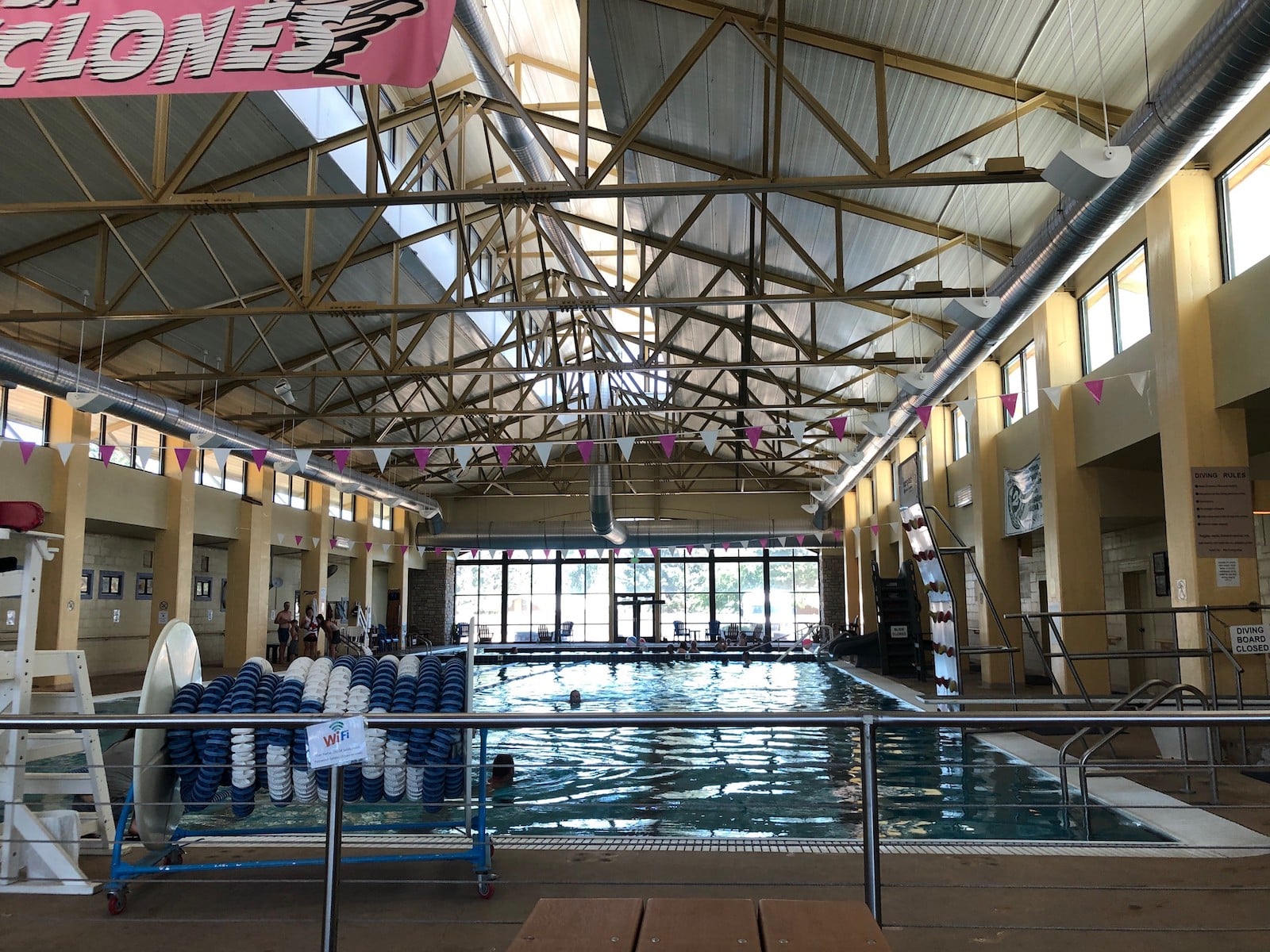 Known as America's biggest indoor hot springs facility, the Salida Hot Springs Aquatic Center offers visitors the chance to relax in healing mineral water piped in from nearby Poncha Springs. It's the most reliable, year-round public option for hot springs near Gunnison
The 25-meter, six-lane Lap Pool is kept around 82-84° F, while the smaller Leisure Pool sits between 98 and 101° F. Reservations are available for three lanes in the lap pool, but the other three lanes are first-come, first-served. For those hoping for more seclusion, small, private soaking pools are also available for rent.
The primary pools are open for general use during the afternoon, while most mornings are dedicated to a variety of fitness classes. Try in-water yoga, adult-coached swimming, and even kayak rolling classes.
Buena Vista and Nathrop's Hot Springs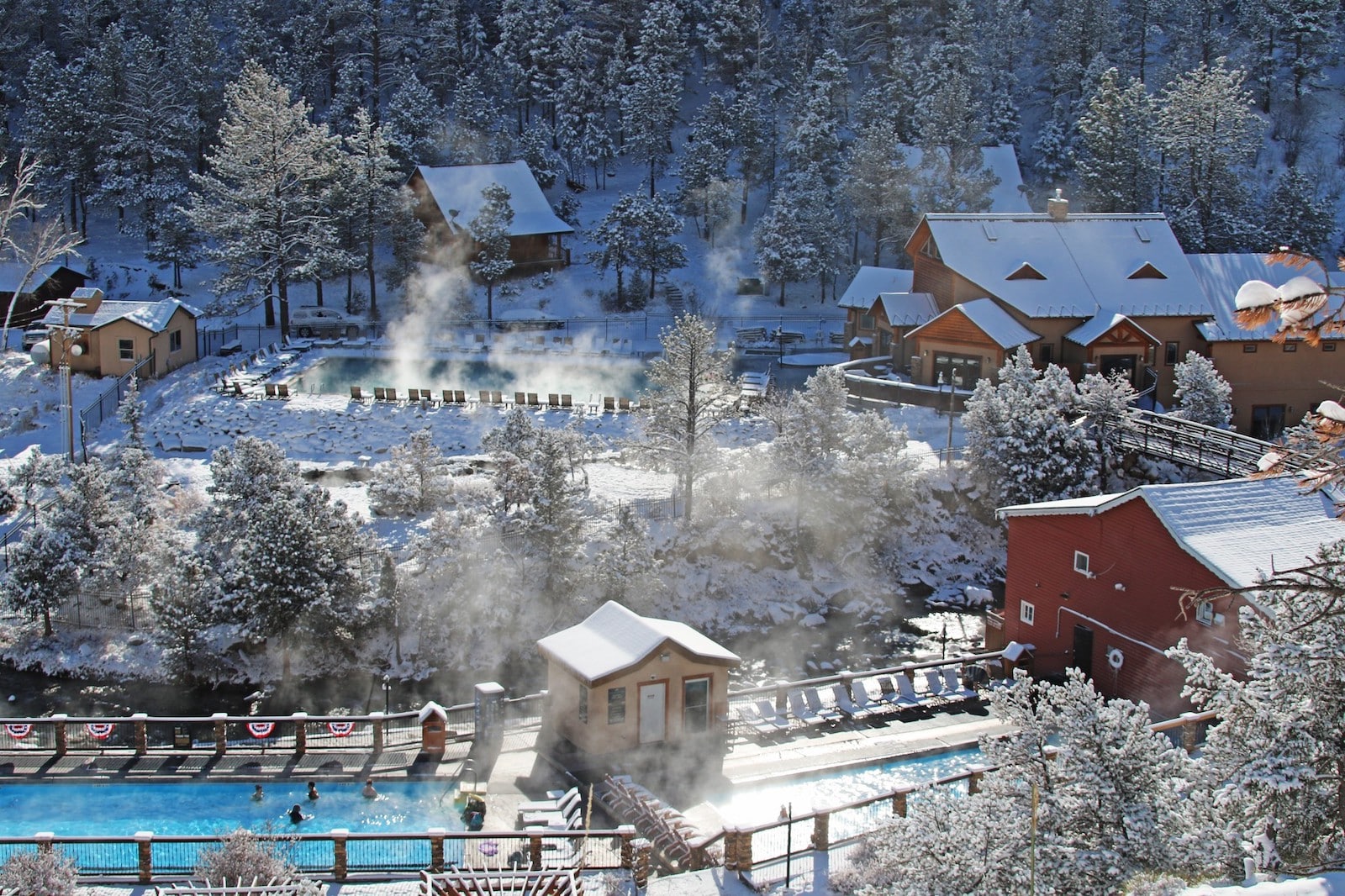 If leaving Gunnison on Highway 50 and traveling east toward Salida, you'll head over Monarch Pass. At the bottom of the pass sits the "Crossroads of Colorado", Poncha Springs.
Going north here, instead of continuing east to Salida, takes you to Nathrop and then Buena Vista, both of which offer 2 popular resorts open to the public year-round, Mt. Princeton Hot Springs and Cottonwood Hot Springs, respectively. There are also 3 private hot springs with overnight accommodations in this area of Chaffee County.
Mt. Princeton Hot Springs – Nathrop (79 mi)
Treehouse Hot Springs (private) – Nathrop (79 mi)
Antero Hot Springs Cabins (private) – Nathrop (79 mi)
Cottonwood Hot Springs – Buena Vista (88 mi | 61 mi*)
Merrifield Homestead Cabins (private) – Buena Vista (88 mi | 61 mi*)
*During the summertime, if heading to Buena Vista instead of Nathrop, you can take save a few minutes by heading over the seasonal (closes around late October, reopening around late May) Cottonwood Pass. 
Learn more about these hot springs in Nathrop and Buena Vista.
San Luis Valley Hot Springs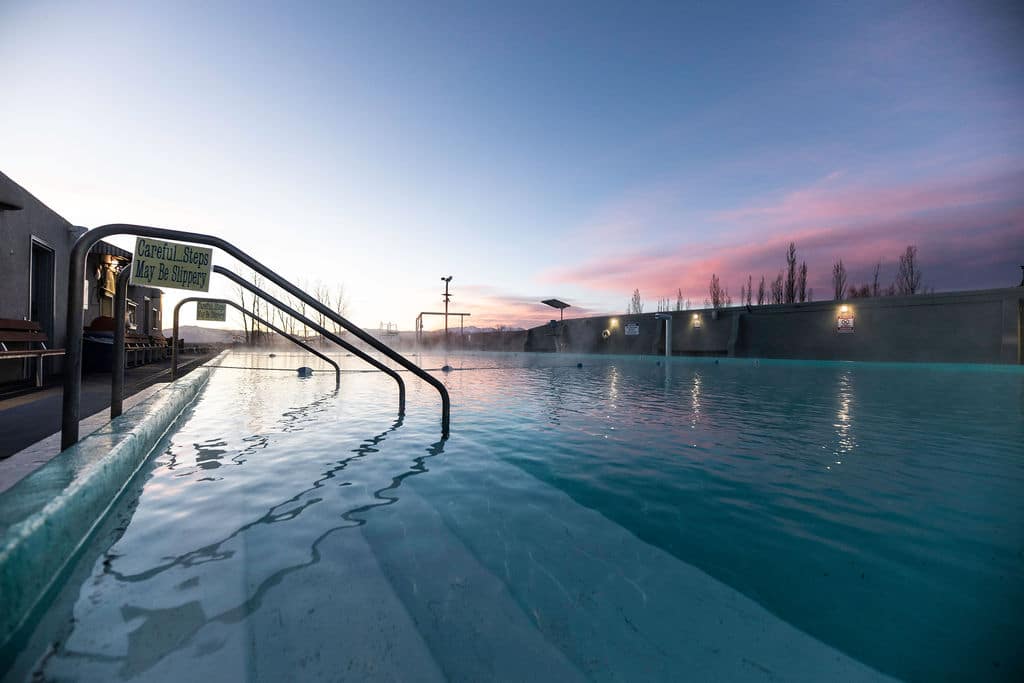 Another option east of Gunnison at the aforementioned "Crossroads of Colorado", Poncha Springs, is to go south over Poncha Pass into the San Luis Valley (SLV). This unique and vast high alpine basin offers four choices for natural springs soaking and swimming. There's also a slightly quicker route into the SLV from Gunny via State Highway 114 over North Cochetopa Pass (distance below given over North Pass).
Joyful Journey is the closest destination with accommodations ranging from motel rooms to camping to yurt rentals. Valley View also has its fair share of lodging and a campground, and it's clothing-optional if that appeals more to you. And then there are a couple of great options for splashing around in mineral water further south toward Alamosa.
Joyful Journey Hot Springs (85 mi)
Valley View Hot Springs (91 mi)
Sand Dunes Recreation (104 mi)
Splashland Hot Springs (123 mi)
Learn more about these hot springs of the San Luis Valley.
Ouray County Hot Springs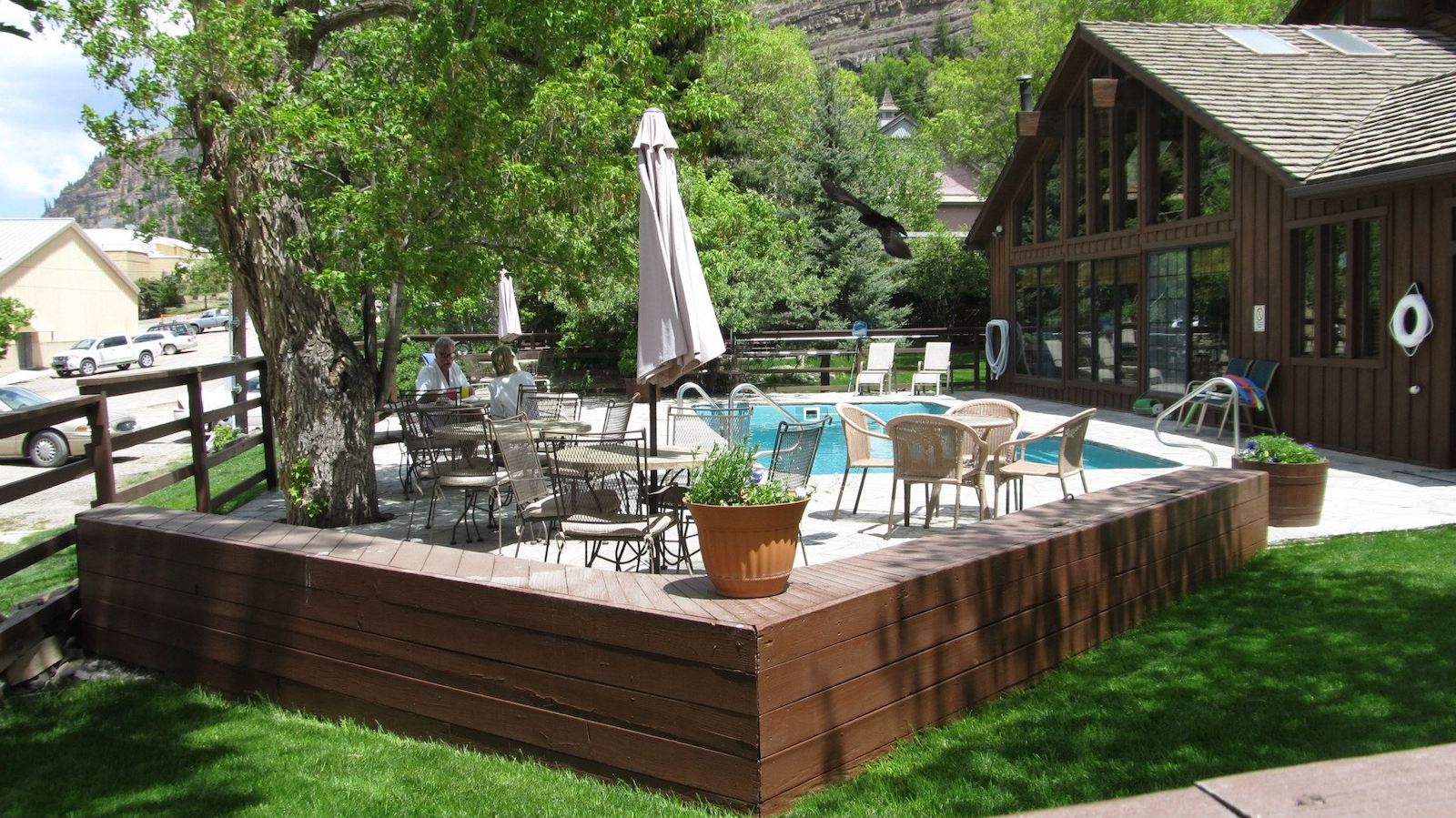 In just about two hours behind the wheel (weather and sightseeing pending), you can be in Ouray County at one of its glorious hot springs. The clothing-optional Orvis Hot Springs is a favorite, complete with on-site lodging and camping, and the closest of the bunch in Ridgway.
Heading 10 minutes south leads you into the "Switzerland of America", Ouray, and its flagship resort, the Ouray Hot Springs Pool. While this is just open for the day and night (no overnight says) it has a fitness center on-site and a worthwhile place to soak and play. There are also several lodges in town that have their own personal hot springs-fed pools and tubs, some of which, are open to day visitors too.
Orvis Hot Springs – Ridgway (91mi)
Ouray Hot Springs Pool – Ouray (99mi)
Box Canyon Lodge – Ouray (101mi)
Twin Peaks Lodge – Ouray (101mi)
Wiesbaden Hot Springs Spa & Lodgings – Ouray (101mi)
Learn more about these hot springs in Ouray and Ridgway.
These have been the best options for hot springs nearest to Gunnison and Crested Butte. Have a great terrific time road trip in this region of Central Colorado.