Situated in the San Juan Mountains, the hot springs near and in Ouray are one of the region's best highlights. Located north down the road from town is Ridgway, home to an excellent resort, or road trip much further south to Durango and its noteworthy resort.
Tourists can round off a day of seasonal outdoor activities with a soak in geothermal waters, which people have been using to relax for decades. Ouray is nicknamed the "Switzerland of America" and famed for its world-class recreation, such as local hiking and off-road driving. It's also known as the "ice-climbing capital of the US," giving tourists another reason to swing by during the winter.
When it's time to warm up or unwind, head to one of these hot springs close to downtown Ouray, listed in order of proximity.
Wiesbaden Hot Springs Spa – 0.2 | 1 minute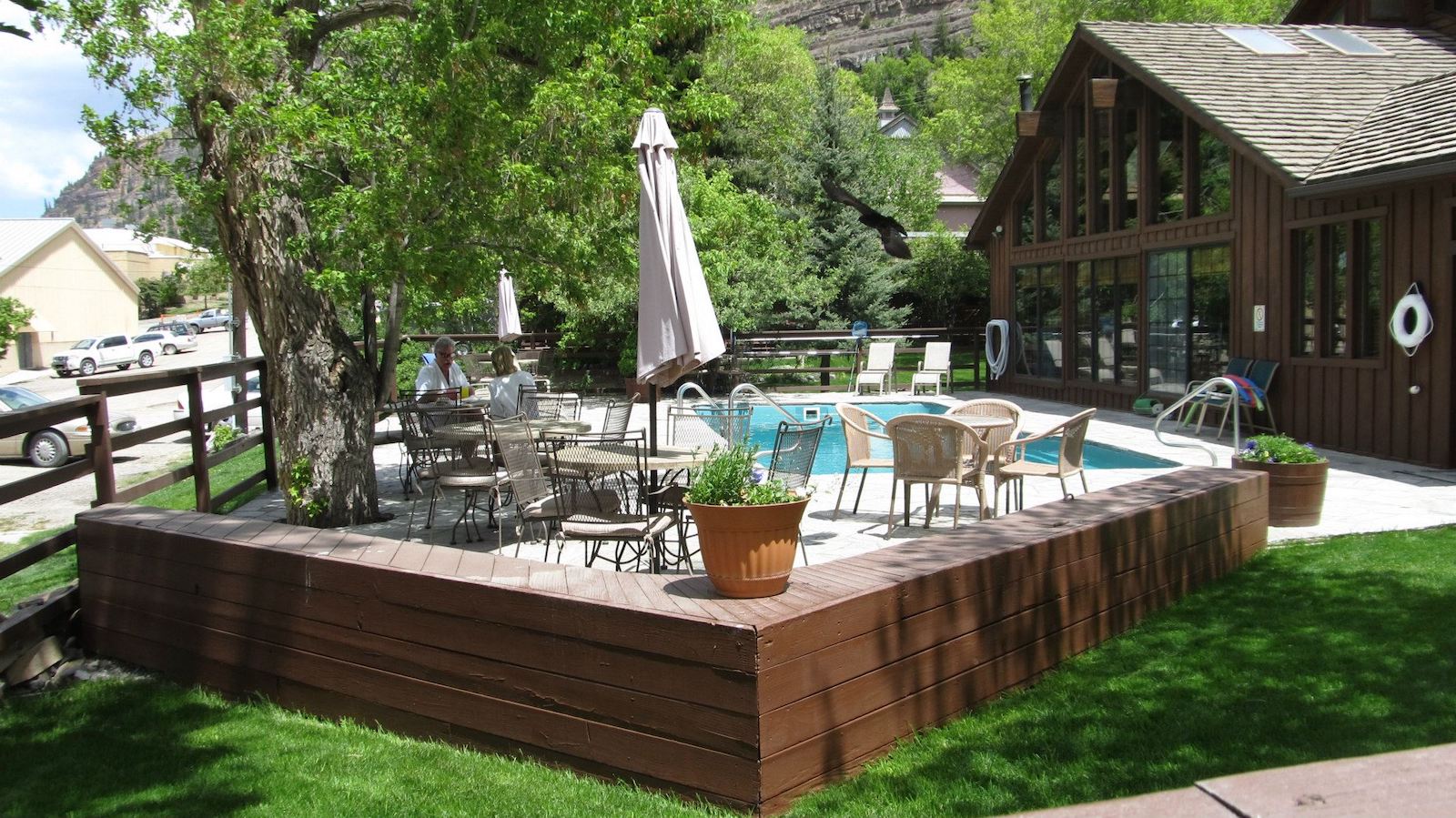 Wiesbaden, a haven of quiet and thought, provides top-notch revitalization in alpine splendor. This soothing spa has everything from hot pools to traditional wellness services in Colorado's magnificent San Juan Mountains. The constantly running hot springs provide unparalleled relaxation and promote the ultimate release from the stresses of contemporary life.
Day guests can come to use the waters for up to three consecutive hours at a time. Visitors that want to spend the can book a stay at one of the property's different-sized standard rooms, suites, or the three-room house on the hill.
The Wiesbaden's bathing facilities are fed by naturally flowing hot springs ranging in temperature from 102-108℉. The large swimming pool is heated, kept at a cozy 99-102℉, and boasts impressive mountain scenery. Another one of the spa's favorite features is the vapor cave with steam between 107-109℉, based right underneath the main lodge building. A secluded soaking pool, The Lorelei, can also be rented out hourly.
Twin Peaks Lodge – 0.3 | 2 minutes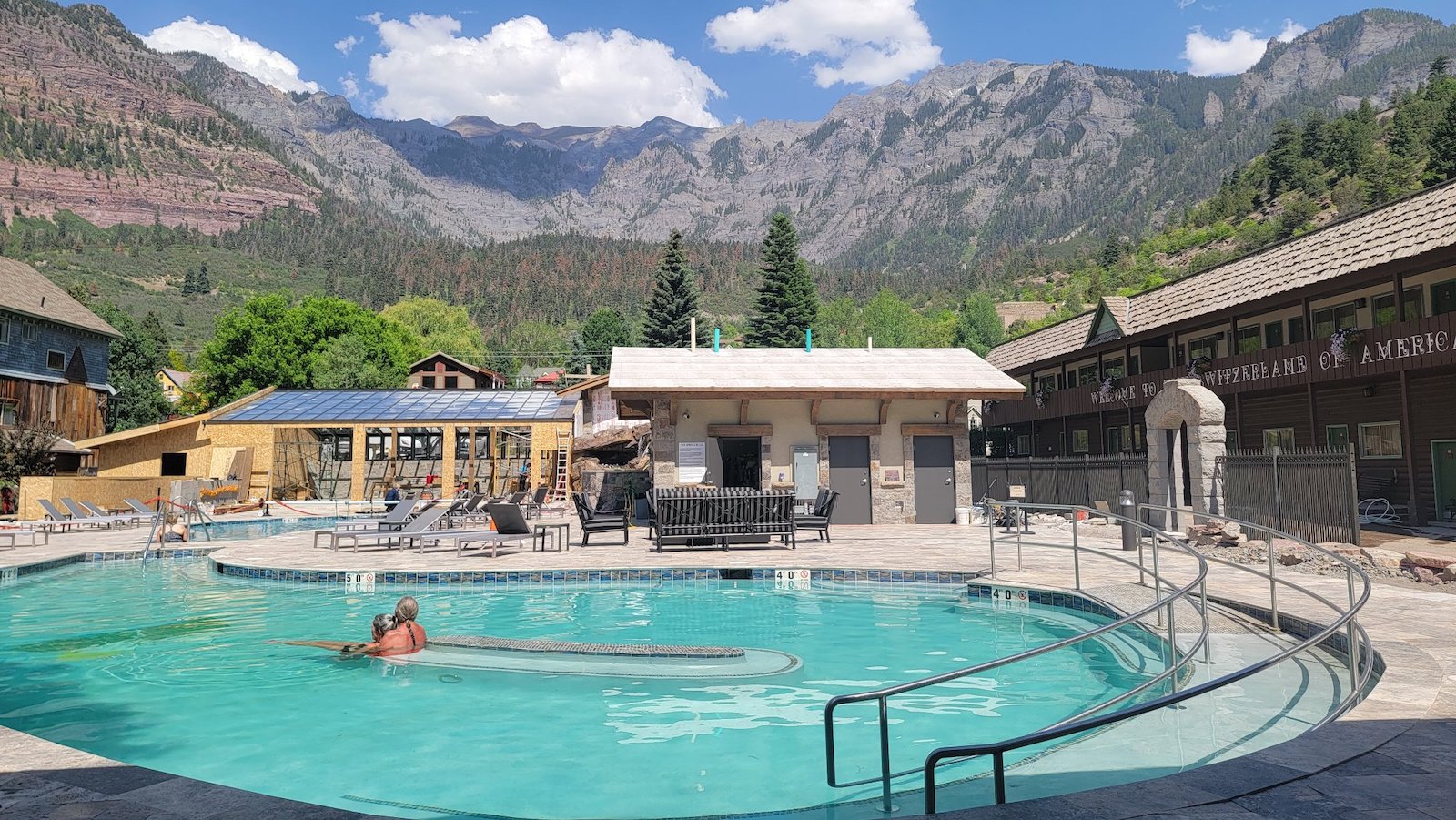 Located on the south side of Ouray, Twin Peaks Lodge is a 3.5-star hotel in the mountains. There are on-site indoor and outdoor hot springs pools and a fenced hot tub area.
A large, naturally heated pool is also on the property and is big enough to fit more than a couple of people at once. Aside from getting in the water, guests also like to relax at the hotel's Sage Spa, which offers various massages and wellness treatments.
Twin Peaks has queen and king standard rooms, a honeymoon suite, and a family suite. Accommodations are comfortable (affiliate link), clean, and conveniently located to many of Ouray's downtown stores and attractions. Guests are also welcome to take a continental breakfast each morning provided by the hotel.
Box Canyon Lodge – 0.4 | 2 miles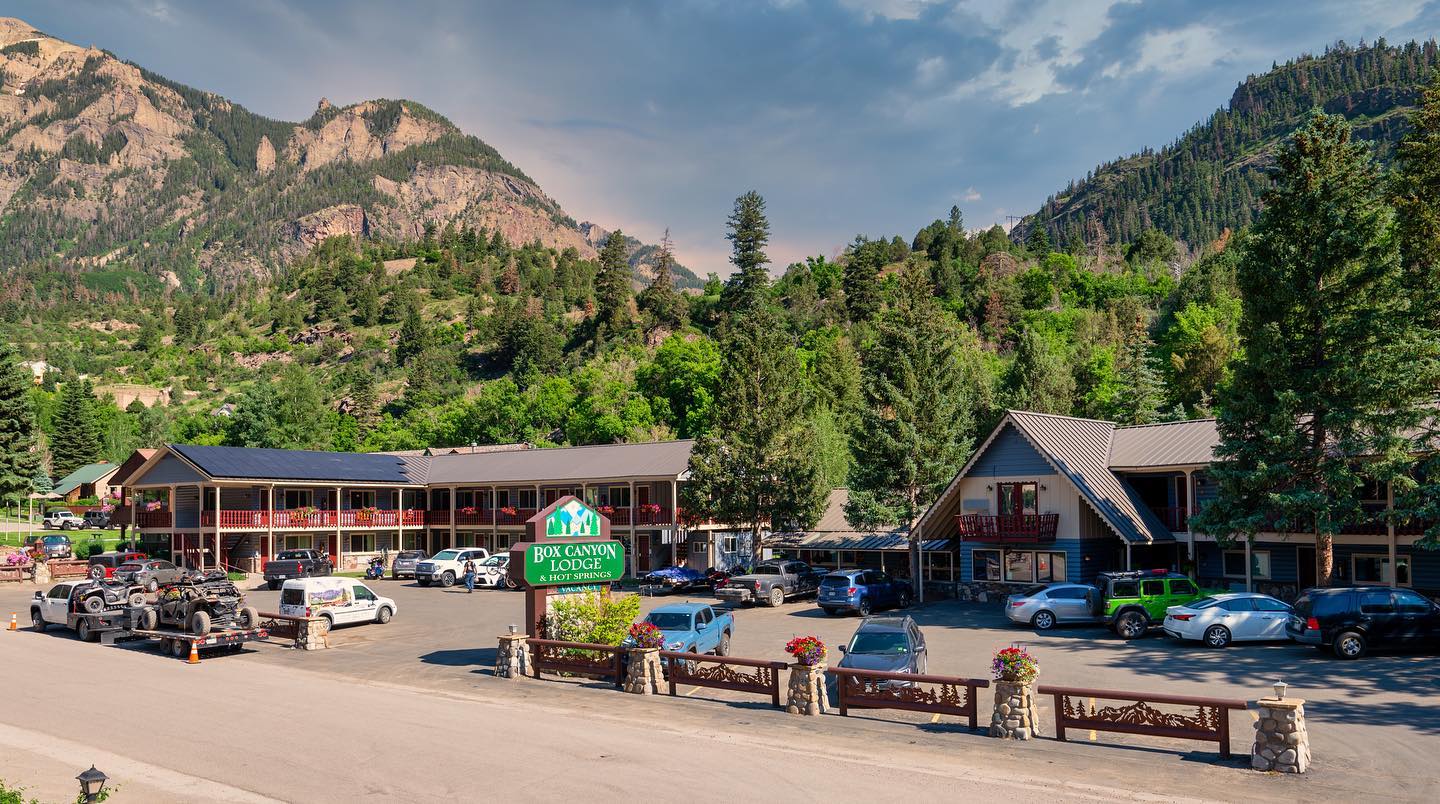 The Box Canyon Lodge is immersed in nature, and the medicinal hot springs have helped tourists reconnect with the outdoors for decades. The seven geothermal baths terraced on the hillside are very popular with guests, both during the day with 360º panoramas of the mountains and at night beneath a sky full of stars.
Guest rooms (affiliate link) are thoughtfully put together and provide easy access to the hot springs, open from 8 am to 10 pm daily. The water temperatures fluctuate from 103 to 108℉ and are free-flowing, completely replacing itself within 24 hours. Only guests of the hotel are permitted to use the hot tubs.
Visitors love coming to this resort not just for the magical soaking waters but for taking in stunning forest scenery and tranquil atmosphere. Folks like to hike the nearby nature trails, including the ones in Box Canyon Falls Park and cascading falls that are about six minutes away on foot.
Ouray Hot Springs Pool – 0.5 miles | 2 minutes
Located on Main Street downtown, the Ouray Hot Springs Pool is one of the region's biggest and most visited places to swim. Opened on July 4th, 1927, this family-friendly attraction is open year-round and enjoyed by users of all ages.
The pool area was renovated and completed in 2017, providing guests with a fresh look and well-thought facilities. Hours of operation are 12 pm to 9 pm Monday through Friday and 11 am to 9 pm on weekends.
The property has three pools ranging from 80-106℉, including a kids' area and lap lanes. Average temperatures are kept cooler in the summer than in the winter, so guests are more comfortable. During the winter, it's a treat to soak in the hot areas while gazing up at the snow-capped surrounding mountains.
Despite being an all-natural swimming facility, these spring waters are sulfur-free and have no lingering odor.
An adults-only soaking area is also part of the facility. There are volleyball courts and a rock climbing wall for visitors who are done using the water and looking for another activity to burn some energy on.
Orvis Hot Springs – 9 miles | 15 minutes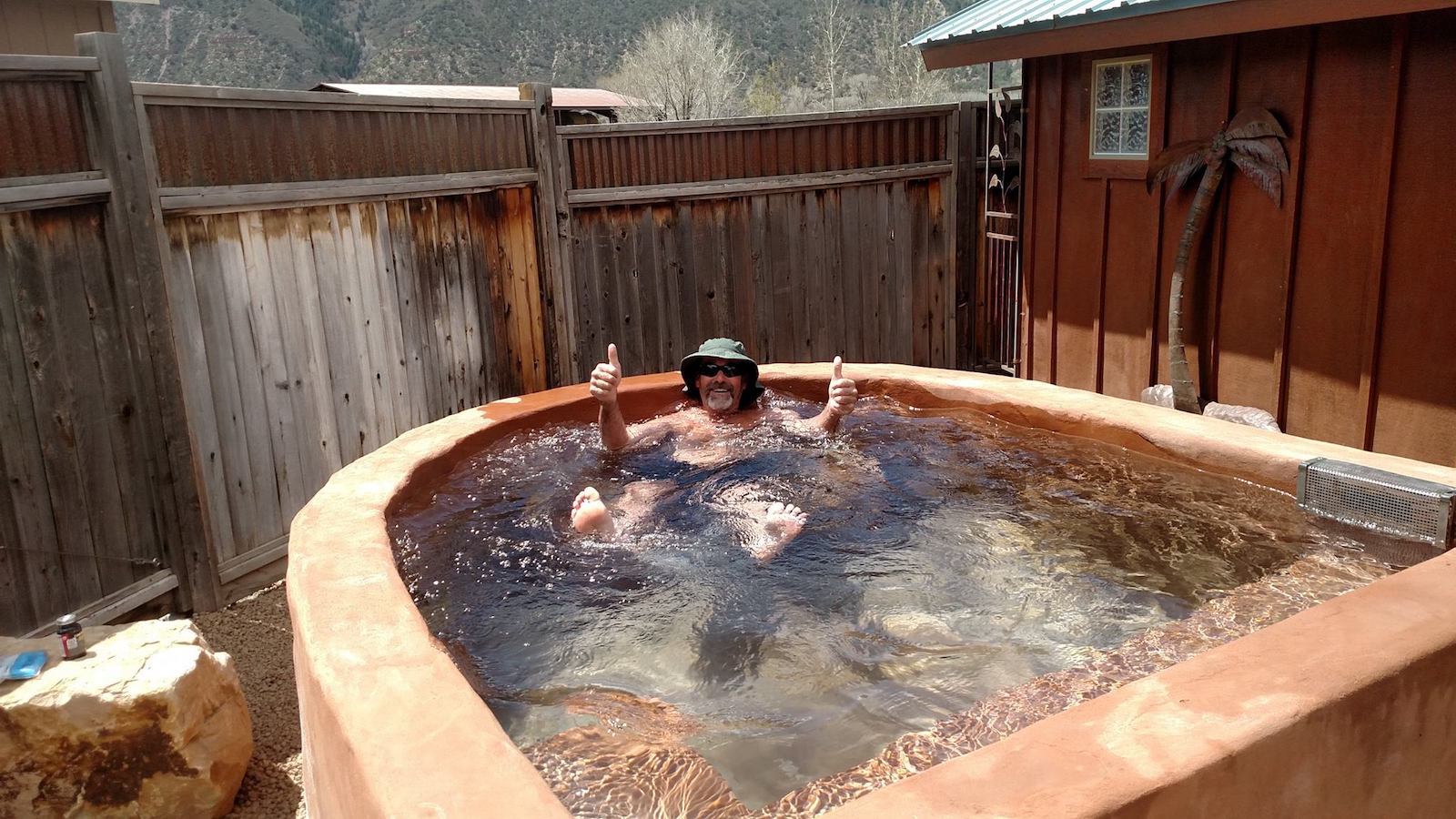 A few miles from Ouray, the Orvis Hot Springs in Ridgway is a clothing-optional facility that boasts ten soaking areas with natural, free-flow water from 65-112℉. All the baths are different sizes and temperatures, seven being outside and featuring beautiful pond-like themes. The three indoor soaking tubs are smaller and effective for completely unwinding in peace.
Stay the night in one of their six elegantly furnished rooms, each with boutique furniture, décor, and linens, to make the most of your vacation. There is also a campsite where travelers can pitch tents and a parking space for camping cars.
All accommodation and camping visitors have 24-hour access to the hot springs. A community kitchen is available for everyone who stays there, and guests can soak up until 9 pm on the day they check out.
Durango Hot Springs Resort – 62 miles | 1 hour 30 minutes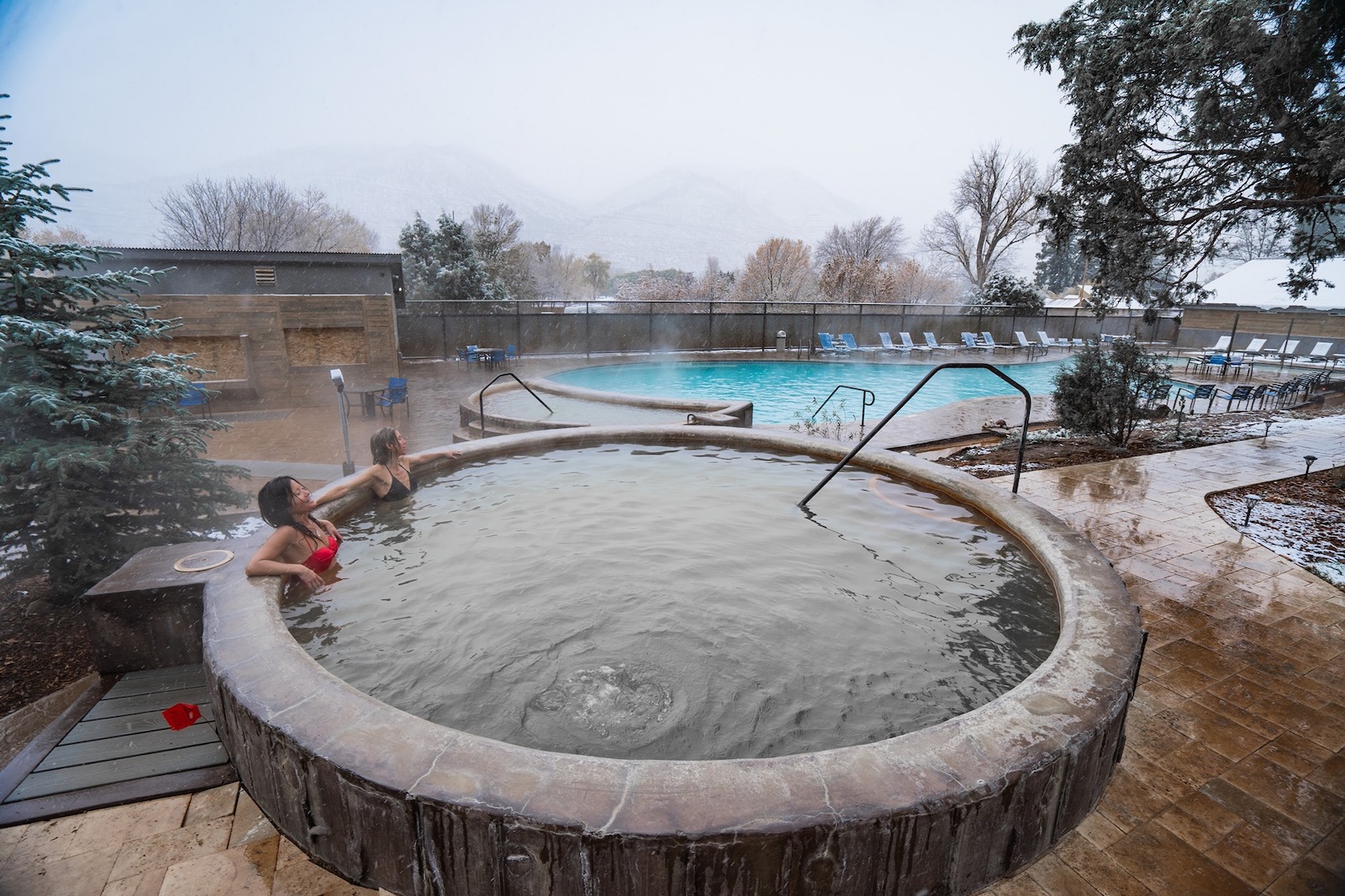 Durango Hot Springs is close enough to Ouray for a day trip, and these geothermal waters are worth the journey. Previously known as Trimble Hot Springs, this resort has been completely renovated, soaking pools and all. The thermal pools have a mix of 21 minerals that are sure to soothe even the sorest of muscles.
After a relaxing soak, book one of the spa's massages, body indulgences, or enhancements to elevate your experience at this resort. Arrange to stay all day and into the night for some live music entertainment, which the schedule for is posted on their calendar.
Daily visits are also all offered at Durango Hot Springs, allowing visitors to reserve 2.5-hour time slots. There are 16 natural mineral hot spring bathing pools at the property. Four are located close to the swimming pool and accessible to guests of all ages. The other 12 are limited to adults, providing older users a chance to relax completely without disturbances.
Except for water in bottles, outside food and drink are not permitted. Proper swim attire is required.
Regardless of the time of year, a trip to Ouray County isn't complete without a visit to some soothing natural mineral waters. Come for the skiing and hiking, and stay for the soaks!