Ouray Hot Springs Pool first opened on July 4th in 1927 and has been one of the town's premiere attractions ever since. The city of Ouray owns and keeps the facility open year round.
Facility
Several hot springs supply the pool with mineral water. There are over one million gallons of hot springs water to enjoy.
It's free from the strong smell of sulfur that are typical of other hot springs. Water temperatures range from 96 to 106 degrees in the Fall and Winter. It is kept slightly cooler in the summer.
The large pool is divided into specific areas to suit all guests. There's an area for relaxing and soaking, one for swimming laps, and another kids' area for playing. In the summer a giant, winding water slide is open.
Indoors there are lockers rooms with bathrooms and showers. For those looking to get in a workout, the resort is equipped with an 1800 square foot exercise room with Nautilus gym equipment.
After a long, hard workout, you may feel like a massage, which you can get there too.
Next to the swimming pool is a recreation area. You'll find a 1/4-mile running track, playground, horseshoe pit, softball diamond, BBQ grills and picnic tables.
Atmosphere
Family-friendly; Large swimming pool with usually lots of people.
Getting There
Located in the heart of Ouray, on the corner of Main Street and 6th Ave.
Details
Address: 1230 Main St, Ouray
Phone: 970-325-7073
Season: Year round
Hours: Mon-Fri, 12pm-9pm, Weekends, 11am-9pm​
Clothing: Required
Temp: 80-106 F
Website: ouraycolorado.com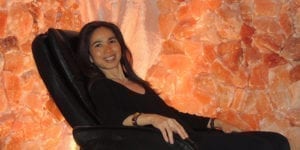 Breath clearly at a Denver Salt Cave (affiliate) - 46-47% off $19 ($35 value) for one 50-minute salt cave session , $56 ($105) for three 50-minute salt cave sessions at 5 Star Salt Caves in Denver. Europeans have long held that breathing in salt has therapeutic...