Ouray Hot Springs Pool first opened in the early 1900s and has been one of the town's premiere attractions ever since. This Colorado city owns and maintains the facility year-round, funneling warm mineral water into each of the 5 pools and water slides.
This complex is the largest of its kind in Ouray, located right at the start of downtown. It's a scenic place for a warm swim or a hot soak, and there are plenty of fun activities for the whole family to enjoy. You'll have panoramic views of the surrounding mountains as you reap the benefits of the spring water.
History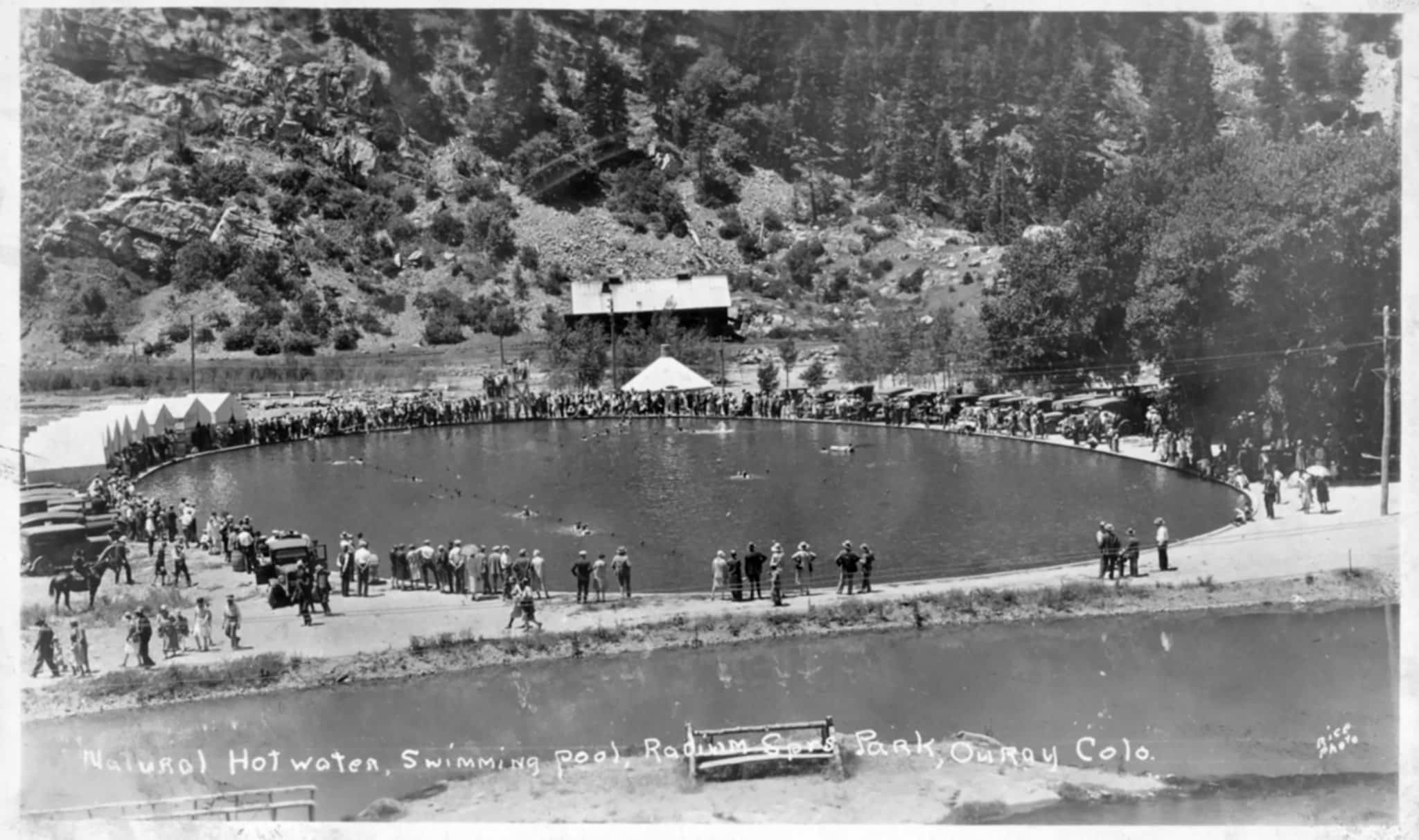 Thousands of years before there were any inhabitants in Ouray, the hot springs were already sprouting up from underground fissures and along the Uncompahgre River. The Ute Indians eventually settled in the valley and came to revere the spring water for its healing powers.
Prospectors discovered the area in the late 1800s and the Utes were removed from their sacred lands and waters. W.J Buchanan bought land and created a bathhouse, a welcome treat to local miners after a long day of work.
A few decades later, local community leaders created a plan to build a large outdoor mineral pool for residents and visitors of Ouray to enjoy. It officially opened on July 4, 1927, with one of the largest crowds in the town's history.
After almost 90 years of use, the pool underwent a demolition and renovation that was completed in the autumn of 2016. Today, it proudly serves guests with many pool options, locker rooms, and a fitness center.
Mineral Hot Springs
Ouray's large, family-friendly aquatic complex has a variety of soaking and swimming options for visitors to enjoy. There are 5 pools in total, kept at different temperatures to ensure everyone can find a spot that suits their preferences.
Most of the water in Ouray's pools originates from Box Canyon, flowing a little over a mile to the complex purely by gravity. It's free from the strong smell of sulfur that is typical of other hot springs. There are 17 minerals found in the water, including sulfate, calcium, potassium, manganese, and iron.
The Overlook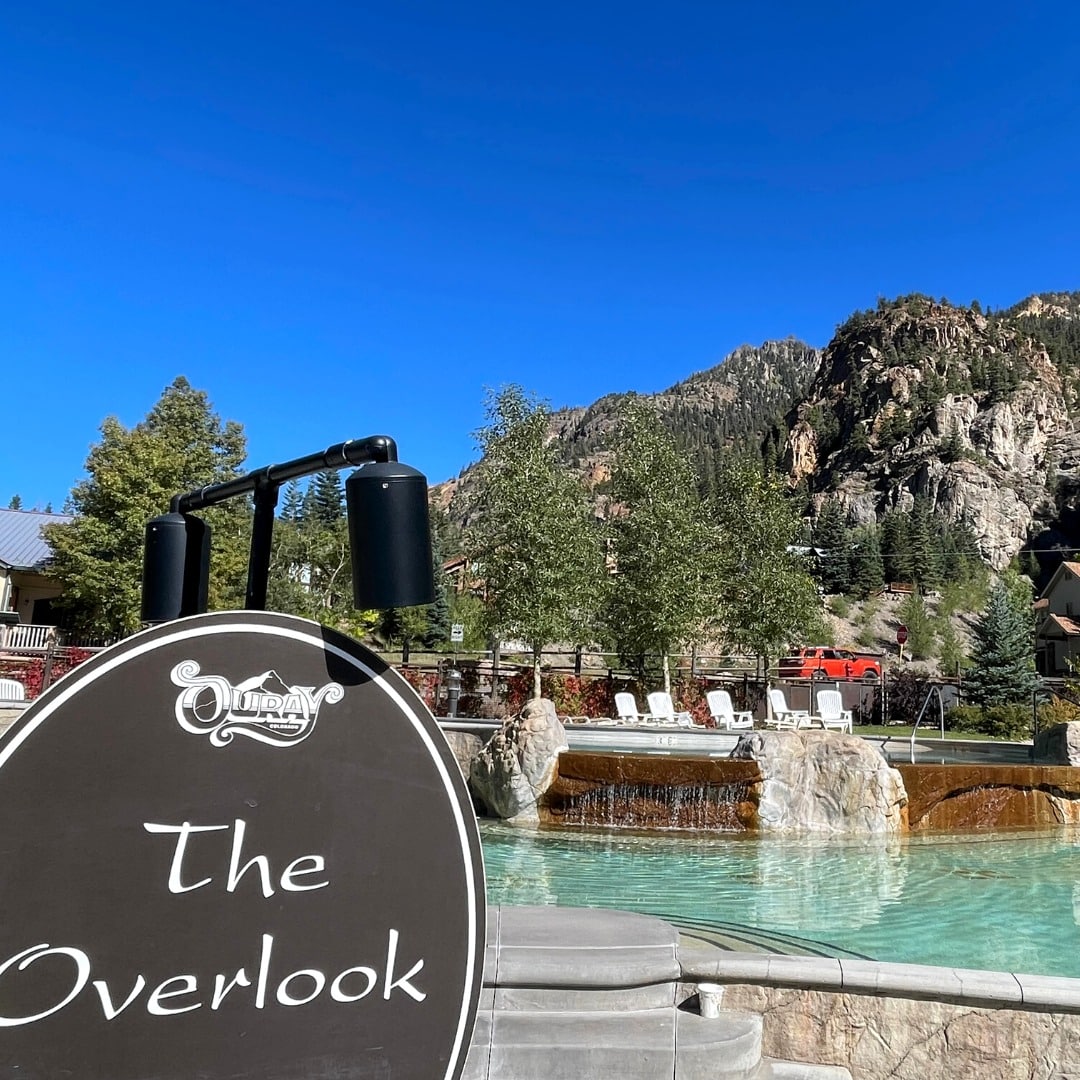 These two pools have sweeping views of the San Juans and an infinity-edge waterfall separating them. They are adult-only and temperatures typically stay between 104-106°F. The pools can hold over 200 people and are only open during the peak season, May – September.
Shallow Pool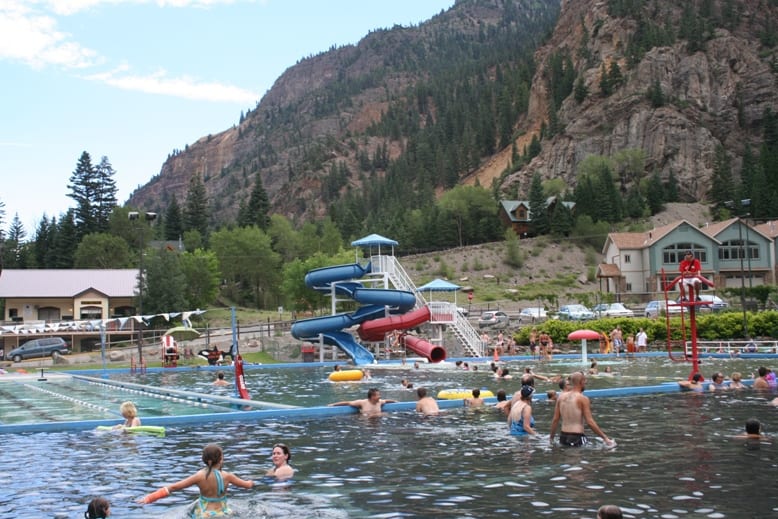 This year-round pool is shallow, with depths only reaching 42 inches. It is family-friendly for letting the little ones splash around and features a volleyball court, basketball hoop, and a dedicated floatie area.
Activity Pool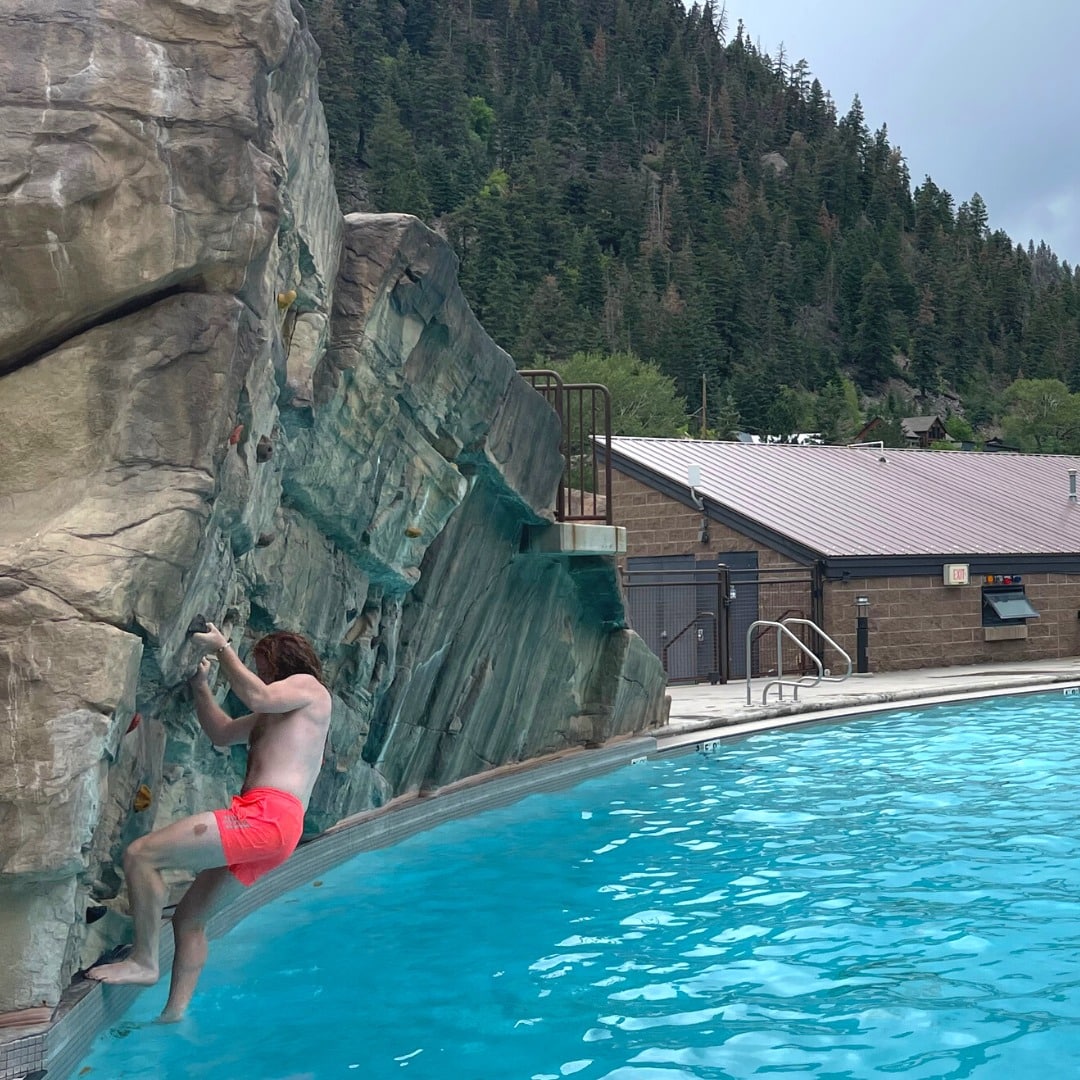 Test your strength on the Wibit floating obstacle course and 12-foot climbing wall in this pool. It is only open during peak season and children under 12 have to pass a swim test before they can attempt the fun features.
Lap Pool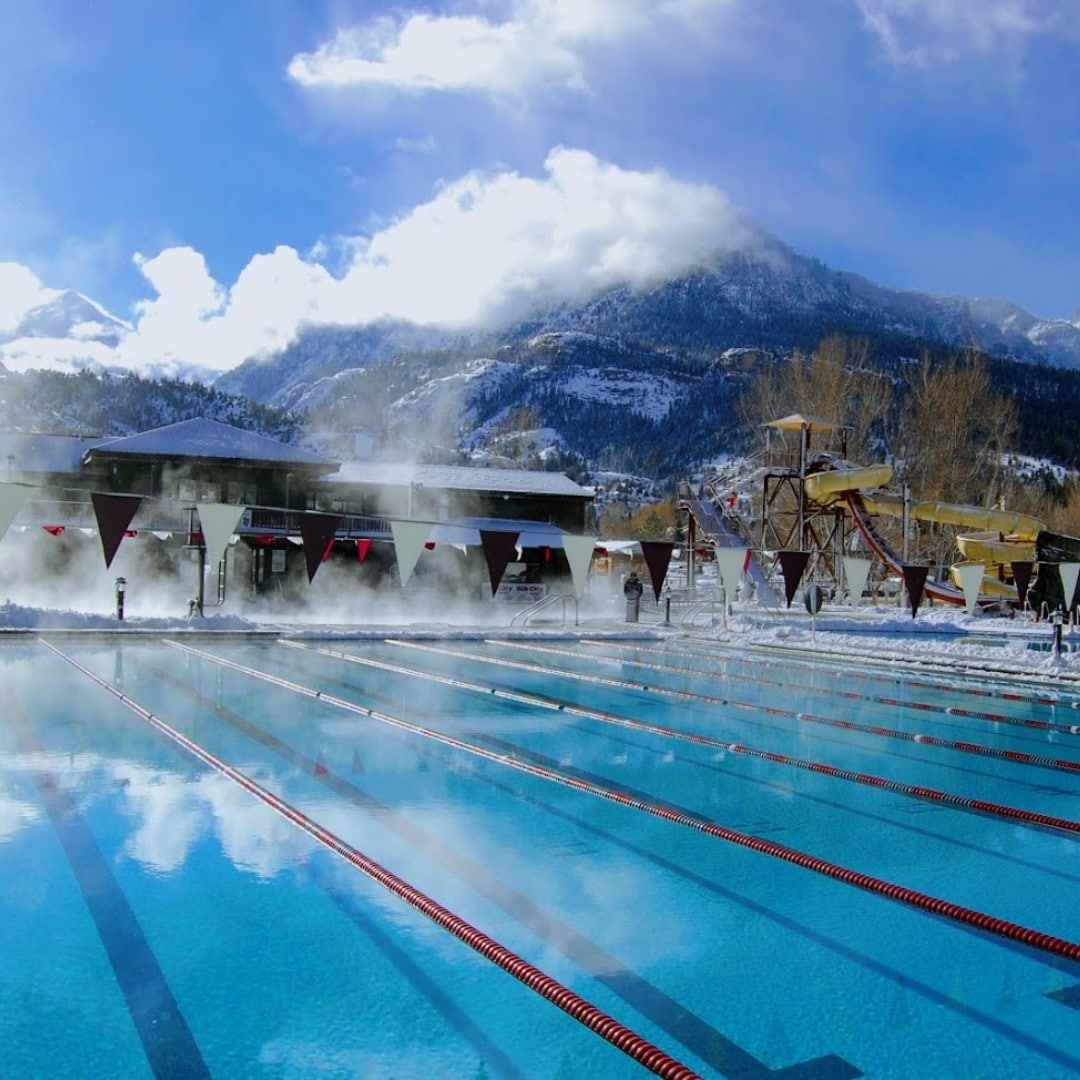 Get a warm swimming workout in at this pool. The temperature is a little bit cooler, typically from 78-82°F and there are 8 full-size 25-meter lanes. It is open year-round but closes a little bit earlier in the day during the wintertime.
Hot Pool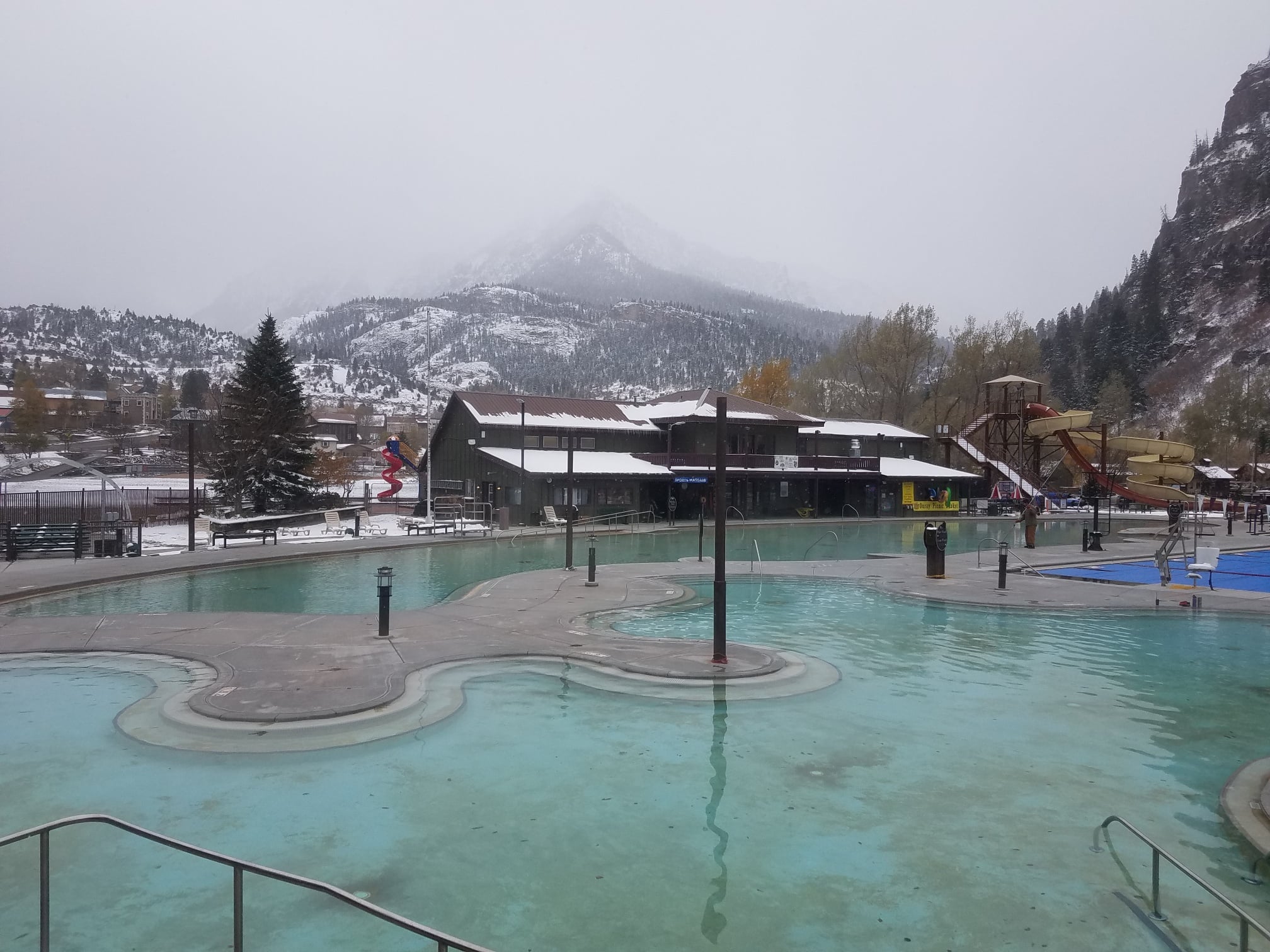 The hot pool is, well, hot. The water stays between 100-106° F and soaking is only recommended for about 15 minutes at a time. It's pretty shallow at only 36 inches and has lots of seating and shaded spots for resting on a sunny day.
Water Slides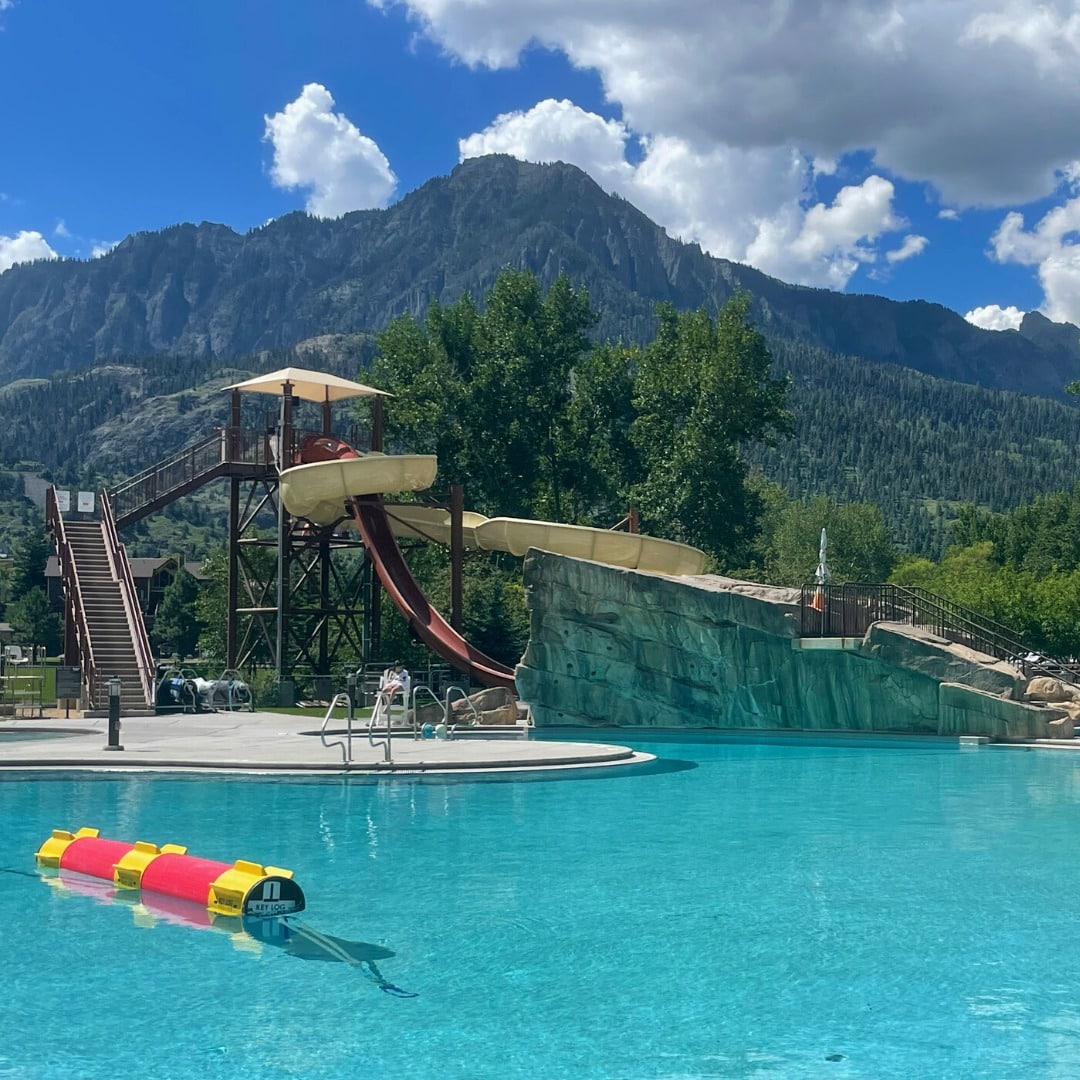 During Peak Season, Ouray has 2 exciting slides to choose from: the speed slide and the curving body slide. Both are almost 3 stories tall and allow single riders for a small additional fee.
Fitness Center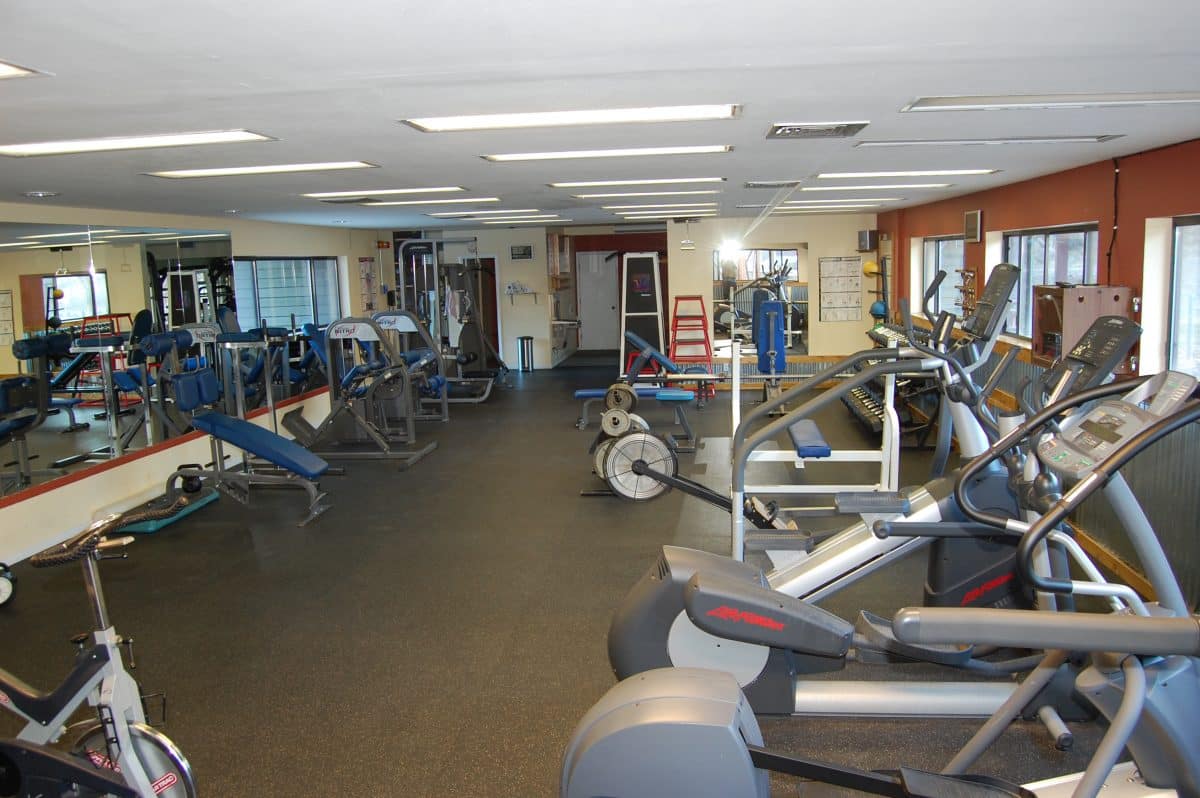 Next to the pools, you'll find locker rooms with bathrooms and showers. For those looking to get a workout, the facility is also equipped with a 1,800-square-foot exercise room with various gym equipment.
Visitors can purchase a punch pass, which gives them access to both the pool and the gym. You must be at least 15 years old to use the facilities and have closed-toed shoes.
Additionally, Fellin Park borders the hot springs property. It features a 1/4-mile running track, playground, horseshoe pit, softball diamond, BBQ grills, and picnic tables.
Getting There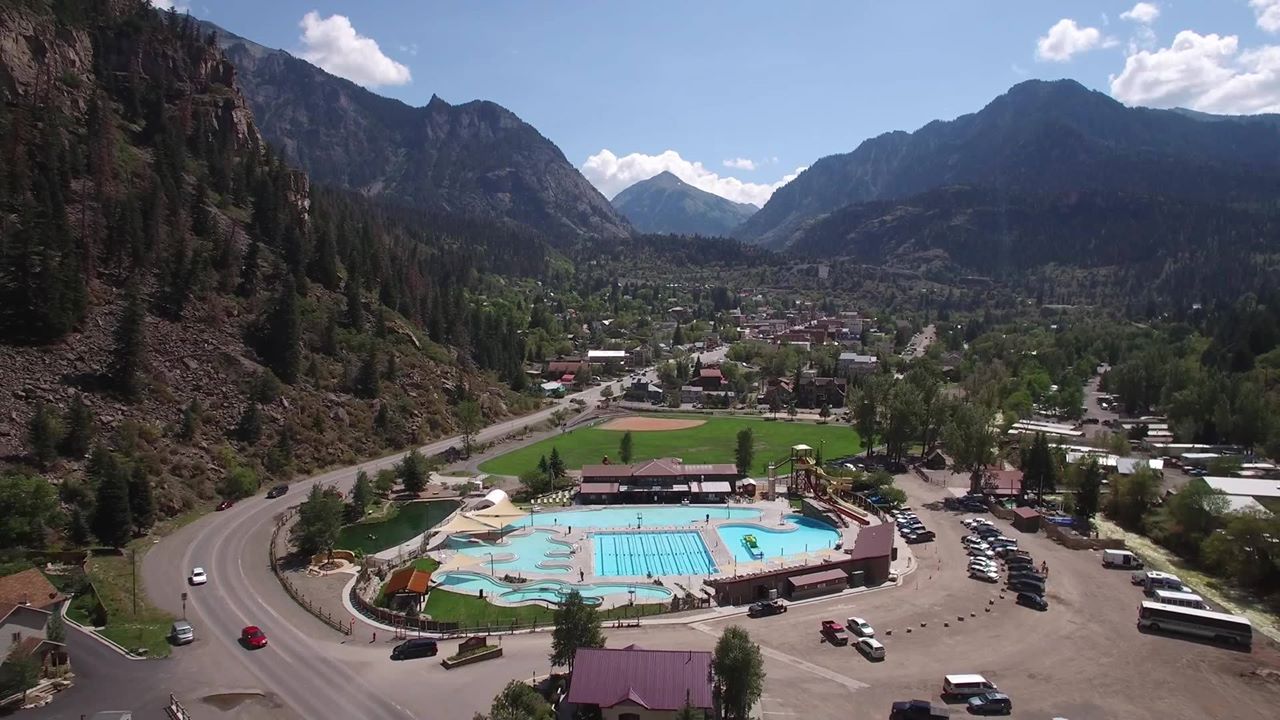 Located in the heart of Ouray on Main Street, these hot springs are pretty easy to find. Head just north of town on US-550, passing the large softball field at Fellin Park and the skatepark. The Hot Springs Pool will be on your left Look for the giant swimming pools that are pretty visible from the road.
Details
Address: 1230 Main St, Ouray, CO 81427
Phone: 970-325-7073
Season: Year-round
Hours: Public Access │ Wed-Mon 12 pm-9 pm, Member Access │ Every day 11 am-12 pm​
Clothing: Required
Temp: 80-106 degrees F
Latest in Ouray Hot Springs Pool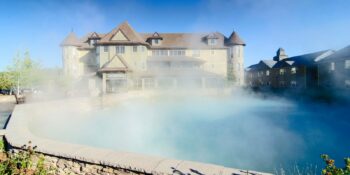 Sourced from deep under the Rocky Mountains, there are dozens of hot springs that exist around…