A local favorite, Orvis Hot Springs offers several outdoor pools to soak in with fantastic views of the San Juan Mountains. There's also an indoor pool and two private tubs if you need a break from the sunshine. It's located eight miles north of Ouray in Ridgway, Colorado.
Outside, there are seven clothing-optional pools with temperatures ranging from 65-114° F, all fed with soothing natural hot springs water. There are lodging options and massage services on the property as well, making this the perfect destination for a relaxing getaway.
Mineral Hot Springs Pools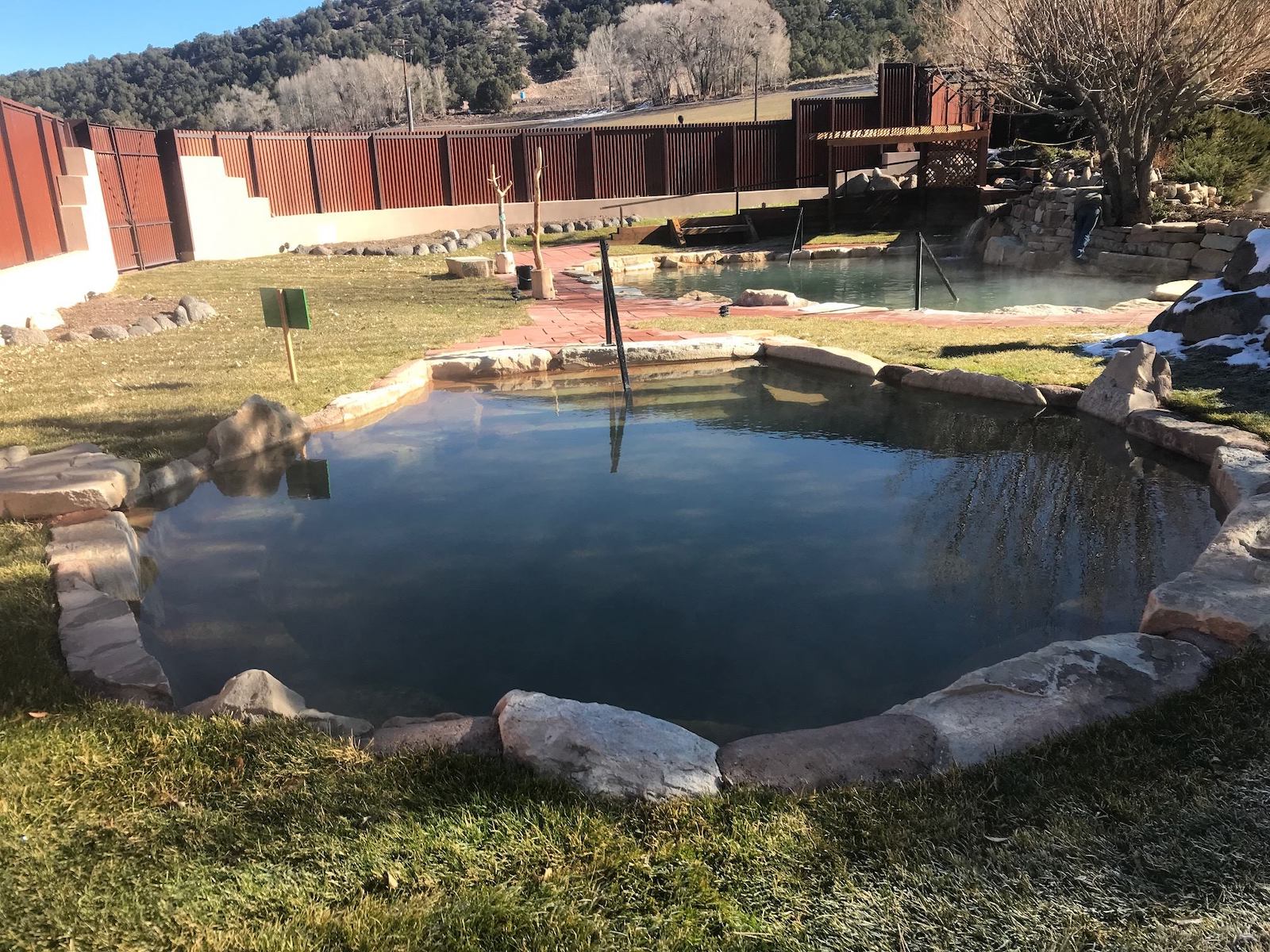 Experience the therapeutic, rejuvenating powers of the mineral water that fills each of Orvis's soaking pools. The Ute people have long known of the water's powers, but only in the last decade did settlers catch on and want the experience for themselves.
All of the water at the hot springs originates in a valley below the San Juans. Orvis's water is very rich in lithium, known for its mood-stabilizing effects. Calcium, magnesium, fluorine, and potassium are also found in the water. There are trace amounts of sulfur but don't worry, the content is low enough that there is no odor.
Outdoor Pools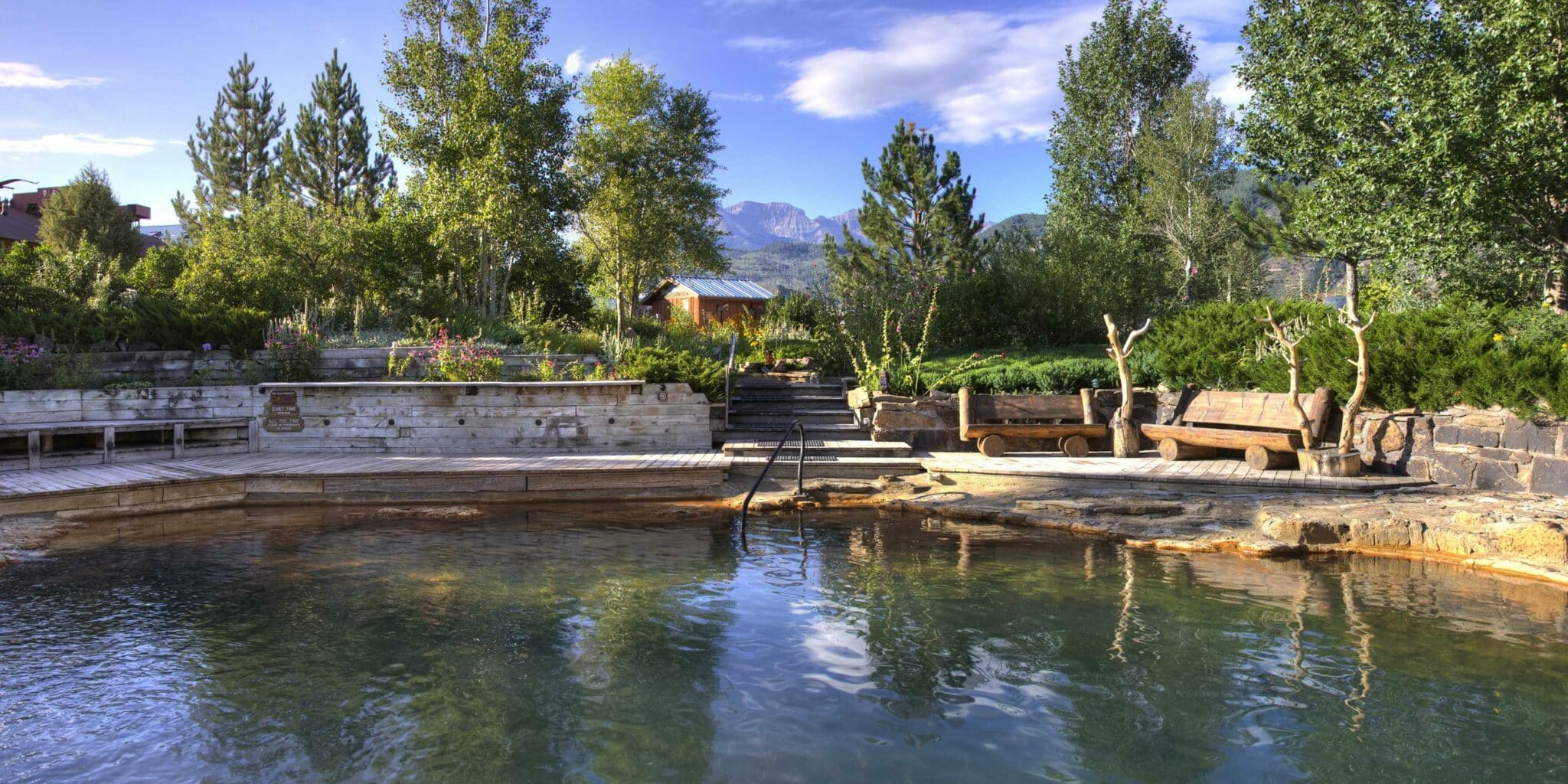 Not only do Orvis's pools have beautiful views of the San Juan mountains, but they are also a great place to stargaze due to the remoteness of Ridgway. All outdoor pools are clothing optional.
The Pond – The largest of outdoor soaking pools, the Pond sits at 40 feet across and up to 5 feet deep. The water temperature usually hovers around 100-106°F and if you dig your feet in the pebble floor, you'll feel the hot spots of the spring. There is a small cold pool attached to take a dip in if you get too toasty.
Island Pond – A bit smaller and shallower reaching depths of only about 2 feet. Island Pond sits at the highest point on Orivs's property and has a peaceful cascading waterfall to provide some white noise.
Smoker's Pond – Only 8 feet round, this cozy pool is fed by the Island Pond and typically has temperatures around 103-107° F. It also has a nice waterfall and is the only tub where smoking is allowed.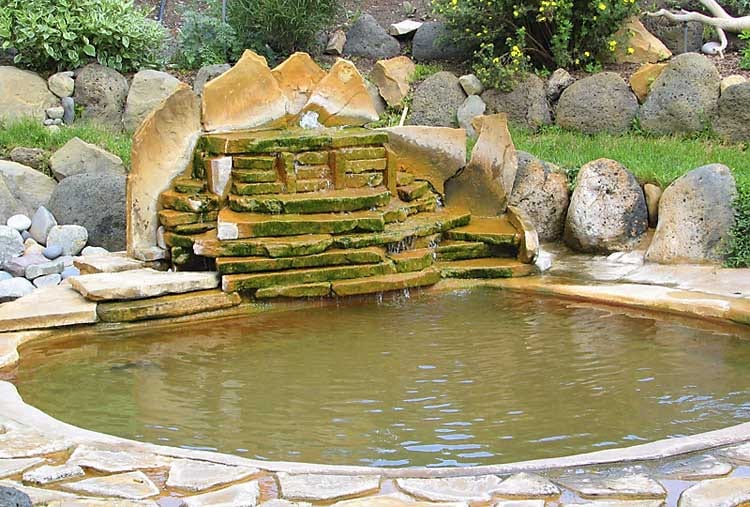 The Lobster Pot – The hottest tub with temperatures averaging 108-114° F. Because of its small size, the water stays at a more consistent heat level.
Cold Plunge – Sitting at a very chilly 65° F, this cold tub is a prime place to cool down. Just as hot spring water has health benefits, immersion in cold water does as well.
North Pool – A medium-sized pool right behind the main Pond pool, the water here is a bit cooler at 100° F. Hang out here on a summer day to enjoy some thermal water without overheating.
Watsu Pool – Specifically designed for Watsu massages, this warm, non-chlorinated pool is a designated silent area. Silently soak and appreciate the beauty of Orvis in this therapeutic pool.
Pool House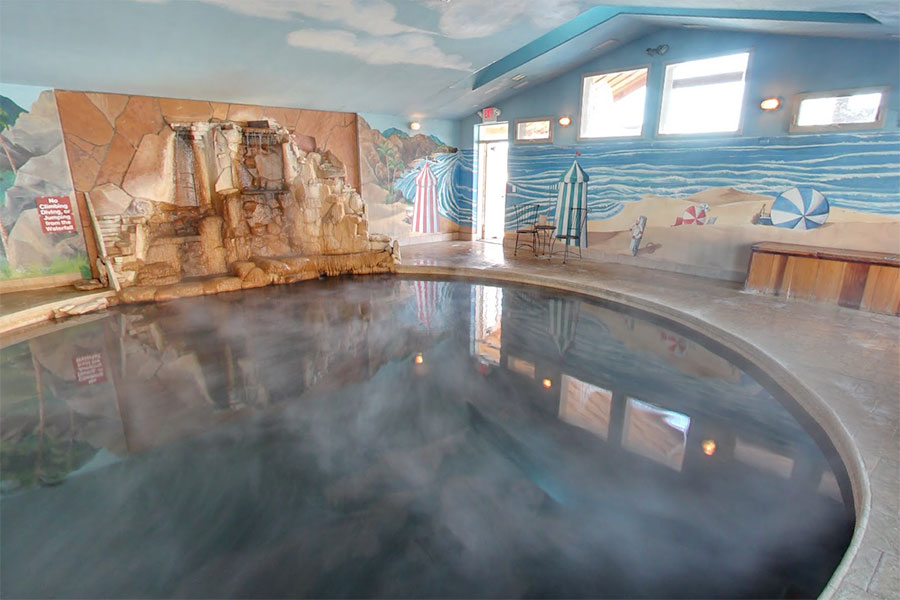 If it's too cold to sit outside or maybe you just need a break from the sun, head indoors to the family-friendly pool. It is zero-entry and only reaches a depth of 3 feet. Beautiful outdoor-themed murals cover the walls and there are patio chairs to recline in. Bathing suits are required from 7 am-9 pm each day.
Private Tubs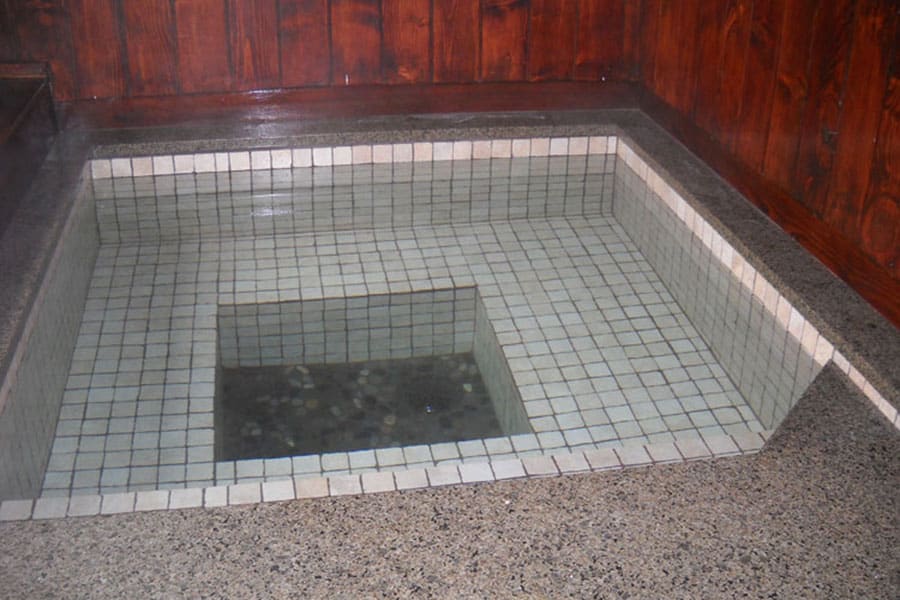 For a more intimate experience, there are 2 private tubs available first-come, first-serve. Each one is drained and cleaned on a daily basis, so you can rest assured it'll be spotless while you soak. The water temperatures average around 102-110° F.
Room Types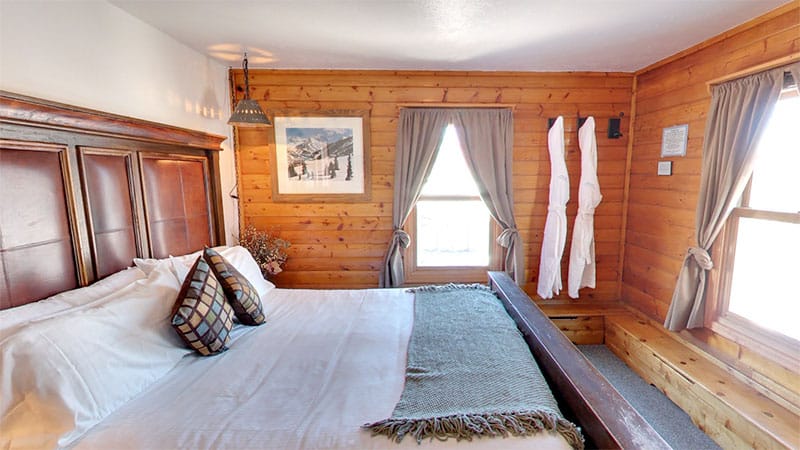 Orvis Hot Springs has six themed bedrooms available for rent on the upper floor of the lodge. No telephones or televisions are in the rooms, but there is Wi-Fi available in the main lodge. Guests can arrive early on the day of check-in to soak, and stay until 9 p.m. on check-out day as well.
Antique Room – This room is aptly named for its antique decor. It sleeps up to 3 guests, but 2 would be ideal as there is only one double bed. This is the only smoking room on the property.
Americana Room – A tribute to the Land of the Free, this room features a queen-sized, handcrafted Amish carriage bed. There are beautiful views of the mountains and it can sleep a maximum of 3 people.
Iron Room – One double bed and one queen bed make up this cozy room, each with sturdy iron bed frames. There is also a built-in vanity and sink and it accommodates up to 5 guests.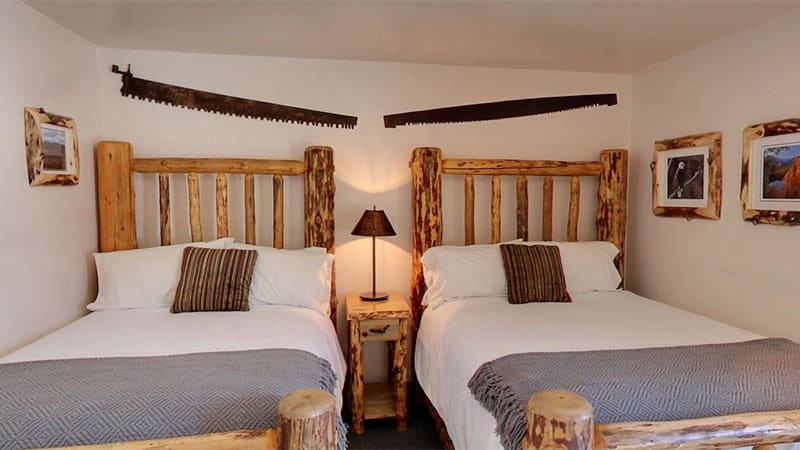 Log Cabin Room – Guests love the custom pine furniture in this room, truly giving it a log cabin vibe. A maximum of 5 people can sleep in this room, with one queen bed and one double bed.
Uncompaghre Room – Advertised as one of the most popular rooms in the lodge, this wood-paneled corner room has lovely natural light, a custom headboard crafted in Mexico, and a king bed.
Mt. Sneffels Room – Another guest favorite, this is the other corner room with views of the Mt. Sneffels Wilderness. A king sleigh bed sleeps up to 3 people.
Note that between all 6 rooms, there are 2 full bathrooms for guests to share. Each one has a shower, sink, and toilet. There is also a shared community kitchen on the lower level to prepare a meal or grab a coffee.
Check out some other hotels in Ridgway for more local places to stay.
Camping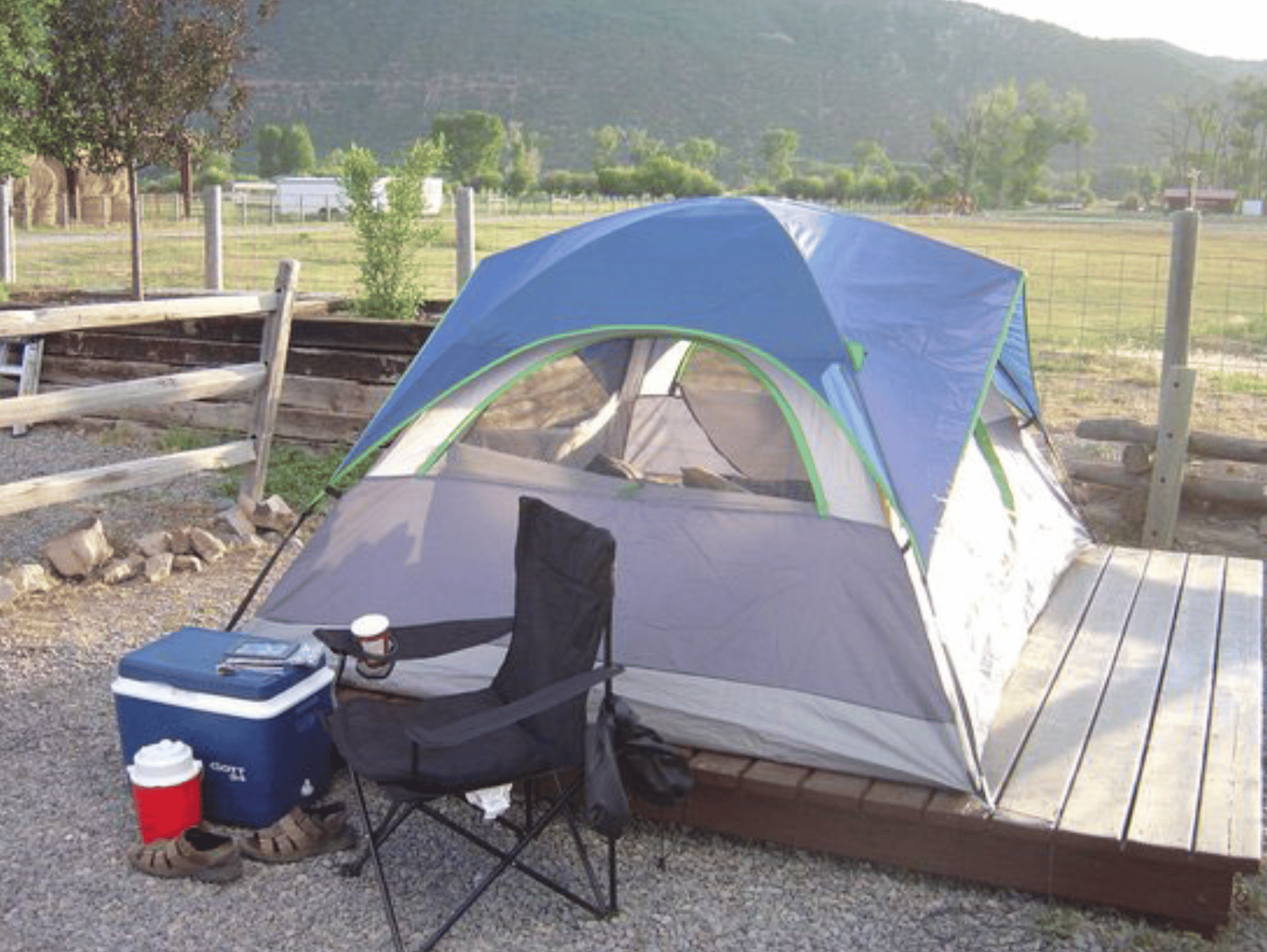 If you would prefer to be one with nature, there are tent platforms and car camping sites priced per person. Campers get two days' worth of soaking for 1 night of camping, and that includes 24-hour access to any of the pools.
Orvis can accommodate RVs up to 30 feet, but there are no hookups of any kind. Space is limited to 30 sites, so be sure to plan ahead if you want to camp here. Pitching a tent, playing loud music, and running a generator are all prohibited between 9 pm and 9 am.
Read about the camping near Ouray and Ridgway.
Spa Services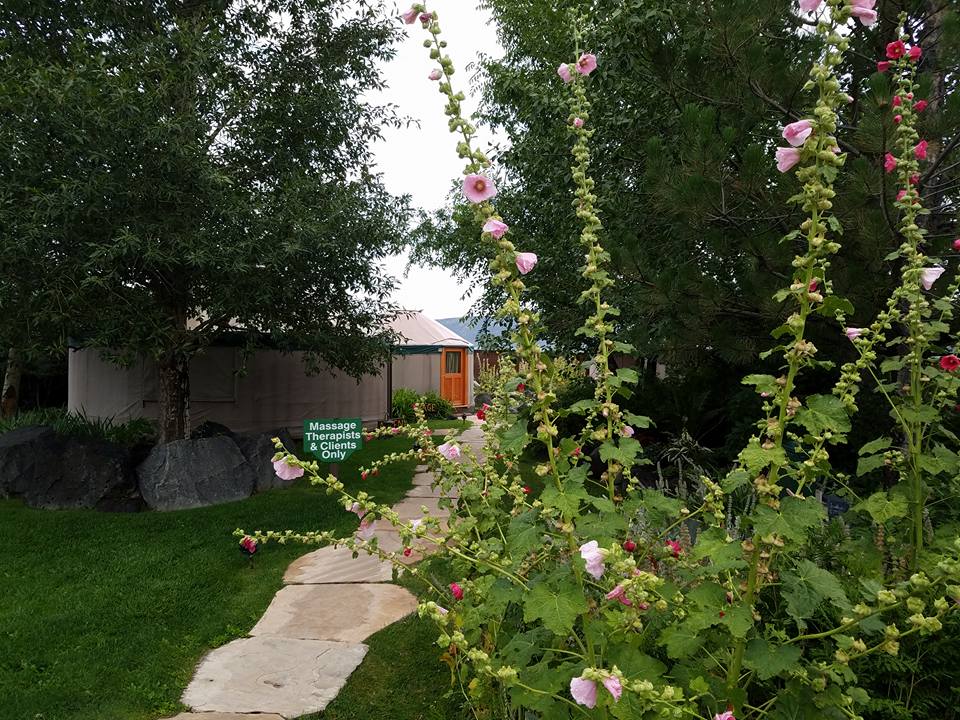 Compliment your mineral soak with a balancing massage. All services take place inside modernly adapted yurt shelters. There are several talented therapists trained in a diverse range of massage modalities to serve you.
Massage types include Swedish, sports, deep tissue, integrative, shiatsu, Thai, and acupressure among so many others. CBD oil can be added to any massage for a small fee to increase the pain-relieving effects.
Guests also have the unique opportunity to get a Watsu massage. As you float in the warm Watsu pool, your therapist will guide you into a fully supported supine position while they massage and relax your muscles. You'll reach an enlightening level of relaxation.
Getting There
From Ouray, Head north on US-550 N for 8.7 miles. Take a sharp left onto Co Rd 3 and go about 500 feet. Orvis will be on the right.
If you're coming from downtown Ridgway, the hot springs are a very short drive south on US-550. Make a slight right onto Co Rd 3 and Orvis will be on the right.
Details
Address: 1585 Co Rd 3, Ridgway, CO 81432
Phone: 970-626-5324
Season: Year-round
Hours: Daily | 9 am – 10 pm
Chlorine: No
Swimsuit: Optional
Website: orvishotsprings.com
Latest in Orvis Hot Springs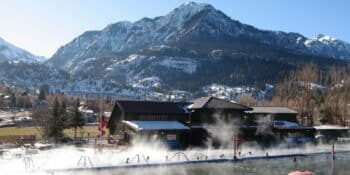 Situated in the San Juan Mountains, the hot springs near and in Ouray are one of…