Colorado is a wonderful wintertime destination, boasting dozens of options for cold-weather fun, such as skiing, fat biking, cross-country skiing, snow tubing, snowshoeing, and ice skating. Around the front range and up into the Rockies, there are dozens of outdoor ice rinks to make your season extra special.
Ice skating in Colorado on a frozen pond or lake is seasonal and weather-dependent, typically open from late November/early December to March, depending on location. The higher elevations typically open earlier and welcome guests later.
With that in mind, it's important to confirm the rink is indeed open and safe for use before heading out. Some also have times that aren't open to the public, as with hockey games or private events, so another great reason to contact first. Check out the rules at the rink before you go.
There may be requirements in order to be able to get on the ice, including specific age restrictions, registering in advance, and completing and signing a liability waiver. There are usually ice skate rentals on-site if you need a pair. Many of these outdoor ice rinks offer an opportunity to even rent out the entire rink for a private event. Some tips include:
Adults should always supervise children, and for outdoor rinks on bodies of water, be sure to confirm with officials that the ice is thick enough and approved and safe for skating.
Outdoor rinks also mean it's time to break out your best winter apparel and dress warmly.
Consider wearing a helmet and other safety gear (such as wrist, knee, and elbow pads), learning how to properly fall to reduce the chance of an injury, and if possible, taking lessons.
Ensure your skates fit properly as well.
Here is a list of the top outdoor ice rinks throughout Colorado, in no particular order:
Vail Square Ice Rink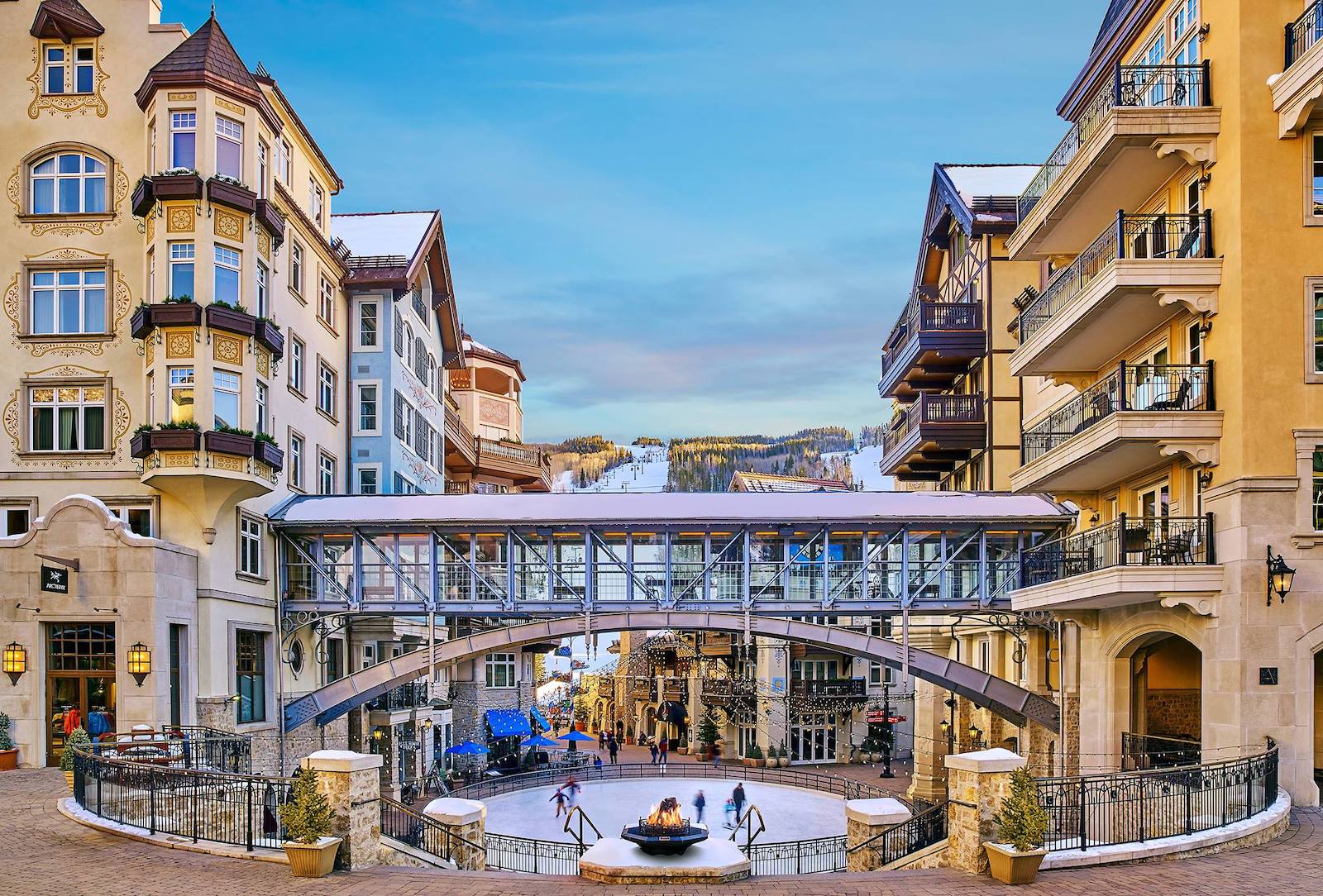 The Vail Square Ice Rink is in the heart of the bustling Lionshead Village in Vail. The outdoor rink is right near The Arrabelle at Vail Square four-star hotel. String lights hang overhead at this ice-skating spot that is typically open daily from 2 pm to 9 pm. Rental skates are available as well.
675 Lionshead Place, Vail | 970-754-7750
Solaris Plaza Ice Rink in Vail Village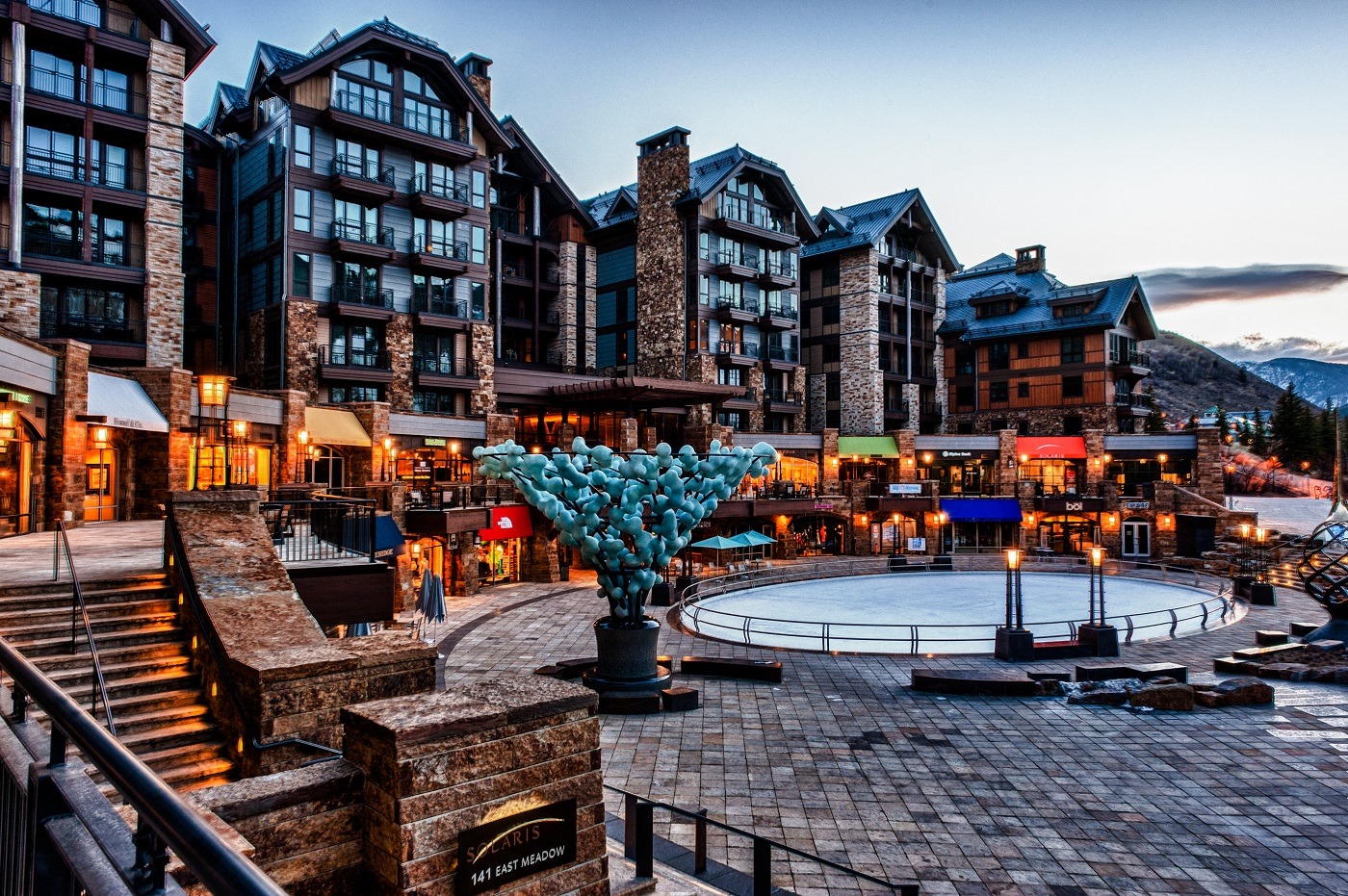 The Solaris Plaza Ice Rink is located right in Vail Village. The small rink is overlooked by several places to grab a bite or a drink, including Matsuhisa and Vail Brewing Company. Warm up with a hot chocolate or coffee from Yeti's Grind, which is only steps away. There have even been high-energy skating shows from seasoned professionals and Team USA skaters on the rink.
Vail Village, Vail | 970-306-0356 | solarisresidences.com/solaris-plaza
Downtown Denver Rink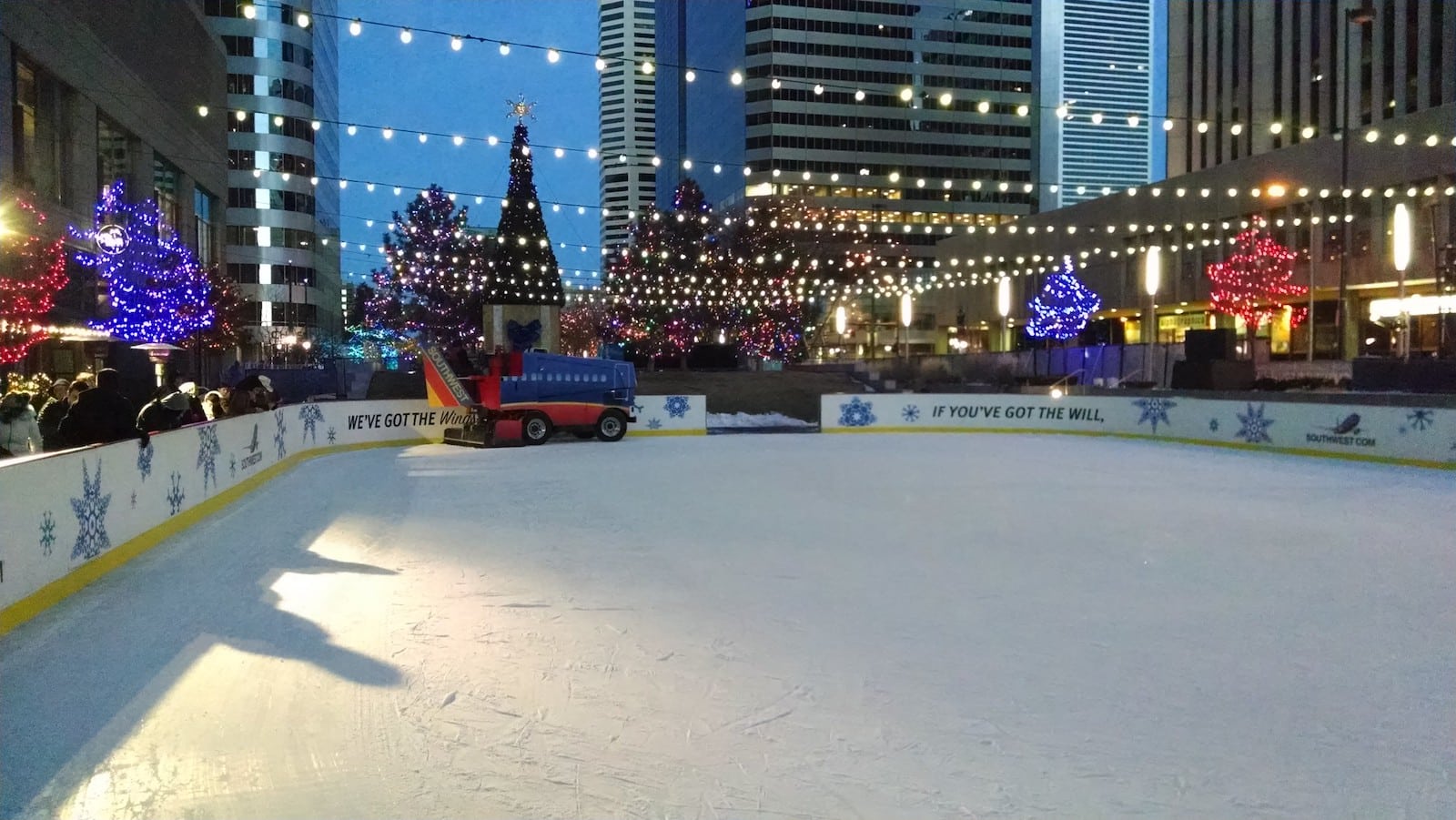 The Downtown Denver Rink welcomes more than 50,000 skaters while the ice rink is open each year. It's located in Skyline Park at 16th Street Mall and Arapahoe. There are skate rentals available for adults and kids, but if you bring your own pair, you can skate for free.
Visitors with a My Denver Card can rent skates at no additional cost. This rink is open seasonally every year from late November through February. Food and beverages are available at concessions on-site.
1601 Arapahoe Street, Denver | 303-534-6161 | winterindenver.com/rink
Winter Park Resort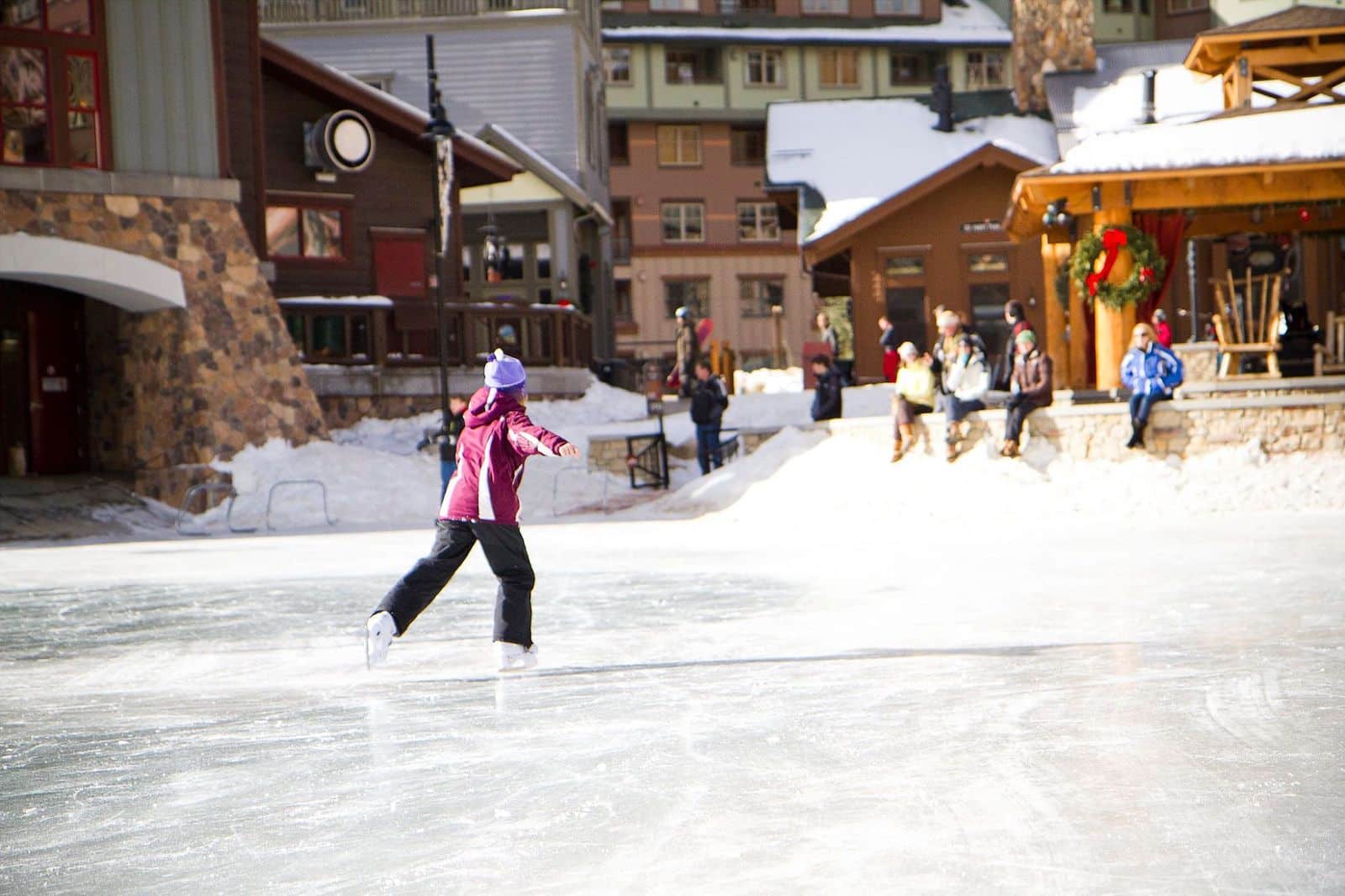 The Winter Park Village Ice Rink takes place at the Village Pond right in the center of the mountain village. This location offers hours for cosmic ice skating as well. To rent ice skates, visit the Adventure & Supply Co. in the Resort Village or bring your own to use. Other wintertime activities at the resort include snowcat tours, snowshoeing, and tubing.
85 Parsenn Road, Winter Park | 970-726-5514 | winterparkresort.com/…
Beaver Creek Village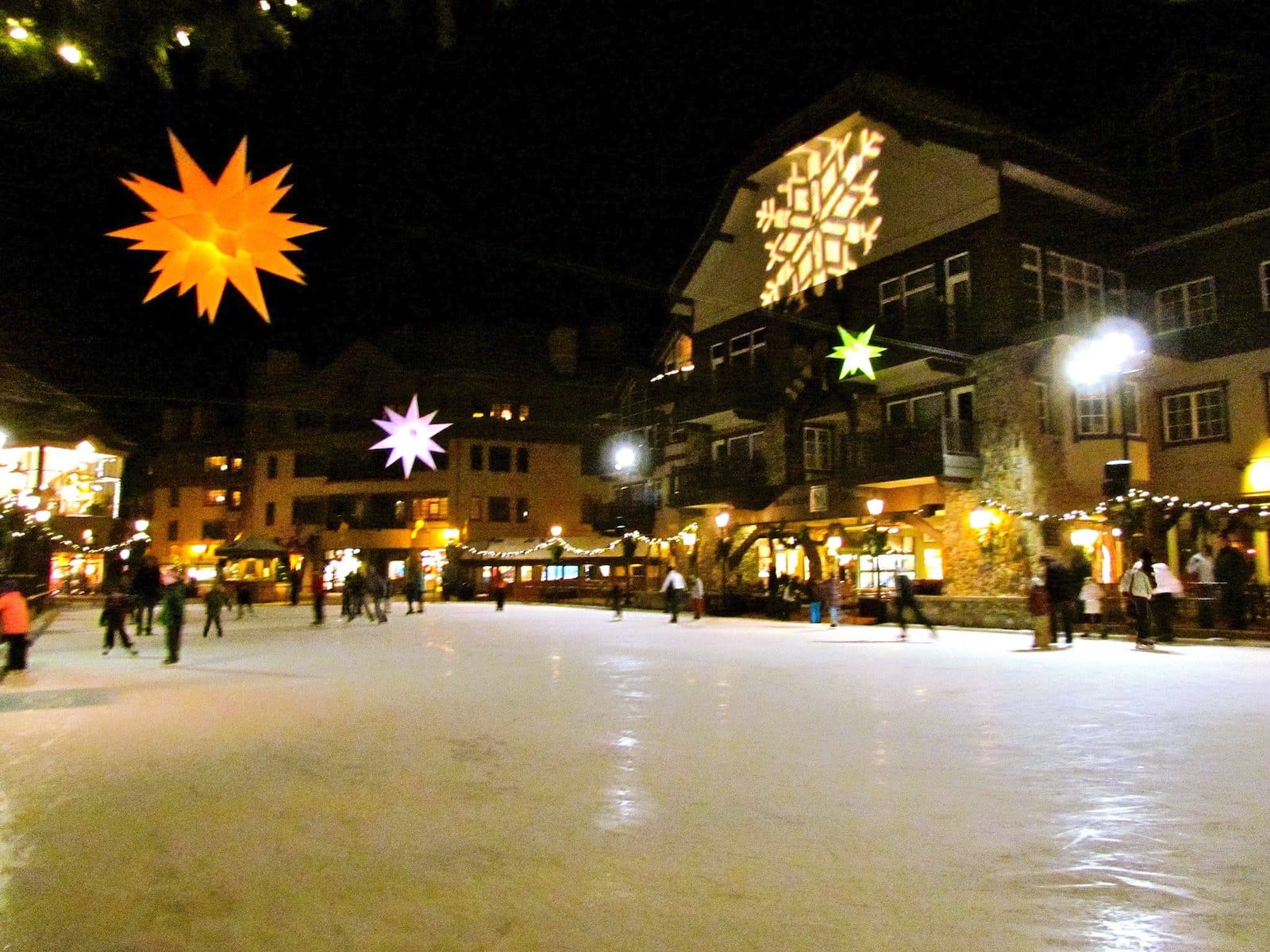 Beaver Creek Village's family-friendly ice skating is located at an outdoor rink right in the middle of the mountain village, close to the town of Avon. You can rent skates for a small fee at the walk-up booth, which is located next to Base Mountain Sports.
There are also plenty of couches that line the Beaver Creek Ice Rink for those relaxing after the skating session. In recent years, there has also been the opportunity to even rent ice bikes in advance during specific time periods.
60 Avondale Lane, Avon | 970-845-0438 | beavercreek.com/…
Skate in the Park at Acacia Park
Skate in the Park at Acacia Park takes place at the downtown park in Colorado Springs. There is a fee to skate, which includes skate rentals (with a discount for First Responders and members of the Military). There are a variety of events that take place at the rink, including:
a grand opening VIP event,
a World Ice Skating Day celebration (sponsored by U.A. Figure Skating),
a day to skate with the Air Force Falcons Hockey Team,
a theme day,
a day to skate with the Colorado College Tigers,
a glow night,
and a chance to learn to skate with U.S. Figure Skating.
The rink is generally open from mid-November through January. You can email any questions to skateinthepark@coloradosprings.gov.
115 East Platte Avenue, Colorado Springs | 719-886-0088 | downtowncs.com/event/skate
Big Mine Ice Arena
Crested Butte is the Nordic Ski Capital of Colorado and located adjacent to The Nordic Center is the Big Mine Ice Arena. While it's an outdoor rink, it's actually covered. It's located less than three blocks from downtown Crested Butte.
The rink is owned and operated by the Town of Crested Butte, and the Nordic staff rents the ice skates and staffs the warming house. The town also schedules the open skate times and posts the rink schedule online.
620 2nd Street, Crested Butte | 970-349-5338 | cbnordic.org/…
Evergreen Lake Ice Rink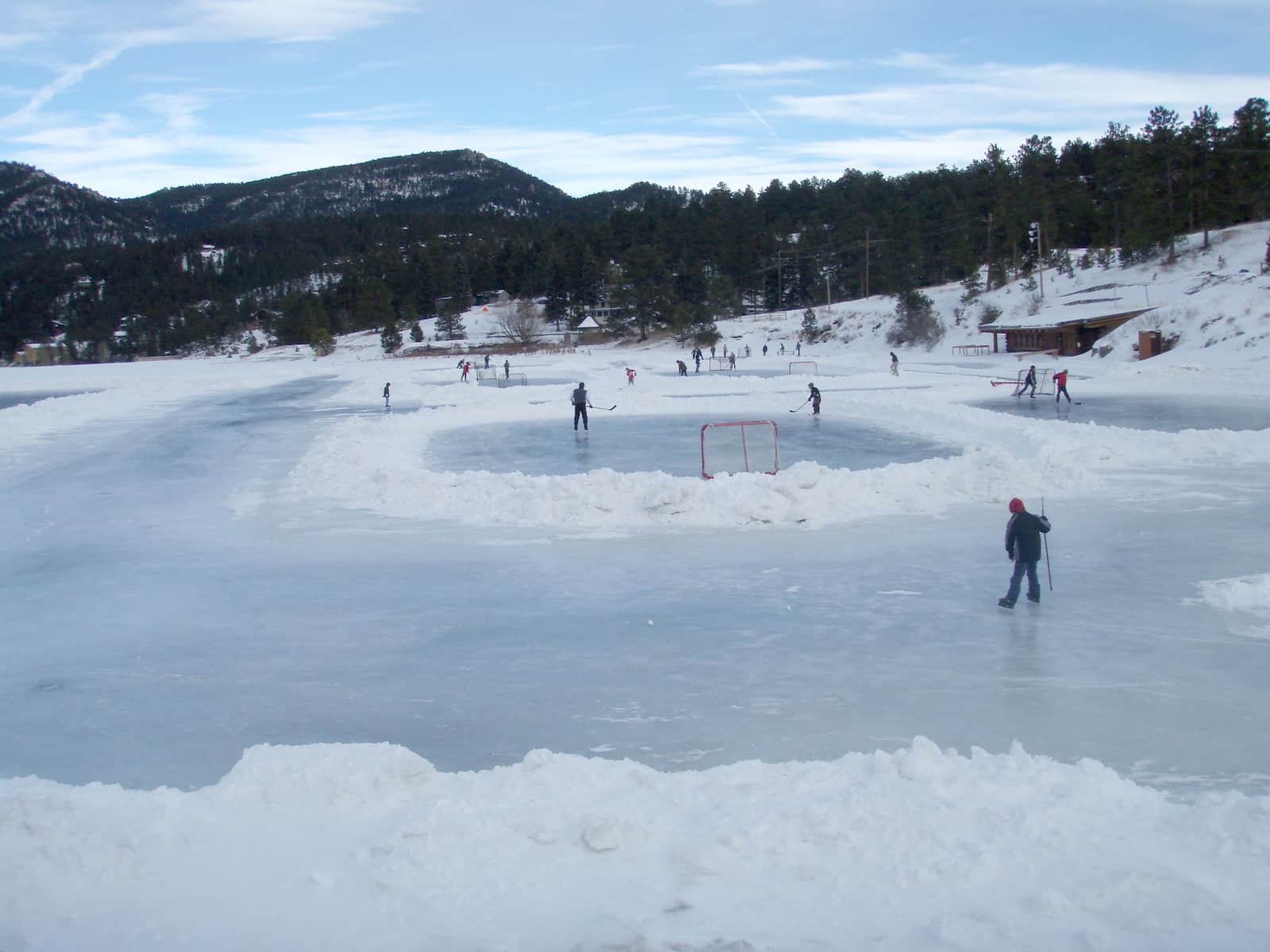 The Evergreen Lake Ice Rink offers winter ice skating, hockey, skate classes, and broomball seasonally at the lake. It's one of the largest Zamboni-groomed outdoor ice rinks in the country. There is also an annual, family-friendly, non-alcoholic event held at Evergreen Lake in December each year.
The website instructs us to always call the skating/weather hotline (720-880-1391) before visiting since the ice rinks are only open based on weather conditions. Evergreen Park District has shared an ice safety video from Jefferson County and an ice safety brochure with important safety guidelines. Their official website also hosts the lake rules.
29612 Upper Bear Creek Road, Evergreen | 720-880-1391 | evergreenrecreation.com/…
Mountain Village Ice Rink
The Mountain Village Ice Rink in Telluride is operated by the Madeline Hotel & Residences. The rink is located on Reflection Plaza and is open daily during the open season. Visit the Madeline Adventure Guide to receive a token that can be used to children's skate at the rental shop.
568 Mountain Village Boulevard, Telluride | 855-923-7640 | aubergeresorts.com/madeline
Core Area Ice Rink & Volleyball Ice Rink
Both the Core Area Ice Rink & Volleyball Ice Rink are public, outdoor venues in Telluride. These two rinks are located in Telluride Town Park on Colorado Avenue. The town manages this park as well as the outdoor rinks.
There is also a covered ice skating rink called Hanley Ice Rink, also situated in Telluride Town Park. This one is open from about mid-October to mid-March.
In addition to ice skating during winter, the park also offers groomed trails for Nordic skiing. You can direct questions to the Parks and Recreation Department at parksandrec@tellurice-co.gov.
500 East Colorado Avenue, Telluride | 970-728-2173 | telluride-co.gov/…
Louisville WinterSkate
This is located right in historic downtown Louisville. In order to skate, guests that are purchasing a ticket must also sign a waiver. Events that have taken place at the rink include a Holiday on Ice show with the Denver Colorado Figure Skating Club and a Chanukah on Ice event. In addition to skating, there is traditional holiday music and concessions.
824 Front Street, Louisville | 303-666-6565 | facebook.com/winterskatelouisville
Silver Circle Ice Rink
The Silver Circle Ice Rink is located in Aspen, right near Aspen Mountain. This is Aspen's only outdoor ice skating rink, but there are two additional indoor rinks in town: Aspen Ice Garden and Lewis Ice Arena. During the summer, Silver Circle becomes a miniature golf destination.
433 East Durant Avenue, Aspen | aspenchamber.org/…
The Rink at Belmar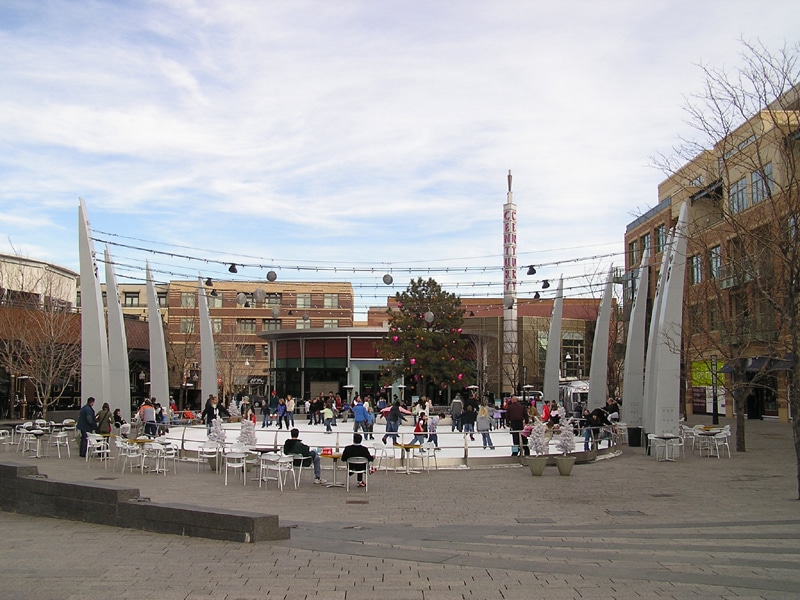 The Rink at Belmar is located in the Plaza at the Belmar shopping and dining area in Downtown Lakewood. Some special events that have happened include special performances from the Denver Colorado Figure Skating Club, a DJ, an Ugly Sweater skate, a disco skate, drinks around the rink, and a Superhero Skate event. The open dates have generally spanned from late November until the end of January.
7337 West Alaska Drive, Lakewood | 303-742-1525 | belmarcolorado.com/…
Longmont Ice Pavilion
The Longmont Recreation Ice Rink is a seasonal outdoor ice-skating rink located in Roosevelt Park near downtown Longmont. Hockey, public ice skating, private facility rentals, and skating lessons are available throughout the season.
Reservations are encouraged for drop-in hockey, but there are no reservations for open skating. Lessons for skating are available for children and adults ages four years old and up.
725 8th Avenue, Longmont | 303-776-6050 | longmontcolorado.gov/…
Keystone Lake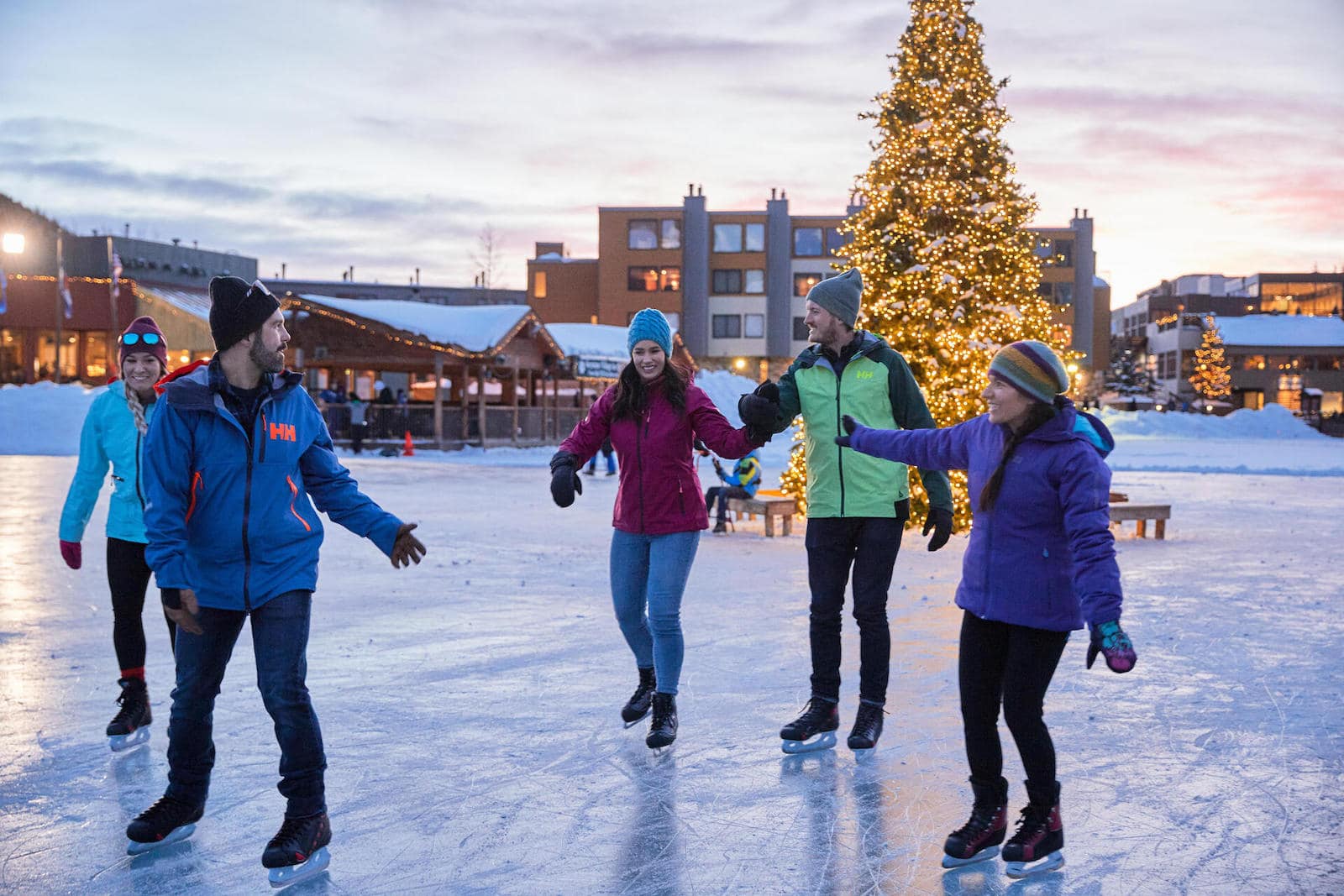 The Keystone Lake Ice Rink is probably the best spot in the state for winter ice skating. It's actually among the largest Zambonied lake in North America, with 5 acres of ice. It's located away from the main base village in the Lakeside Village.
Ice skating is available at the much smaller Dercum Square Ice Rink in Keystone as well. You'll find the rink right in the town's River Run Village. Keystone Resort is also home to the world's largest snow fort on top of Dercum Mountain. Other wintertime activities here include scenic gondola rides, cross-country skiing, and snow tubing.
Lakeside Village, Keystone | 970-496-4386 | keystoneresort.com/…
The Ice Rink at The Promenade Shops at Centerra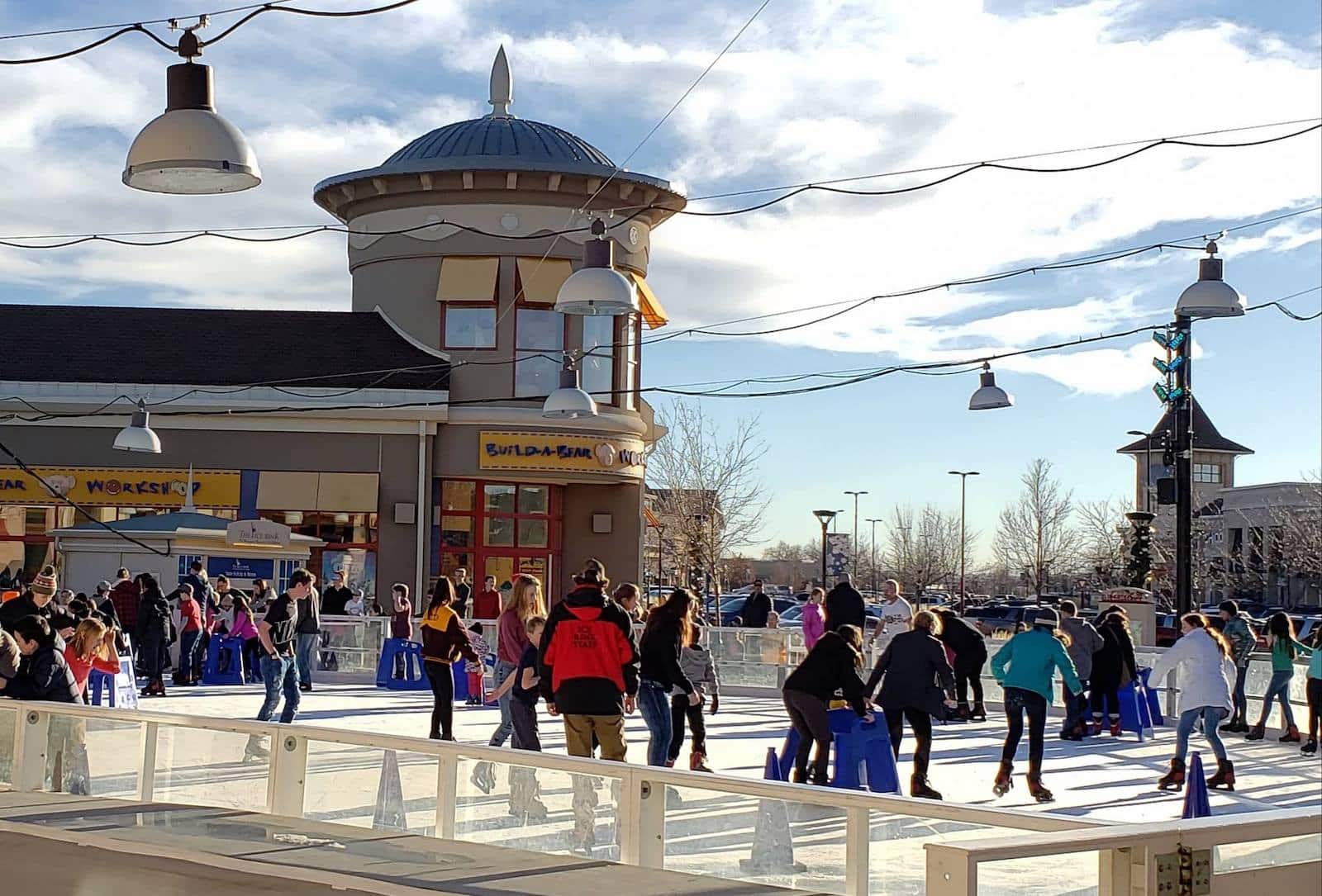 There is a seasonal, outdoor ice rink located right in the middle of The Promenade Shops at Centerra located in Loveland. There are more than 75 shops and restaurants located here as well. This Loveland Ice Rink is typically open from around December to February.
5791 Sky Pond Drive, Loveland | 970-667-5283 | icerinkattheshops.com
Parker Ice Trail at Discovery Park
Parker Ice Trail at Discovery Park is a one-of-a-kind ice-skating experience. Instead of a circular rink, it is an ice trail weaving through the park mimicking a frozen canal or river. There are three fire pits adjacent to the trail, and concessions serve hot chocolate. The ice trail is located next to the library on Mainstreet and Pine Drive.
2011 East Mainstreet, Parker | 303-805-0766 | parkerrec.com/…
The Rink at the Rock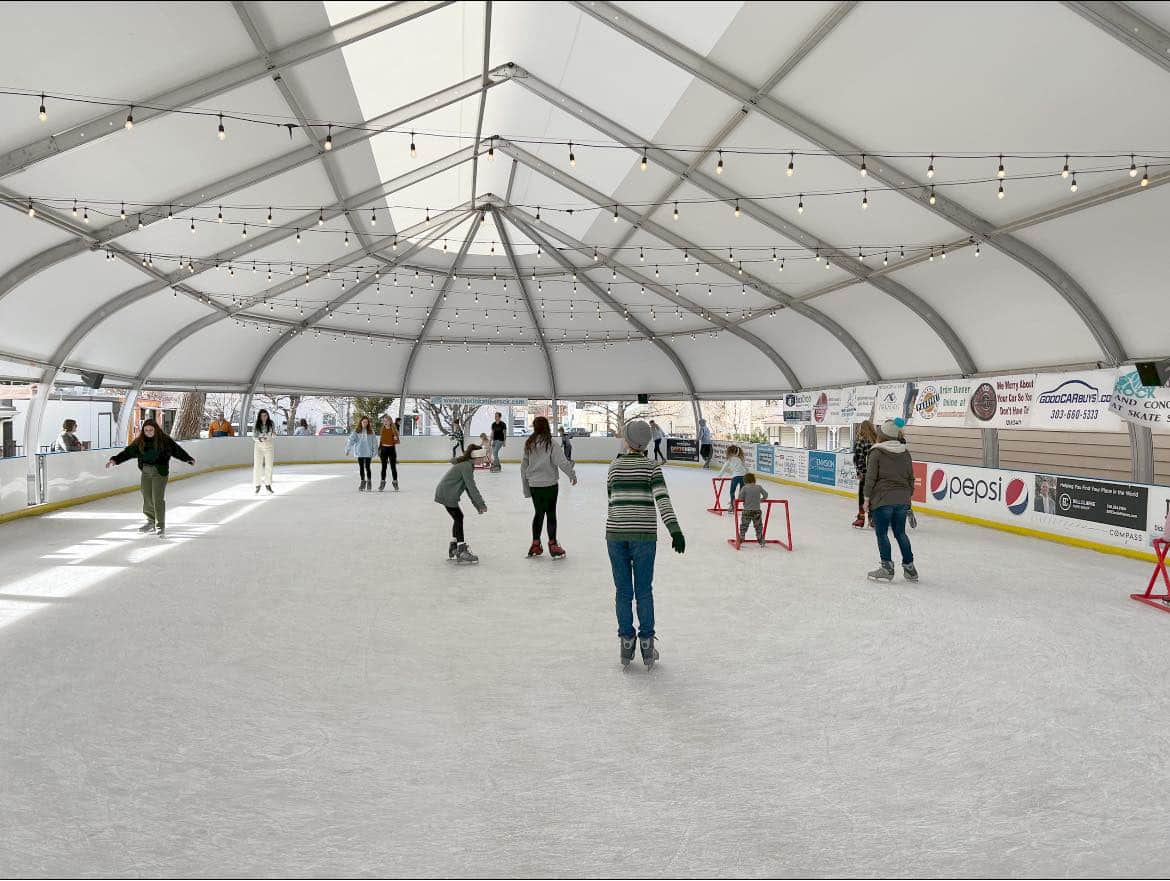 The Rink at the Rock is a small open-air rink in historic downtown Castle Rock. In addition to public skating, there is also a chance to take lessons or enjoy events, such as a live DJ night. For those taking a class, the price of the skate rental and protective gear is included, as well as admission to public ice skating on the day of the lesson. The rink is generally open from November to February.
414 Perry Street, Castle Rock | 303-435-4332 |  therinkattherock.com
NedRINK
Established in 2005, NedRINK is a large seasonal ice rink located in Nederland. It's generally open from December through February. In addition to recreational skating, the rink is also available for hockey, curling, stick and puck, ice skating lessons, and private rink rentals. Skate rentals are available as well.
500 Indian Peaks Drive, Nederland | 720-514-9624 | nedicerink.wixsite.com/nedrink
Glenwood Springs Community Center Ice Rink
The Glenwood Springs Community Center Ice Rink is a National Hockey League-sized rink, measuring 85 by 200 feet. Though the rink is outdoors, it is covered. Visitors can enjoy public skating, drop-in hockey, and stick and puck.
Prices vary for residents, non-residents, and members. This location also offers skate sharpening during regular ice rink hours for a fee. It's typically available for use from November through Mid-March, weather permitting.
100 Wulfsohn Road, Glenwood Springs | 970-384-6304 | glenwoodrec.com/189/ice-rink
Other Outdoor Ice Rinks Around Colorado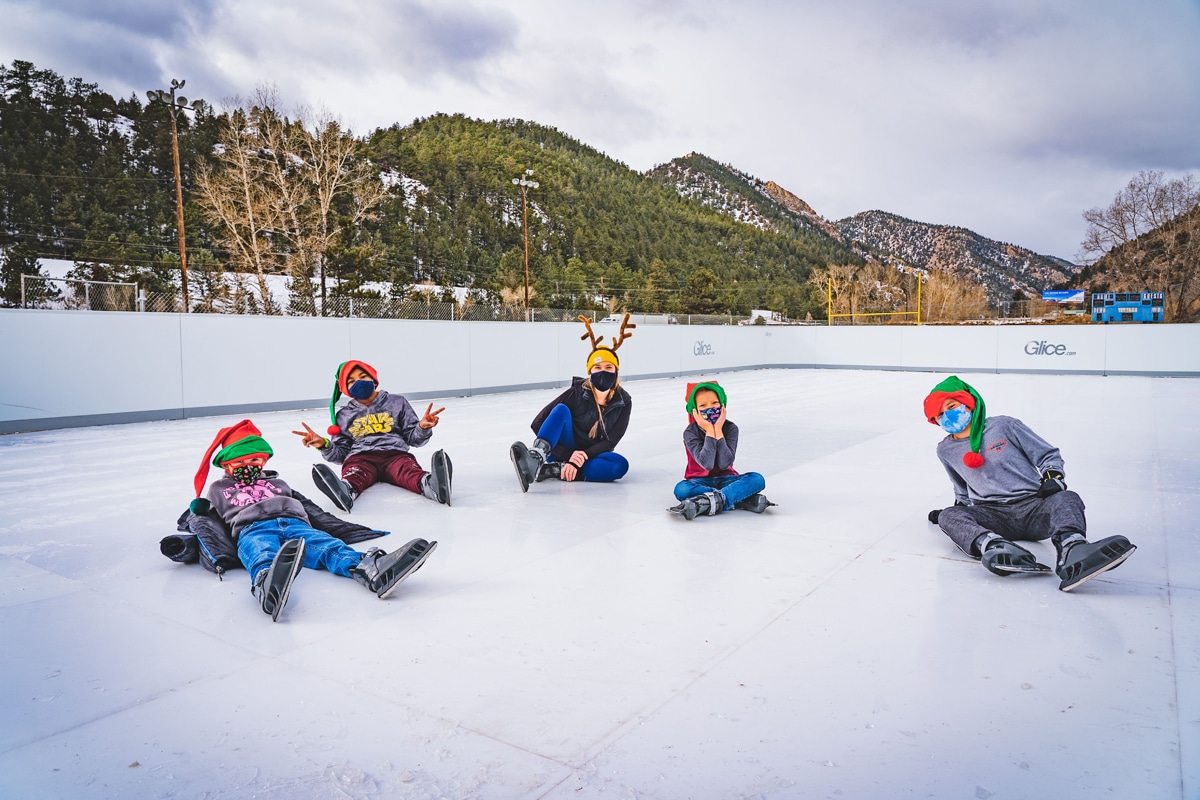 Those are far from the only outdoor ice skating options around the state. There are numerous other ice rinks both along the front range urban corridor and up into the Rocky Mountains. Here are the other remaining top places to skate each winter:
Wherever you're heading this season, there are outdoor ice rinks that be found throughout the state. Whether playing a game of hockey or just cruising around in skates, these spots are certain to provide a fun time.