Formerly Trimble Hot Springs, Durango Hot Springs Resort and Spa is located at the base of the Hermosa Cliffs, with breathtaking views of the Animas River Valley and San Juan National Forest. Full of amenities, this hot springs has two pools, saunas, a big lawn and a full spa.
Facility
The resort sits on ten acres in the heart of the San Juan Mountains. The primary pool is a spacious hot springs pool. It sits beside another small, hotter pool. These two therapy pools range from 100°-110°F and are open year round. There are also two saunas.
Bring lunch and enjoy it on the resort's large grassy lawn. It's great for picnics, sunbathing or just taking some time away from the water.
If you missed your workout, take a water aerobics or tai chi class. Water aerobic runs April through October. Tai chi available on certain weekdays and by appointment.
A full spa offers more than twenty personalized restorative massage and body treatments. Enjoy a hot stone massage, deep tissue, or even a mud wrap. All lotions and gels use 100% natural ingredients.
Lodging
There are two overnight units available for rent within steps of the hot springs. The Starlight room is perfect for couples and singles. It includes private after-hours access to the Red Rocks Pool. Trimble Guesthouse is a two-bedroom, one-bath vacation rental for five.
Atmosphere
Family-friendly environment, Outstanding views of the Animas River Valley; Relaxing therapy pools
Getting There
From downtown Durango – Head north on Main Ave (US-550 N) for 8.5 miles. Turn left onto County Rd 252/Trimble Lane and proceed for 460 feet. Make a right onto County Rd 203. Trimble Spa and Natural Hot Springs will be on the left.
Details
Address: 6475 County Rd 203, Durango
Phone: 970-247-0212
Season: Year round
Hours: Daily from 11am till 9:45 pm and Closed on Wednesdays for cleaning
Spa Hours: Daily from 9am
Clothing: Required
Chlorine: Only in swimming pool
Website: durangohotspringsresortandspa.com
Popular Posts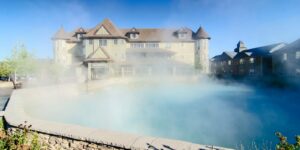 The Ultimate Colorado Hot Springs Loop Road Trip – Sourced from deep under the Rocky Mountains, there are dozens of hot springs that exist around this great state. With both spa like resorts and free primitive pools to choose from, you should be able to find a hot…