Nestled in the foothills of the Rocky Mountains, Boulder, Colorado is within easy driving distance of two mineral spring pools and resorts. The closest is a cooler summer spot, while the second option is the best for year-round hot springs soaking.
Listed in order of proximity to downtown, what follows are the two best places in the area. Whether it's a family-friendly pool just outside of town or a luxurious, full-service resort, there's definitely a place near Boulder to please everyone.
Eldorado Springs Pool (9 miles)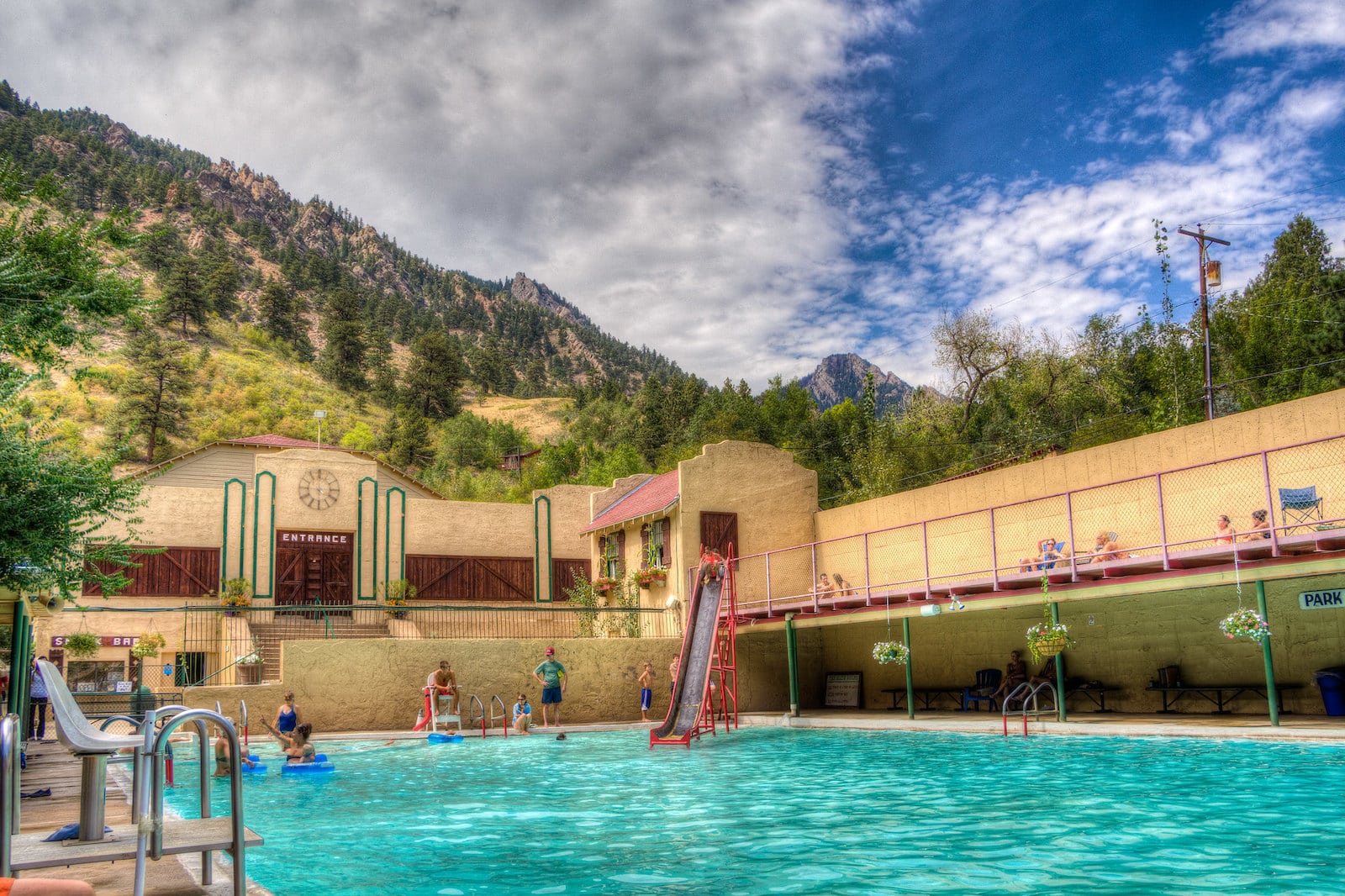 Located just outside of Boulder in the town of Eldorado Springs, Eldorado Springs Pool is a convenient and well-known summer spot. It's not a hot spring though, instead, it's actually a way to refreshing way to beat the summer heat. However, it's still filled with mineral springs water from deep underground.
Generally open from Memorial Day to Labor Day, the resort has a rich history reaching back to 1905. Perfect for families with children, the resort is even themed like a fort from the Old West.
Once regarded as the largest pool in the United States, the highlight of the facility is the mineral water swimming pool. Featuring a slide and a diving board, this large pool generally sits between 72 and 82° F, making it perfectly refreshing on summer days. In addition to the pool, on-site facilities include a snack bar and changing rooms.
Note: As of October 2022, Eldorado Springs Pool is undergoing major renovations with plans to reopen on Memorial Day 2023.
Indian Hot Springs Resort (39 miles)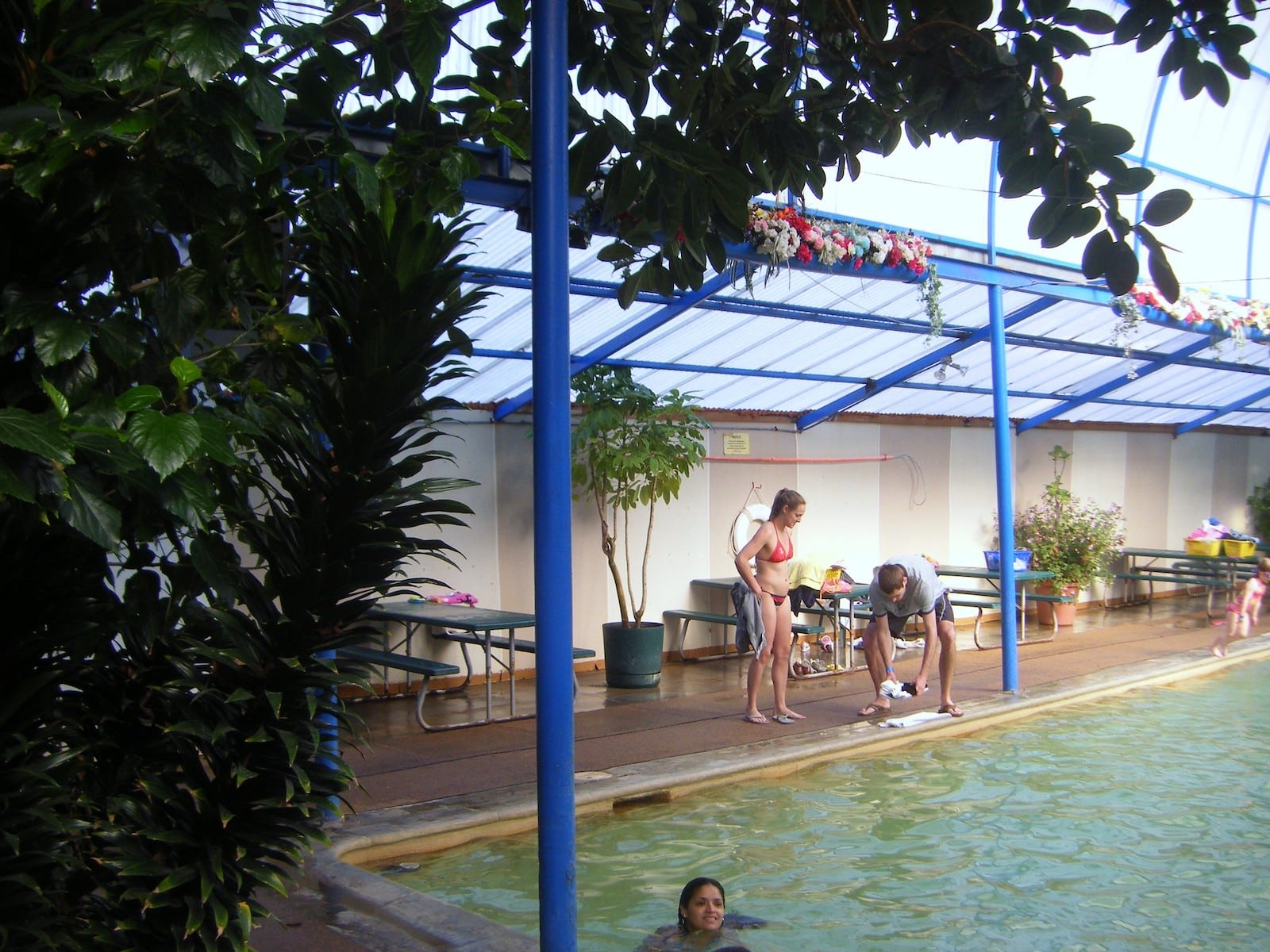 A full-service resort with pools, tubs, a spa, and more, Indian Hot Springs Resort is located in nearby Idaho Springs right off I-70. Surrounded by a large dome, the facility's main swimming pool hovers between 90-100° F.
For visitors who prefer a warmer soak, head to one of the private outdoor jacuzzis. Holding four people each, these outdoor tubs are surrounded by a privacy fence and sit between 106 and 115° F.
For an even more private experience, consider getting reservations for one of the resort's indoor private baths, which can hold up to four people and sit between 106 and 110° F. For a more adventurous experience, visit the tubs in the Geothermal Caves, a kid-free and clothing-optional space designed for relaxation.
After a relaxing day of soaking, take advantage of Indian Hot Springs Resort's full-service spa. Visitors can choose from a variety of treatments including traditional massage, cupping, and even aromatherapy. As a bonus, all massage reservations include complimentary access to the hot spring pools and the Geothermal Caves.
For accommodations, visitors can choose from a few options. Historic lodging is available at the Inn or the Historic Resort. For more modern comforts including a fridge and walk-in showers, try the Lodge instead. Visitors looking for a more secluded stay can reserve one of the resort's cabins, all of which feature a full kitchen and bathroom.
These have been the best places to soak in the greater Boulder area. For even more options, check out the closest hot springs to Denver, which all make easy day trips from Boulder County as well.