Indian Hot Springs makes for a relaxing detour on your way back from the mountains. It's one of the closest hot springs to Denver, conveniently located off I-70 in Idaho Springs, CO.
The resort features a hot springs swimming pool, private baths, caves, lodging, a gift shop, and a lounge. There's also a full spa with a myriad of services.
Aptly named, these hot springs were originally used by the Ute and Arapahoe Indians. The two groups did not always get along, however, the area where Soda Creek runs by Indian Hot Springs was considered a neutral zone. Different tribes could enjoy the benefits of the hot mineral water bubbling up from the grounds without fear of confrontation.
Natural Hot Springs Pools and Caves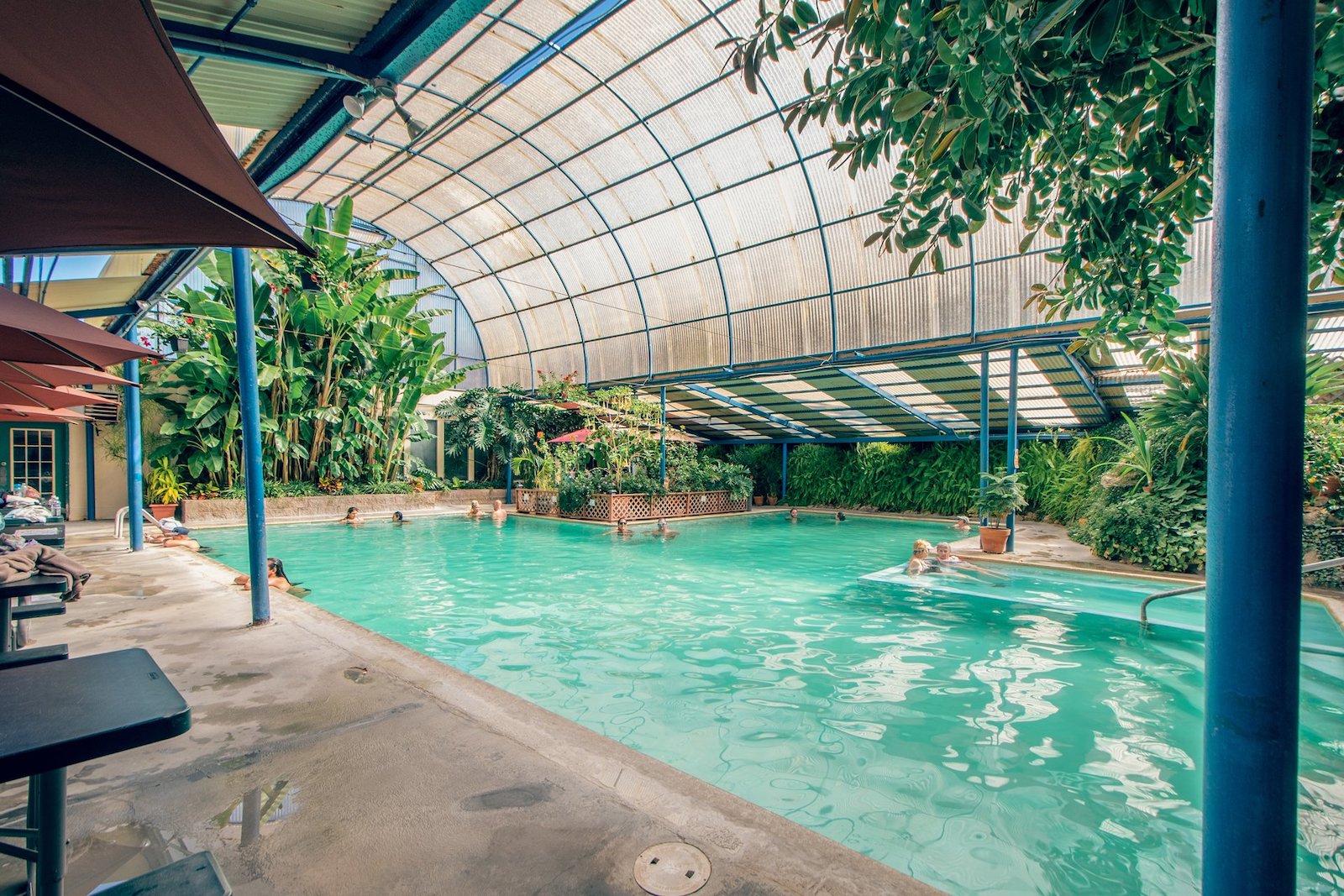 Indian Hot Springs Resort has four main hot springs attractions:
a large hot spring swimming pool,
geothermal caves equipped with hot mineral baths
outdoor private jacuzzis, and
indoor private baths.
The indoor swimming pool is filled with hot mineral water and set underneath a tropical dome. The whole pool area is decorated with Banana and Palm Trees, and several kinds of flowering plants. Moreover, there are several outdoor jacuzzis, filled with 106-110°F mineral water and surrounded by privacy fences to rent.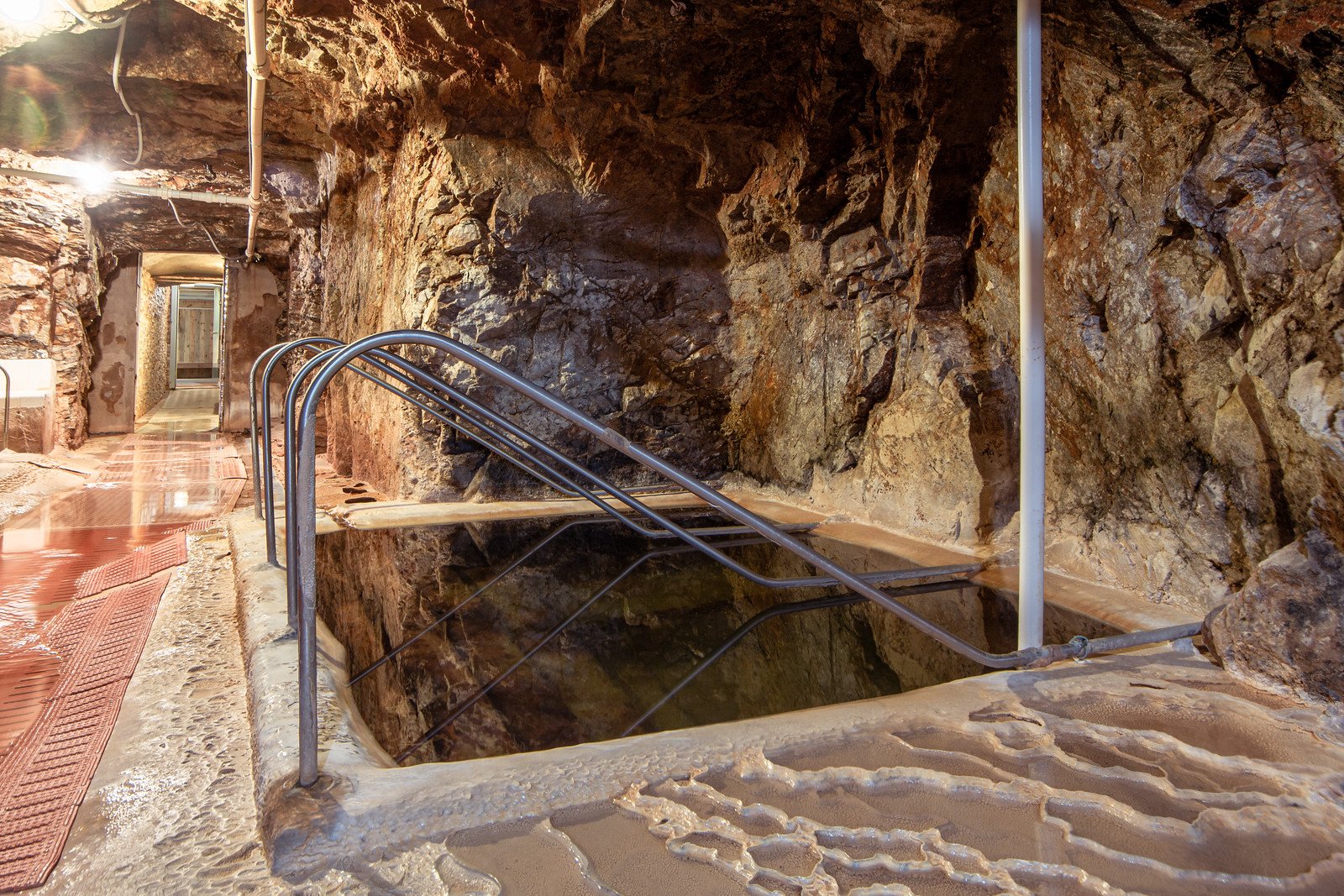 Downstairs, there are caves for both men and women. In the early 1900s, the caves were carved out of the ground for the purpose of creating this unique experience. Being that the caves are clothing optional, children below the age of 18 are not permitted to enter the area. For those looking to unwind, massages and body treatments are also available.
If you would prefer a more private hot spring experience, there are 11 indoor private rooms to rent. Each one has a single tub, 8'x4′ and 3′ deep. They are filled with natural hot mineral water at about 106° F.  "Club Mud" provides mud baths where you coat your entire body with mineral-rich clay.
The mud will absorb toxins from your body, leaving you relaxed and rejuvenated.
Spa Services
As mentioned, the Indian Hot Springs offers spa services to their guests, which come with admission to the mineral pool and geothermal caves. Those interested in adding a jacuzzi soak will need to make a reservation in advance.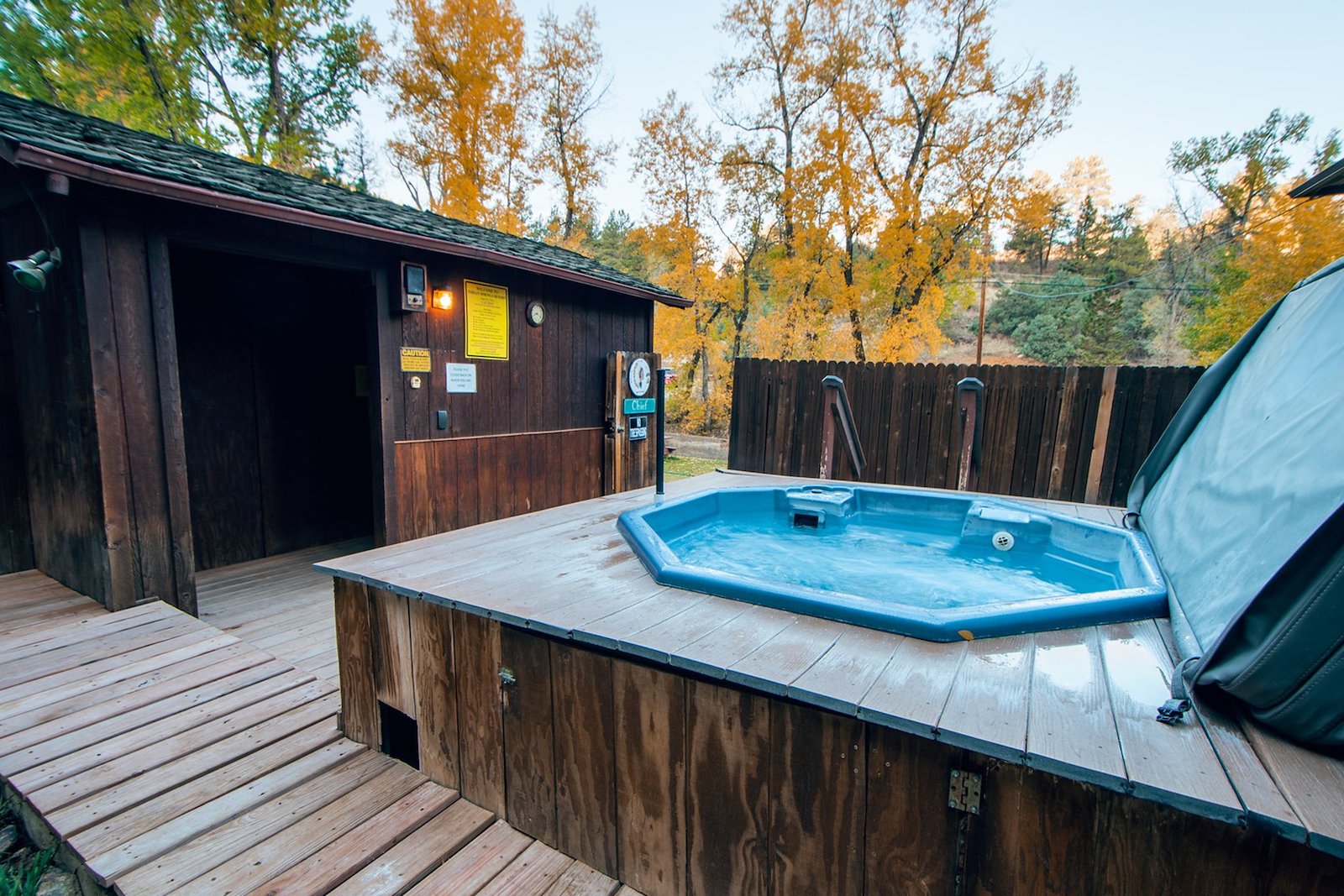 Boasting nine different massages, combining any of the offered services with a soak is sure to leave you feeling relaxed, services at the Indian Hot Springs include:
CBD | 25 minutes
Zuni Bear | 25 minutes
Maize Salt Glo | 50 minutes
Desert Wind Salt Glo | 50 minutes
Buffalo Spirit Tension Tamer | 25 minutes
Full Body | 25 or 50 minutes
Cupping | 25 or 50 minutes
Fire Dancer | 50 minutes
Wild Flower | 25 minutes
Accommodations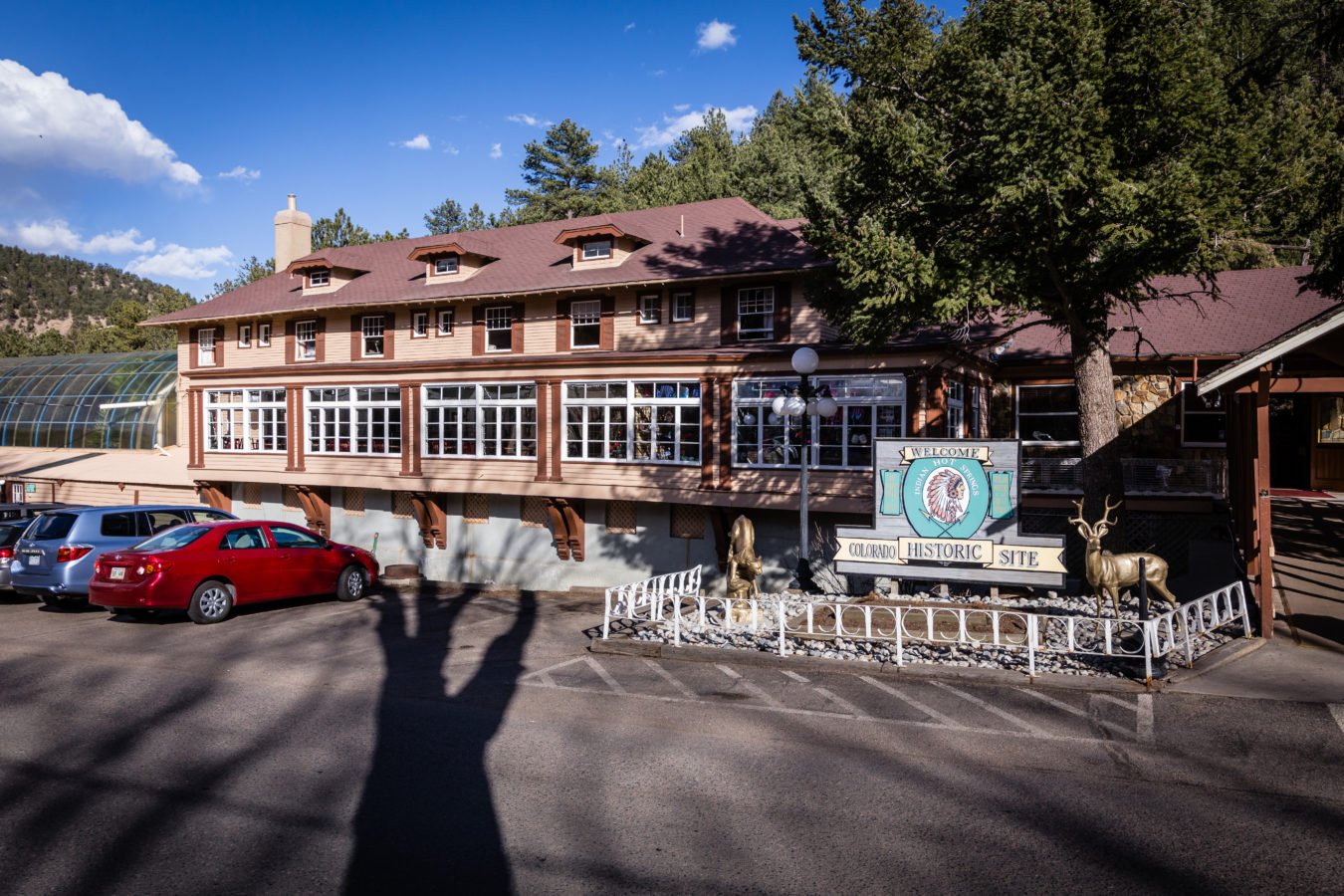 Guests hoping to stay the night will have their choice of accommodations. Boasting a variety of rooms, visitors can choose between:
The Historic Resort
The Inn
The Lodge
A Cabin
Rooms in the Historic Resort were built in 1905, come in either a queen or suite format, and have been updated. Great for historians, previous guests include Jesse and Frank James, Walt Whitman, and the Roosevelts. For those looking for something a bit more modern, the Inn is across from the main resort and has rooms with modern amenities.
Coming wither either a king bed or two doubles, rooms come with full bathrooms and a coffee maker. There is also designated parking for guests in this building. The Lodge is the most up-to-date building, with layouts ranging from king to two double and suites. More spacious than previous options, Lodge rooms have a fridge, microwave, and walk-in shower.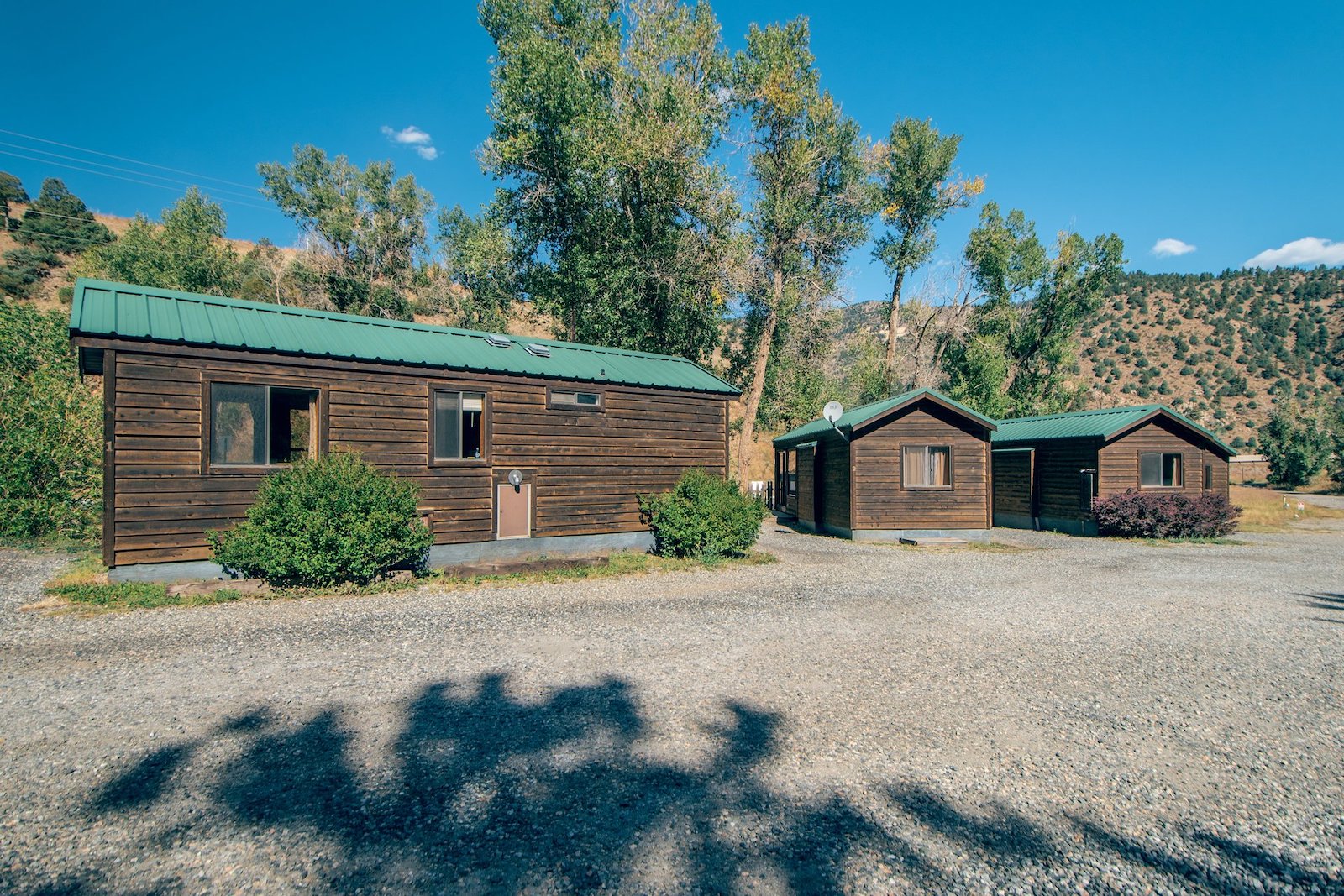 The last option for overnight guests is to rent a cabin, which is located along Soda Creek. Coming with a queen bed, bunk beds, a living room, and a kitchen, cabins are ideal for families.
Minutes from downtown Idaho Springs, after passing through historic downtown, the resort is located one block off the main street, on Soda Creek Road. Look for a giant sign along the main road in town.
Check prices, availability, or book Indian Hot Springs
Details
Address: 302 Soda Creek Rd, Idaho Springs, CO 80452
Phone: 303-567-1303
Season: Year-round
Pool Hours: Daily | Pool (9am – 10pm) | Cave (7:30am – 10:30pm)
Clothing: Required | Optional in Caves
Temp: 90°F Swimming Pool | Cave pools and private tubs are hotter
Website: indianhotsprings.com‎

Latest in Indian Hot Springs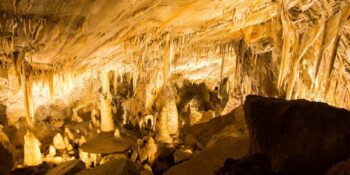 Some of the most stunning landscapes on Earth are found in Colorado, and for good reason.…