Cottonwood Pass rises to the west out of Buena Vista, heading over the Continental Divide. It connects with Almont near Crested Butte, making it an excellent summer trip.
The road closes in winter due to heavy snowfall, usually sometime in October. The pass reaches 12,126 feet. The Buena Vista half of the pass is paved, while the Almont side is a dirt road, both fine for 2WD cars.
Activities
Biking – Many cyclists bike the pass.
Boating – Motor boats permitted.
Taylor Park Marina – boat rentals, bait shop, deli and grill, 21700 CR 742, Almont, taylorparkmarina.com
Camping – Free, primitive car camping can be found just out of BV on CR 306. There's also camping at Taylor Park Reservoir and in Gunnison N.F.
Fishing – Taylor Park Reservoir is located on the west side of the Divide. It's known to have trout, kokanee, northern pike and mackinaw.
Hiking – Walk around the summit or take on of numerous trails in the
Hot Springs – Cottonwood is located at the start of Co Rd 306 in BV.
Hunting – Permitted during appropriate seasons in parts of the national forests.
Find more activities in the San Isabel and Gunnison national forests.
Getting There
From Buena Vista, take County Road 306 west to the pass. Stay on this all the way to Almont. From Almont take County Road 209 east to the pass and maintain to BV.
Details
Address: Buena Vista – Almont
Season: May to October
Length: 57 miles
Roads: 2WD, Free
Campground Reservations:
Featured Cottonwood Pass blog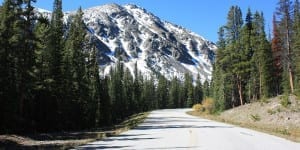 Autumn Drive Over Cottonwood Pass –
Cottonwood Pass is a high mountain route over the Continental Divide. It's an easy drive beginning in either Buena Vista or Almont. From Buena Vista the road quickly climbs to its summit of 12,126 feet. It then turns to dirt…