Traveling between Denver and Colorado Springs can be a bit of a trek, but luckily there's more than one way to make this relatively short journey if you're flexible. From driving yourself on a number of routes, to taking a bus or flying from airport to airport, let's go over the best methods for how to get from city to city.
Many out-of-state visitors start their adventure at Denver International Airport, some opting to head straight to the state's 2nd most populated city, Colorado Springs. With so many things to do in both Denver and Colorado Springs, it's no wonder that so many tourists and locals alike travel through the I-25 gap to experience what these cities have to offer.
Whether you're in town for a few days or you're just looking for a different route for your commute, in addition to the most used I-25, there a are a few other ways to go the between cities, at cost, time and scenery. We've put together a thorough guide to help you pick the right transportation for how to get from Denver to Colorado Springs, or Colorado Springs to Denver.
Let's dive deeper into the best ways to travel between Colorado Springs and Denver:
Fly from Denver Airport to Colorado Springs Airport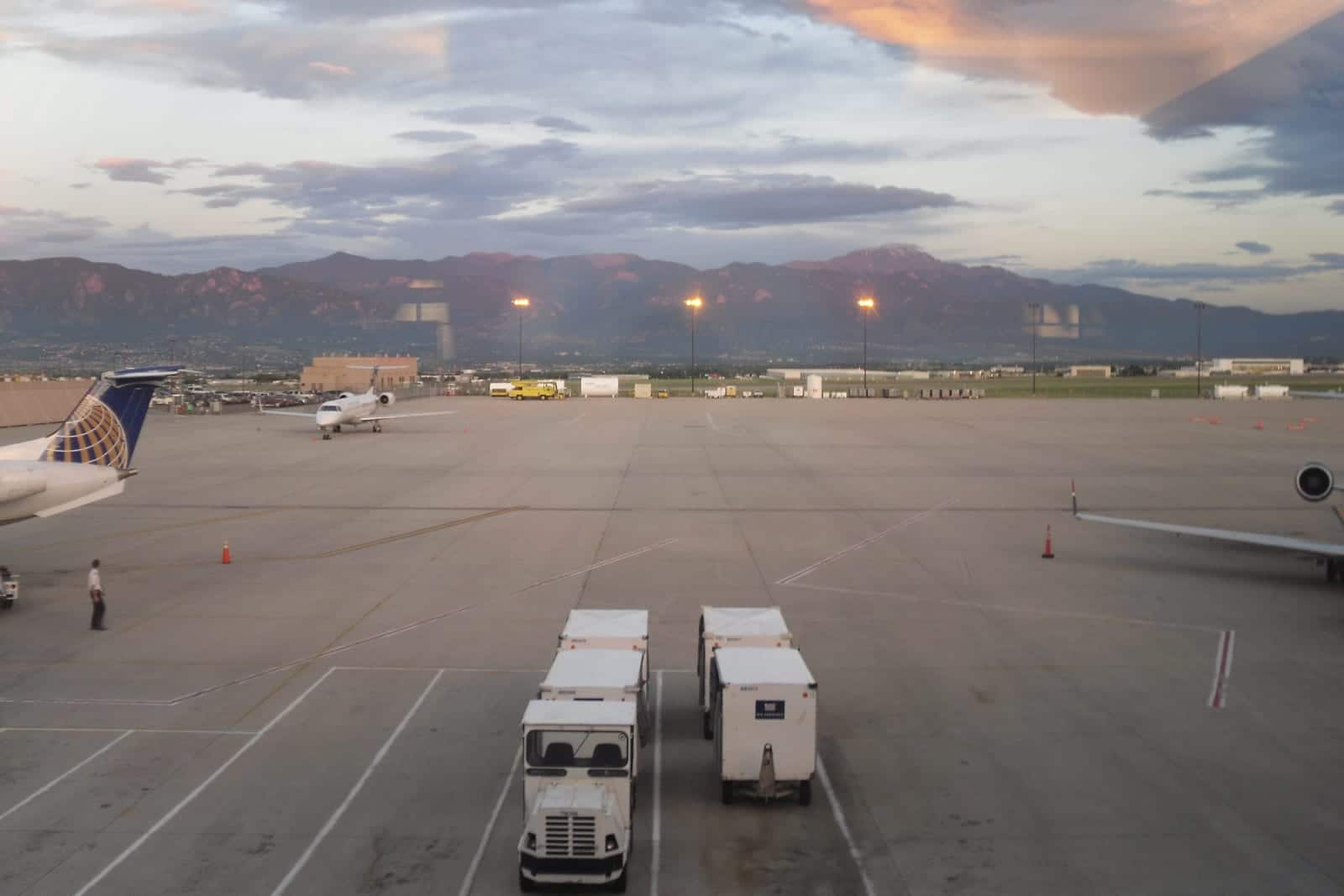 Although it may seem quicker than making the trip by car and is certainly faster once in the air, once you account for the time spent going to/from and waiting in the airports, it's most certainly a longer experience. Perhaps during peak rush hour traffic though, or with terrible snow or road construction, you might save real time, and certainly less stress than driving. It's especially an efficient option if you've just arrived at either airport and just need to connect to the other city.
Flying between Colorado Springs and Denver is a bit more costly than you would think for two cities being less than 100 miles apart. It's around 70 miles to either fly or drive. The flight time is around 45 minutes, versus 1.5 hour by car. For airport to airport travel, estimate at least $150 per flight, more at the last minute. And with the security lines to bypass at Denver International Airport (D.I.A.), it may not take much less time than driving unless you've caught a connecting flight and therefore already through security.
To make things a bit easier for you, flying directly into the Colorado Springs Airport is your best bet. While you may end up paying more for your flight, there are a number of airports that offer direct flights to Colorado Springs for much cheaper than an extra $150 per trip. Plus the time saved is great for those who are only looking to visit the Pikes Peak Region.
For example, there are direct flights from Houston and Las Vegas to the Colorado Springs Airport, which can be found for around $200 depending upon the time of year. Check your favorite booking site to see if your city is one of the few. If not, there are a few other ways to get down to the Springs, even if you fly into D.I.A.
Rent Car/Drive I-25 from Denver to Colorado Springs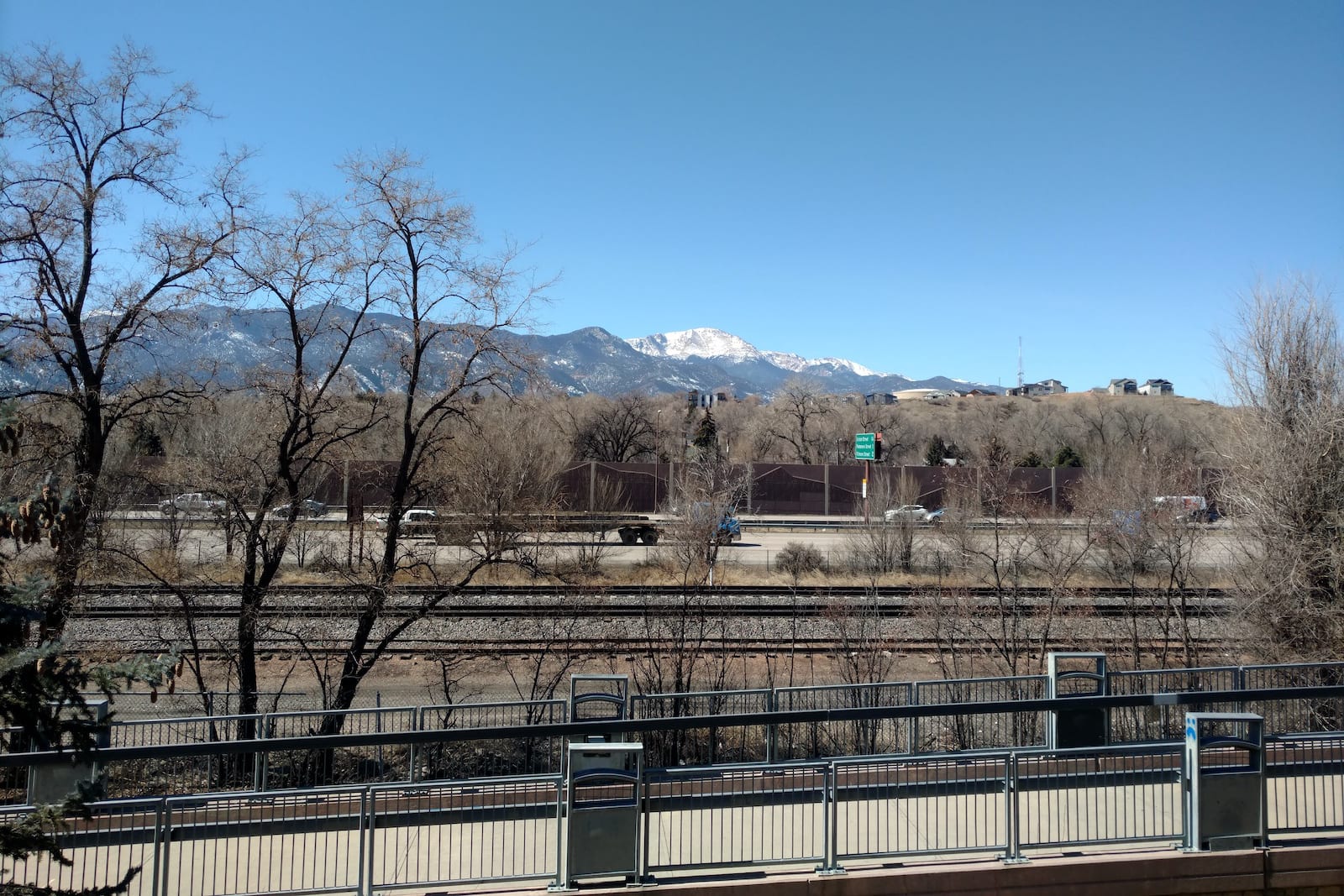 Perhaps the easiest option for traveling between Colorado Springs and Denver is to drive yourself. It's simple enough to secure a rental car at D.I.A. for around $30 a day and take the fastest route to The Springs, Interstate-25. On a day without too much traffic, the trip can be made in about an hour and a half, but those who commute daily know that with traffic, it can be a two to three hour drive.
Be warned that if you're driving yourself: Denver traffic can not only be heavy during rush hour, but winter storms can sometimes come out of nowhere, causing dangerous conditions on the road. Even if you're visiting in the spring months of March, April, and May, be on the lookout for fast-moving storms that may pour down a combination of hail and snow. If traveling during these months, spend a little more on your rental to ensure you have an adequate vehicle, tires and 4WD.
Another consideration to take into account is the current construction and road expansion on I-25 between Monument and Castle Rock, which has made much of the gap between Colorado Springs and Denver very narrow and a bit bumpy to drive on. Be careful just north of Monument where the construction begins, as there are many twists and turns that make the road difficult to navigate at typical highway speeds.
Parallel Plains Route Hwy 83 – If you'd like to try a relatively parellel route to I-25 that's along the Great Plains plus 30-60 minutes, you can take this back country route to around Monument or beyond, before meeting back up with I-25. Unfortunately, you'll still need to put up with the brunt of traffic through Denver until the detour.
Take I-25 south from Denver to the edge of the main metropolitan area at at Lone Tree, exit 195. Go east to Parker on Lincoln Avenue. You can also exit one mile earlier on I-25 at 196, for E-470 east (pay small toll) to Parker Rd.
Meet up with a commercial street Parker Road/State Highway 83, turning right onto it, heading south past Franktown. You can join back west to I-25 at Monument, or a few other places. This way receives less traffic than I-25 and adds nearly an hour to the drive.
There'll be some traffic lights on this country back route. It's one for the sightseers and those looking for a different scenario than I-25 during rush traffic, weekends included now. If you're Take a hike at Castlewood Canyon State Park if you got the time.
Parallel Plains Route Highway US-85/CO-105 – This route starts on I-25 very briefly in Denver. You'll take I-25 just  south of Downtown Denver to the exit for Santa Fe Dr/US-85 S. Follow it south all the way to Sedalia. If you're feeling hungry, swing by Bud's Cafe & Bar on Manhart Ave. They serve up locally famous hamburgers.
In Sedalia meet up with CO-67 S, which you'll stay on for less than half a mile before turning left on CO-105 E. Follow that heading south to Palmer Lake, where you can explore its artsy little downtown area and front range views. From this town follow CO-105 the rest of the short way to Monument and I-25 S. Take south to Colorado Springs.
Alternative Mountain Back Route CO-67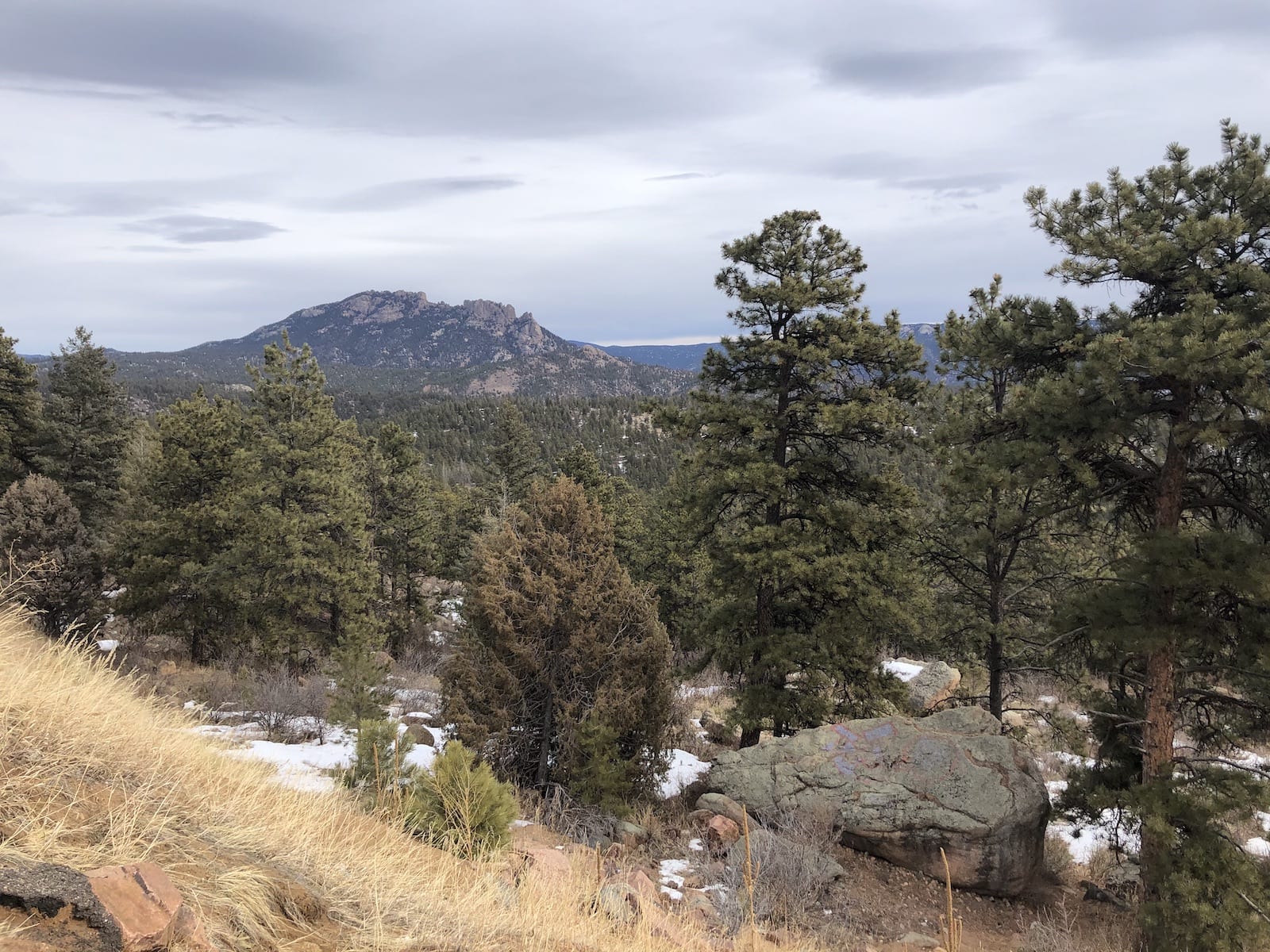 Nearly all folks driving between Colorado Springs and Denver take I-25. It's the most straight, direct route to either city. However, if you duck west into the mountains a bit from either city, you take CO-67 for most of the route. It adds about an hour onto your drive on average – going from 1.5 hours to 2.5 hours. It's a much more scenic trip though with much less traffic.
The alpine drive on CO-67 passes by gorgeous forest and mountain landscapes. Part of the hillsides have scars from a previous forest fire. You can see the dramatic scenery of this unique section of Colorado's front range. There are a few points for commerce on the way, but plenty more nature and a few outstanding overlooks.
Coming from the Mile High – You'll drive southwest out of Denver on Highway 285 until you reach Pine Junction. From here you'll take a left heading south on Pine Valley Road, which meets up with CO-67 at Deckers. This blink-your-eye-and-you'll-miss-it fishing community is home to the South Platte River and excellent fly fishing.
You can also take Highway 85 south from CO-470 in Denver and join CO-67 earlier at Sedalia. This is a bit more of backwoods route, but boats incredibly stunning creekside rocks early on. It adds only 10 minutes or so to the Highway 285 directions. CO-67 continues south at Deckers, passing some historic structures and secluded residences on the way to Woodland Park at Highway 24. Here you'll make another left heading east for about 30 minutes to Colorado Springs. Reverse the directions to go the other way.
Uber/Lyft from Denver to Colorado Springs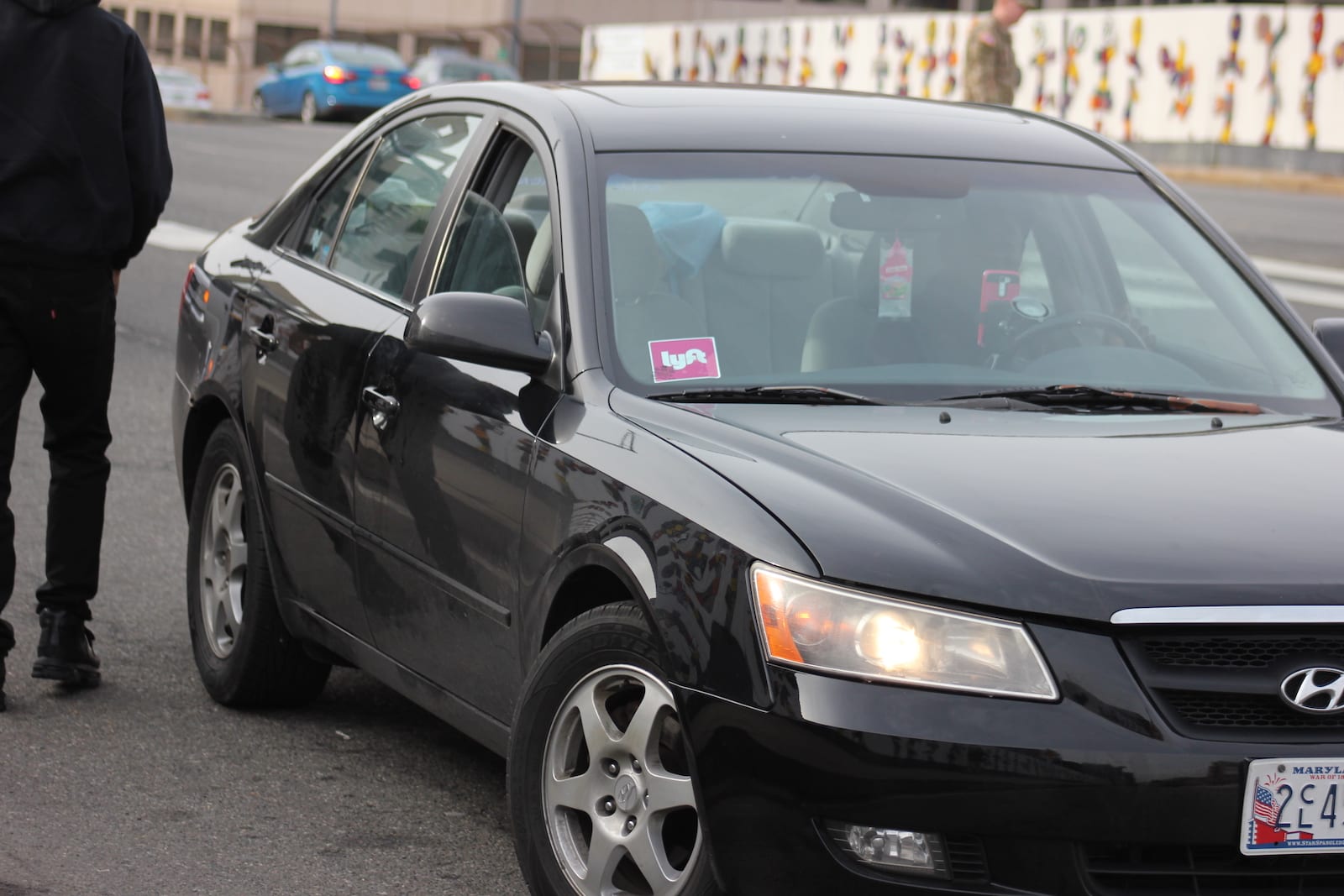 While pricey, it's certainly possible to hire an Uber, Lyft, or other ride-share transportation service for your travels between Denver and The Springs. Budget at least $100 for the trip if you decide upon this route–even more if you're looking for a nicer vehicle.
You'll probably have to search for quite a while to find a driver who is willing to make the trip. We suggest a nice tip for your driver, as the roads can be a bit dicey depending upon the time of year and the aforementioned construction can be a nightmare to navigate during heavy traffic.
Taking an Uber or Lyft may not be the cheapest option, but if you're used to traveling in the care of a local driver, it might be a good choice for you. If that sounds a little bit too precious for your budget, check out the bus shuttle services we've listed below.
Bus Shuttles from Denver to Colorado Springs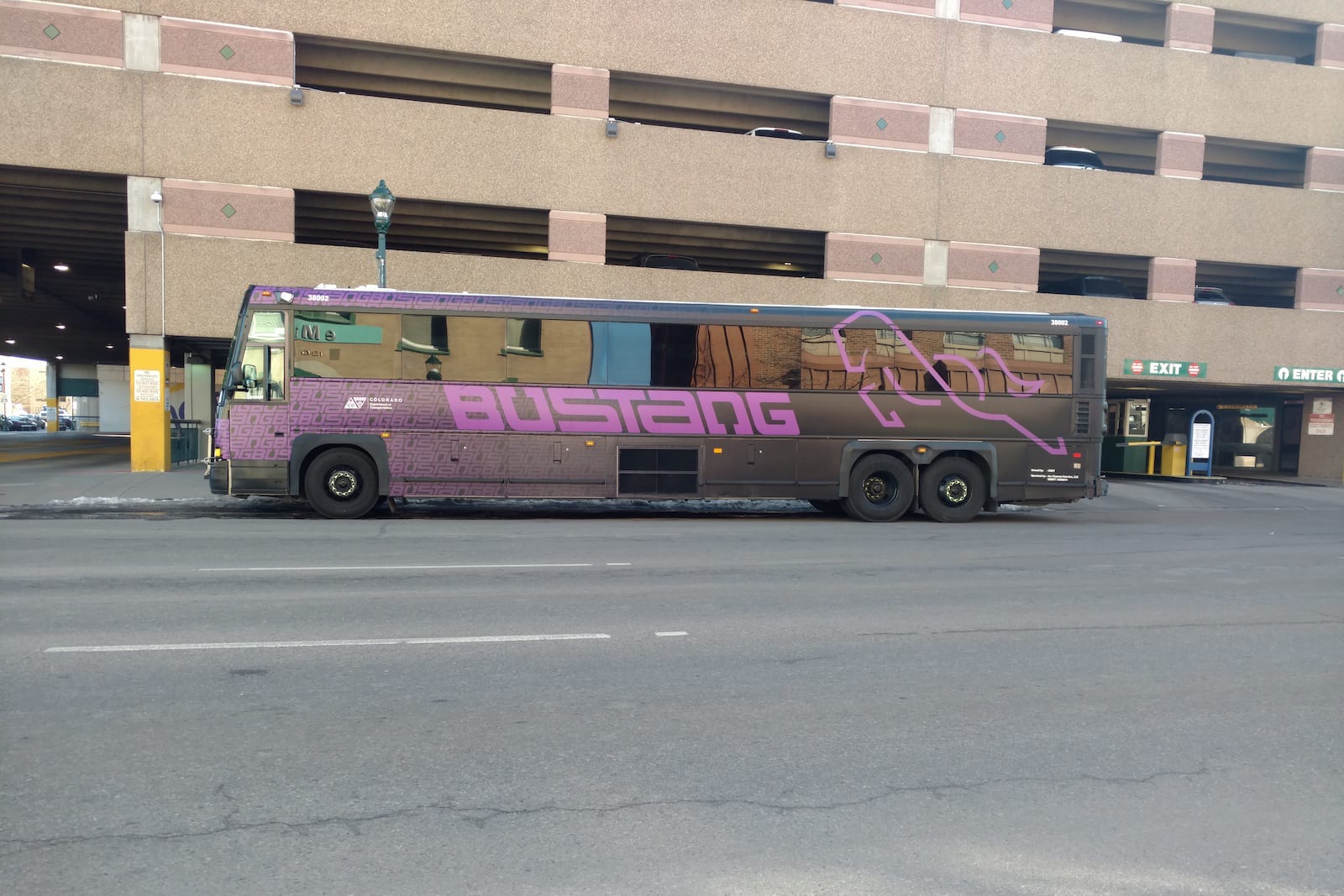 There are a few different types of bus shuttles that you can take when busing between Colorado Springs and Denver, depending upon your desired destination. Whether you're just looking for the best shuttle between the cities or you need transportation from the airport, we've got you covered.
City to City Buses
The easiest and cheapest way to travel between Denver and Colorado Springs is to take the shuttle known as the Bustang. These distinct purple busses are comfortable, clean, and offer Wi-Fi and bathrooms, making them an excellent choice for everyone. If you're looking to avoid driving the traffic on I-25 yourself and get some work done on the roughly two-hour ride, the Bustang is your best option. It departs multiple times daily from Denver's Union Station.
Not only does this bus service offer $13 rides between the two cities, it also offers connections to other parts of Colorado as well, including as far south as Alamosa and as far west as Grand Junction. It's also quite easy to connect from the Bustang to Denver and Colorado Springs' public transportation, allowing you to get just about anywhere in the cities from your initial destination. In Denver that's the RTD Bus and Light Rail, and Colorado Springs has the Mountain Metropolitan Transit.
If you're looking to explore Colorado Springs' downtown area, schedule your stop at the Downtown Terminal. From there, it's easy to walk around and find interesting attractions, like the Pioneer Museum or just enjoying the Art on the Streets. The Bustang also stops at the Tejon/Nevada Park and Ride if you're looking for a more convenient place to park your car or to meet friends and family than the Downtown Terminal.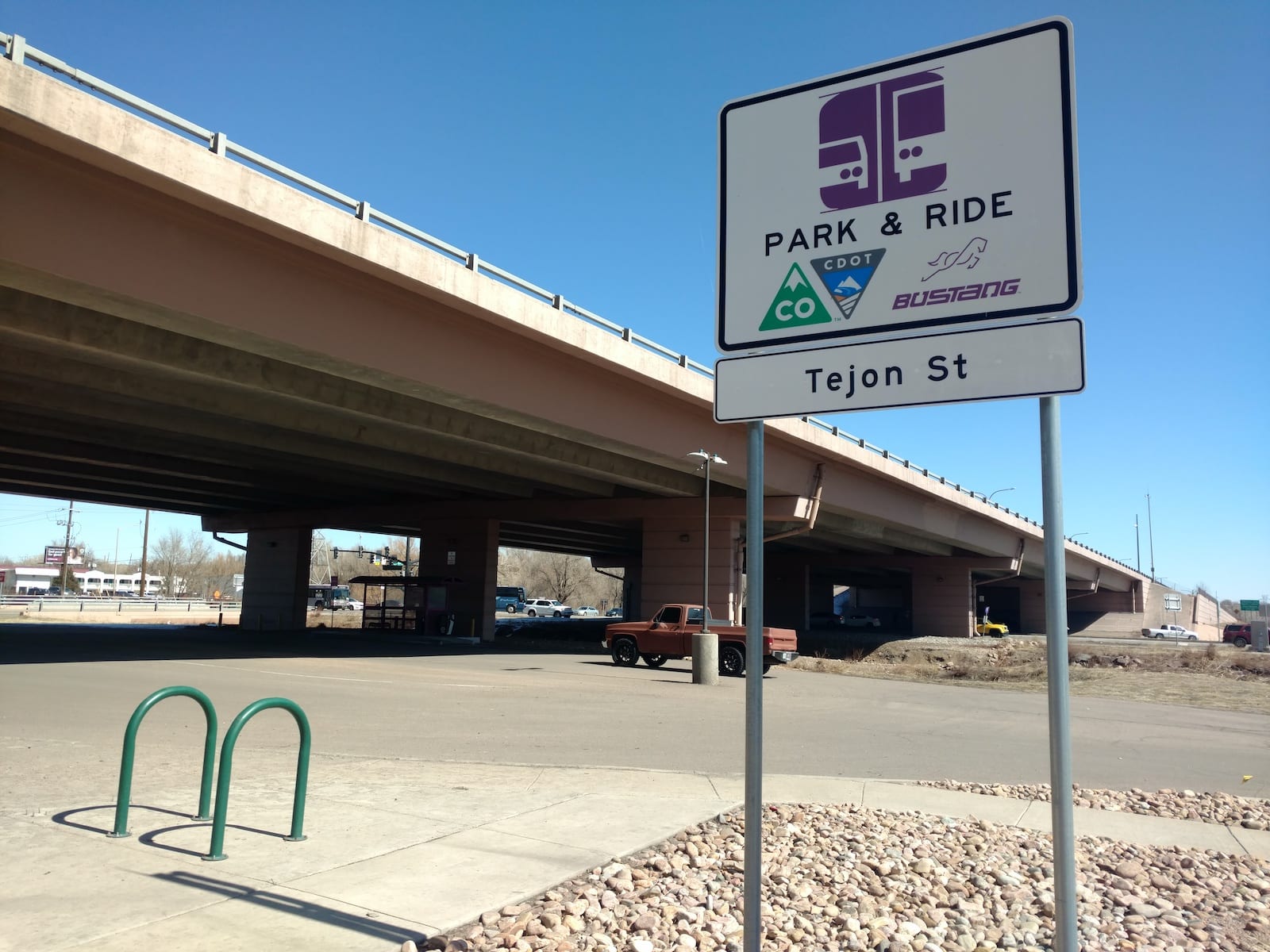 Airport to City Buses
Are you trying to find a way to get to your destination straight from Denver International? There are a few different transportation companies that offer direct routes from D.I.A. to Colorado Springs.
One of the most popular and least expensive is Groome Transportation, which offers a $50 fare for shuttles between the Denver Airport and The Springs. With 16 roundtrip departures 7 days a week, Groome is a reliable option for travelers looking for a direct shuttle without having to shell out hundreds of dollars.
A less expensive but more time consuming option is to utilize public transportation via the A Line Train to get to Denver Union Station from the airport. From there, the aforementioned Bustang is only a $13 ticket to take the shuttle down to Colorado Springs. Add in $10.50 for the trip on the Denver Airport Train. Be aware that once you get down into The Springs, public transportation won't be as wide-reaching, so finding your way around to out-of-the-way destinations might be more difficult than in Denver. But there's always ride sharing apps, like Uber and Lyft to utilize locally for that.
Is There A Train from Denver to Colorado Springs?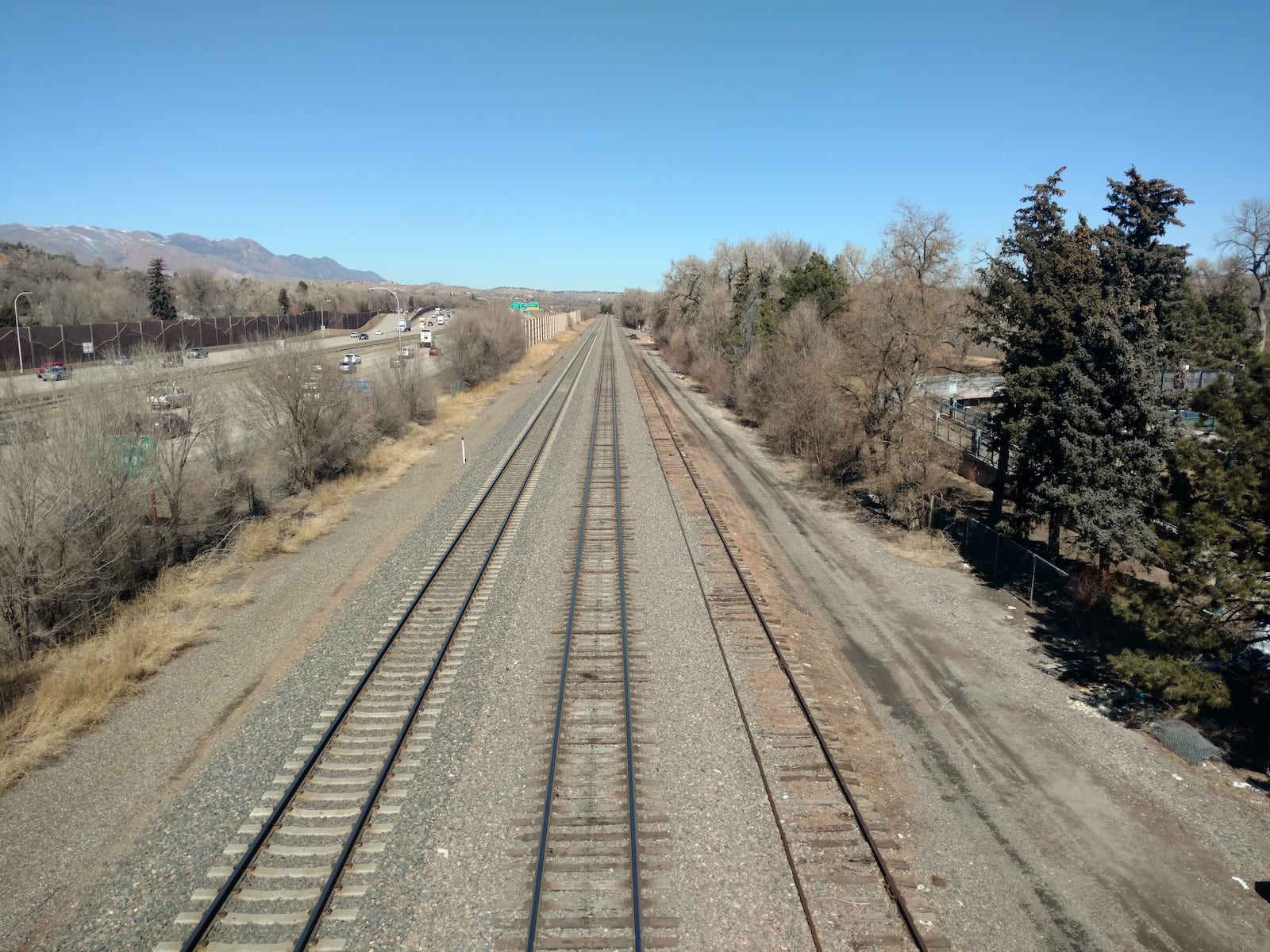 Unfortunately, there is not currently a passenger train from Denver to Colorado Springs. Most of the trains that come through the The Springs are freight trains, so you won't have any luck finding a passenger car to hop into. Although there has been some interest in adding a train line to Colorado Springs, including a proposed bullet train called the "Hyperloop" in 2017, it doesn't seem like there will be any way to ride the rails to The Springs from Denver in the next decade or so.
If you're looking for a scenic train ride in the Pikes Peak area, check out the Narrow Gauge Railroad in Cripple Creek or the Royal Gorge Railroad to get your fill. Or if you're planning a trip in 2021, the Pikes Peak Cog Railway is set to reopen, which will take you to the top of  a 14,000 foot mountain.. While none of these railroads is meant purely for transportation, they do offer incredible views of the Rockies and are a great way to explore the scenic beauty of the Pikes Peak region.
What To Do While in Colorado Springs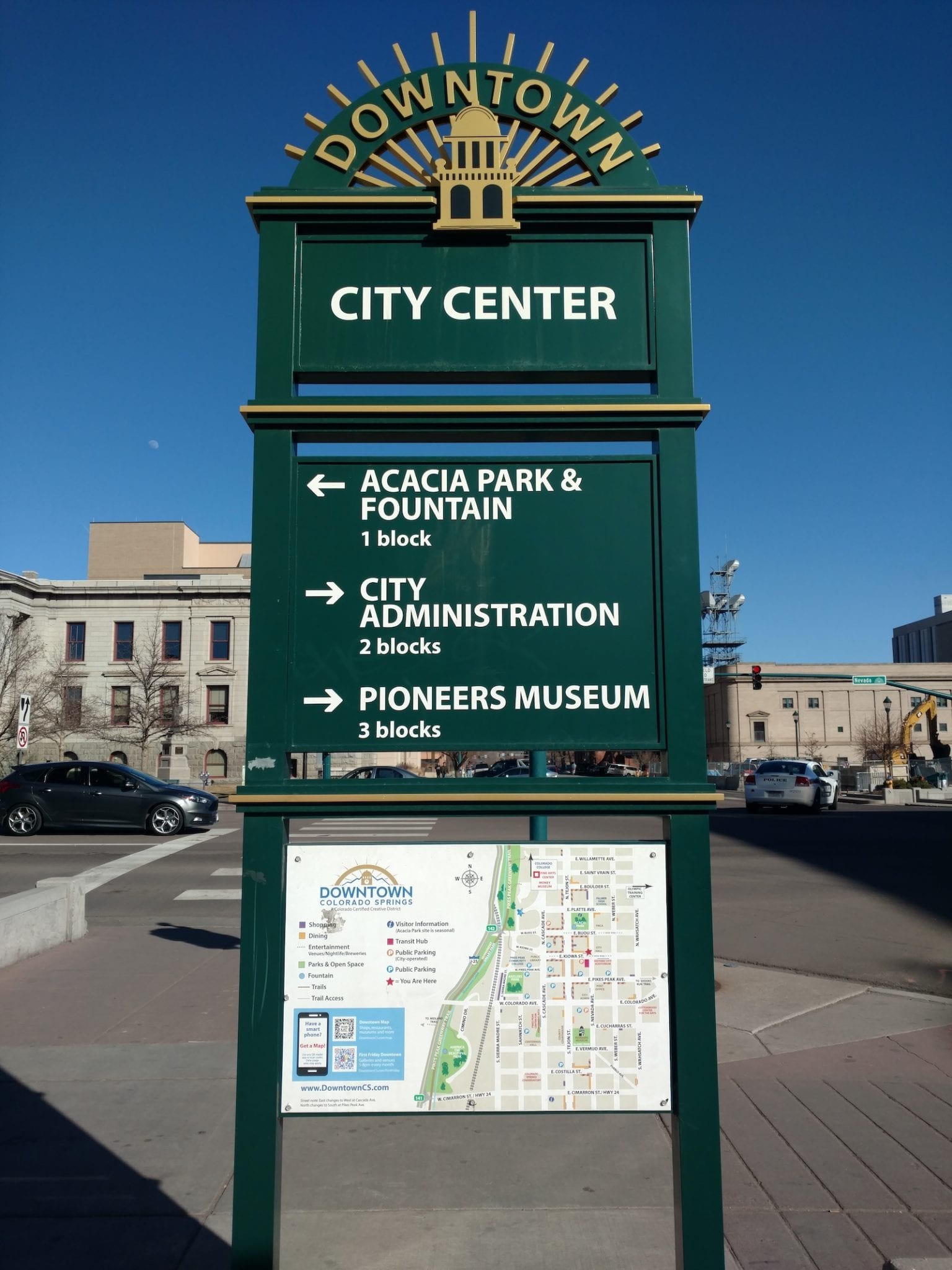 Although it can be longer than expected to travel between Denver and Colorado Springs, the trip is worth it once you set your eyes on Pikes Peak, snow-frosted in the distance. No matter which way you've decided to transport yourself between Colorado's two largest cities, we hope you are safe in your travels.
To make your stay in The Springs even more enjoyable, check out the incredible hiking trails that dot the city or take a tour of the best steakhouses in the area. If you're looking for an interesting place to stay while you're in town, there's a lot to choose from. Colorado Springs also offers a wide variety of unique hotel accommodations to suite every budget and style.