Now and then most of us have a craving to get our hands on a nice juicy steak, paired with a good glass of wine and to help decide where to do just that, here is our list of the best steakhouses in Colorado Springs. From high-end steakhouses to cowboy-themed casual dining, there is something for everyone's steak style and taste. So, pull up a chair and enjoy!
Here are some of the top steakhouses in Colorado Springs, CO, in no particular order:
1. MacKenzie's Chop House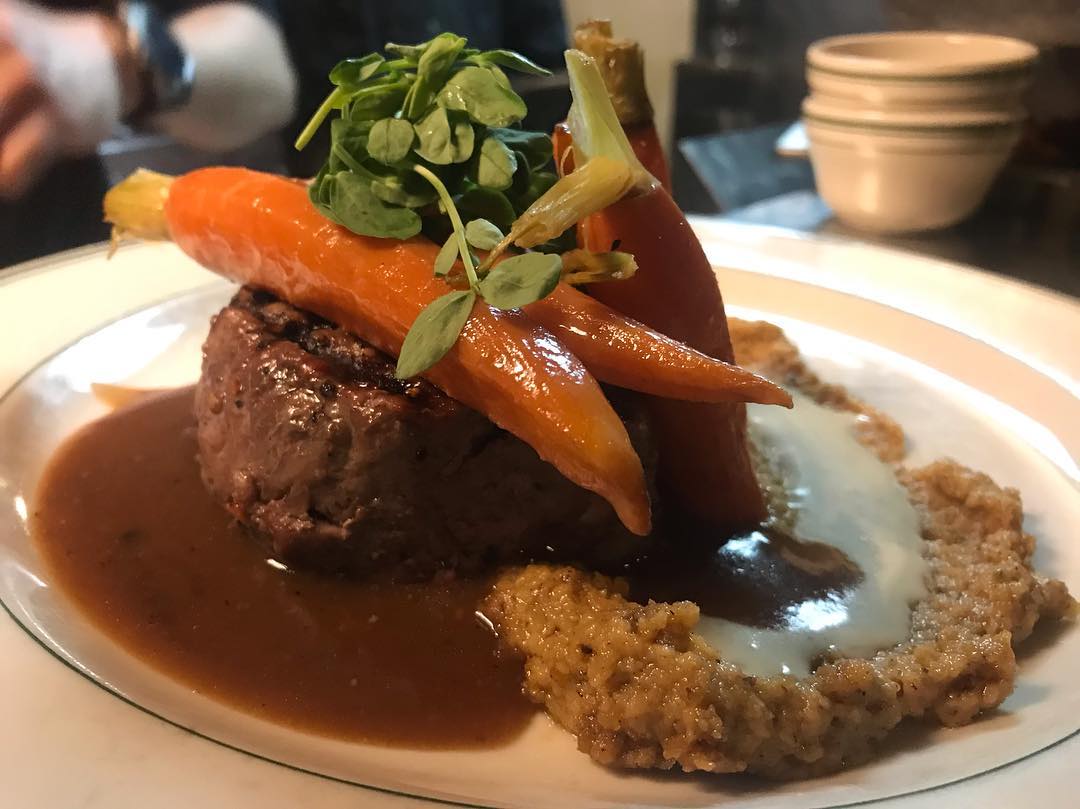 Established in 1997 in downtown Colorado Springs, MacKenzie's is one of the most beloved steakhouses around the Pikes Peak region. In addition to its signature steaks, they serve up a selection of fresh seafood and jazzy martinis.
One of the local favorites in the fine dining scene, the atmosphere inside the Historic Alamo Building is warm, dimly lit, wood and stone setting. They also offer patio dining, as well as happy hour and lunch on weekdays.
128 S Tejon St, Colorado Springs, CO 80903 | 719-635-3536 | mackenzieschophouse.com
2. The Peppertree Restaurant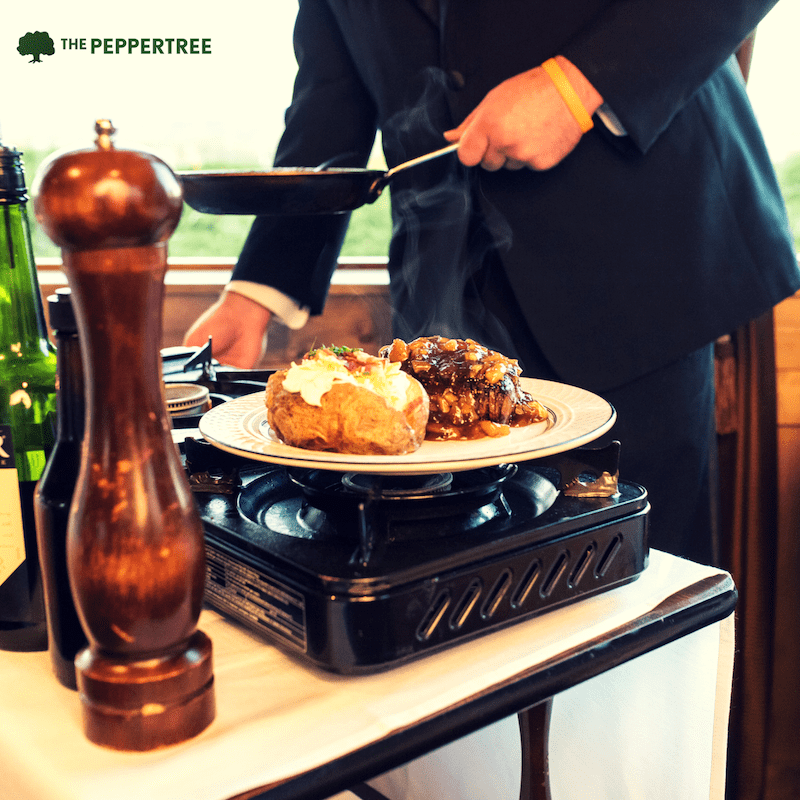 If you are looking to impress, discover fine dining at its best in Colorado Springs at The Peppertree Restaurant is for you. This high-end seafood and steak restaurant is known for its tableside preparation of some of the finest steaks around.
Named amongst the "100 most scenic restaurants in America" for 2017 Open Table, patrons not only enjoy excellent cuts of meat, but also a dining experience that comes complete with beautiful views.
What makes Peppertree even more unique are the meals, including the popular Pepper Steak, that is cooked right at your table. Compliment your meal with one of its signature cocktails or a glass of wine from the extensive wine list. For a truly exceptional experience, try one of four Pepper Tree specialties, including their famous pepper steak, steak Diane, veal sweetbreads, and chateaubriand for two.
888 W Moreno Ave, Colorado Springs, CO 80905 | 719-471-4888 | peppertreecs.com
3. Prime25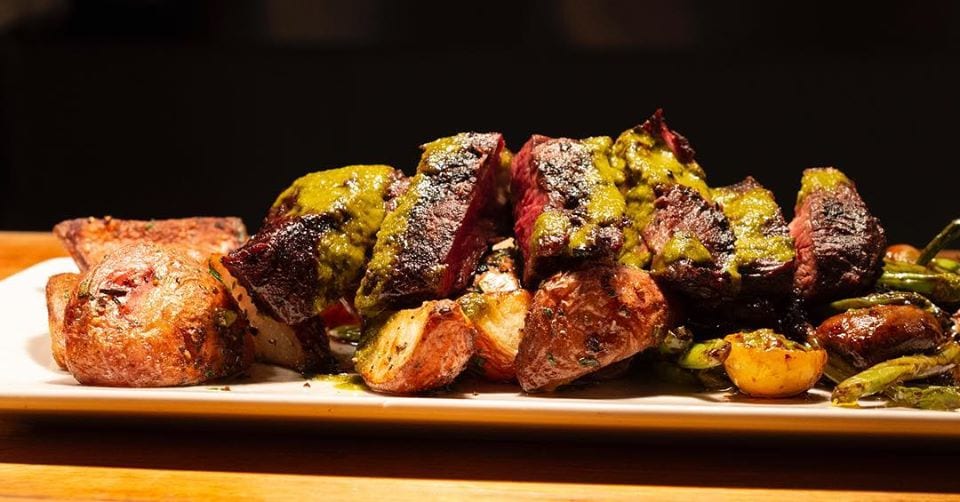 Prime25 in Colorado Springs is a new modern classic steak house offering an unmatched menu of seafood and steaks dishes that are sure to please most anyone's pallet. Keeping it simple and straight forward their steak options include classic style filet mignons, ribeyes, New York strip, and porterhouse steak, plus their Prime special.
Top off the meal with one of their specialty cocktails or glass of wine or pull up at the colorful bar for a few drinks and their happy hour nibbles for more of a casual dining experience.
1605 S Tejon St, Colorado Springs, CO 80905 | 719-358-9822 | prime25.com
4. Bonny and Read Fresh Steak and Seafood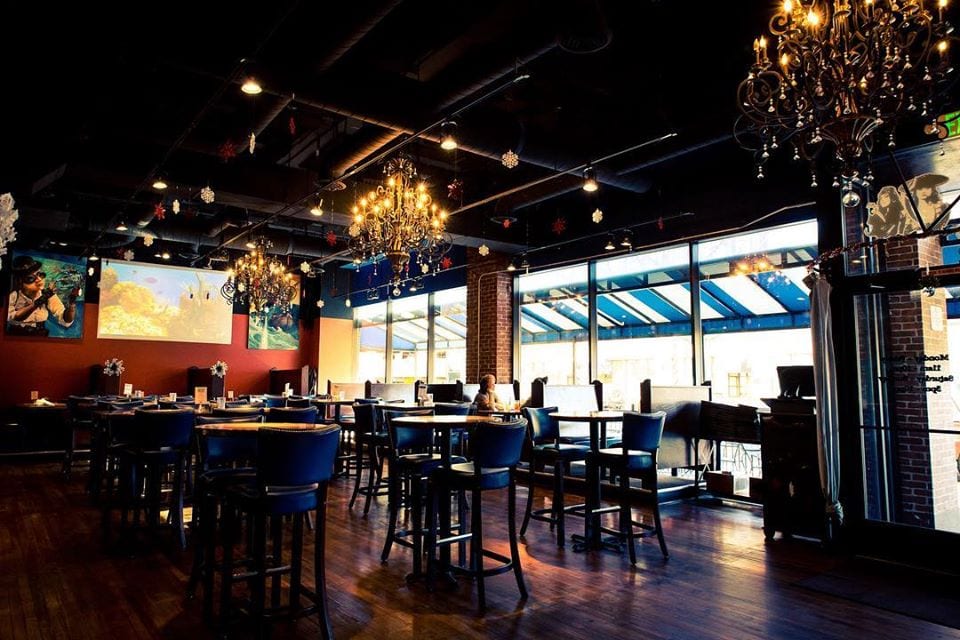 As one of Colorado Springs' more modern steak houses, Bonny and Read Fresh Steak & Seafood redefine what it means to have a good steak. With a friendly staff, delicious food, crafty cocktails, plus a colorful and artful atmosphere, the restaurant sets the stage for a unique dining experience in Colorado Springs.
Bonny and Read serve up an extensive seafood and steak menu including steaks like a filet bonny style, a NY strip with blue cheese, or enjoy over different prime rib dinners. For seafood, enjoy everything from lobster to sea scallops and various fish filets.
101 N Tejon St #102, Colorado Springs, CO 80903 | 719-896-4145 | bonnyandreadseafood.com
5. The Steakhouse at Flying Horse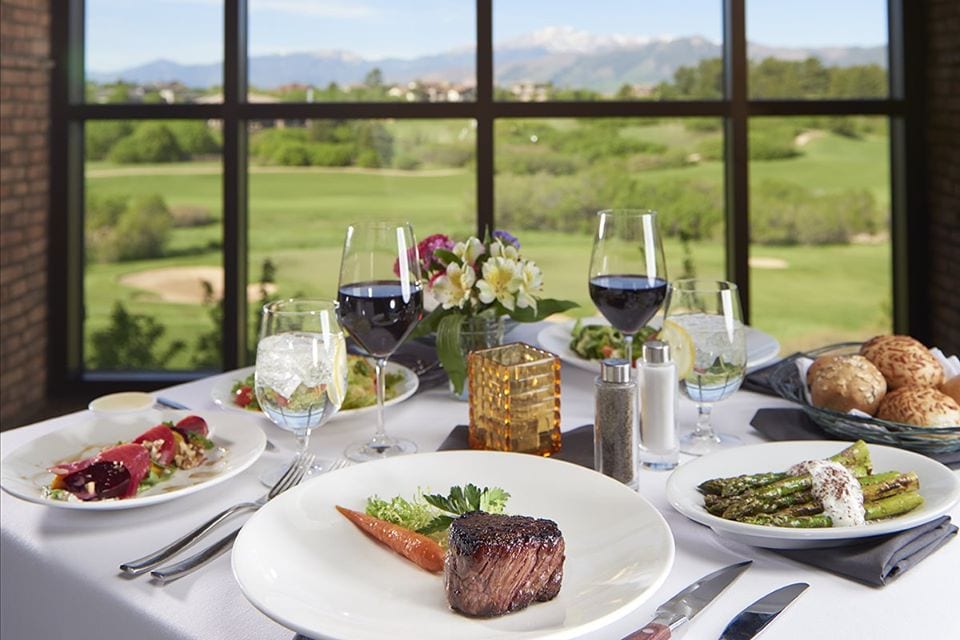 Taking fine dining to a new level in Colorado Springs, the Steak House at Flying Horse is an exceptional steak house dining experience you won't find anywhere else. Located within the Flying Horse luxury community, spend the day on the 18-hole golf course, an afternoon at the spa, and top off your evening with a meal at the steak house. The backdrop to your unforgettable meal is the beautiful Tuscan-style villa offering stunning views of Colorado's Front Range.
With breakfast, lunch, dinner, lounge, dessert, and even children's menus, your dining options are endless. Steak options include your classic 8-oz filet mignon, prime ribeye, akaushi wagyu New York, and more, plus a variety of toppers like lobster tails and jumbo diver scallops.
1880 Weiskopf Point, Colorado Springs, CO 80921 | 719-487-2635 | flyinghorsesteakhouse.com
6. Carlos' Bistro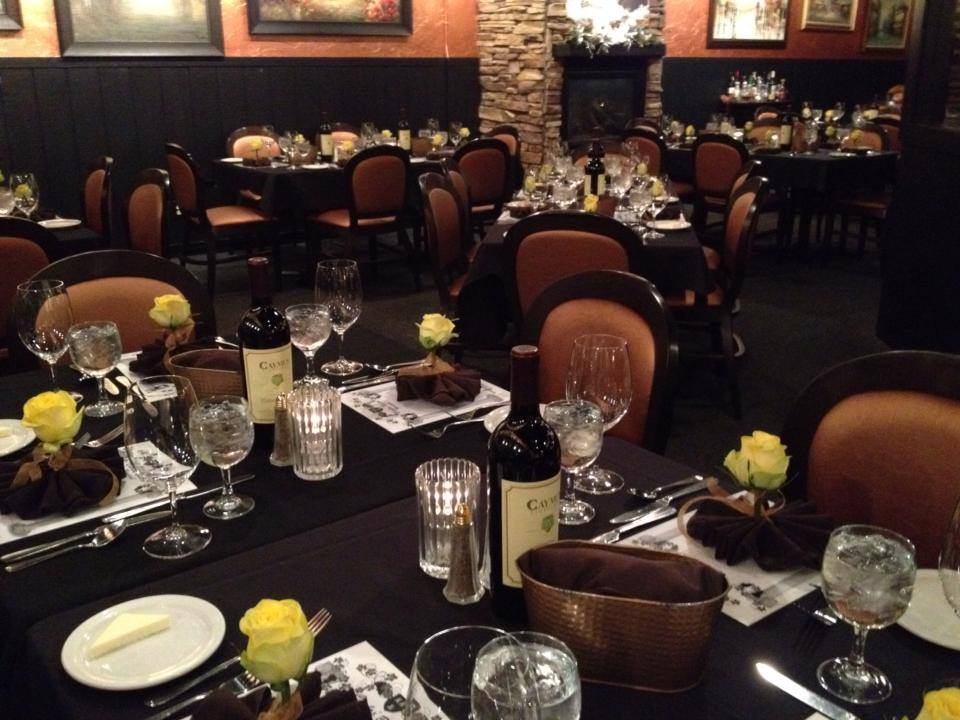 Considered "the" dining place in Colorado Springs, Carlos' Bistro is a family-owned restaurant, named one of the top three restaurants in the state by Zagat. While they are known for their fresh fish and seafood dishes, the steak selection is superb as well.
From their boneless USDA prime ribeye to the Tomahawk USDA prime rib-eye, there is a steak option to satisfy everyone's tastes and wallets. Complete your meal with a glass of wine from their large wine list, specialty cocktail, or a martini from their popular martini menu.
1025 S 21st St, Colorado Springs, CO 80904 | 719-471-2905 | carlosbistrocos.com
7. Saltgrass Steak House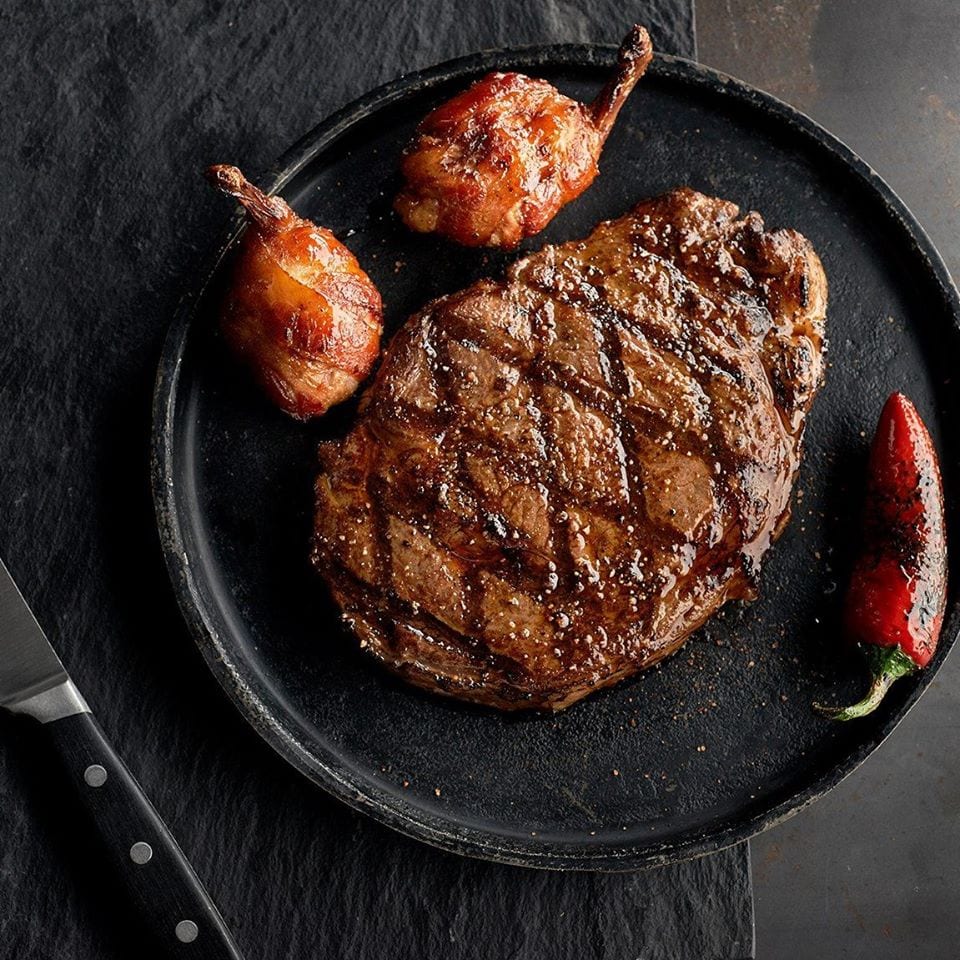 If you are looking for more of an informal steakhouse, the Saltgrass Steakhouse is your spot with its kitchy cowboy-themed atmosphere. The legend of Saltgrass dates back as far as the mid-1800s when millions of Longhorns roamed the lands and were taken to the Texas Gulf Coast to graze on the coastal salt grass, thus where the name originated from.
This Texas-themed chain restaurant is home to several award-winning steaks, a full bar menu, plus breads, soups, and desserts made fresh daily. There are two more Colorado locations in the suburbs of Denver: Westminster and Parker.
1405 Jamboree Dr, Colorado Springs, CO 80920 | 719-594-5367 | saltgrass.com
8. Famous Steakhouse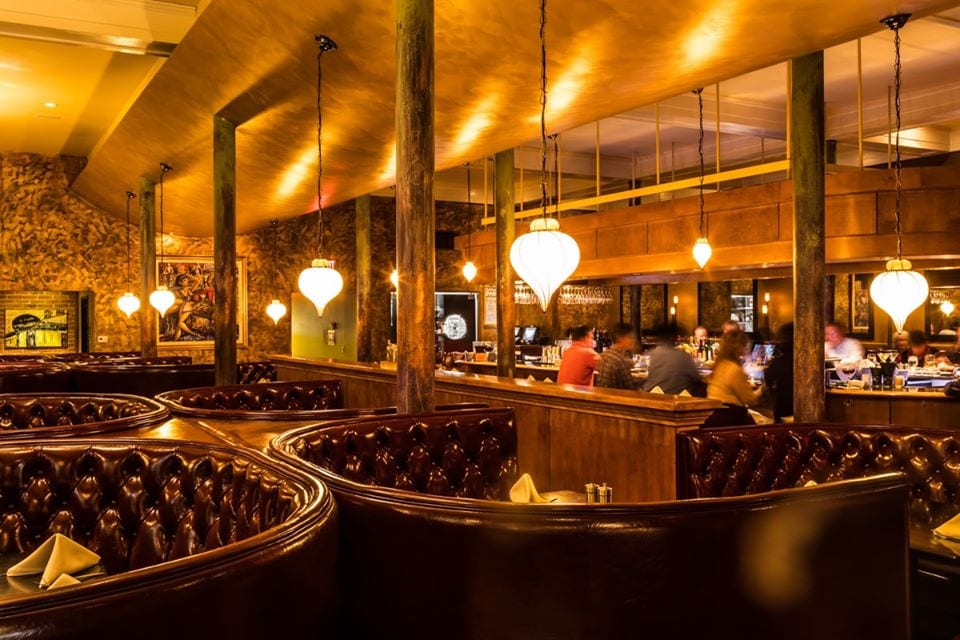 What could be better than a steak from the Famous Steak House? Located in the center of Downtown Colorado Springs, Famous Steak House is a sleek and stylish Colorado Springs' upscale steak house and lounge. Their menu features award-winning prime steaks, fresh seafood, and a premium wine list.
Signature steak selection includes everything from a 10-oz filet mignon to the All-Colorado All-natural Bone-in "Cowboy" ribeye.
31 N Tejon St, Colorado Springs, CO 80903 | 719-227-7333 | thefamoussteakhouse.net
9. Cowboy Star Restaurant and Butcher Shop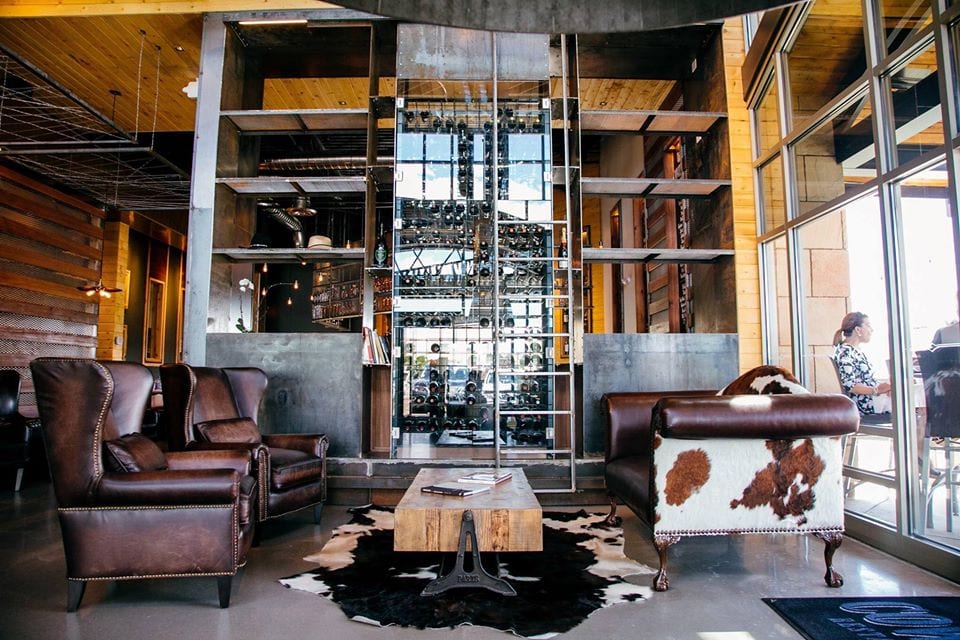 With a cozy, neighborhood dining atmosphere, Cowboy Star Restaurant and Butcher Shop dishes out some pretty good steaks. Straight from their butcher shop, steak lovers can expect hand-cut, fresh pieces of some of the best meats around.
Combining contemporary American cuisine with western flare, they offer a dedicated steaks and sides menu with a classic 8-oz filet mignon and a 40-oz porterhouse to get you started.
5198 N Nevada Ave #150, Colorado Springs, CO 80918 | 719-639-7440 | cowboystarcs.com
10. The Rabbit Hole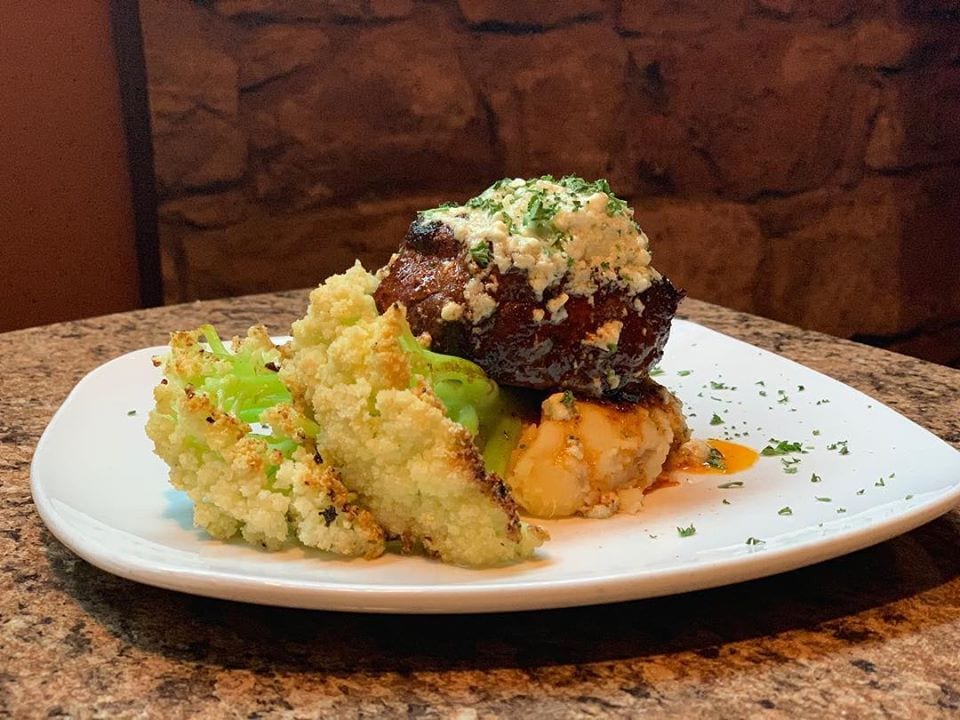 As an underground restaurant, The Rabbit Hole provides a one-of-a-kind dining experience in Colorado Springs. Described as "late-night New American haunt crafting creative bites and cocktails in a sleek, subterranean space," how could you not be intrigued by this unique dining description?
Open for dinner and late-night dinner until 1:30 a.m. this restaurant serves a wide variety of menu options. Steak meals include cherry braised buffalo short ribs, grilled beef filet, and a bison NY strip. It's one of the top places for fining dining in Colorado Springs, especially a late night date night.
101 N Tejon St, Colorado Springs, CO 80903 | 719-203-5072 | rabbitholedinner.com
That's a round up of some of the best restaurants for a tasty steak in Colorado Springs. Have a nice meal!