Meat-free eaters can rejoice with several options for vegetarian and vegan restaurants in Denver. Whether you're craving classic fast food, a hearty sandwich, desserts, or savory pasta dishes, there's a veg-friendly spot for you.
Begin your morning with a flavorful breakfast burrito or waffles, enjoy buffalo wings and burgers for lunch, and end with a dairy-free pizza or even an island-inspired meal. These vegetarian and vegan spots allow diners to partake in Denver's culinary scene without missing the meat. At restaurants that are vegetarian, there is often the ability to customize your meal to be vegan.
Please note: Any allergens or dietary needs should always be clearly communicated to the restaurant. Menu items and ingredients can change, so it's always best to confirm with restaurant staff. For the most up-to-date information on ingredients, menu, and hours of operation, contact the restaurant directly.
Vital Root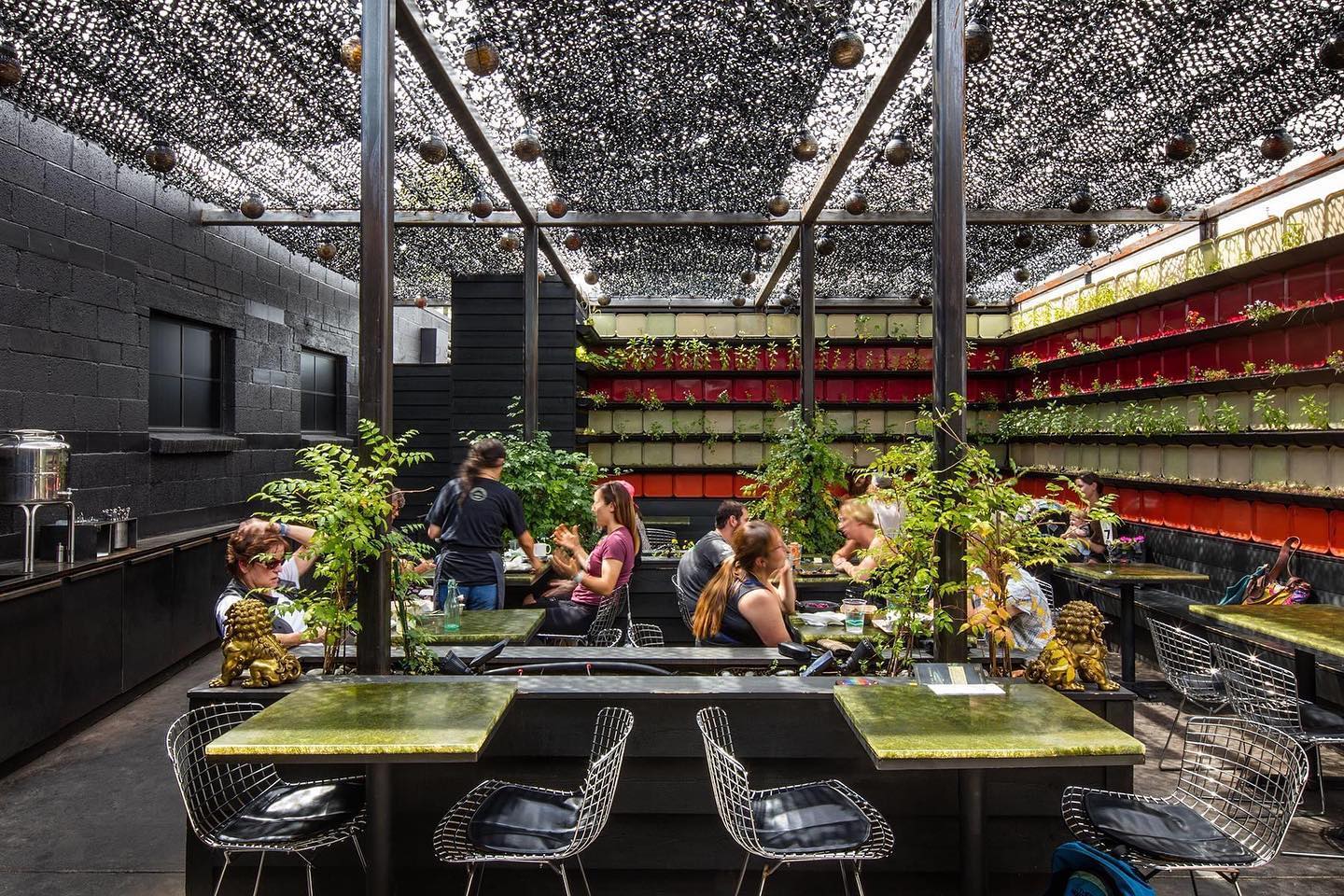 Vital Root is a fully vegetarian restaurant that boasts extensive vegan options, with the majority of the menu being completely plant-based. This fast-casual spot has a focus on sustainably sourced ingredients prepared in affordable dishes.
Cashew-based queso with tortilla chips, Mediterranean chopped salad, fried artichokes, smoked broccoli, and cauliflower Korean BBQ "wings" are a handful of small plates. For brunch, there's a waffle with cranberry citrus chutney and breakfast tacos.
Some of the main dishes include plant-based "chicken" and a waffle, Pad Thai, Bahn mi tacos, a falafel wrap, risotto, and the Sambar Bowl with lemongrass tofu, roasted cauliflower, coconut mint yogurt, and flatbread. The kid's menu consists of a cheese quesadilla, grilled cheese, country-fried tofu, and hummus.
To go along with your meal, sweet potato fries, home fries, chickpea salad, and Yuka fries with chimichurri and grilled banana ketchup are all served on the side. During happy hour, enjoy discounts on veggie "wings", house-made hummus, and drinks. An array of beverages includes smoothies, coffees, teas, CBD juices, cocktails, and rotating beer and wine.
Vital Root is available for weather-permitting outdoor dining, along with indoor, pick-up, and delivery. The restaurant is part of the Edible Beats brand, which consists of Linger, Root Down, El Five, and Ophelia's in Denver.
3915 Tennyson Street | 303-474-4131 | ediblebeats.com/vital-root
Bang Up to The Elephant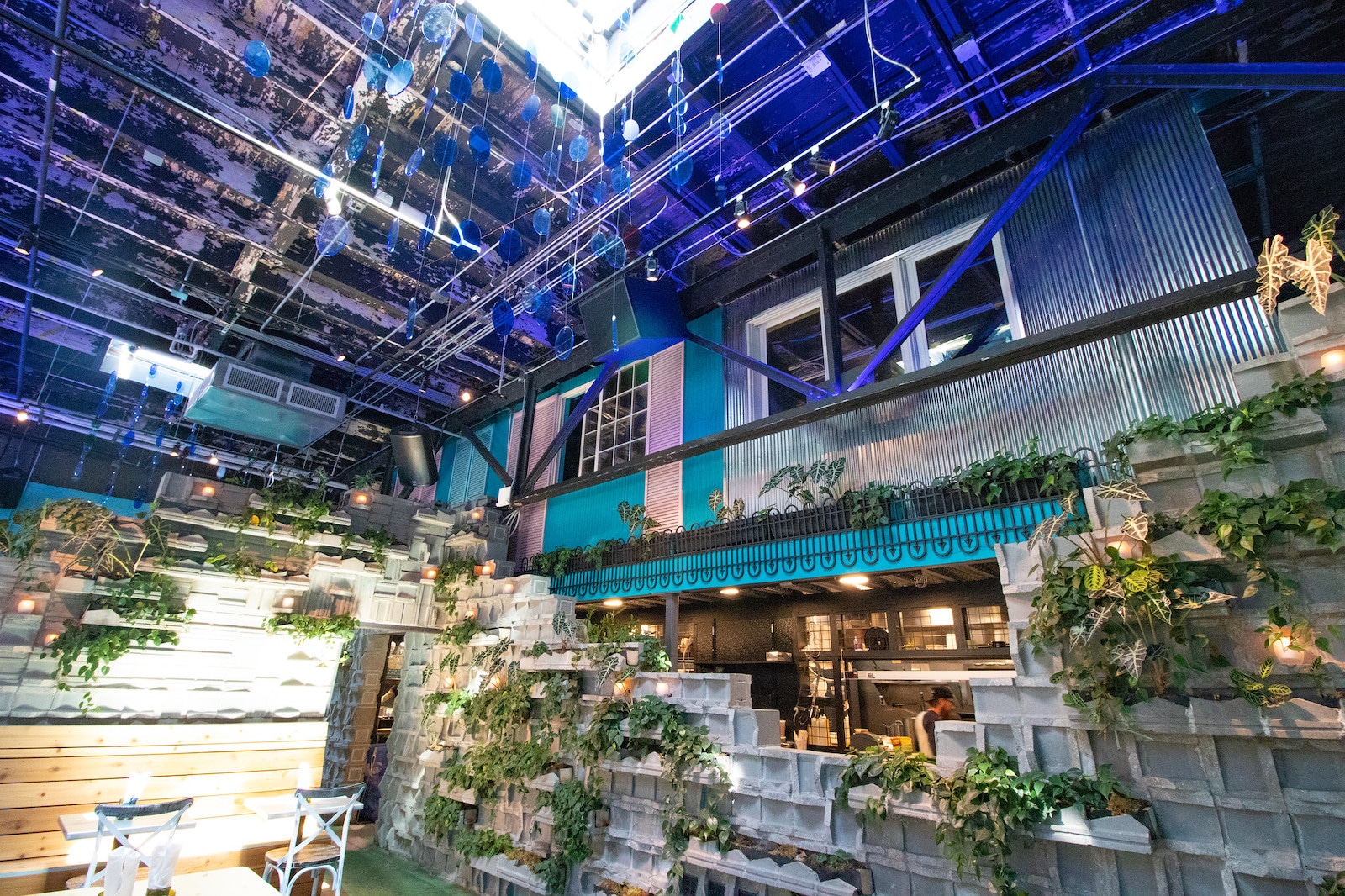 Bang Up to The Elephant serves plant-based Caribbean-inspired dishes along with tropical drinks. Kick things off with fried plantain and tortilla chips with avocado-cucumber dip, curried waffle fries, jerked edamame, cauliflower wings with island ranch sauce, and potato and plantain mofongo.
The Cubano sandwich is seitan ham, mojo jackfruit, cabbage, pickled onions, cucumber, mustard, and mayo served on grilled bread. Bake and Chana is curried chickpeas, green-herb seasoning, papaya slaw, and hot sauce, all pilled inside fry bread.
Main dishes include coconut curry, quesadilla, lo mein with tofu in a sesame-soy sauce, a cassareep rice bowl with crispy tofu and pineapple, and roasted butternut squash with curried chickpeas, potatoes, and coconut rice.
Sides are plentiful here, and there's a discount when you order three. Coconut bread, papaya slaw, fry bread with island ranch sauce, cornbread, fried plantains, fresh pineapple, coconut rice with black-eyed peas, and crispy waffle fries are available.
Drinks are ranked by their level of sweetness, one to three. Dirty banana is spiced rum and coffee liquor combined with almond milk, banana, and chocolate. There's also a pina colada, rum punch and for a less sweet option, the Month of Sundays is mezcal, chareau aloe liqueur, lime passion fruit, jalapeno, and curacao.
1310 North Pearl Street | 303-792-4949 | banguptotheelephant.restaurant
The Corner Beet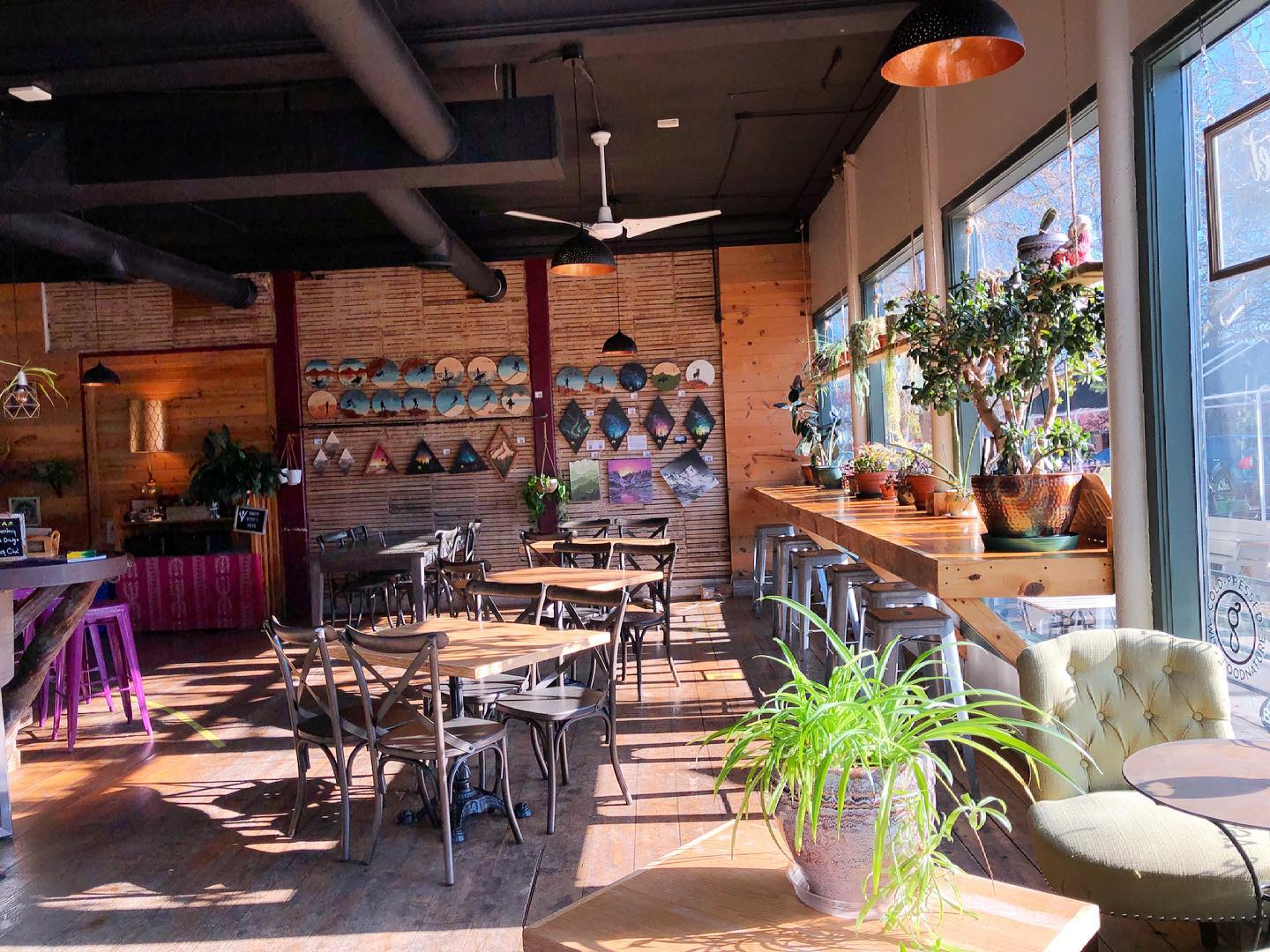 At the Corner Beet, the menu is all vegetarian with produce that is organic and local, whenever possible. Many items on the menu can be made vegan as well.
Start the day with a breakfast burrito, bowl, sandwich or tostada, or an acai bowl. There are numerous options for morning beverages – coffee or tea, superfood lattes, cold press juices, and smoothies.
Build your own avocado toast with toppers such as pickled turnip, pesto, tofu scramble, vegan sausage, cheese, and eggs or vegan egg. The Bahn mi sandwich has baked tamari-glazed tofu, jalapenos, cilantro, pickled carrots, and spicy vegan mayo.
Most items are customizable. For example, on the Mediterranean Plate, choose from eggs (fried, scrambled, or poached) or a vegan tofu scramble with hummus. Then choose your veggies ­(including avocado, tomato, pickled beets, spinach, and pickled carrot) and any proteins (including vegan sausage or baked tofu).
The daily soup can be served with garlic toast. Salad options are a harvest salad, Thai peanut salad and a super seed salad with pepitas, hemp seeds, sunflower seeds, feta, avocado, and mixed greens tossed with Dijon dressing.
1401 North Ogden Street | 720-295-4447 | cornerbeet.com
Somebody People
Somebody People is entirely plant-based and is a "vegetable-forward" dining experience with Mediterranean flavors. Here, they aren't trying to emulate meat, instead, they are highlighting fresh produce and veggies.
This spot has been featured in 5280 and Conde Nast Traveler, where it's described as an exceptional vegan restaurant with polished cuisine and a hip vibe. Pizzetta comes with tomatoes, grilled onions, pine nuts, basil, and hemp. Manicotti is with potato, caramelized onions, almonds, and a bechamel sauce.
Sweet treats include tiramisu, donuts, an ice cream sandwich, and rhubarb tart. Creative house-made ice creams include mole, basil, and pink peppercorn strawberry shortcake.
To drink, there is an extensive wine list, draft and bottled beers, CBD sodas, and kombucha. There are also thoughtfully prepared zero-proof cocktails. Somebody People also offers the opportunity to host a wedding, birthday, company event or other private events, too.
1165 South Broadway, #104 | 720-502-5681 | somebodypeople.com
City, O' City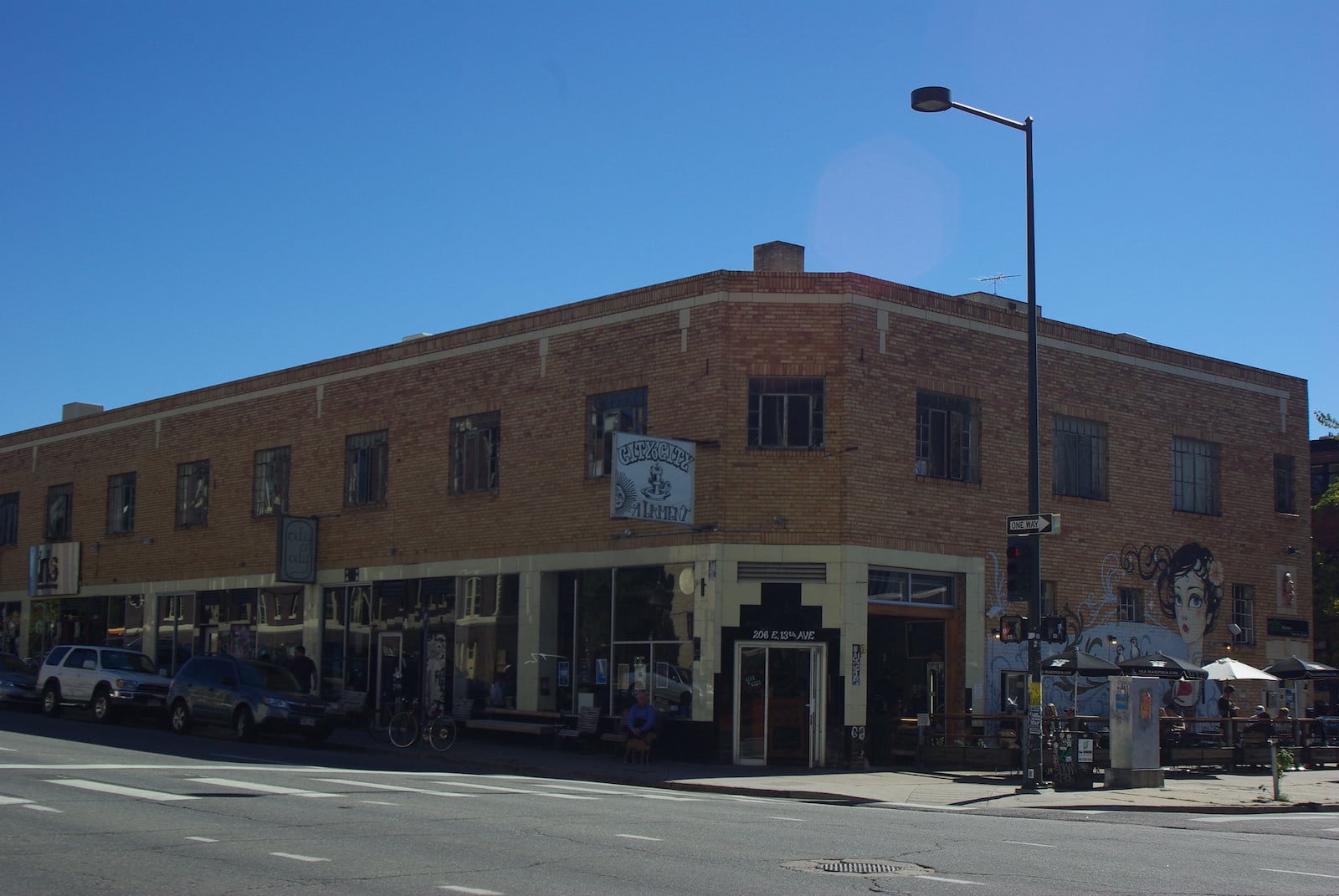 One of the most well-known of Denver's vegetarian restaurants is City, O' City. The menu denotes whether something is vegan or can be made vegan with modification as well as if it's gluten-free or can be made gluten-free.
Breakfast is served until 2 p.m. and offers hearty options – a breakfast burrito, tempeh bacon hash, sausage, egg, and cheese or a play on chicken and waffles with fried cauliflower and carrot bacon. The city breakfast is eggs or tofu with potatoes served with gravy or green chile and biscuits or tortillas.
You can add tofu, seitan, or crispy cauliflower to any salad. There are burgers, vegan mac and cheese, a Philly cheesesteak, a buffalo seitan wing wrap, and a noodle bowl. Vegan ravioli are crispy wontons loaded with cashew-based ricotta, garlic confit, spinach, artichoke, and mushrooms, served with a basil pesto sauce.
Pizzas can be made vegan by swapping Daiya cheese or cashew ricotta. Toppings include seitan sausage, tempeh bacon, mushroom bacon, poblano, spinach, basil, mushroom, tomato, artichoke, and grilled onions.
The restaurant offers deals for Pizza Wednesdays, service industry days, happy hour and late-night specials. There is also a kid's menu, dessert options, and an array of wines, beers, coffees, and cocktails to drink.
206 East 13th Avenue | 303-831-6443 | cityocitydenver.com
Watercourse Foods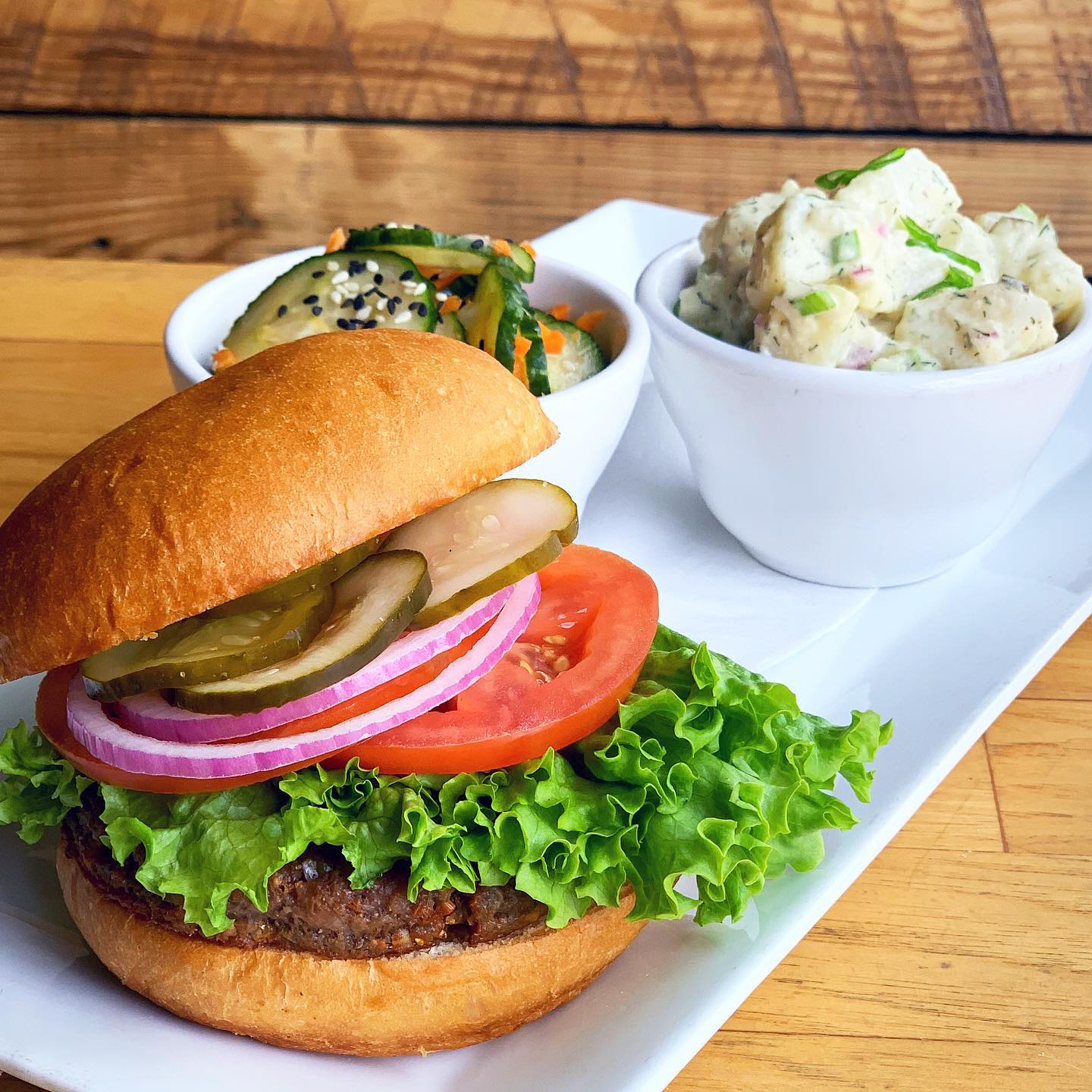 Watercourse Foods serves vegan comfort food for breakfast, lunch, and dinner. There are a handful of special entrees that are only served after 4 p.m. Fennel sausage Bolognese with penne, brown butter sage gnocchi, eggplant, and mixed mushroom ragout with crispy polenta and butternut squash risotto are these items.
For breakfast, there are daily pastries, a sausage and kale frittata, lemon and blueberry waffle, and chorizo and grits. Brunch, which is served on Saturday and Sunday, serves "chicken" with a biscuit and gravy, carrot lox toast, and cauliflower "chicken" with a waffle, topped with a cheese sauce and smoky tomato jam.
There are plenty of sandwiches to choose from here – crispy buffalo tofu, cheese burger, BBQ jackfruit, Cuban, smoked turkey and brie, or pastrami and gouda. Tasty sides are antipasto salad, mac, and cheese, kale salad, fries, tomato curry soup, and loaded baked potato soup.
To share, there is a pretzel with cheese fondue, seitan wings, cauliflower wings, a rotating charcuterie board, and loaded fries, with truffle hot sauce, mushroom bacon, and walnut parmesan. A blackened tofu Caesar wrap and Southern fried cauliflower dinner are other menu items.
837 East 17th Avenue | 303-832-7313 | watercoursefoods.com
Make, Believe Bakery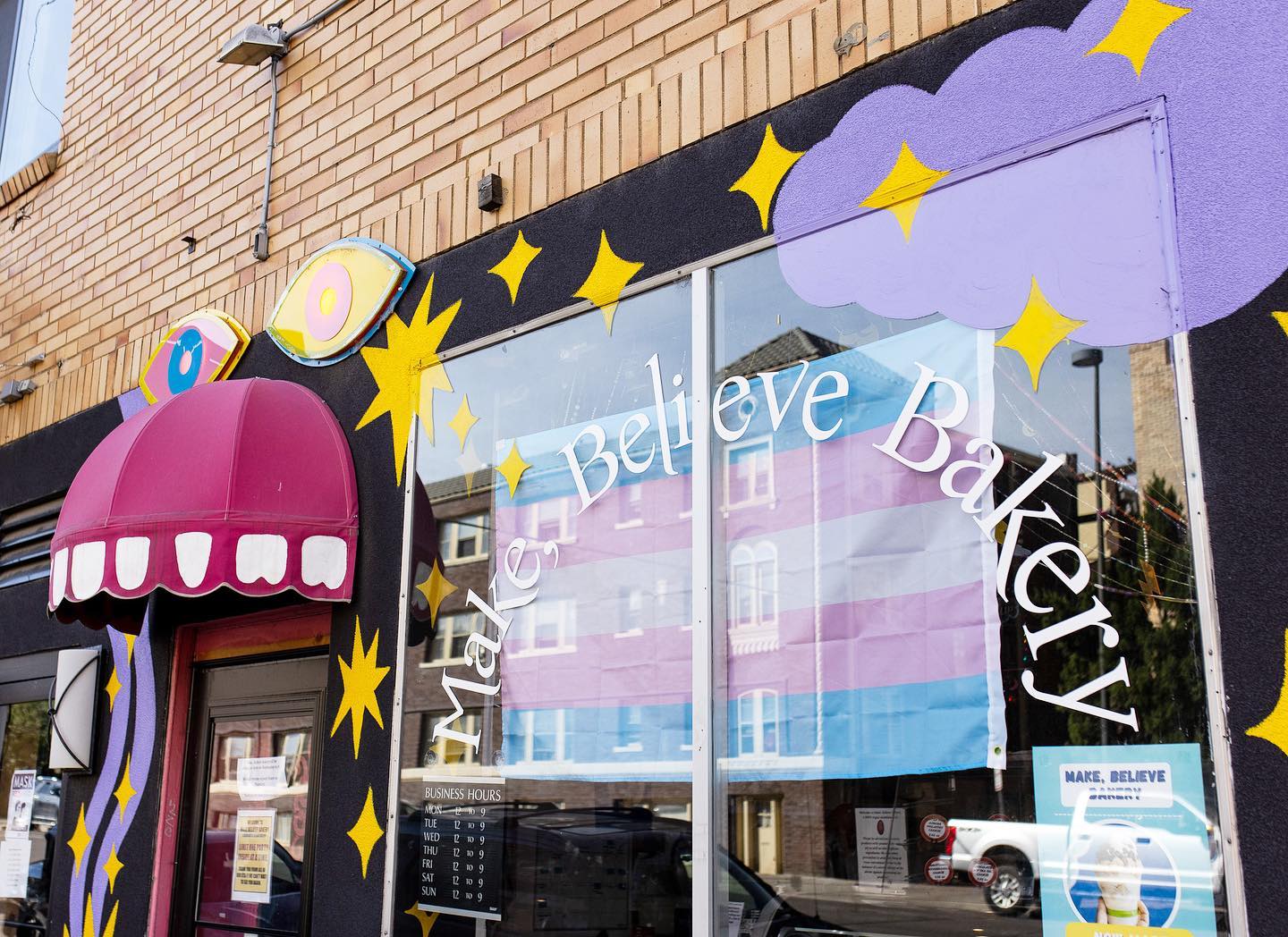 Make, Believe Bakery is a completely vegan bakery that also serves some gluten-free options. If you've got a sweet tooth, this is the spot for you. The menu key highlights items that are gluten-free, have a gluten-free option, and the desserts that contain soy, gluten, and nuts.
In addition to pastries and baked goods, there is also Oatly soft-serve available, both vanilla and chocolate. Top the dessert with chocolate chip cookie dough, Oreo pieces, chocolate sauce, crushed peanuts, caramel sauce, sprinkles, toasted coconut, peanut butter cups, brownies, or Funfetti cake.
Cupcake flavors rotate regularly, and some flavors have included lemon raspberry, blueberry hibiscus, key lime, cappuccino, and turtle with chocolate cake, pecan, and caramel. There are also assorted cookies, banana bread, brownies, whoopie pies, sweet potato cinnamon, mini cupcakes, and ho-ho cupcakes.
You can custom order items as well, including cakes and cupcakes. Some of the pastries you can order special, include Babka, Danish, blueberry streusel, and scones. Coconut dream, classic lemon, strawberry shortcake, and lemon lavender are the classic cake flavors.
In addition to the storefront, Make, Believe Bakery products are also available in City, O' City, and Watercourse, which are all under the same ownership.
214 East 13th Avenue | 303-318-9843 | makebelievebakery.com
Meta Burger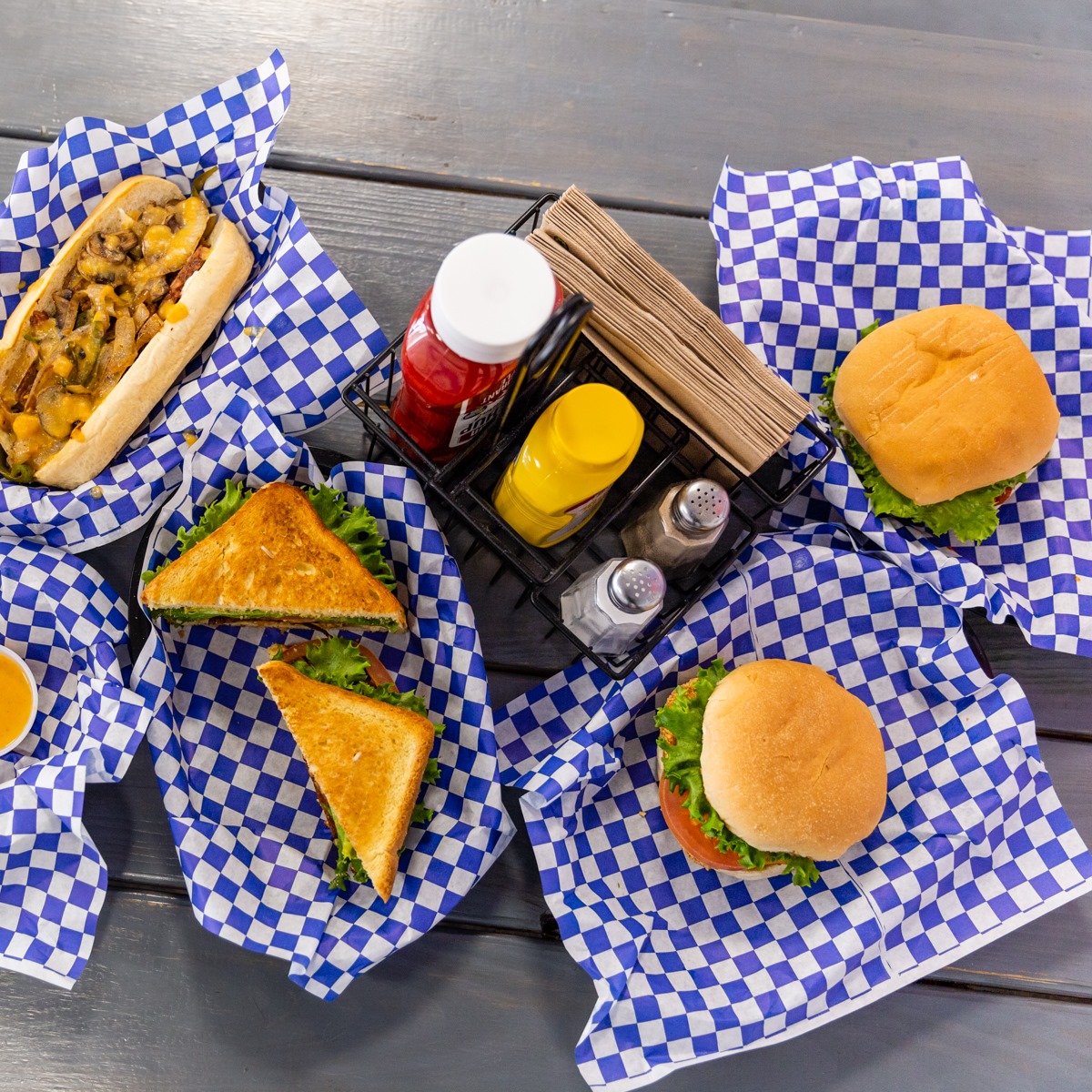 Meta Burger is a completely vegan restaurant serving traditional fast-food staples without meat or dairy. In addition to the Denver restaurant, there are locations in Edgewater and Boulder.
As the name suggests, burgers are the star of the show. You can design your own, or opt for one of the creative, pre-designed options. Toppings range from the classic – mustard, American cheese, lettuce, tomato, and onions – to unique ones like hash browns, bacon-onion jam, habanero jam, pineapple, and Caesar dressing.
If you're not craving a burger, there's a crispy fish fillet sandwich with cheese, a buffalo chicken sandwich, a Philly cheesesteak, and a Teriyaki chicken sandwich topped with grilled pineapple. The hangover chicken Sammy is crispy chicken topped with a Sriracha maple aioli, hashbrowns, American cheese, and bacon, all served on Texas toast.
Sides and shareables include sweet potato fries, wings with your choice of the sauce, mozzarella sticks with marinara sauce, mac and cheese, waffle fries, Caesar salad, and loaded fries, topped with a Meta patty, sauerkraut, onions, and Meta sauce.
There are also creamy shakes and a kid's menu with a hamburger and fries, mac and cheese, and nuggets and fries. Meta Burger is open for dine-in, takeout, and delivery.
7950 East Mississippi Avenue | 720-535-9707 | metaburger.com
All of these vegetarian or vegan restaurants offer something different for plant-based eaters and meat-free diners. Regardless of diet, these popular destinations are worth a trip during a day in Denver.
Check out Boulder's vegetarian restaurants for a fun local day trip.