Boulder offers several options for vegetarian and vegan restaurants for those eating a more plant-based diet. In addition to many restaurants in the city offering specified meat-free options, there are also four spots focusing on entirely vegan or vegetarian cuisine.
Besides a scenic, outdoor lover's paradise, Boulder is also known as a fantastic culinary destination, with many award-winning restaurants. Fortunately, the options below offer vegans and vegetarians an option with entirely meat-free menus. Even though these plant-based menus are popular with those who avoid meat, anyone can truly enjoy these delicious, innovative meals.
Please note: Any allergens or dietary needs should always be clearly communicated to the restaurant. Menu items and ingredients can change, so it's always best to confirm with restaurant staff. For the most up-to-date information on ingredients, menu, and hours of operation, contact the restaurant directly.
Native Foods Cafe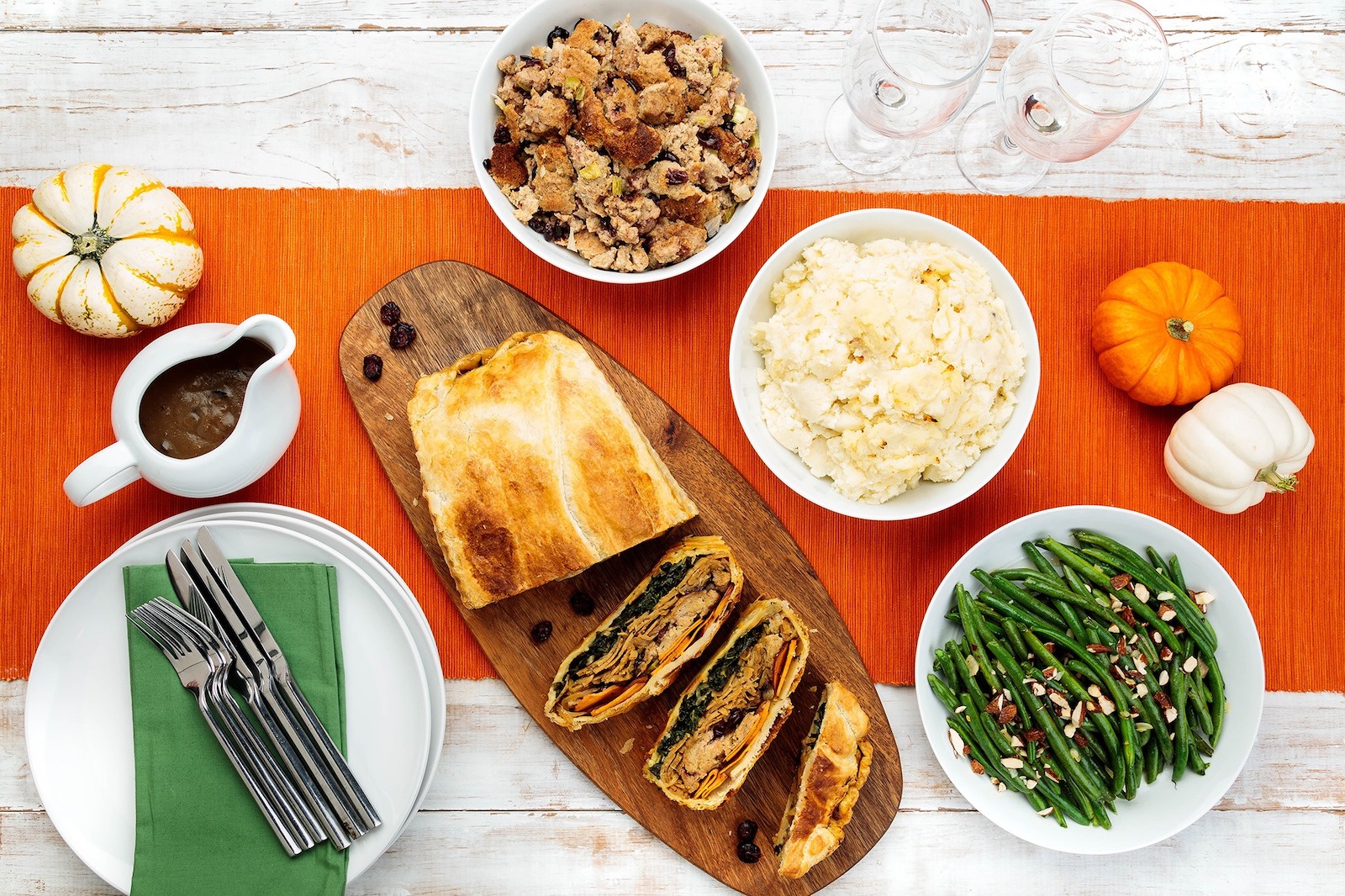 Native Foods Cafe is a completely vegan fast casual restaurant with locations in Boulder, Lone Tree and Glendale in Colorado, as well as California and Illinois. Not only is the food served here totally plant-based, but items are made-from-scratch and locally sourced whenever possible.
The large menu is filled with classic fast-food staples and comfort food– burgers, nachos, chicken tenders, sandwiches and fries. There are also gluten-free items denoted on the menu as well as a specific options for kids.
For starters, crispy chicken tenders are served with a variety of sauce options, including Thai chili cilantro, Buffalo or hot "honee". For the nachos, corn tortilla chips are topped with a creamy cashew cheese, chipotle sauce, black beans, salsa fresca, roasted corn, green onions and cilantro along with several additional add-on options.
Sandwiches available include a meatball sub, spicy fried chicken with Nashville hot sauce, Cajun-seasoned fried cauliflower po' boy, crispy chicken with bacon and avocado and a classic Rueben with corned beef-style seitan, sauerkraut and horseradish sauce on rye bread.
Burger options are over the top with options like the barbecue brisket burger, topped with plant-based brisket, the signature burger patty, fried onion rings, provolone cheese, Southern slaw and pickle chips, served on a pretzel bun.
To go, there is an option to order a Wellington, which is sold frozen and baked at home. Steak-style seitan, kale, herbed yams, herbed mushrooms and caramelized onion are wrapped in a buttery puffy pastry, which serves four to five.
Native Foods Café is open for takeout, delivery and dine-in. The loyalty rewards program offers deals for new members and special offers. There are also options for catering larger events. The Boulder location also served local beer, ciders and wine.
Meta Burger
Meta Burger serves plant-based American classics, such as burgers, fries, sandwiches and shakes. The goal of Meta Burger is to bring accessible, delicious plant-based food to everyone.
The vegan restaurant has been also been voted the number one plant-based burger restaurant in the world by Happy Cow and won people's choice for best plant-based burger in America at the Seed Food and Wine Festival. In addition to the Boulder location, Meta Burger has restaurants in Denver and Edgewater as well.
Guests can build their own burger with a plethora of toppings – white onions, lettuce, tomato, bacon, mushrooms, hash browns and pineapples, to name a few. There are many sauces to top it with, including traditional ones (BBQ sauce, ranch, ketchup, mustard and mayo) and creative options (Mahalo sauce, bacon-onion jam, sweet Dijon, habanero jam and a Tuscan sauce).
For those not feeling particularly creative themselves, pre-designed burgers are plentiful. The Island burger is topped with grilled pineapple, Mahalo sauce, bacon, pickled red onion and lettuce. The Western has crispy onions, sliced cheese, barbecue sauce and pickles.
Other sandwich options include a few different crispy chicken sandwiches, a patty melt and a Philly cheesesteak with beef, Italian peppers and onions, grilled mushroom, a cheese sauce and mayo.
On the side, there are chili cheese fries topped with homemade chili, sweet potato fries, macaroni and cheese, Caesar salad and wings tossed in your choice of sauce (buffalo, barbecue or blueberry habanero). Wash it all down with a creamy shake – vanilla, chocolate, strawberry, cookies and crème or peanut butter.
Leaf Vegetarian Restaurant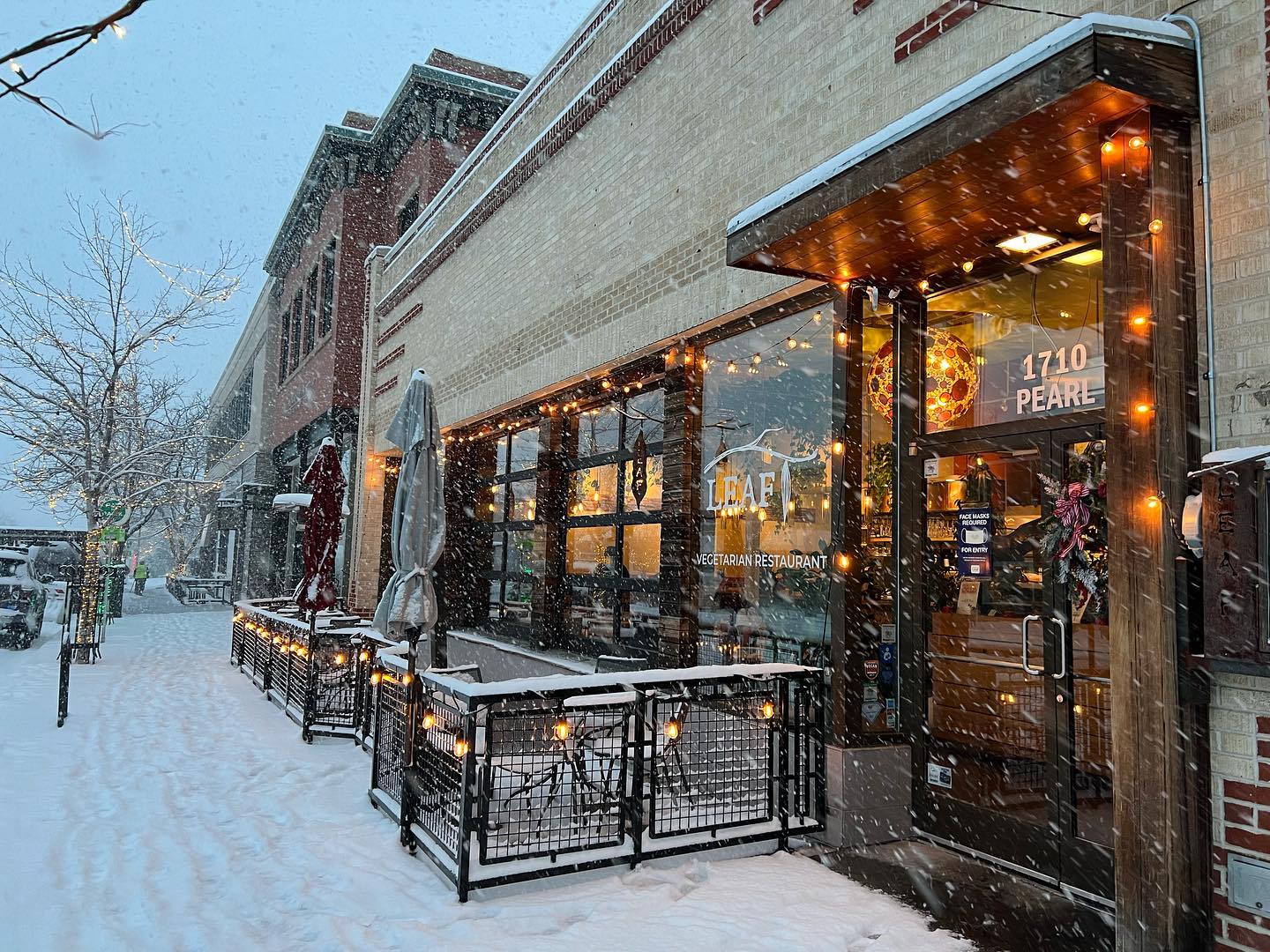 Located in downtown Boulder, Leaf Vegetarian Restaurant serves both vegetarian and vegan food in a beautiful, modern setting. Most of the options are already vegan or have an option to be made vegan (such as leaving off an egg or the cheese). The menu also notes items that are gluten-free or have a gluten-free option.
For lunch and dinner, small plates may include calamari-style oyster mushrooms, buffalo cauliflower tacos with vegan blue cheese and the stuffed endive with peanut stir-fried tofu, carrot, green onion, wasabi peanuts and sprouts. To top one of the salads, customers can add tempeh, blackened tofu or a vegan crab cake.
During lunch, sandwiches are available with a choice of soup, salad or fries. A mushroom-walnut-quinoa burger, crab cake sandwich and Reuben topped with vegan remoulade are a couple of the options.
For a main entrée, jackfruit enchiladas are served with Spanish rice and spicy green chili. The spaghetti squash puttanesca is topped with olives, capers, tomatoes, Boulder oyster mushrooms, sunflower sausage and cashew cream. There is also Udon noodles, Jamaican jerk tempeh and Tandoor tofu, among others.
On weekends, brunch is available with breakfast staples – pancakes, French toast, pastries, omelets and biscuits and gravy. The Huevos Rancheros can be made with eggs or organic tofu, corn tortillas, pepper jack cheese, Spanish rice, black beans, green chili and pico de gallo.
Leaf Vegetarian also offers a happy hour with discounted appetizers and drink specials. There is an extensive list of beverages, including non-alcoholic options like tea and coffee, as well as wine, beer, after dinner drinks and cocktails.
Reservations can be made online. There is also an option for catering for parties and events.
Thrive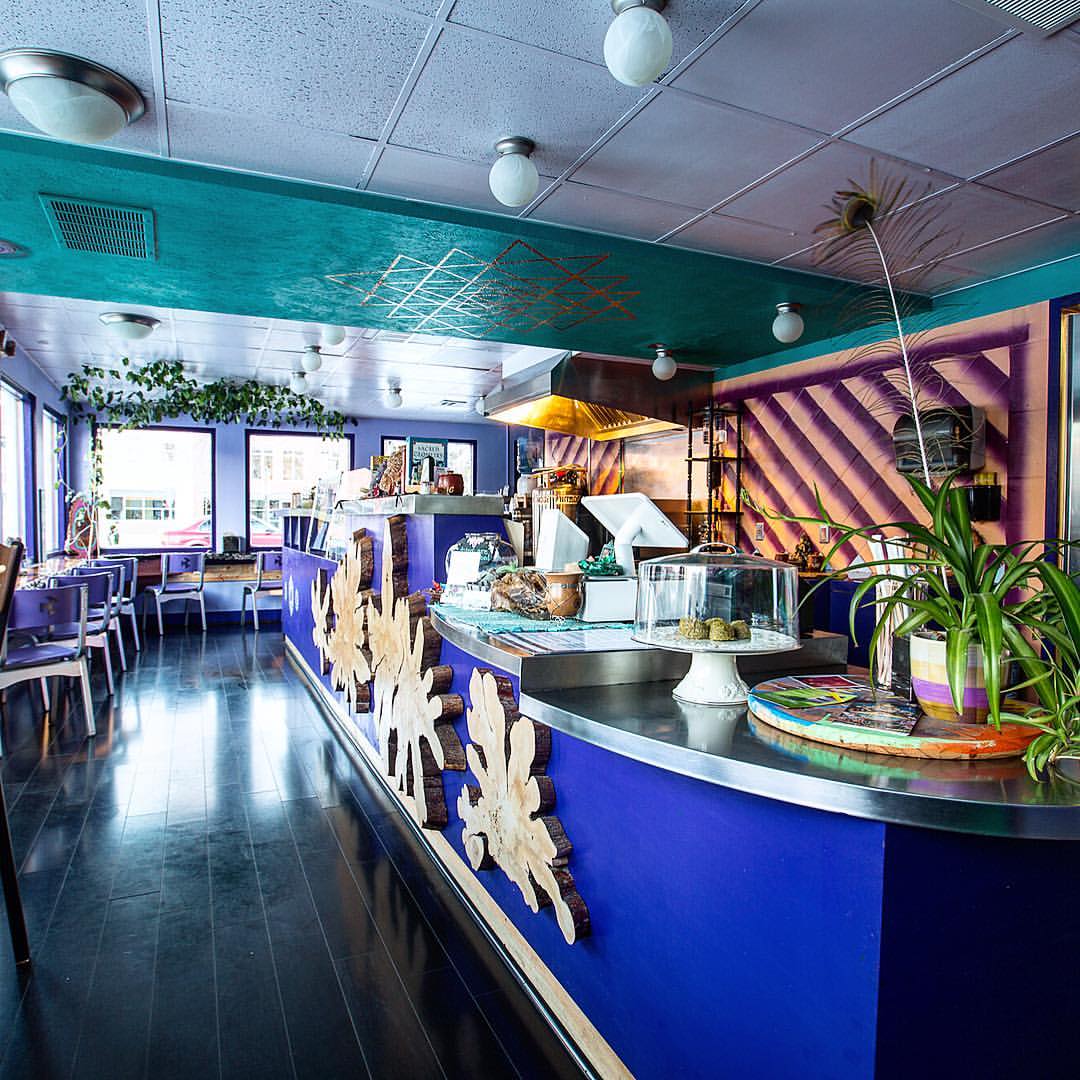 Thrive is a health-focused vegan and organic eatery located in Boulder. The restaurant is open for pick-up, takeout and outdoor and patio dining. The menu is described as light and healthy but also super nourishing.
The offerings are a variety of nutrient packed smoothies, salads, soups, drinks and even a few desserts. With the pre-designed smoothies, customers can various superfood add-ons (matcha, cacao, hemp seeds), extra fruit (mango, raspberries, blackberries, pineapple) or other items, such as goji berries, spinach or kale.
The Pad Thai replaces noodles with spiralized zucchini noodles and combines it with carrot, red bell pepper, purple cabbage, green onion, cilantro black sesame, marinated mushrooms and kraut, all tossed in a sprouted almond butter pad thai dressing. With the salads, you can add pine nut parmesan, extra vegetables, herbed Brazil nut cheeze, burger patty or coconut "bakun".
Miso, Cream of Mushroom, Broccoli Cheddar and Yellow Curry is the soup selection. The chili is made from walnut, sunflower seed, mushrooms and sun-dried tomatoes and is topped with cashew sour cream and an optional side of flax crackers or herbed Brazil nut cheeze.
Boulder is home to dozens of fantastic restaurants and fortunately, with these vegetarian and vegan spots, meat-free eaters don't have to miss out on all of the culinary delight.
Other Vegan/Vegetarian-Friendly Restaurants
Sometimes if you are choosing to eat vegan or vegetarian, you very well may still find yourself preparing to dine out with family, friends and co-workers that aren't. Below is a list of restaurants that do still serve meat and dairy, but that also offer substantial options for vegetarians and vegans.
If a shared cooking surface is a problem, you can contact the restaurant to inquire whether or not there are separate fryers and cooking spaces for the vegan and vegetarian dishes.
A Cup of Peace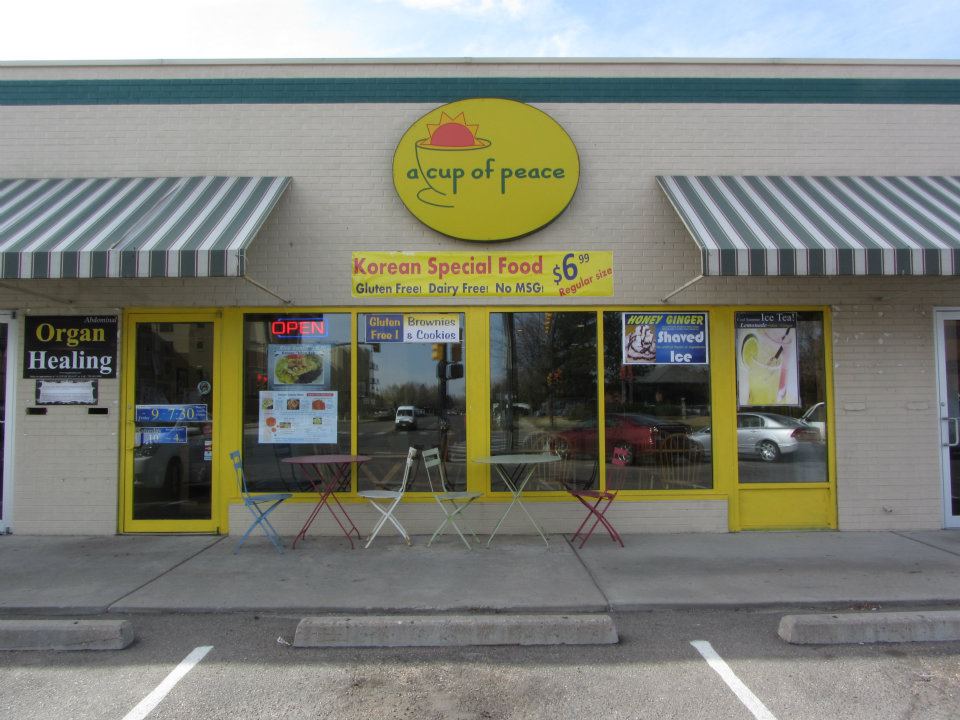 A Cup of Peace serves organic Korean food and herbal healing teas. Organic tofu is one of the protein options for each dish. The rice noodle bowl, Korean barbecue burrito and Korean barbecue bowl are just a few of the options that can be made vegan.
Flower Child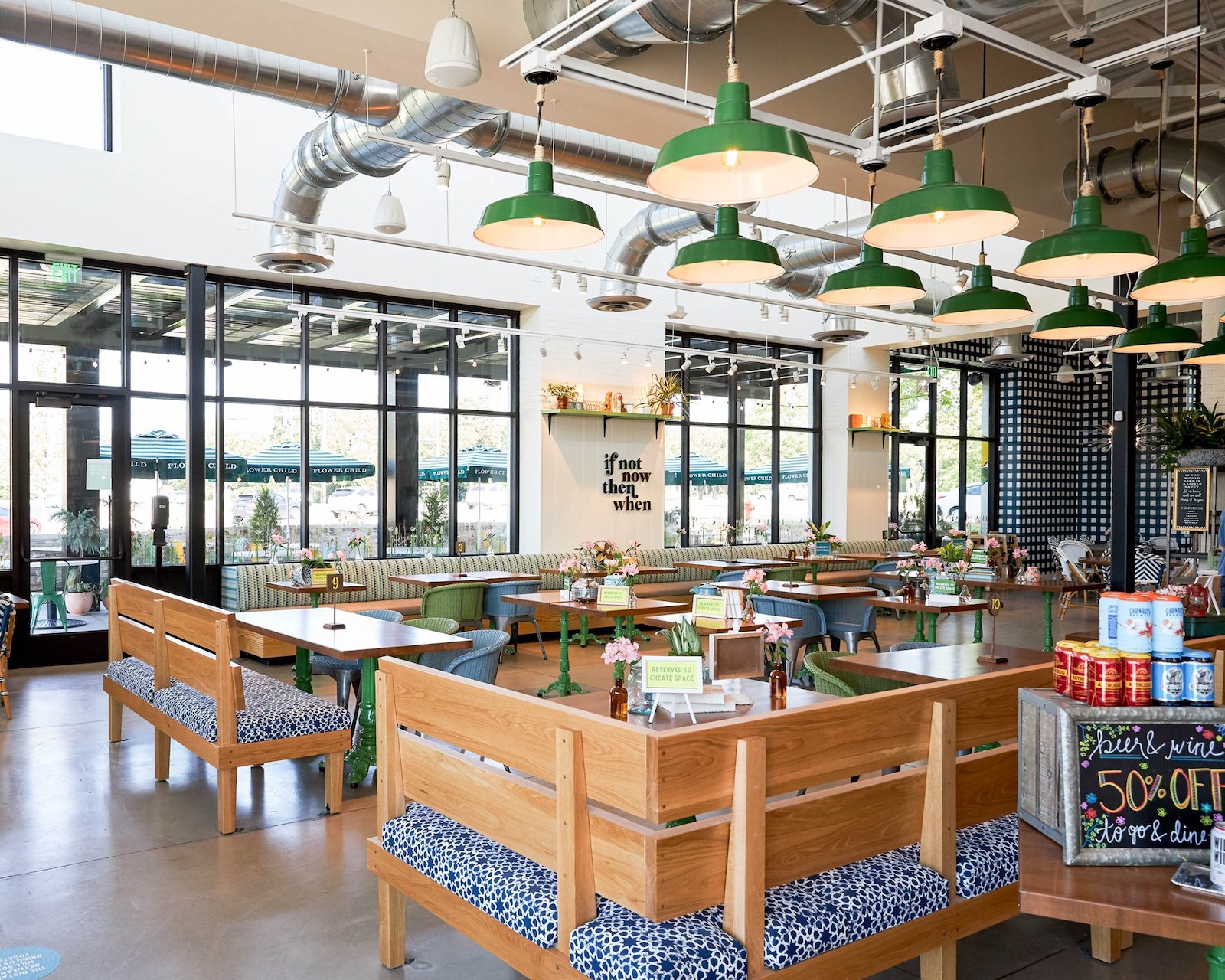 The Flower Child menu highlights the menu items that are vegetarian and vegan. Some vegan menu items include a cauliflower risotto, spicy sweet potato noodle bowl, a ginger miso crunch salad and avocado hummus.
Fresh Thymes Eatery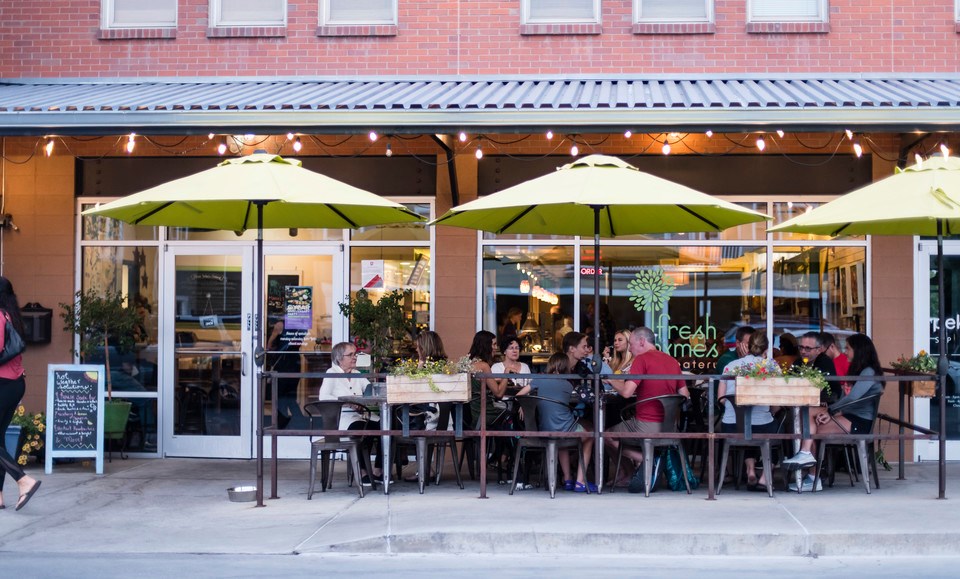 Fresh Thymes has won a number of awards, including Best Vegetarian Restaurant, Best New Restaurant and Best Healthy Eats. The menu boasts options for every diet – vegan, gluten-free, keto and paleo.
Sherpa Kitchen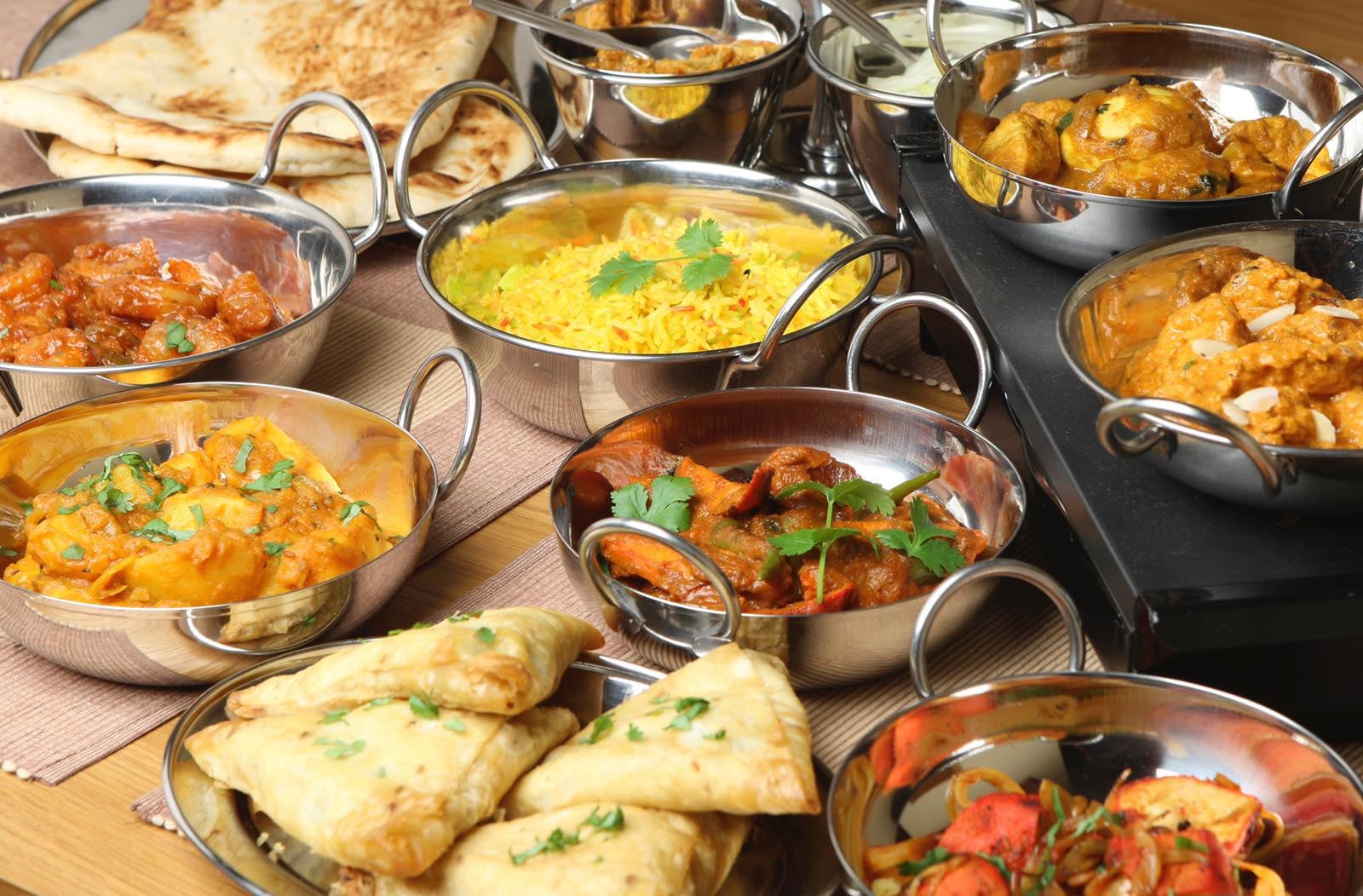 There is an entire category for vegetarian options at Sherpa Kitchen, which serves Indian and Nepalese cuisine. Sherpa is open for delivery, dine-in or take out.
Under the Sun Eatery and Pizzeria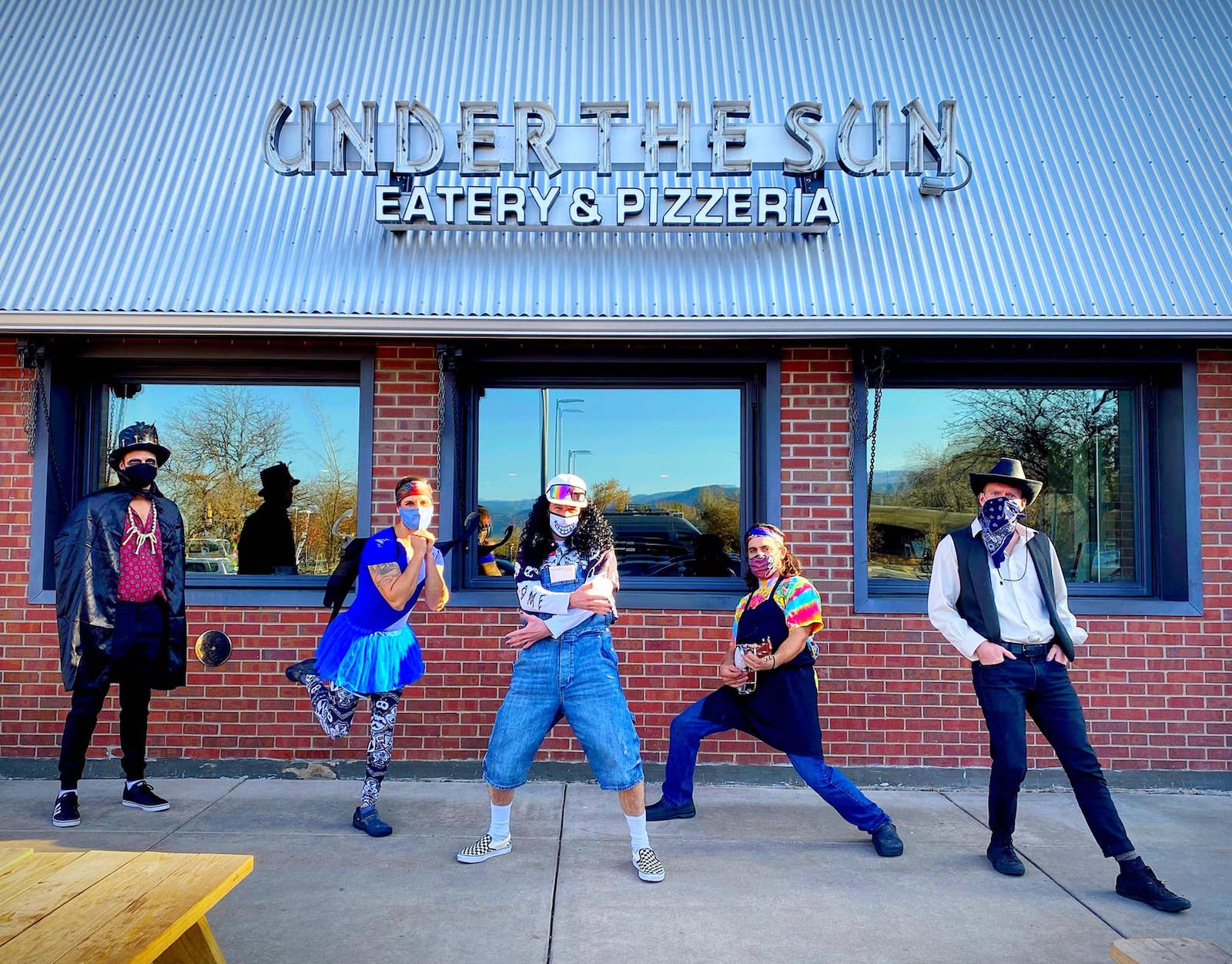 Substitute vegan cheese on any of the wood-fired pizzas here at Under the Sun Eatery and Pizzeria (as well as at the Longmont location, Long's Peak Pub). The pre-designed vegan supreme pizza is topped with vegan Beyond Burger, mushrooms, onion, red peppers, black olives and Follow Your Heart vegan cheese.
Ghurka's Dumping and Curry House
Ghurka's Dumping and Curry House offers numerous vegetarian options throughout the menu, and the team notes that most of the food can be made vegan upon request. Some vegetarian bowls include Eggplant Masala, Chana Saag and Daal Tadka.
Tsing Tao Asian Kitchen
There are dozens of vegan options here, including items made with tofu, vegetables, with a soy-based chicken or beef and even vegan shrimp and duck options. Kung Pao, Orange or General Tao's "Chicken" is served with rice. There is also a vegan dinner buffet on Mondays.
Aloy Thai Cuisine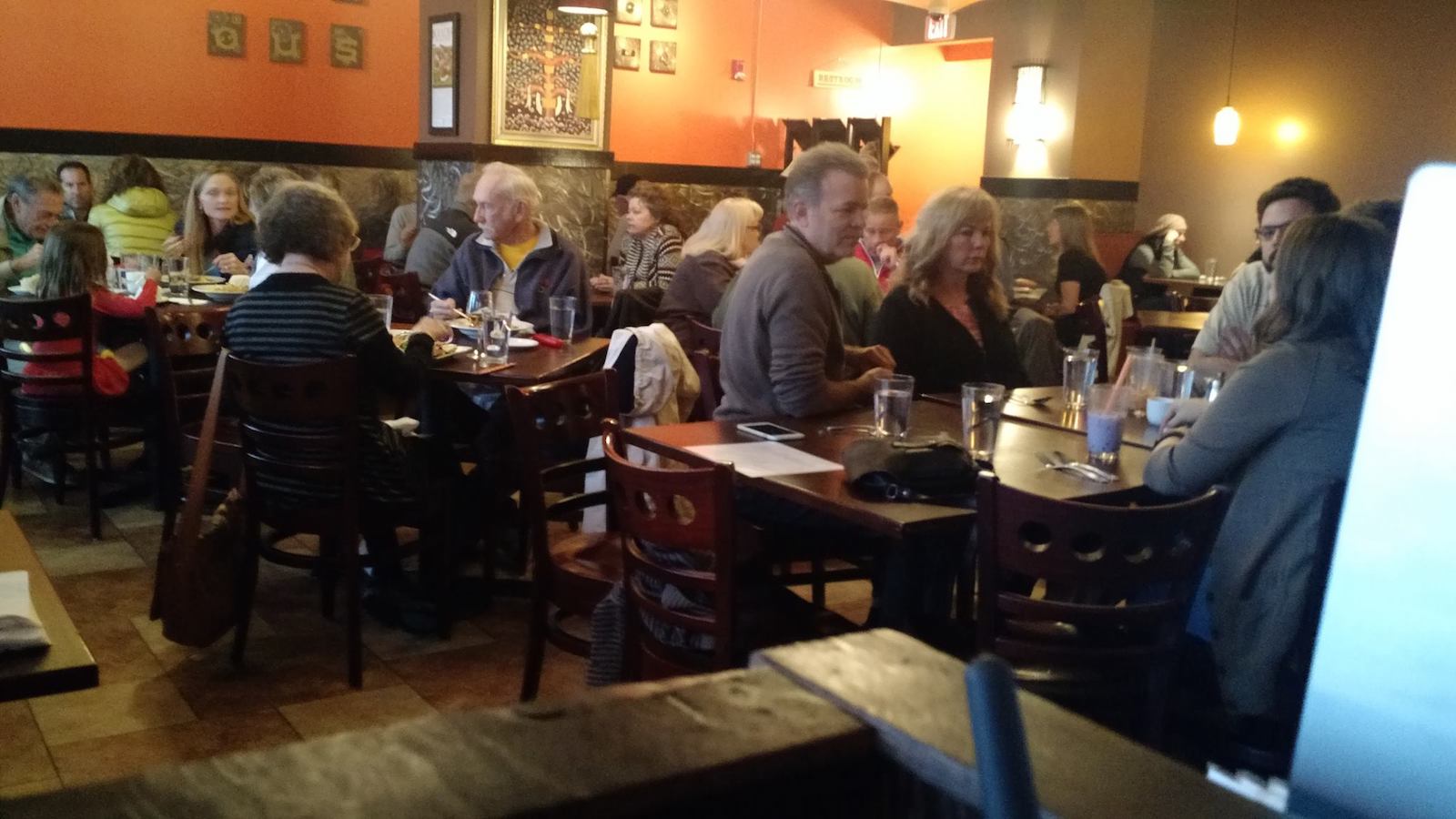 Many of the menu items at Aloy Thai Cuisine can be made vegetarian upon request. Pineapple Fried Rice, Pad Thai, Sriracha Noodles and Yellow Curry can all be made vegetarian. Organic tofu can be added to many dishes as a vegetarian protein option.
Rio Grande Mexican Restaurant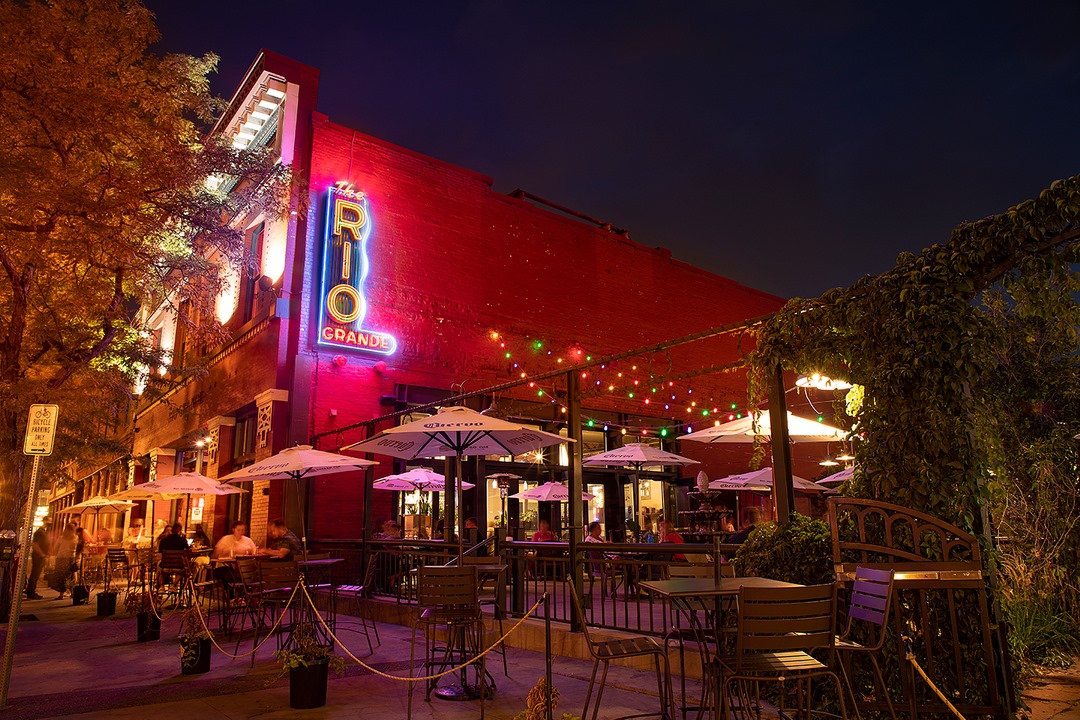 Rio Grande offers a separate vegan menu in addition to their main menu, which features a black bean and grilled vegetable burrito with veggie green chile or ranchero sauce, portabella and squash fajitas and nachos topped with guacamole, pico de gallo and grilled mushrooms.
Jill's Restaurant and Bistro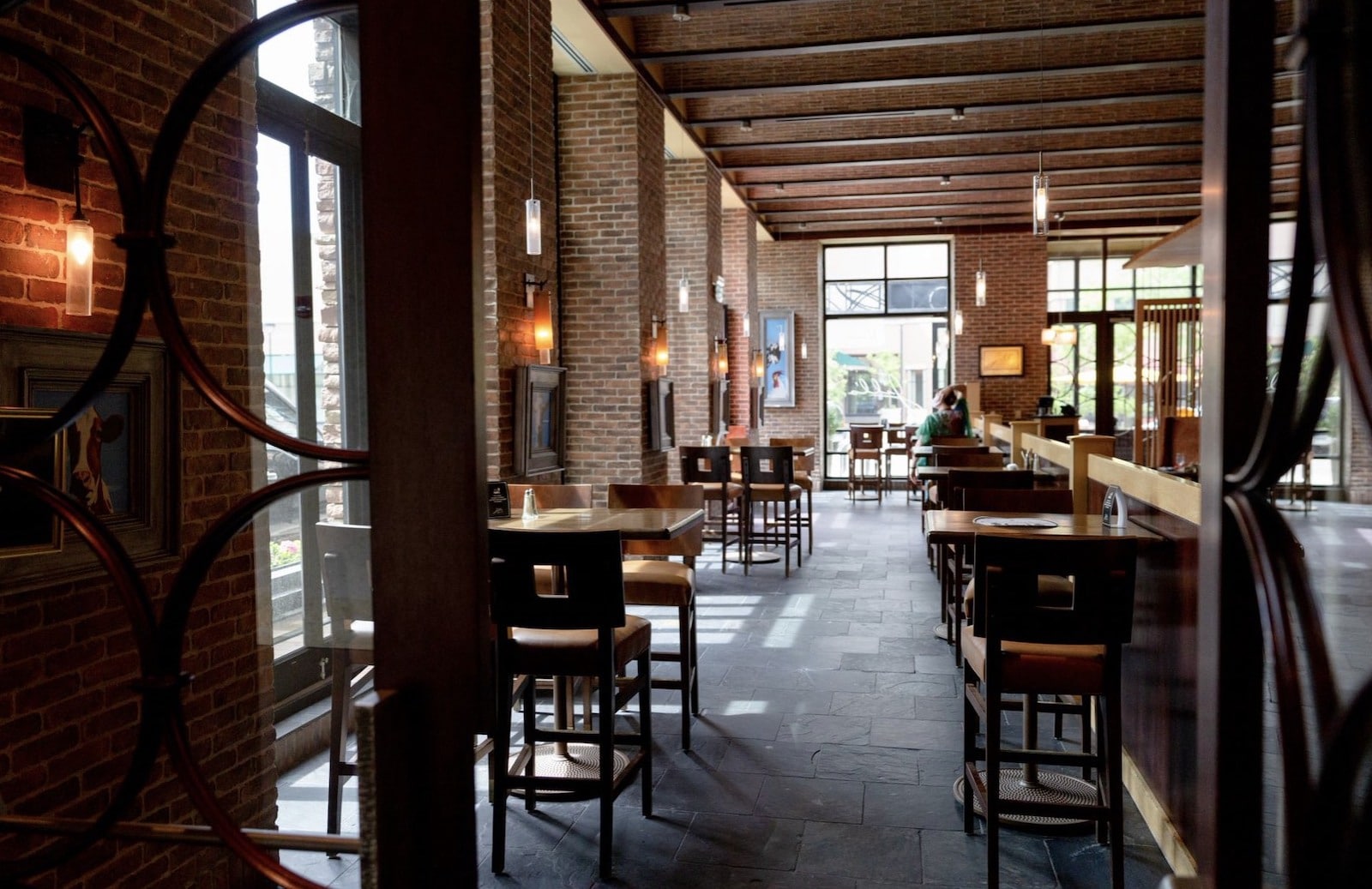 Jill's Restaurant and Bistro is located in the five-star hotel, St. Julien Hotel & Spa. Jill's offers both vegetarian and vegan menu items in addition to an extensive wine and cocktail list. For vegan bites, items include a sesame tofu rice bowl, Moroccan eggplant hash and Yakisoba noodles with crispy wonton.
Whether opting for a restaurant with an entirely plant-based menu or one that offers a selection of meat-free options, these Boulder spots can satisfy the whole group.
For those heading down to the Mile High City, take a look at Denver's vegetarian restaurants for someplace to dine.