Among some of the strangest art that populates the surrounding grounds and terminals of Denver International Airport (DIA) are two murals that were commissioned and installed when the airport was being built in 1995, by local artist Leo Tanguma.
Note – The controversial second mural below, Children of the World Dream of Peace, has been moved to storage for airport renovation. It's unknown at what time it will return in the future, though it is expected too.
The two murals are in the east and west baggage claims outside the Great Hall, and each mural is split into two pieces separated by doorways. Together, both tell a variety of different stories for travelers to interpret while waiting for their bags.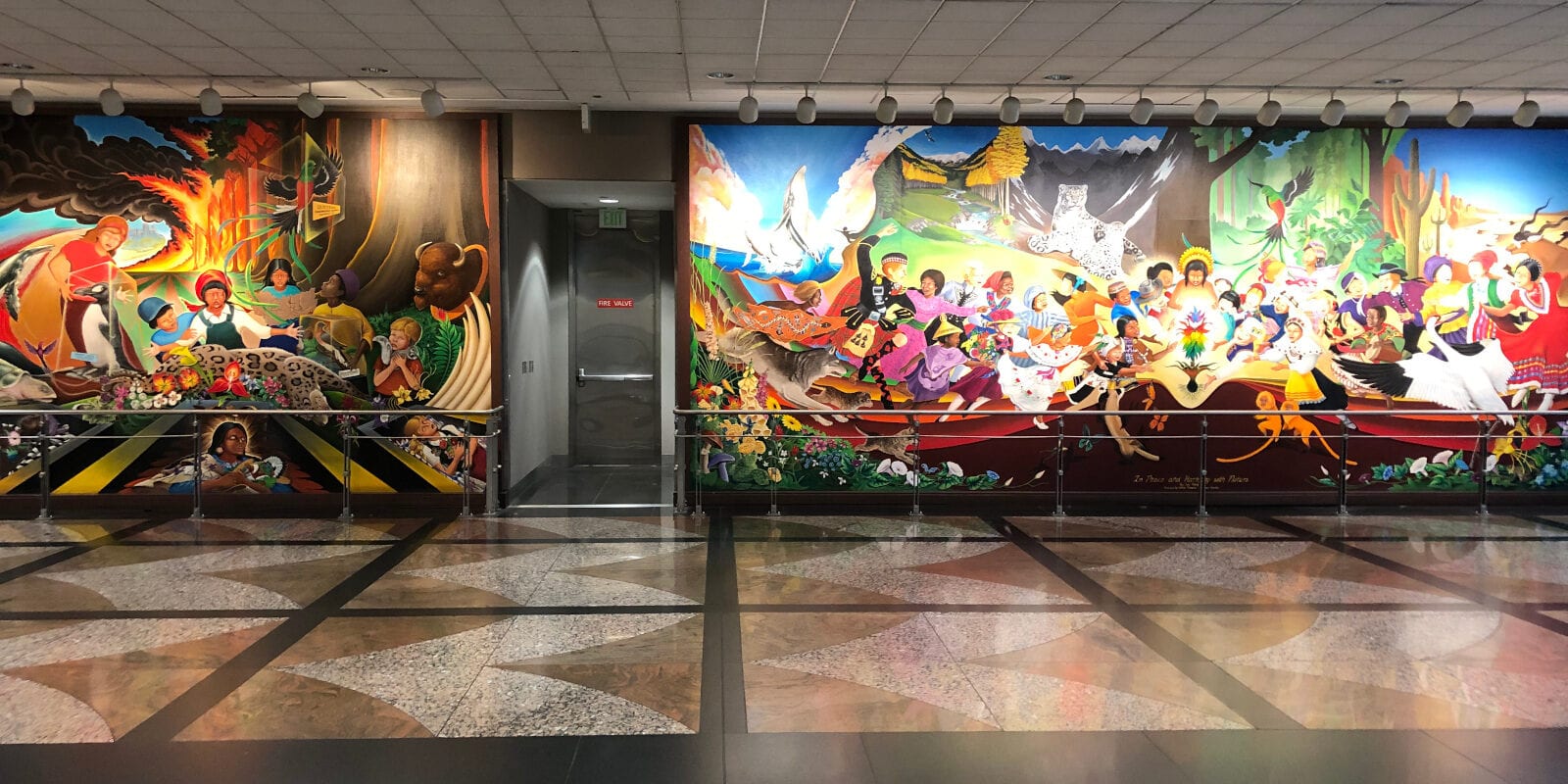 The first mural is called, "In Peace and Harmony with Nature", which is said to symbolize environmental destruction vs. environmental healing. It's located in the west side baggage claim.
The second mural is titled, "Children of the World Dream of Peace", which depicts a war vs. peace theme. It was previously located in the east side baggage claim.
Not only are these pieces quite weird, let alone to be used as airport art, but both have unsuspectingly worked to fuel speculation that Denver International Airport is part of a larger conspiracy centered around a group known as the New World Order.
Background Information on Denver International Airport
Before we get into the murals themselves, I'll give a little bit more information about what makes these theories come to life. To be clear, like all great conspiracy theories, there is plausibility and some fact at the base of many of the theories surrounding DIA.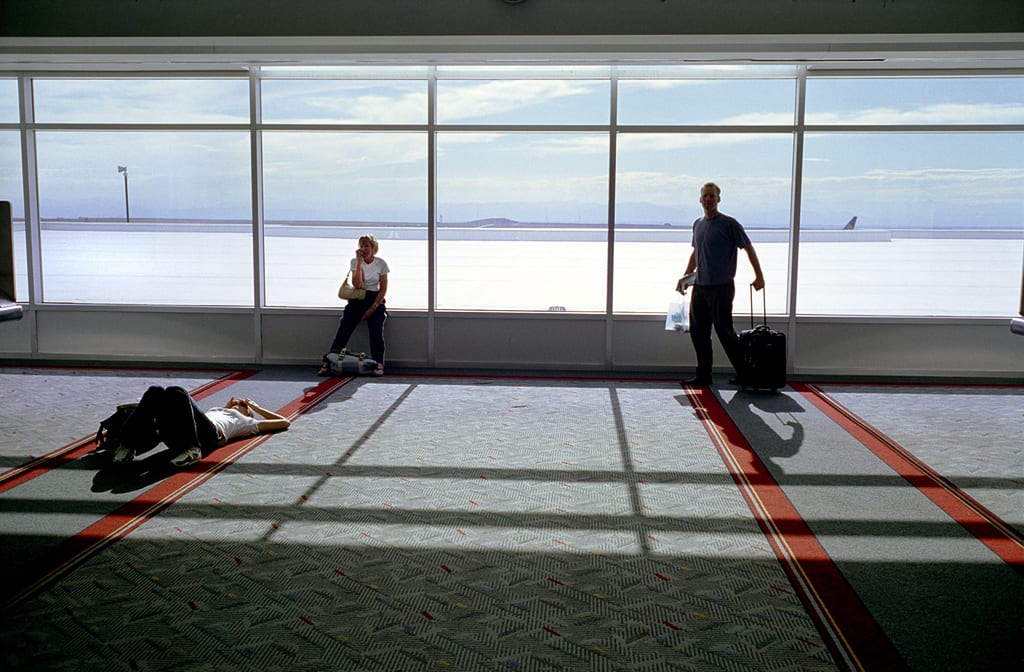 The first reason why there are so many theories thrown around is the fact that when it was built, Denver already had a well-functioning airport in the Stapleton area. But for some reason, residents were unhappy with noise and traffic congestion, and politicians always have stars in their eyes to build the newest, biggest, and best, so that is exactly what Denver did, built an unneeded airport.
Beyond the airport being unneeded, which in itself lays the groundwork for some of these wild theories, is the fact that the airport was also completed two years behind schedule (weirdly due to many contractors being fired during construction) and grossly over budget by the time it was finished.
Theorist surmise that switching contractors so many times made sure that nobody truly understood the true scope of the project with many levels underground and tunnels throughout the area. Also, the fact that the project was initially supposed to cost only around 1.5 billion but ended up costing 5.6 billion leaves room for outrageous speculation.
This difference between the initial estimate for the cost of construction and the actual price of building tells theorist that there might just be much more to the airport than meets the eye on the ground levels.
And that brings us to the murals by Tanguma. Two oddly out of place pieces that many believe tell the true story of the airport, or at least offer clues into the actual intended use of the buildings and surrounding land.
In Peace and Harmony with Nature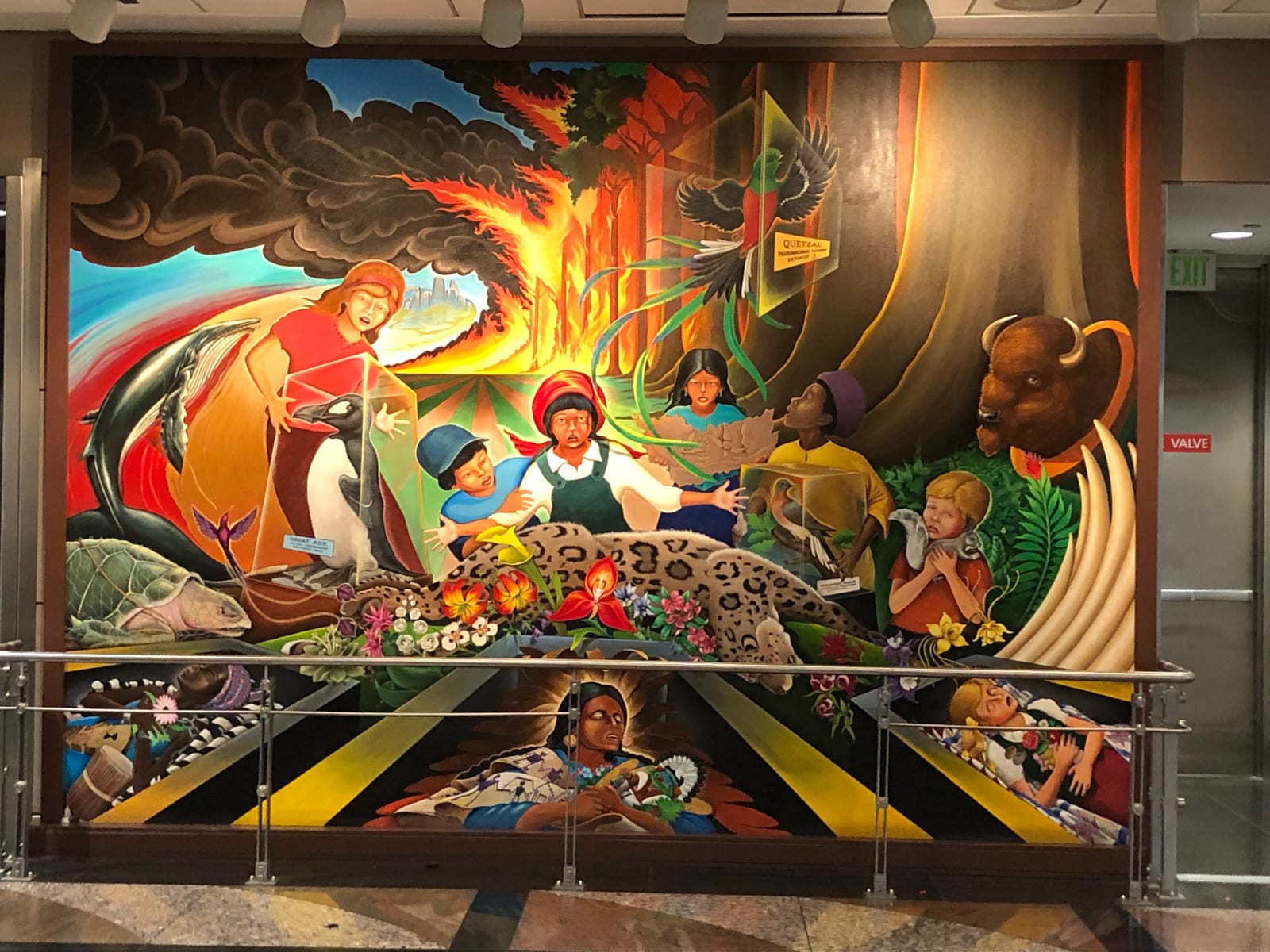 The first section of this mural by Tanguma shows a brightly colored horrific scene of trees burning in the background, animals in glass cages, girl lying in a coffin, and young people fleeing the scene while crying. Some seriously dark and scary stuff to be sure. In the second section of the mural though, we see a diverse number of children and animals coming together around a futuristic plant.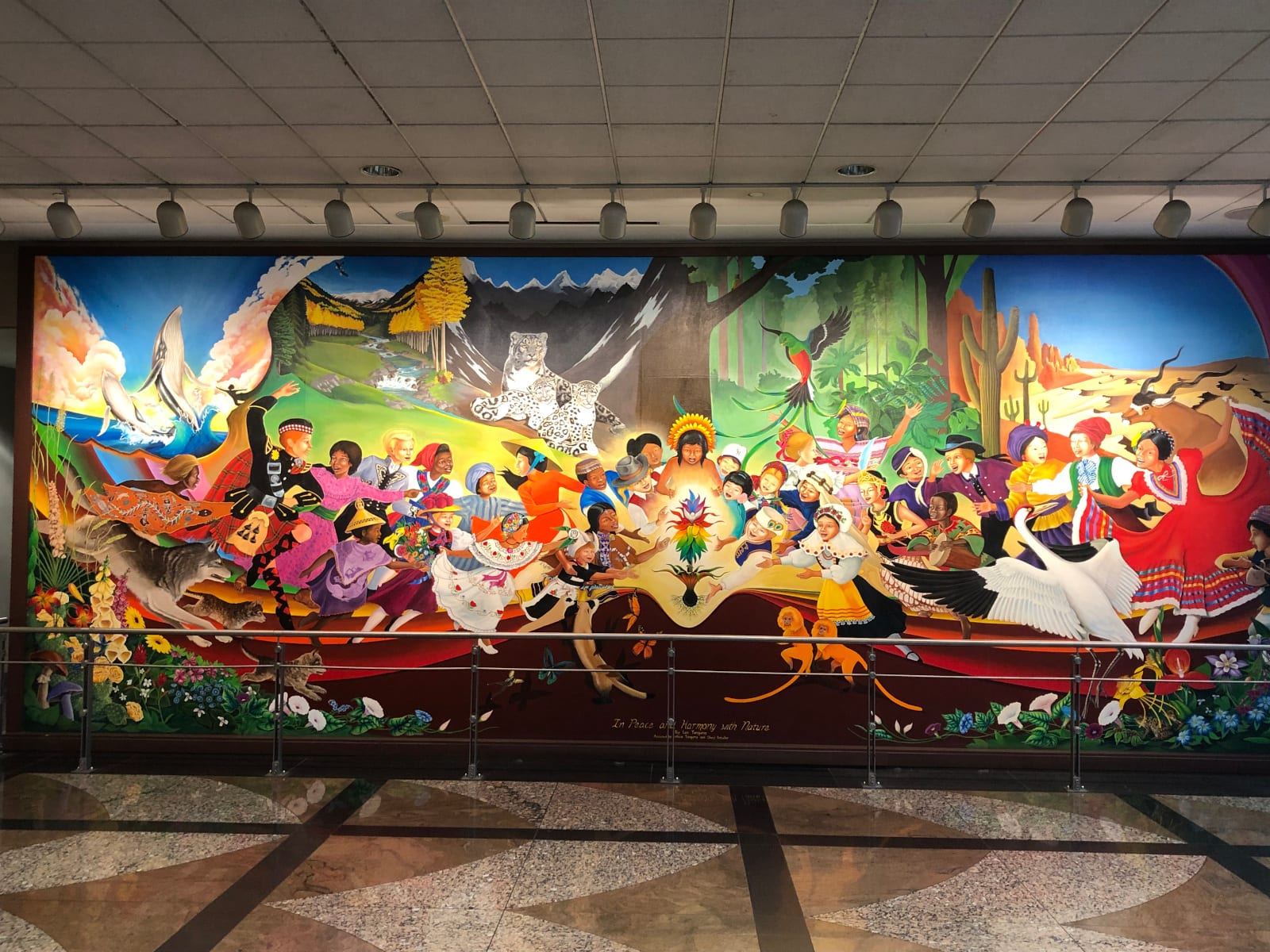 The initial known theme of environmental destruction vs. environmental healing is easy to see, but many people believe there is more than meets the eye to this famous work.
For instance, in the first section of the mural, the bird that is in the middle is a Quetzal bird, which can sometimes be used as an allegory for extinction. One of the main conspiracies surrounding the airport is that a mass extinction event will happen soon and DIA was built as a type of sanctuary for those selected to emerge in the new world unscathed. Similarly, on the other side of the mural, the plant that all the children are gathered around can be seen as a symbol for the new world government that everyone will have to follow once that extinction event is over.
This extinction event is pictured clearly in the other mural.
Children of the World Dream of Peace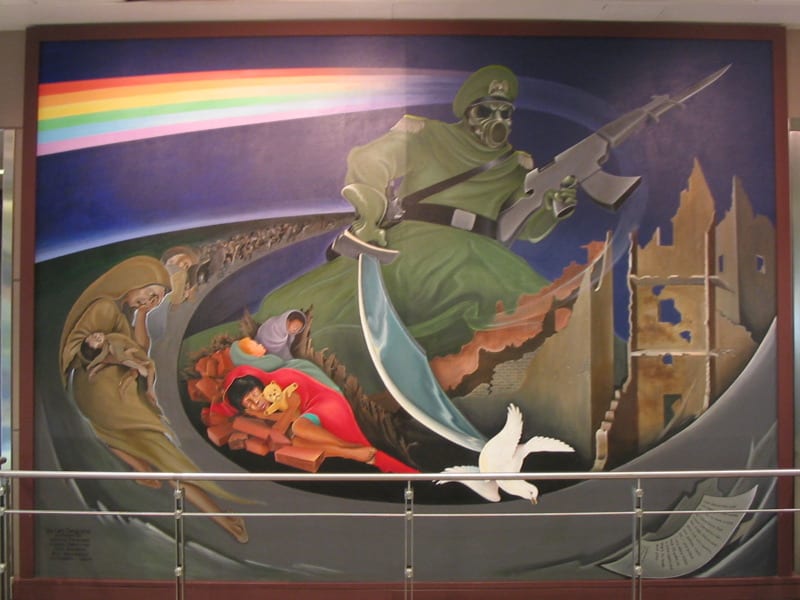 In the first section of this mural, a gas masked soldier wreaks havoc with a gun and a sword. There is also a caravan of refugees trudging onward away from him, a hiding child with a teddy bear, a dead child in someone's arms, and ruins everywhere. In the second section of the mural, there is celebration of many young people with the same soldier dead below them. Doves rest on his body and his sword is being disassembled by a kid with a hammer.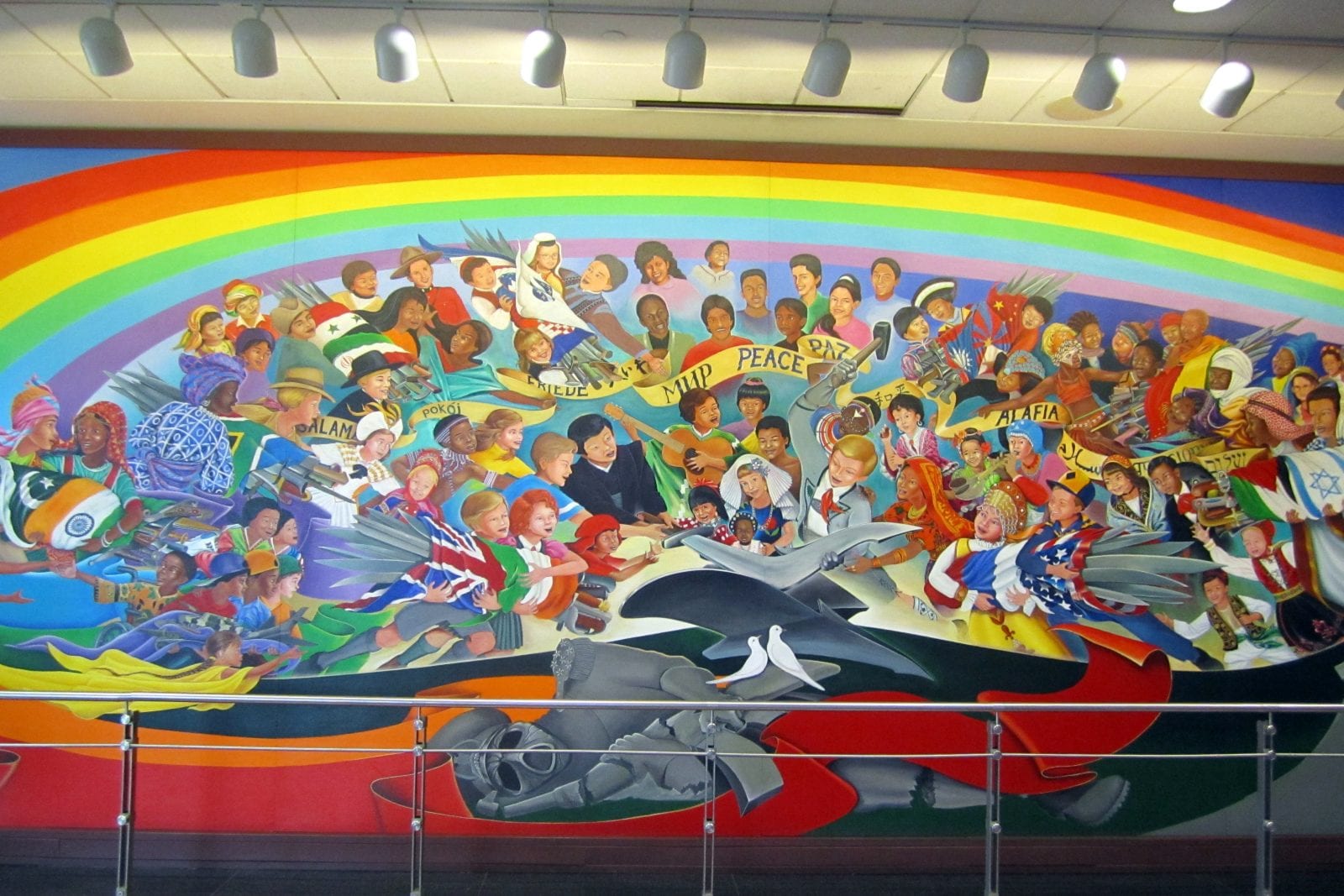 The war vs. peace themes of this mural are quite clear yet there are some alternately curious ideas as to what this mural truly symbolizes. Themes of genocide, death and destruction are clearly recalled by the imagery here, which easily goes along with the idea from the other mural of an extinction event that is about to happen.
One way that these two murals work is by telling a story, yet if we told those same stories again but in reverse order, there would be staggeringly different messages. In Peace and Harmony with Nature, we would see a picture of our society which was already one with nature and now only recently are we truly breaking away from being environmentally friendly.
When it comes to Children of the World Dream of Peace being reversed, we are shown that a great evil was previously driven out of society and society is currently working together. However, the second section of the mural shows that evil has come back to society and might destroy it.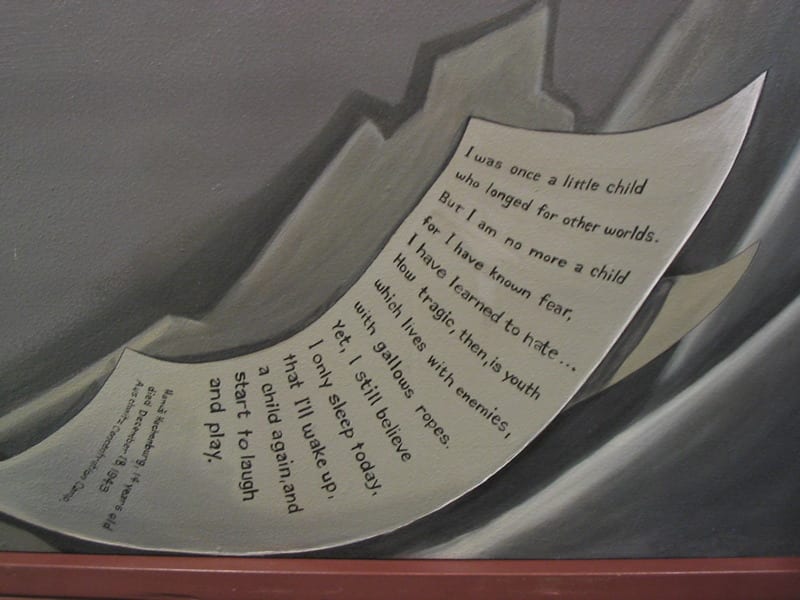 There are some seriously whacked out and crazy theories associated with Denver International Airport. Some of them though, are well aided by government inefficiencies and the interesting art that was commissioned to be placed around the buildings. So next time you're there, check out the murals and paintings among the many other weird pieces of art, like Blucifer, and see some of the reasons why there are so many conspiracy theories abound.