When it comes to Denver International Airport (DIA), there are many conspiracy theories floating around. Everything from the barbed wire fence along the perimeter facing inwards (supposedly to keep hypothetical prisoners within), to the dark subliminal messaging that could be extracted from the murals painted on larger walls scattered throughout the terminals, has been theorized.
However, at least one of the stories that has arisen since the inception of DIA is complete fact; the story of Blue Mustang, more notably dubbed by residents Blucifer, is 100% true. The same sculpture that cannot be missed by visitors to and from DIA, which sits proudly in the median on Pena Boulevard linking the airport and the city, is most renowned for its act of patricide. More simply, in the process of being made, Blucifer unsuspectingly killed his maker.
What's Up With The Blue Mustang Statue at D.I.A.?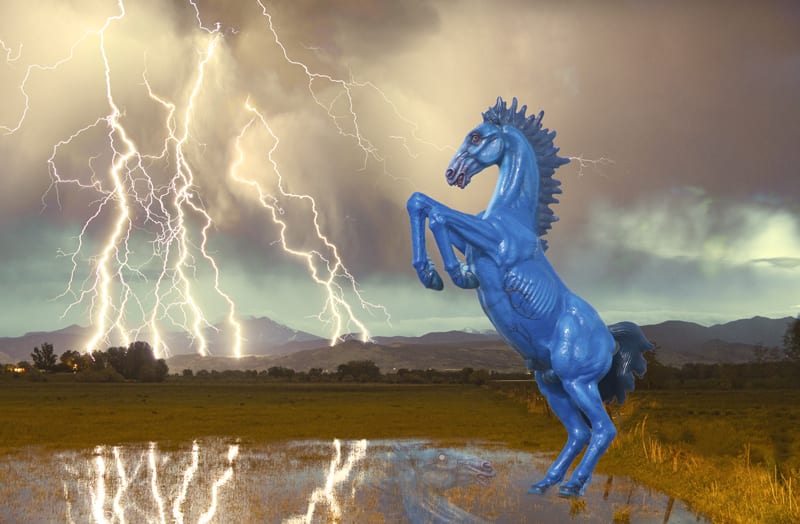 The statue was originally commissioned to be built by the City of Denver in the mid 1990s when the current Denver International Airport was being established. The airport itself was thought unneeded by some, completed unreasonably over budget and woefully behind schedule. The statue was completed behind schedule and unveiled at the airport in 2008.
As the story goes, while the artist Luis Jiménez was working on his now famous Blue Mustang, his largest commissioned pieces to date and a commission from the City of Denver to be placed outside its recently built airport, a section of the 32 ft tall, 9000 lb. cast fiberglass sculpture fell on him severing an artery in his leg. The wound ended up unfortunately killing Jiménez and the sculpture had to be finished posthumously by his family, friends, and professional lowriders and racecar painters Richard LaVato and Camillo Nuñez.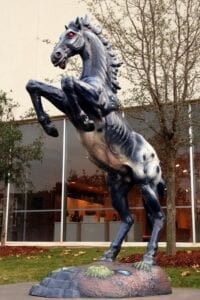 Despite the sculpture having to be finished by those close to Jiménez, the piece was actually very near completion upon the artist untimely death. Only some of the painting needed to be finished, then it was sent to California to be assembled and sent back for its final placement.
The vivid blue coloring all over the animal anatomically correct figure is a clear nod to Jiménez's love for traditional Mexican muralist and the bright colors he would have encountered as a boy growing up and working in his father's sign shop in El Paso, Texas.
However, the unique texture and the use of stylized exaggeration in the piece is something that Jiménez is most known for and has better yet imparted upon a new generation of artist inspired by his style. He was a forefather in the Lowbrow and Urban Art movements with those styles showing through in Blue Mustang. Even the rearing of the horse is used to symbolize the freedom that the Southwest has to offer all who come to visit.
Still, Blucifer is most well known for its luminous red eyes juxtaposed against its blue body and deeply set into the head of the horse looking out towards the Rocky Mountains. When driving past, Blue Mustang's gaze cannot be missed; he seems to be an all-seeing gatekeeper for those heading towards or away from the city. Even in the dead of night when the body of the sculpture is invisible against the roads surrounding, the eyes of Blucifer are unwaveringly lit bright red to see all who pass by.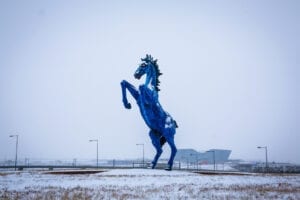 The name Blucifer was bestowed upon Jiménez's sculpture by locals shortly after its unveiling. A combination of the names 'Blue' from its official name 'Blue Mustang,' and the name 'Lucifer,' from the archangel who fell from heaven and now rules the underworld, seemed fittingly appropriate for the unveiled demon horse who rears tall outside Denver's airport.
Although there was initially loud and outspoken distaste online and in the media for Blue Mustang following its unveiling in February 2008, commissions in the City of Denver are typically guaranteed to be on display for 5 years. Only then after that 5 year waiting period can works even be brought before the city's Commission on Cultural Affairs with a legitimate request and petition for the piece to be removed. No such petition has been brought forward since the 2013 end to the first 5 years of Blucifer being on display at the airport and it seems as though none will be brought forward altogether.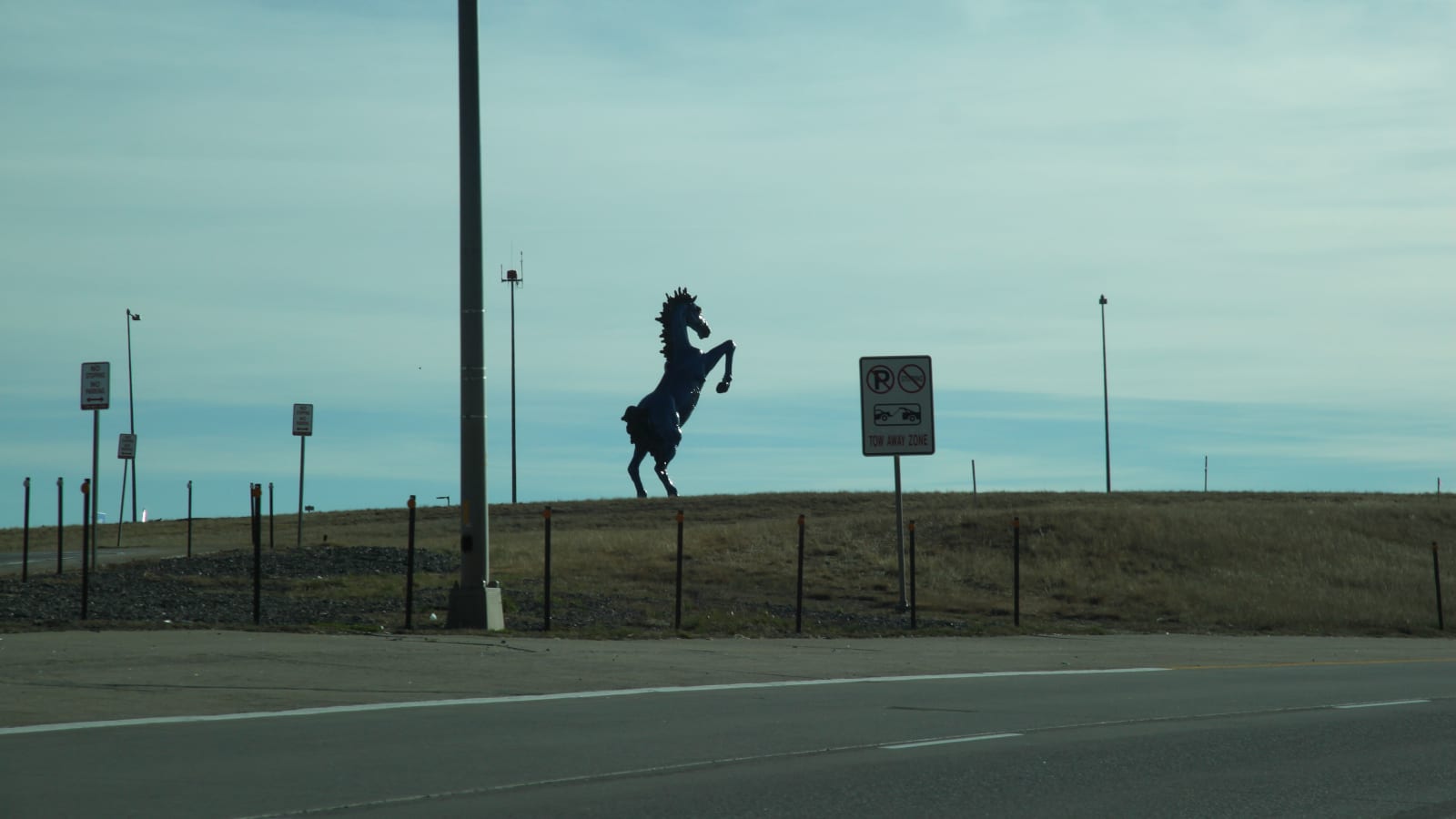 Thus, Blue Mustang is here to stay. He might have even grown on residents more regularly at the airport who would be put off by his ceaseless gaze and could seek to uproot him. Besides, like all great art pieces, Blucifer has at least been able to get the people of Denver talking again about what public art should and should not be. An important discussion for city residents to have as more people flock to the city, and it grows its funding for local artist and art commissions.
For the last eleven years, Blucifer has kept an eye on Denver International Airport and all who travel through it. Despite being an eyesore and known as a demon early on in his life for his patricide, he has since been accepted as another majestic public art piece in the great city of Denver. Willing to welcome all who come and to stare at those who leave.
Finally, Blucifer is a beautiful tribute to the late Luis Jiménez, a sculptor who truly lived to create pieces such as this and who died doing just that. Jiménez's style and influence will be on display in Denver and similarly many other cities around the country for years to come with his plethora of commissioned work.
Everyone passing through take a closer look at Blucifer next time you're driving out to Denver International Airport. He'll certainly be looking at you, but you just might see something new and different in him this time around.