Snow tubing is a favorite pastime for both skiers and non-skiers alike. Luckily, many Colorado ski resorts either feature their own tubing hill at the resort or there's a privately-operated one nearby.
The following ski resorts all boast their own tubing hill on the mountain, so you won't need to go far to experience snow tubing. There may be even more tubing nearby to discover too. Note you may need to reserve your spot in advance, so be sure to check the resort's official website for details.
Echo Mountain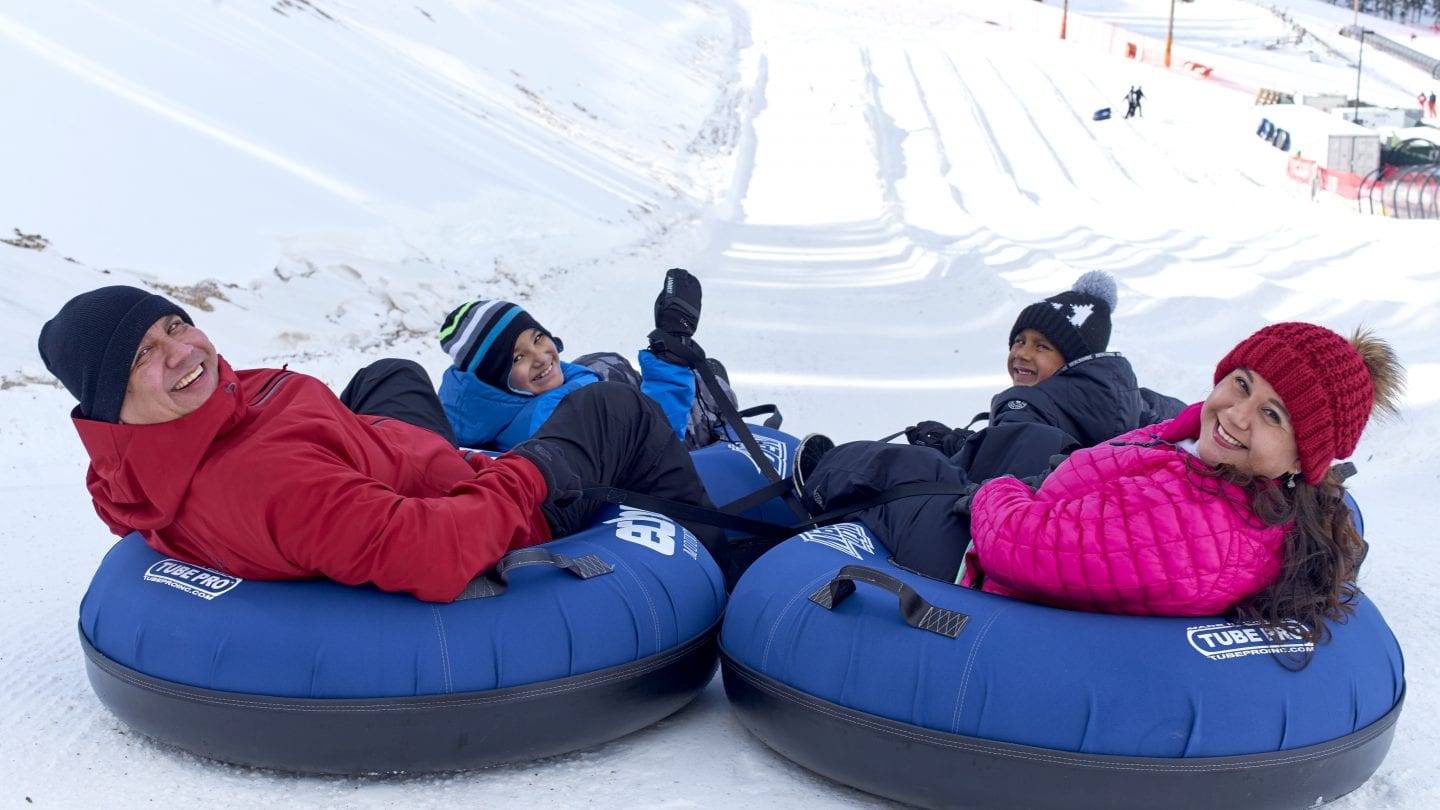 We'll kick off the list with the closest tubing hill to Denver at Echo Mountain Resort. Located less than an hour from the Mile High City, the Echo Mountain Tubing Hill is a convenient place to get your thrills seven days a week. The tubing hill is open to those 36″ and taller, no one can ride in someone's lap here. Online reservations are required.
Race your pals here or link up amongst your group and create a tube chain. The covered conveyor lift will bring you back to the top of the 6-lane tubing hill. Idaho Springs is the closest town to apres-tubing, located 30 minutes to the north beside I-70. Skiing-wise, the beginner's mountain is perfect for those learning their craft, with 85 acres of terrain including night skiing.
19285 CO-103, Idaho Springs, CO 80452 | 720-899-2100 | echomntn.com/tubing
Copper Mountain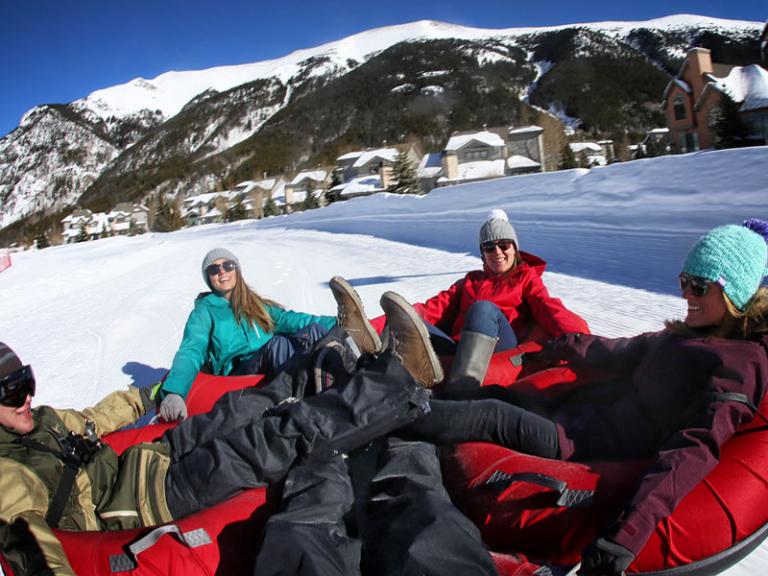 The next destination up is Summit County, which houses three tubing hills. Starting with Copper Mountain, folks enjoy this tubing hill because of its thrilling banked curves and easy access from the East Village base area. The Copper Tubing Hill features four lanes of fun and the ability to link up with your family.
You can get tickets at the Guest Services office in East Village, or by calling the 866 # below. Once you sign a waiver you're good to go and pick up your tube to the left of Super Bee chairlift. Check the calendar online for hours of operation.  Riders must be 36″ inches tall. The Copper Mountain Ski Resort features around 2500 diverse acres of skiable terrain.
104 Wheeler Pl, Copper Mountain, CO 80443 | 866-416-9874 | coppercolorado.com/…
Keystone Resort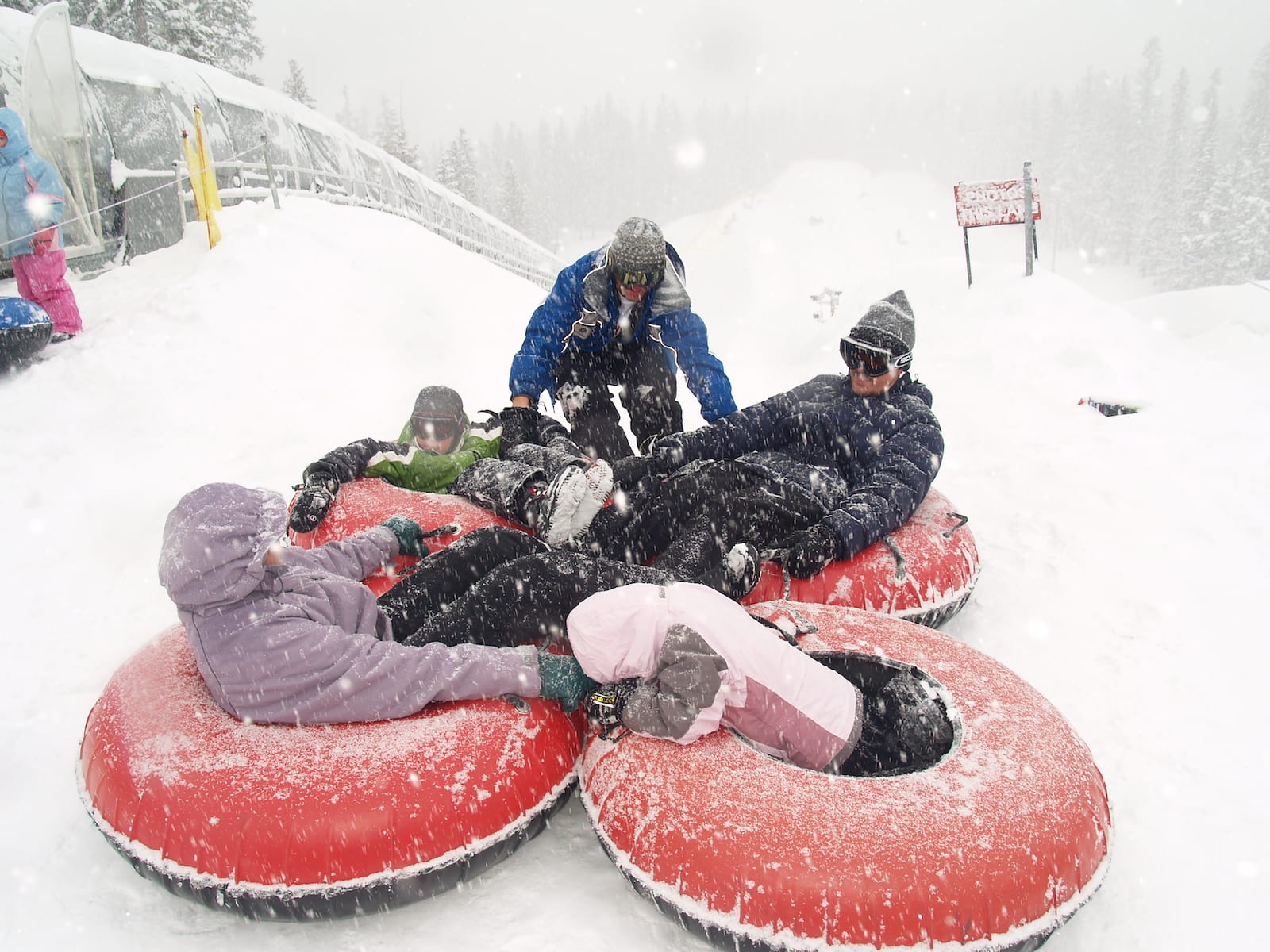 Located only fifteen minutes from the aforementioned Copper Mountain, Keystone features its own epic tubing hill. So epic, it even operates in the summer. Located on the mountaintop at over 11,500 feet, this hill provides the highest elevation tubing in Colorado, creating some optimal conditions for shredding down the mountain.
Keystone Adventure Point features both day and night tubing sessions, so you can ride under the lights after a day of skiing the 3100+ acres of slopes. The multi-lane hill has a conveyor lift to speed up the fun. Riders must be 42″ tall and 4+ years old here at Keystone. It's popular so reserve your spot in advance by dialing the number below.
22010 US 6, Keystone, CO 80435 | 970-496-4386 | keystoneresort.com/…
One more option for those chilling in Summit County, located right between Keystone and Copper Mountain, and the closest to Breckenridge, is the Frisco Adventure Park. It's a cool privately owned 1200-foot tubing hill that has both day and night tubing,  plus a lift to speed up your laps. Reservations are required here.
Winter Park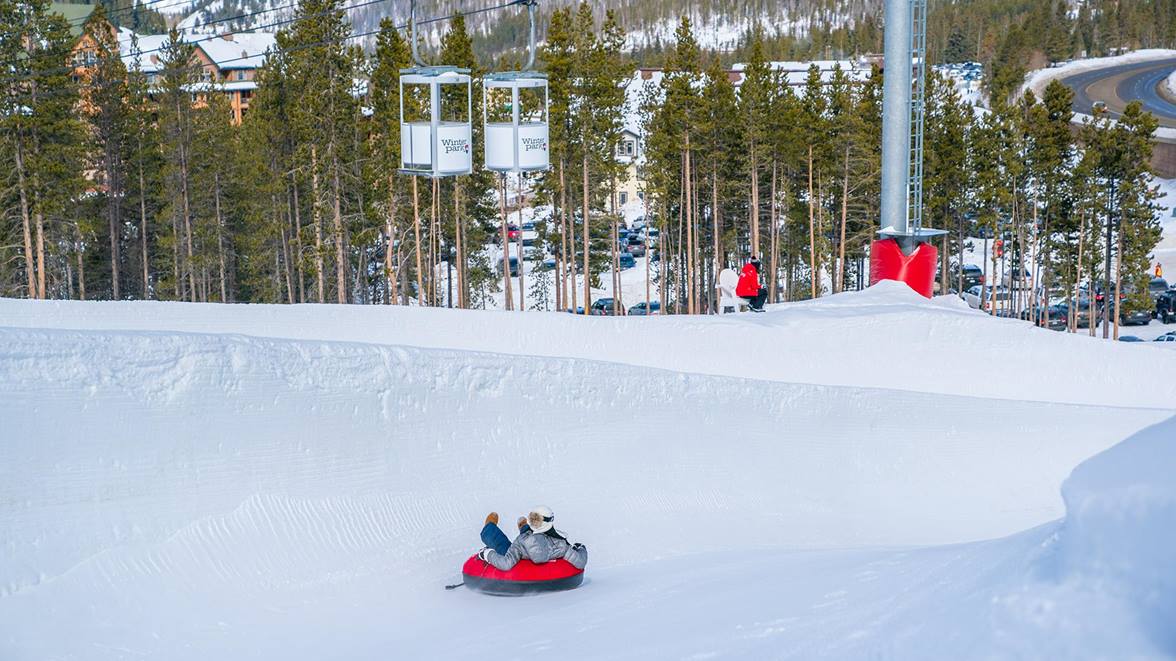 Grand County is not to be outdone by Summit in regards to tubing, so they offer four hills, three of which are in the Winter Park/Fraser area. The other is in Granby. This makes Winter Park a fun alternative to the Summit County resorts with plenty of side activities like tubing and even closer hot springs.
The drive over Berthoud is long, but scenic, and takes about the same amount of time from Denver. The Coca-Cola Tube Park features four lanes of fun, with banked curves and a covered conveyor lift to bring you back up top effortlessly.
It operates seven days per week during the winter season from mid-December to mid-April. Tickets are available for specific hourly sessions. All those taller than 36″ are permitted to tube. Winter Park/Mary Jane offers some challenging runs and lovely tree skiing too its 3,000+ areas.
85 Parsenn Rd, Winter Park, CO 80482 | 970-726-5514 | winterparkresort.com/…
Another local option in neighboring Fraser is the Colorado Adventure Park. This fun tubing hill is a locally owned operation, with mini-snowmobiles in addition to the snow tubes. It's open every day from 10 am to 9 pm, so you can tube under the stars.
There's also the historic Fraser Tubing Hill, another choice only ten minutes from Winter Park. You can also snow tube under the lights here every day of the week during the winter. You gotta be 7 years or older to have your own tube here. Children 3 to 6 have to ride with an adult. There's a Main Builder with a fireplace, restrooms and a snack bar.
Last but not least in Grand County is Snow Mountain Ranch, owned by the YMCA of the Rockies. This awesome, one-of-a-kind tubing hill operates year-round, with a special surface in the summer for tubing too. In winter you'll glide down frosty snow-covered slopes, located only 20 minutes from Winter Park and 10 to Granby.
Snowmass
Located at The Meadows at Elk Camp, the Snowmass Tubing Hill proudly serves the Roaring Fork Valley with its own snow tubing park. Come December 24th it opens for the 2020 season and operates every day from 11 am to 3:30 pm, the same as the winter ski lift service. It winds down same time in early April. Tubers must be 38 inches tall.
There are multiple lanes and a lift to make your tubing session simpler. You can opt for just a day pass tubing at Snowmass, or combine it with the Breathtaker Alpine Coaster. This exciting combo package grants you access to the tubing hill all day, plus 3 laps on the thrilling alpine coaster.
When the day comes to ski again, you can explore more of Snowmass' 3,132 acres and 4,406-foot vertical.
97 Lower Mall, Snowmass Village, CO 81615 | 970-925-1220 | aspensnowmass.com/…
Purgatory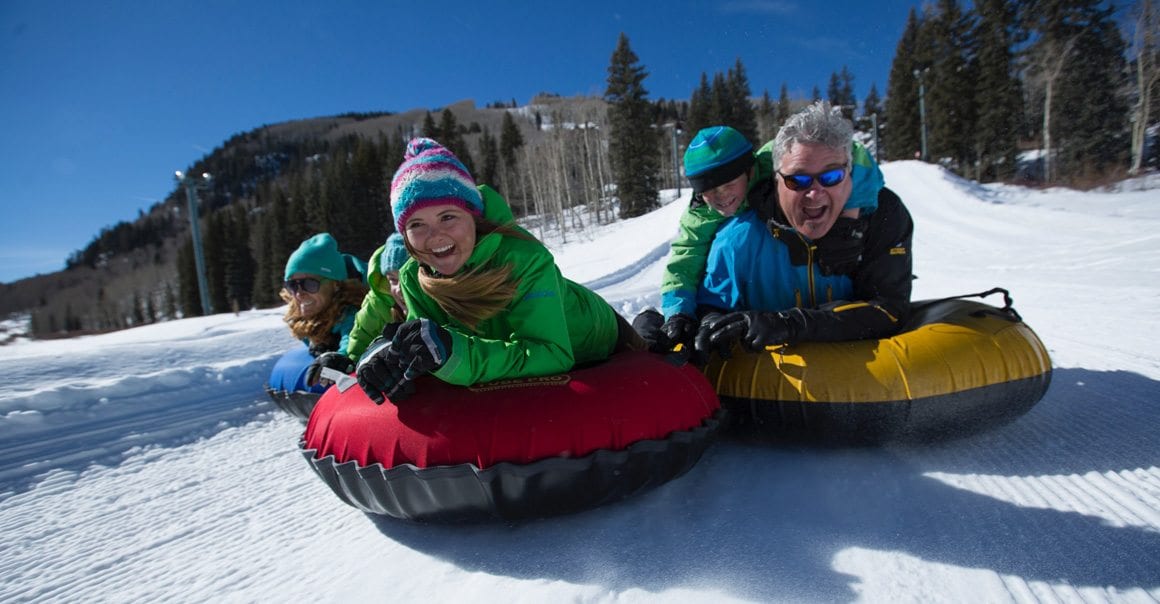 Southwest Colorado isn't as loaded with as many tubing areas as the central Colorado corridor of resorts is, but Durango is doing okay. The Snow Coaster Tubing Hill has several thrilling lanes to race down. It generally operates daily until early evening during the winter season.
Snow tube rentals are by the hour at Purg, so you'll have plenty of time for the ski slopes. It's located in the beginner Columbine Area by the base of the resort, which is thirty minutes from the town of Durango. Purgatory Resort has 1,635 acres and a 2,029-foot vertical, both respectable and plenty of terrain to explore all day long.
1 Skier Pl, Durango, CO 81301 | 970-247-9000 | purgatoryresort.com/…
Hesperus Ski Area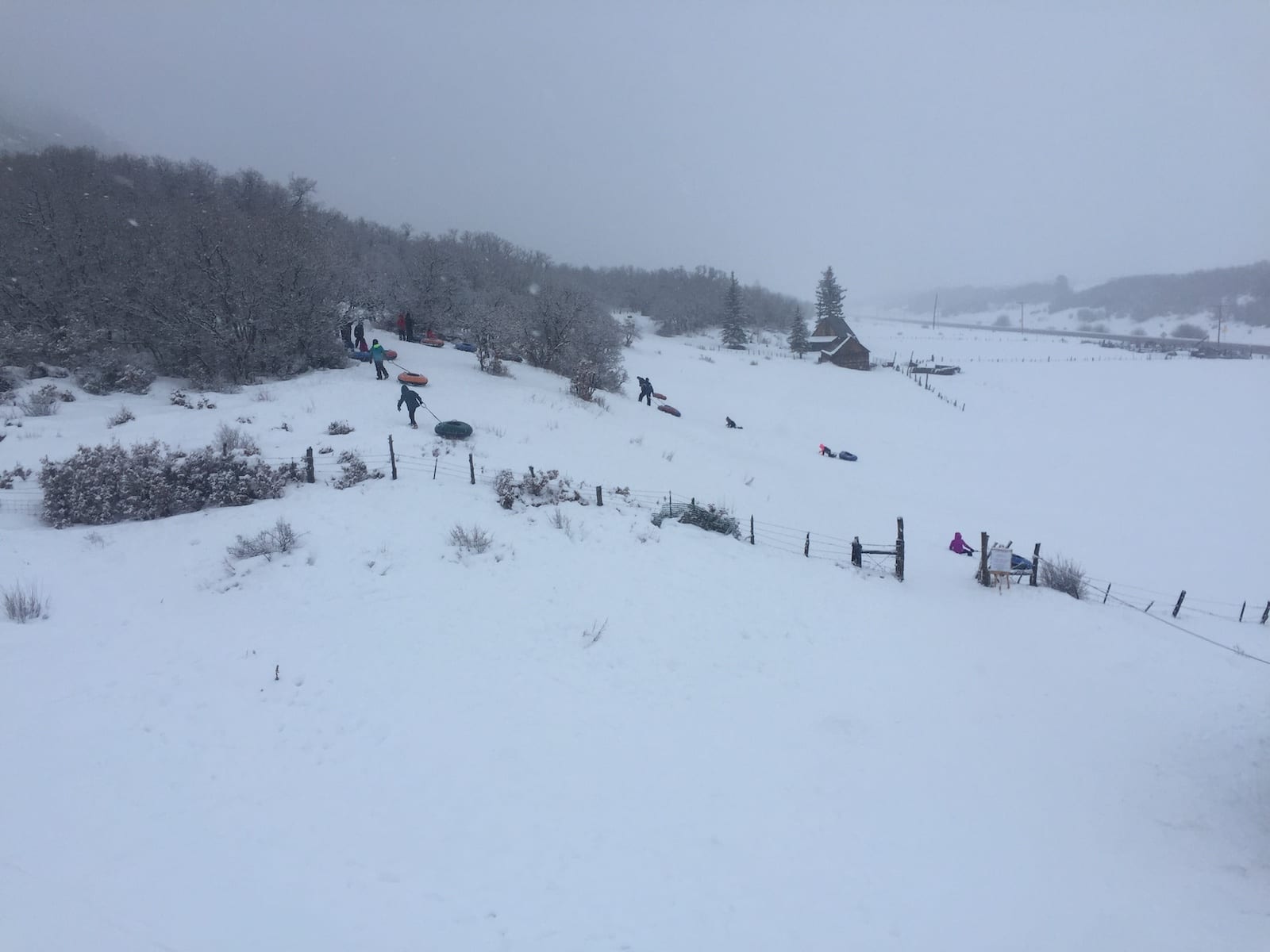 The smallest ski area on our list today is Hesperus, located thirty minutes from downtown Durango. On the west side of the lower mountain of Hesperus sits the Marmot Hill area. The Hesperus Tubing Hill here has a wonderful slope and multiple lanes for snow tubing. Tubers must be at least 36 inches tall and 3 years old. 2 years old can ride with adult in their lap.
You can race your friends and family, both day and night. Tube rentals (no personal tubes) are purchased within the base Lodge, which has a snack bar and restrooms. The tubing here feels like sledding because there's no lift to bring you back up to the top, so you'll get plenty of exercise walking the small hill.
Once you've had enough hiking back up for laps, hit the 160 acres of Hesperus Ski Area.
9848 Highway, US-160, Hesperus, CO 81326 | 970-259-3711 | ski-hesperus.com/tubin
Other Resorts with Tubing Nearby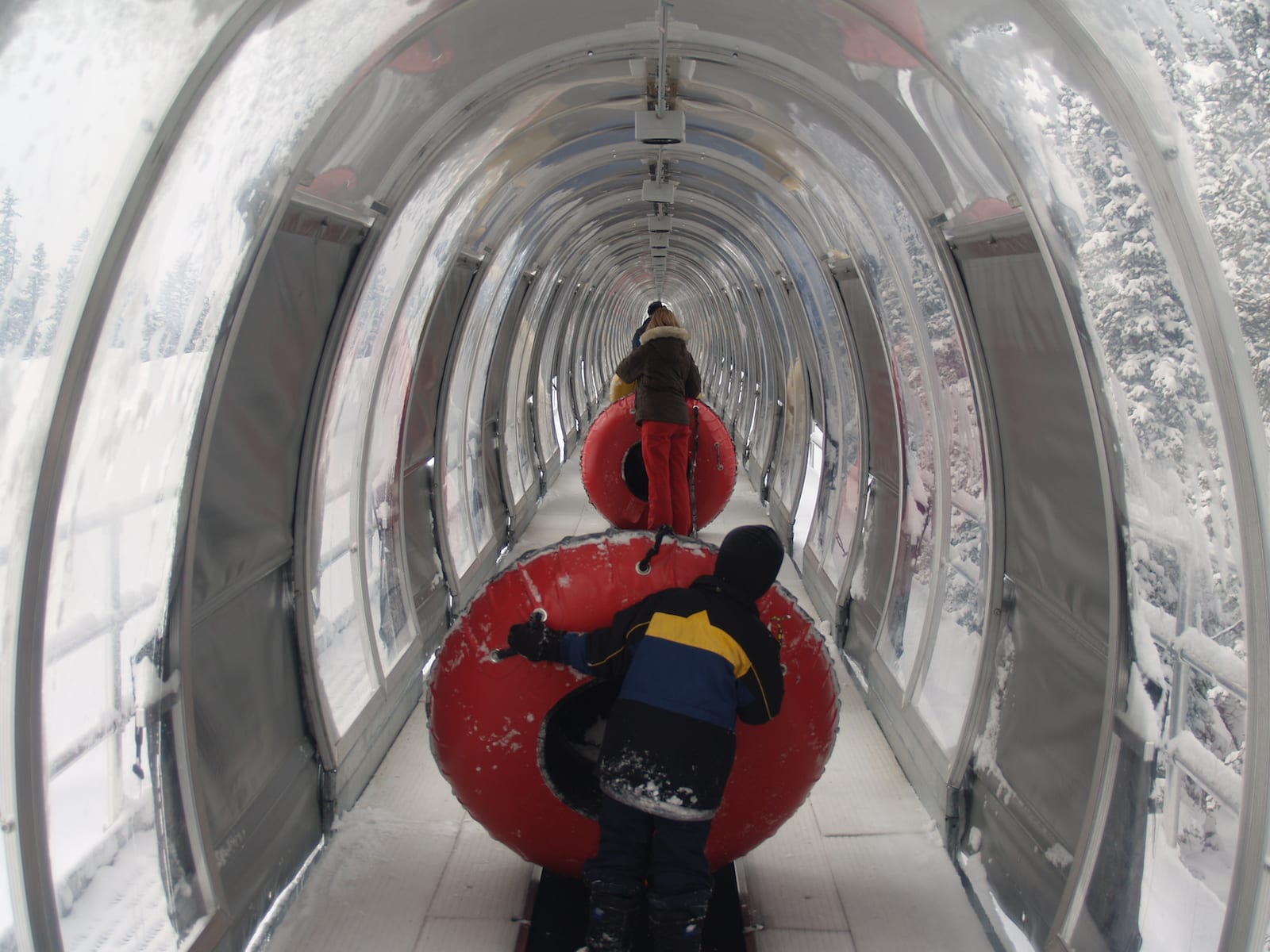 Even if your upcoming ski trip doesn't have a tubing hill directly on the mountain, there still is usually one nearby. Favorite resorts like Breckenridge, Beaver Creek, and Steamboat aren't listed, only because the resort lacks its own tubing hill, not because you can't go snow tubing nearby.
Steamboat – While Steamboat Ski Resort lacks one itself, a little distance away from downtown sits the awesome Saddleback Ranch and its Yee Haw Tubing Hill.
Breckenridge – Located in Summit County, Breck has easy access to Frisco, Keystone, and Copper's tubing hills, as mentioned above.
Aspen – Head to next-door neighbor Snowmass Village to enjoy all of its glorious snow tubing fun.
Vail/Beaver Creek – Although BC closed up its tubing operation years ago, folks can head 30-45 minutes east on I-70 to Summit County.
No Nearby Tubing:
In Telluride, you're out of luck for tubing, as there is no snow tubing park. You can head to Firecracker Hill in town for sledding and do it the old-fashioned way, lotta leg work.
Crested Butte closed up its tubing operation years back, so that's another place without a tubing hill.
Granby Ranch also closed its tubing, which is understandable considering the four other choices in the county.
Have a great time out there and remember to dress warmly, in layers, and in waterproof clothing. Be sure to check on the resort's website and see if any reservations or specific instructions are to be followed before heading out to the tubing hill.