Yee-Haw Tubing Hill at Saddleback Ranch offers several lanes of varying speed and slope. The runs are groomed and well-maintained. There is an easy tube-tow lift system to make tubing relatively effortless.
The scenery around Steamboat Springs and the ranch is spectacular. After your tubing session, you can head inside the lodge for refreshments like chili, nachos, hot drinks and cold beer. The scenic, thirteen mile drive is worth the effort if you have a car. Free transportation is offered for tubers, who tube 1½ hours.
Snow tubing hill in Steamboat Springs
After a few exciting days on the slopes, it was time put the skies away for a day. Saddleback Ranch's Yee-Haw Tubing Hill is located about twenty minutes outside downtown Steamboat Springs.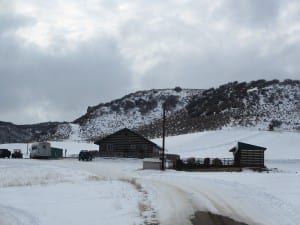 There are two places in town where you can snow tube:
Howelsen Hill
, which is right downtown, and Saddleback Ranch, which is 13 miles from town. There's a free shuttle that offers daily pick-ups in town for Saddleback Ranch and it's well worth the trip.
Steamboat had been having a slow winter so the whole tubing hill was not open. Despite that, we still had a lot of fun. With a running start or a push from a friend, you can get more than enough speed to get your adrenaline flowing!
And after tubing, another exciting activity in town is dog sledding.
Saddleback Ranch also offers dinner sleigh rides, winter horseback riding and snowmobile tours. In the summer ATV rides, horseback rides, cattle drives and wagon dinner rides are available. Learn more about the snowmobiling at Saddleback.
Details
Address: 37350 RCR 179, Steamboat Springs
Phone: 970-879-3711
Hours: Open daily during peak winter season; Closed Tuesday's during non-peak. Drive-out tubers are welcome from 12pm-5pm. Pickup at Mt Werner Transit Center in town. Pick up times are: 10:00 a.m, 1:15 p.m, 4:30 p.m, daily during peak season.​
Website: saddlebackranch.net​