Copper Mountain is one of the least crowded ski resorts in Summit County, compared to Breck, Keystone and A Basin. The views around Copper are spectacular and the terrain is great too.
Unlimited skiing at Copper Mountain is included in the Rocky Mountain Super Pass, which also offers riding at Winter Park and Steamboat.
Terrain
The mountain is full of everything: easy learning areas, fast groomers, steeps, bumps. cliffs, chutes, cornices, bowls, hike access, trees, and freestyle parks. Copper's terrain is naturally divided in difficulty and slope from east to west. There are 126 total runs.
The west side of the resort, (the right side looking at trail map) is full of green and blue runs. In the center of the mountain is intermediate terrain, fun for anyone looking for long, faster groomers. On the east side is expert steeps and bumps.
The backside is full of breathtaking mountain scenery and big bowl skiing. If you are into tree skiing, this would be the place to go. Copper Mountain offers free Tucker Mountain snow cat rides to powder stashes on certain days, mostly weekends.
There is a terrain park full of features at the top of the American Eagle chair lift. Just like the terrain at copper, the terrain park varies in difficulty from east to west. At the base of the Central Village is a giant superpipe.
Village
Copper Mountain has three base villages, East, Central, and Union Creek. Central Village is the main one with the most restaurants, bar, shopping and activities like a rock climbing wall and an outdoor ice rink. The resort also features snow tubing.
Lodging is available throughout town and nearby Summit County. You'll easily be able to find all levels of accommodations. Both free and paid parking is available at Copper. Free direct shuttles will take you from the Alpine Lot free lot to the base villages.
Details
Address: 209 Ten Mile Circle, Copper Mountain
Season: early November-mid April
Lift Hours: 8:30/9am-4pm
Mountain Stats:
Elevation: 9,712 ft (2,926 m) – 12,313 ft (3,767 m)
Vertical – 2,738 ft (835 m)
Ski Area: 2,490 acres (985 hectares)
Average Snowfall: 305 in (774 cm)
Trail Map: Copper Mountain (jpg)
Website: coppercolorado.com

Popular Posts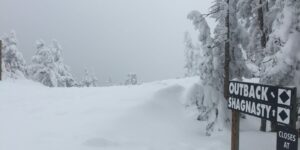 9 Ski Resorts Closest to Colorado Springs – Unlike Denver, Colorado Springs isn't really known for its easy access to world class ski resorts. However, the 2nd most populated city in Colorado still boasts a number of ski resorts all within a two and half hour drive. Back…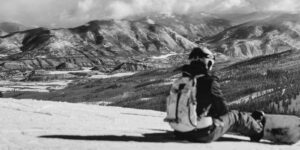 Season Opening & Closing Dates for 2019-20 at Colorado Ski Resorts – Every winter the Colorado ski season kicks off with great anticipation, usually beginning sometime in October at the first few resorts. The season opening and closing days are useful…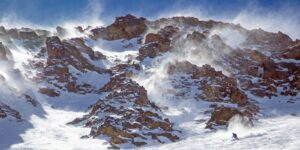 12 Closest Ski Resorts to the Mile High City – With Colorado being home to the Rocky Mountains it's no surprise that the state boasts some of the world's best ski resorts. What may surprise visitors though is how close Denver is to the world-class skiing that Colorado is…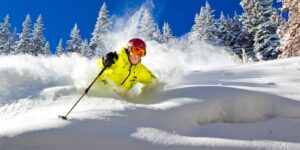 Ride Epically All Season with these Iconic Colorado Ski Passes – Masses of people move to Colorado because it allows them ski and snowboard magnificent mountains each winter. The icing on the cake is the incredible summers that they get to stay for. But as…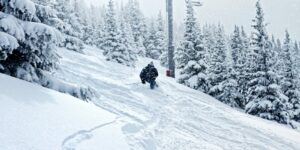 Ultimate Guide to the 32 Ski Resorts in Colorado – Colorado is jam packed full of epic ski resorts in nearly all corners of the Rockies. Depending on how each season kicks off, Colorado can have as many as 32 outdoor ski areas operating at its peak. The Rocky…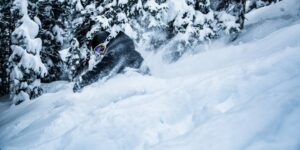 Colorado's 17 Best Ski Resorts for a Powder Day – There's no question about it, when you say Colorado, people think snow-capped peaks and epic skiing. And they're right. We got both here and they are awesome! With over thirty ski areas to choose from…
Late Season Copper Mountain Spring Skiing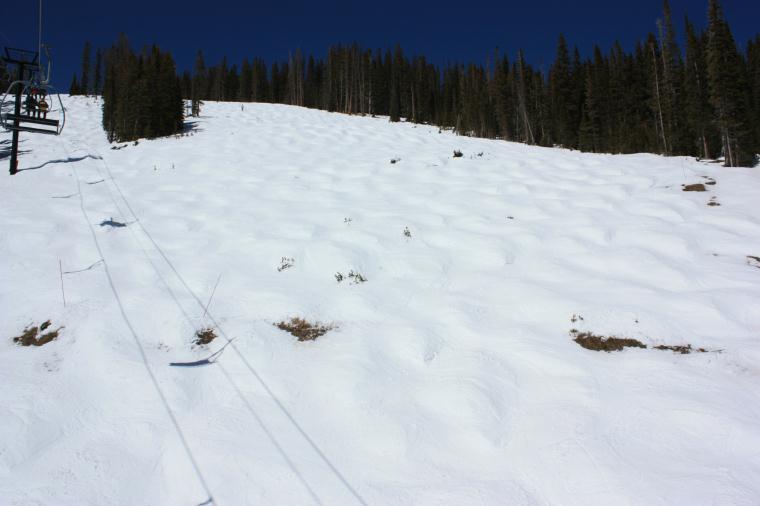 March 22, 2010 – Copper Mountain is always worth the trip. It is a big mountain with lots of different terrain options: groomers, steeps, bowls, trees (trees are only o.k.).
Despite there not being any new snow on Monday at Copper, it was still an awesome time and gorgeous blue sky day. We arrived around 11am to a full parking lot. The terrain on the front side of the mountain is mostly blue groomers with some more difficult runs near the top. The groomers were in great condition, allowing you to really bomb if you wanted to.
The back of Copper Mountain consists of bowl skiing at the top which leads into groomers at the bottom. The bowls were pretty chewed up, but were more rideable than the Vail bowls a couple days ago. There is a nice tree run at the bottom of east side bowl. There is also hike to terrain for the back bowls.
The back bowls were showing signs of spring skiing towards the bottom of each run. The snow was wet and slushy. After skiing, we grabbed a bite to eat at Pizza Carlo (now closed) in Copper Mountain's Center Village. It was okay, not worth the higher prices though.
Powder Day At Copper Mountain!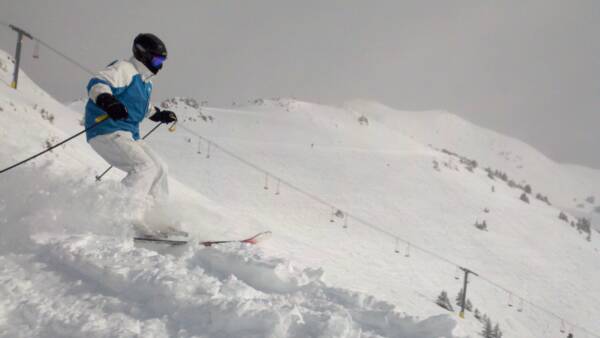 January 10, 2011 – Eight Inches of fresh pow and sunny skies at Copper Mountain made it a phenomenal Monday to be out snowboarding. Temperatures were low and face masks recommended.
During the weekday at Copper Mountain you can park right near Central Village in the Chapel Lot for $5. It allows for an easy-going tailgate while you get your gear on – no need to worry about missing a bus. There were fresh lines for the taking all morning and most of the afternoon. When we put in the effort to hike, we were rewarded with top to bottom tracks.
Copper Mountain runs a free snowcat on some days to help transport you to the freshest snow on Tucker Mountain. It's definitely worth going if they are running it; usually from 10am to 1:30pm.
Peak Season Copper Mountain Snowboarding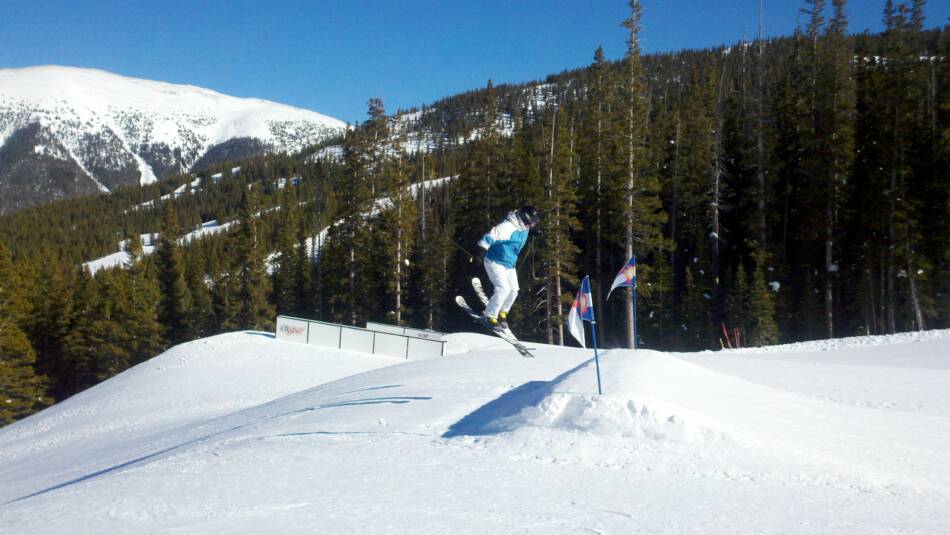 February 14, 2011 – Copper offers a big mountain experience within an hour and a half drive from Denver. We went to Copper for an afternoon session of cruisers on a warm, blue sky day.
The snow was a little hard, so we stuck mostly to groomers. We did test our fate on a giant mogul run, only to confirm that the snow was in fact crud. There are some nice tree runs down the backside of the mountain that also hold some late afternoon powder stashes.
Copper is the place to go to learn tricks and jibs. They have an indoor facility to practice year round called Woodward. They also have a big terrain park on the mountain called Catalyst where you can show off want you learned in the foam pits of Woodward. After becoming sore from watching too many crashes, we packed up the cars and headed back to Denver.
Skiing Copper's High Alpine Terrain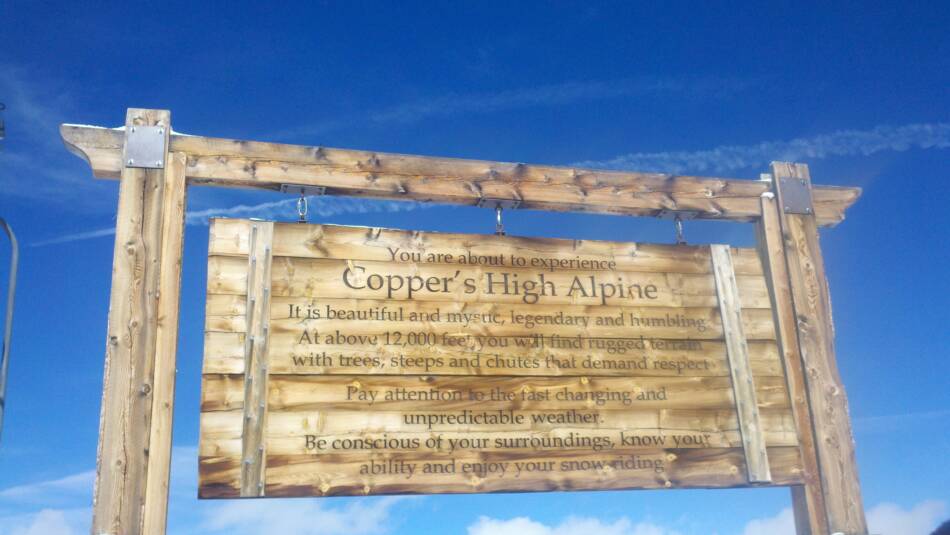 March 7, 2011 – Another storm rolled through the Rocky Mountains this past weekend and brought a layer of new snow to Colorado ski resorts. Copper Mountain has great skiing above the tree line, so that's where we headed.
There were fresh lines at Keystone Resort on Sunday and even better conditions on Monday at Copper Mountain. Keystone was offering five dollar rides on its snowcat to get freshies. The central village at Copper has an ample amount of dining and shopping options for apres ski.
Early Season Copper Mountain Fall Skiing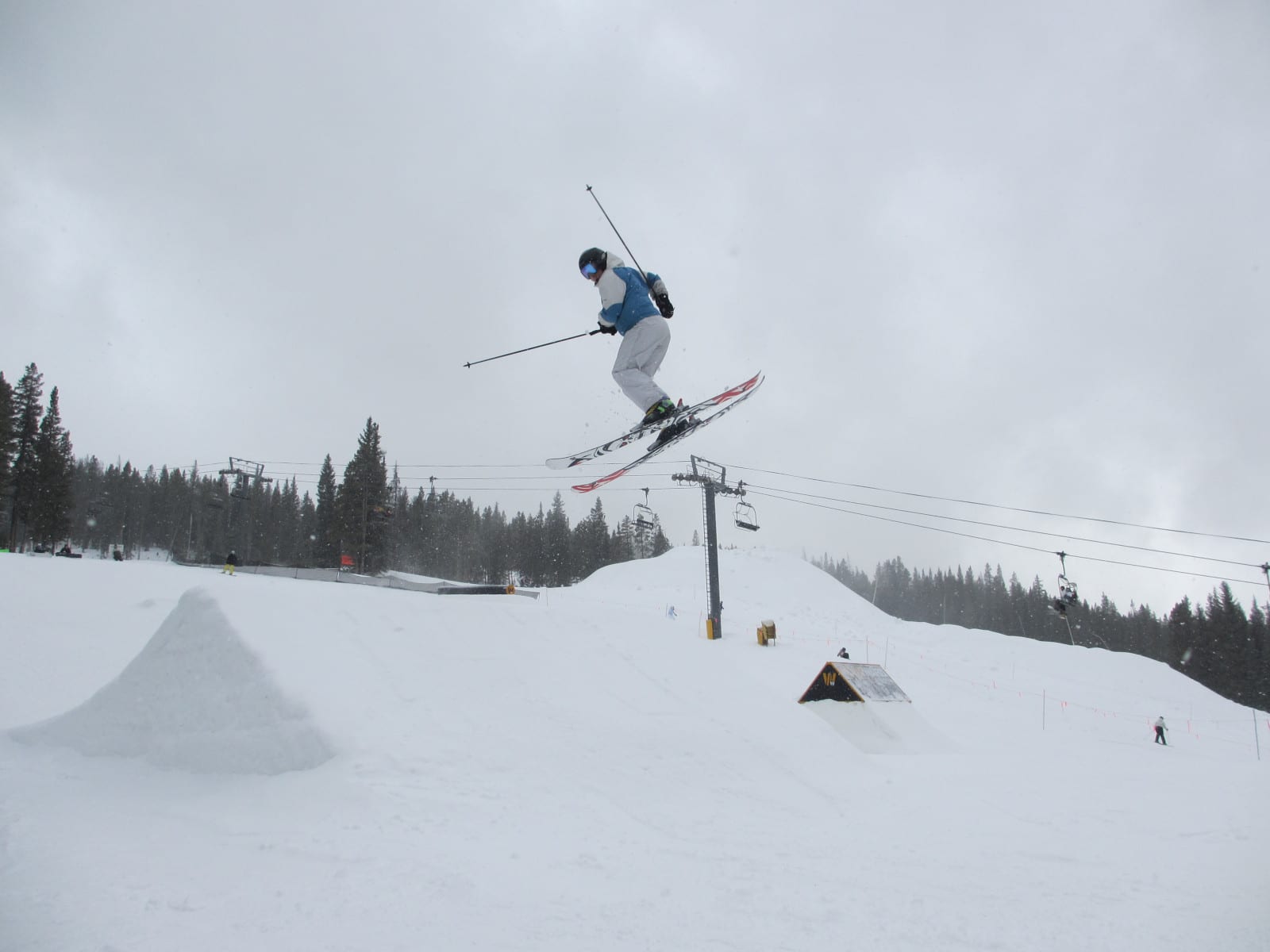 November 14, 2011 – Copper Mountain had top-to-bottom open up for riding today. There was only one trail down from each chair lift and there were two lifts open. More runs were groomed and ready but they were only available to the ski club.
Early Season Copper Mountain Fall Skiing Again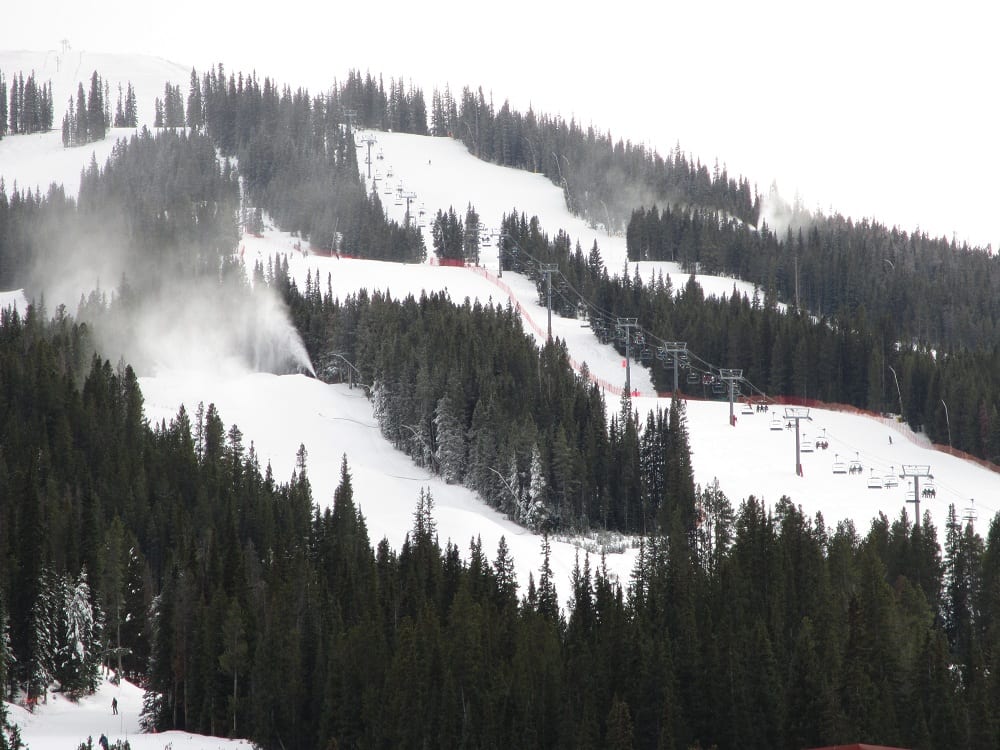 December 3, 2011 – Copper Mountain had about three hundred acres open and a couple additional lifts. There were three express lifts open from the base: Super Bee (East Village), American Eagle (Center), and American Flyer (Center).