Since the construction of Denver International Airport (airport code=Denver, nickname=DIA) was finished in 1995, the newest airport in the United States since the 1970s, there have been innumerable conspiracy theories surrounding it. Many of these theories are somewhat supported in a loose fashion by various aspects of the airport from the art that is there to the sheer number of unused buildings and airplane hangars.
Below, I'll talk about some of the things that people have theorized about since the airport's inception and whether these thoughts might have the backing or not. To start, you need to know a little bit about its background and the building of the airport itself.
Building Denver International Airport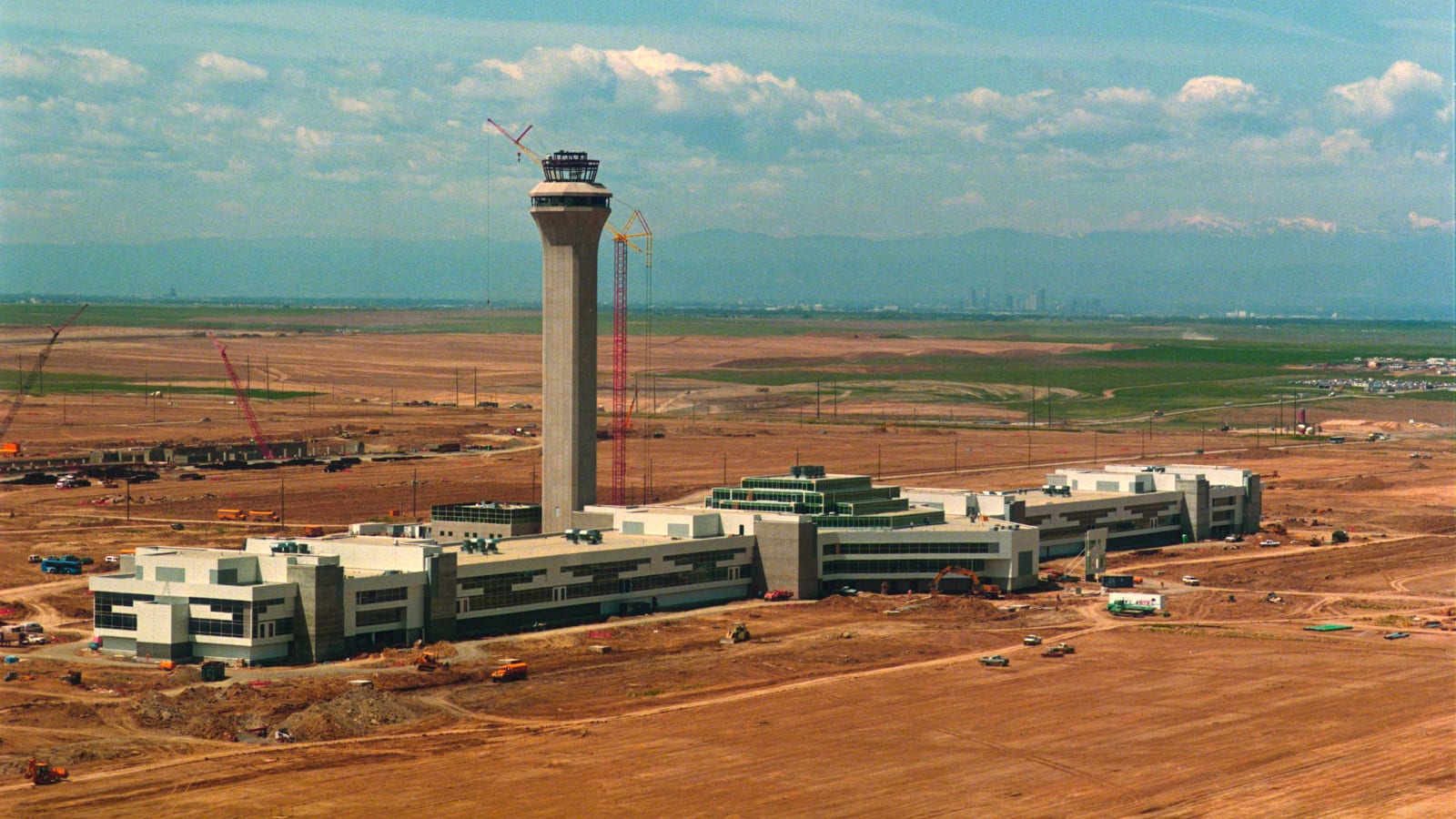 While DIA was originally slated to be finished around October 1993, design changes, contract disputes, and a myriad of other setbacks pushed the airport opening to February of 1995. Furthermore, the final budget for the airport was shockingly around 3 billion dollars more than originally expected.
These facts lead many conspiracy theorists to surmise that there are things going on at Denver International Airport that people do not want others to know about. Because of the design changes as well as the contract disputes leading to many different workers on the job under different contractors, it is thought that nobody really knows the true scope of the project because its architects wanted it that way.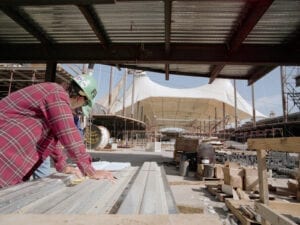 There are known to be as many as 6 underground levels below the ground floor of DIA and possibly more that are not even known about. Beyond that, there are theories that tunnels exist all the way from the Colorado Springs Air Force Base to DIA and from the Air Force Base to the Cheyenne Mountain Complex in the Rocky Mountains outside of Colorado Springs.
The difference in budget certainly leaves room for raised eyebrows as well. Why would it cost so much more money to complete the project than originally estimated? Are there other things that were added later to the project that made it so expensive? The theories can be endless, and they are. Yet, these are legitimate questions that need to be asked; why did the final project cost so much more?
The Artwork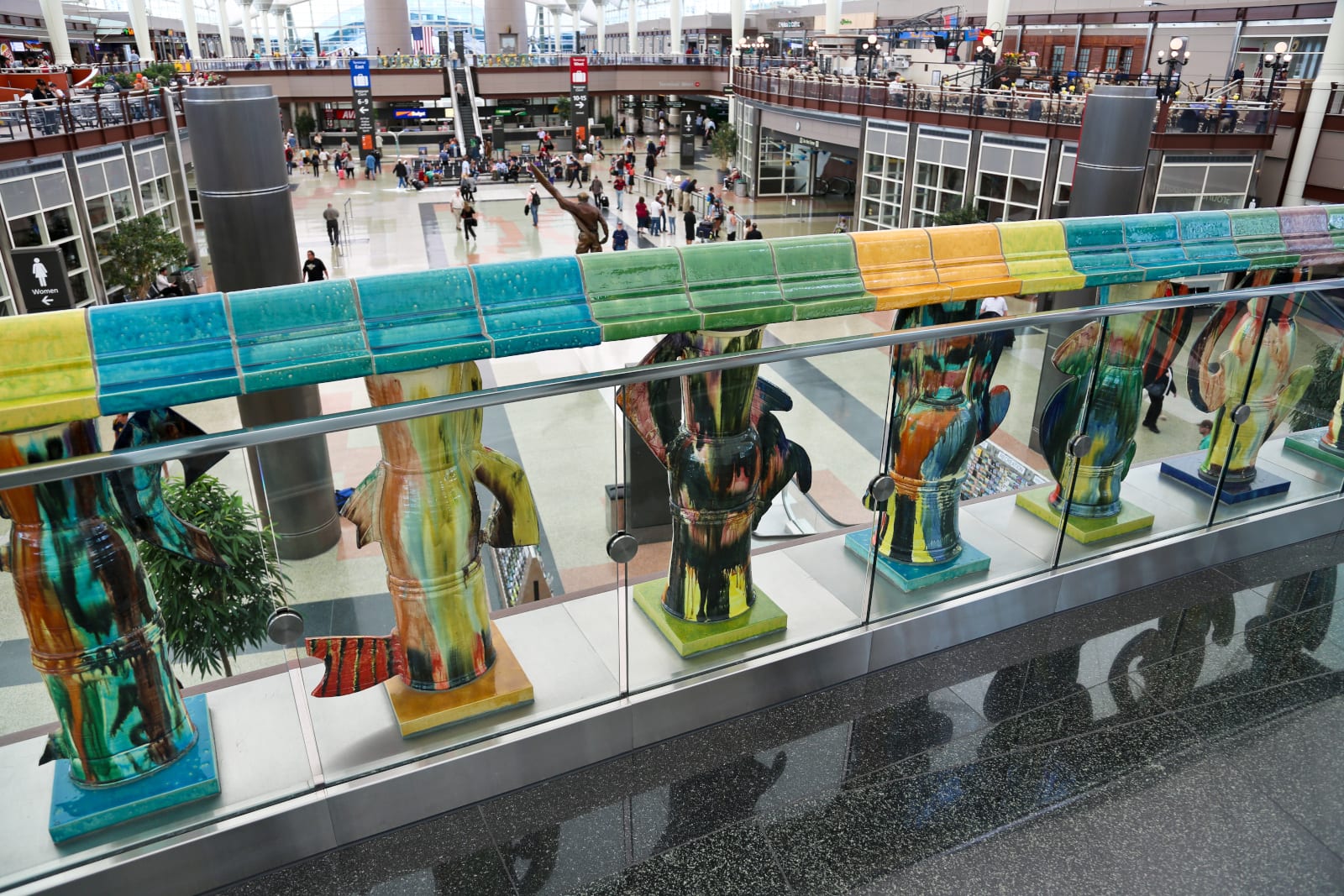 For all public projects in the City of Denver, 1 percent of the budget for each project has to be allocated towards public art to be put on display there. Because of this, there is a lot of great artwork in DIA. But, some of that art plays right into the hands of conspiracy theorists.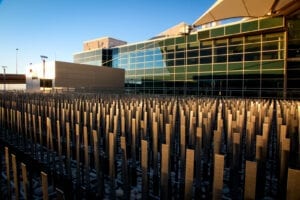 For instance, besides Blucifer, the demon eyes horse sculpture that killed artist Luis Jimenez during construction, there are 2 other massive murals by Leo Tanguma, which have been theorized to foretell the actual purpose of the airport through messages hidden within the work. You can read a more in-depth article on these murals here.
Just taking an initial look at the Tanguma works titled Children of the World Dream of Peace, and In Peace and Harmony with Nature, they show the darker sides of what DIA has been theorized to be. Themes of death, genocide, and an apocalyptic single government world, are seen clearly in the murals despite the uplifting meanings that Tanguma says are the true message.
The Dedication Capstone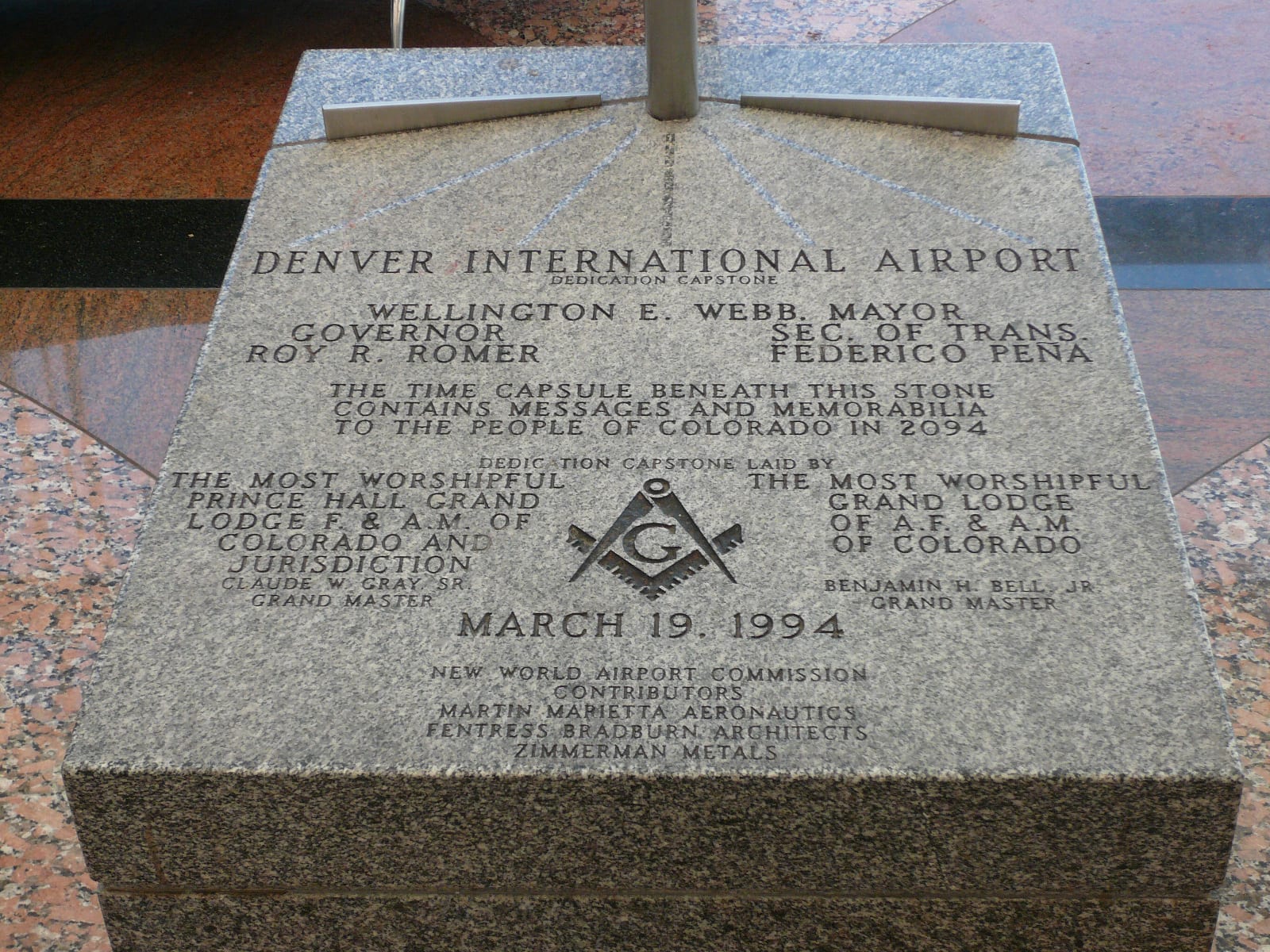 In the Great Hall of DIA, there is a plaque that is a dedication to the airport. On it you might think that the main contributors to the airport might have been the City of Denver or the State of Colorado, however the first name listed on the stone as a contributor is an organization called The New World Airport Commission.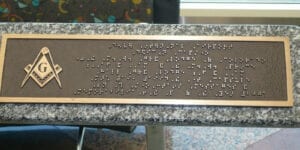 This might not seem odd to the casual observer but with a little research, you will find that no organization exists or has existed. The capstone of the airport names an organization that sounds eerily like The New World Order, a supposedly secret society that has far-reaching control from behind the scenes. People often think that DIA was built by them to weather out an apocalypse or extinction event of some kind.
Underneath this capstone, there is also a time capsule said to be opened in 2094. Nobody knows what is in the time capsule but there are theories abound pertaining to the secrets or clues that might be locked within underneath this curious dedication to stone of the airport.
The Tunnels and Underground Buildings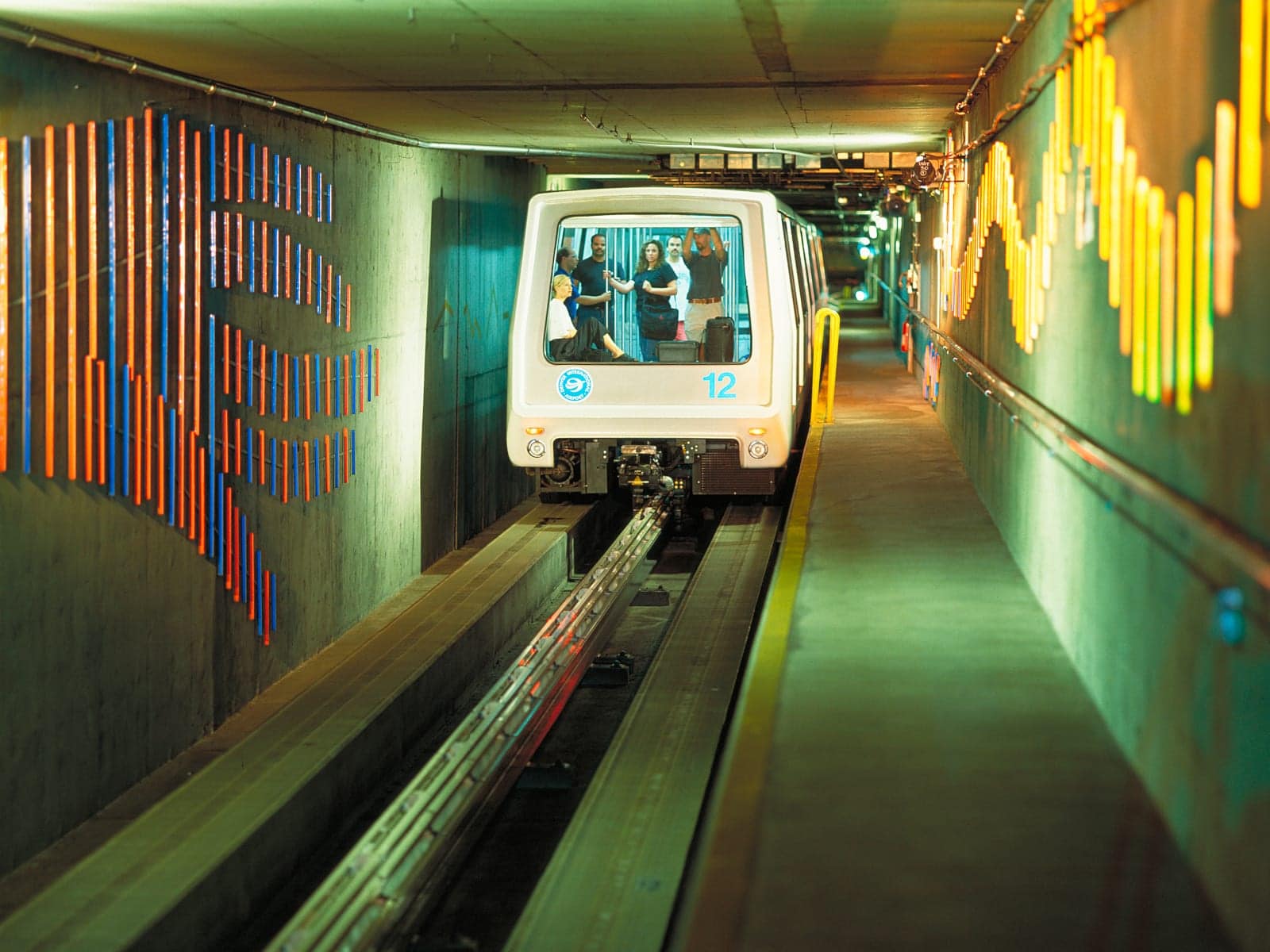 There have long been outspoken people who claim to have gone down many levels under DIA and to have seen the tunnels firsthand. In this article in Westword Magazine, the author talks with Alex Christopher, an older woman who is at the heart of this conspiracy.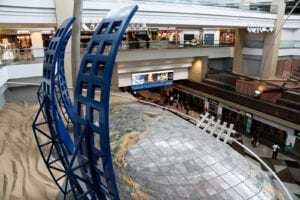 Just after the airport was built, she met some people at a conference in Denver who took her down there, and later she returned with her friend Phil Schneider. After that, Schneider turned up dead of an apparent suicide. Obviously, fellow theorists are skeptical about that and consider it more of an assassination. Christopher went silent after that but has recently been working on a new film.
Also, while the airport was being built, there were 5 buildings that were built below, but for some reason needed to be abandoned. Instead of destroying them, another infrastructure was built on top leading many to wonder just what might be going on in those buildings underneath the ground level.
Airport Layout and Other Buildings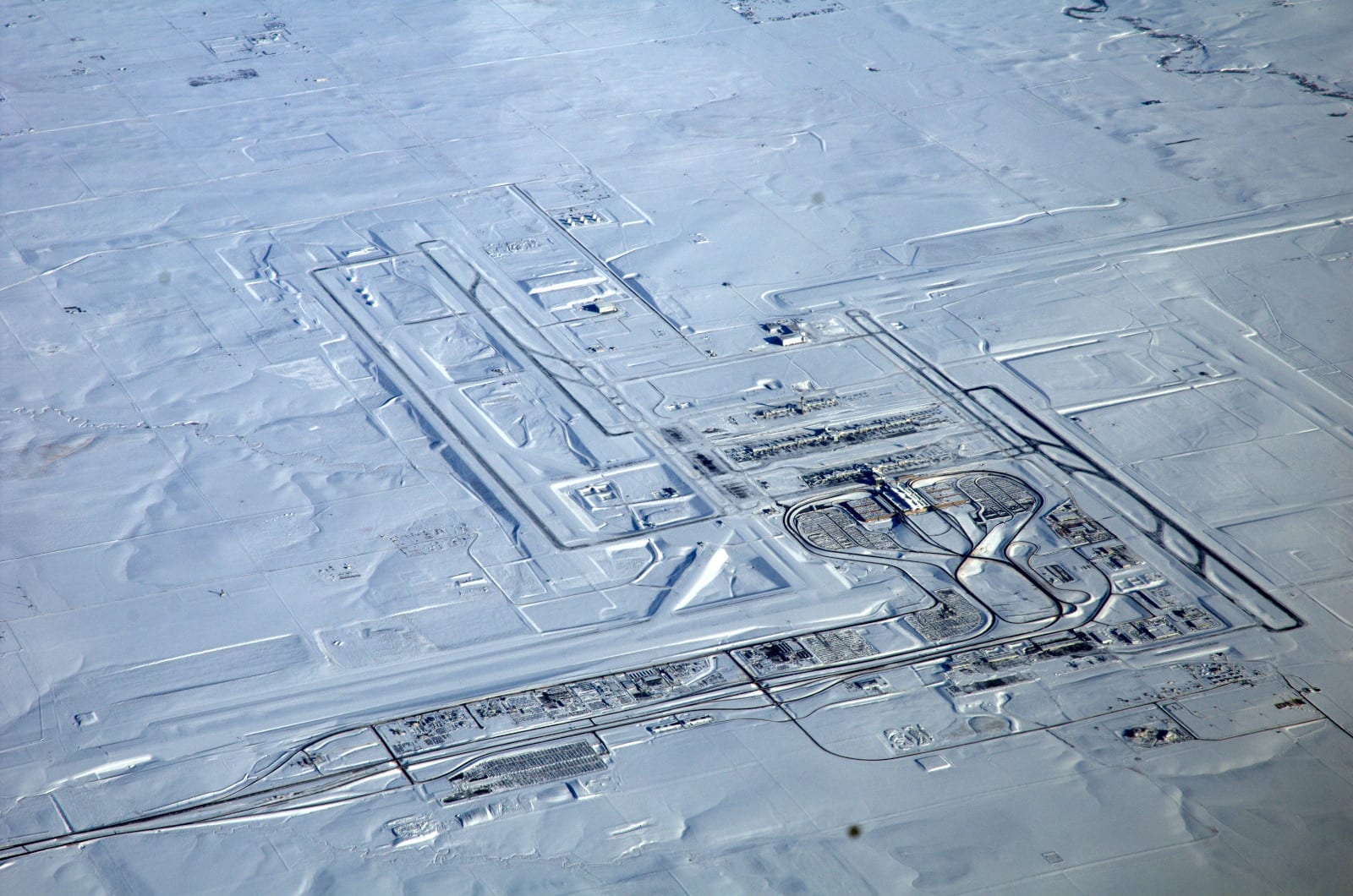 As with many of the aspects of DIA that play into the hands of conspiracy theorists, the buildings and layout of the airport do as well. Not only is DIA the second largest airport in the world regarding land mass, but there are an untold number of extra buildings and hangars on the property that seem unneeded for a typical airport. What are those buildings for and why did DIA need so much land to sit on?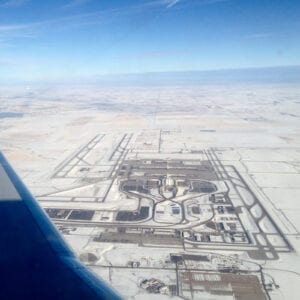 Beyond that, looking at a bird's eye view of DIA, all the runways and terminals together can be construed in the shape of a swastika. There can be interpreted Nazi themes in artwork previously mentioned so the layout of the airport seems very curious with both on its grounds.
Furthermore, all the fences at DIA also have barbed wire curiously facing inward. Some theories around DIA suspect that it will be used as a prison or concentration camp in the future, so this wire is thought to be there to keep people in, not out.
Other Thoughts on What Happens at DIA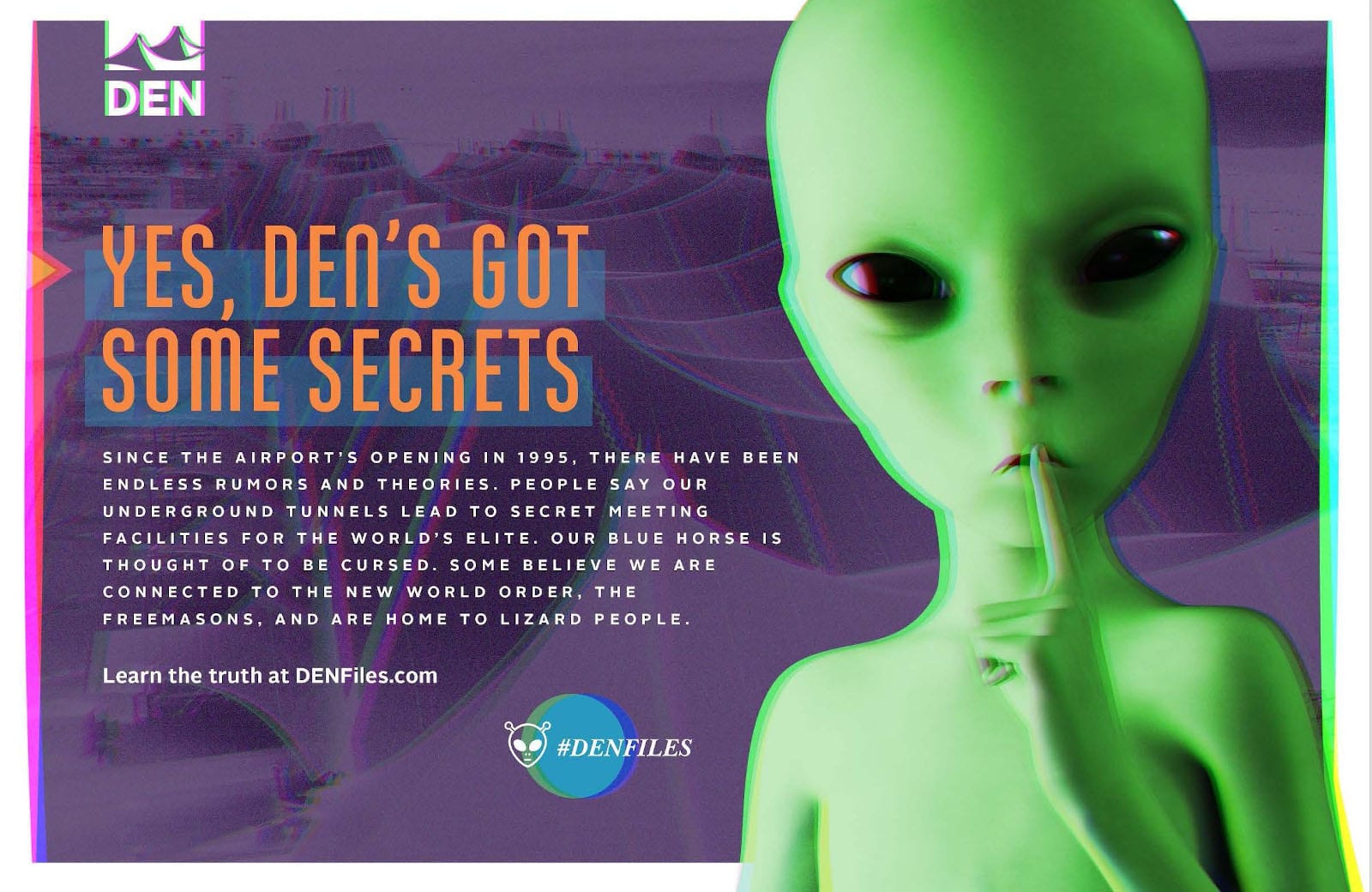 There have been many other theories about DIA. Some think it is the host of 'Area 52', aptly named after the real United States Government 'secret' base, Area 51. While theories about Area 51 are ubiquitous about aliens, downed UFOs, and extraterrestrial life being held there, many people believe that DIA also may have unknown government secrets stored deep underneath it as well.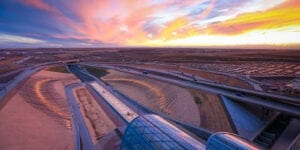 More reasonably, people surmise that DIA will be the United States Militaries' headquarters if a war breaks out on its home soil or for other similar reasons. There is enough room for airplanes to be stored, barracks underneath, and infrastructure above for operations as needed.
DIA Today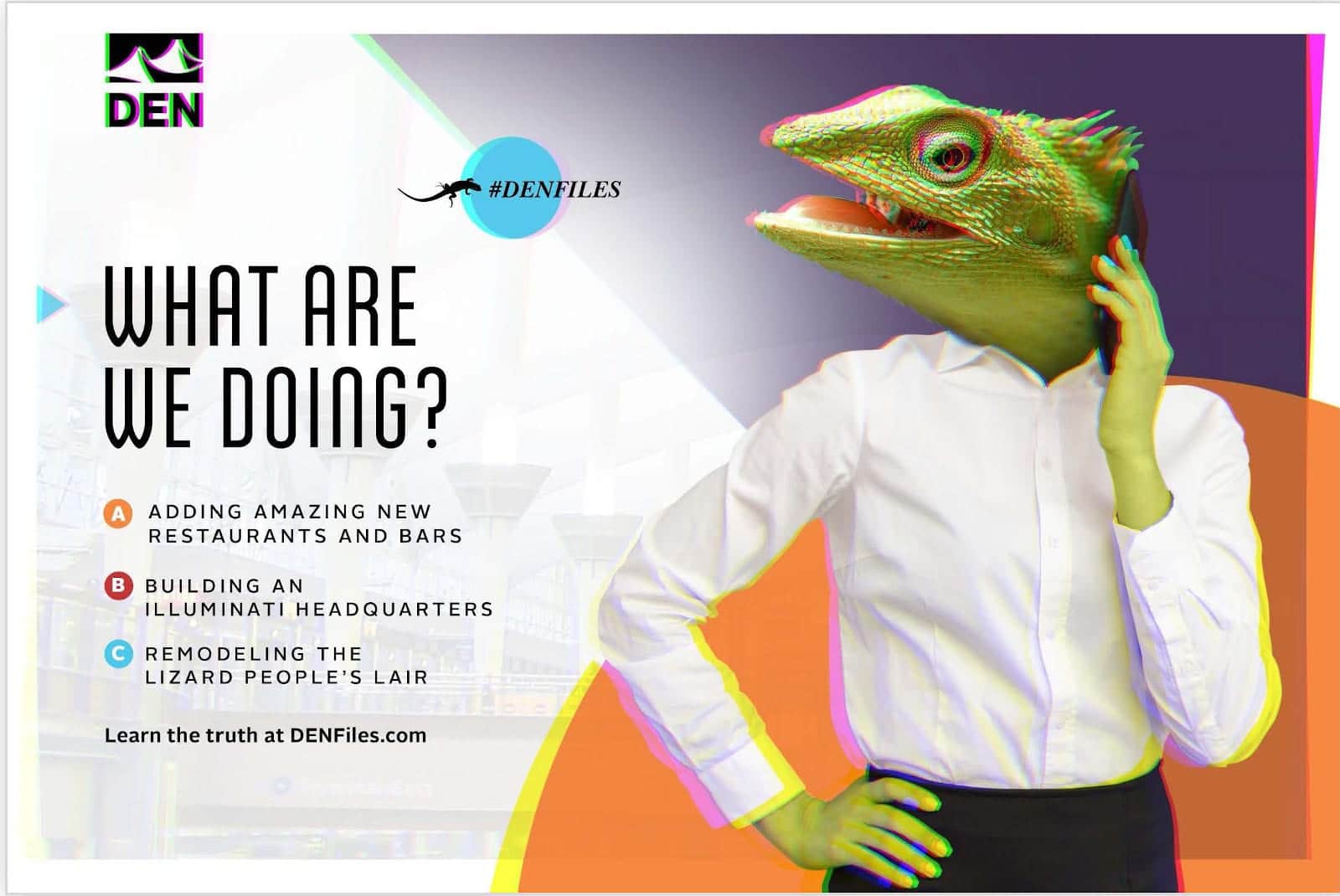 More recently, DIA has embraced the conspiracy theories. There is now an animatronic gargoyle that talks about some of the theories and will interact with visitors in the Great Hall.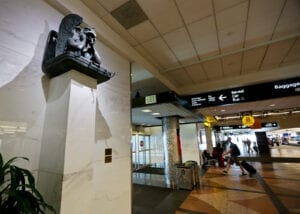 DIA is also under new renovations slated to be completed in 2021 with much of the current airport being worked on behind new barriers that help jokingly question what is really happening there. You never know what new conspiracy theories will pop up now that DIA is under construction again. The theories of old will always grasp at straws but with new construction comes new thoughts on what the New World Order or others might be up to with Denver International Airport.
I'd highly encourage anyone going to DIA to check out the plaques, murals, and other oddities throughout the airport which have been written about by countless different theorists. Not only are they interesting to see and experience firsthand, but they also might leave visitors with a lot more questions than answers.