Colorado Springs sprawls over two hundred square miles in the shadow of the Rocky Mountains, the face of Pikes Peak watching over the city from above. There's so much more to its beauty and authenticity than the typical tourist haunts let on. Springs has a personality all its own.
Whether it's your first time visiting Colorado Springs attractions or you're a veteran who has climbed the Manitou Incline dozens of times, there are always new and interesting places to discover on your journeys through this beautiful city. The Pikes Peak region is one of the state's most iconic areas. Consider adding one of its top art galleries to your local itinerary.
Colorado Springs is a truly unique place. There's a reason that it's been voted among the most desirable places to live in the US in years past. The views from town are nothing short of amazing. If you're looking to get off the beaten path when it comes to the local tourist attractions, we've included a few gems, plus the most can't-miss mainstream stuff in the Pikes Peak Region.
Here are the top tourist attractions near Colorado Springs for your friends and family to enjoy, in no particular order:
1. Poor Richard's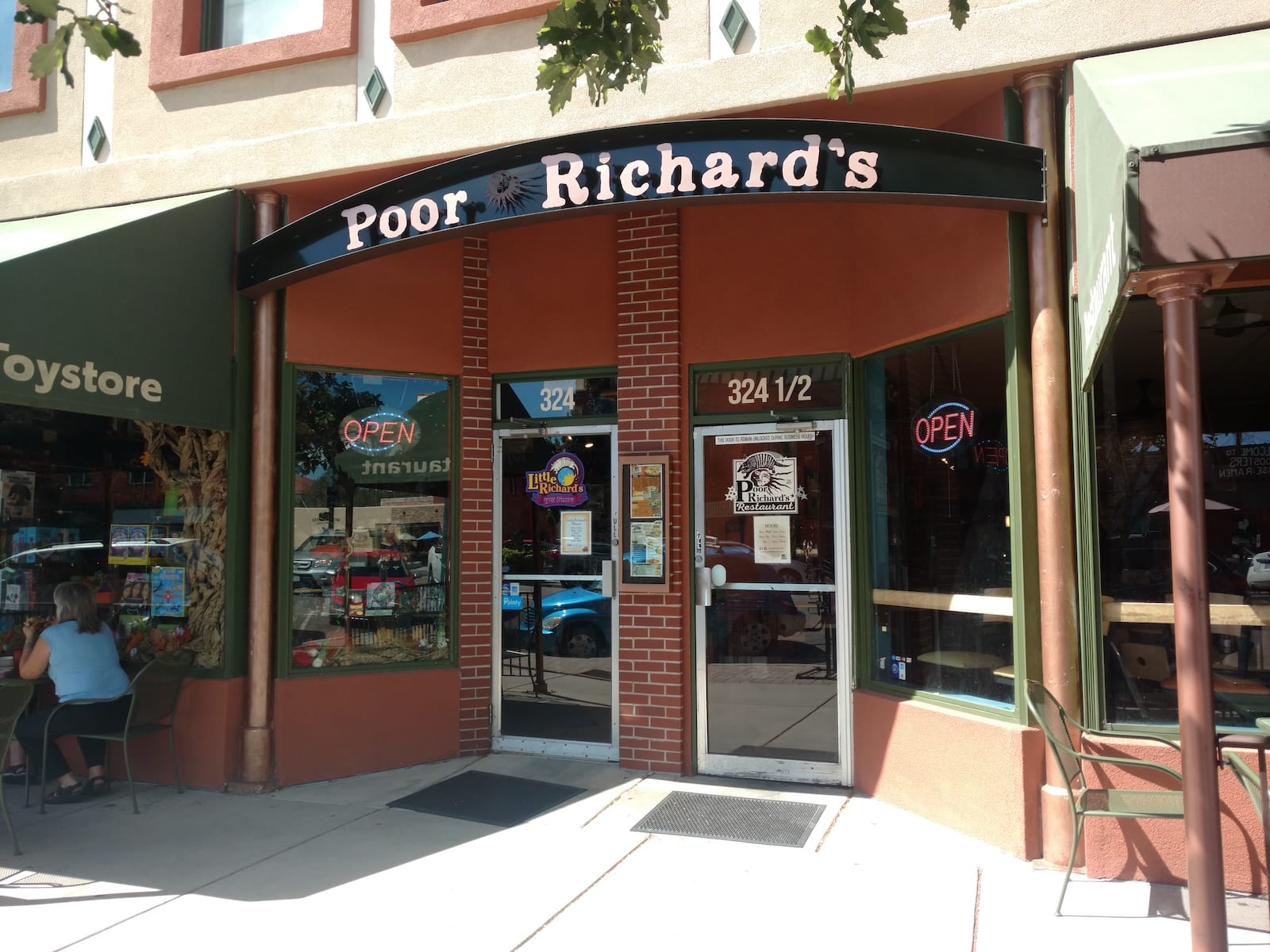 Richard Skorman is something of a legend to locals in Colorado Springs. He was known in his youth for carrying a parrot around on his shoulder while working at the bookstore, which opened in 1975.
When the store almost burned down in 1982, Allen Ginsberg, a famous Beat poet and long-time friend of Skorman's, spearheaded a community fundraiser to repair the building, raising almost $5,000. Now a member of the City Council, Skorman started from those humble beginnings to create the eclectic paradise and community hub that Poor Richard's has become.
Located on Tejon Street between Platte and Boulder, the complex takes up almost half of the city block. Within its maze-like confines, you'll find a bookstore, a cafe, a toy store, and a restaurant.
Poor Richard's is something of a meeting place, with various local politicians using it as a hangout spot to speak with constituents. Most recently, Governor Polis dropped by to speak with Skorman about local politics and a huge crowd turned out for the talk–so large, in fact, the meeting had to be relocated.
One of the many great things about Poor Richard's is the sprawling bookstore, the largest of the four shops within the building. Here you'll find not just books, but art, jewelry, clothing, cards, and calendars, soaps, mugs, and lotions decorating the walls and shelves. There's a spot to sell your used books tucked in the back, and lots of secret nooks and corners to escape to with a book and a cup of coffee for a quiet afternoon.
Four nights a week the cafe hosts live entertainment, with various local performers on the roster as well as an open mic night. If you want to check out the local flavor of Colorado Springs, there's no better place to do it than at Poor Richard's.
2. Stargazers Theater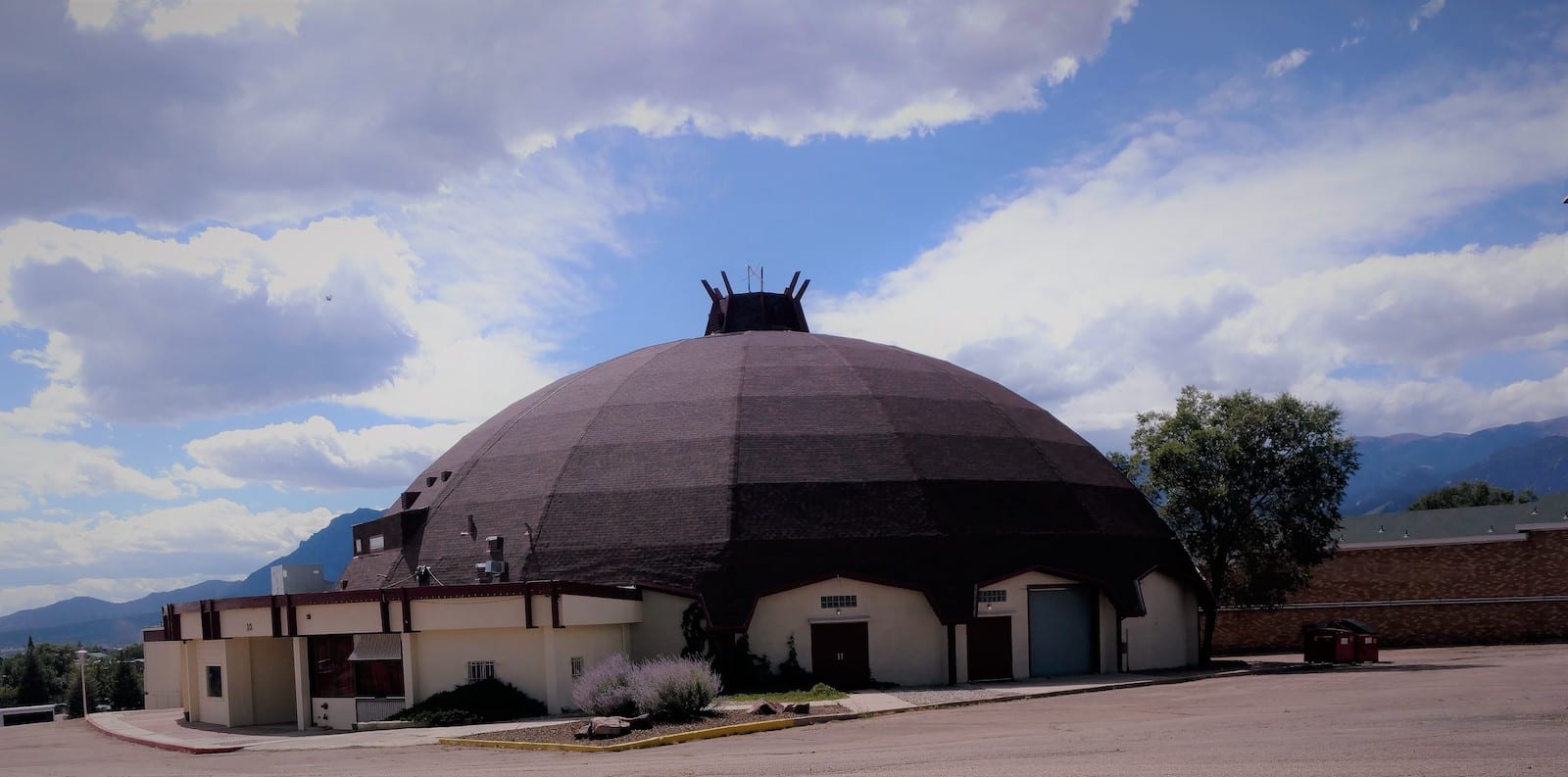 If you're looking for great local music in a unique venue, look no further than Stargazers Theater. Though its dome shape gives the impression of a planetarium, the building got its start as a "state-of-the-art" movie theater built in 1969. It has gone through many phases since then and in 2008 it was bought and renovated by the Hootens, who have operated the theater as an events center ever since.
The Hootens have a deep passion for the arts and it's noticeable from the moment you walk into the building. Padded red carpets line the way to the interior of the theater and local art lines the walls.
At least four nights a week, you'll find local flavor onstage at Stargazers. Each show begins with announcements by the Hootens, previewing the next concerts on the roster, and then the band for the night is set to begin. With tiered seating, there's never a bad view of the stage.
No matter what style of music you're looking for, you'll find your favorite genre and more at Stargazers, with over 150 events hosted every year. Even better, every month the Hootens host at least one show that's free to the public. There is a small dance floor and tons of seating, including the third-tier balcony that was recently renovated from its 1960s decor to plush, modern seating.
John Hooten says, "There is so much amazing talent right here in the Pikes Peak region, ranging from the emerging artist to world-class entertainers. Our goal is to create the opportunity for them to showcase their talents on the Stargazers' stage."
Not only is the music great at Stargazers, but the sound in the dome-shaped building is incredible. No matter where you are, you'll be able to hear the music crystal clear. Don't forget to stop at the concessions for a well-priced meal and drink. It's always a great night to see a concert at Stargazers Theater and support local music.
3. Fargo's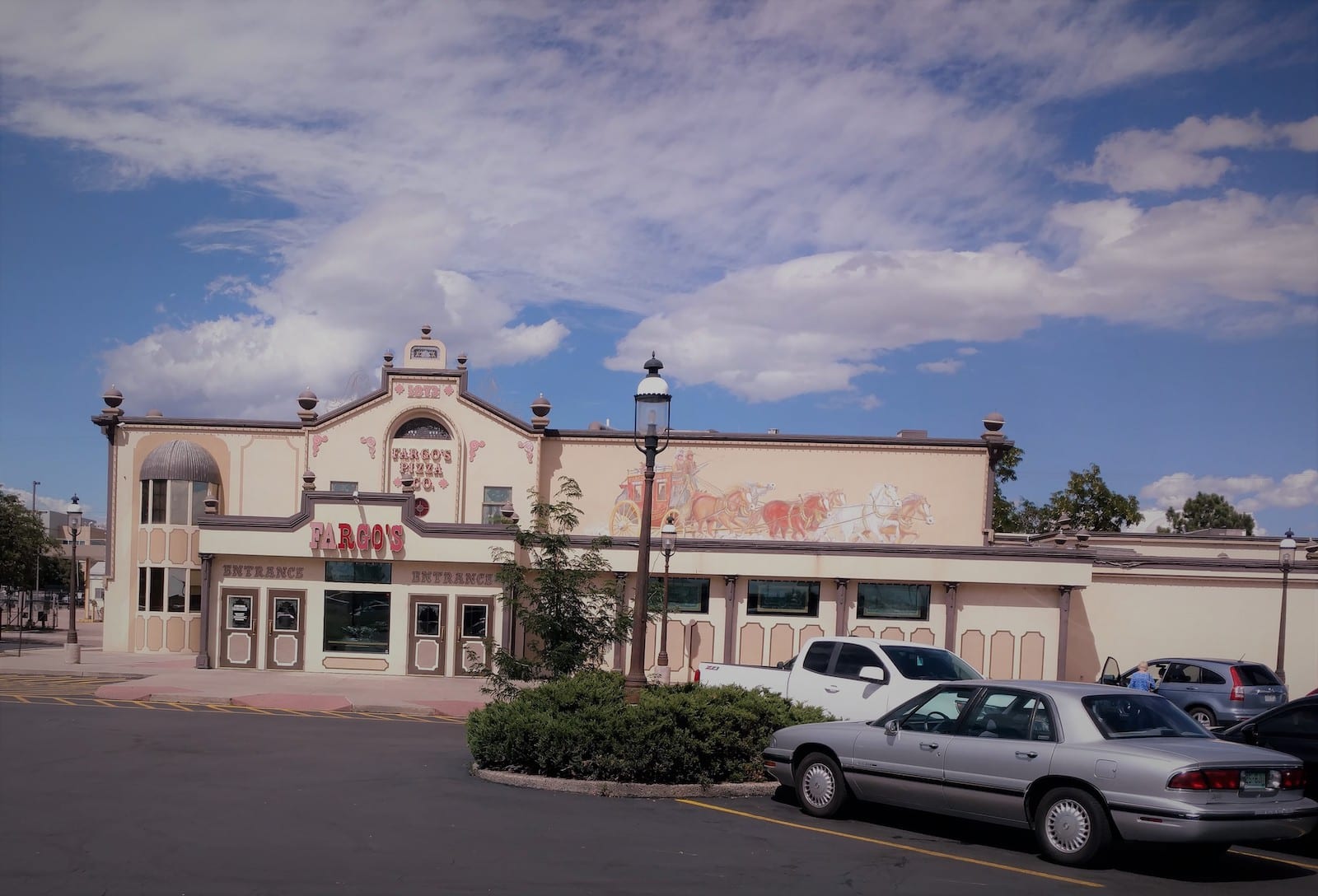 If you're only stopping in the Springs for a quick bite to eat, Fargo's is a restaurant experience that you won't want to miss. Located off of Platte just east of Circle, this pizza place stands out from the road, with an old-timey horse and carriage mural decorating the side of the building, and busloads of townsfolk can be seen packing into the massive parking lot.
Fargo's boasts that it is one of the largest family restaurants in the world, with a capacity of 500 guests and 16,000 square feet of floor space. It's famous for its "legend", created by its founder Leon Gardner when the spot first opened in 1973.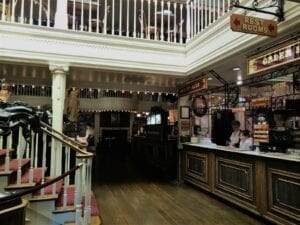 Fargo was a hard-drinking gambling man until he met Sophia, a rich heiress. When they ran away together, they had no means of making money, and so they turned Sophia's family recipe book into the successful restaurant that Fargo's is today. A wax replica of the couple sits on a balcony, looking approvingly over their creation.
Once inside the restaurant, you're transported back to Victorian times. The waitresses and hostesses wear long, Victorian costumes and the interior is decorated with antiques that bring you back to a simpler era. Engraved glass display cases decorate the windows of the kitchen and classical art adorns the walls.
Featuring an arcade for the kids and two stories of seating for even your biggest parties, Fargo's is a great choice for your next kid's birthday party that everyone will remember for years to come. Be sure to check out this unique and nostalgic eatery on your way through Colorado Springs!
4. Commonwheel Artist Co-Op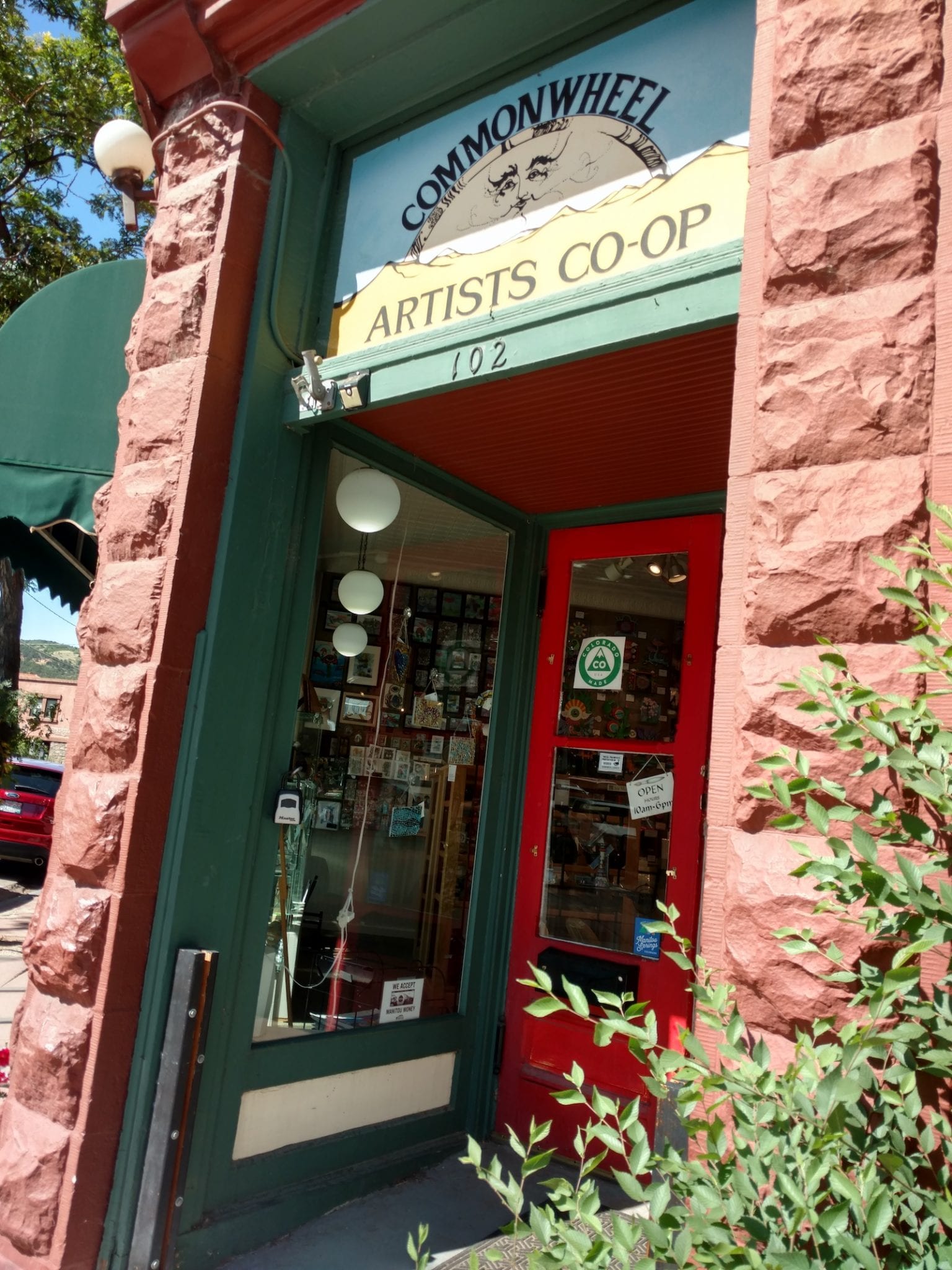 This artist co-op first opened in 1974 and recently celebrated its 45th anniversary. It's no wonder that this staple of Manitou Springs has been open for almost half a century. Featuring a wide array of art created exclusively by Colorado artists and craftsmen, Commonwheel's small shop is packed to the brim with one-of-a-kind pieces, which range from wall art to clothing.
A walk-through Commonwheel is always a treat, as their featured artists change quite frequently. Best of all, each year they celebrate their Commonwheel Artist Co-Op Labor Day Art Festival, which has become known as one of the best arts festivals in the Pikes Peak region. If you happen to travel to town for Labor Day weekend, don't miss this event!
Unlike most art galleries, Commonwheel doesn't charge exorbitant prices for its varied products. If you're looking for a unique piece for yourself or a souvenir to bring to a relative, it has something for everyone.
5. Michael Garman Museum and Magic Town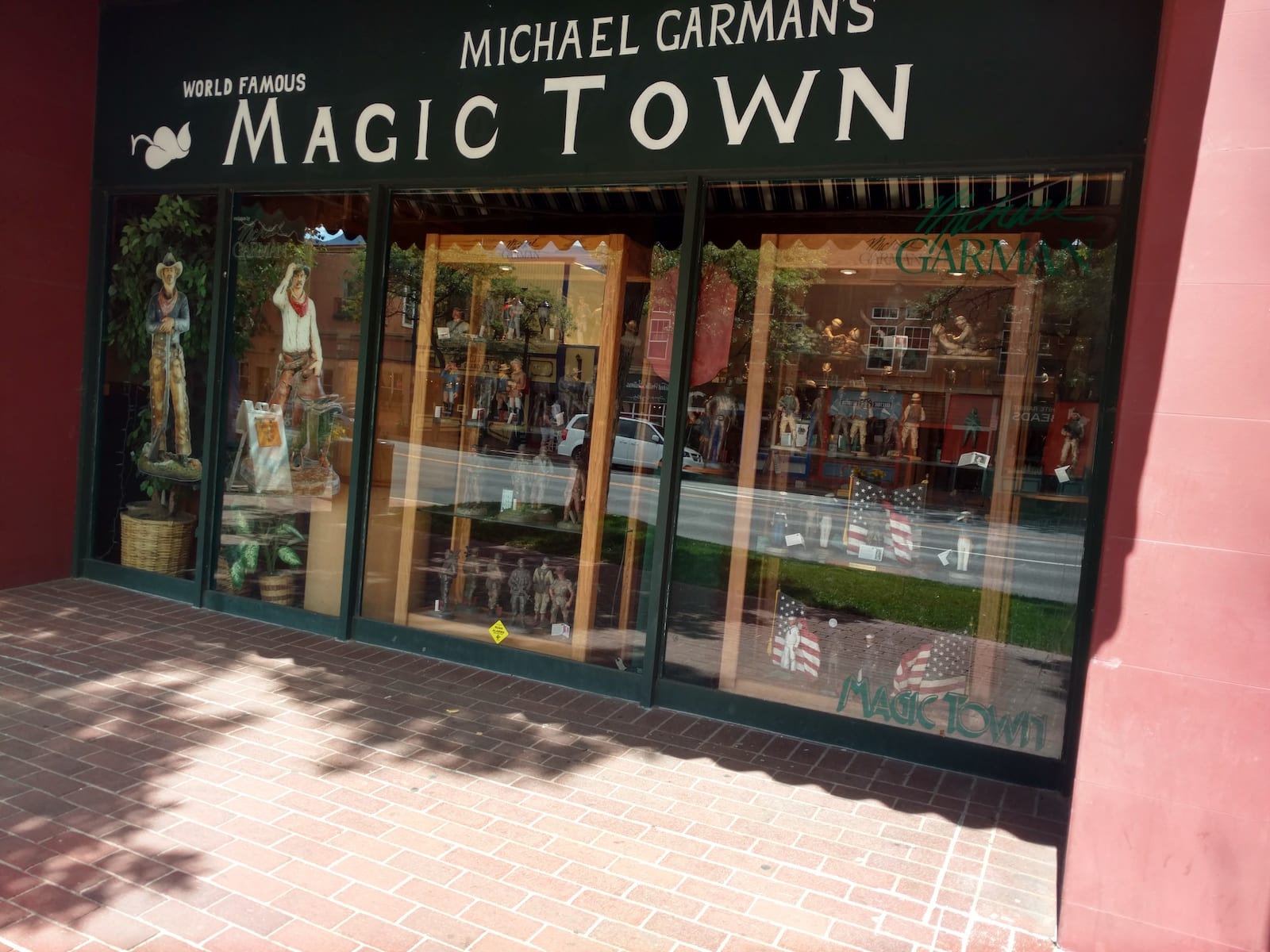 Michael Garman is a treasure of Old Colorado City. Known for his innovative approach to mass-creating sculptures to make art more accessible to the everyday person, the Michael Garman Museum and its enchanting miniature Magic Town are remnants of Garman's legacy.
"It's a gigantic playground for the mind," says Garman, referring to Magic Town. "Part carnival, part dollhouse, part sculpture." He began building his massive creation in 1975 and added onto it.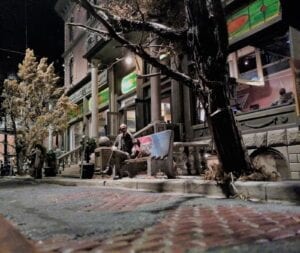 Magic Town plays with your eyes, using mirrors and video projections to create a loud, lived-in feel to the miniature town. Garman says that the town's miniatures are representative of his favorite places on his travels through Mexico, Central America, and South America, including the theater with "Casablanca" on the marquee.
With an entrance fee of only $5 for adults and $3 for kids, this attraction is well worth the price. Garman is yet another of those in Colorado Springs who is deeply passionate about art and believes that art is for the people. Magic Town is a hidden gem and it's definitely worth a visit!
6. Art Downtown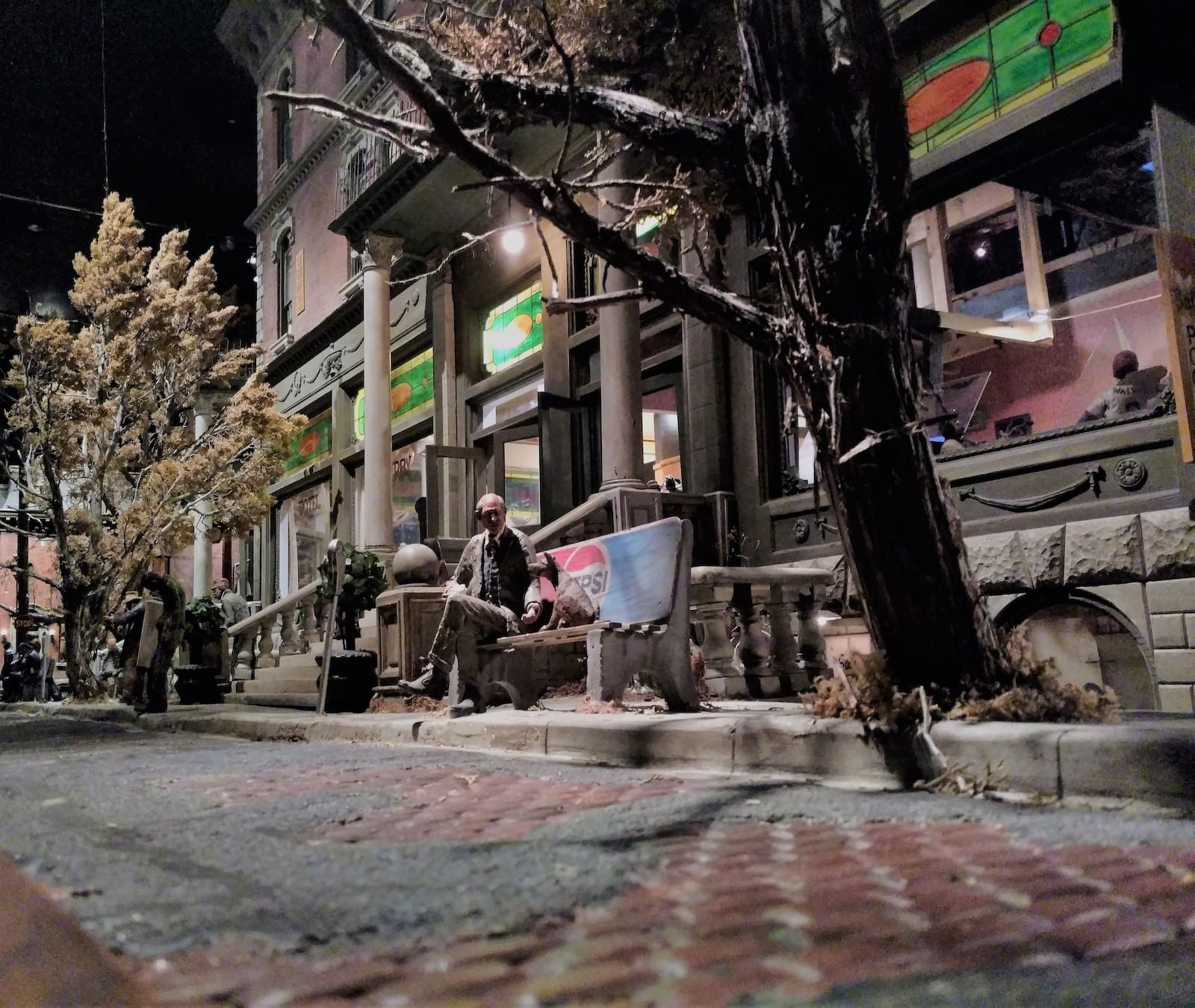 One of the most exciting times to take a walking tour of the art downtown is during First Fridays. The Colorado Springs First Friday Art Walk typically runs the first Friday of every month from April through December.
While you're at Poor Richard's, take some time to walk down Tejon Street and look at all of the art that is displayed there. One of the coolest things about downtown Colorado Springs is the changing art displays that dot the streets–my current favorite is the "Hoodoos" between Platte and Boulder, two crystalline-blue sculptures representing the hoodoos that carve the area.
On your way out of town, be sure to check out some of the town's famous sculptures. One popular one in recent years was a steel sculpture visible from I-25 and Colorado Ave that dominated the roof of a brick building. Octo-Maid, as it's lovingly known by locals, is named "Iscariot" and was created by Jackson Trace O'Connor.
She made her debut in 2018 when this giant sculpture brought even more flair to Colorado Springs' downtown.
7. Garden of the Gods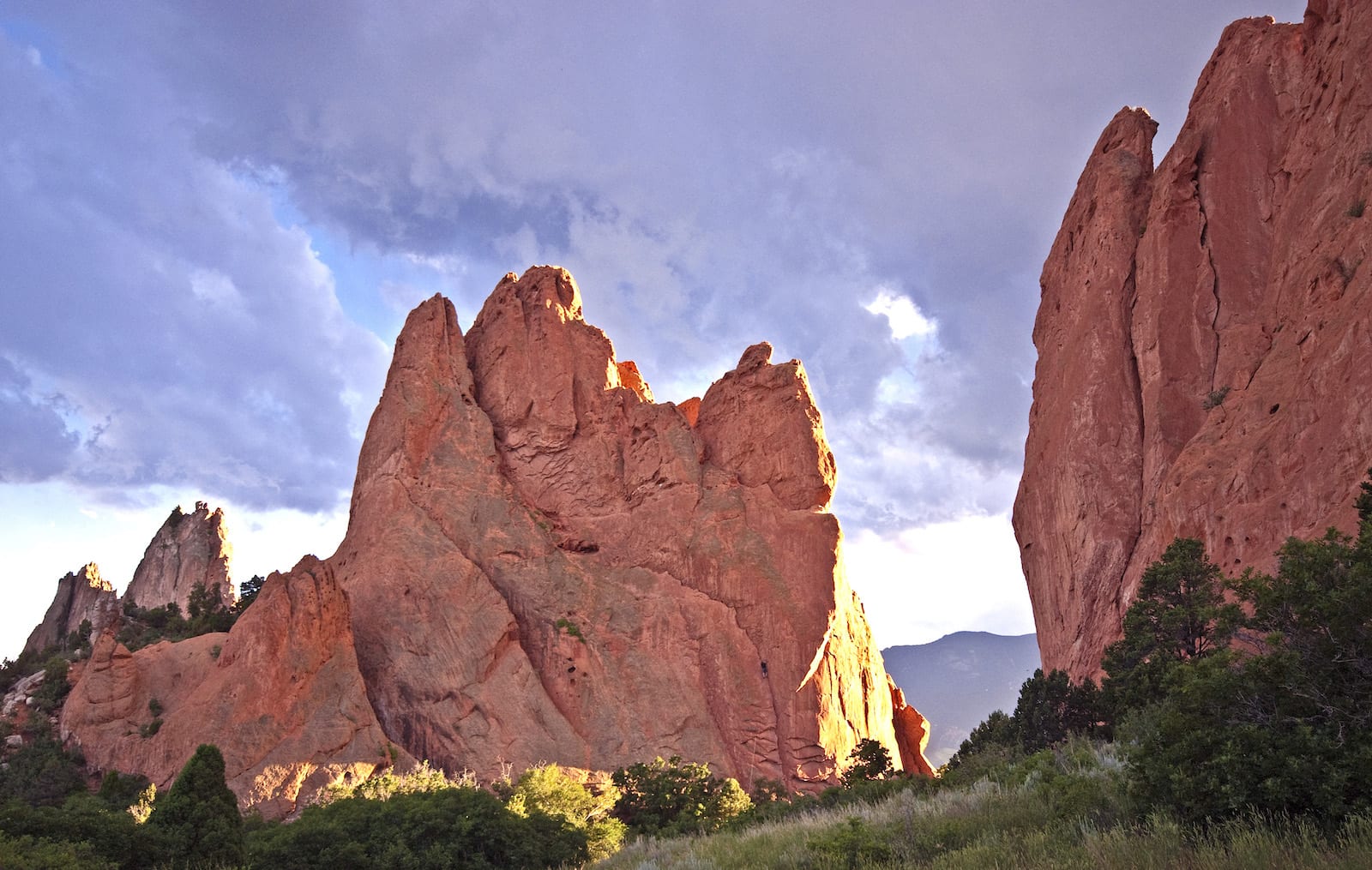 Don't miss this incredible free park, the sandstone gem of Colorado Springs! These rock formations are unique and awe-inspiring, standing out against the skyline in stark grandeur. Garden of the Gods Park contains 21 miles of trails for you to wander down, with incredible views of the surrounding red rocks as well as the overlooking Pikes Peak.
Whether you're interested in climbing those majestic geological formations or you just want to rent a bike to explore the endless paths, Garden of the Gods is a must-visit attraction for everyone planning an adventure to El Paso County.
8. Pikes Peak
Pikes Peak's snow-capped summit can be seen from just about anywhere in Colorado Springs, and it wasn't named "America's Mountain" for no reason. It is the subject of the famous patriotic poem, "America the Beautiful" and now a huge hub for visitors to Colorado Springs.
Drive up to the top of Pikes Peak on the Pikes Peak Highway, a toll road that services the 14,115-foot summit. Once atop it devour a delicious doughnut at the Summit House to reward yourself for completing the treacherous drive full of switchbacks and sheer drop-offs.
From the summit enjoy the landscape over 8,000 feet above Colorado Springs–some of the most incredible views you will ever see in your life. Don't miss out on the beauty and majesty of Pikes Peak, one of the most popular attractions in the Springs.
9. The Broadmoor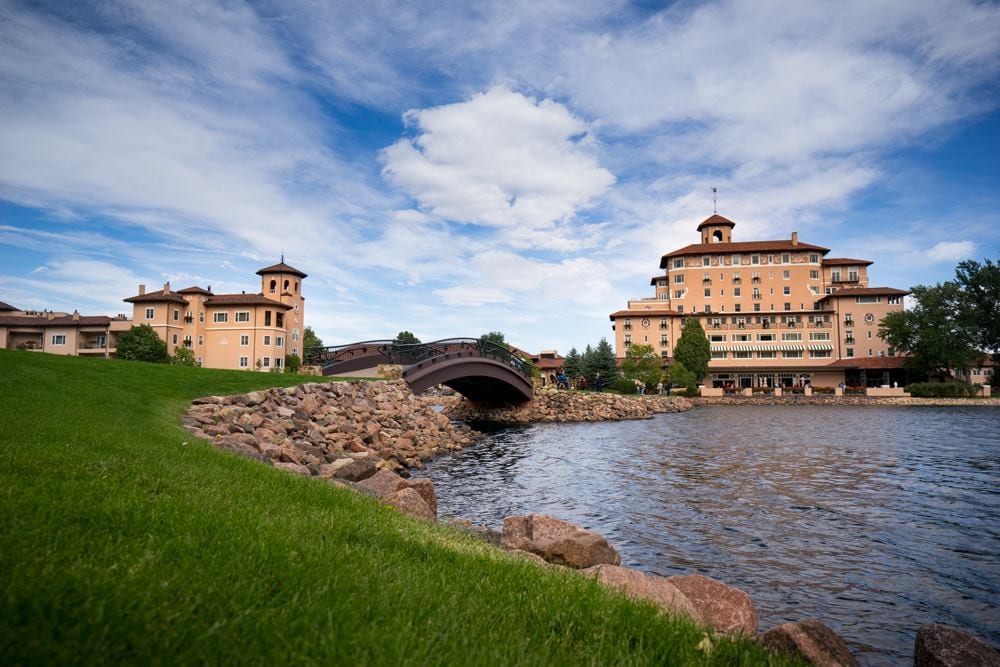 The Broadmoor is the five star destination resort in Colorado Springs. Whether you're looking to stay in the lap of luxury or just to take a shuttle to see some beautiful scenery, The Broadmoor has something for everyone. Enjoy their world-class spa amenities or venture out to the golf course to practice your game. The grounds are open to explore even if you're not spending the night.
10. Seven Falls
If you're craving an adventure, take the shuttle over to Seven Falls, a majestic waterfall that cascades 181 feet down the head of a box canyon between two geological monuments named "The Pillars of Hercules". Climb the 224 steps up to the top and enjoy amazing views of the golden plains and the sheer mountain faces beyond.
11. Cheyenne Mountain Zoo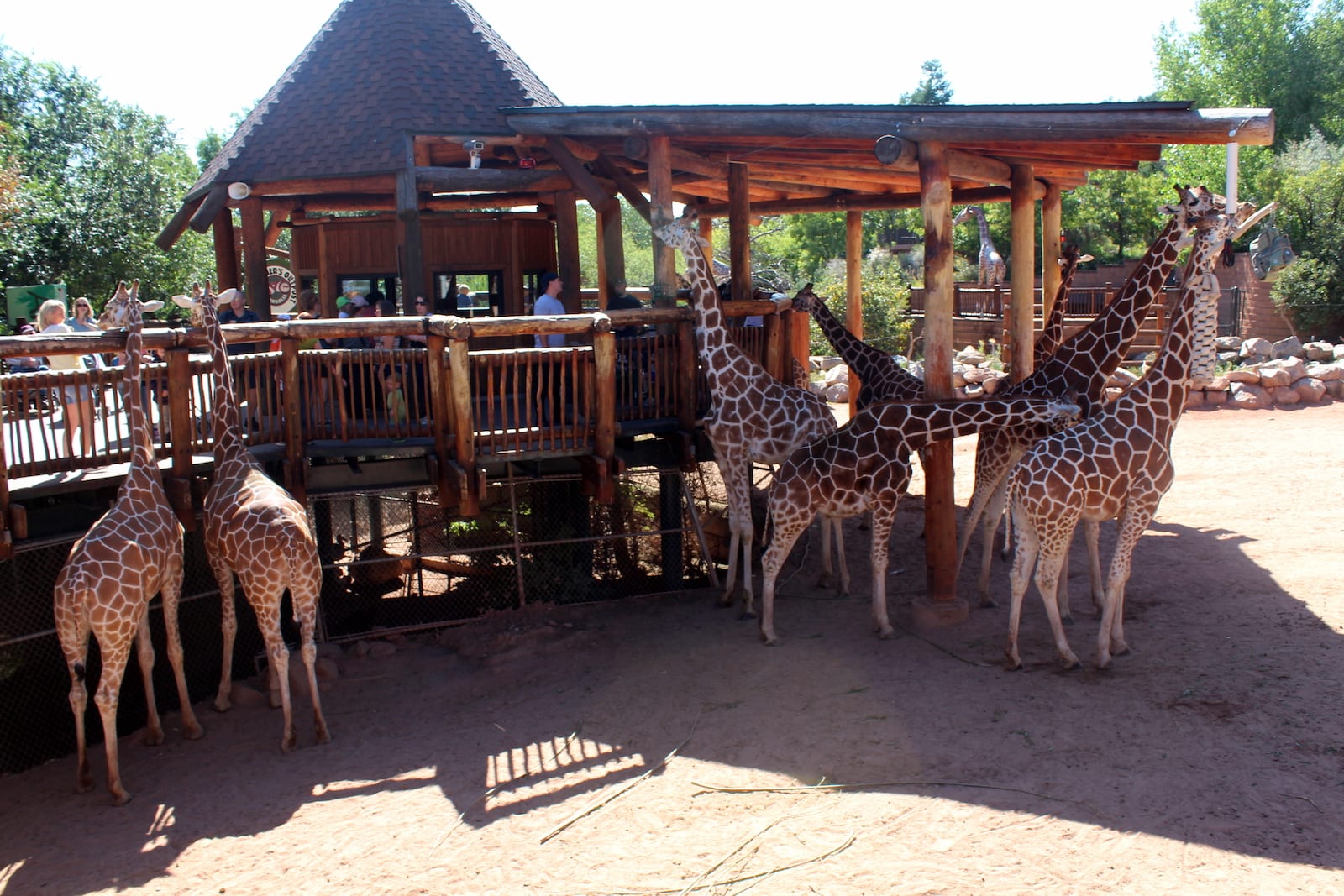 Cheyenne Mountain Zoo is a unique attraction located in the beautiful Cheyenne Canyon. It has one-of-a-kind exhibits that allow you to get up close and personal with the animals. You can hand-feed lettuce to one of the largest reticulated giraffe herds in the world, walk next to wallabies, and listen to lions roar.
Every inch of the zoo provides panoramic overlooks of Colorado Springs, affording you beautiful views while you enjoy learning about each of its 750 animals. At the Zoo's summit, take a load off and catch a ride on the Mountain Sky Ride or take advantage of your free admission to the Shrine of the Sun to visit a unique landmark. There's something for every member of the family at Cheyenne Mountain Zoo.
The Springs is saturated with interesting and unique spots–all you have to do is ask the locals, and you'll find them in no time. And be sure to stay the night in one Colorado Springs' top hotels, which range from historic five-star to charming mountain getaways.