Pikes Peak Highway is a high-alpine scenic toll road located just west of Colorado Springs. Despite ascending to an elevation of over 14,000 feet, this national scenic byway stays open year-round. On a clear day, you can see Denver, Colorado Springs, and maybe even as far as Kansas.
Any trip to the Springs would not be complete without a visit to the 14,115′ Pikes Peak. The road requires a toll that is either per person or per carload. One of the two 14ers you can summit by car, the other is Mount Evans Byway, which also charges an access fee.
Today's road was constructed in 1915 and has been a world-renowned attraction since. Once you reach the top, enjoy panoramic views and wander around the newly renovated Pikes Peak Summit Complex, which features a souvenir shop and a small cafe with freshly made donuts.
Year-round Scenic Fourteener Drive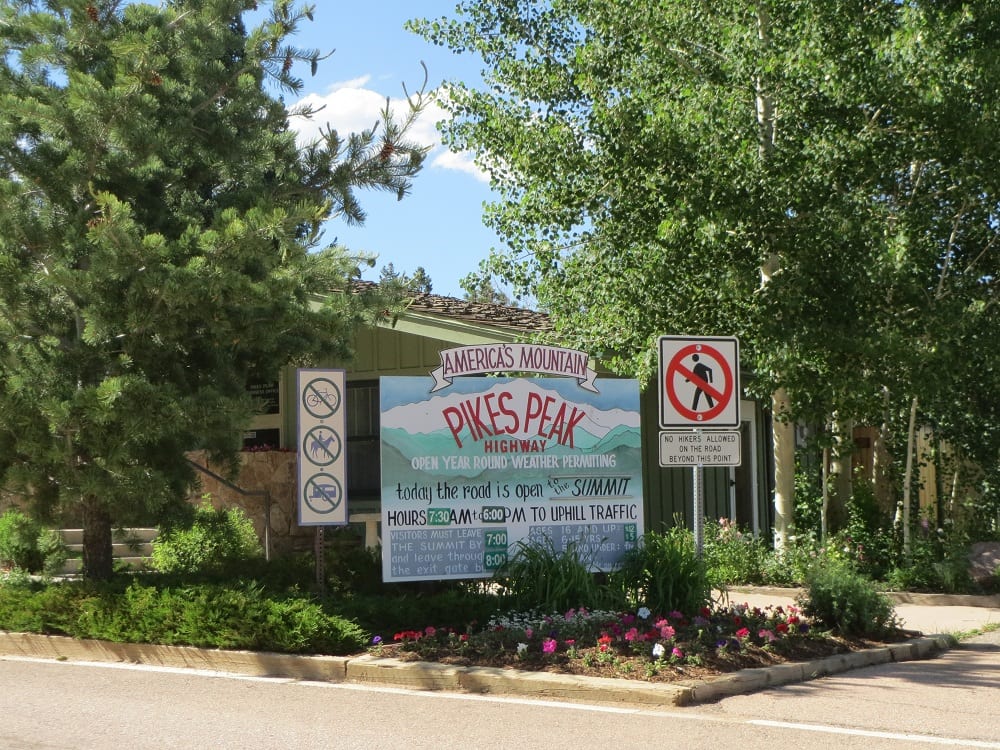 There are several ways to get to the top of the iconic peak. For the real adventurer, the fully paved road is open to bikers who want to tackle over 4,800 feet of elevation gain with over 150 turns. Hikers are not allowed on the highway, but there are two routes to summit Pikes Peak: Barr Trail and Crags Trail.
However, most visitors opt to drive 19 miles each way. It takes approximately 2-3 hours to get up and back, more if there's traffic and you linger at the top for a while. As you return to the bottom, it's important to go slowly, downshift, and don't ride your brakes too much.
There is a mandatory brake temperature check at Glen Cove, and if yours are overheating you'll be asked to sit in a holding area for up to an hour to ensure your safety. There is a small gift shop and cafe, as well as a gemstone mining station at the pullover.
History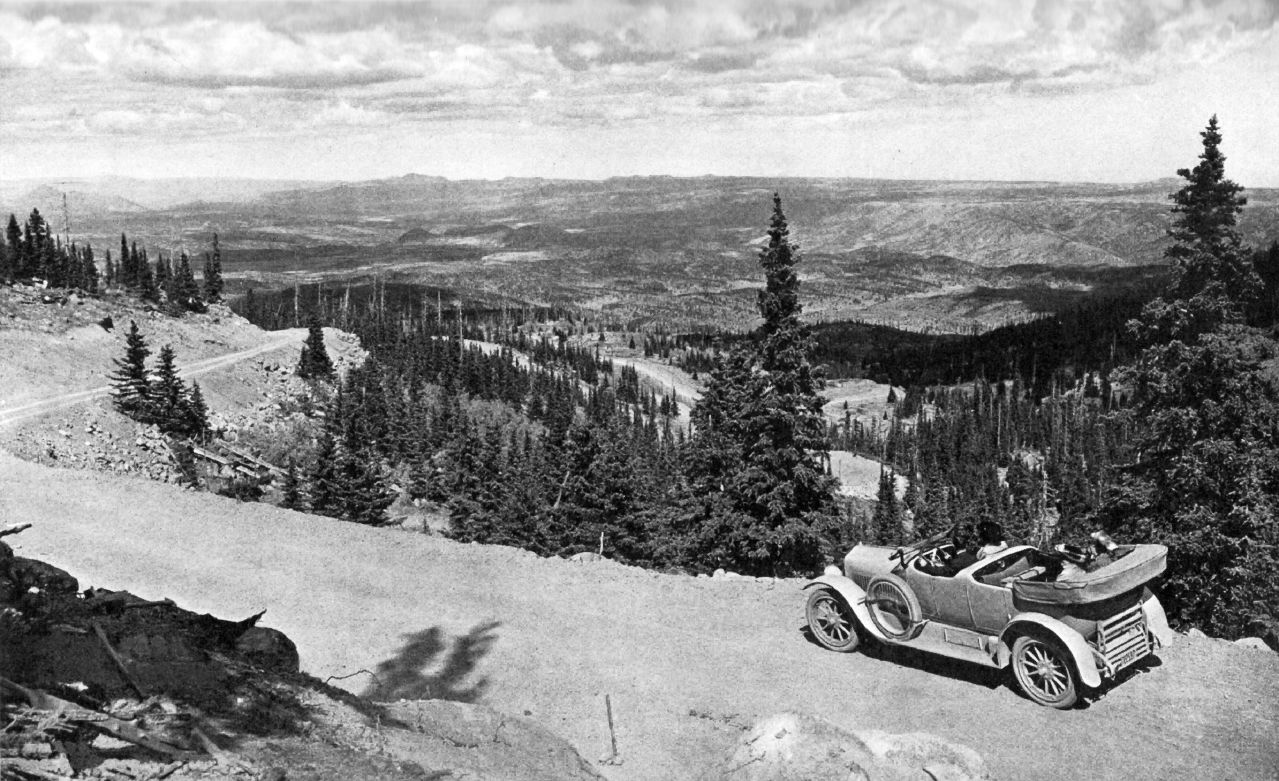 Aside from mule and donkey trails, the original route up the mountain was built in 1888 and was known as the Pike's Peak Carriage Road. It cost $1 to access the road with a personal vehicle, or $5 for a 9-hour ride on the carriage line. Only a few years later, the cog railway was constructed and drew many visitors away from the road.
Spencer Penrose spearheaded a project to revamp the Carriage Road and make it more accessible for motor vehicles. The road was finished in 1915 for half a million dollars. Just a year later the Pikes Peak International Hill Climb debuted with the craziest auto racers zig-zagging their way to the summit as fast as possible. It's known as the "race to the clouds".
Today, the highway is maintained by the city of Colorado Springs and sees over 500,000 visitors per year. It is an iconic part of the region and a must-do if you're in town.
Road Route
The drive from Colorado Springs to the highway entrance in Cascade is around twenty minutes. Once paid up and through the gate, you're on your way! You'll follow Cascade Creek for a few miles. Keep an eye out for the iconic Bigfoot Crossing sign right after the Crowe Gulch picnic area.
A few miles further into the drive is the North Slope Recreation Area. It features three lakes, trails, and a gift shop. If you don't plan to go all the way to the summit, you can tell the toll gate you're accessing this park for a reduced fee. This is also the starting line for the hill climb race.
You'll cross over the treeline and begin to wind your way through a series of multiple sharp switchbacks to the top. Along the way will be the Elk Park trailhead, and the Devil's Playground viewpoint. Both are great spots to stretch your legs and snap some photos before continuing on.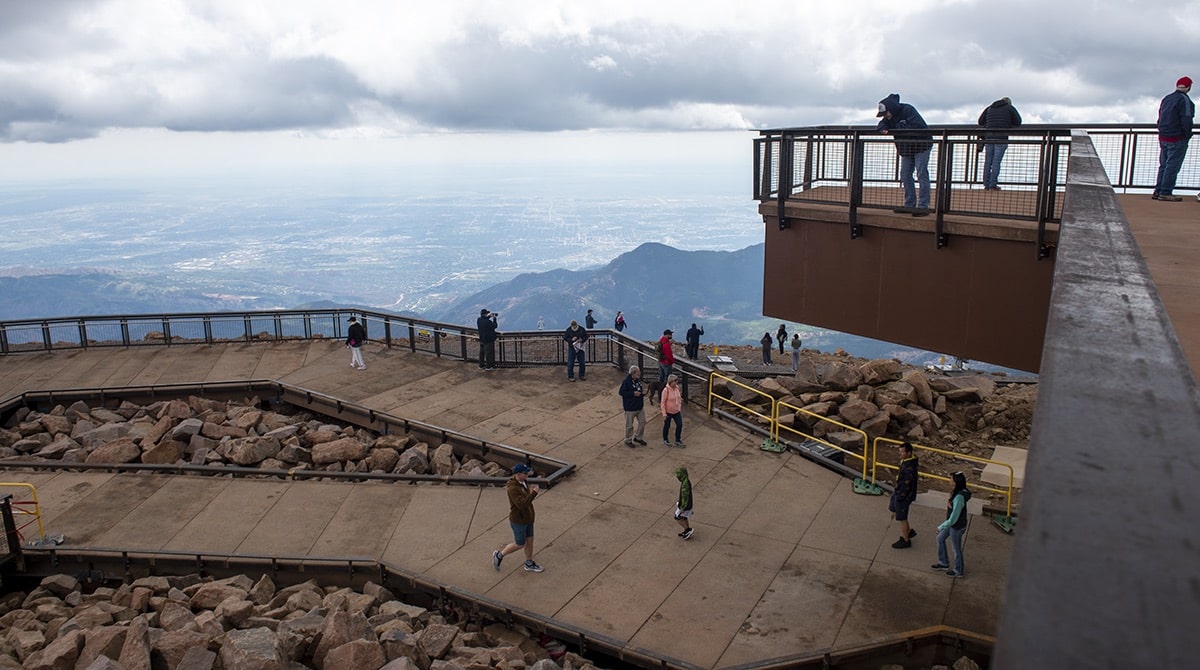 Once at the top, there are breathtaking 360° views of Pike National Forest and the Front Range. There is one main building which houses a gift shop, a cafeteria, and restrooms should you need them. If the top parking lot is full, you may be asked to park in a lower lot and hop on a free shuttle to reduce traffic jams.
If you want to experience Pikes Peak without the stress of driving, another way to the summit is by the Cog Railway. The train departs year-round from Manitou Springs and chugs up the historic railway, offering beautiful vistas the whole way.
Activities near Pikes Peak Highway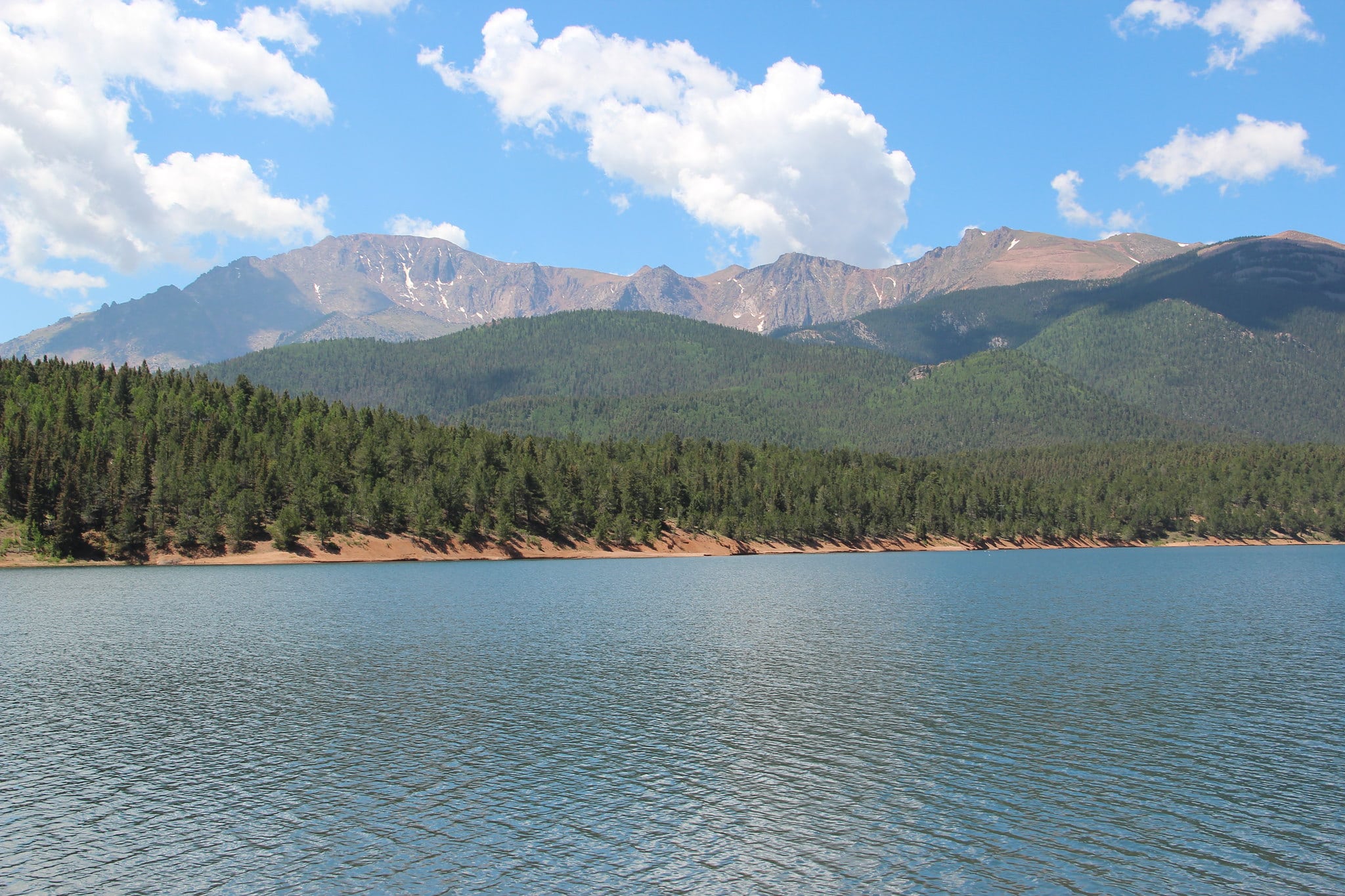 Camping – Lone Duck Campground, conveniently located just north of downtown Cascade along Highway 24, offers campsites for both RVs and tents. In addition, guests can rent one of seven cabins that can accommodate up to five people. A range of amenities is available for guests to enjoy, including a tasty pancake breakfast, a heated pool, and an arcade.
Read about the camping near Manitou Springs and Pikes Peak.
Fishing – The Catamount Reservoirs and Crystal Creek Reservoir are open for fishing within the North Slope Recreation Area. Because trailers are not allowed on the highway, all watercraft must be secured to your vehicle. Fishermen will find an abundance of rainbow, lake, and brook trout in the cold, high-elevation waters.
Hiking –
Crowe Gulch Area is located shortly after the highway entrance and totals just under 6 miles out and back. It is moderately challenging with 1,000 feet of elevation gain, but views of the mountains and a large wildflower meadow make the trek worth it.
The recreation area has several hiking trails throughout the park, with some that are shared with mountain bikers. The hiker-only Mackinaw trail is a relatively easy 2.5 mile route across the dam. You could also combine it with the Limber Pine, Mule Deer, and Ridge Trails to create a large loop around the area with views of Pikes Peak, the reservoirs, and lots of colorful wildflowers.
Elk Park trailhead is a little way up the highway and provides access to the Barr Trail. Many day hikers just venture through the beautiful forest for a few miles before turning around. Because of its high altitude, it can be challenging for people coming from sea level.
If you're looking to summit Pikes Peak, the highway isn't a viable option. Instead, choose between the Barr Trail or Crags Trail. Barr Trail is a 13-mile round-trip hike that starts in Manitou Springs and gains approximately 7,800 feet in elevation. It's a challenging but well-maintained trail that offers a camping spot halfway up at Barr Camp.
The Crags Trail, on the other hand, is a shorter 6-mile round-trip hike that starts at the Crags Campground and gains approximately 1,100 feet in elevation. It's a more moderate hike.
Nearby Accommodations
If you want to take your time visiting the summit without worrying about making it back home in one day, consider checking out the hotels in Cascade and Green Mountain Falls.
Details
Address: 5069 Pikes Peak Hwy, Cascade, CO 80809 (near Colorado Springs)
Phone: 719-684-9138
Season: Year-round, weather permitting
Length: 19 miles (one-way)
Roads: 2WD, Toll
Website: pikespeakcolorado.com
Latest in Pikes Peak Highway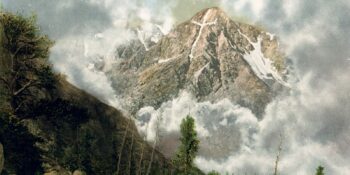 Without a doubt, Colorado boasts some of the best mountain recreation and scenery in the world.…