Pikes Peak Highway is a high-alpine scenic toll road located just west of Colorado Springs. Despite going up over 14,000 feet, Pikes Peak Highway stays up year round. On a clear day you can see Denver, Colorado Springs, and even as far as Kansas.
There are several ways to get to the top. For the real adventurer, there is hiking or biking to the top. Most others will either drive, get driven, or take the Pikes Peak Cog Railway. The drive is 19 miles each way. It takes approximately 1.5 – 2 hours to get up and back. There are a few overlooks on route.
Scenic drive in Cascade
Located only a few miles into the drive up Pikes Peak Highway is the North Slope Recreation Area. It features a lake, trails and a gift shop. You can tell the toll gate your accessing this park to fish for a reduced fee.
Once to the top, there are breathtaking 360° views of the surrounding mountains and Front Range. There is one main building which houses a gift shop and a cafeteria.
On the way down there is a brake check station. If your bakes are hotter than 300°F, you will probably be asked to pull over and let them cool. There is a small gift shop and cafe, as well as a small gemstone mining station at the pull-over.
History
Spencer Penrose constructed the highway for a half million dollars in 1915. There was also an earlier route up the mountain built in 1888, the Pike's Peak Carriage Road. That one closed in 1902.
Details
Address: 5069 Pikes Peak Hwy, Cascade
Phone: 719-684-9138
Season: Year Round, weather permitting
Length: 19 miles (one-way)
Roads: 2WD, Toll
Website: pikespeakcolorado.com
Featured Pikes Peak Highway blog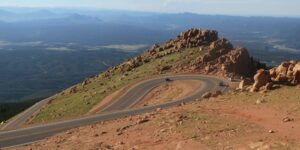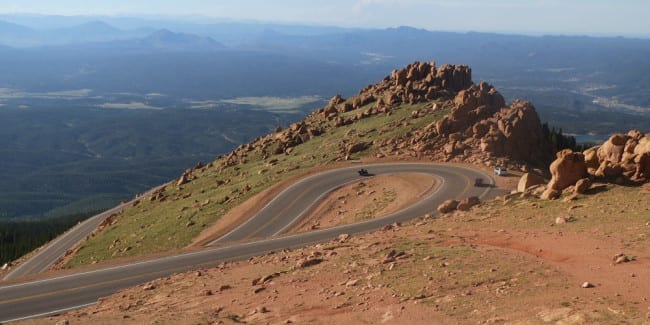 Up, Up, Up Pikes Peak Highway – Any trip to Colorado Springs would not be complete without a visit to Pikes Peak. The road was constructed in 1915 and has been a world-renowned attraction since. An earlier road, the Pike's Peak Carriage Road…