Pikes Peak Highway is a high-alpine scenic toll road located just west of Colorado Springs. Despite going up over 14,000 feet, Pikes Peak Highway stays up year round. On a clear day you can see Denver, Colorado Springs, and even as far as Kansas.
Any trip to Colorado Springs would not be complete without a visit to 14,115′ Pikes Peak. The road was constructed in 1915 and has been a world-renowned attraction since. An earlier road, the Pike's Peak Carriage Road, was also popular with tourists, dating back to 1888.
It's a toll road and they charge per person. Mount Evans Byway, the other 14,000-foot road, charges a fee good for the whole car to park. At the top is the Pikes Peak Summit Complex, which features a souvenir shop and a small cafe with fresh made donuts.
Year Round Scenic Fourteener Drive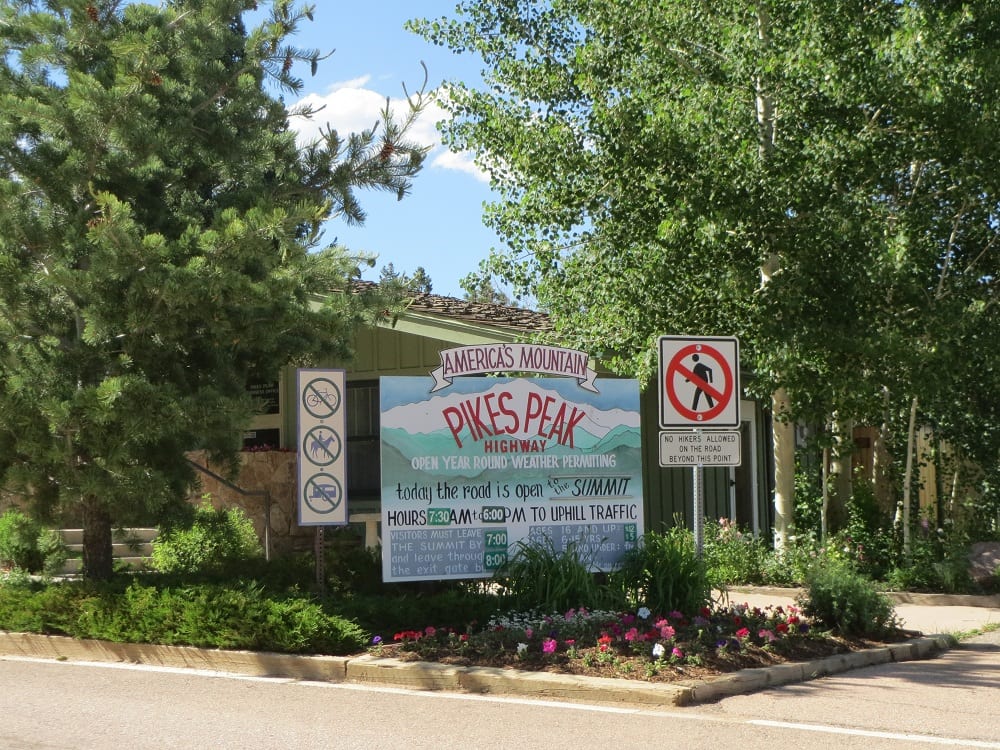 There are several ways to get to the top. For the real adventurer, there is hiking or biking to the top. Most others will either drive or get driven. The highway drive is 19 miles each way. It takes approximately 1.5 – 2 hours to get up and back, more if there's traffic. It's important to go slowly, downshift, and don't ride your breaks too much going downhill.
There are a several exciting overlooks on route. There are also plenty of places to pull over and enjoy a picnic, some fishing or a short hike. Crystal Creek Reservoir is one of the lakes passes on the trip up.
History
Spencer Penrose constructed the highway for a half million dollars in 1915. There was also an earlier route up the mountain built in 1888, the Pike's Peak Carriage Road. That one closed in 1902. Annually since 1916, the best, craziest racers from around the world compete in the Pikes Peak International Hill Climb. It's known as the "race to the clouds".
Road Route
The drive from Colorado Springs to the start is around twenty minutes. Once paid up and through the gate, you're on your way! Located only a few miles into the drive up Pikes Peak Highway is the North Slope Recreation Area. It features three lakes, trails and a gift shop. You can tell the toll gate your accessing this park to fish for a reduced fee.
Once to the top, there are breathtaking 360° views of the surrounding mountains, Pike National Forest, and Front Range. There is one main building which houses a gift shop and a cafeteria.
On the way down there is a brake check station. If your bakes are hotter than 300°F, you will probably be asked to pull over and let them cool. There is a small gift shop and cafe, as well as a small gemstone mining station at the pull-over.
Another way to reach the top is by Cog Railway. The train departs year round from Manitou Springs.
Details
Address: 5069 Pikes Peak Hwy, Cascade, CO (near Colorado Springs)
Phone: 719-684-9138
Season: Year Round, weather permitting
Length: 19 miles (one-way)
Roads: 2WD, Toll
Website: pikespeakcolorado.com
Latest in Pikes Peak Highway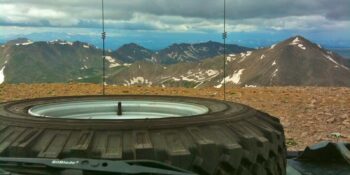 Colorado plays host to a myriad of breathtaking mountain roads that will inspire awe and wonder…