Pikes Cog Peak Railway departs year round from Manitou Springs. It winds through canyons before beginning the climb to above 14,000 feet. Visitors will spend 30 minutes at the top of Pikes Peak before returning to Manitou Springs. Wildlife is commonly seen.
The top of Pikes Peak has a gift shop and small cafeteria. The smell of the "World Famous" donuts is hard to resist. Other items include coffee, chicken fingers, french fries and more.
Departs: Manitou Springs
Trip: 8.9 miles, 3 hours and 10 minutes
Coupons:
Another way to reach the top is by automobile on the Pikes Peak Highway.
Details
Address: 515 Ruxton Ave, Manitou Springs
Phone: 719-685-5401
Season: Year round
Website: cograilway.com
Featured Pikes Peak Cog Railway blog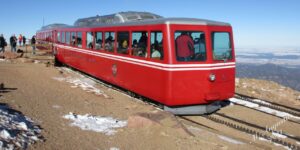 Riding High along the Pikes Peak Cog Railway – All good things must eventually come to an end. With snowpack at most of the Colorado mountains dwindling on non-existent; the ski season is nearly over at almost all of the resorts. In this unfortunate winter…