The art culture in Colorado Springs is burgeoning as the city grows. And for those who love outdoor sculptures, this has been a blessing. Walking down almost any street downtown will bring you face-to-face with some of these stunning statues.
While there are far too many sculptures to cover them all, we put together a list of our favorites from around the city. They include statues of historical figures as well as modern art and functional sculptures as well. There's a huge variety of art dotting the streets of downtown Colorado Springs that will make newcomers and natives alike appreciate a walk through the city.
For those of you who'll be visiting the Queen City of the Plains to the north, consider a similar walking tour of Denver's top sculptures and statues. They are also located (mostly) downtown and spectacular!
Here are the top statues near downtown Colorado Springs, in no particular order:
Recycled Rainbow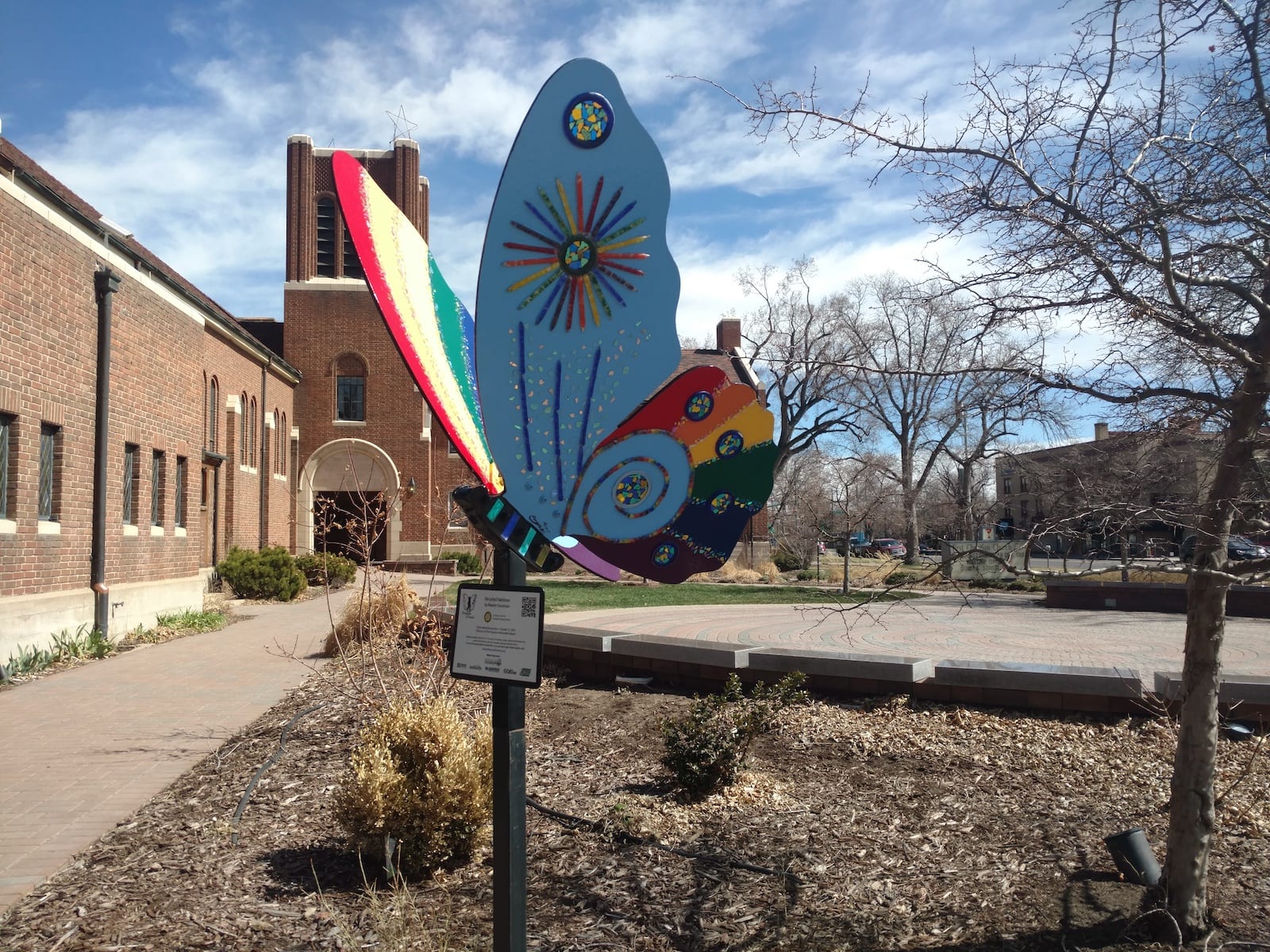 When you come to Colorado Springs, you're bound to see the sculptural butterflies that dot the roads and plazas at one point or another. Of these, one of our current favorites is called "Recycled Rainbow" by artist Maxine Grossman, decorated with recycled materials and mosaics to form a cheery that sits just outside of the church near the intersection of Cascade and Platte.
The butterflies are part of a program called Flight which is held by the Rotary Club of Colorado Springs. Each year, the butterflies are painted by local artists and then displayed on the streets for a one-year period in order to help raise money and awareness for children's art programs.
After this, they are auctioned off in a huge celebration and the proceeds are put towards making children's art programs thrive. Be sure to check out these gorgeous butterflies on your next adventure around town.
Fuji Arch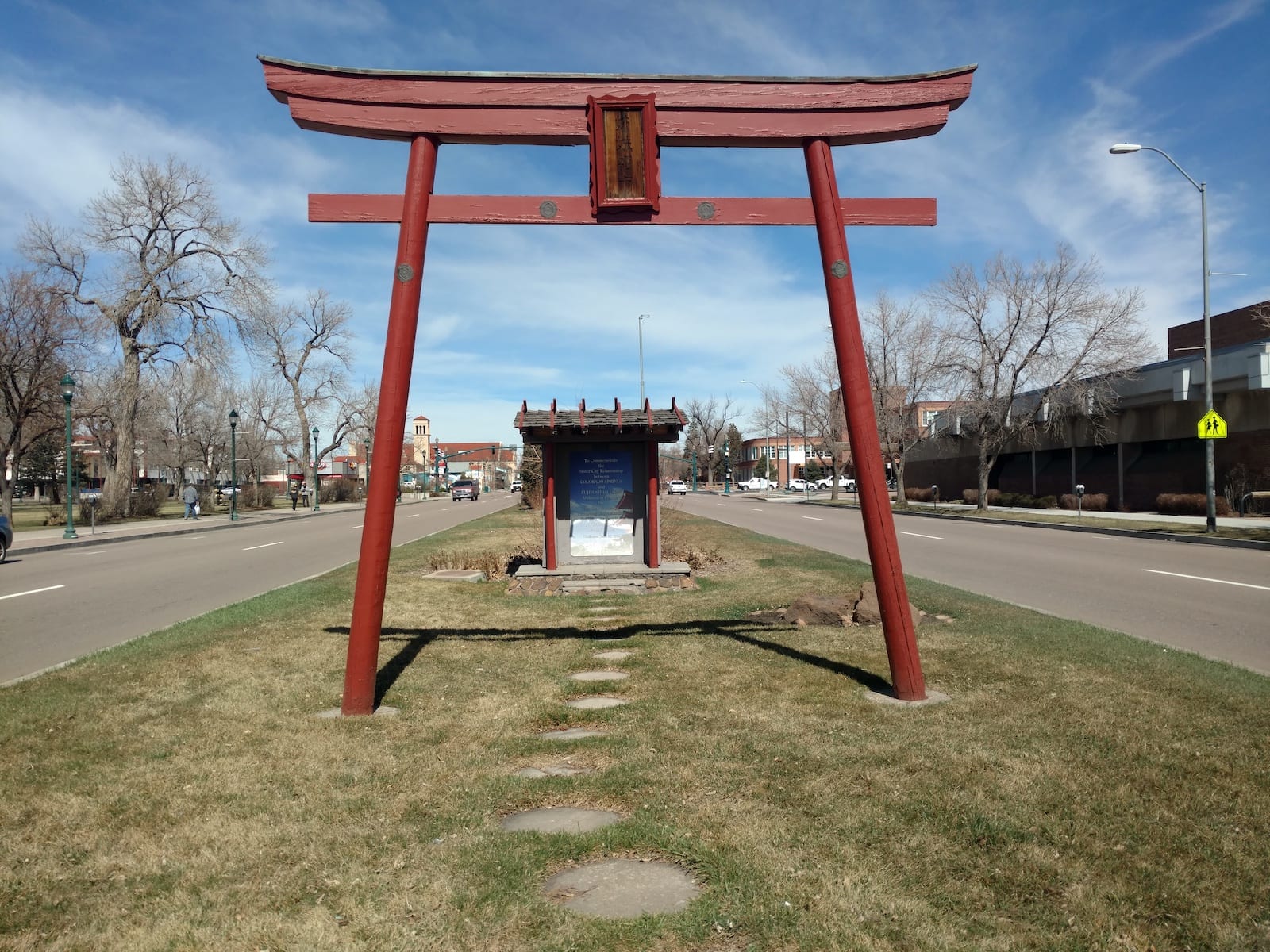 Many natives may be surprised to learn of the origins of the "Fuji Arch", which sits in the median of Nevada Avenue's intersection with Kiowa.
This sculpture, along with the shrine and bridge, was presented to the city of Colorado Springs by the Rotary Club of Colorado Springs in 1966. They donated it to commemorate its relationship with its sister city in Japan: Fujiyoshida.
Four years earlier, the Springs and Fujiyoshida entered into this relationship as a way to promote learning and a deeper understanding between the two communities, no matter the distance between them.
Fujiyoshida is one of six sister cities to Colorado Springs and was the very first one ever established. It's a pleasure passing by this arch and knowing that it represents our connectedness to our Japanese friends halfway across the world.
Sunrise Serenade, Space Needle, Metronome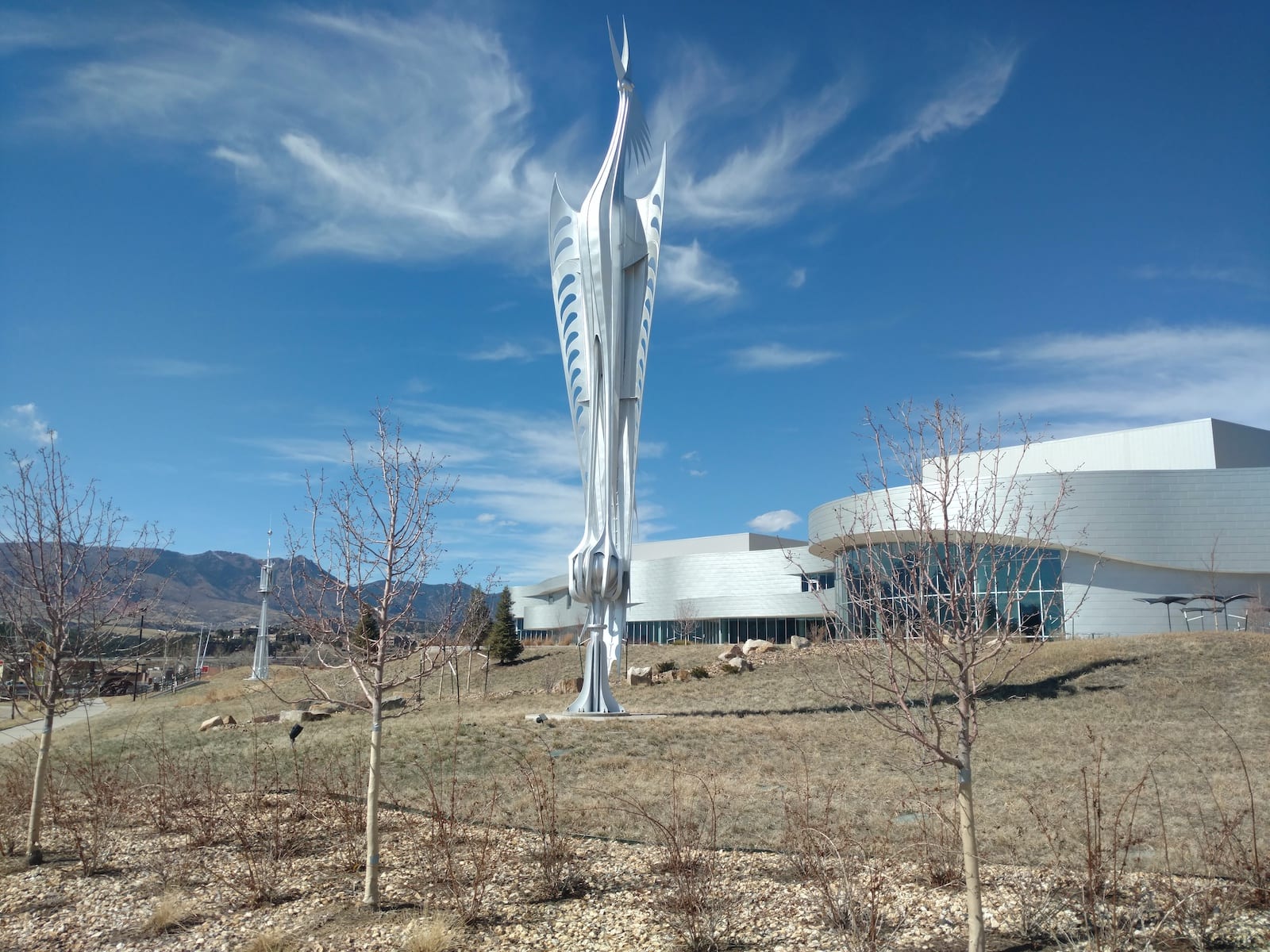 The Ent Center for the Arts is a gorgeous building in its own right. The stark reflective walls shine blue on those beautiful, clear days that Colorado Springs gets so often. But what makes the Center for the Arts even more spectacular is the trio of futuristic kinetic wind sculptures that decorate its grounds. Named "Sunrise Serenade", "Space Needle", and "Metronome", this trio of statues moves with the wind and each is a unique and beautiful shape.
Created by artist Starr Kempf in the 1970s, these sculptures are on display at the Ent Center for the Arts through 2020. Some people will even drive by the Starr Kempf home to see more of his sculptures. Be aware, however, that the kinetic sculptures located there are on private property, so be sure not to linger too long or try to enter the property.
Note – Metronome is pictured at the top and Space Needle is pictured at the bottom.
38.104 Helios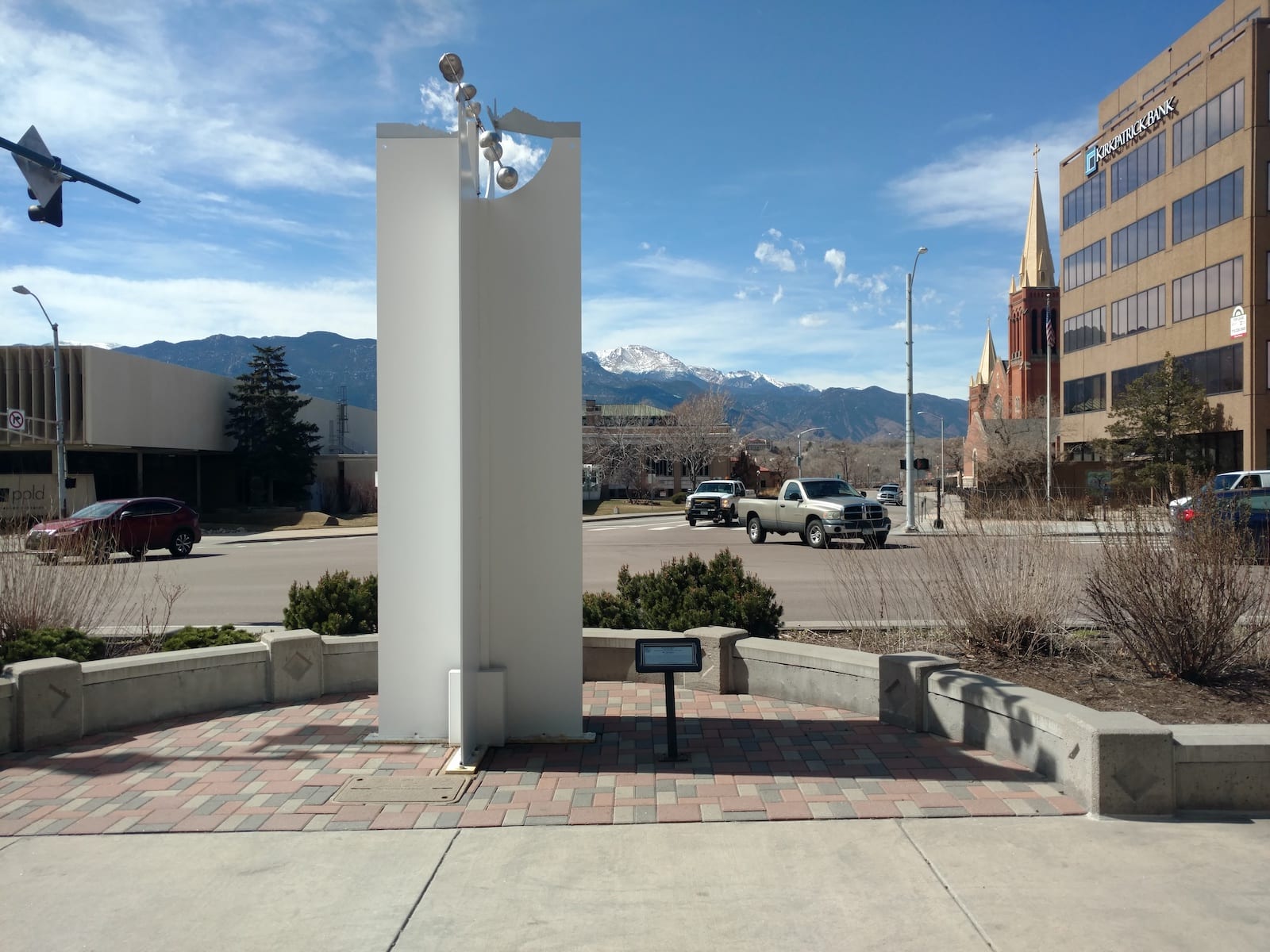 Created for the 10th anniversary of Colorado Springs' Art on the Streets, "38.104 Helios" is a massive outdoor statue, which was created to honor the sunshine that pours down on this city over half of the days of the year.
The title is a reference to the location of the work (38 degrees latitude, 104 degrees longitude) and this sculpture is an electronic tribute to the sunshine, wind, and time that it measures. With working components that change with the season, "Helios" is truly a marvel to behold.
Creator Patrick Mentz donated this huge sculpture in 2008, and it sits at the northeast corner of Kiowa and Cascade in Downtown Colorado Springs for all to enjoy on our days of endless sunshine.
Rites of Spring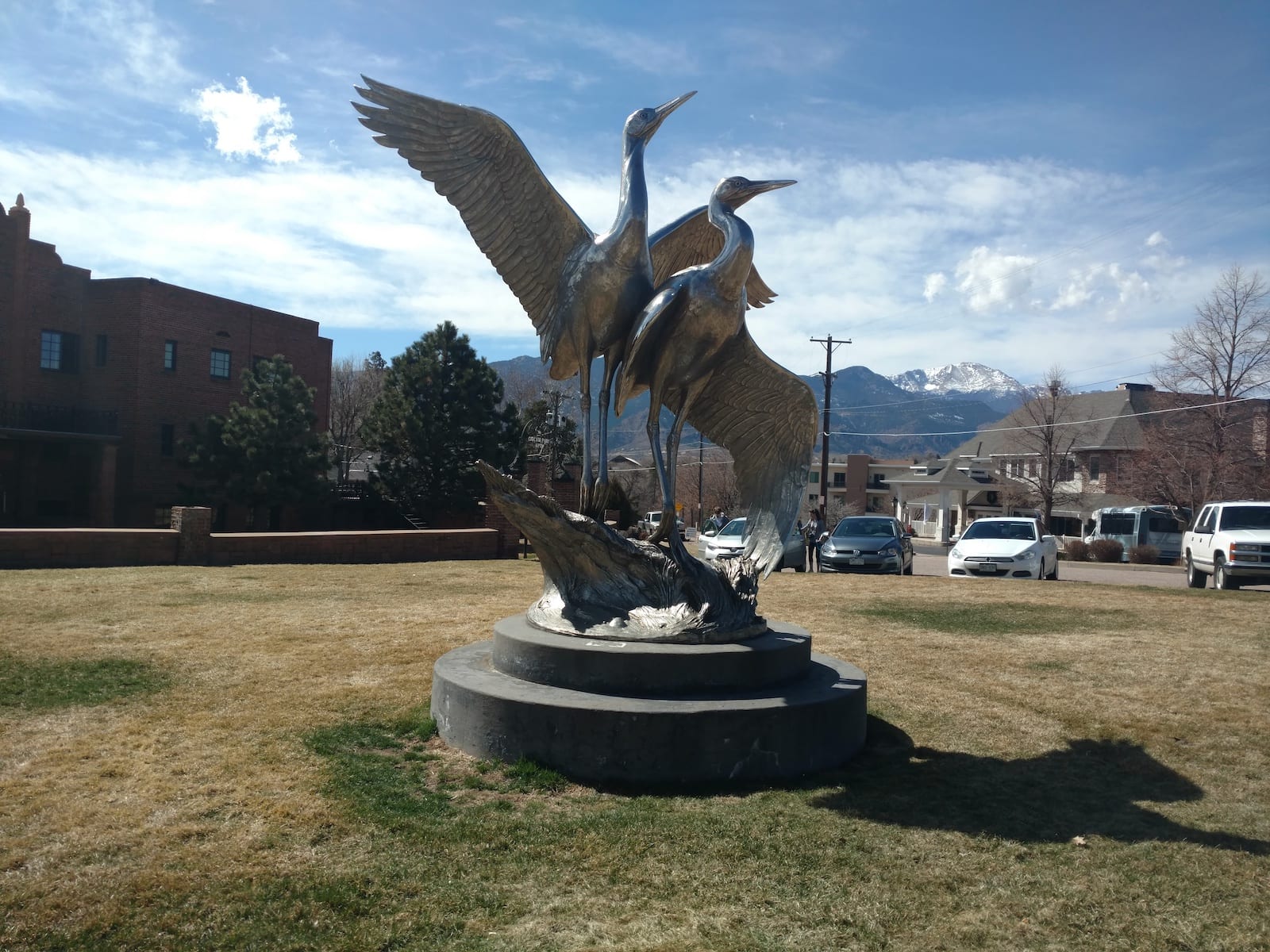 A set of stainless steel whooping cranes, poised to take flight adorns the lawn just north of the Cascade Park Apartments at the intersection of Cascade and Monument Streets. This incredible sculpture, called "Rites of Spring", is the work of Swedish artist Kent Ullberg. His inspiration comes from the cranes he often sees during the wintertime in his home on Padre Island in Texas.
In addition to being a wildlife sculptor, Ullberg is also an avid conservationist. He seeks to capture the beauty and grace of the natural world. On a sunny day, the stainless steel cranes come alive. They look as if they're almost about to take off from their perch, wings outstretched, so we would say he did his job well.
Molded Earth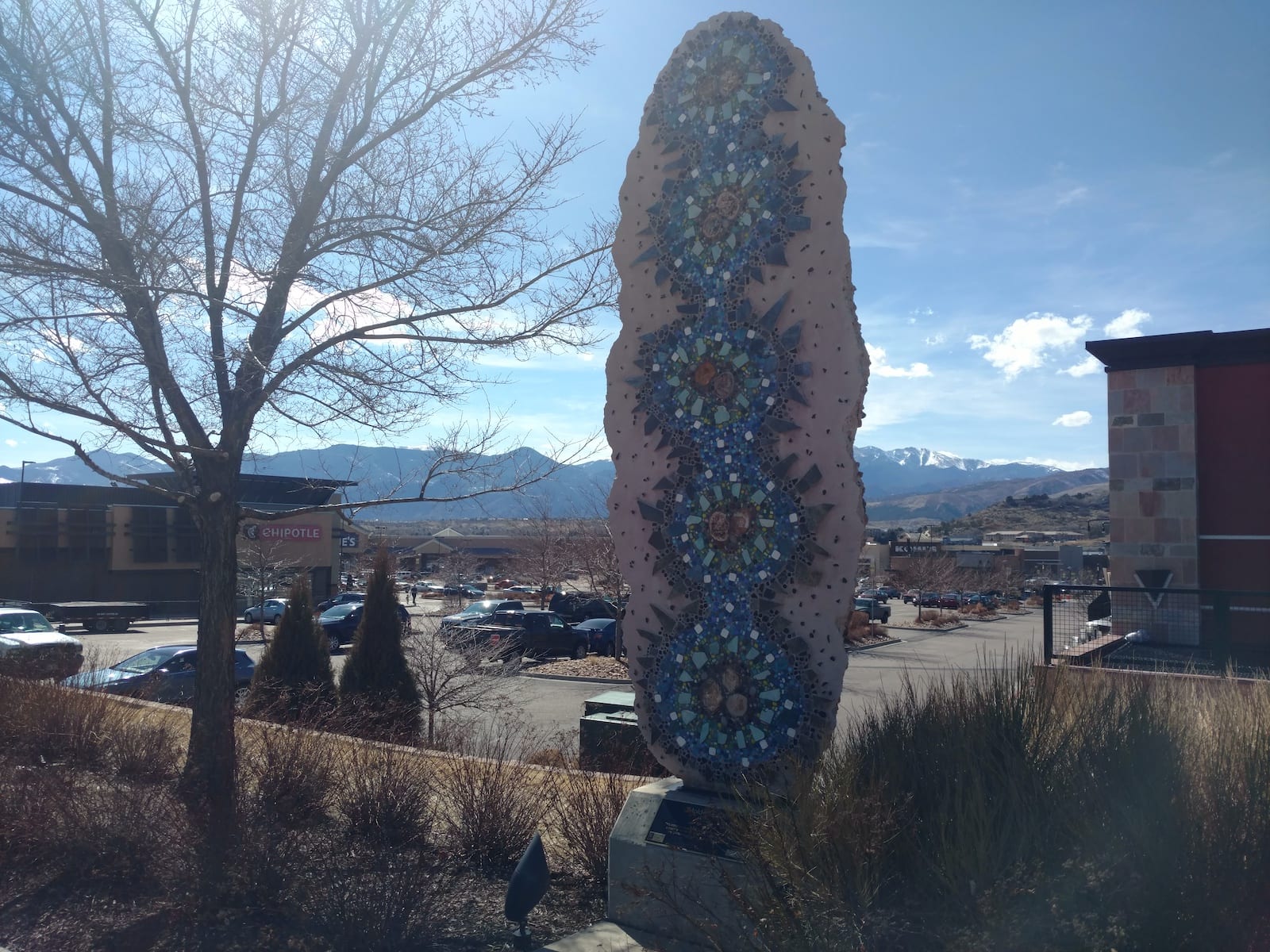 Any prospective student who is visiting the University of Colorado campus in Colorado Springs will no doubt be interested in academics, but the UCCS isn't only geared towards knowledge. It has an aesthetic beauty as well. Among the many sculptures dotting the University Village, a shopping center close to UCCS, is a striking one, simply titled "Molded Earth" to describe its making.
This mosaic piece stands out against the gorgeous mountain range in the background, imitating its colors perfectly. The blues and the tan, reddish colors that make up the sky and earth are a sight to behold.
Created by artist Lisa Cross in 2011, "Molded Earth" was built entirely on the Hacienda campus. It's indeed made from natural materials. Visit this piece, as well as others that line the northern end of Nevada Avenue at the University Village Shopping Center.
The Great Pumpkin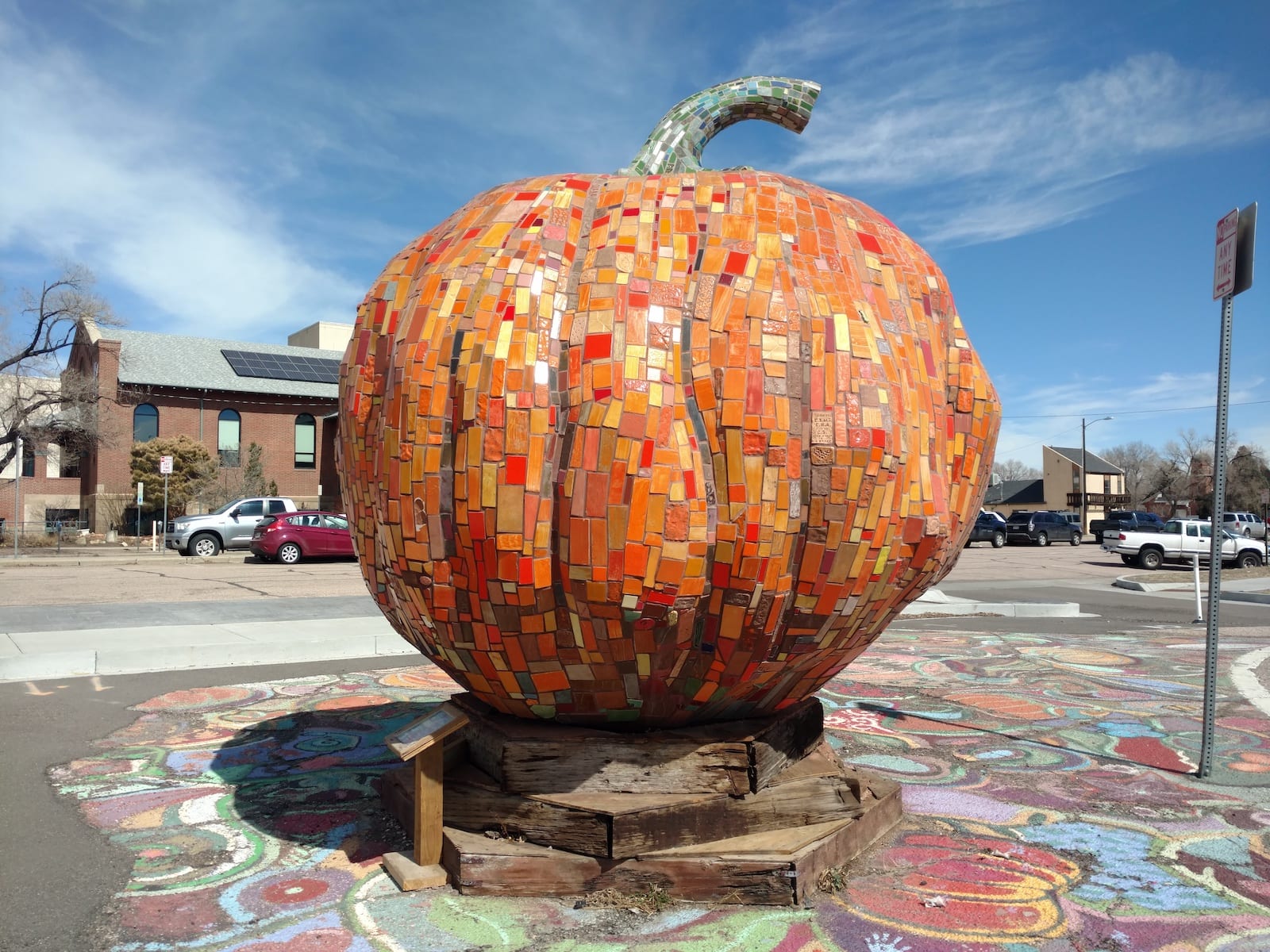 Take a drive or a walk down Nevada Avenue one of these days and you're bound to come across "The Great Pumpkin", a 1500lb statue that was created by a local artists group, Creative Couch. Originally made to help raise funds for the Venetucci Farm after a devastating hailstorm, the pumpkin still sits at the intersection of Pueblo Avenue as a reminder of its power.
One of the most interesting things about this huge pumpkin statue is that it's made out of 90% recycled materials, which makes a statement about the impact that huge artworks can have on the environment. Thousands of tiny mosaic tiles make up this piece, forming the visage of a huge pumpkin that will make any passerby smile.
General William Jackson Palmer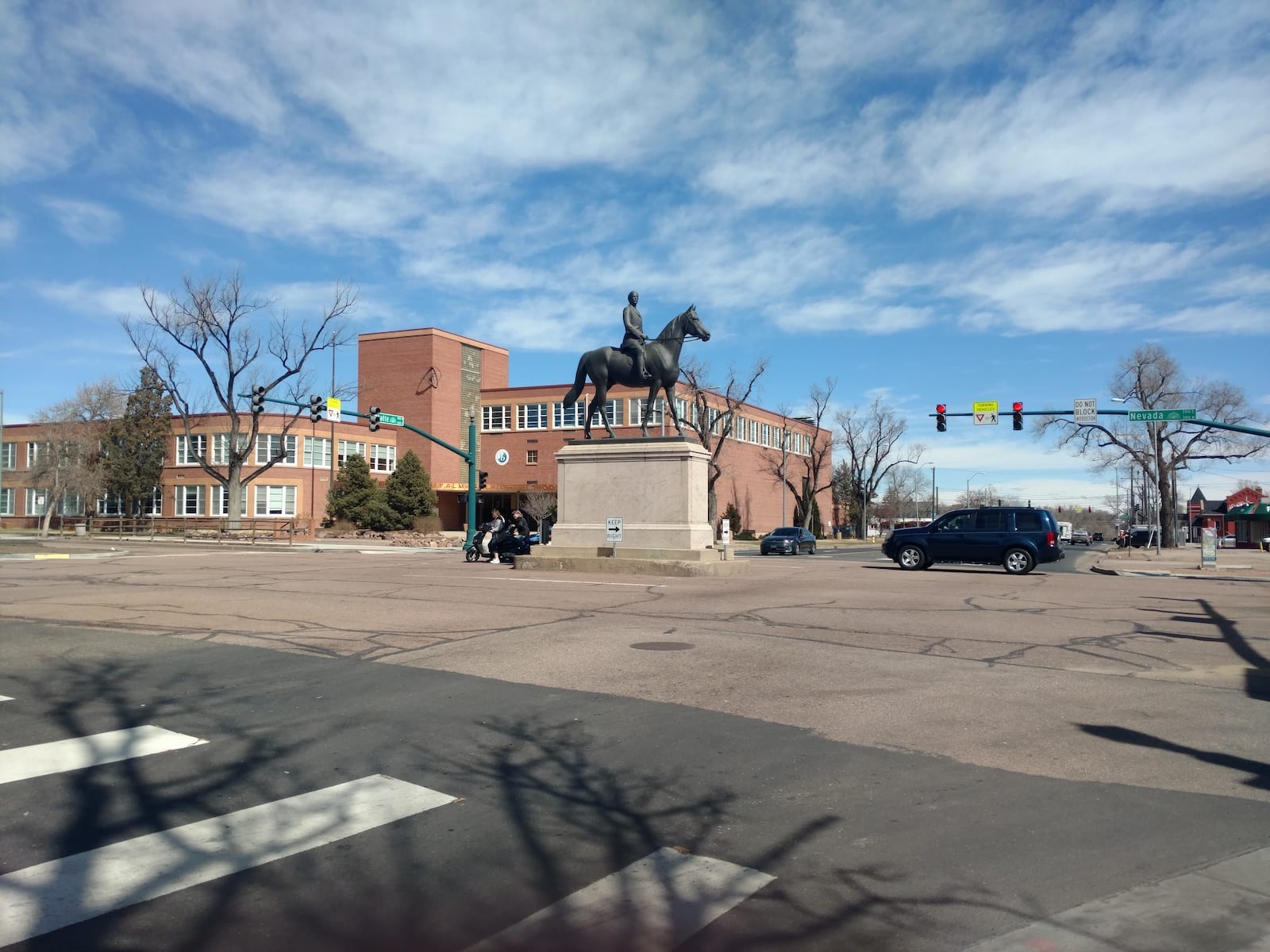 If you have ever driven west down Platte Avenue into downtown Colorado Springs, there's no way you've missed the enormous statue of General William Jackson Palmer. It sits in the middle of the road's intersection with Nevada Avenue.
Some call it a traffic hazard (which can make turning left on this street a bit trickier) but the city founder believed this intersection to be the point at which all of the people of the city came together. So it's fitting that this statue of General Palmer rises above the traffic, watchful of his city atop his horse, Diablo.
Established to memorialize General Palmer's death, the statue was installed twenty years later in 1929. Although it's not the easiest sculpture to stand beneath and admire, it's hard to ignore this historical statue sitting in the middle of the street.
General Palmer was a towering figure in the city of Colorado Springs and it seems like a fitting memorial for him to watch over it forever, the citizens unable to avoid his gaze.
Continuum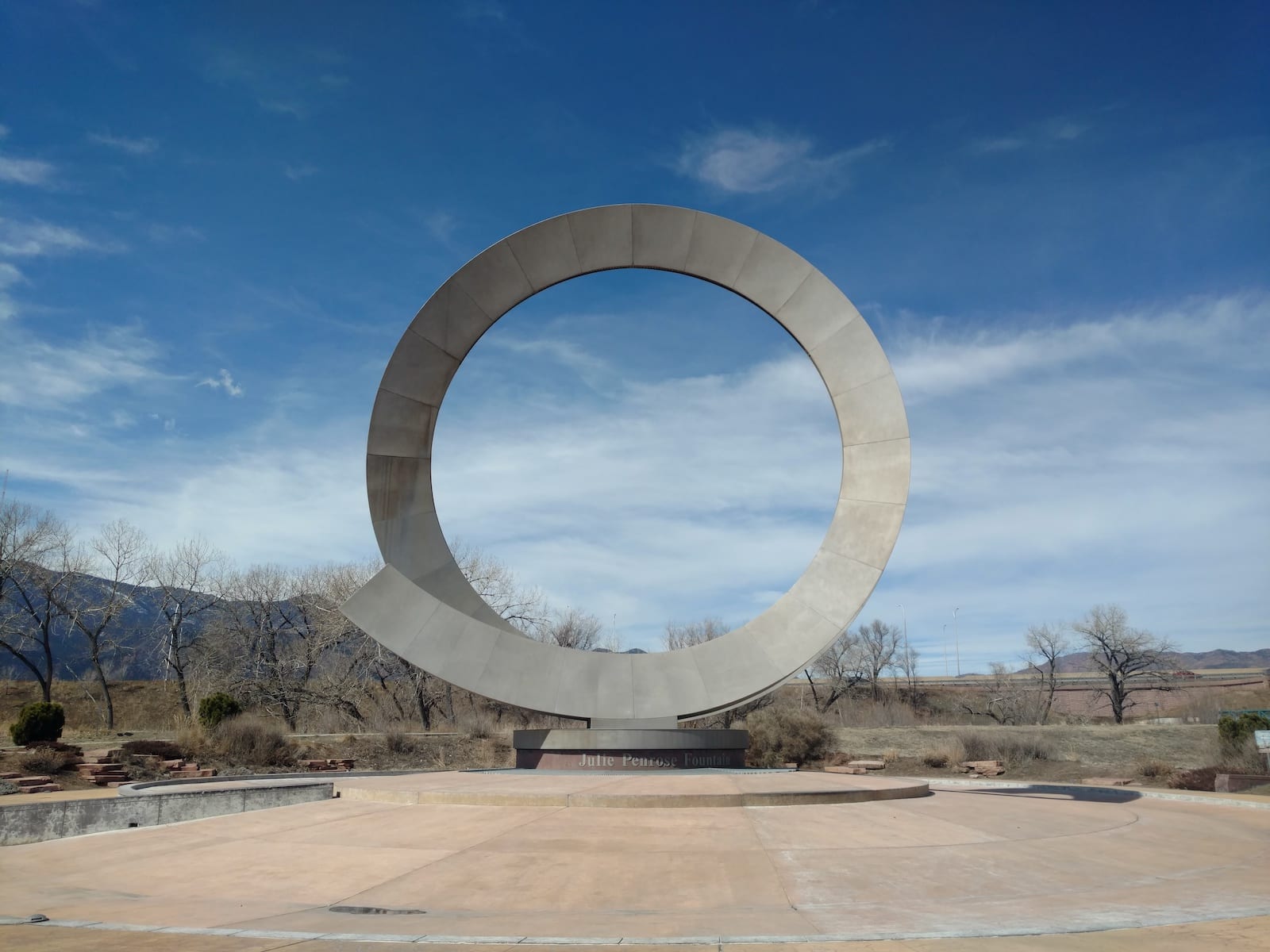 Looking for a fun way to cool off on hot summer days? Visit "Continuum", which holds the honor of being one of the largest sculptural fountains in the United States. This massive, four-story sculpture is also called "The Julie Penrose Fountain" because it was partially funded by the Friends of Julie Penrose Foundation.
The fountain features 366 water jets that make up the signature cascade, framing Pikes Peak in its slowly-turning circle.
Created by two Colorado Springs natives, artist Bill Burgess and architect David Barber in 2007, "Continuum" is a bright spot in America the Beautiful Park and the largest outdoor sculpture you can visit in the Springs. Visit this marvel and enjoy a gorgeous sunny day cooling off underneath the jets of "Continuum".
Dominico T. Venetucci: The Pumpkin Man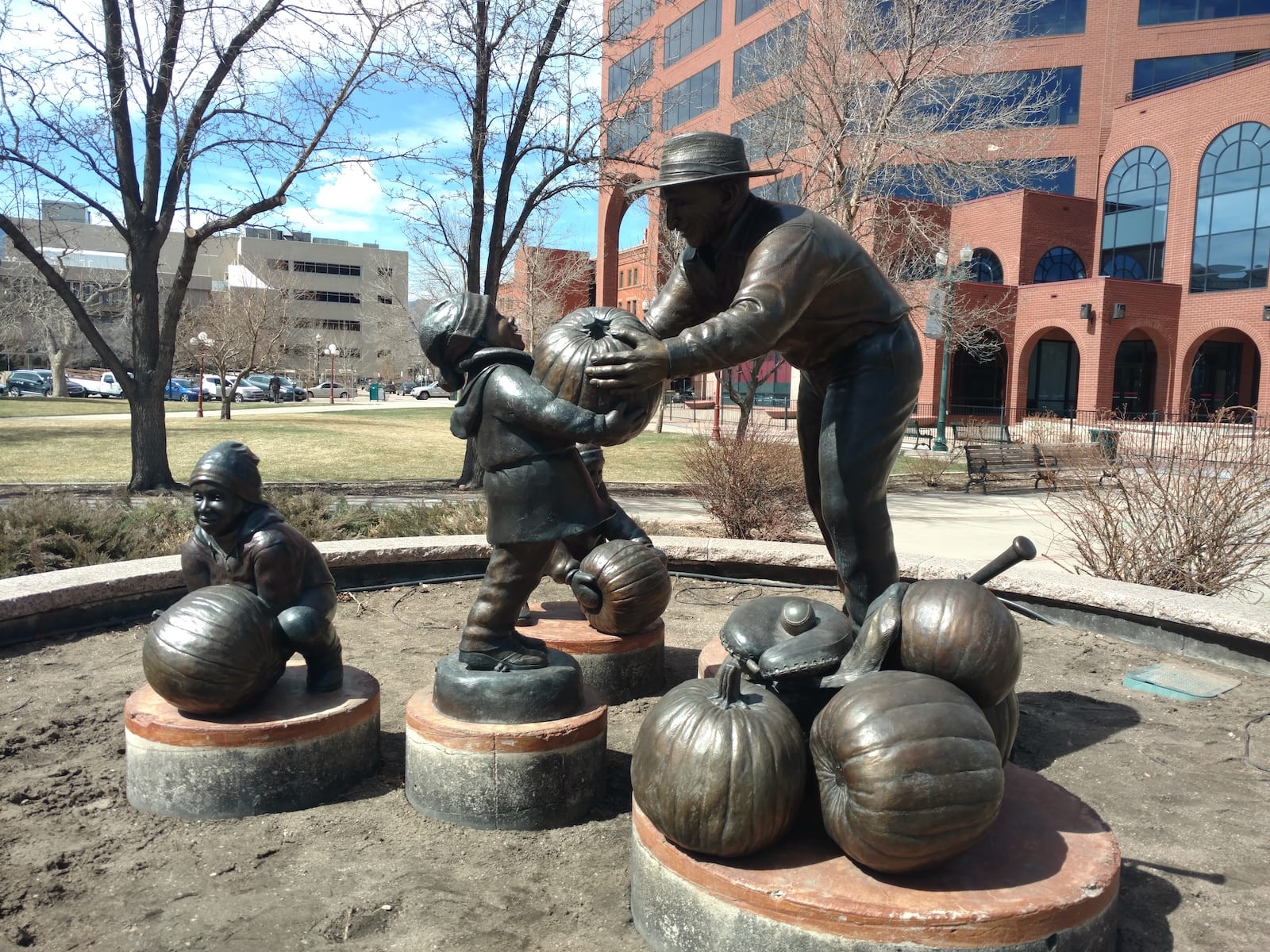 An iconic figure in Colorado Springs recent history, "The Pumpkin Man" is a statue that commemorates Dominico "Nick" Venetucci. He's a farmer who passed away in 2004, forever in bronze. This generous man gave up a budding baseball career with the New York Yankees to work on his family farm in Security, just south of Colorado Springs.
He began giving away pumpkins to children in the 1950s and continued almost every year until his death.
In 1985, Nick Venetucci gained nationwide acclaim for his pumpkin kindness when he was featured in an issue of The Reader's Digest. It is said that he gave away over 1 million pumpkins over his lifetime. The statue was from Pueblo artist Fred Darpino and captures his smiles in bronze.
Nick Venetucci is a historical figure for his kindness of spirit and "The Pumpkin Man" sculpture memorializes his legacy of making children smile. Located outside of the Colorado Springs Pioneer Museum downtown, this statue is both beautiful and meaningful. Give "The Pumpkin Man" a visit on your next stroll through town.
Satisfy Your Senses in The Springs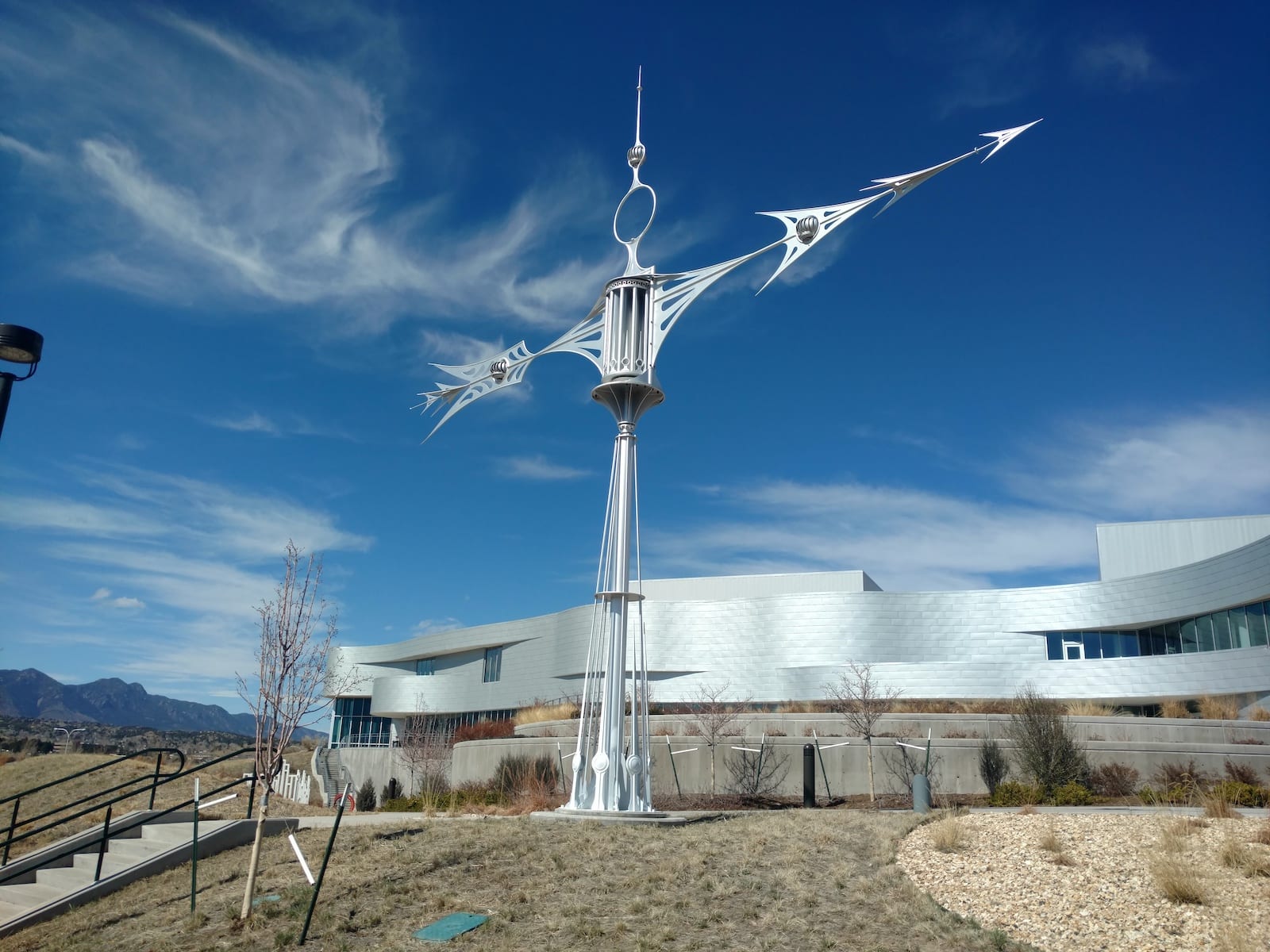 The city of Colorado Springs has dedicated a ton of time, energy, and money to give the artists in the city a way to express themselves. Walking downtown, it's impossible to ignore the sculptures and murals that you pass by, all different and interesting in their own way.
Pay homage to the artists of the Pikes Peak region by visiting more attractions. Take advantage of the Colorado Springs Art Walk, which runs from April to December. It tours the city's incredible art galleries. When you're done gazing at art for the day, take your pick of some of the amazing craft breweries in the Springs and imbibe it with a good drink in great company.