America the Beautiful Park is easy to spot: "Continuum", an awe-inspiring 4-story sculptural fountain, is hard to miss from the highway, marking the park. Its metal body glistening in the afternoon sun in Colorado Springs off Interstate 25.
The park itself was first proposed in 1992 as an extension of the Pikes Peak Greenway Trail. It would provide a community space where people could convene in the beauty of the city. It was completed in 2005, after many years of planning and construction, with the sculptural fountain being dedicated soon after.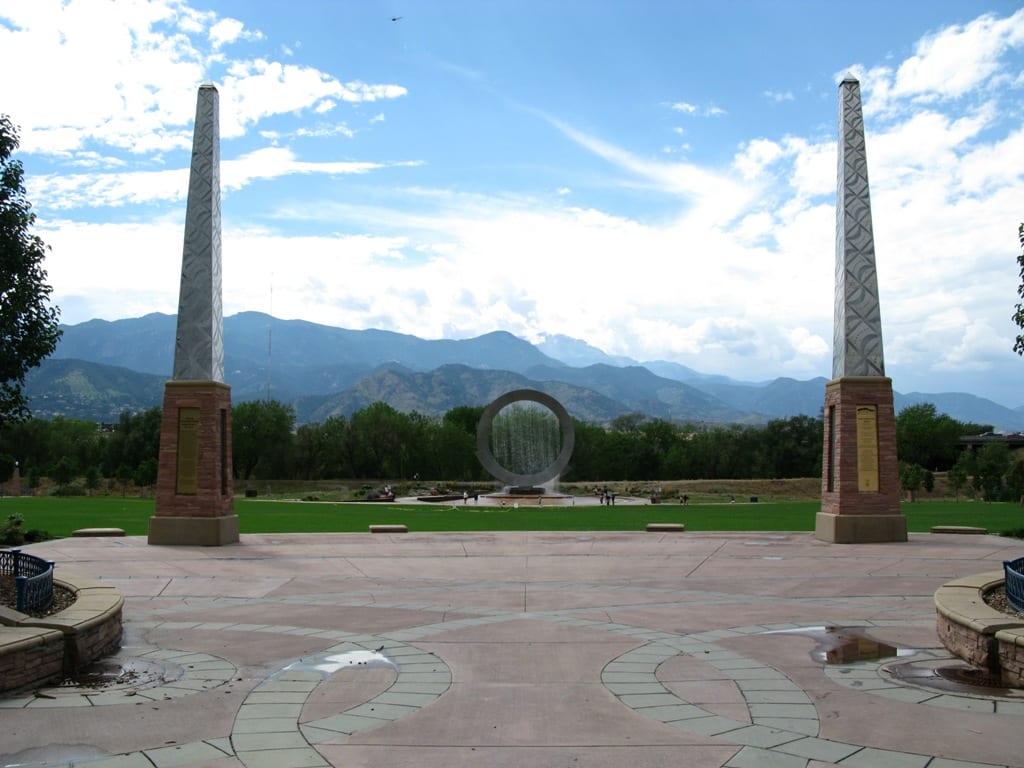 This 16.9-acre park is a popular place on hot days, when families gather to cool off in the spray from the huge fountain. With views of Pikes Peak that are hard to beat almost anywhere else in the city, locals and visitors gather in the park on gorgeous days to bask in the rays and enjoy the amenities that this small park offers.
Activities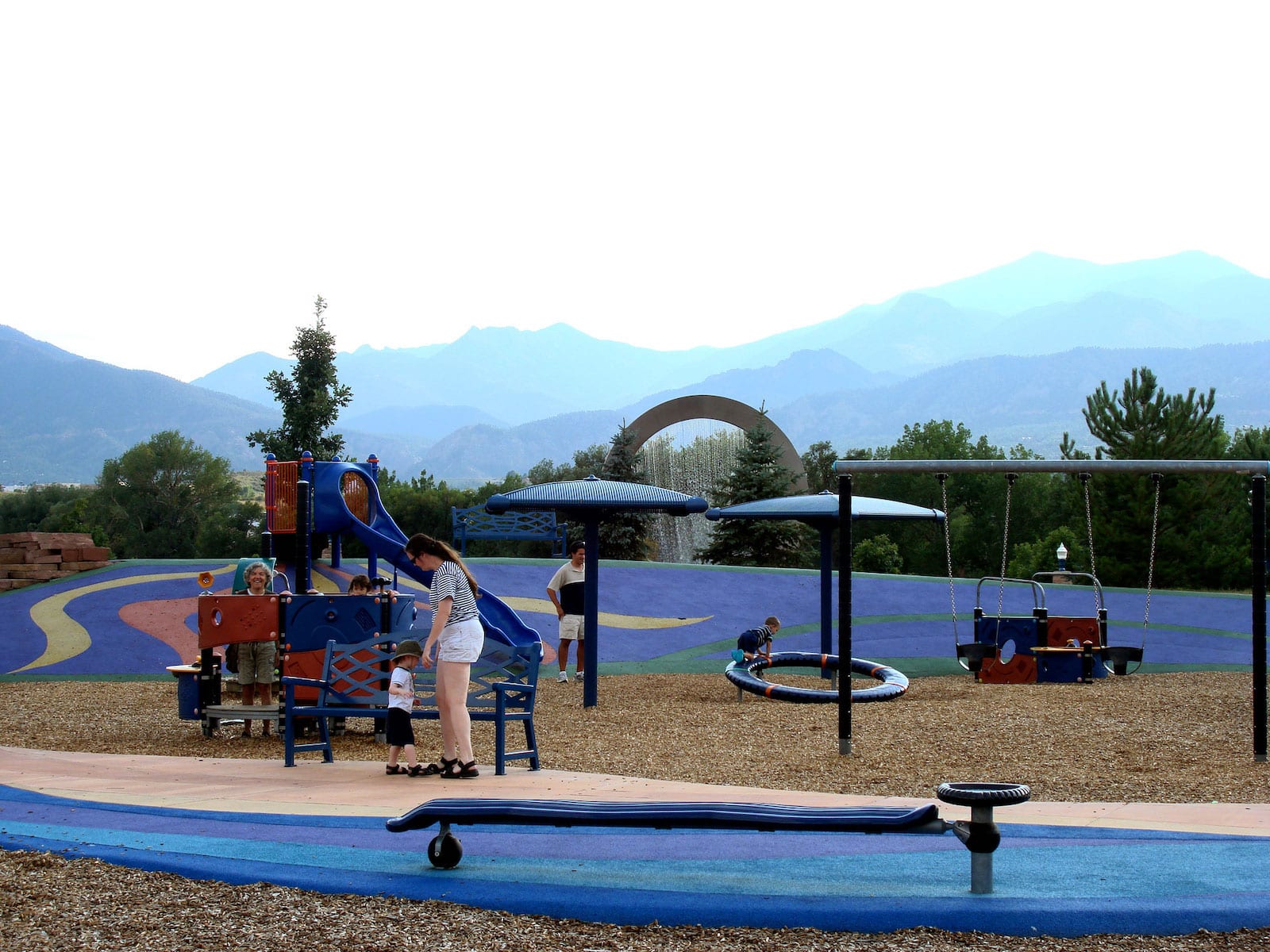 Walking, Biking, and Skating – There are multiple paved walking paths in the park, including a circular path with a gorgeous view of the fountain. Many take advantage of the abundance of pavement to practice their rollerblading and rollerskating, as well as stop by the park on a long bike ride down the multiple trails that connect to America the Beautiful.
The Fantasy Playground – The fountain may not always be running, but there is another amenity of this park that the kids can enjoy on cooler days: the America the Beautiful Fantasy Playground. This playground provides unique play areas to children of all ages and also features an abundance of interactive art pieces to stimulate and inspire their playtime. These art pieces are named "Quirks" and were created by local elementary students, who added a bit of creative local flair to this already-amazing playground.
Continuum/The Julie Penrose Fountain – This huge structure is not only a great way to cool off in the summertime–"Continuum" also holds the honor of being one of the largest sculptural fountains in the United States, standing at 40 feet tall. On days when it is running, its 366 jets spray down in an arc as the fountain slowly spins to drench those gathered below.
Access to Midland and Pikes Peak Greenway – If a leisurely stroll down the paved pathways of this park is not enough of a workout for you, the walking paths of America the Beautiful also connect to two popular walking and biking trails: the Midland Trail and the Pikes Peak Greenway. These two popular trails are open to multi-use and extend quite deeply into Colorado Springs.
Getting There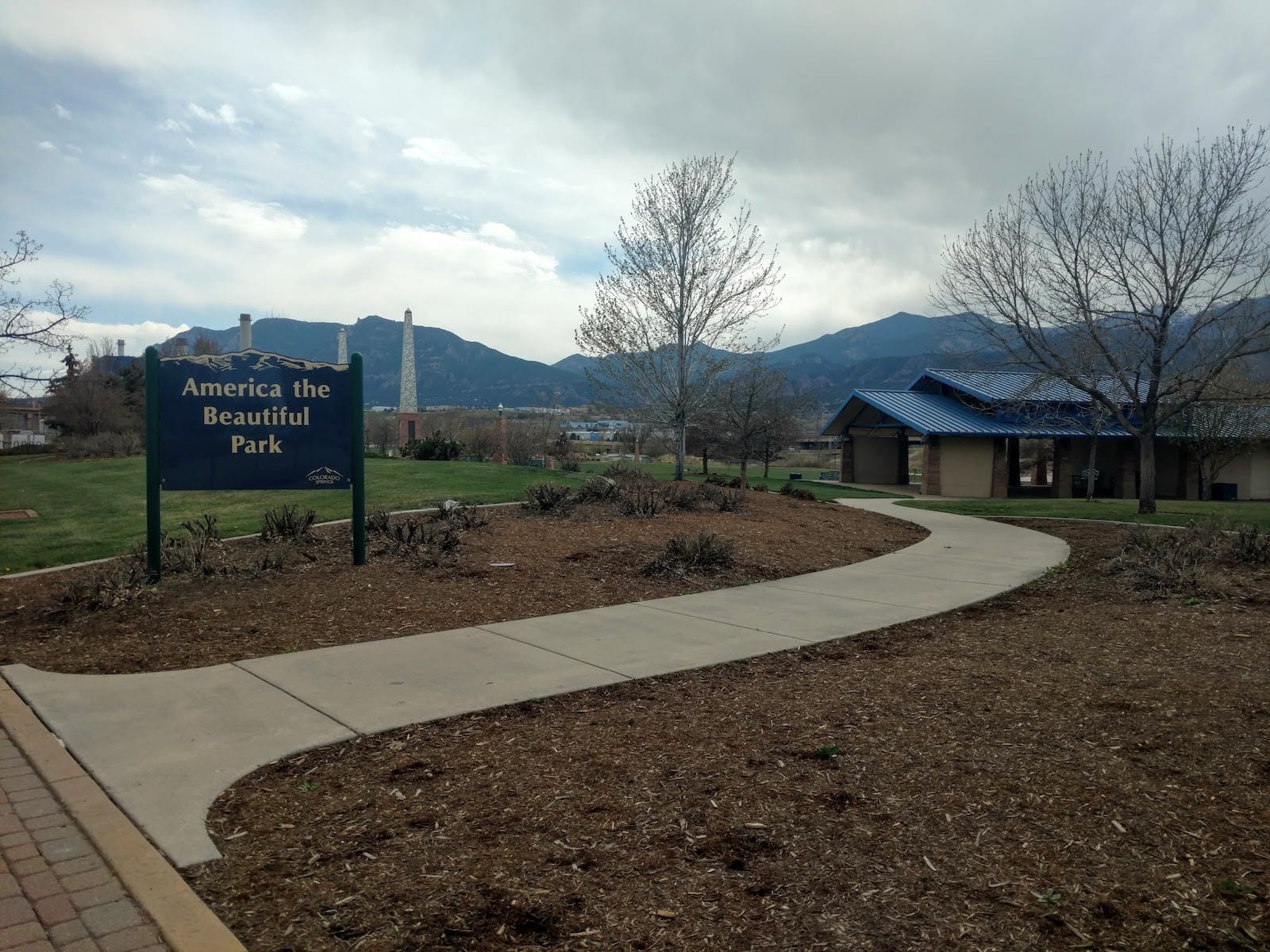 America the Beautiful may be a cinch to spot from the highway, but it can be tricky to find. The only entrance is off of Colorado Avenue, which does not have an exit on I-25 to provide simple access. Instead, you'll have to exit at Bijou Street if you're heading south or Cimarron Street if you're heading north.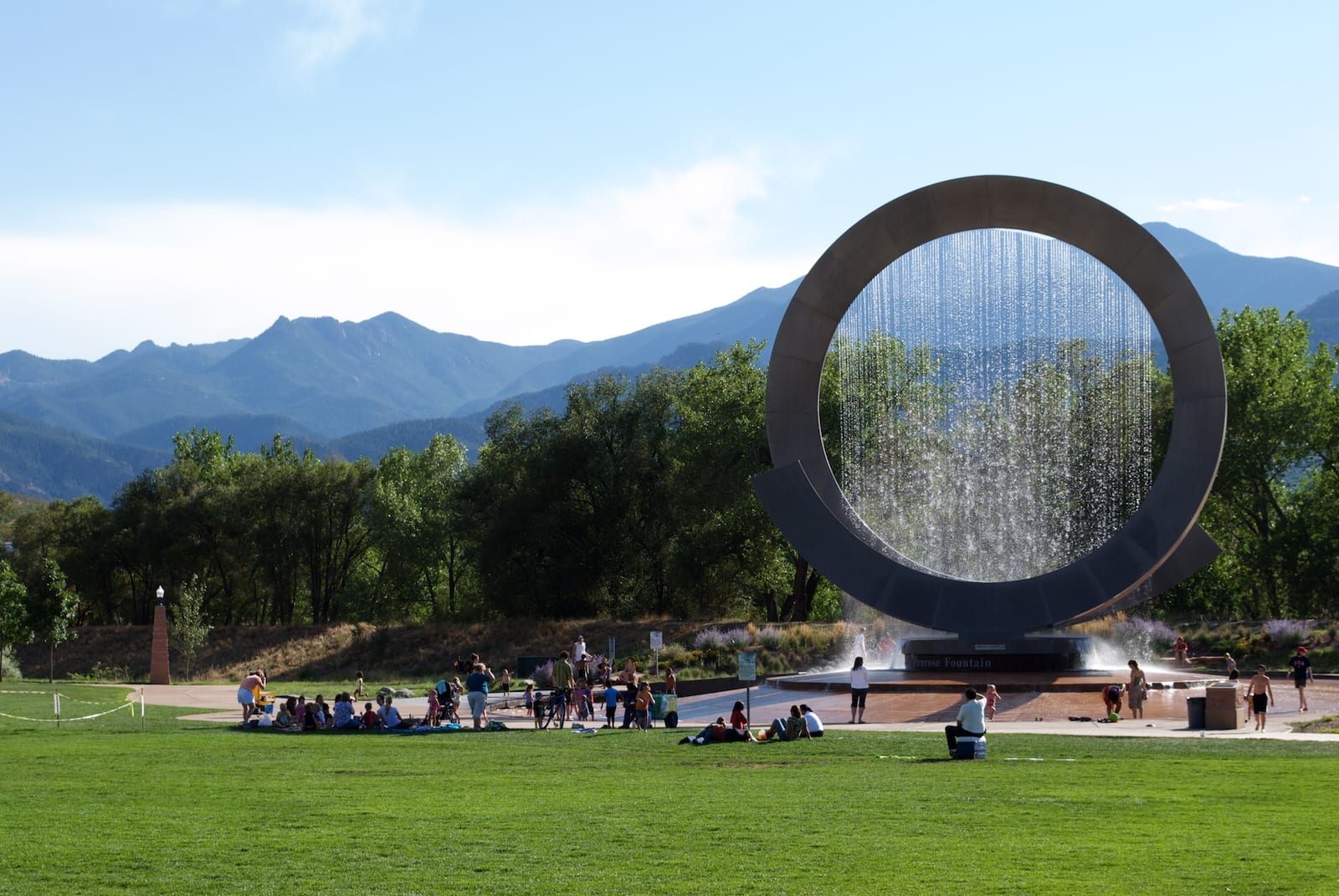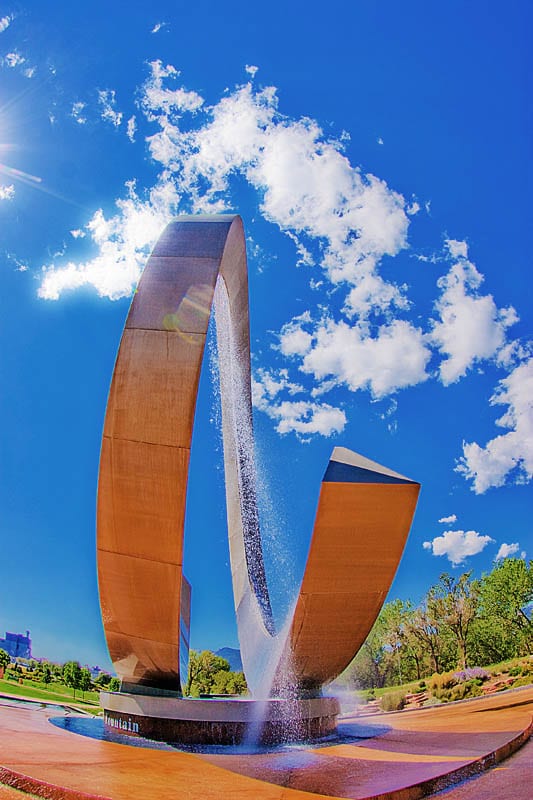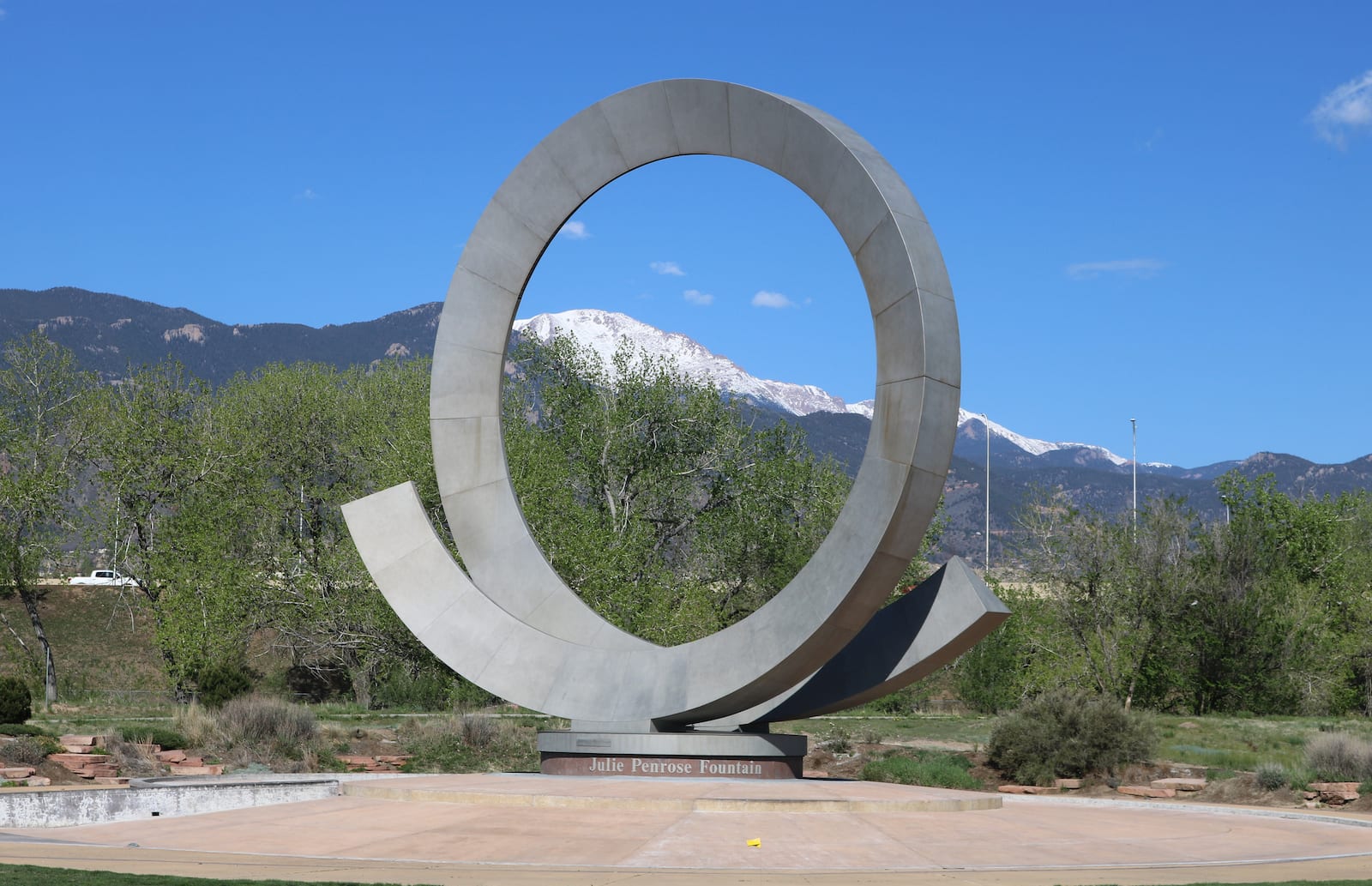 Details
Address: 26 Cimino Dr, Colorado Springs, CO 80903
Phone: 719-385-2489
Season: Year round
Website: coloradosprings.gov/parks/page/america-beautiful-park