There are hundreds of public art installations in Colorado's capital city, and the top sculptures in Denver are some of the region's most iconic. As most public artwork can be visited for free, 24/7, a statue tour of the Mile High City is one of the best ways to explore the city at any time of year on a budget.
While it can sometimes seem like a new statue, sculpture, or installation is being erected every week in the Queen City of the Plains, here is a generous handful of the best pieces around town (new and old). Add these to your Denver public art scavenger hunt.
And if you'll be visiting the Olympic City an hour south, tour the lovely statues around Colorado Springs. Like Denver, the downtown area of The Springs has many walkable sculptures to admire.
"Blue Mustang" – Denver International Airport
If you've ever flown into the Denver International Airport, it's difficult to miss the giant blue mustang statue on your ride into town. Officially titled "Blue Mustang," and often referred to locally as "Blucifer," the 32 foot tall, 9,000 lb fiberglass sculpture has been welcoming airport visitors since 2008.
Getting its nickname from its red glowing eyes and storied past, Blucifer was created by Luis Jiménez, a New Mexican artist that was killed when the statue fell on him and severed an artery in his leg. Completed over 15 years after it was originally commissioned, the work was finished by the artist's son and studio.
While there is no parking area to stop and view the sculpture, Blucifer can be seen while driving on Peña Blvd, both east and westbound, just outside of the Denver International Airport.
Address: Denver International Airport
Coordinates: ​​39°50'02.5″N 104°40'35.1″W
"I See What You Mean" – Convention Center's Big Blue Bear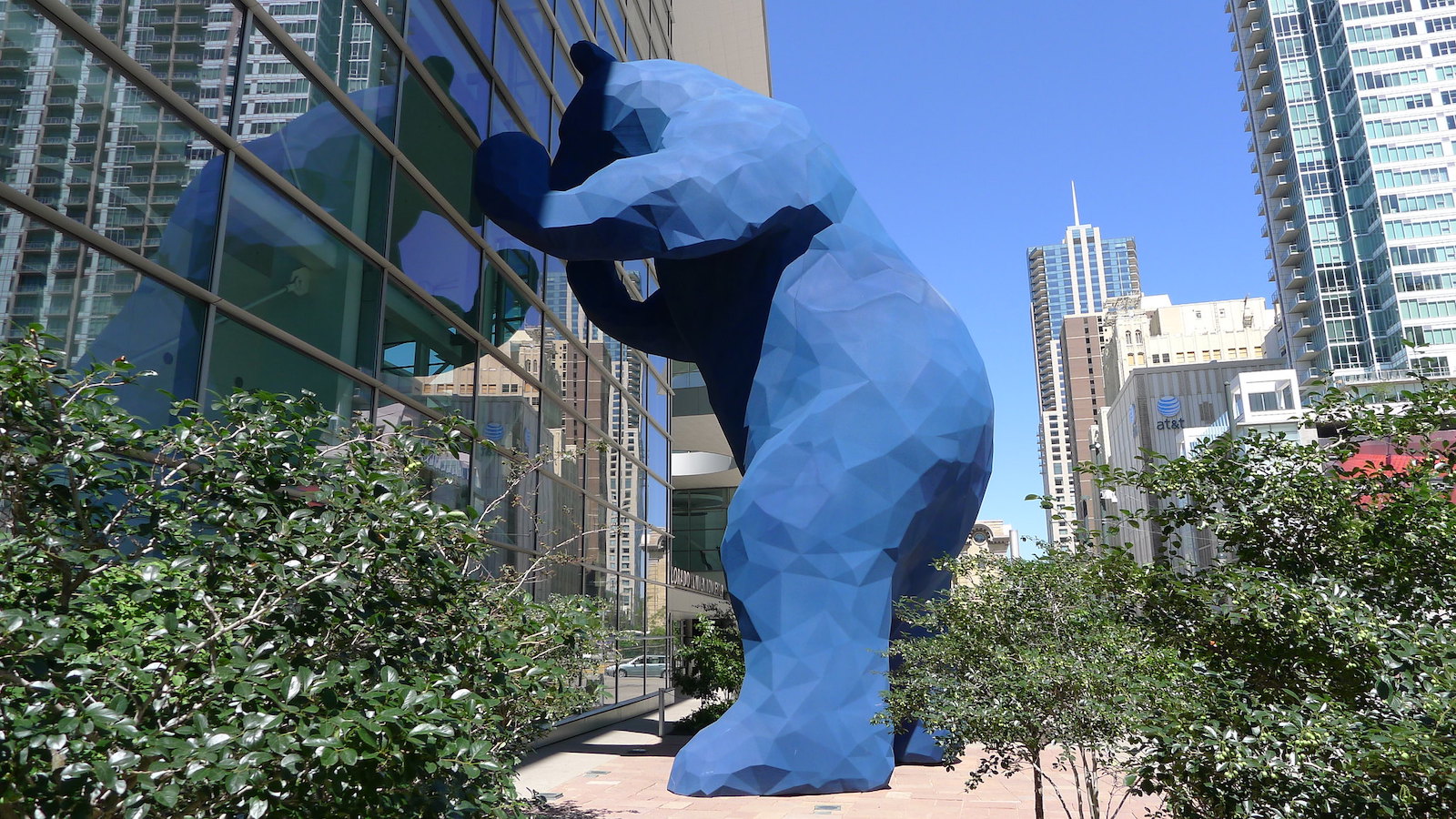 While we're on the subject of giant blue animals, "I See What You Mean" is the official title of the large blue bear statue outside of the Colorado Convention Center. Seen peeking through the glass of the east-facing windowed building, the 40-foot tall bear was an instant hit when installed in 2005.
Designed by artist Lawrence Argent, the sculpture was constructed with steel and composite materials. Illuminated by a few surrounding lights at night, "I See What You Mean" can be appreciated any time of day, both on the sidewalk and from inside the convention center. While there, be sure to also check out the laughing escalator for even more whimsical fun.
Address: Colorado Convention Center, 700 14th St, Denver, CO 80202
Coordinates: 39°44'37.1″N 104°59'43.2″W
"Dancers" – Denver Center for the Performing Arts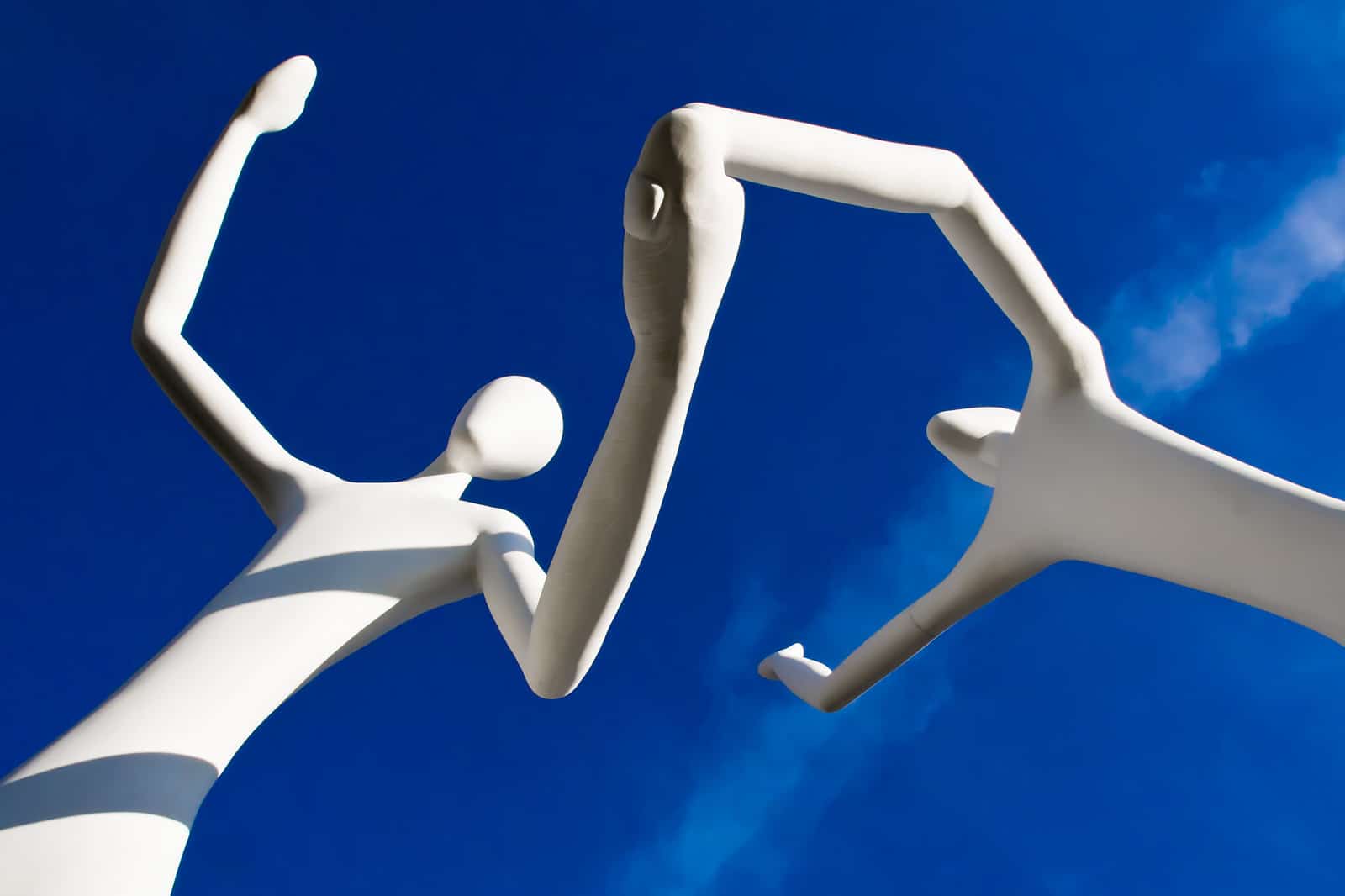 Just around the corner from the big blue bear, "Dancers" is another one of Denver's most iconic sculptures, originally installed in 2003. The 60-foot high steel and fiberglass installation feature two white, faceless human figures holding hands and dancing on the lawn of the Denver Center for Performing Arts.
Located in what is now being called "Sculpture Park", the Dancers are most often seen while driving down Speer Blvd. The piece was created by artist Jonathan Borofsky and weighs around 25 tons. At the base of the sculpture, the installation also includes speakers playing a song entitled "Let's Dance", which was also composed by the sculptor.
Address: 1185-1245 Champa St, Denver, CO 80204
Coordinates: 39°44'34.4″N 104°59'57.0″W
"National Velvet" – Red Bean Statue near Highland Bridge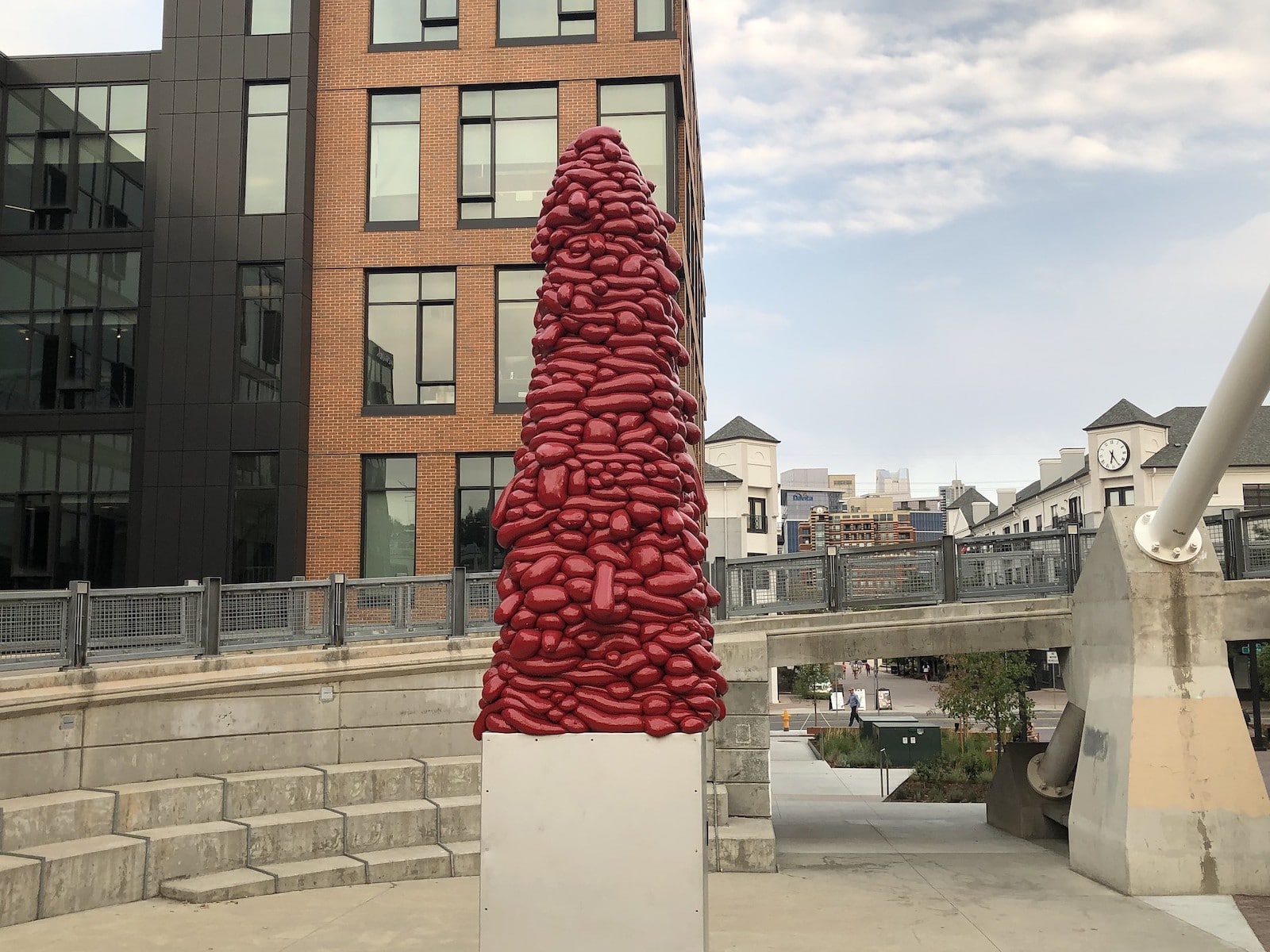 Not far north from the Dancers, "National Velvet" is a unique Denver sculpture located between the South Platte River and the Highland Bridge, which is the pedestrian walkway over Interstate 25. With the bike path circling the statue, visitors can get a full 360-degree view of the installation which depicts a large pile of bright red shapes, stacked to form an obelisk on a podium.
Often speculated to be kidneys, jelly beans, intestines, or sausage links, Denver artist and creator John McEnroe insists National Velvet is an abstract work that needs to "speak for itself." The piece, which illuminates at night, was created in 2008 and was the namesake for the "Big Red Street Fair" in 2014.
Unlike most of the other beloved sculptures on this list, "National Velvet" has gained notoriety and a bit of infamy with mixed public reviews.
Address: 2415 16th St, Denver, CO 80202
Coordinates: 39°45'28.0″N 105°00'29.9″W
"Sing and Glide" – Shoemaker Plaza near Confluence Park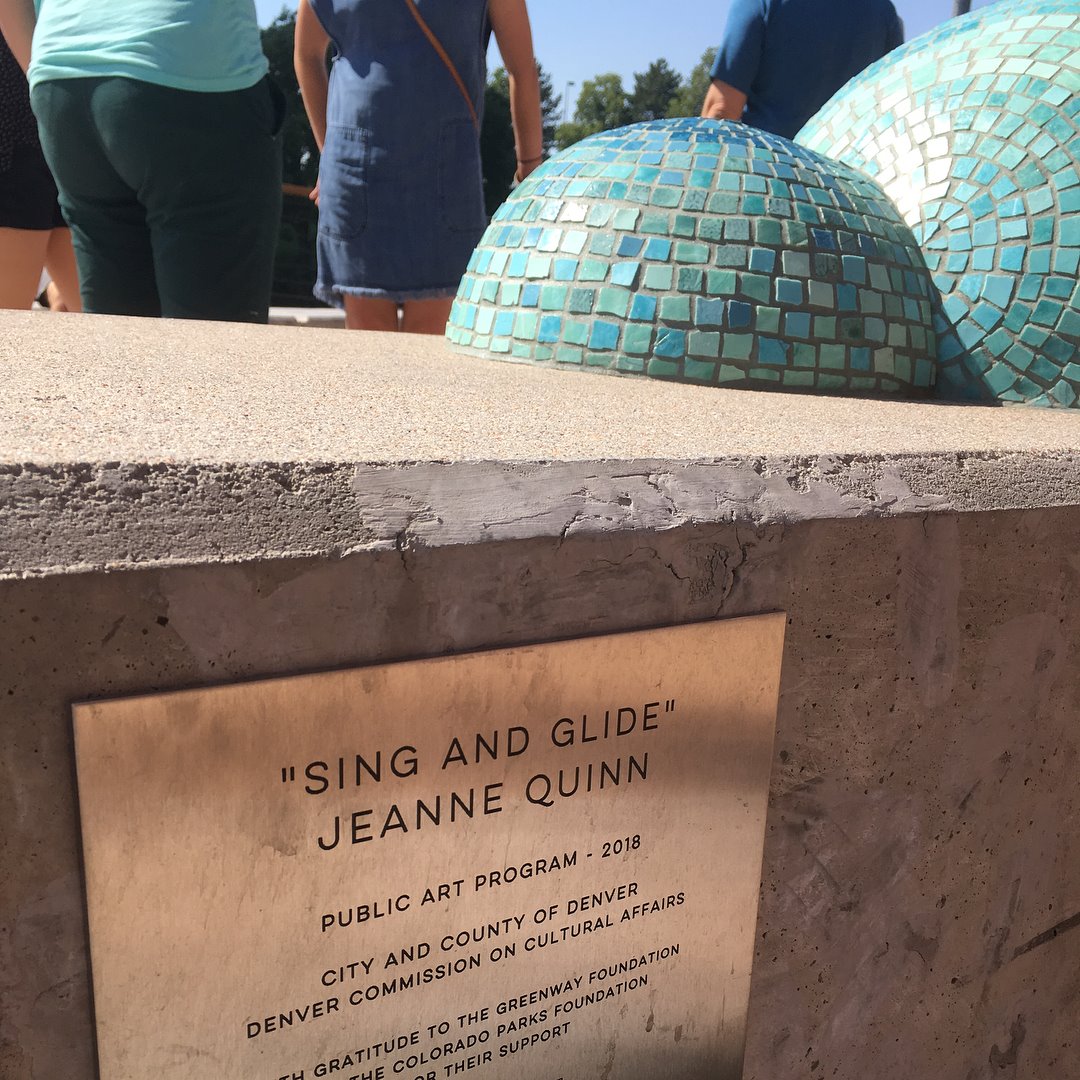 Within a short walk of "National Velvet," "Sing and Glide" is a beautiful installation located on a walking/biking ramp in Shoemaker Plaza. On the northern bank of the South Platte River across from Confluence Park, "Sing and Glide" is made up of seven large concrete "bubbles" with flowing, mosaic decoration.
Constructed in 2018, "Sing and Glide" was created by artist Jeanne Quinn. Walking down the ramp from the commercial storefront, visitors can follow the monument's eleven panels to reveal a quote from environmentalist John Muir.
Address: 1416 S Platte River Trail, Denver, CO 80202
Coordinates: 39°45'17.5″N 105°00'31.9″W
"Sun Spot" – Denver Municipal Animal Shelter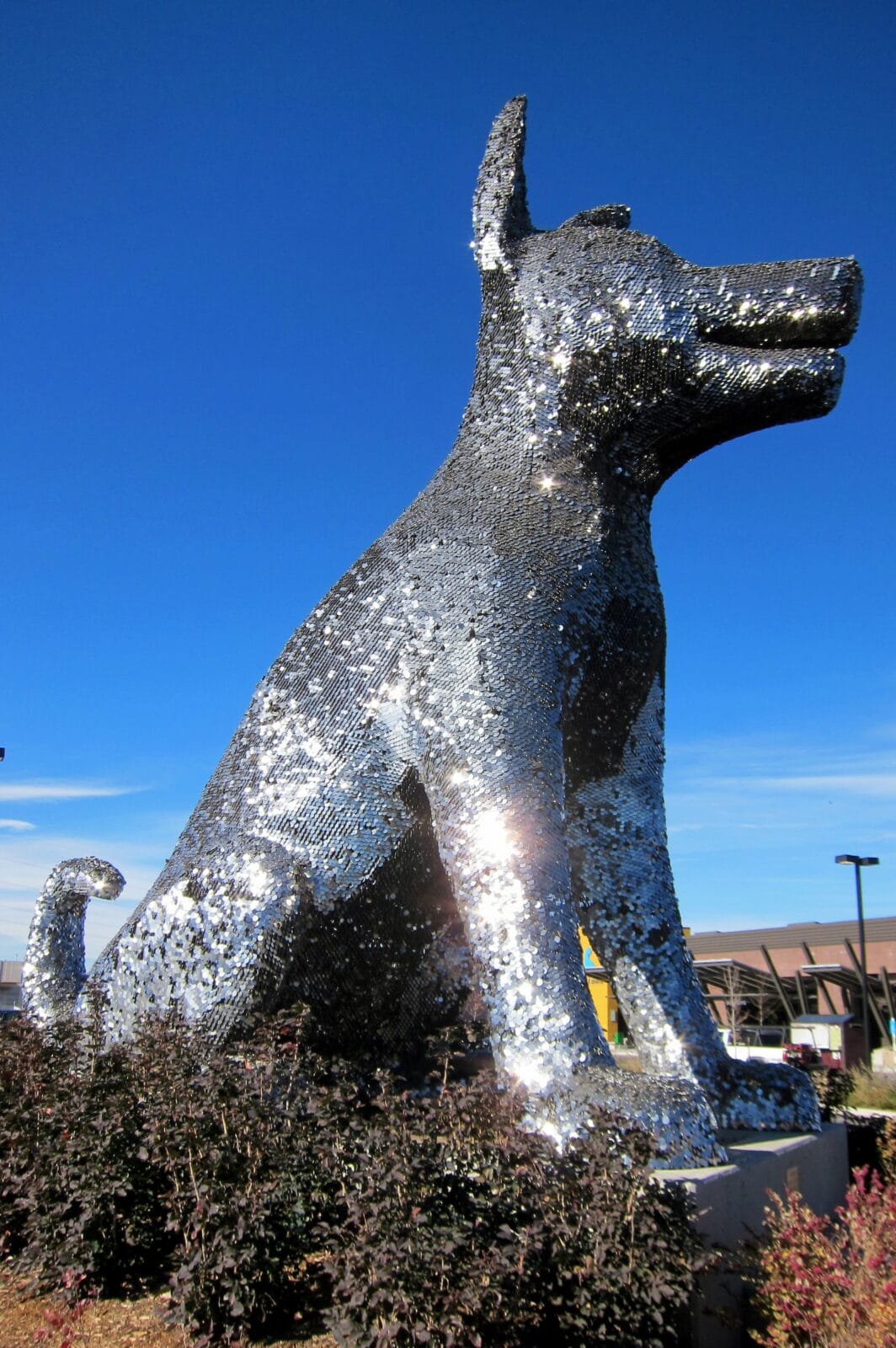 Visible from the South Platte River Trail, U.S. Route 85, and I-25, "Sun Spot" is the nickname for the 25-foot tall silver dog statue found south of Downtown Denver, near Alameda Ave. Eye-catching from a distance, upon further inspection, visitors will see that the dog is made up of over 90,000 individual stainless steel dog tags.
Towering since 2011 in an eternal "sit," Sun Spot gets its nickname from the bright reflection of daily sunlight on silver. As each pet tag is hanging from a hook, many find that the sculpture is even more captivating when its parts are fluttering in a breeze.
Address: Denver Animal Shelter, 1241 W Bayaud Ave, Denver, CO 80223
Coordinates: 39°42'55.8″N 105°00'10.4″W
"Articulated Wall" – Tall Yellow Sculpture near I-25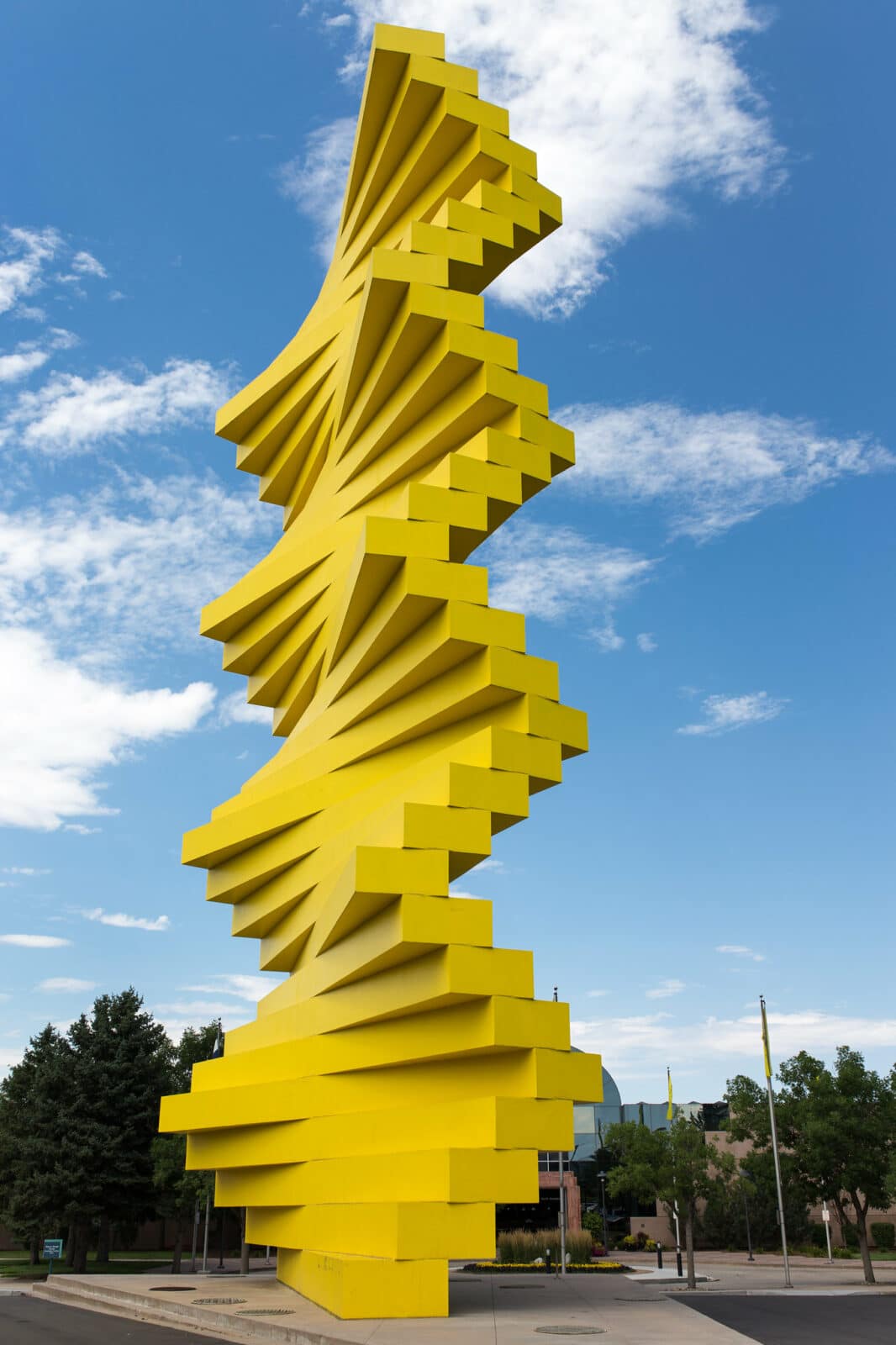 If you've ever driven on Interstate 25 south of Denver, then chances are that a certain big yellow statue has caught your eye. While some say it looks like a giant noodle or a stack of french fries, the 50-foot sculpture is simply titled "Articulated Wall," and was installed in Denver in 1985.
Articulated Wall was originally created for the 1968 Summer Olympic Games in Mexico City and was brought to life by Austrian-American artist Herbert Bayer. Off of the interstate, it's easy to park and see the sculpture up close, as it's currently standing on the outskirts of a shopping complex.
Address: Articulated Wall, 625 S Broadway, Denver, CO 80209
Coordinates: 39°42'19.5″N 104°59'26.2″W
"Iridescent Cloud" – City Park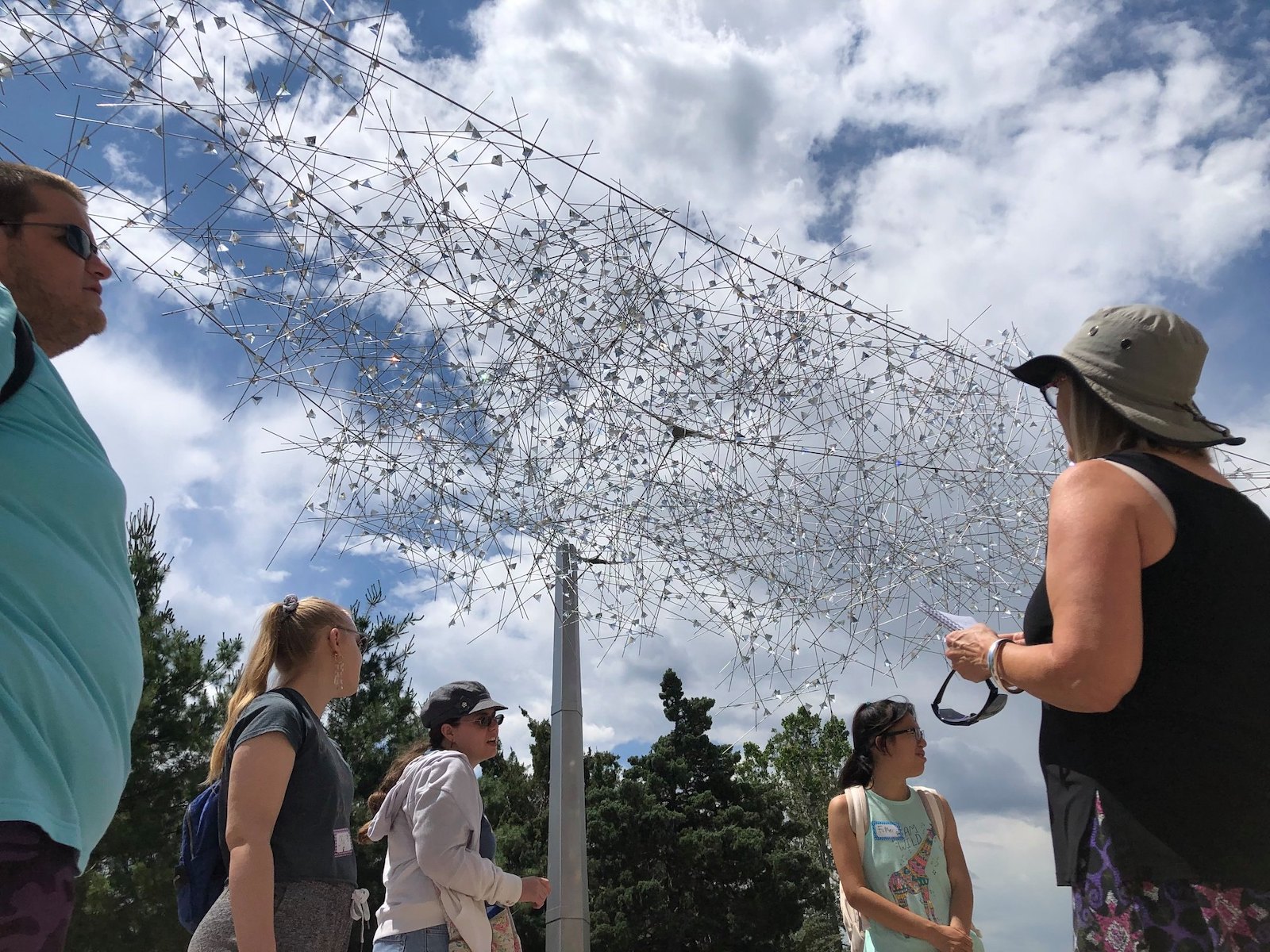 Although City Park is full of interesting sculptures, few are as impressive and thought-provoking as the "Iridescent Cloud" located on the south side of the Denver Museum of Nature & Science. Constructed in 2014, the Iridescent Cloud hangs above the heads of park visitors, sparkling with colors when hit with direct sunlight.
While you're in City Park, other great public art includes the Martin Luther King Memorial, the Thatcher Fountain, and the "Meeting of the Minds," which is a bold, red sculpture depicting two human heads, visible from York Street.
Address: Denver Museum of Nature & Science, 2001 Colorado Blvd, Denver, CO 80205
Coordinates: 39°44'48.7″N 104°56'33.0″W
"Mine Craft" – McNichols Civic Center Building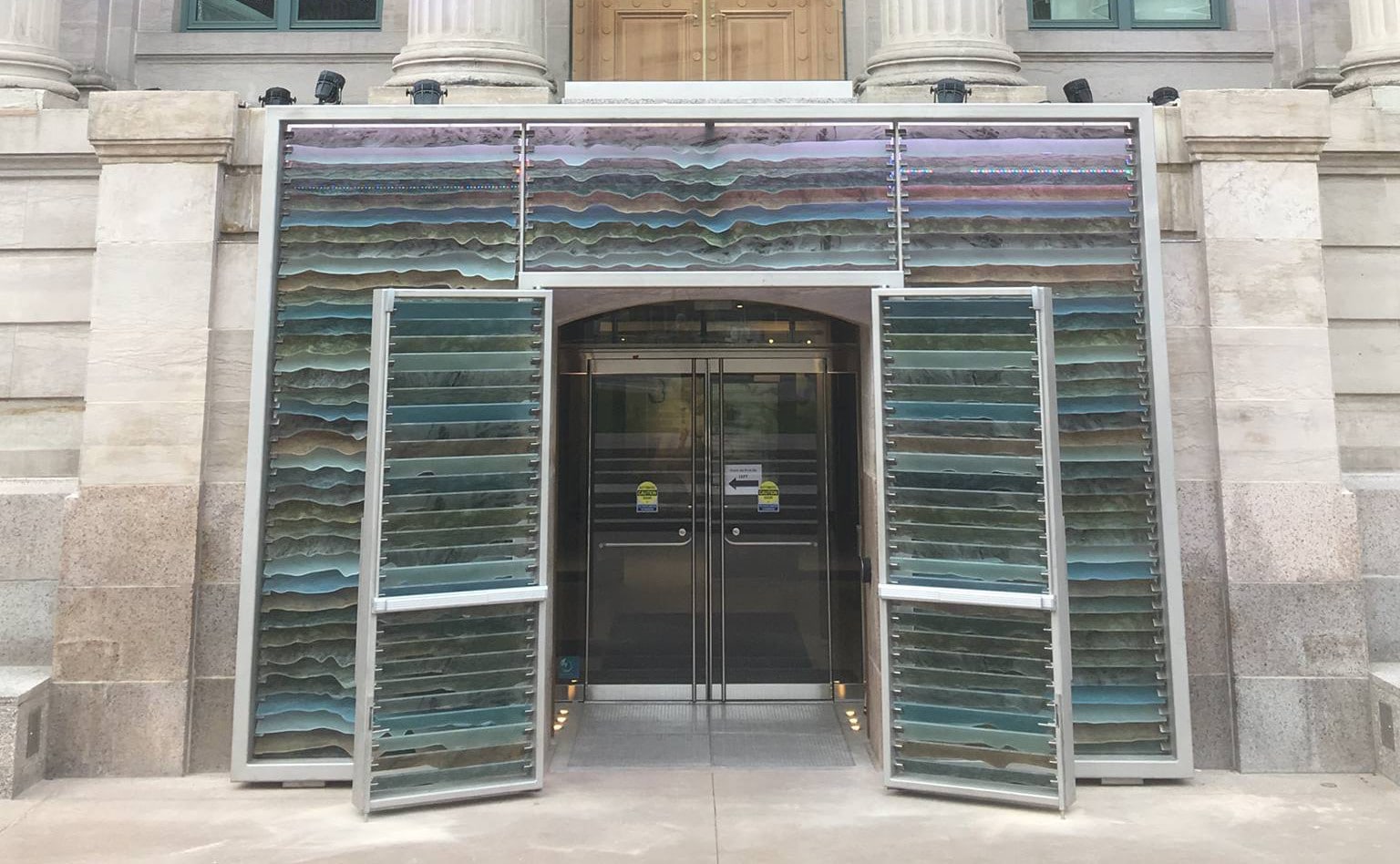 On the north side of the Civic Center in the heart of Denver, "Mine Craft" is a hidden gem, installed by artist Miki Iwasaki in 2017. In addition to functioning as a doorway into the building, "Mine Craft" is an eye-catching, yet subtle piece that embodies an abstract topographic map of Colorado in beautiful earth tones.
In reference to Colorado's rich mining history, each stacked layer of the sculpture represents a natural material that's been extracted from the ground within the state. The piece can be seen on the south side of Colfax Ave, near the intersection with Bannock Street.
Address: Bannock St & W Colfax Ave, Denver, CO 80204
Coordinates: 39°44'24.5″N 104°59'22.3″W
"Pioneer Monument Fountain" – Colfax and Broadway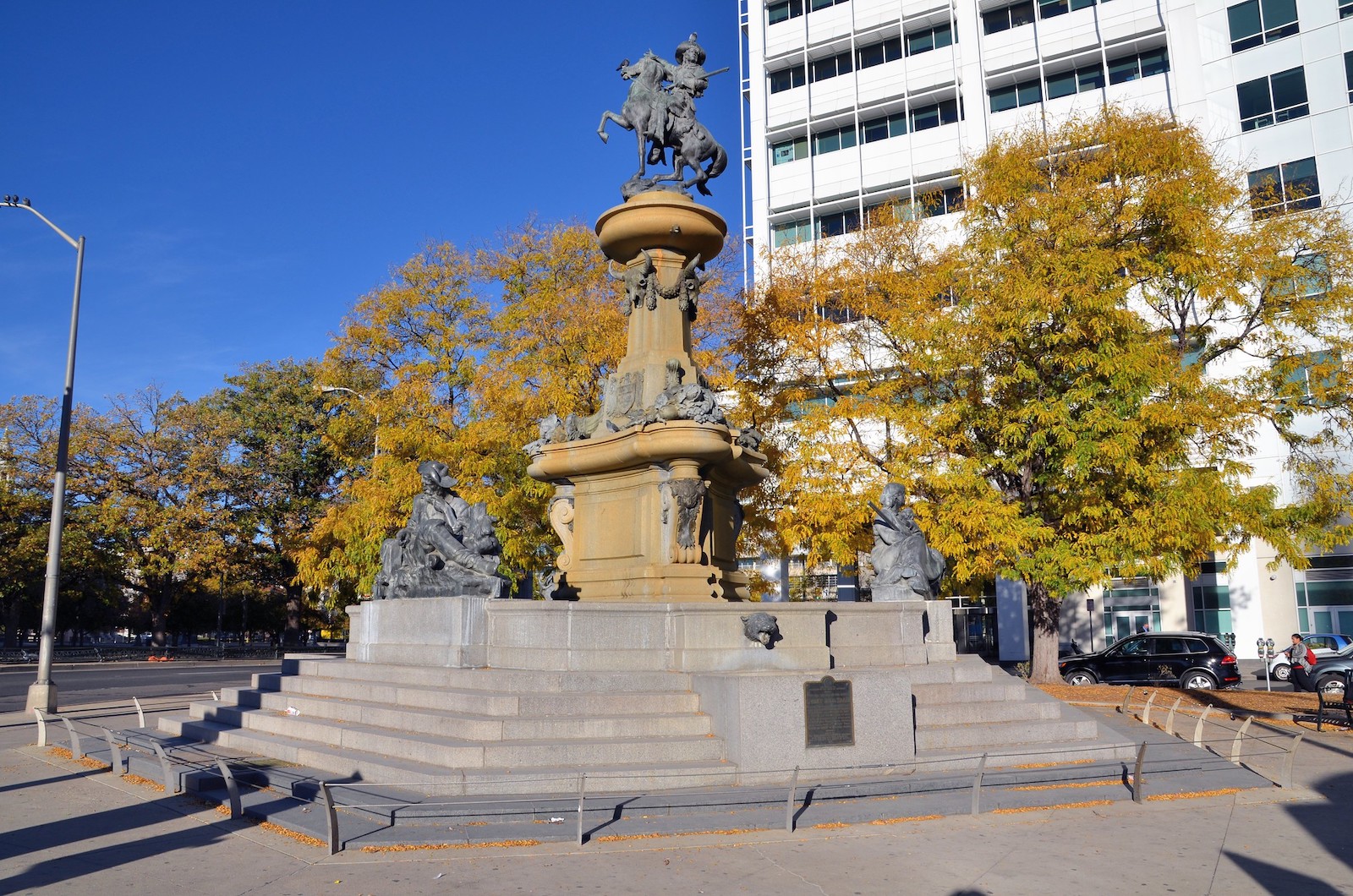 Across Colfax Ave near Broadway, the Pioneer Monument Fountain has been standing near the center of Denver for over a century. Commissioned in 1904, artist Frederick William MacMonnies originally intended for the fountain to feature a mounted Native American man, but the design was modified to depict American frontiersman, Kit Carson.
In the summer of 2020, the statue of Kit Carson on top of the fountain was proactively removed by the City of Denver after a nearby civil war statue was torn down earlier in the week. Since its inception, the Kit Carson statue on the Pioneer Monument Fountain has been the subject of social controversy.
Address: Pioneer Monument Fountain, Denver, CO 80202
Coordinates: 39°44'24.9″N 104°59'15.7″W
Broncho Buster (or Bronco Buster) – Civic Center Park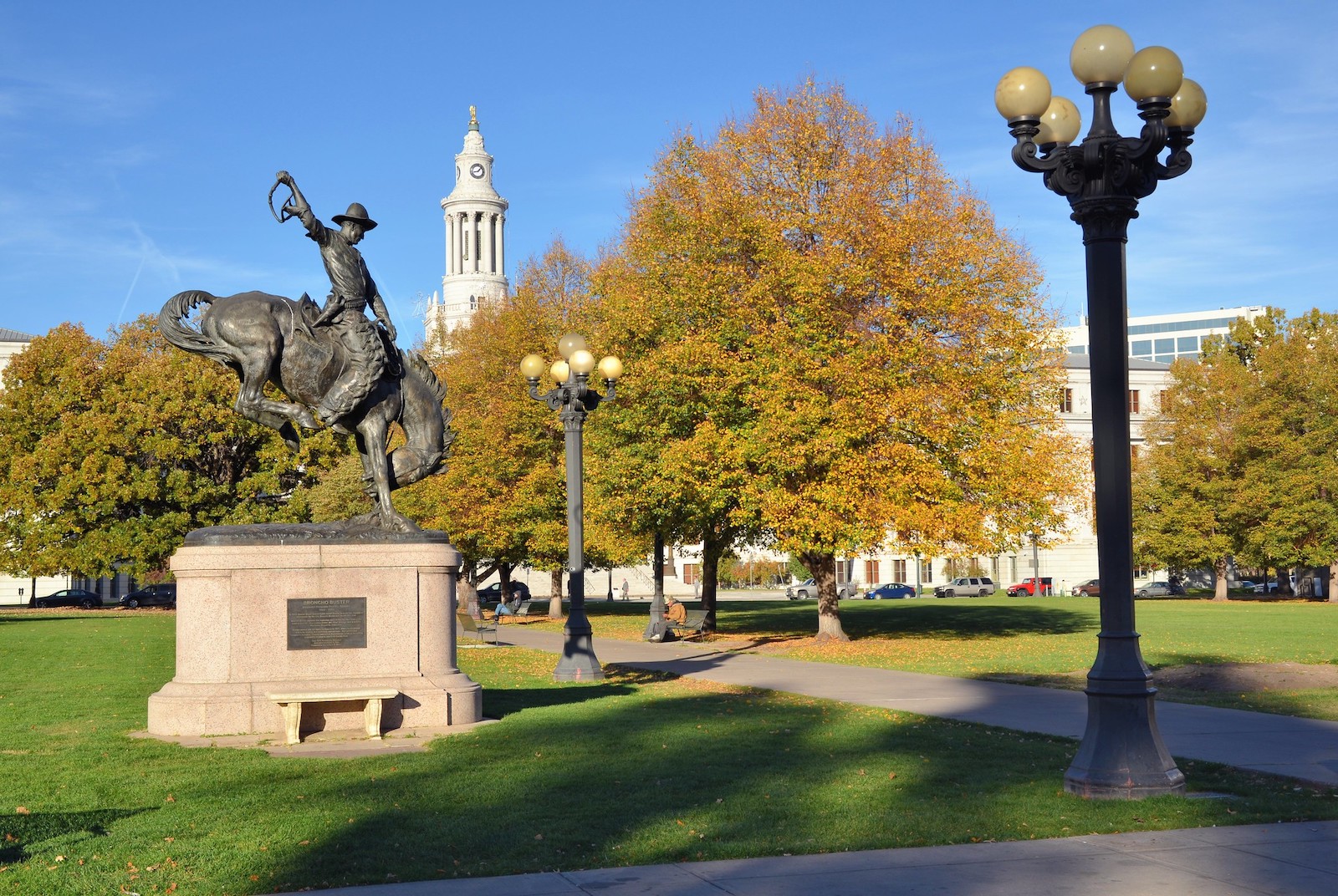 While we're near Capitol Hill, Civic Center Park is full of interesting statues and architecture with plenty of permanent installations to observe alongside occasional temporary exhibitions. Perhaps the most iconic, Broncho Buster is a 15-foot high bronze sculpture by artist Alexander Phimister Proctor.
Directly across the path from Broncho Buster, visitors can also see "On The War Trail." Erected 2 years after Brochno Buster (1920 and 1922, respectively), "On The War Trail" is also a 15-foot high bronze statue, and depicts a mounted American Indian.
Address: Civic Center Park, Denver CO, 80202
Coordinates: 39°44'20.1″N 104°59'20.8″W
"The Yearling" – Denver Public Library Central Branch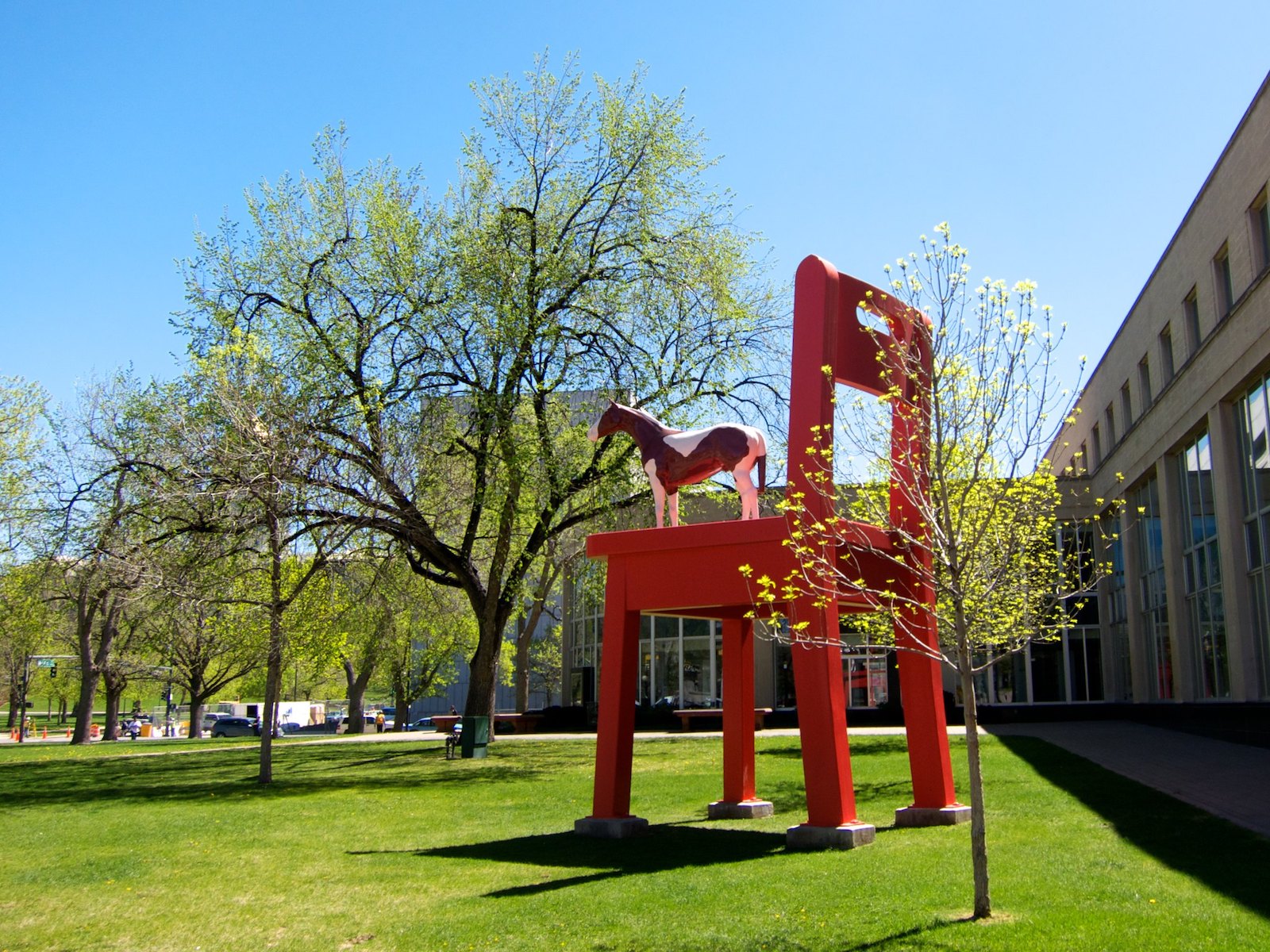 Continuing south across Civic Center Park, "The Yearling" is one of Denver residents' favorite public art pieces, depicting a horse on top of a giant, red chair. Looking just as absurd as it sounds, The Yearling is 21 feet tall, ten feet wide, and can be found directly outside of the Denver Public Library's Central Branch.
The Yearling was created by artist Donald Lipski and originally stood in New York City's Central Park. In 1998, the vibrant and whimsical steel and fiberglass statue was moved to Denver. Beloved and notorious, The Yearling was even featured on Jeopardy!
Address: The Yearling, 32 W 14th Ave, Denver, CO 80202
Coordinates: 39°44'16.2″N 104°59'18.3″W
"Big Sweep" – Denver Art Museum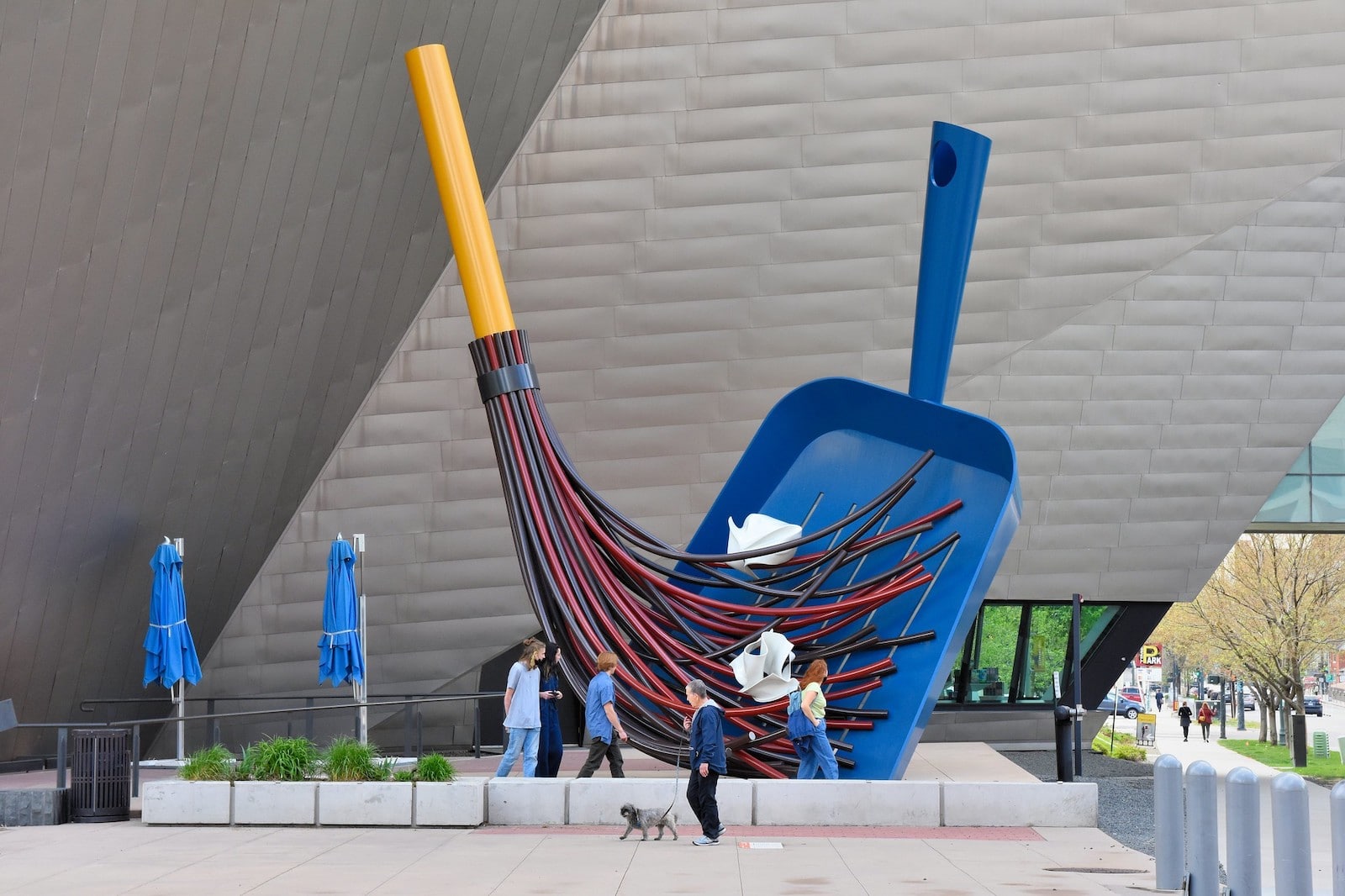 One block south of The Yearling, "Big Sweep" is another great modern sculpture that gives downtown Denver its unique identity. Created by artists Claes Oldenburg and Coosje Van Bruggen, Big Sweep depicts a 30-foot tall broom and dustpan, located outside of the main entrance of the Denver Art Museum.
While you're in the vicinity of the Denver Art Museum, visitors can also see a few other great sculptures surrounding some of the city's most interesting architecture. Notably, art lovers of all ages will enjoy the "Scottish Angus Cow and Calf" which features 2 larger than life bovine bronze sculptures weighing in at over 10,000 lbs.
Address: 100 W 13th Ave, Denver, CO 80202
Coordinates: 339°44'12.3″N 104°59'19.4″W
"La Veleta" – Barnum Park – 6th and Federal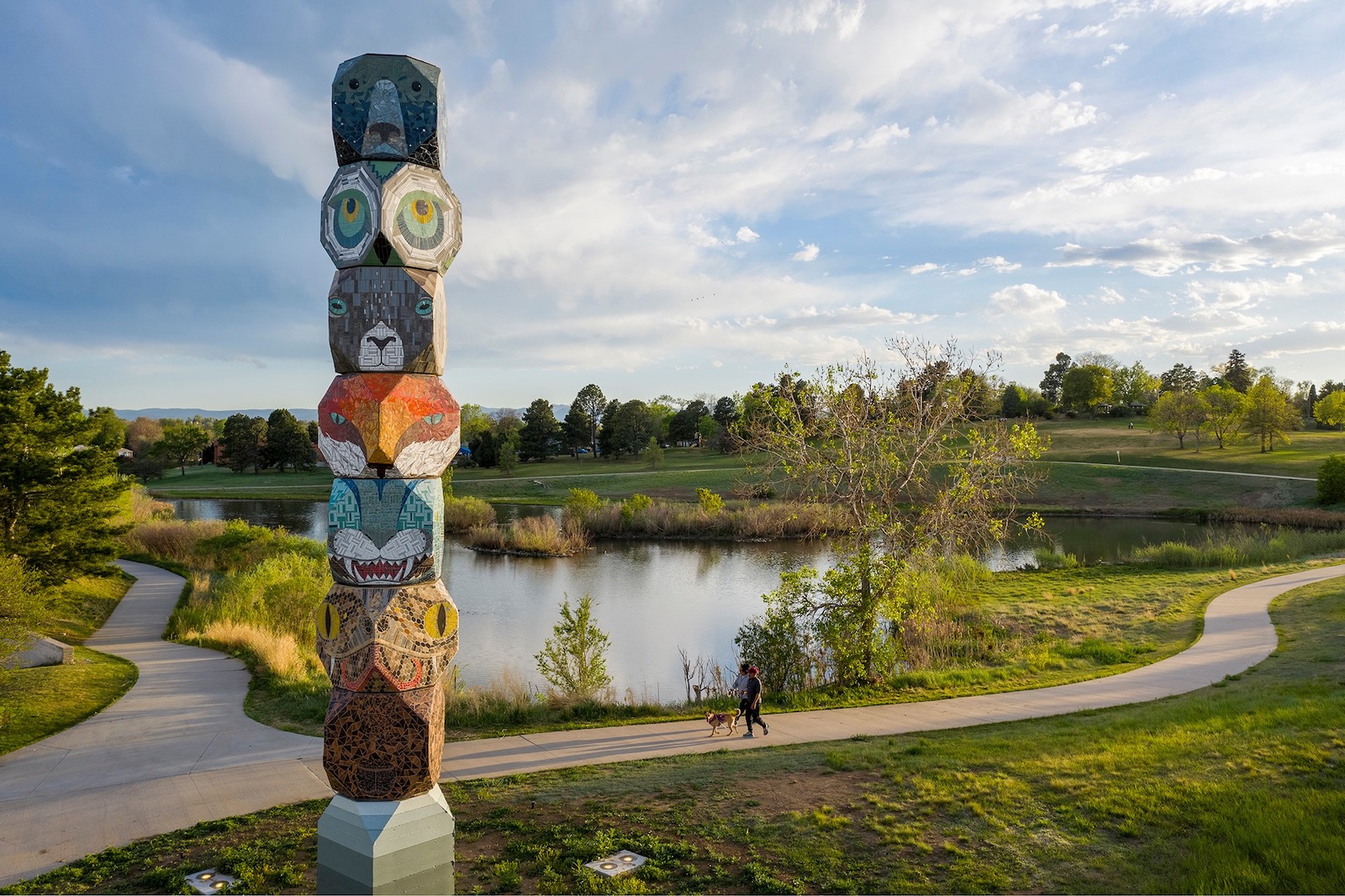 Completed in the winter of 2019, "La Veleta" (which translates to "the weathervane") is the newest sculpture we've included on this list, but a must-see nonetheless. Stacked like a totem pole forty feet high, La Velta is made up of seven animal heads, each beautifully decorated in colorful mosaic tiles.
Right beside La Veleta in southwest Denver, motorists will also pass through four colorful monuments where Federal Blvd meets the 6th Avenue Freeway. Constructed in 2018, the series of four pillars are called "Crossroads/Encrucijada." On the sides of each monument, artist Anthony Garcia, Sr includes bright, solar-powered LED lights illuminating the walls from behind bronze cutouts.
Address: Barnum Park Lake Reservoir, Denver, CO 80204
Coordinates: 39°43'29.1″N 105°01'35.3″W
If all of these free sculptures have not completely satisfied your craving for outdoor art, the Denver Botanic Gardens features many interesting statues for a small entry fee. Heading outside of the city, more work can also be found in the Burns Park Sculpture Garden in Glendale as well as the Museum of Outdoor Arts in Englewood.
For even more fun in Colorado's capital city, we recommend checking out another one of Denver's best art and cultural experiences. Happy exploring!