Denver Museum of Nature and Science was established in 1900 to preserve and exhibit the natural history of Colorado, Earth, and the Universe. The 500,000-square-foot museum houses more than one million objects related to nature and science. A variety of exhibitions, programs, and activities are offered to museum visitors.
Main Areas
Anthropology
Geology
Health Science
Paleontology
Space Science
Zoology
Located near Downtown Denver, next to the City Park and Denver Zoo, the museum provides several discovery areas for children. They also have an IMAX theater that features 3-D films daily.
Exhibits include Egyptian mummies, Expedition Health exhibition, Prehistoric Journey exhibition, Space Odyssey exhibition, numerous wildlife exhibits, colorful gems and minerals. Temporary exhibitions change from time to time, so there is always something new to discover.
Aside from the museum and IMAX theater, there is also a planetarium on site. Learn about the universe, stars, black holes, and more.
The Museum Shop is open daily from 10 am-5 pm. It has a nice selection of books, gifts, jewelry, science kits, toys, and more. If you get hungry the T-Rex Cafe has hot entrees, fresh salads, and plenty of grab & go items.
Nearby attractions include the Denver Zoo, Downtown Aquarium and Denver Art Museum.
Details
Address: 2001 Colorado Blvd, Denver, CO 80205
Phone: 303-370-6000
Season: Year-round
Hours: Daily 9 am-5 pm
Website: dmns.org
Latest in Denver Museum of Nature & Science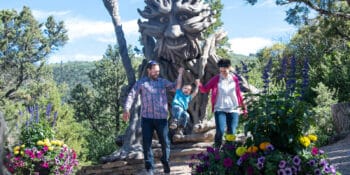 Regardless of where you are in the Centennial State, there are plenty of kid-friendly things to…
View more DMNS article