Just outside of Lake City, Colorado, Slumgullion Pass is an ultra-high mountain pass with an elevation of 11,530 ft (3,514 m). With grades on the north side of the pass up to 9%, State Highway 149 is the steepest, maintained paved road in Colorado.
History
The road that leads to "Slumgullion Pass" actually reaches what is known as the "Slumgullion Summit." The real Slumgullion Pass sits at about 200 feet lower in elevation on a ridge to the north and is inaccessible by vehicle, although the summit is referred to as "Slumgullion Pass."
The term "slumgullion," abbreviated simply as "slum," refers to slumgullion stew, a watery meal composed mainly of root vegetables. Miners in the 1800's referred to the leftover mud and yellow soils in gold-dense areas as "Slum."
Slumgullion Pass is most known as part of the Slumgullion Earthflow National Natural Landmark. About 700 years ago, a large chunk of decomposing volcanic rock slid down the mountain to form a natural dam. This blocked the Lake Fork of the Gunnison River and created Lake San Cristobal. The "Slumgullion Slide," as it is known, is still active today and can move up to 20 feet per year in certain areas.
Slumgullion Pass Accessibility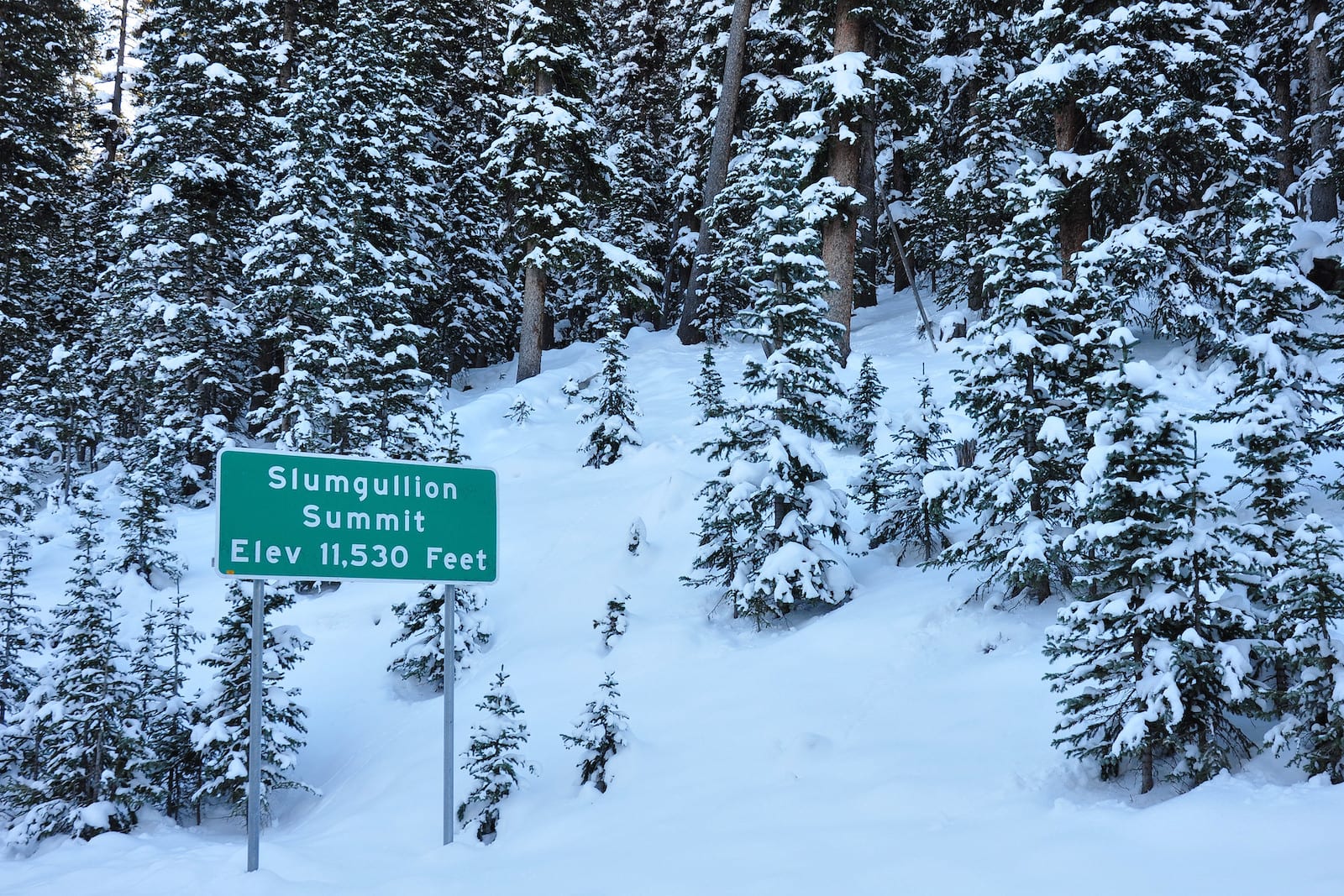 Despite it's 9% grade, most of SH 149 traversing Slumgullion pass is relatively easy for most passenger vehicles. There are many tight turns, but the road is paved and well maintained.
Seasonality – State Highway 149 is open all year round and known as the Silver Thread Byway. The route is plowed often, but can be subject to temporary closure due to poor weather conditions.
Vehicle Restrictions – In good conditions, there are no restrictions on vehicles accessing Slumgullion Pass. In the winter, drivers should be prepared for inclimate weather and also aware of applicable Colorado chain and traction laws.
Activities near Slumgullion Pass
The high elevation drive along 149 offers travelers spectacular views and opportunities to spot alpine wildlife. At the Slumgullion summit, you can turn onto CO Rd. 50 to discover many camping opportunities in the Gunnison National Forest along Mill Creek. There are also 4×4 and hiking trails in the area.
To the west of the pass, Lake San Cristobal (the second largest natural lake in Colorado) is a popular destination for fishing, boating, and camping. To view the Slumgullion Slide, there are a few places to park between the lake and the pass.
Details
Address: SH 149, between Lake City and Creede, CO
Season: Year Round
Elevation: 11,530 ft (3,514 m)
County: Hinsdale County
Mountain Range: San Juan Mountains
Coordinates: 37°59′08″N 107°13′20″W
Access: State Highway 149