One of the most popular places to experience this golden time of year is along Kebler Pass, near Crested Butte. This mountain pass is probably the most visited and most photographed place for fall colors because of its large aspen grove.
If there is one thing for sure, Coloradans love their fall colors. While the display of hues isn't quite what you would see out on the East Coast, Colorado boasts some amazing fall foliage coupled with towering mountain peaks and rushing rivers for the picture-perfect fall. Discover how you can experience the fall colors of Kebler Pass with our guide below.
Colorado's Largest Aspen Grove is on Kebler Pass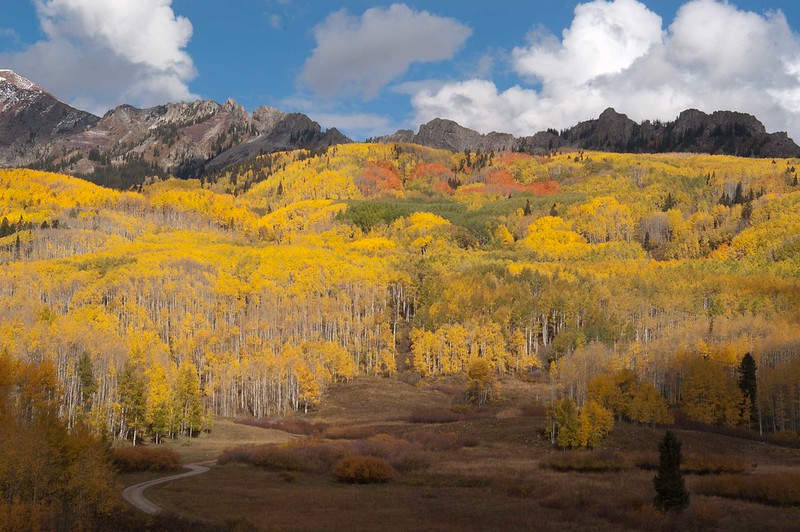 Part of what makes the fall colors along Kebler Pass so special is the presence of the state's largest aspen grove and what some scientists call the world's largest living organism. It's located within the Gunnison National Forest between Crested Butte and Paonia.
What makes aspen groves the world's largest living organism? Because aspen groves can reproduce within a single root system and clone in a completely identical way, they form one large living organism that can span an entire mountainside.
Most of the time aspens regenerate through their root systems via little shoots that rise up along their roots. These sprouts give way to genetically identical trees that are grouped into a "clone." And because they share a root structure, an entire area reaching up to 100 acres can be covered in one single aspen organism.
This means all of the aspen's leaves emerge at the same time in spring and in the fall when the leaves turn gold. Thus creating spectacular foliage displays.
There is a debate between the aspen grove at Kebler Pass and one in Utah in the Fishlake National Forest. This entire organism of connected trees, called the Aspen Pando clone, is 106 acres with roughly 47,000 trees. Some argue that the aspen grove near Crested Butte is the largest, but there hasn't been enough study to prove otherwise.
Regardless of which is the biggest, the aspen grove along Kebler Pass shows up in a big way with its brilliant color and epic mountain views.
When is peak season?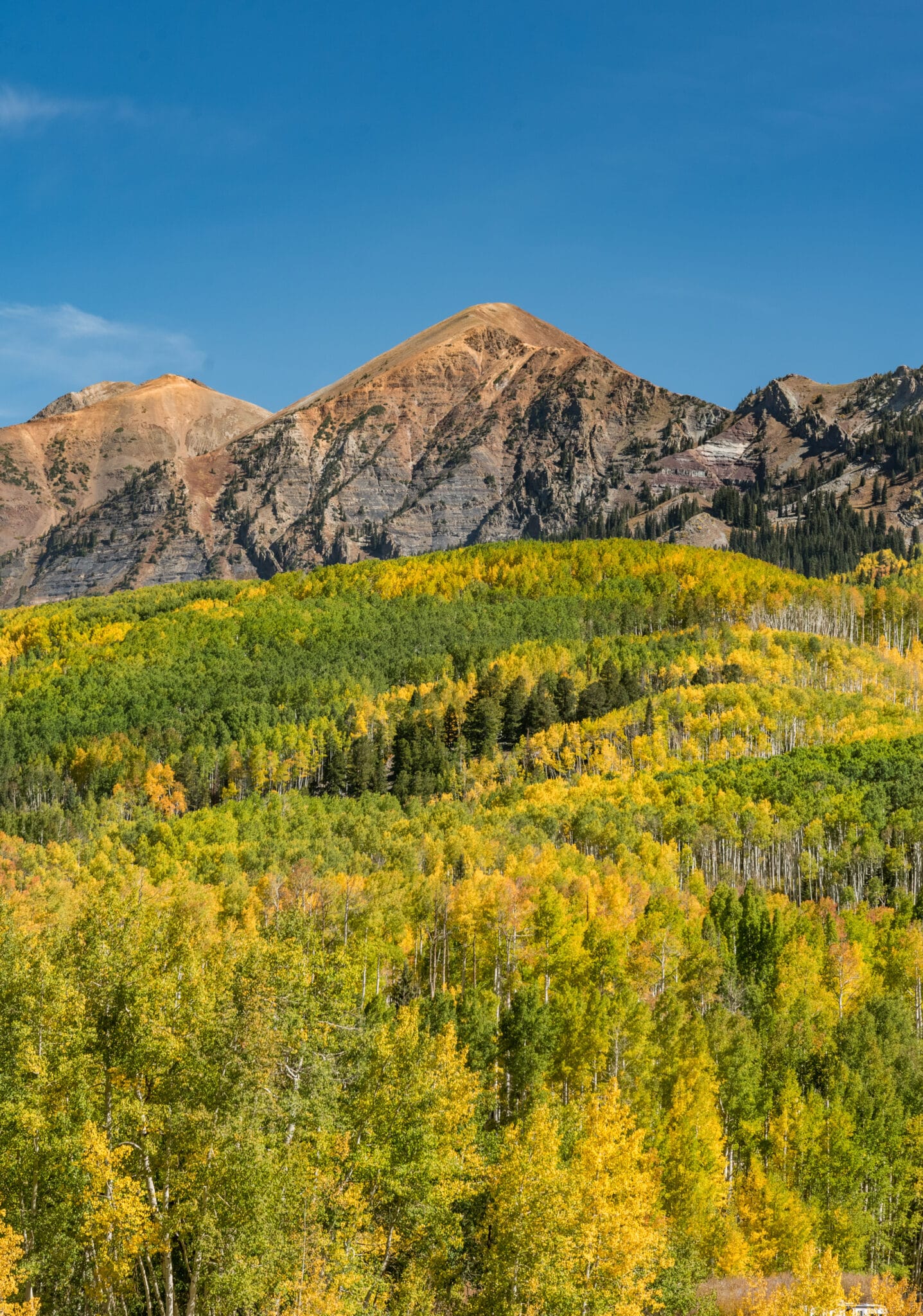 While it always depends on the weather for when peak season is, it is typically from mid-September into the first week of October. Some years it can be earlier and some can be later.
Several factors that determine the peak season include rainfall, elevation, and even wind. A drought can mean peak season happens nearly a full week earlier. If we have had a wet spring and summer, peak season most likely would be later than normal.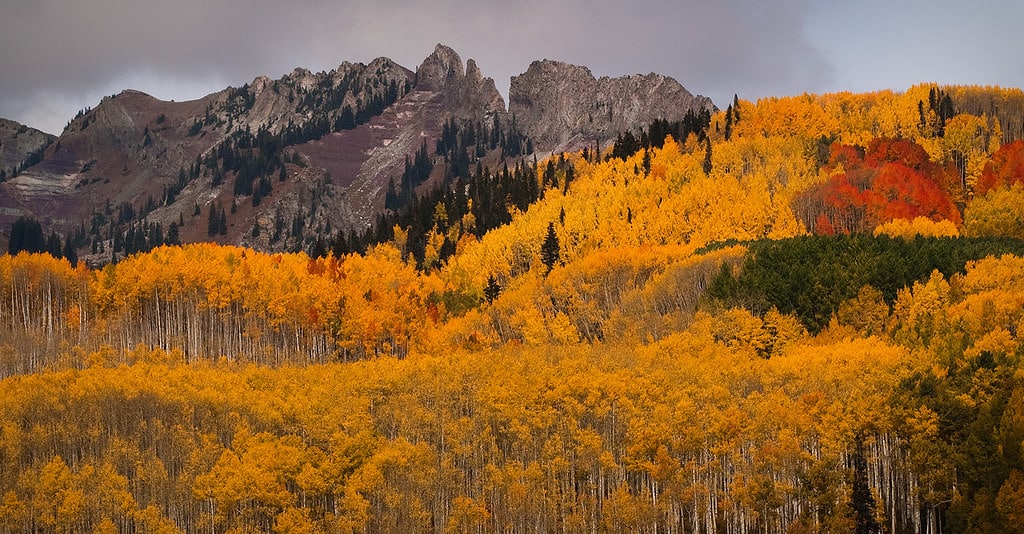 Wind storms can also come through and knock off the leaves, making peak season only last just a few days. The elevation is also a factor. Typically leaves begin to change at 10,000 feet and above first, so peak season at Kebler Pass will be one of the first to happen.
For up-to-date information regarding peak season in Crested Butte, follow their fall foliage tracker beginning in September.
Driving Kebler Pass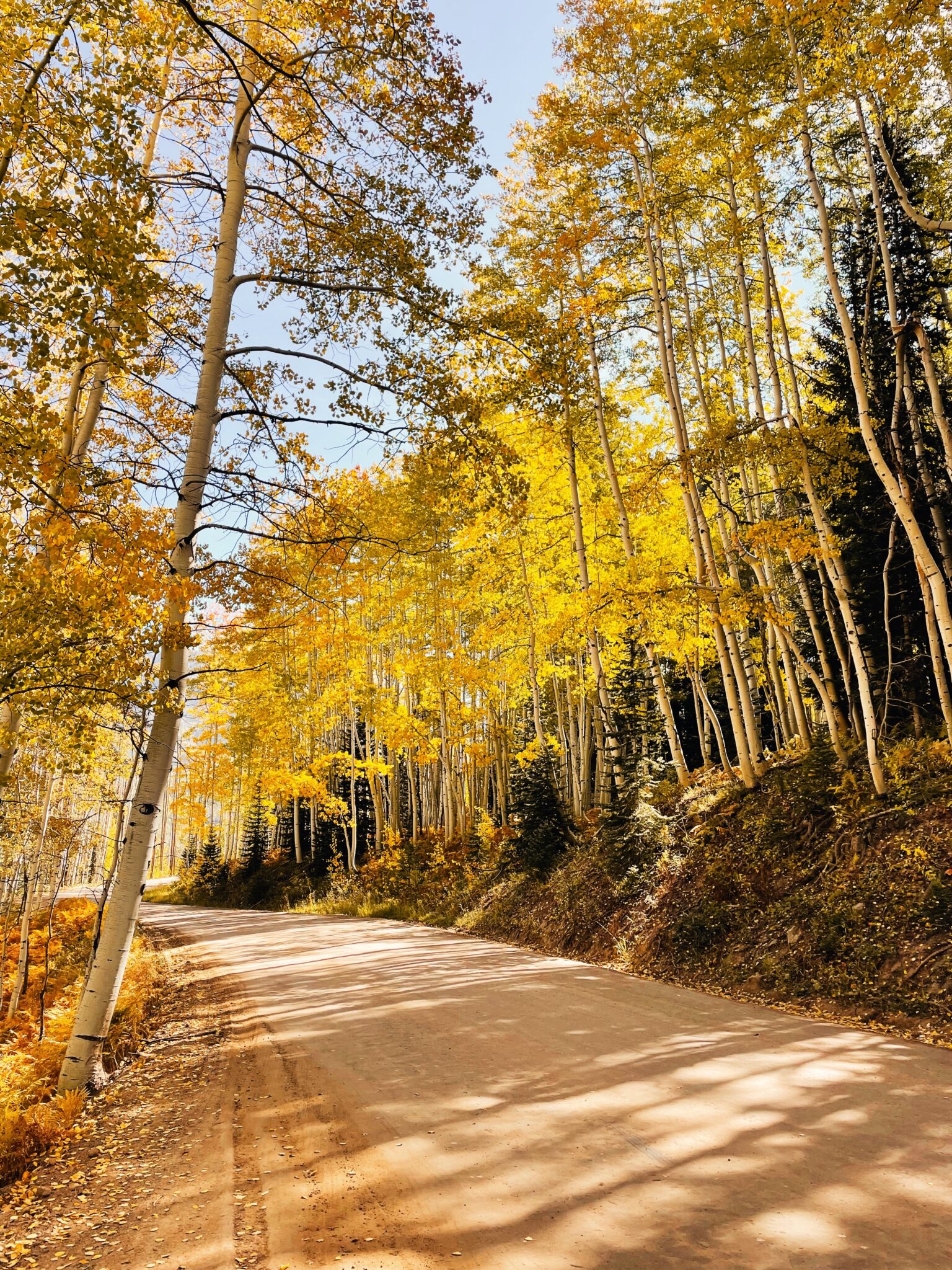 A terrific way to see the fall colors of Kebler Pass is to drive it. While the road is not paved (a few paved sections), the well-packed gravel road is suitable for non 4×4 vehicles, making it accessible for nearly everyone.
Beginning in the town of Crested Butte, Kebler Pass (Gunnison County Road 12) stretches about 30 miles from Highway 133 near the town of Somerset. The pass summits at 10,007 feet in elevation and then heads back down into the town of Crested Butte.
Along the way, there are several pull-off areas to take photos and get out to smell the crisp mountain air. At its peak, drivers will pass through a tunnel of gold with aspen trees that line the road and extend for as far as the eye can see.
The mountain pass is part of the West Elk Loop scenic byway that travels through the towns of Paonia (opposite side of Kebler Pass) and Carbondale, as well as Gunnison, and Crested Butte. It's the perfect weekend road trip this time of year!
Be warned, on the weekend the pass can get quite crowded with tourists and those passing through. Be careful when pulling over on the side of the road to take your pictures and remember this is a mountain pass with through traffic!
Hiking and biking near Kebler Pass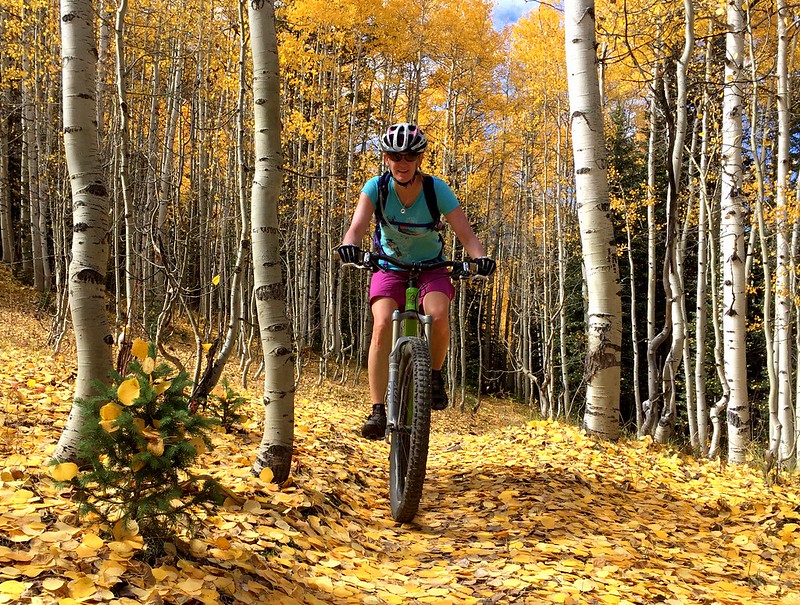 Of course one of the best ways to experience the autumn colors of Kebler Pass is to get out and explore the area's many hiking and biking trails. The three lakes loop is a great place to start. With its gentle grade, lake views, and fall colors, this one is hard to beat. The 3-mile loop is found near the summit of the pass at the Lost Lake Campground.
On the east side of the pass, closer to downtown Crested Butte, is the Woods Walk Trail, which is an easy 3-mile trail that can be caught from in town. On the west side of the pass, the Cliff Creek Trail is to Beckwith Pass is a 4.8-mile hike that offers stellar mountain views.
Mountain biking is also a popular activity in the area. A true classic is the Dyke Trail loop. At only a little over five miles, the trail features smooth singletrack, technical descents, and a heart-pounding climb. Views of fall colors and the Ruby Range cannot be missed. You can access the trailhead at the junction of Irwin Lake Road and Kebler Pass.
Read about other fantastic hiking trails around Crested Butte.
Camping at Kebler Pass
For the full fall experience, camp amongst the golden leaves and twinkling stars near Kebler Pass. There are several campgrounds and dispersed camping sites along the mountain road.
Most paid campsites are at the Lake Irwin Campground and Lost Lake Campground. Visitors can enjoy fishing, paddle boarding, and other water activities while at the lakes. Kebler Corner is another campground with RV sites as well.
Don't forget your camera!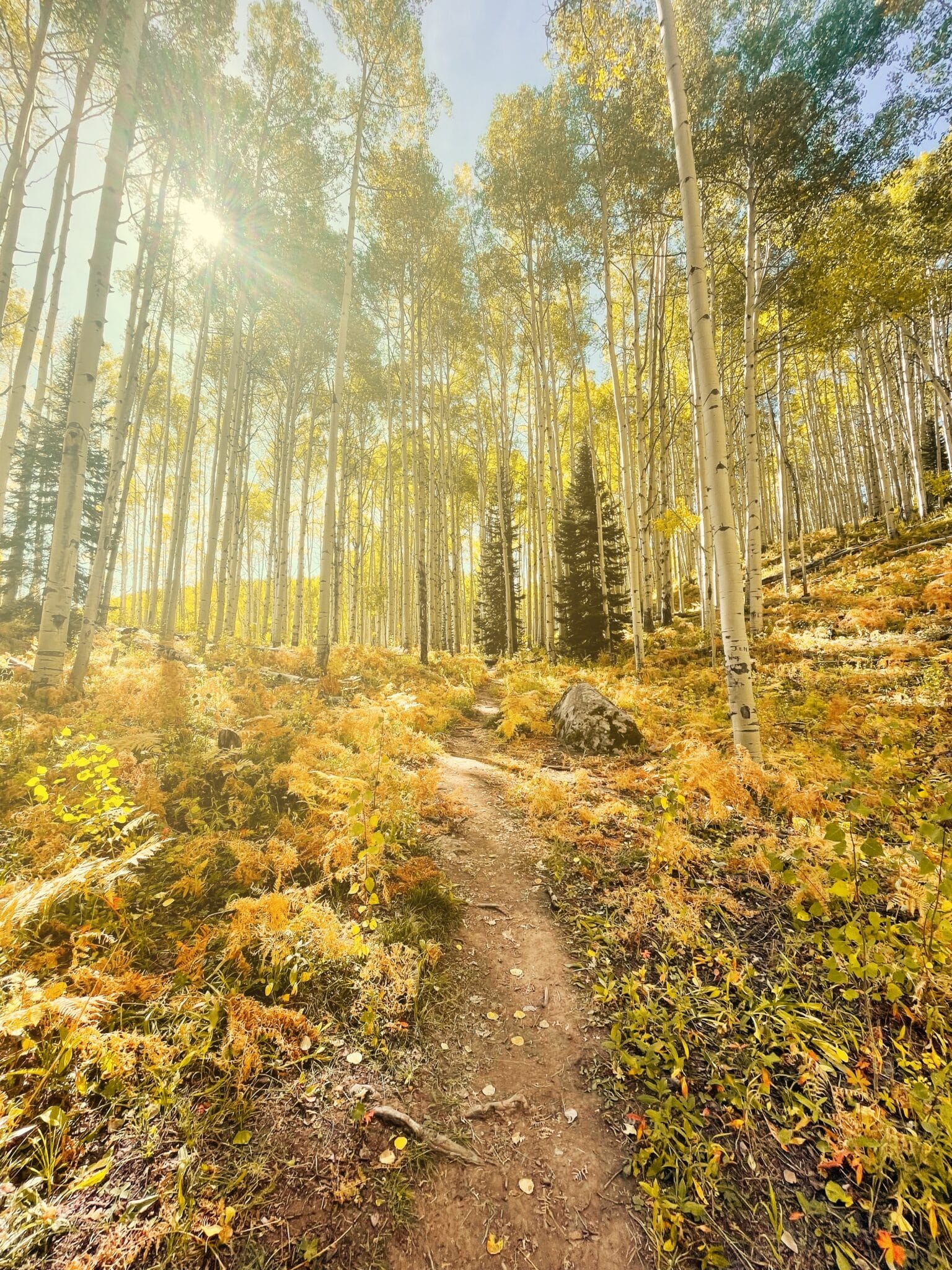 Whether you're a professional photographer or an amateur, you'll want to bring your camera or at the very least your phone to snap some pictures. The fall colors of Kebler Pass may be one of the most photographed places in all of Colorado. At almost every corner you turn, you will find a picture-perfect scene of gold that spans for miles.
So, popular even, that there are numerous photography workshops that are held this time of year. These workshops are led by local photographers who know the area and the best spots for the most perfect photo.
If you aren't ready for a workshop and are willing to put in the miles, the hike along Dyke Trail to Dark Canyon Loop will provide you with some of the most spectacular views in Colorado. The trail is rated as moderate at 6.5 miles of gentle climbing.
Start planning your epic autumn getaway today and experience the fall colors of Kebler Pass!