Even though it varies slightly each year based on weather and elevation, autumn foliage takes over in Colorado around mid-September and lasts until early November. This is the average peak season for the short-lived brightly colored foliage that autumn lovers and photographers wait for each year.
Weather in Colorado can change quickly and be dramatic, shifting from warmer summer temperatures to a full-blown snowy winter in just a matter of weeks. The Rocky Mountain region has some of the densest alpine tree forests, making this area a great place to see those fall colors.
The USDA Forest Service runs a color report each fall that is updated frequently with the status of colors around the state.
Seasonal Factors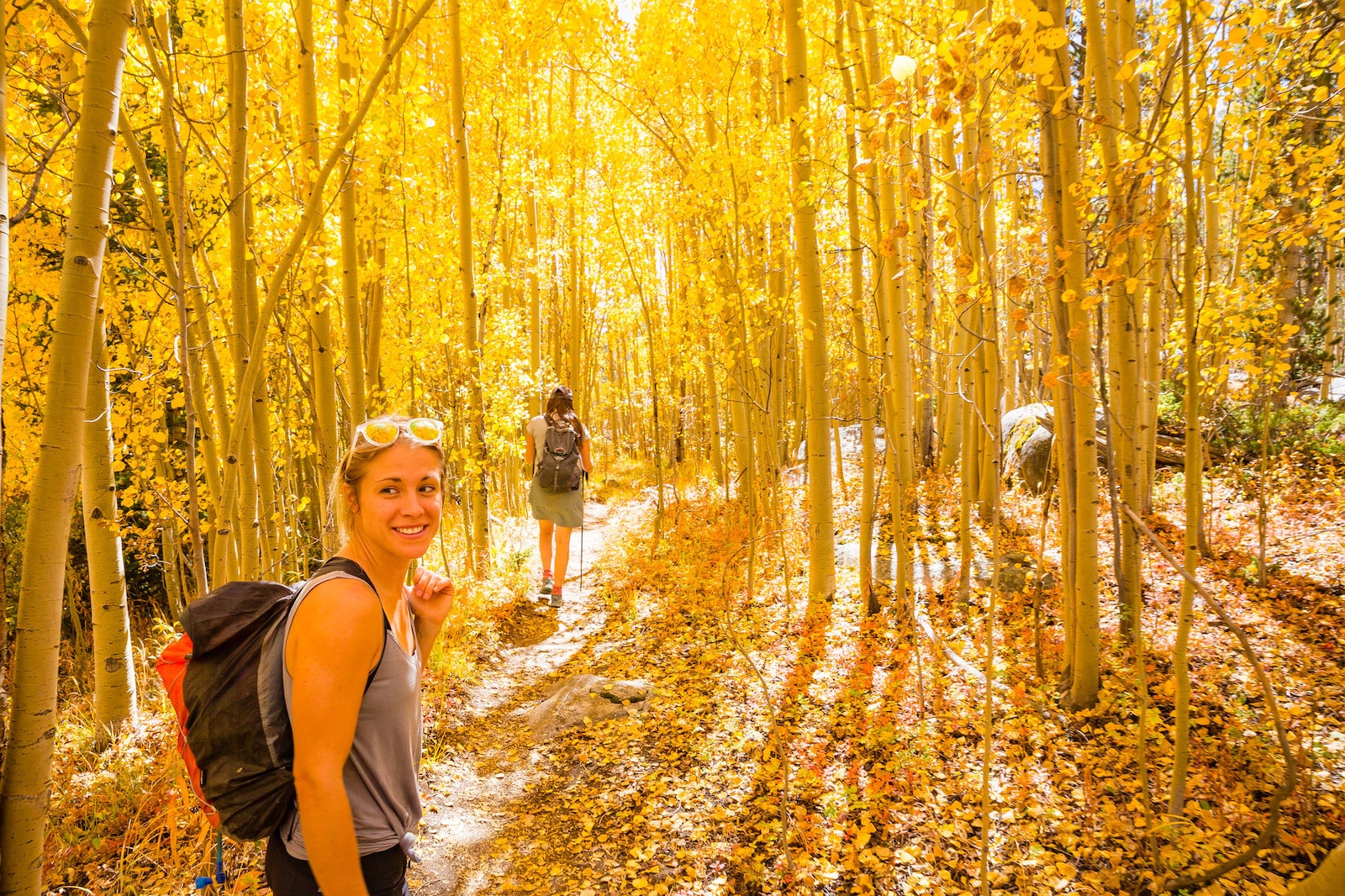 The higher elevation, the shorter the fall season. The trees up the mountains are faster to transform and don't keep their hues for long. Generally speaking, anything above 8,500 feet will be the first to change, usually in mid-September. Trees below that elevation will take an extra few weeks to get their colors around early October and fade in early November.
Other factors can influence and slightly alter when it really starts feeling like autumn. For example, if recent months had a lot of rain, the trees might keep their colors longer. Dry summers might cause leaves to shift faster and fall sooner.
Travelers to Colorado who prioritize seeing the leaves change should aim to go in early October when temperatures around the state start to dip. This is about the last time of the year people can comfortably camp outdoors without much chance of snow or freezing temperatures.
Be sure to pay attention to the weather and know that even if it's warm at a lower elevation, you'll lose about 3.5 degrees for every 1,000 feet of elevation gain. It also tends to be windier the higher you go, so dress in layers so you can enjoy the scenery wherever you end up.
Here's a rundown of when you can expect each elevation range to change colors, and where the best spots to leaf peep are:
9,000 – 11,500′: Mid – Late September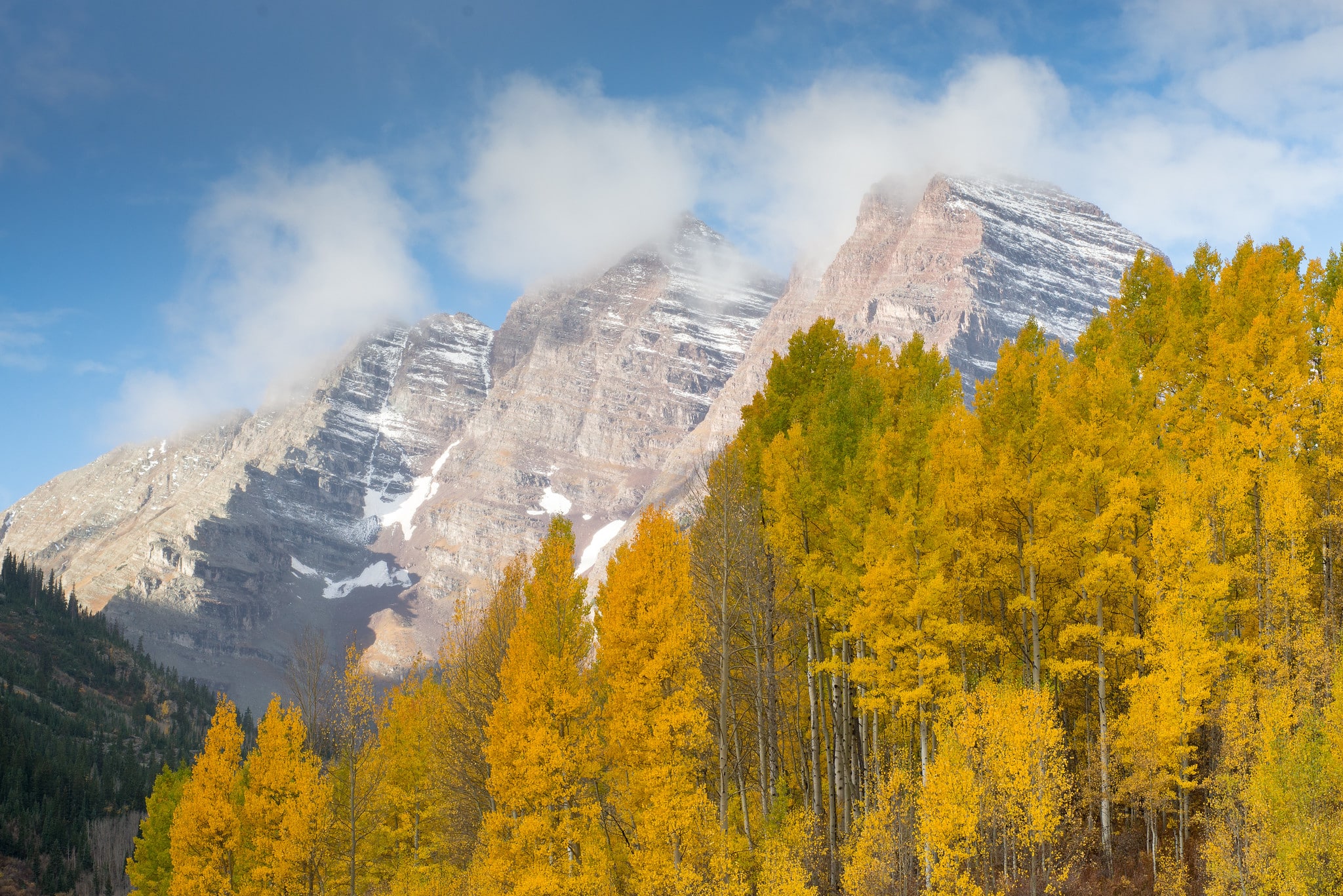 Due to the lower temperatures and higher altitudes, you can expect trees at this elevation to be the first to turn their leaves. Higher altitudes are notorious for having a short period of peak color, typically lasting a little more than a week. You can't go wrong planning your adventure for the third week in September, a sweet spot for most leaf peepers.
Take a high-elevation driving tour on Trail Ridge Road through Rocky Mountain National Park to indulge in the beautiful red and orange hues. Or head to the famous Maroon Bells for a breathtaking autumn twist on the iconic landscape. Kebler Pass is another local favorite, boasting one of the largest aspen groves in the country, perfect for photographers.
Due to their increased latitude, northern destinations will start their fall seasons at the earlier end of these time ranges. So if you're planning on visiting places like Meeker or State Forest Park, be sure to head out earlier in the month.
7,000 – 9,000′: Late September – Early October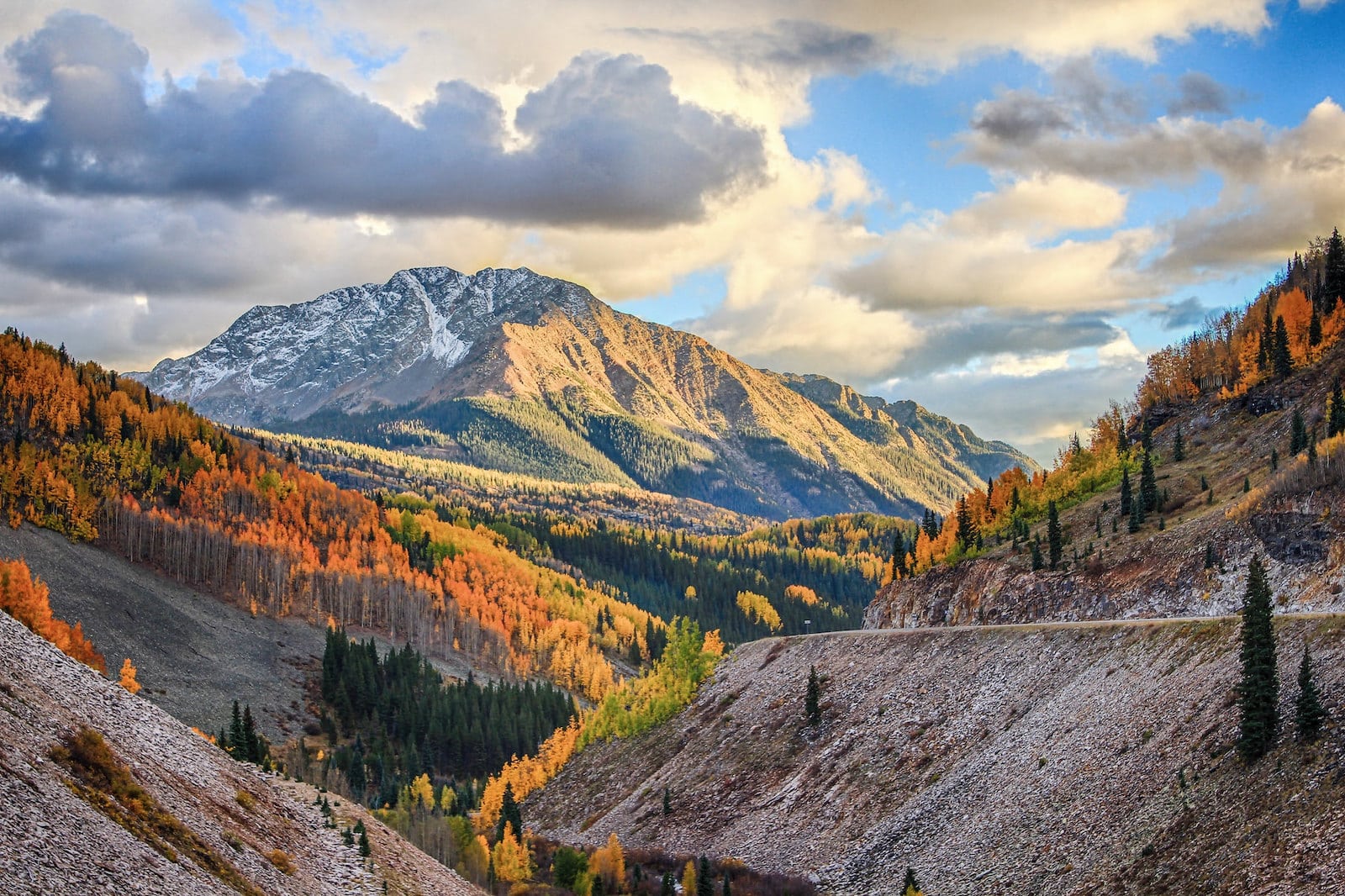 Lake Dillon, Frisco, and many popular spots along the Front Range have dense aspen forests and other tree species that will start to change color toward October. This area has a long, paved biking trail where you can wind through golden groves as you make your way from Vail back to town.
The San Juans are another great option in the state's southern region, with the Million Dollar Highway being a popular route. This scenic 25-mile section of the San Juan Skyway connects Ouray and Silverton, offering stunning fall colors along the way. There are plenty of hiking and biking trails, hot springs, and historic towns to explore as you travel through the mountains.
6,000 – 7,000′: October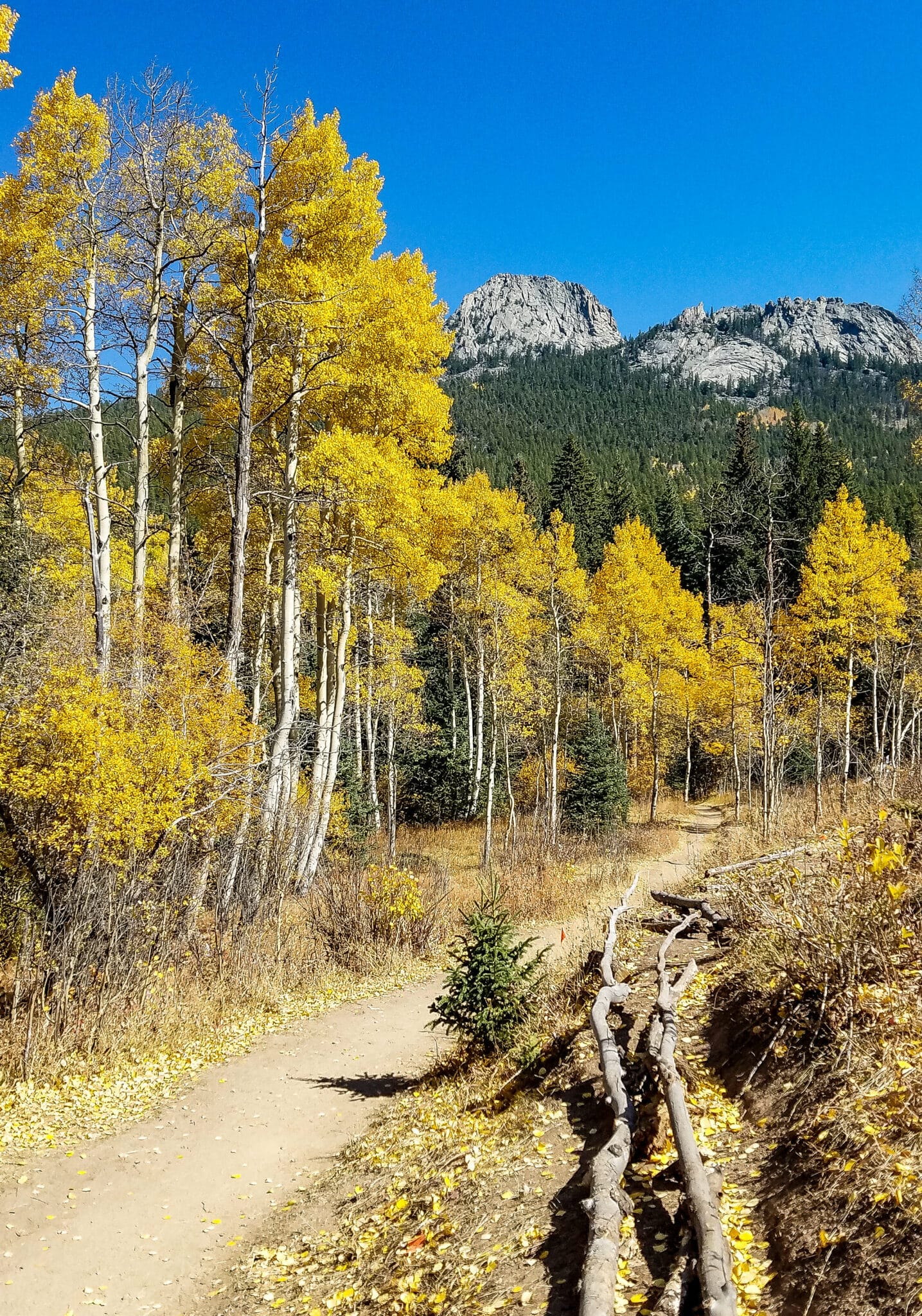 A lower elevation stop along the San Juan Skyway, Durango offers plenty of sunshine and clear skies for easy leaf viewing. The Animas River trail follows the babbling river and is shaded by fiery red and orange trees. Leaves tend to change around the first week of October and continue to maintain their color throughout the month.
Golden Gate State Park has many popular hiking trails at lower elevations, making it a great destination for catching fall colors later in the season. Raccoon Trail is only 4 miles, and winds through aspen groves up to Panorama Point, a beautiful spot for views of the surrounding mountains.
Below 6,000′: October – Mid-November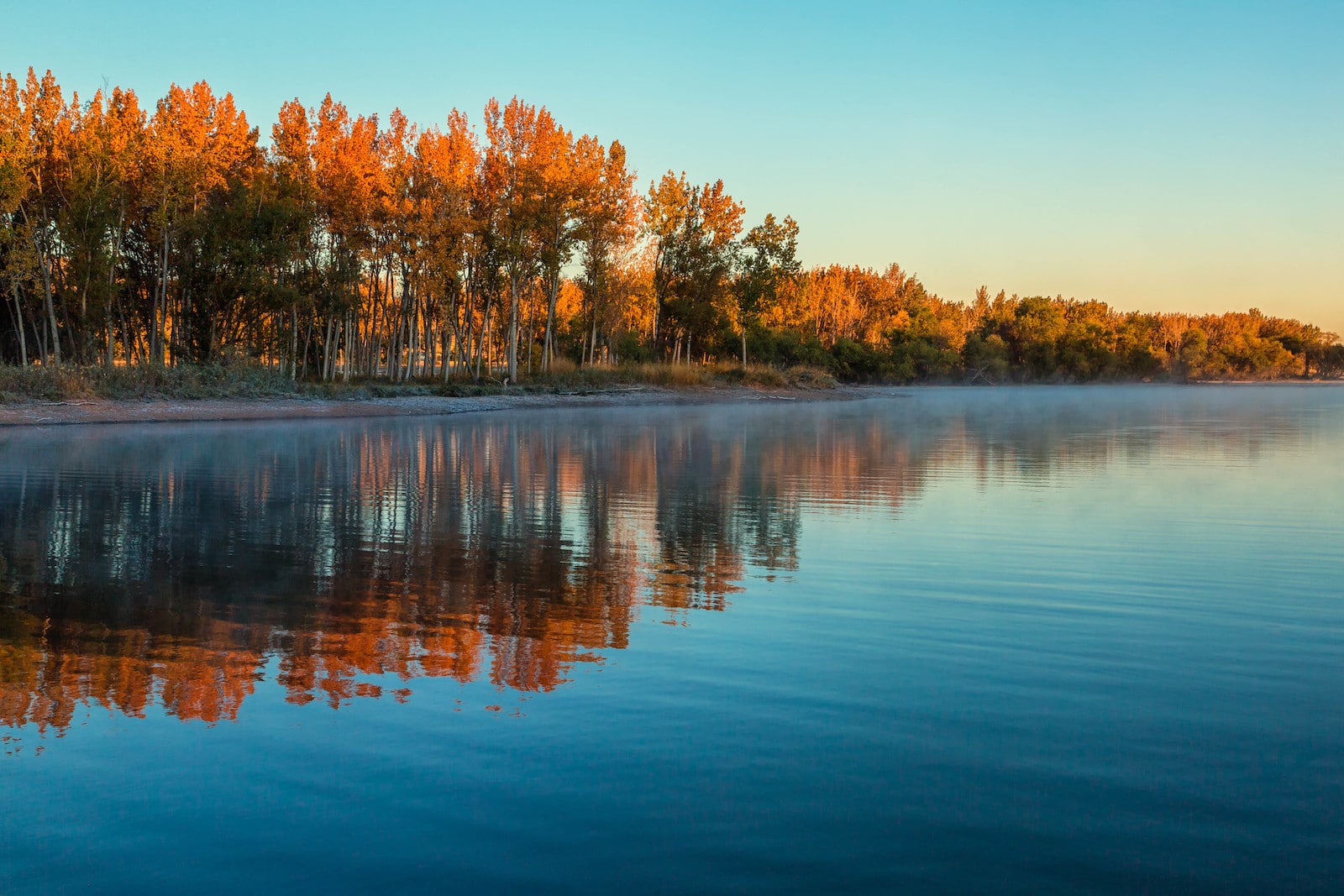 Head to the Western Slope for late-season fall colors. Because of their lower elevation and warmer temperatures, towns like Grand Junction and Palisade are some of the last to turn their leaves. Explore Grand Mesa and all of Palisade's wonderful wineries while you fawn over the foliage.
Any of the Denver area's public parks are ideal for a stroll, bike ride, or picnic during the late autumn. City Park, Chatfield State Park, and Sloan's Lake are home to many color-changing trees and provide lots of space for enjoying the outdoors.
Going to Colorado around September to November is a magical time. Before the snow calls in all the skiers, carve out some time to witness this beautiful state's brief fall colors. Check out these other great autumn activities to have an even more fabulous fall season.