Colorado is easily one of the most driver pleasing states in the nation, with breathtaking views around every corner in the Rocky Mountains. As long as you've got a tank full of gas and a reliable form of transportation, you'll be in for a treat.
Situated amongst probably Colorado's steepest all around mountain range, the San Juan's, the Million Dollar Highway is one for the bucket list. It's located in the southwest part of the state, connecting diverse mountain towns and major landmark attractions. The views are unmatched, especially in late September when our trip was planned.
Million Dollar Driving Sponsored by Toyota #LetsGoPlaces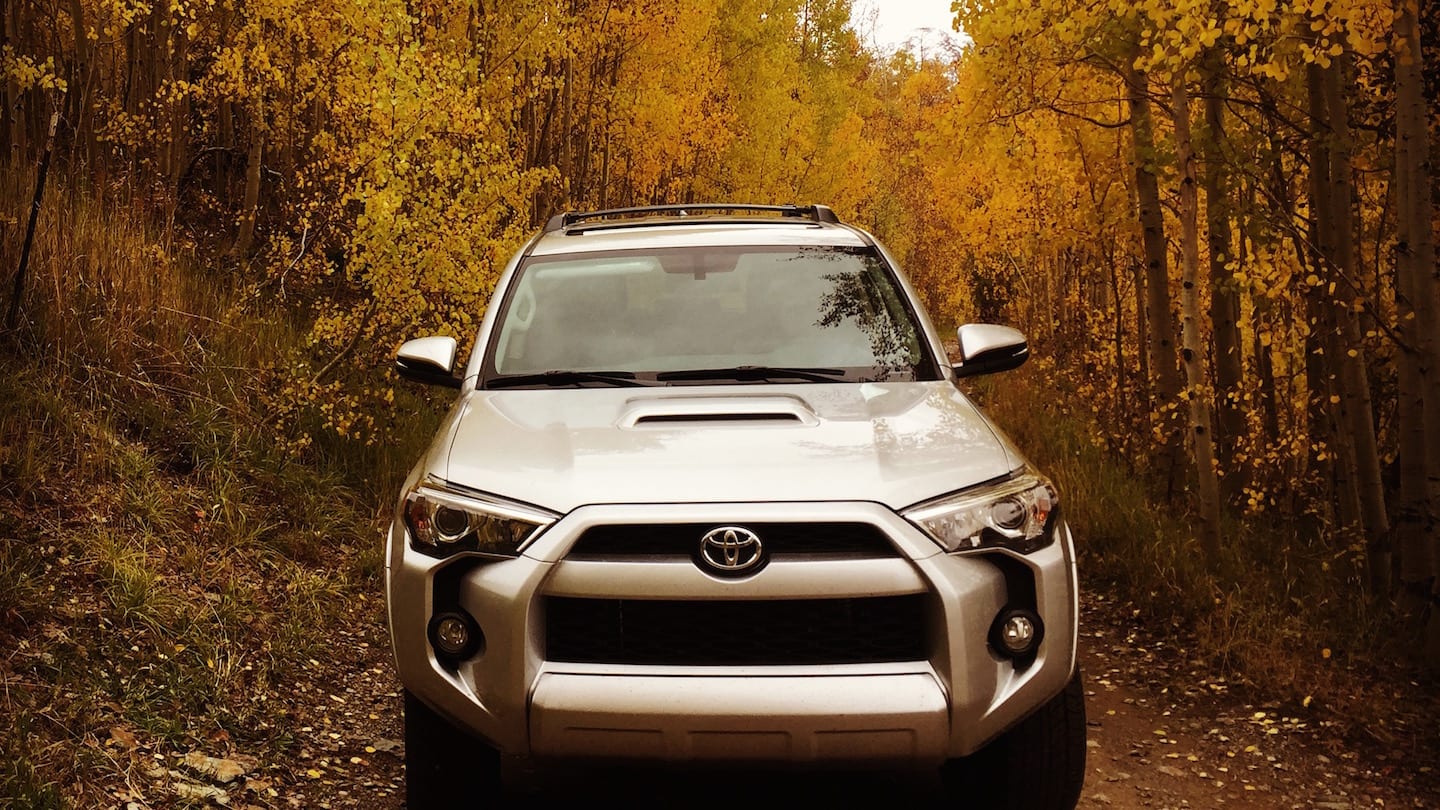 Ideally located in a remote region of Colorado, the Million Dollar Highway keeps away the Front Range day trippers. It takes 6 hours to reach the start in Durango, or about 6 hours to reach the start in Ridgway, choice is yours! The drive in from the Front Range to the start will also not disappoint. Drive safe and avoid wildlife.
Our 2017 trip was Sponsored by Toyota, covering our gas, hotel expenses, local attractions, meals and the best part, complimentary Toyotas to drive.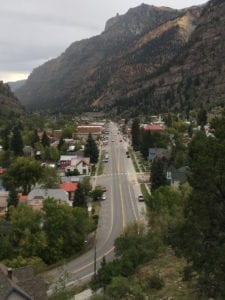 Combined with the
San Juan Skyway
, it winds through stunning several national forests and past the
Old West towns
of:
The official length of the Million Dollar Highway is 25 miles between Ouray and Silverton, however the greater scenic byway is 233 Miles and takes 5.5 hours (no stopping) to complete a whole circle. If tackling it in one day, expect to start driving with the sunrise, and enjoy one of the most spectacular day trips of your life. It's all highway driving, so if you don't make it by dusk just drive slow until you do. Most people spend 2 to 3 nights in some of the fun towns along the way. A few end up moving to the region for life.
It's officially part of the San Juan Skyway National Scenic Byway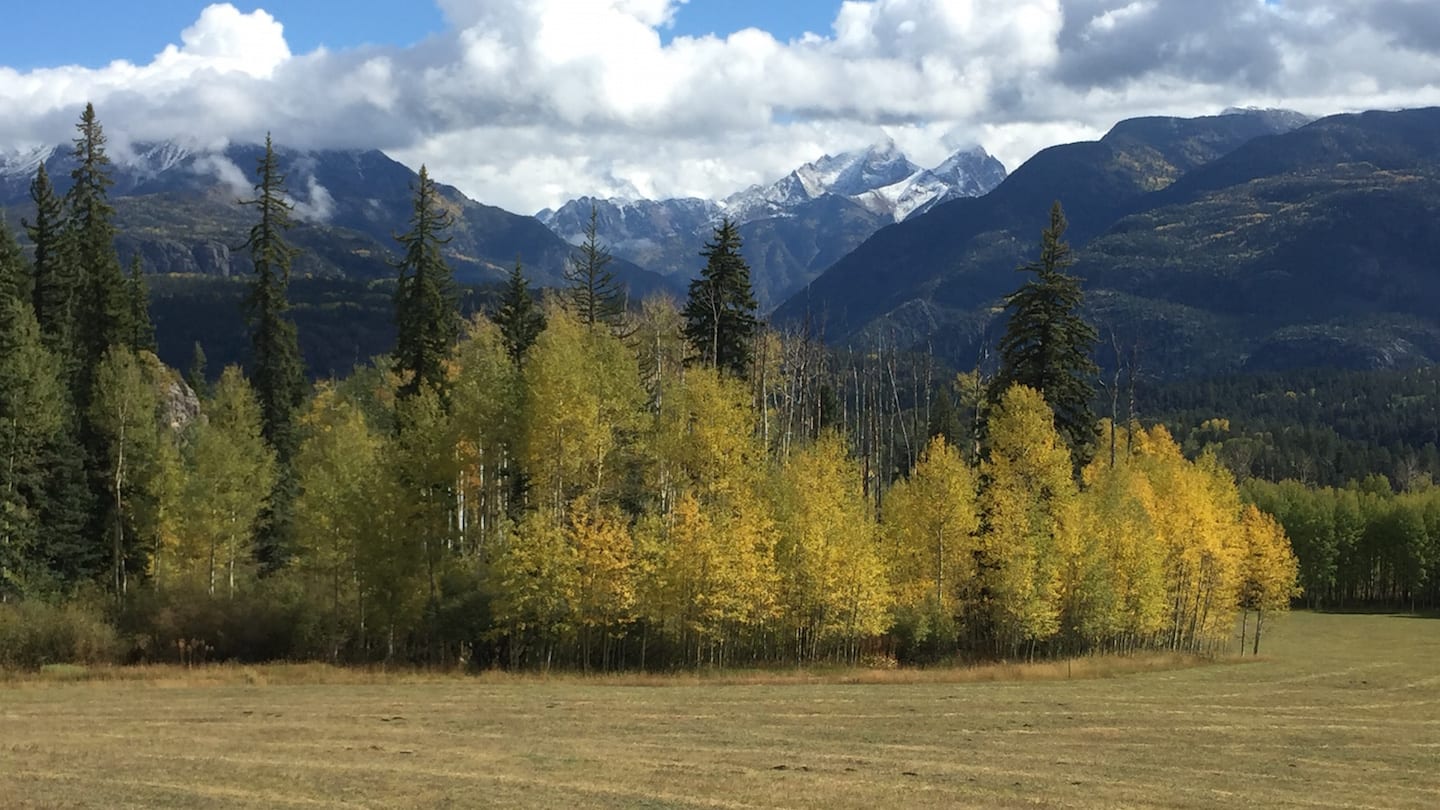 The San Juan Skyway, which includes the Million Dollar Highway, makes for one of the best road trips in Colorado. It's accessible year round, but unless you're skiing or into winter recreation, most people explore the backcountry during the warmer, snowless months. You can choose any level of adventure or luxury: from dispersed camping and breathtaking climbing, to pampered spas and sunset gondola rides.
Here are some tips for exploring one of Colorado's most colorful regions: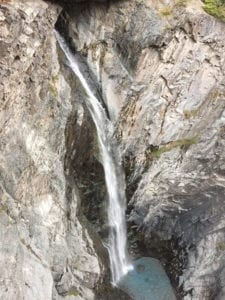 Take your time. Take detours. Go off the beaten path. Pull over at scenic overlooks.
Spend a couple nights in a cool alpine town or two.
Bring an extra driver so you can take turns enjoying the views.
Drive it during the day.
Any season is magical, though fall makes a fantastic route for shades of red, yellow and orange.
Relax at natural hot springs on the journey.
Here are some hot springs along the way:
Camp if it's the season. There's really no better way to experience all you can than by late nights under the stars and early mornings to seize the million dollar days. There are paid campgrounds with amenities and free primitive camping found on the entire route. While you could wing it on the weekdays, plan a few spots for camping if you go without reservations on a summer weekend.

The Last Dollar Road cuts from Ouray to Telluride, a "short-cut" route that connects the San Juan Skyway. There are dispersed campsites on the way and some campgrounds. Four wheel drive and/or a good set of tires and clearance are recommended to make this side trip. It also is by no means a time saver at 3 hours, however it's a reasonable, relaxed route that's worth the trek if you've got the means.
2018 Toyota Lineup driving the #MillionDollarHighway
In late September of 2017, Toyota sponsored a group of us in the internet world of influencers with an all-inclusive, 2 night, 3 day trip, from Denver to Durango to Telluride and back. We took turns sharing cars, with a new one to test drive on each major stop.
The Toyota cars I drove were: Rav 4, CHR, 4Runner and Avalon. I personally drive a Tacoma so I opted for the 4Runner when that vehicle came around. I missed out on the Toyota Tundra truck. The Highlander missed the trip. Each car had its advantages and disadvantages with my personal favorite being the Toyota Avalon for mountain driving.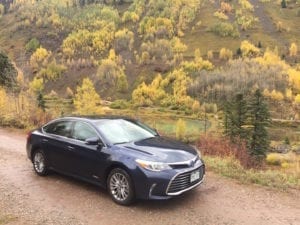 This
hybrid Avalon
had incredible gas range, great pick-up for charging up the alpine passes, cool styling for impressing the wildlife and plenty of legroom. It's also quiet. First time I drove it I couldn't figure out how to turn it on. Except that I could. You press the start button and just like that it's on, no gas revving motor, just whisper quiet electric engine ready to roll. I sat in a gas station for 15 minutes before realizing I had been turning the car on and off. In my defense I did not think it registered the key I was holding, something you may be familiar with if you drive a push button start.
Meetup Point – Durango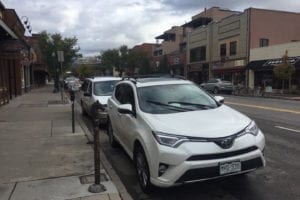 The six hour drive from Denver to Durango is nearly Highway 285 the whole way, with a final two hour stint on Highway 160, passing Del Norte, South Fork, Wolf Creek and Pagosa Springs. The Rav 4 handled it like a champ, though I did miss the 6 cylinder power of the Rav 4 of past.
Once you hit Durango, you're officially ready to ride the Million Dollar Highway. An alternative route would be I-70 from Denver to Grand Junction, then south to Ridgeway to begin this national scenic byway.
The group met for dinner that night and everyone stayed at the DoubleTree Hotel, an upscale riverside property in downtown Durango. They give you free cookies upon arrival, and feature spacious rooms, some with riverside balconies. From here we drew straws of sorts to see who got what Toyota model next. Mine was the CHR, a crossover SUV/sedan. It has a lower center of gravity to the Rav4 and similar power. It looked the part for the Million Dollar Highway.
We enjoyed a solid breakfast to start the day at town favorite Jean Pierre Bakery. They serve up exceptional French comfort breakfasts. Now bellies full, we headed for our next stop to the north, in the San Juan County seat.
2nd Stop Silverton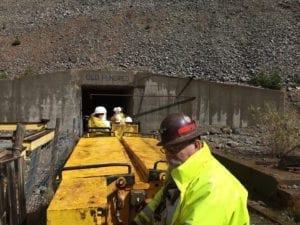 We drove north from Durango on Highway 550, a gorgeous route over Molas Pass, to the 9,300 hundred foot elevation town of Silverton. The attraction we were exploring is the
One Hundred Mine Tour
. This first-rate guided tour gives you an authentic glimpse into mining life at the turn of the 20th century. Our tour was led by a real former miner, so were treated to true behind-the-scenes knowledge.
The tour leads you deep into the mine caves via a railway. The ride reminds of the scene from Indiana Jones when they're escaping the mine shaft. After the tour we meet at Handlebars for lunch, a locals' favorite full of local taxidermy and western fare. Our last and final stop was Telluride, onward.
North from Silverton the Million Dollar Highway begins. The sun is shining and weather is sweet! The mountainous highway ascends 3 mountain passes before the next town on its 25 mile stint. On the third and final descent into Ouray, you pass a huge roadside waterfall, Bear Creek Falls. It sets the tone perfectly for the upcoming Switzerland of America. Highway 550 becomes its main street.
Ridgway is 15 minutes north of Ouray. If taking the Last Dollar Road to Telluride instead of the quicker Highway 62 from Ridgway, the turn off is between the two towns. It drops you off just north of Telluride.
Final Stop Telluride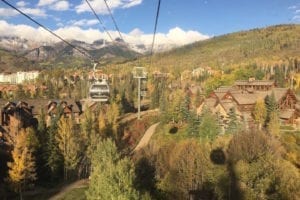 Telluride's a different kind of mountain town, stunningly situated in a San Juan Mountain box canyon. The natural beauty combined with Telluride's flare for entertaining, equals a damn good time. Toyota put us in the
4 star Peaks Resort & Spa
, conveniently located in the Mountain Village. You have to keep your head on a swivel here because the beauty is everywhere. Telluride is a perfect town to cap off a road trip!
We dined Saturday night at Allred's, which is accessed via the gondola. They serve upscape American contemporary food. Given its elevation, you probably wouldn't be surprised of its expansive mountainous views. What impresses is its picture perfect aerial of Telluride's whole town and box canyon. That and the fact that the food is equally as impressive.