Travelers to North Colorado love soaking in the hot springs near Steamboat Springs, a town with plenty to do outdoors. Whether you're coming to ski or hike, be sure to check out the geothermal pools that are very close to the downtown area.
There are just two hot mineral water resorts in the city, but both are excellent places to decompress. There's also a free, primitive soaking option in Steamboat Springs. Without further ado, here are the closest hot springs to downtown Steamboat Springs, in order or proximity.
Hippie Hot Springs – 0.3 miles | 1 minute
This collection of pools along the Yampa River banks, just across the street from Old Town Hot Springs, is warmed by the outflow of thermal waters from the resort. It's free to use and hovers around a consistent 100℉. Hippie Hot Springs is a locals' hidden gem and a great spot to enjoy some sunshine and fresh air. Outdoors enthusiasts enjoy summer tubing down the river with a stop at these natural soaking tubs.
To find the springs, head to 125 Lincoln Avenue and look for Dr. Rich Weiss Park signage to find the heated ponds walled up by natural rocks.
Old Town Hot Springs – 0.3 miles | 1 minute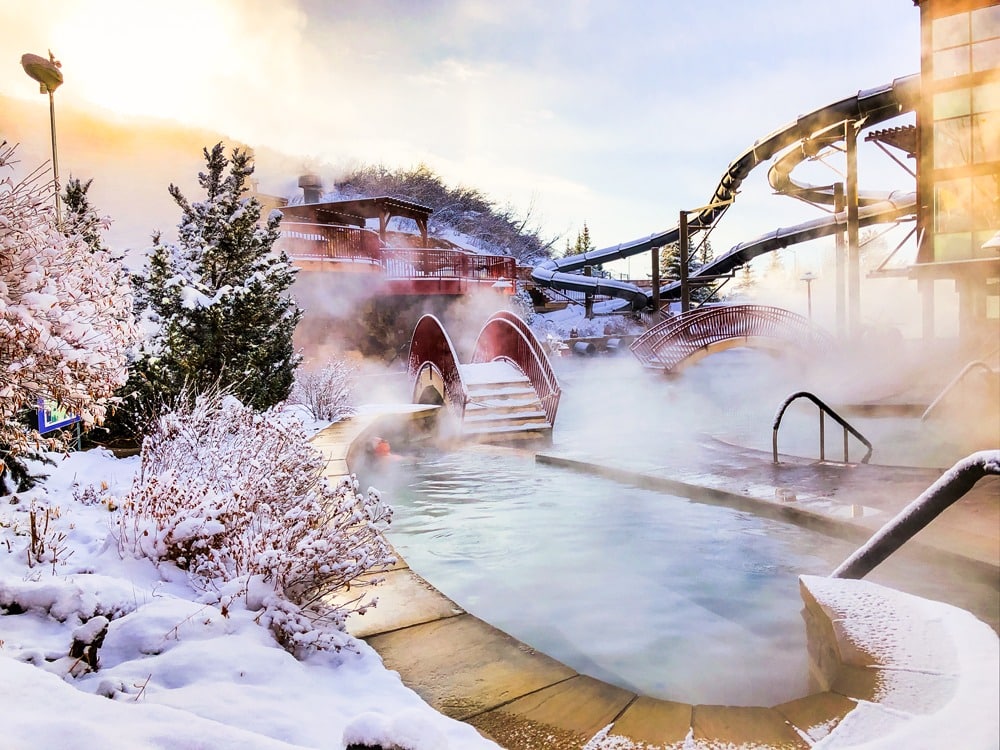 Based in downtown Steamboat Springs, Old Town Hot Springs has been luring visitors to its cozy pools since the 1880s. Before this destination became an attraction, the Native American Ute Indians settled in the area as homesteaders and enjoyed these steamy baths for years.
The resort is home to eight outdoor geothermal areas that keep temperatures between 98-104℉, including four hot pools, a lap pool, a kids pool, and the Heart Spring. The environment is family-friendly, although only visitors ages 15 and up can get in the Heart Spring.
Old Town has two seasonal 230-foot waterslides that kids love, in addition to the aquatic climbing wall. Adults can squeeze in extra "me time" by booking a treatment with an on-site certified massage therapist.
During the summer, the resort has some additional fun features, like a floating obstacle course. Guests that enjoy breaking a sweat before swimming can take advantage of a class at the property's gym or indoor climbing wall.
Long-term visitors or locals who want to learn to swim can purchase lesson packages with multiple sessions. No reservations are required to come for a soak or swim.
Strawberry Park Hot Springs – 6.5 miles | 15 minutes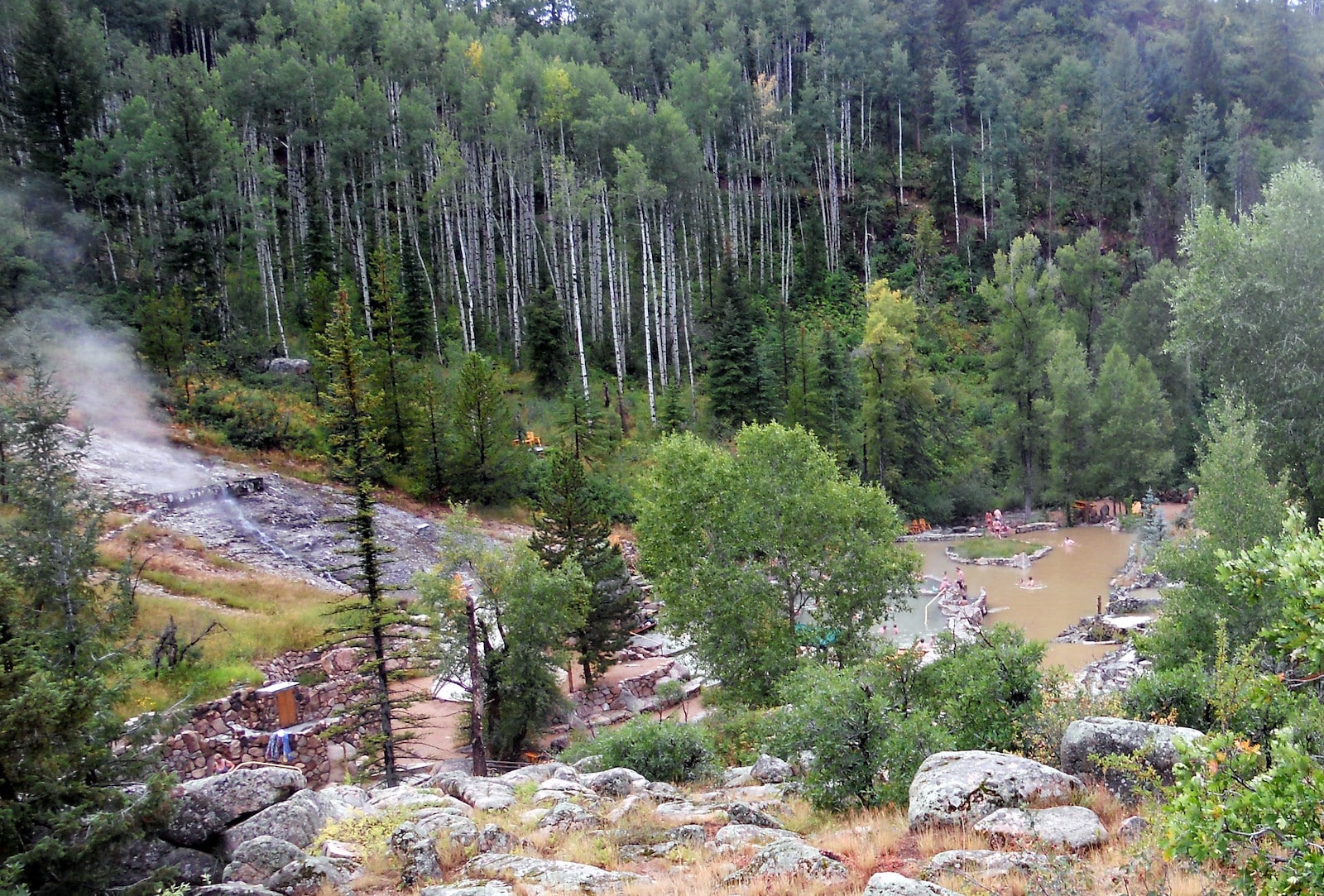 Strawberry Park Hot Springs is located seven miles north of downtown Steamboat Springs in a mountainous valley. This lovely resort has five flowing rock-foundation hot spring pools with sandy bottoms that run beside Hot Springs Creek. The temperature of the geothermal hot water source is 147℉, but after merging with cooler streams, it chills down to perfect soaking temperatures ranging from 101 to 106℉.
In order to use the pools, reservations have to be made. Bookings can be requested up to a month in advance. The property has toilets and picnic spaces and a heated lodge and tepee for changing.
Outdoor enthusiasts drool over this attraction as it's also very close to places to ski, making it the ideal place to relax after a day on the slopes. Visitors can also spend the night at one of the springs' cabins, tent sites, or furnished vehicles used for glamping. Aside from soaking in the water, the property also has its own on-site spa.
Radium Warm Springs – 67 miles | 1 hour 20 minutes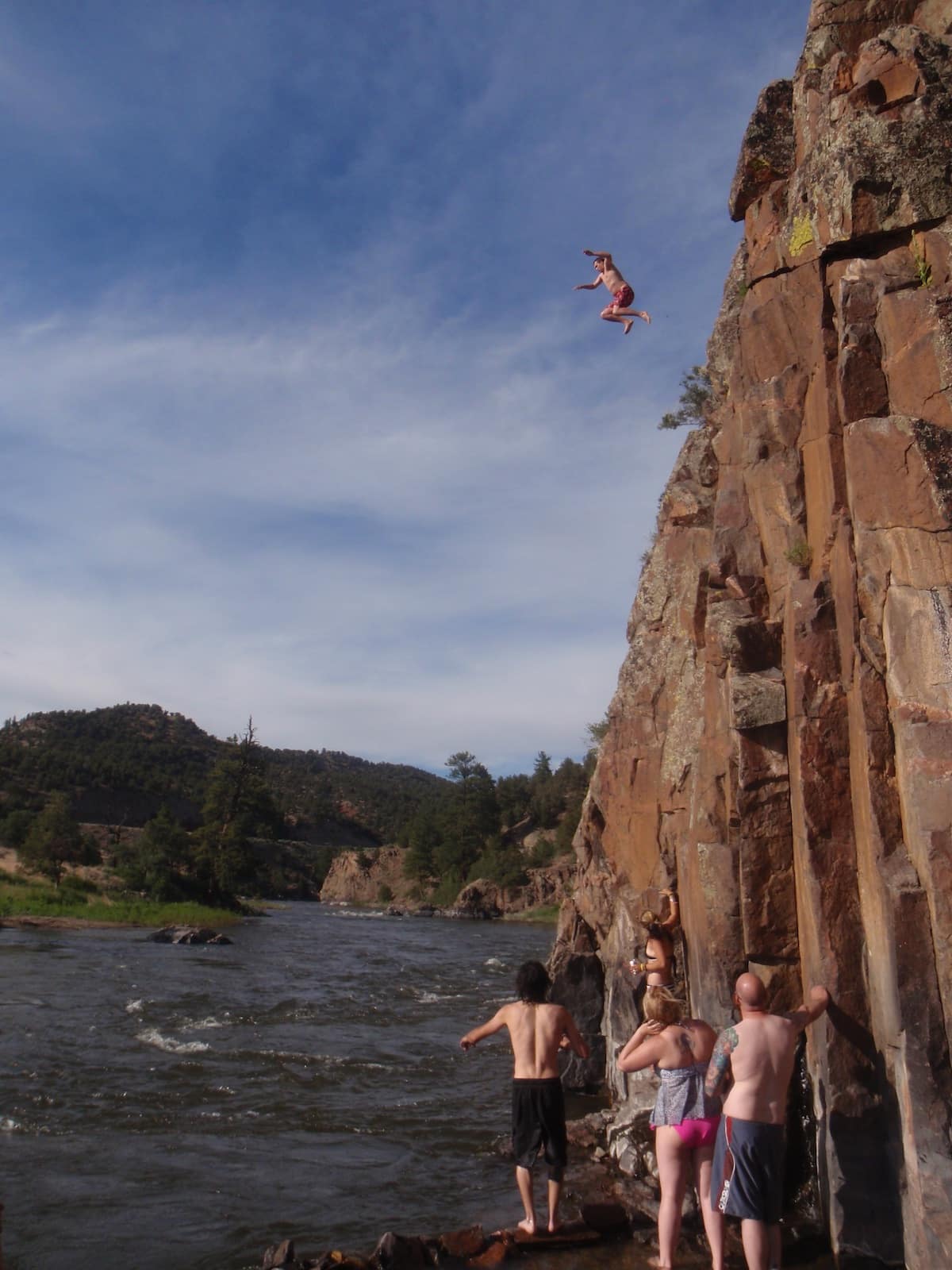 Radium Warm Springs in Kremmling offers a rustic and authentic natural hot spring experience. This small, primitive geothermal water pool rests right on the banks of the spectacular Colorado River and is about 20 feet by 6 feet, providing just enough space for a few people to soak.
Temperatures vary in the rock-walled pool by season but always remain comfortable without a shock factor. The water from the river often splashes in and mixes with the hot thermal water, which cools down the springs to a bathwater-like feel.
This part of the Colorado River is especially popular in the summertime for swimming, kayaking, tubing, and rafting trips. Many visitors will also cliff jump from large rocks on the side, but take caution if you decide to do this; it can be very dangerous. During the spring, the river water level might be on the high side and wash out the pool, so the best time to visit is in the summer and fall.
There are two places to camp near Radium Warm Springs. The Radium Recreation Site has some amenities like picnic tables and tent pads and the more rural Mugrage Campground that's about half of a mile away. Mugrage has no water or electricity; just a basic drop toilet is available.
Hot Sulphur Springs Resort – 69 miles | 1 hour 15 minutes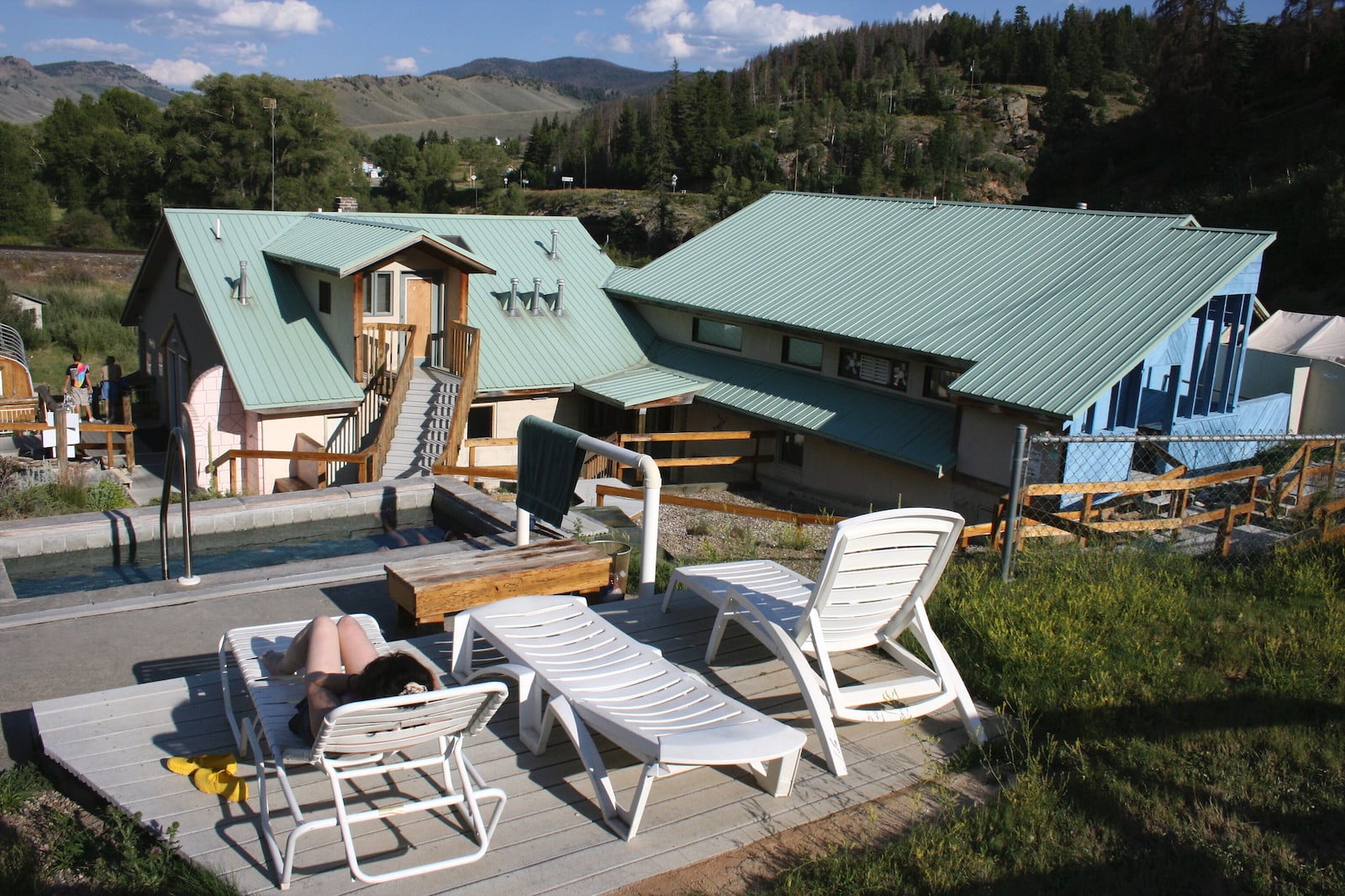 Set in the town of Hot Sulphur Springs, this resort is one of Colorado's finest geothermal soaking locations. Featuring 22 pools, including private baths, a solarium pool, the Elk Pool for rehabilitation, and a summer swimming pool, this property is the ideal place to relax and rejuvenate.
The flow-through, chemical-free waters are regulated at temperatures from 95-112℉ and are a part of a world-class facility that was once relished by native Ute tribes.
Walk-ins and overnight lodging is available at this property. Guests that choose to spend the evening on-site can book a standard single or double room with easy access to the hot springs. Visitors who book a hotel room will be able to use the pools from 8 am to 10 pm, and receive two complimentary soaking passes on the day of checking in and checking out.
Like many other mineral water spas, Hot Sulphur Springs Resort has full-scale wellness services like massages and other treatments. For additional ways to relax, walk around the property and look out for deer and other wildlife in the crisp mountain air.
Steamboat Springs has a Colorado town with a rich history, but taking time to slow down and enjoy the region's precious waters is a must-do for any tourist.