Tucked away in the northwest, the Yampa River is the only free-flowing river in Colorado. It's not obstructed by dams or diversions at any point along its 261 miles. During the summer, it's a popular spot for tubing, fishing, and kayaking around Steamboat Springs.
The season is best in the earlier parts of summer as the Yampa River offers a faster float. Tube rentals are available at a number of sporting shops downtown. You can also purchase a tube on Amazon or Walmart (there is one in town) if you plan on reusing it or coordinating your own float.
Float the Yampa River in Downtown Steamboat
Drop in from the Fifth Street Bridge in downtown Steamboat Springs and float down as long as you'd like. Most visitors opt to tube down to the James Brown Soul Center of the Universe Bridge, passing through Steamboat's playful whitewater park. The float typically takes about 1-2 hours.
The water flow is usually fairly tame, although it is faster and higher in the earlier part of the season. June and July are prime, whereas by September it's slowed down considerably. The manmade whitewater park adds some adventure to the mix regardless of when you go.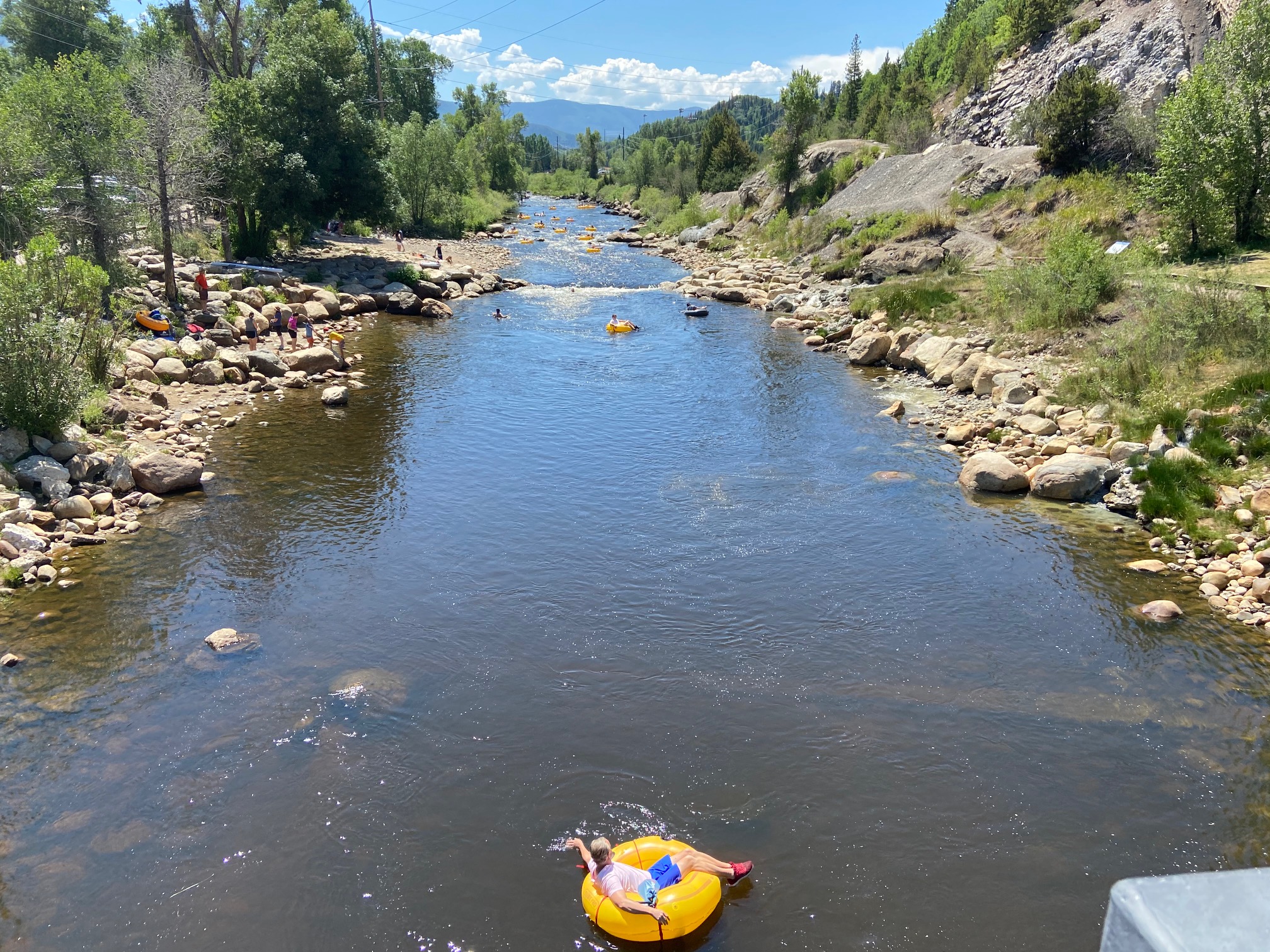 Tip for floating the Yampa River:
Always wear a Personal Flotation Device (Life Jacket) and water shoes with straps on the river.
Be sure to check the water flow using USGS. Any rate over 700 cubic feet per second is dangerous for tubes, but may still be suitable for kayaks.
Disposable containers are not permitted on the river, so pack your food and beverages in Tupperware or reusable bottles to limit litter.
Absolutely no alcohol or open containers of any kind are allowed on the Yampa within Steamboat Springs.
Leave no trace and pack out all trash.
Smaller groups are better, try to limit your flotilla to 5-10 people.
Bring a dry bag for storing electronics and valuables while you float.
Research or talk to your outfitter about the route you are taking, what type of obstacles you could encounter, and how to safely get out of the river if needed.
Dogs are not allowed on the Yampa River.
Tube Rentals
Bucking Rainbow Outfitters and Backdoor Sports are the two outfitters in town that will rent tubes, water shoes, and arrange shuttles for a fee. If you opt to float independently, there is no fee for parking, public transportation, or put-in.
Points of Interest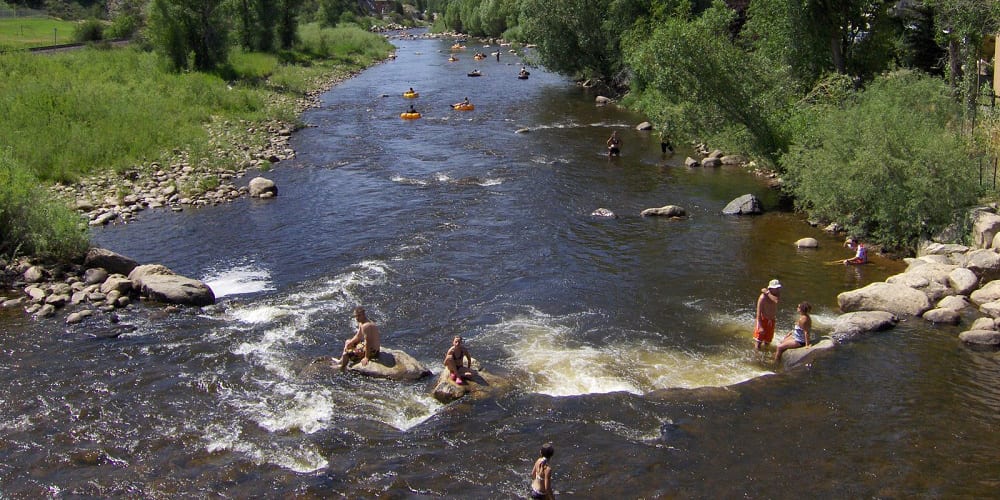 Fetcher Park – The put-in point if you are interested in tubing privately. Located off of Pine Grove Rd across Lincoln Avenue, and offers the longest float time. There is a small park with a pond, a hiking trail, and even a coffee shop to grab a drink before you start your adventure.
5th Street Bridge/Richard Weiss Park – Marks the start for commercial floats. Across from Weiss Park, there are naturally fed hot spring pools at Old Town if you need to warm up before a chilly cruise down the river.
Charlie's Hole – Right across from the 13th St. Bridge, you'll find this popular local hub for rafting and kayaking. When the water is high, it's common to see raft surfers and kayakers playing in the waves. Once the water levels retreat later in the season, it becomes a busy swimming hole and boogie-boarding spot.
Stockbridge Transit Center – If you opt for an independent float, this is where you will park your car to take a shuttle upstream to either Fetcher Park or Richard Weiss Park for put-in. Be aware that the shuttle will not allow entry to those who are wet or have inflated tubes, so plan ahead.
James Brown Soul Center of the Universe Bridge – Universal take-out point no matter if you are with an outfitter or on an independent float. There will be clear signs to exit the river and it only takes a few minutes to walk back to the transit center if you parked there.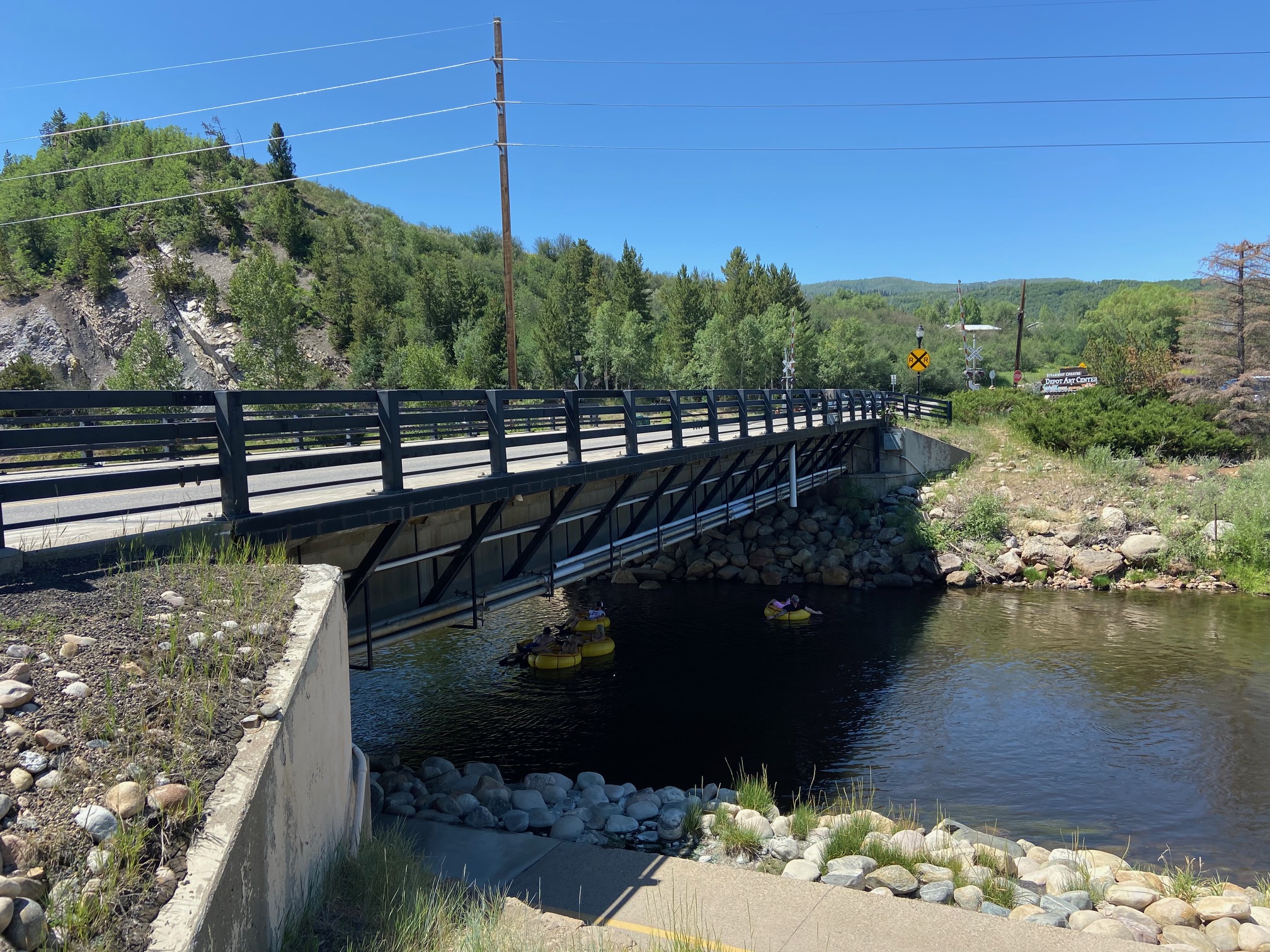 Details
Address: Fifth Street, Steamboat Springs, CO
Season: Summer
Cost: Free, if you have your own tube
Requirements: Kids under 13 must have a life jacket and be accompanied by an adult