Strawberry Park Hot Springs is one of the nicest hot springs around, with fully developed stone pools set along a mountain creek. It's an awesome place to relax and recover while in Steamboat Springs.
Facility
The resort features a number pools of varying size and temperature. The springs are fed naturally and the pools closest to the source can get pretty hot. The coolest pool is around 102°F.
The stone pools are beautifully laid out and easy to navigate. The floors of the hot springs pools are covered in sand. All are filled with hot mineral-rich water
, very beneficial to the body..
Summer offers more pools open than in the winter. During winter the center pools are surrounded by a cold pond and creek. Brave folks will take a heart-pumping soak in the frigid creek before retreating back to the hot springs. In the summer the pond is warm and good for swimming.
The pools are situated at the bottom of a short hill, so bring a flashlight
if going at night. It's not well lit, mostly due to the clothing optional nature after sunset.
There are restrooms and picnic areas on site. A heated cabin and tepee provide adequate places to change before/after soaking.
In addition to the springs, Strawberry Park offers a range of massage and water shiatsu therapy. Lodging is also available. Accommodations range from rustic cabins and tent sites, to spending a night in a covered wagon or train caboose.
Atmosphere
Scenic, relaxing hot springs; Multiple pools in a nature setting; After dark clothing is optional; No glass, no alcohol, no smoking
What to Bring
Flashlight if going at night
Towel
Swimtsuit
Plastic bag for wet swimsuit
Sandals are nice to have in winter
Getting There
It takes about fifteen minutes to get to Strawberry Park from downtown. You can drive directly to it year round, but in the winter you'll need 4WD or good snow tires. The final road in to the hot springs is unpaved and not often plowed.
Sweet Pea Tours, 970-879-5820, and Hot Springs Adventures, 970-879-1873, run shuttles from the Steamboat Transit Center during summer and winter.
Another option for relaxation is Old Town Hot Springs in downtown.
Details
Address: 44200 County Rd 36, Steamboat Springs
Phone: 970-879-0342​
Season: Year round
Hours: Daily, 365 days
Sun-Thur – 10am-10:30pm,
No entry after 9:30pm
Fri-Sat – 10am-12am,
No entry after 10:30pm
No one under 18 allowed after dark
Clothing: Optional after dark
Pets: Not permitted
Alcohol: No
Website: strawberryhotsprings.com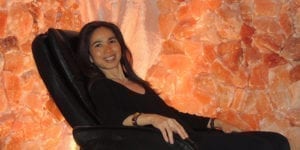 Breath clearly at a Denver Salt Cave (affiliate) - 46-47% off $19 ($35 value) for one 50-minute salt cave session , $56 ($105) for three 50-minute salt cave sessions at 5 Star Salt Caves in Denver. Europeans have long held that breathing in salt has therapeutic...