Grand Lake is Colorado's largest, deepest natural lake, secluded next to a sleepy resort town by the same name. It sits next to five other alpine lakes: Lake Granby, Shadow Mountain Lake, Monarch Lake, Willow Creek Reservoir, and Meadow Creek Reservoir.
Together the six are known as the "Great Lakes of Colorado". The biggest of them is Lake Granby, which is a man-made reservoir. All the lakes are part of the headwaters of the Colorado River.
You can ice fish for a range of cold water species including a variety of trout and kokanee salmon. In addition to the normal fishing supplies: rod, bait, and license, you'll need an auger
(affiliate link) and warmer clothes. You can rent supplies including an ice hut. The season generally runs from December through March, weather permitting.
For more than three decades, the Three Lakes Ice Fishing Contest is held at Lake Granby, Shadow Mountain Lake, and Grand Lake in late January. If you can't make that, check out some other ice fishing tournaments.
While Lake Granby is separated from its town by a bit, Grand Lake is within walking distance of its shop-lined downtown. A multitude of lodging exists around Lake Granby and all the way up to Grand Lake.
Getting There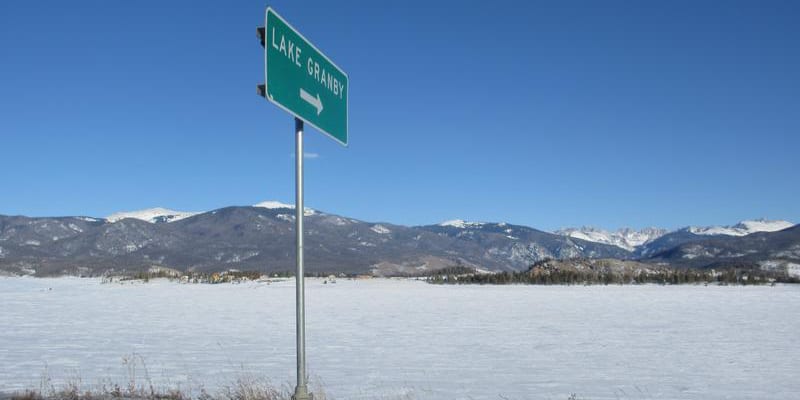 From Highway 40 and Granby, take US 34 north. Lake Granby will be on your right-hand side after five minutes. Follow signs for Grand Lake to reach the last lake.
Lake Granby is part of the Arapaho National Recreation Area, so there is a fee per vehicle, and a smaller one per pedestrian, or you can get multiple days or an annual pass. Only Grand Lake is not a part of it, so there's no fee for fishing there.
The western entrance of Rocky Mountain National Park is close by and offers snowshoeing and cross country ski trails, in addition to a two-mile stretch for snowmobiling, connecting the town of Grand Lake to a system of national forest trails.