Get together with some friends and head out for an ice fishing adventure. Tournaments are held almost weekly in Colorado from late December through the beginning of March. There are both team and individual tournaments.
Adults will need a valid fishing license to compete in these tournaments. In most of the contests with multiple days, you are free to choose how many days you fish. Cash money is usually the prize. There are very few activities like ice fishing in Colorado where you can walk around on frozen lakes in the middle of the Rocky Mountains.
Colorado's Winter Ice Fishing Competitions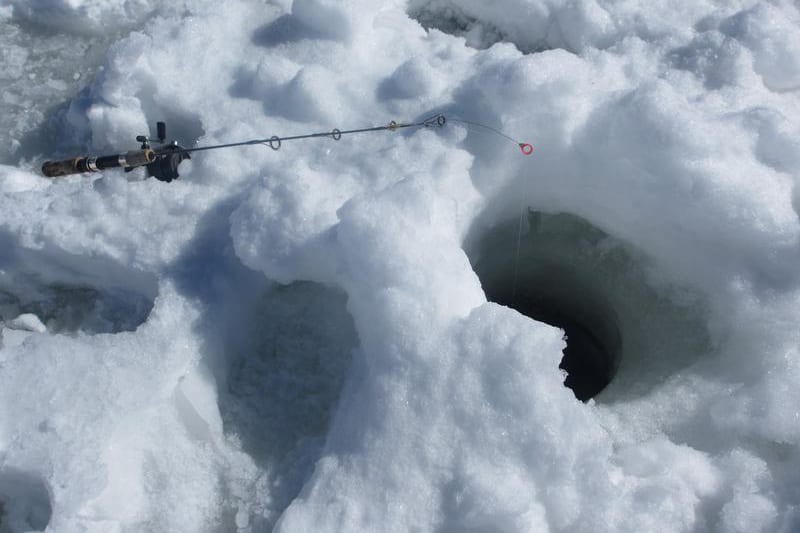 Here's a rundown of the ice fishing competitions held during winter 2020 in Colorado. We may have missed a few, so please let us know if we do. Dress warmly and good luck!
Here are the 2022 ice fishing tournaments in Colorado, in order by date:
11 Mile Marina presents three contests in one: The Grand Slam is held January 8, 2022, South Park Ice Masters TT is February 5, 2022, and Marina March Madness is March 5, 2022. All of the events take place on Saturdays at Eleven Mile Reservoir. Thousands of dollars in cash and prizes up for grabs. You can compete in just one day or buy admission to all three events and save on each.
Ice anglers will appreciate the extensive cash and prize list. The heaviest fish wins, $10,000 cash 1st prize. There are over $25,000 in cash and prizes for the event.
Saturday, January 15, 2022 – Blue Mesa Reservoir in Gunnison, CO
Saturday, January 22, 2022 – Rockport Reservoir, UT
Saturday, February 5, 2022 – Steinaker Reservoir, UT
Saturday, February 19, 2022 – Grand Lake in Grand Lake, CO
32nd annual event at Lake Granby, Grand Lake, and Shadow Mountain Lake, from Friday, January 28 to Sunday, January 30, 2022. Fish one, two or three days. Large cash prizes are awarded! Plus get cash prizes up to 8th place. There will be a Big Fish drawing category. Fishing gear will be given away. The First 500 entries get a commemorative hat. Youth 17 and under can fish for free.
Held January 22 & 23, 2022 at Lake John Resort and Cowdrey Lake in Walden. Prizes are based on length plus girth of trout caught by individuals during the two-day contest. One set of prizes for the two-day contest is $100.00 for the largest fish, taken hourly.
23rd annual tournament at Wolford Mountain Reservoir in Kremmling on Saturday, February 19, 2022. Free for 15 and under, unless they want to compete for cash prizes. Thousands of dollars in cash prizes, award top ten largest fish, $10,000 for the winner of the tagged-fish competition.
You can find out more about winter fishing and stay up-to-date on lake conditions at Ice Fish Colorado.
Thanks for checking out our list of Colorado ice fishing tournaments for the winter 2020 season! Remember to bring your valid fishing license in order to compete. Please share any tournaments we missed on our Facebook page.