Iceberg Pass is the highest of three mountain passes located within Rocky Mountain National Park on Trail Ridge Road. It's located 22 miles west of Estes Park in the front range mountains, summiting at an elevation of 11,827 feet.
US-34, aka Trail Ridge Road, is the highest-elevation continuous paved route in the United States. It peaks at 12,183 feet. It's also called Beaver Meadow National Scenic Byway, and connects Grand Lake and Estes Park by way of Rocky Mountain National Park.
The three mountain passes on Trail Ridge Road include (east to west): Iceberg, Fall River Pass, and Milner Pass, which is the one that crosses the continental divide.
History
Before there were any roads on Iceberg Pass, the point served as an important pass along routes walked by native people. The Arapahoe Indian tribe referred to what is now Trail Ridge Road as "taienbaa", which translates to "Where the Children Walked." It is storied that the route was so steep, the children could not be carried, but rather had to walk on their own.
Rocky Mountain National Park was founded in 1915 and the construction of Trail Ridge Road began in 1929. The Civilian Conservation Corps finished the route in 1932, which still remains as the main vehicle path throughout the park.

Iceberg Pass Accessibility
Iceberg Pass straddles the two highest points along Trail Ridge Road, which means that it is a journey to the summit. The twisting turns and steep inclines that reach nearly a 7% grade make Trail Ridge Road a drive that requires full driver attention. Heavy winds and dramatic weather changes make the road potentially dangerous to travel on, but there are many places to pull off and park.
Seasonality – Due to heavy snowfall in the alpine climate, access to Iceberg Pass along Trail Ridge Road closes each winter. In general, the pass is open between late May and October.
Vehicle Restrictions – Currently, there are no special vehicle restrictions on Trail Ridge Road. Typically, the road is closed before Colorado's tread or chain laws are enforced. However, it is important to note that a National Park Pass (either daily or annual) is required to enter Rocky Mountain National Park.
Activities by Iceberg Pass
Iceberg Pass is located in a beautiful section of Rocky Mountain National Park with plenty of pullouts to enjoy the astonishing views. The area is well known for wildlife and bird sightings in a unique, high elevation climate. Be warned, however, because the area also lacks tree coverage and is subject to harsh winds and radiant sunlight. If you are prepared for the elements, there are hiking opportunities along the Alpine Ridge Trail and to the Mushroom Rocks.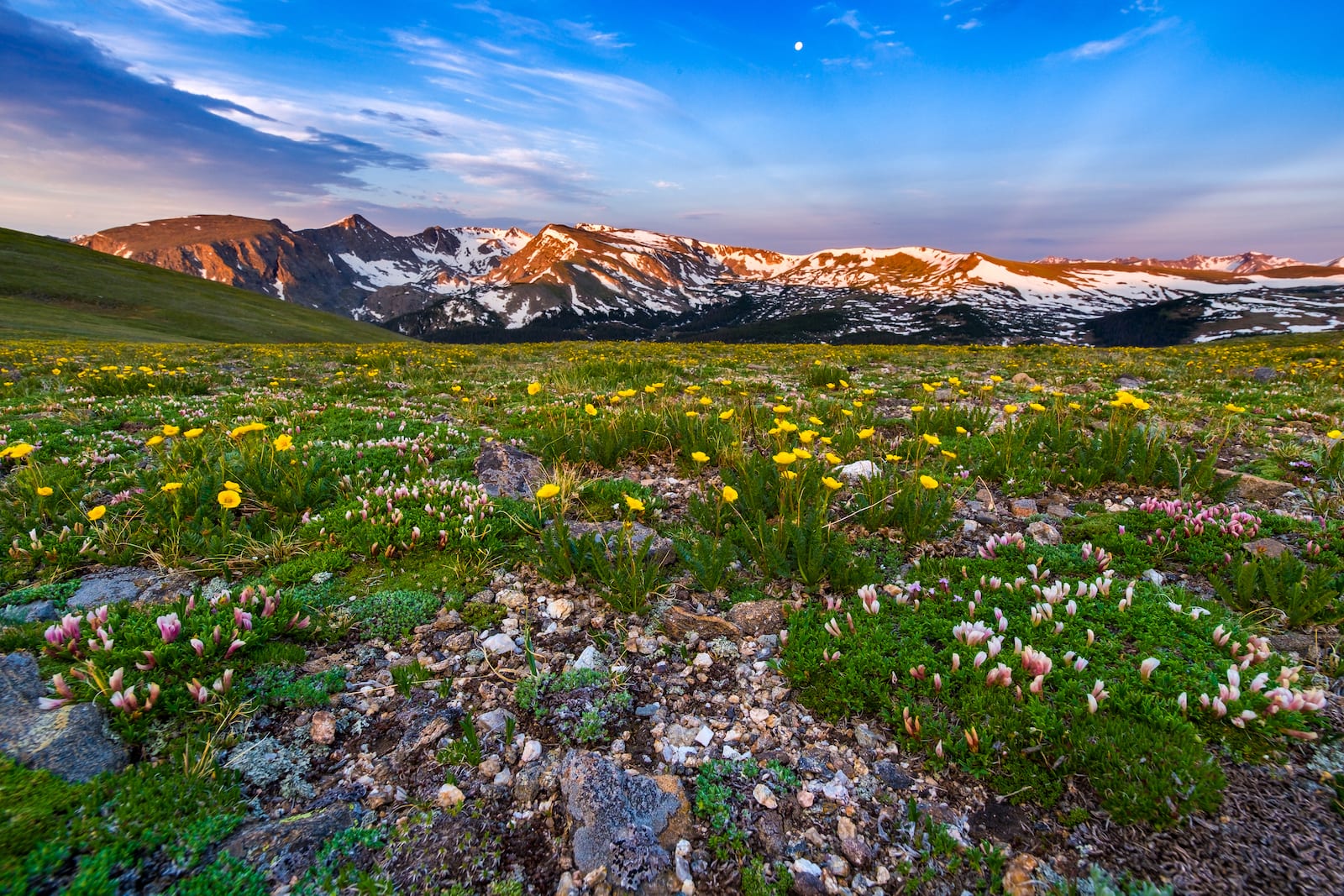 Details
Address: US-34/Trail Ridge Road, between Estes Park and Grand Lake, CO (in RMNP)
Season: Late May to October
Elevation: 11,827 ft (3,605 m)
County: Larimer
Mountain Range: Rocky Mountains
Coordinates: 40.4175° N, 105.7461° W
Access: Trail Ridge Road (Rocky Mountain National Park)