Located roughly 30 minutes north of Kremmling, Muddy Pass (8,772 feet) is one of lowest elevation, drivable mountain passes along the Great Continental Divide. It is generally passed on the way to Steamboat Springs, about 24 miles away.
At Muddy Pass, visitors can continue 3 miles west along US-40 to Rabbit Ears Pass, which is about 500 feet higher in elevation on the way from Denver to Steamboat Springs.
History of Muddy Pass
Muddy Pass shares its name for the nearby Muddy Creek, whose headwaters are located near the divide. From Muddy Pass, Little Muddy Creek travels south into Muddy Creek, which eventually joins the Colorado River near Kremmling.
Muddy Pass Accessibility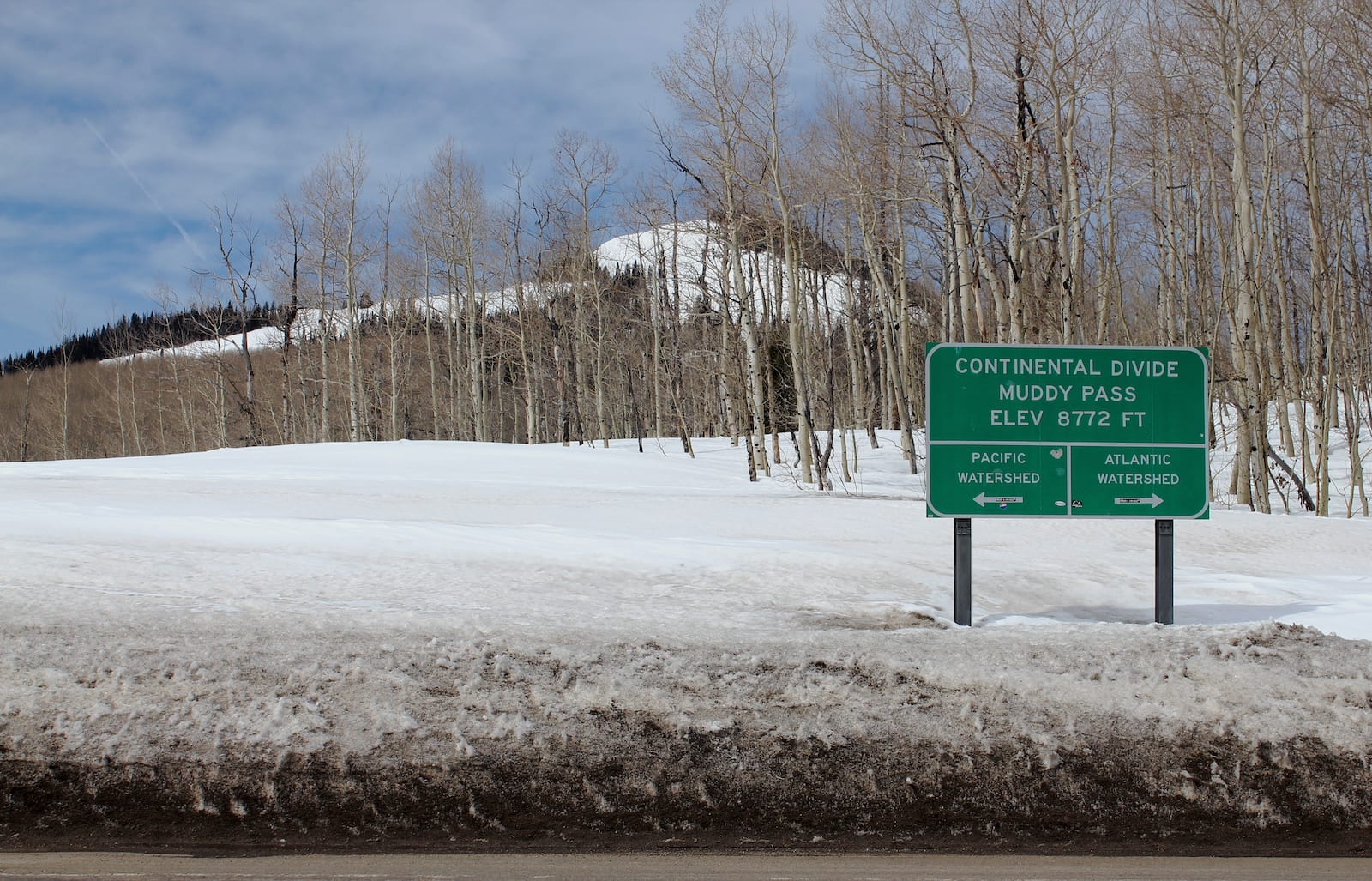 Muddy Pass is located near the junction of Colorado State Highway 14 and US Highway 40. This makes it easily accessible from north, east and west. Muddy Pass can be reached in a vehicle in about 30 minutes from the towns of Kremmling, Walden, and Steamboat Springs.
Compared to most of Colorado's mountain passes, the roads leading to Muddy Pass have less sharp turns and milder grades. There are no facilities at Muddy Pass, aside from a sign designating the divide between the Pacific and Atlantic Watersheds.
Seasonality – Generally, Muddy Pass remains open year round. The route is well maintained during all seasons and only access to Muddy Pass is only restricted during severe winter storms.
Vehicle Restrictions – All passenger vehicles can safely traverse Muddy Pass. The road is paved and does not require high clearance or 4WD. In the winter, motorists should become familiar with weather conditions and state mandated chain and traction laws to ensure safe travel.
Activities near Muddy Pass
At Muddy Pass, visitors are greeted by a large aspen grove and views of Baker Mountain to the west. It's nearby the Routt National Forest for outdoor activities. The mountain meadow has a rich ecosystem with chances to spot diverse wildlife. For birdwatchers, Muddy Pass is inhabited with woodpeckers, owls, osprey, jays, and more.
Although it lies along the Great Continental Divide, the Continental Divide Trail has been routed around Muddy Pass to protect the watershed and prevent hikers from traveling along highways.
North of Muddy Pass, the Dumont Campground is run by the U.S. Forest Service. The campground offers basic campsites for a small overnight fee.
Details
Address: Muddy Pass, US-40, Kremmling, CO 80459
Season: Year round (closed only in extreme winter conditions)
Elevation: 8,772 feet (2,674 meters)
County: Grand County and Jackson County
Mountain Range: Gap Between Park Range and Rabbit Ear Range
Coordinates: 0°22′36″N 106°34′47″W
Access: US Highway 40