While the Crested Butte Adventure Park no longer features a snow tubing hill, instead, year-round bungee trampolines, mini golf, and a climbing wall are among current attractions. It's located at the base of Crested Butte Mountain Resort.
"Definitely perfect if you have children," is one way many people have described their experience at the park. So, don't miss out on the Flying Gopher Miniature Golf Course or the other exciting things Crested Butte Adventure Park has to offer.
Flying Gopher Miniature Golf Course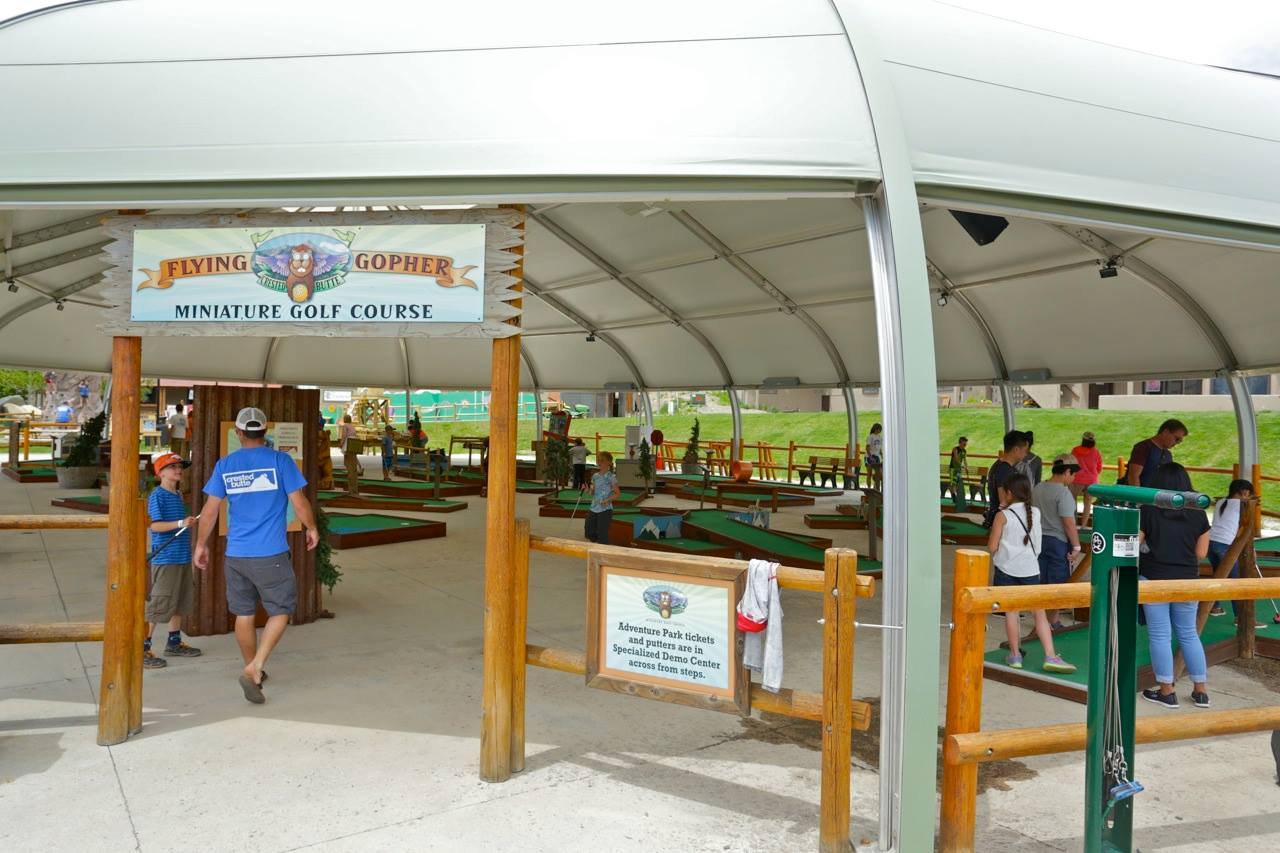 The Flying Gopher Miniature Golf Course is a year-round 18-hole mini golf course located at the Crested Butte Adventure Park. While outdoors, the whole course is under a covered structure and will be fun for you and/or kids in any kind of weather. Take your best shot at a hole-in-one on Gopher Alley.
Adventure Park Activities
Crested Butte is one of the best places in Colorado to ski, but the summer adventure park is just as fun. In addition to the mini golf, they have the massive Coke Zero Gravity Bagjump, where you climb up to a 24-foot or 32-foot platform and jump out onto a giant 50-foot by the 50-foot inflated bag. It's adventurous, fun, and gets your blood rushing.
The Powerade Bungy Jump Trampoline is also exhilarating.  Strap into the harness and go flipping and flying up to 30 feet in the air. If that's not enough, there's also a rock-climbing wall with 6 different paths that takes you nearly 30 feet in the air.
You can also occupy your time with mountain biking and hiking trails or take a zipline. Crested Butte Mountain Resort features a five-station zip line tour at its base. The zip lines blast you across the ski area.
Details
Address: 500 Gothic Rd, Crested Butte, CO 81225
Phone: 970-349-2262
Season: Adventure Park is open year round
Hours: Daily
Monday-Thursday 2 pm-4:30 pm
Friday – Sunday 1pm-5pm
Mini Golf is open 9 am-5:30 pm
Website: skicb.com/… (Summer Activities)
Website skicb.com/… (Winter Activities)