Save for folks that were born in a bomb shelter who have no contact with the outside world, pretty much everyone knows that Colorado boasts some of the best skiing in not just the United States, but also the world. But while conventional Colorado skiing and snowboarding are great for most people, some seek the uninhibited thrill of exploring terrain few people have the chance to access.
Plentiful backcountry snowcat and heli skiing options across the state make Colorado adventuring even better by offering uncrowded slopes, fist-in-your-mouth stunning views, and excellent snow conditions. Perhaps it's the year to venture outside of Colorado's ski resorts. If you're dying to ride places lifts have no way of reaching, check out these Colorado snowcat and heli-skiing options.
Here are the options for snowcat and heli skiing tours in Colorado, in alphabetical order:
Aspen Powder Tours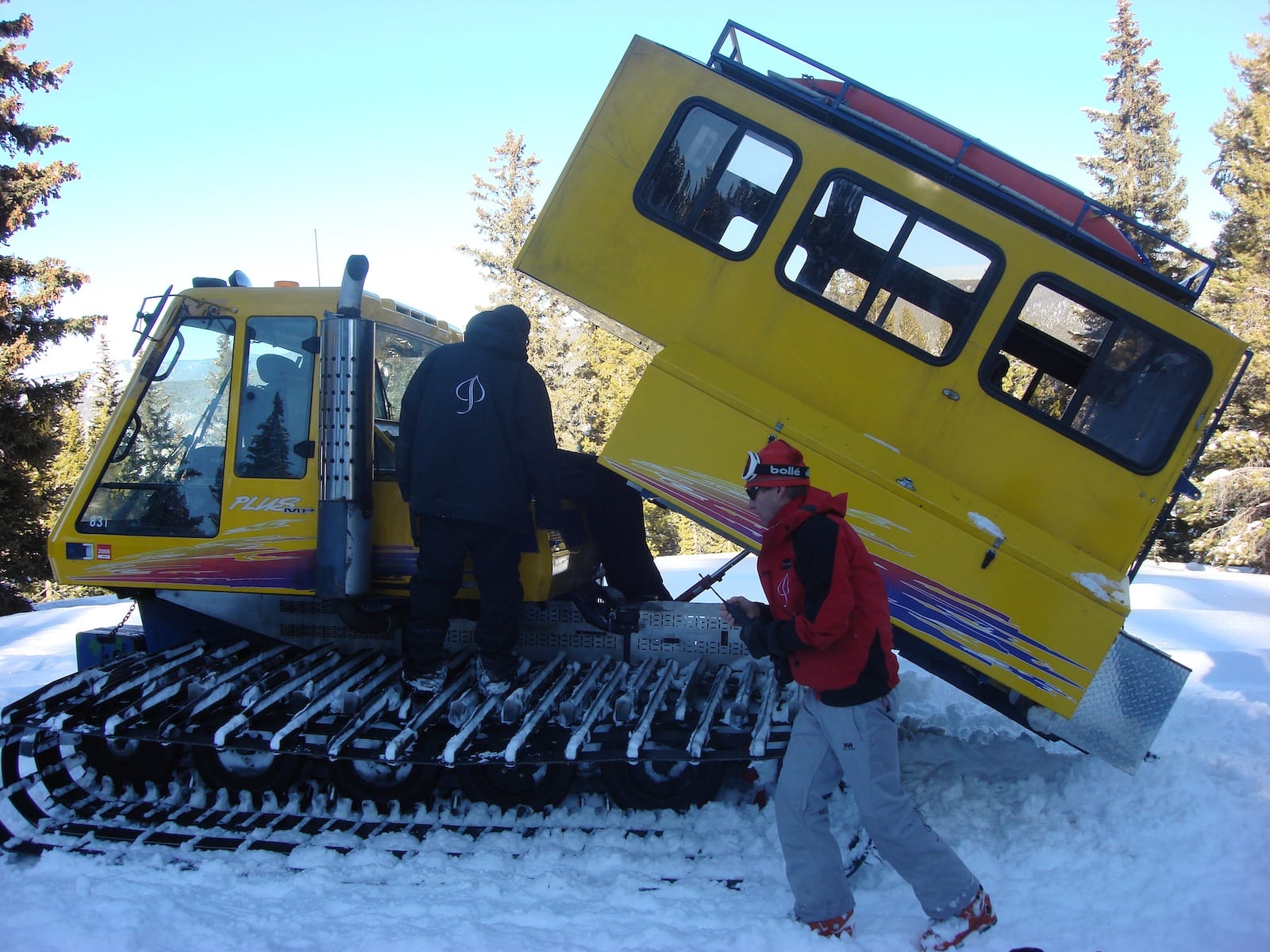 Aspen Mountain is a lauded winter destination that draws in avid skiers and snowboarders from around the world every season, but to fully experience it in all its glory, you'll have to travel via snowcat. Aspen Powder Tours offers luxury snowcats, which transport riders to 1,500 acres of winter wilderness consisting of pristine meadows, thrilling open bowls, and scenic glades.
The tour even provides lunch, which is served in a charming wood stove-heated cabin nestled in the Elk Mountains. As you'd expect, these tours aren't cheap, but discounts are offered for groups. For those who can afford it, Aspen Powder Tours offer remarkable, once-in-a-lifetime winter recreation experiences.
Aspen | 970-920-0720 | aspensnowmass.com/plan-your-stay/winter-activities/aspen-powder-tours
Eleven Experience Snowcat Tours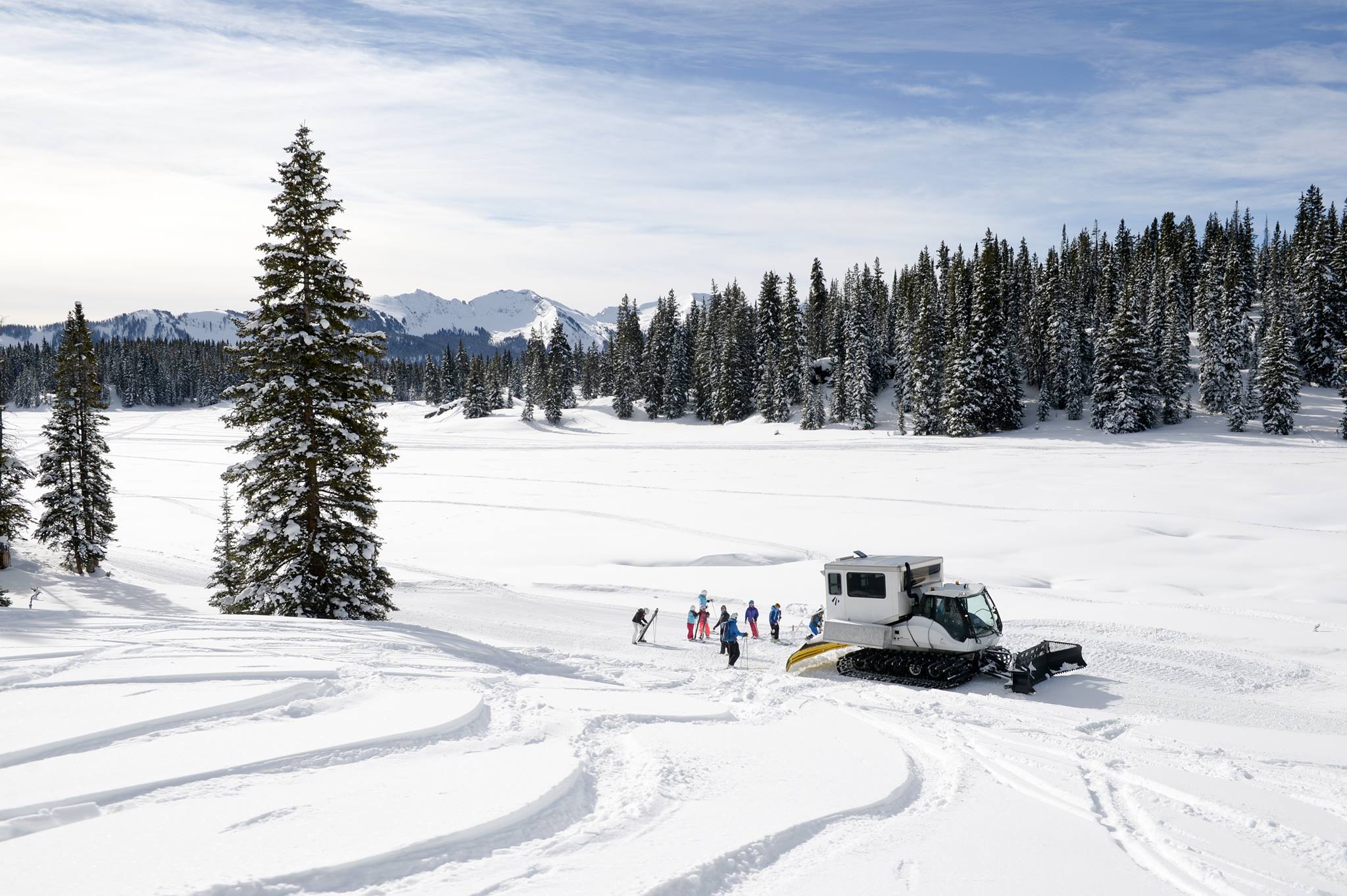 Crested Butte and the areas that surround it comprise some of Colorado's most beautiful and iconic scenery. Located 13 miles west of Crested Butte, a weather phenomenon makes the West Elk range a remarkable skiing and boarding destination in addition to being gorgeous. The area sees annual snowfall averages of 450 inches, which often is double the amount that nearby Crested Butte receives.
The reason the snow gods shine upon this gorgeous corner of Colorado comes down to the fact that it's the first mountain range to get snow when winter storms collect energy over nearby desert areas. Snowcats and snowmobiles are the only way visitors can access this area, and Eleven Experience has the snowcat thing covered. Expert guides lead visitors through the unadulterated, snow-packed terrain on an average of 8-10 runs a day. While an area that's blessed with this much snow is great for snowboarders and skiers, avalanches are an ongoing worry that EE's staff constantly monitors for and mitigates.
Crested Butte | 800-903-7761 | elevenexperience.com/cat-skiing-colorado
Jones Pass Guides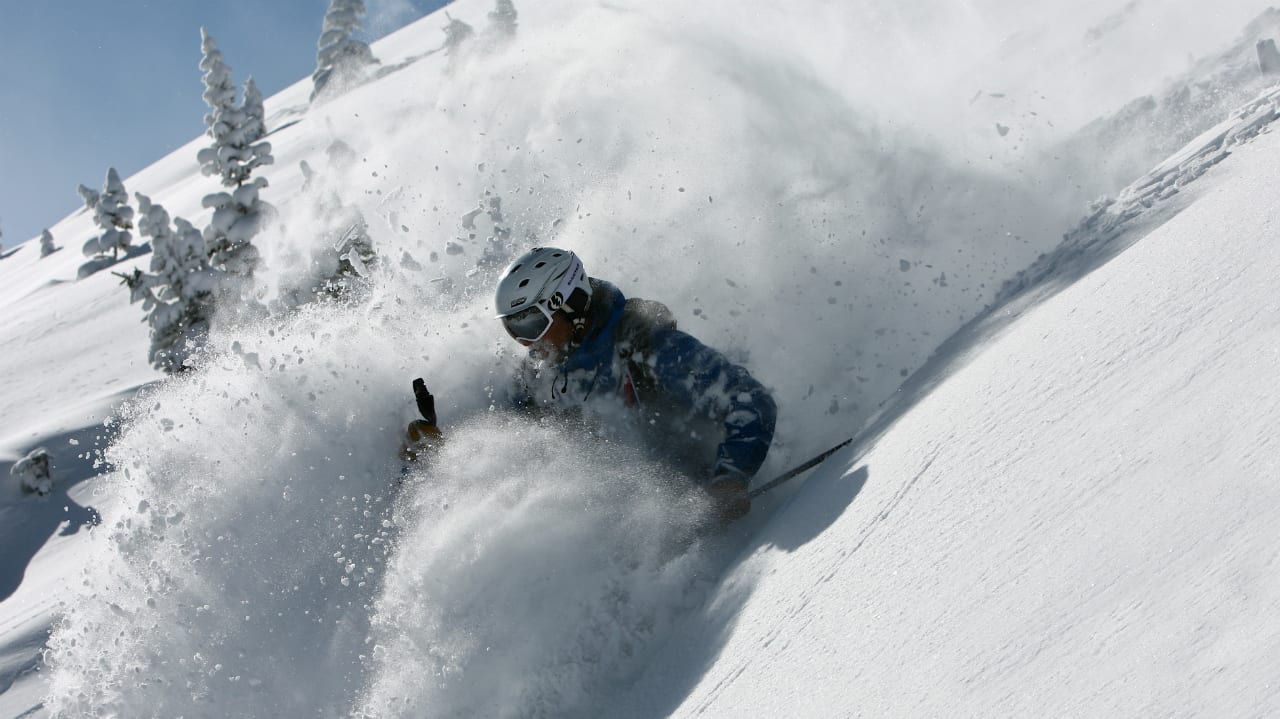 Hailing high atop the mountains outside of Winter Park, Jones Pass is a quick 45-minute drive away from Denver. This experienced snowcat tour company gives riders access to 2,600 acres of high alpine bowls, gullies, chutes, and glades. Skiers and boarders are given powder demo skis, safety gear, lunch, and two free beers provided by the local Steamworks Brewery when they explore off-piste skiing via Jones Pass Guides. Modest discounts are offered to groups.
Formerly known as Powder Addiction, the company changed its name to Jones Pass Guides and adopted new ownership after an avalanche tragically killed a staff member in an event that some believe was preventable. Avalanche danger should be a concern for all outdoor winter enthusiasts, but especially for those planning on exploring terrain that can't be reached by conventional lifts.
Empire | 970-726-5442 | jonespassguides.com
Monarch Cat Skiing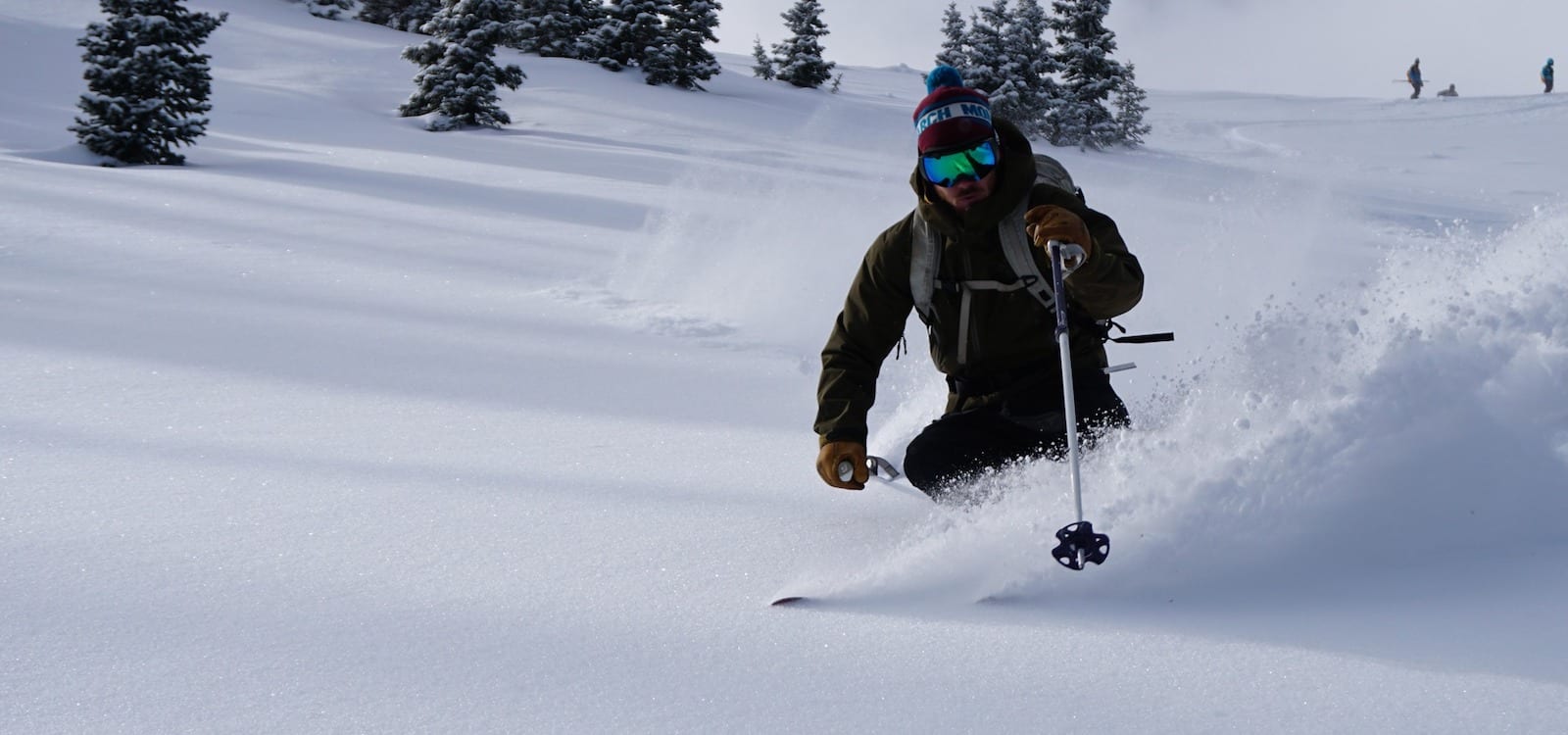 Designated for expert skiers and snowboarders only, backcountry cat skiing on 1,635 acres of Monarch Mountain's glorious terrain might ruin the conventional stuff for you forever. Monarch Cat Skiing promises on its website that its open bowls, challenging chutes, and gorgeous glades will give you
some of the best tree skiing you will ever experience.
Since Monarch's off-piste offerings feature an array of snow conditions, it advises skiers to come prepared. After a day of snow-induced euphoria, the resort throws an afterparty offering a complimentary alcoholic beverage at the Sidewinder Saloon. At just under 3 hours away from Denver, chances are you probably don't live anywhere near Monarch Mountain, but it's a gorgeous, secluded destination that folks weary of Colorado's more popular ski resorts will love.
Silverton | 719-530-5000 | skimonarch.com/cat-skiing
Purgatory Snowcat Adventures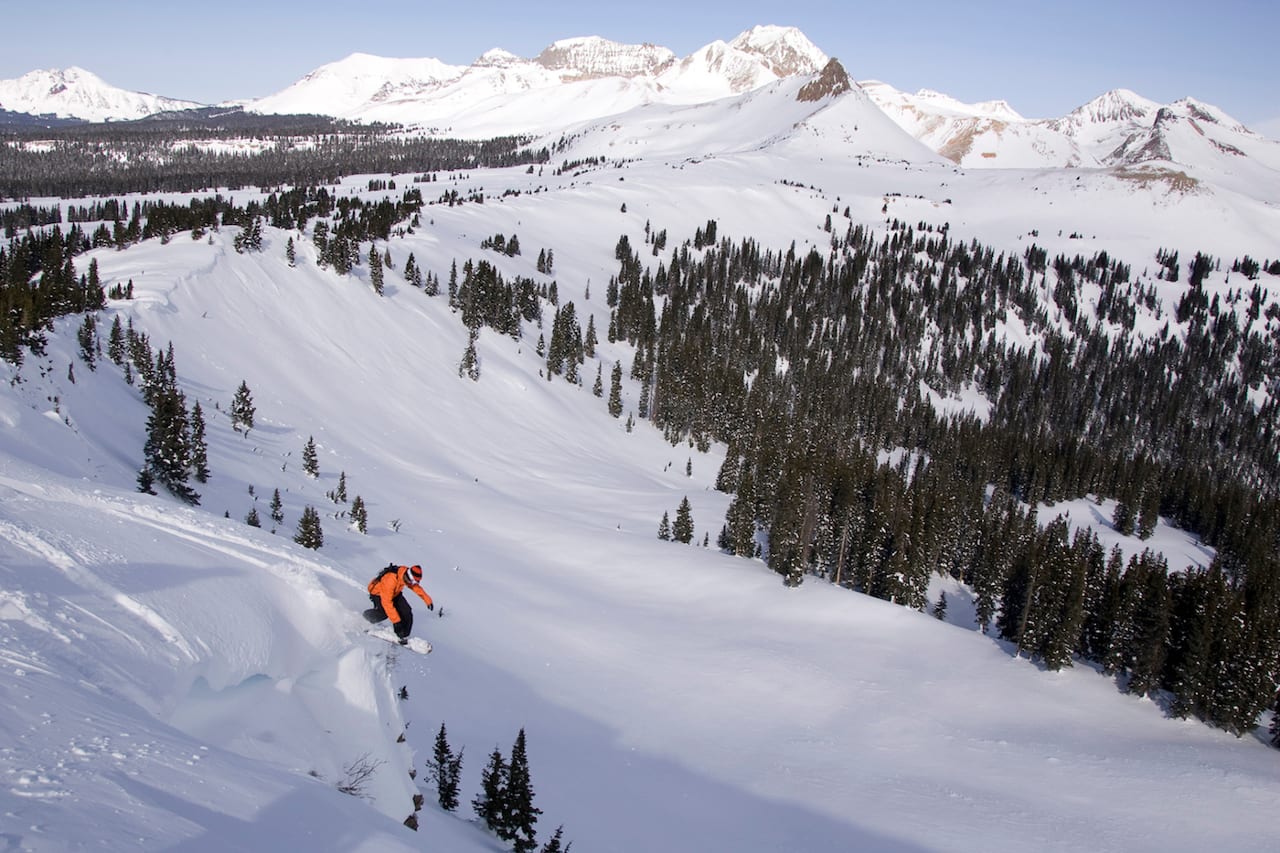 Located at the ski resort north of Durango, Purgatory Snowcat Adventures prides itself on being Colorado's largest backcountry skiing and snowboarding operation. With 35,000 acres of the astounding San Juan Forest to explore, you'll never get bored on a Purgatory snowcat excursion. Rather than skiing right next to the resort, Purgatory's snowcats take riders deep into the San Juan backcountry.
Lunch, water, and snacks are provided. In addition to offering riders the most backcountry terrain out of any company in the state, Purgatory is also surprisingly inexpensive, costing riders more than $100 less than their competitors on average.
Durango | 970-385-2115 | purgatoryresort.com/activities/snowcat
Silverton Mountain Heli-Skiing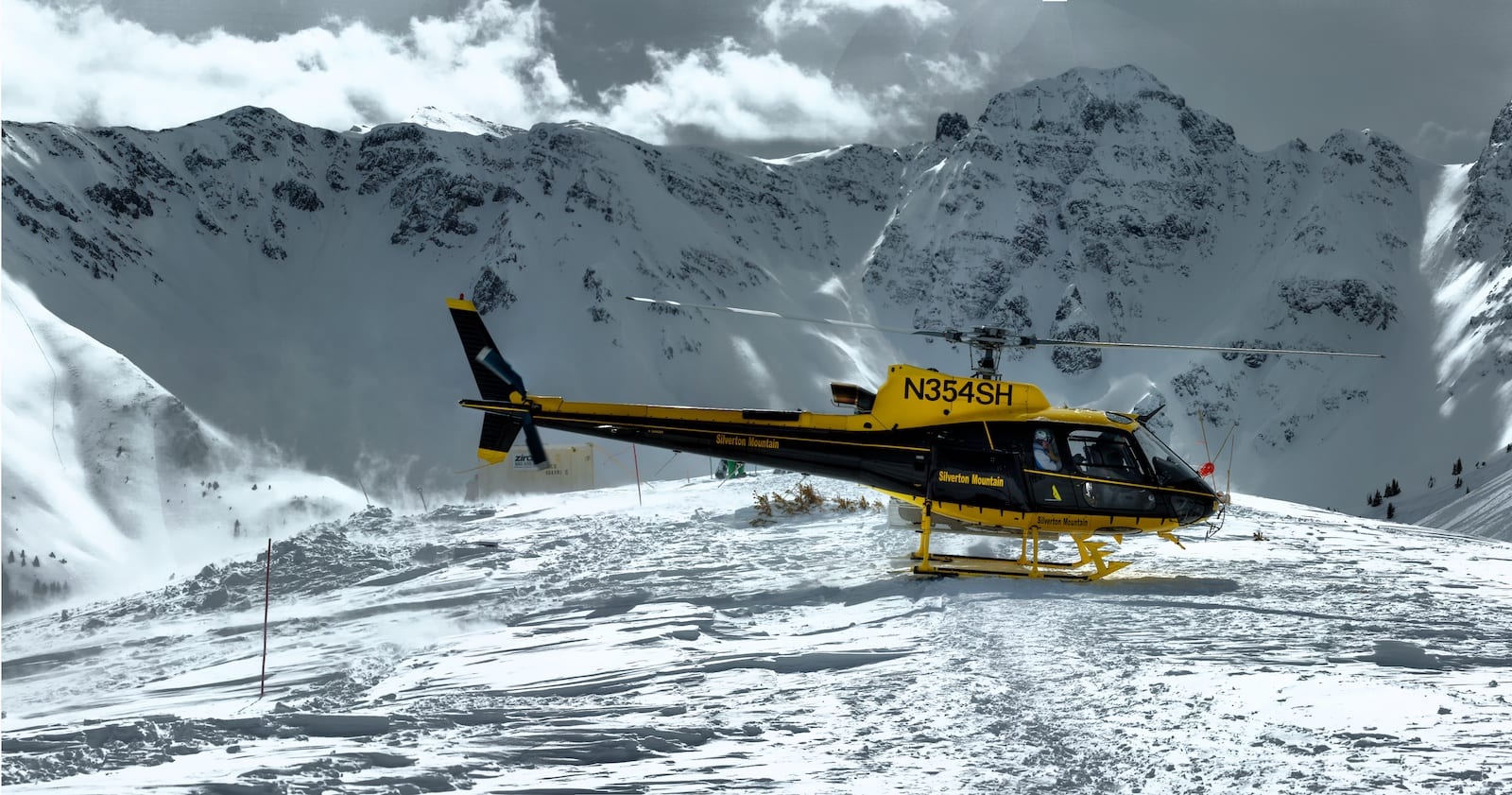 If you're interested in doing something James Bond would do, heli-skiing at Silverton Mountain is a good option. But even if you're not a fan of the British spy thriller franchise, heli-skiing is something that's sure to make your life far more interesting than it currently is. As you'd expect, Silverton only allows highly experienced skiers and snowboarders to jump out of their helicopters and ski on their impressive terrain, which gets an average of over 400 inches of snow every season.
Three tiers of service are offered, from somewhat affordable, single heli-runs to private access that'll run you anywhere from $11,000-$17,000 depending on what day of the week you choose to fly. A 6.5 hour drive from Denver, Silverton Mountain is the highest ski area in North America with a peak elevation of 13,487 feet, and riders have access to all manner of world-class terrain. In other words, heli-skiing at Silverton is probably worth the drive and steep cost if you live to ski or snowboard.
Silverton | 970-387-5706 | silvertonmountain.com/shop/heli-skiing
Silverton Powdercats Snowcat Skiing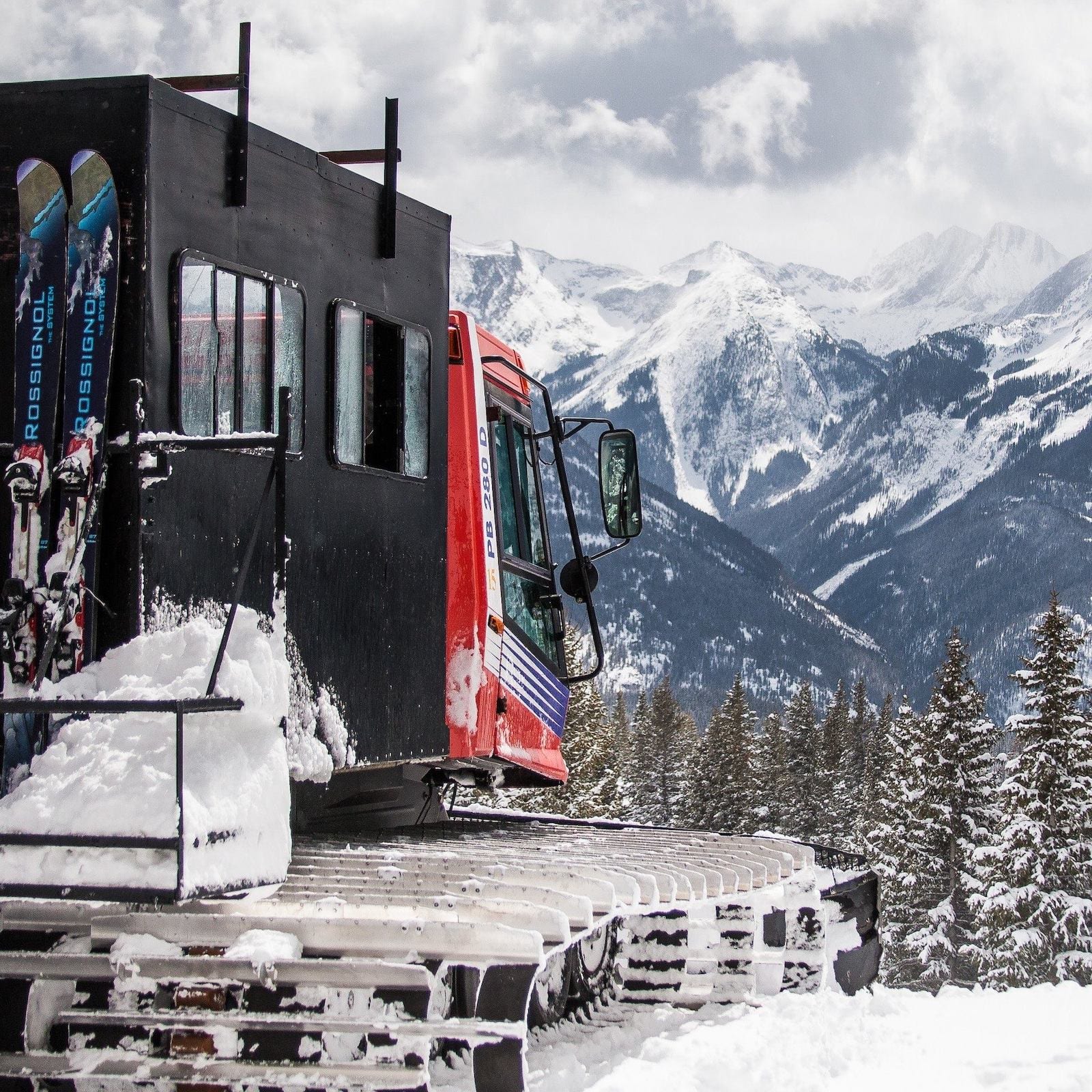 Unlike most snowcat and heli-skiing companies, Silverton Powdercats lets intermediate riders in on the fun, but it also has plenty to offer those with experience. Located ten minutes outside the town of Silverton, riders explore picturesque, snow-capped terrain filled with chutes, steeps, glades, trees, and vast, open bowls that often rise above the tree-line up to 12,500 feet.
For those looking for something especially challenging, the company offers short, cat-assisted hikes to give riders access to even more difficult, gorgeous terrain. With an average of 8-12 runs a day, Powdercats tours cost slightly less than its competitors, and offers discounts for groups. If you're tired of the massive crowds at conventional slopes, Silverton Powdercats will give you access to unreal mountain wilderness views and lots and lots of snow.
Silverton | 970-422-2223 | silvertonpowdercats.com
Ski Cooper Chicago Ridge Snowcat Skiing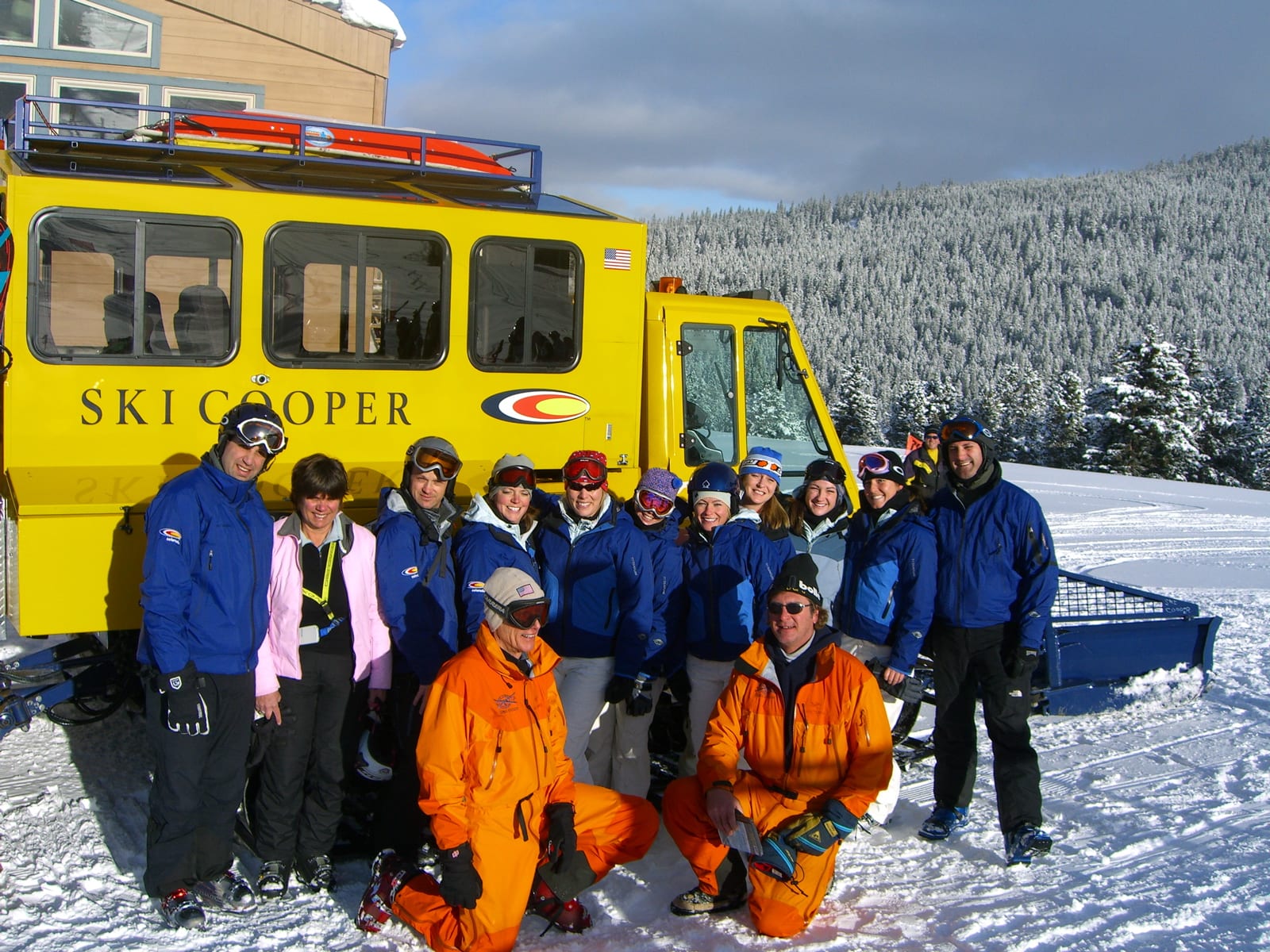 If you've ever wanted to explore 2600 snowy acres of sublime terrain in the San Isabel and White River National Forests, Chicago Ridge Snowcat Tours has you covered. Based at Ski Cooper, the open powder bowls Chicago Ridge offers are similar to Vail's Black Bowls in terms of length, pitch, and vertical.
With elevations accessed as high as 12,850 feet, Chicago Ridge gives expert riders challenging conditions in an unbelievably gorgeous mountain setting. You can expect to go on 8-12 runs through the course of a day, as well as a tasty hot lunch served up in a whimsical backcountry yurt.
Leadville | 800-707-6114 | skicooper.com/snowcat-skiing
Steamboat Powdercats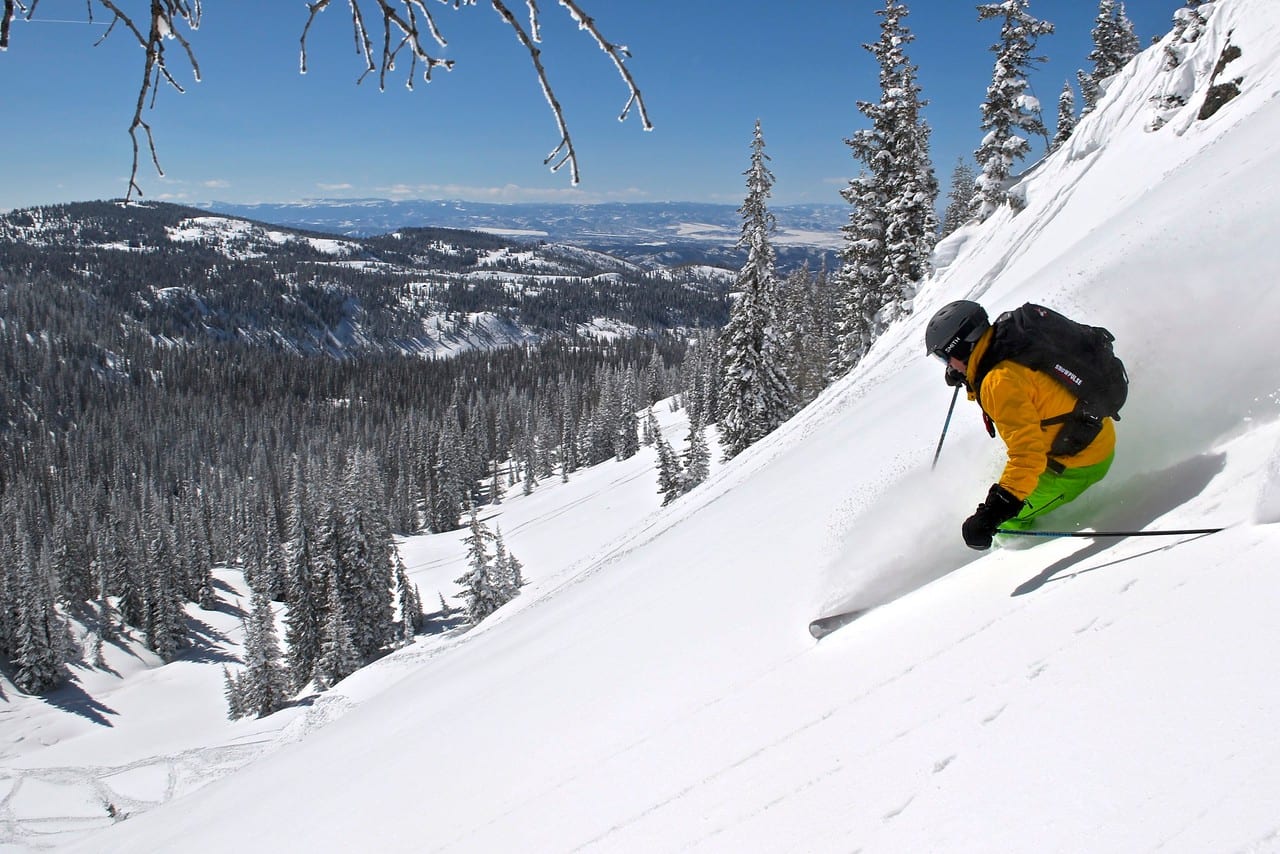 Based in Steamboat Springs, Steamboat Powdercats operates on Buffalo Pass, an area famous for receiving Colorado's deepest annual snowpack.  You'll ride in plush snowcats to some of the finest winter terrain northwest Colorado has to offer.
One of the oldest snowcat operations in the state, Steamboat Powdercats prides itself on the friendliness of its staff and a steadfast commitment to keeping riders safe.  With over 4,000 acres of immaculate, unsullied snow to ski and snowboard in, the variety of terrain is great for riders of every experience level.
Steamboat Springs | 970-879-5188 | steamboatpowdercats.com
Telluride Helitrax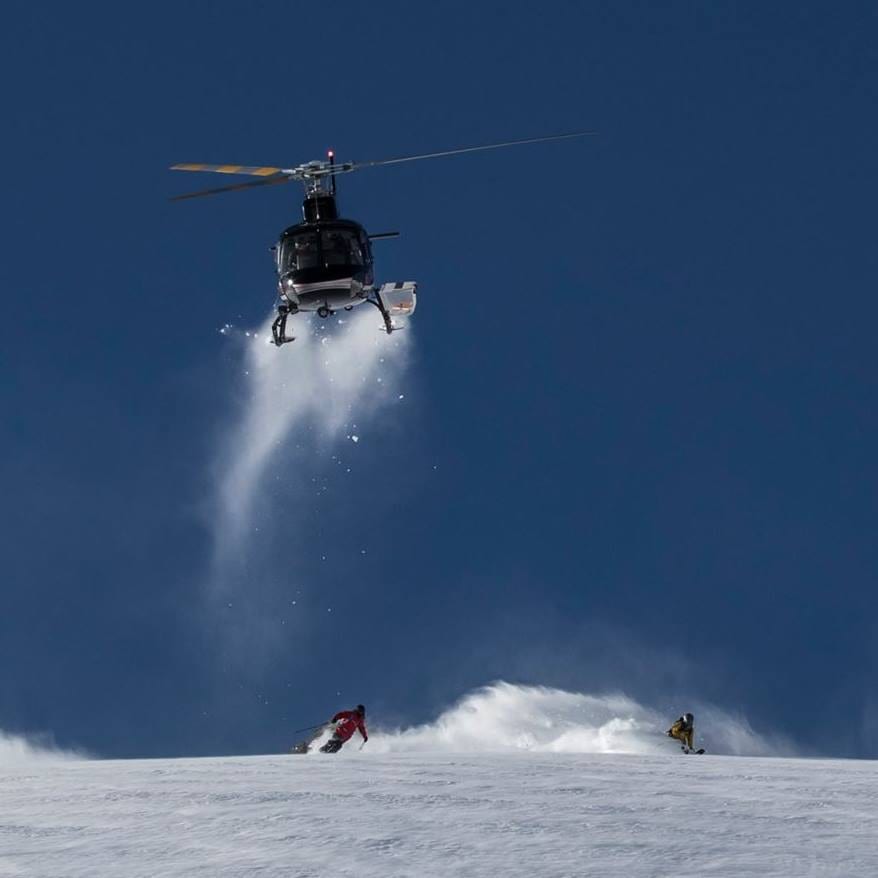 Family owned and operated, Telluride Helitrax offers riders over 200 miles of winter mountain terrain in the San Juan Mountains to adventure in via helicopter. A Hellitrax trip gives expert ski and snowboarders access to some of the highest skiable elevations in North America, making it a mandatory trip for diehards. You'll explore stunning summits, alpine basins, cirques, and couloirs in one of the most iconic mountain settings on the continent.
An operation as elaborate as Helitrax's requires teams of talented experts, and the company is committed to striving to be the safest operation in the business. It's not cheap, but jumping out of an aircraft and skiing down an absurdly steep mountain shouldn't be, should it? Helitrax offers a variety of packages ranging from custom tours to multi-day excursions.
Telluride | 970-728-8377 | helitrax.com
Vail Powder Guides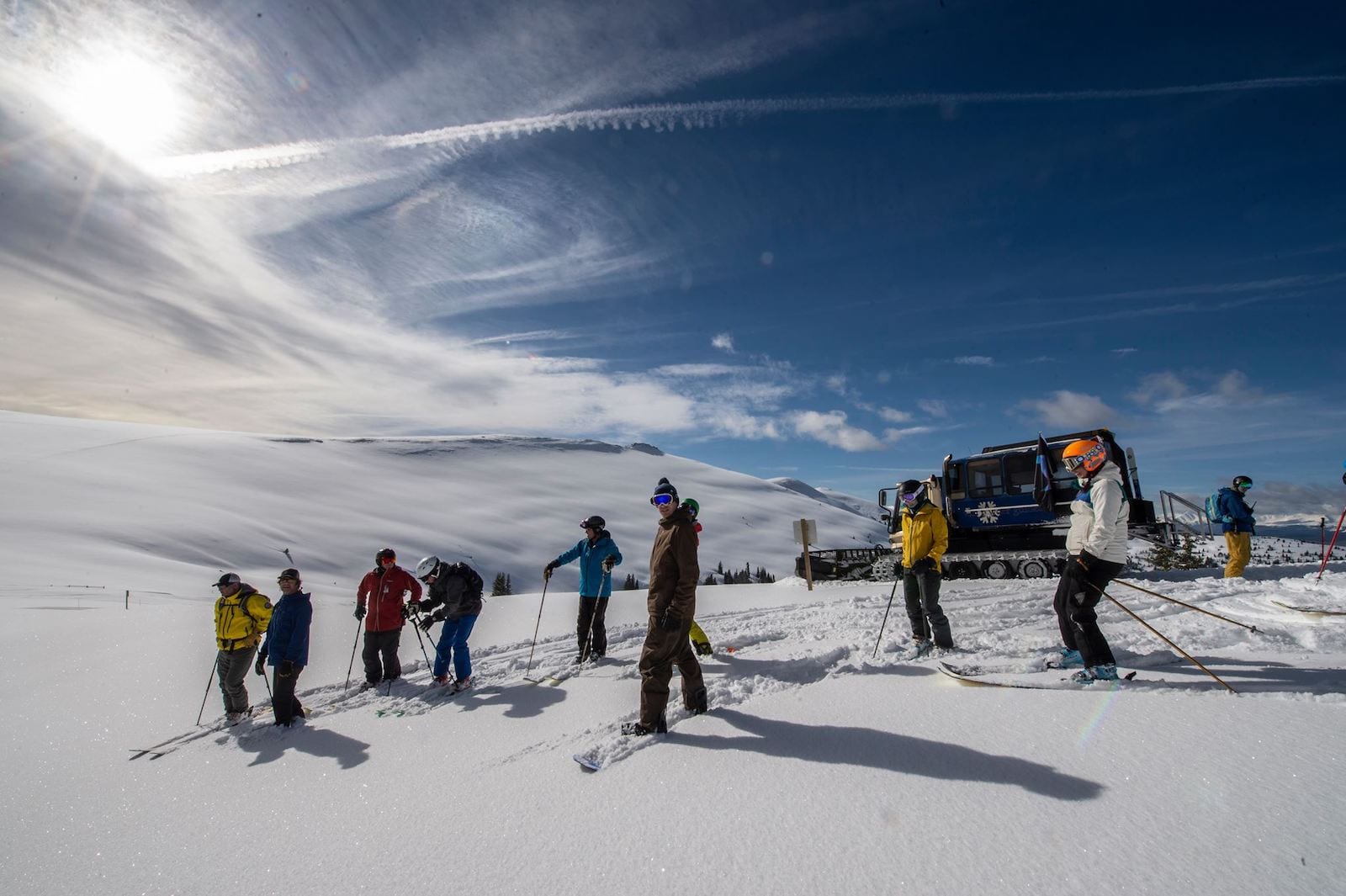 If you're set on exploring the immense, magnificent backcountry of the Vail Pass Winter Recreation Area, Vail Powder Guides is the only licensed company able to take you there. Owned by husband and wife Ben and Jenna Bartosz since 2006, Vail Powder Guides offers a personal touch informed by decades of experience in ski-touring, mountaineering , and coaching.
According to their website, VPG also boasts one of the best safety records in the industry. Oh, and did we mention how spectacular the views are in the areas surrounding Vail?
Vail | 719-486-6266 | vailpowderguides.com
If you love outdoor winter recreation, you already know that Colorado has some of the best ski resorts in the world. But getting to explore terrains so remote that they can only be accessed by helicopter or snowcat is a dream that winter recreation fans around the world never get to experience, and it's right on your doorstep––if you can afford it. However, it's important to note that while companies that offer backcountry skiing tours are staffed by experts, there's always a certain amount of risk involved with these excursions no matter how careful and experienced everyone is.